Summer Squash Pizza with Burrata & Basil
This post may contain affiliate links. Please read my disclosure policy.
In this summer pizza, thinly shaved zucchini top a thin layer of olive oil, garlic and crushed red pepper flakes. As it bakes, the creamy burrata melts into the summer squash. Out of the oven, a showering of fresh basil makes it. So summery and delicious!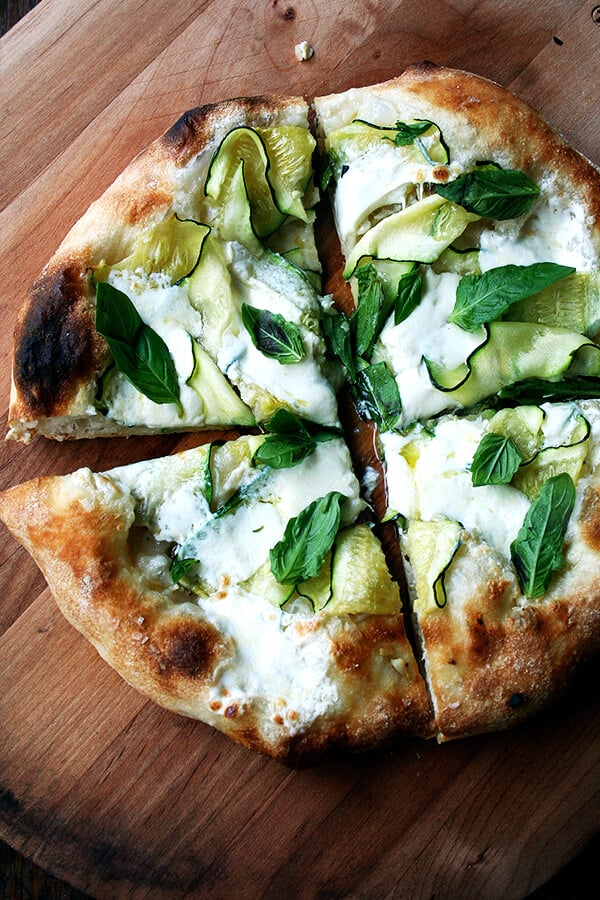 I consider myself someone who really likes food. But recently, I keep meeting people who really really like food.
A few months ago, we went to our friends' house for brunch. They made, among other things, khao man gai, which they served with three homemade condiments including an irresistible chile-garlic sauce. And then, as a palate cleanser, they poured homemade salty sour plum juice mixed with seltzer over ice. And then they made negronis. I could have stayed all morning.
Last Thursday, two other friends came for dinner, and they brought a few cheeses, Marcona almonds, wrinkled black olives, and a plate of prosciutto and capocollo. They had made the prosciutto and capocolla. They make wine every fall.
I need to up my game.
But these friends, these people — you know them. They follow the Times obsessively. They have been long-time admirers of Naomi Duguid and Jeffrey Alford. They know exactly what to do with ramps, fiddlehead ferns and garlic scapes. They read every word of Lucky Peach. They make cross-country voyages for pizza.
So when you bump into them at your local co-op and you tell them you've put your life on hold to read Delancey, they ask if you've been to Di Fara or their gold standard, Una Pizza Napoletana. And then later that night, they email you links to articles, podcasts, and videos, which you read and listen to and watch until the wee hours of the morning.
And as you continue to put your life on hold, you have near panic attacks because all you want to do is pull all of these friends together — the wine makers, the plum picklers — and take over the nail salon on Nott St., a one-story space* rumored to be vacated imminently, and open a little spot that serves housemade prosciutto, a few simple salads, and wood-fired pizzas, maybe something like the Zucchini Anchovy I read about in Delancey.
I have no idea if Delancey still serves the Zucchini Anchovy, but when Brandon Pettit and Molly Wizenberg were drafting their opening menu, they included it with a few other sauceless pizzas. A nod to a Roman classic, their version used thinly shaved zucchini in place of zucchini blossoms.
For our friends last Thursday, I made this with the addition of garlic and a sprinkling of coarse sea salt, something Anthony Mangieri adds to every pie he makes. And with this pizza on the table — the subtle flavor of anchovy, the melting summer squash, the creamy burrata, the fresh basil — I think I almost convinced our friends to get on board with the Nott St. pizzeria. At the very least, a seed was planted. Ahhh, it's fun to dream.
*As I read in Delancey, to keep costs down, a one-story space is preferable when wood-fired ovens and their chimneys are involved.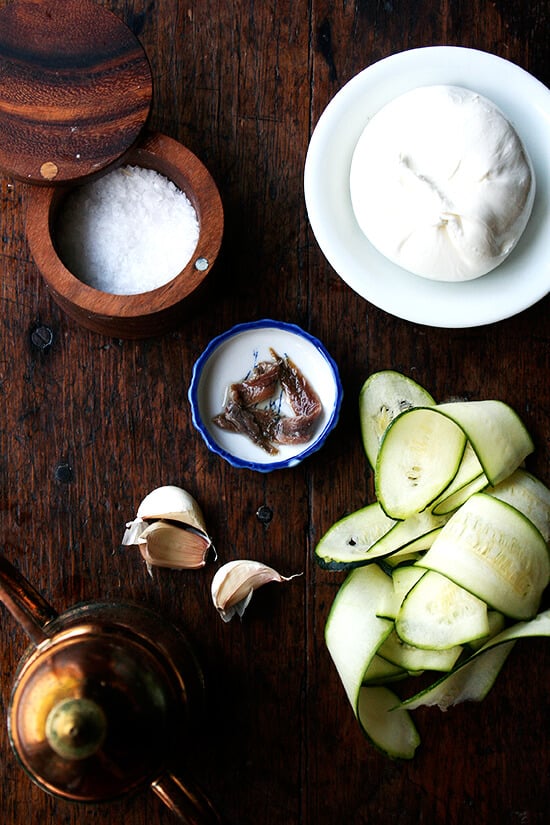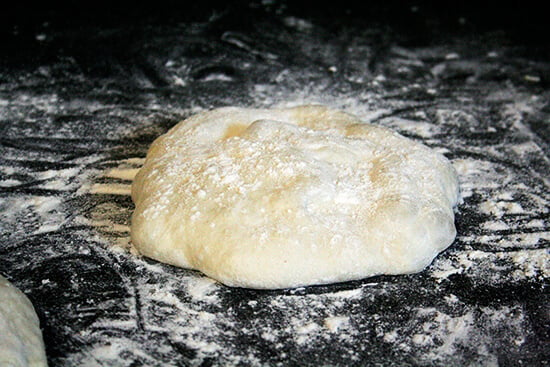 This is the beauty of the Lahey pizza dough — all of those air pockets will create the nicest texture in the finished crust: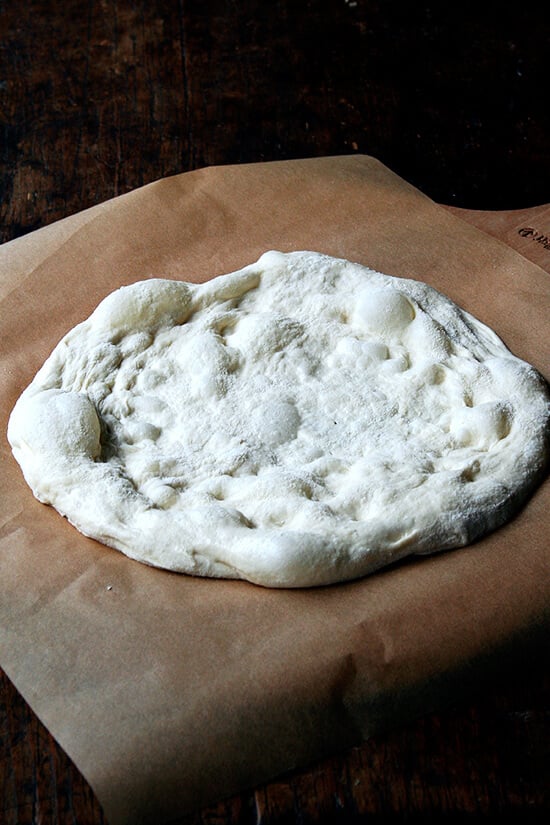 A little anchovy and garlic go a long way: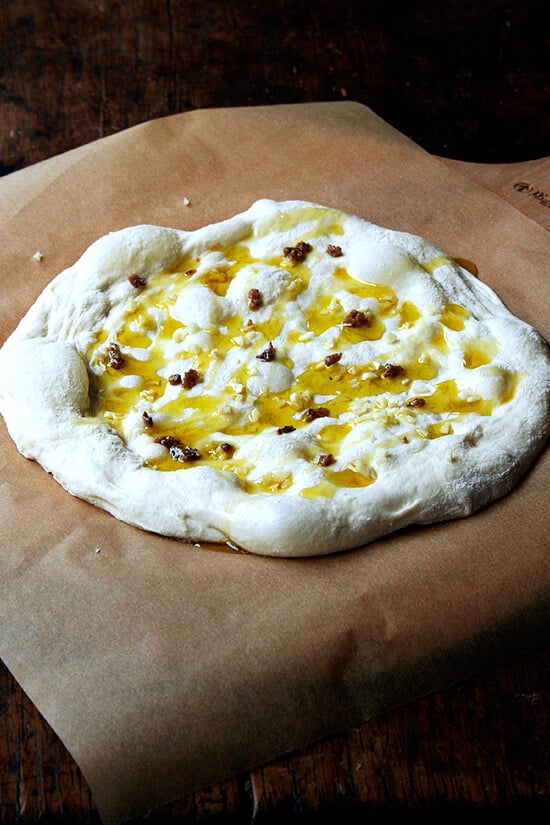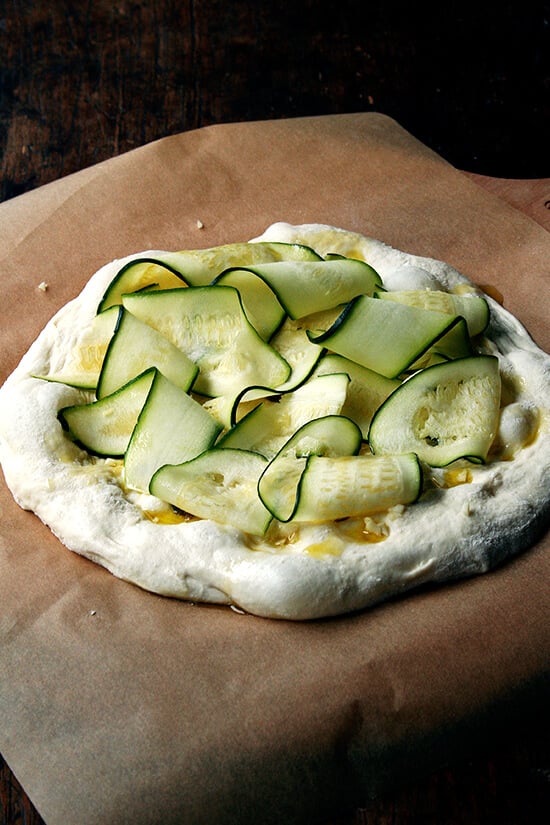 A sprinkling of nice, coarse sea salt is a nice addition to any pizza: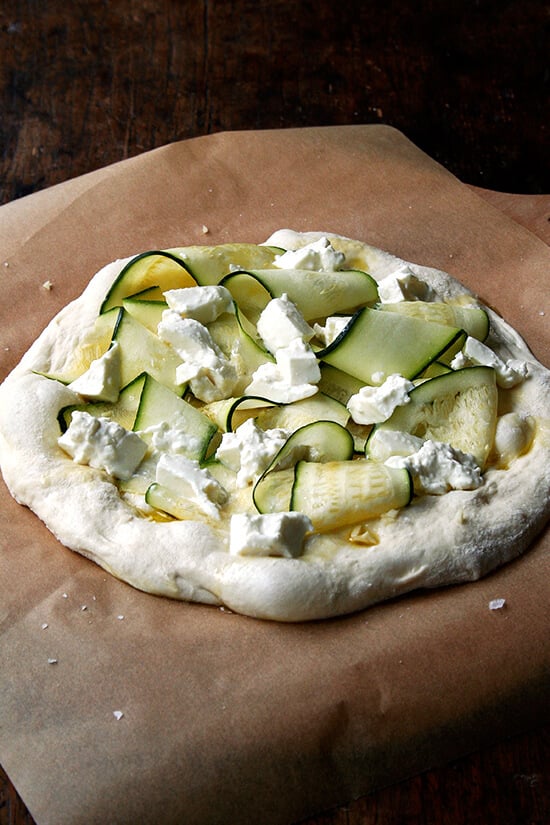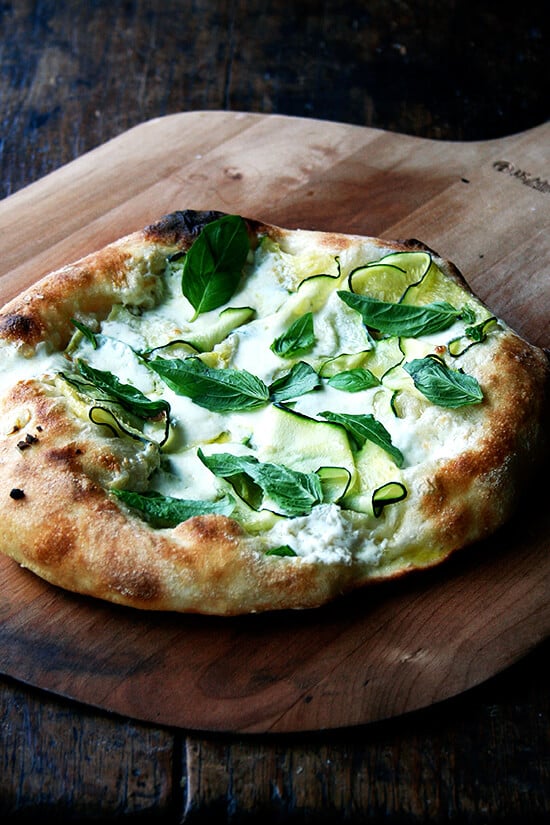 The beauty of the Baking Steel: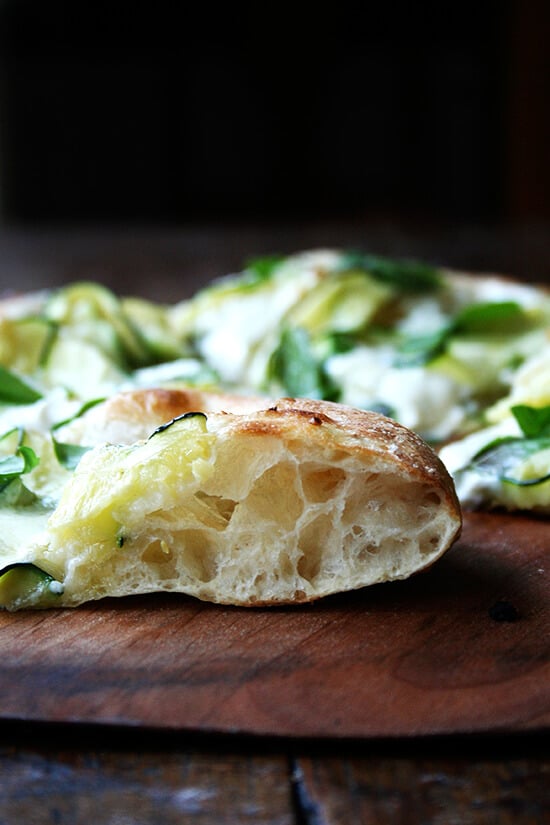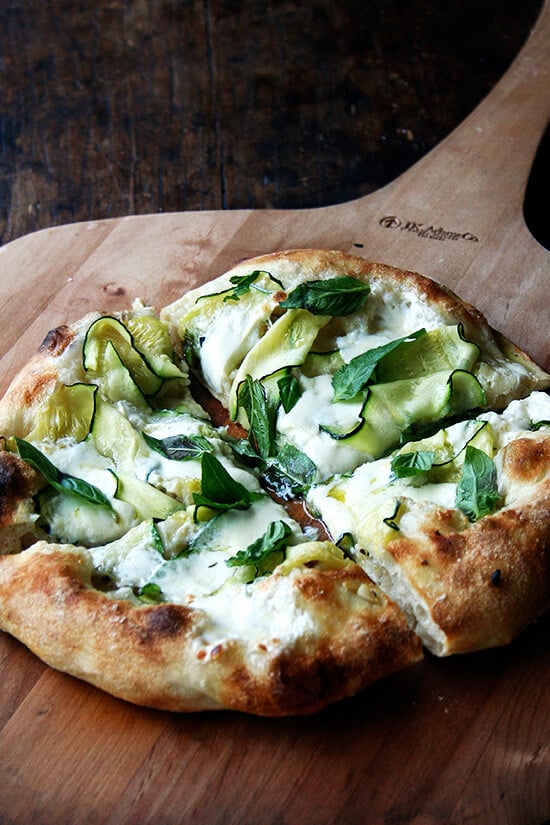 ---
A few other pizzas you might like (images link to posts):
Pizza Perfected
7 Secrets to Mastering Pizza at Home
Always Free. Unsubscribe Anytime.
Print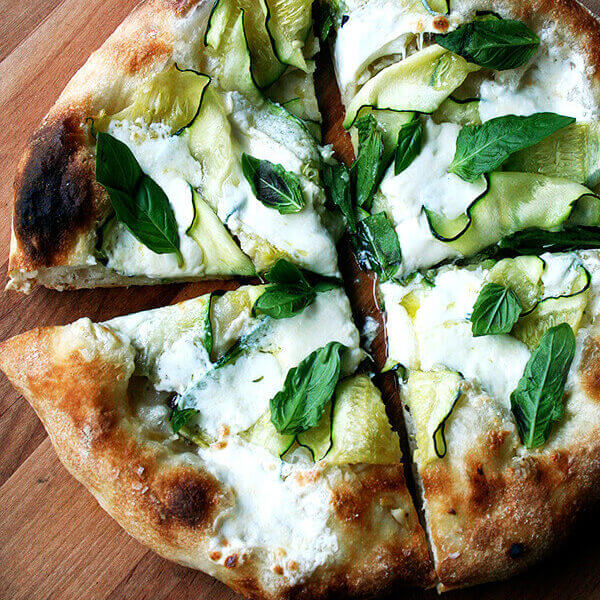 Summer Squash Pizza with Burrata and Basil
---
Description
Dough Source: Bon Appetit via Jim Lahey's book: My Pizza.
Notes: As you know, I am partial to the Lahey Dough. It takes five minutes to throw together a day before you plan on baking, and it is worth every effort to plan ahead for — no other dough, in my experience, creates those beautiful air pockets. I also am partial to this Tipo 00 flour, which I order in bulk and store in the freezer. Finally, the Baking Steel creates pizzas with that beautiful oven spring in the crust and a nice crisp undercarriage.
---
For the dough:
7 1/2 cups

all-purpose or tipo 00 flour (

1000 grams

) plus more for shaping dough

4 teaspoons

fine sea salt (I use Diamond kosher)

1/2 teaspoon

active dry yeast
For the pizza:
1

anchovy, minced

1

garlic clove minced
extra-virgin olive oil
zucchini, shaved as thinly as possible on a mandoline
fresh mozzarella or burrata
nice sea salt
basil leaves
round of pizza dough
---
Instructions
Make the dough: Whisk flour, salt, and yeast in a medium bowl. While stirring with a wooden spoon, gradually add 3 cups water; stir until well incorporated. Mix dough gently with your hands to bring it together and form into a rough ball. Transfer to a large clean bowl. Cover with plastic wrap or tea towel and let dough rise at room temperature (about 72°) in a draft-free area until surface is covered with tiny bubbles and dough has more than doubled in size, about 18 hours (time will vary depending on the temperature in the room).
Transfer dough to a floured work surface. Gently shape into a rough rectangle. Divide into 6 equal portions. Working with 1 portion at a time, gather 4 corners to center to create 4 folds. Turn seam side down and mold gently into a ball. Dust dough with flour; set aside on work surface or a floured baking sheet. Repeat with remaining portions.
Wrap each dough ball separately in plastic wrap and chill. Unwrap and let rest at room temperature on a lightly floured work surface, covered with a light dusting of flour for about an hour or two before shaping. DO AHEAD: Can be made 3 days ahead.
To Make the Pizzas: Pull out a pizza round from the fridge one hour before you plan on baking. Dust dough with flour and place on a floured work surface. Preheat oven to its hottest setting, 550°F. Gently shape dough into a 10″–12″ disk handling it as minimally as possible. Arrange dough disk on parchment-lined baking peel; top with minced anchovy and garlic and a drizzle of olive oil. Pile on the shaved zucchini. Note: It's ok to add more than you think feels right here because the zucchini shrinks down a lot. Top with roughly cubed mozzarella or burrata. Sprinkle with nice salt. Drizzle with a splash more olive oil.
Bake pizza until top is blistered, about 5 minutes. Transfer to a work surface. Top with basil leaves. Slice and serve.
Prep Time:

20 hours

Cook Time:

5 minutes

Category:

Pizza

Method:

Oven

Cuisine:

American, Italian
Keywords: pizza, zucchini, anchovy, summer, Jim Lahey, Baking Steel, slow-rise, dough, burrata
This post may contain affiliate links. Please read my disclosure policy.