Swiss Chard Salad with Lemon, Parmesan & Bread Crumbs
This post may contain affiliate links. Please read my disclosure policy.
If you love a kale salad, you will love this Swiss chard salad. When dressed with a light, lemony dressing and tossed with garlicky bread crumbs and parmesan, Swiss chard's leaves become soft and buttery. A pinch of crushed red pepper flakes offers a welcomed kick, too. As soon as the Swiss chard begins arriving in our CSA and popping up in the garden, this becomes our go-to salad — it's irresistible!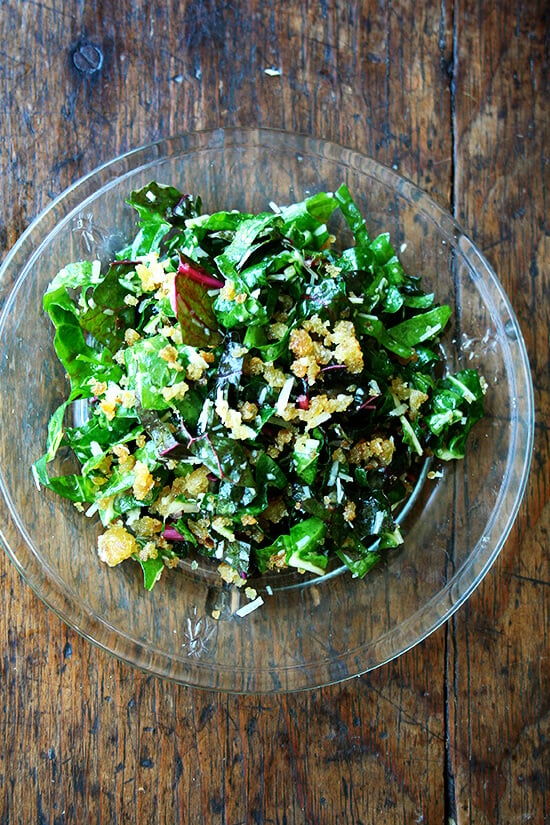 My introduction to kale salads came by way of restaurant, True Food Kitchen, that my aunt and I frequented for lunch in the summer of 2010.
At TFK, they marinated the kale in lemon and olive oil, then tossed it with bread crumbs and parmesan. Back then, eating kale raw (for many of us) was revolutionary, but it quickly became an obsession.
In the years that followed, I ate and prepared many raw kale salads, but it never occurred to me until many years after that TFK lunch, to try treating Swiss chard in the same manner. I had relegated chard to the vegetables-that-require-cooking family, which is a seriously misguided placement.
Chard, like kale, loves a lemon dressing, and when tossed with bread crumbs and parmesan, its leaves relax, more so than kale in fact, and any bitterness disappears. Last week, when I asked the world wide web if chard could be eaten raw, it pointed me to a salad on Food52, which I made immediately, and then again and then again.
The dressing is simple — the juice of one lemon plus a quarter cup of olive oil — and the bread crumbs, seasoned with garlic and pepper flakes, are irresistible.
If you've yet to give Swiss chard the kale salad treatment, now's the time! Light, lemony, and refreshing — Swiss chard will never taste so summery.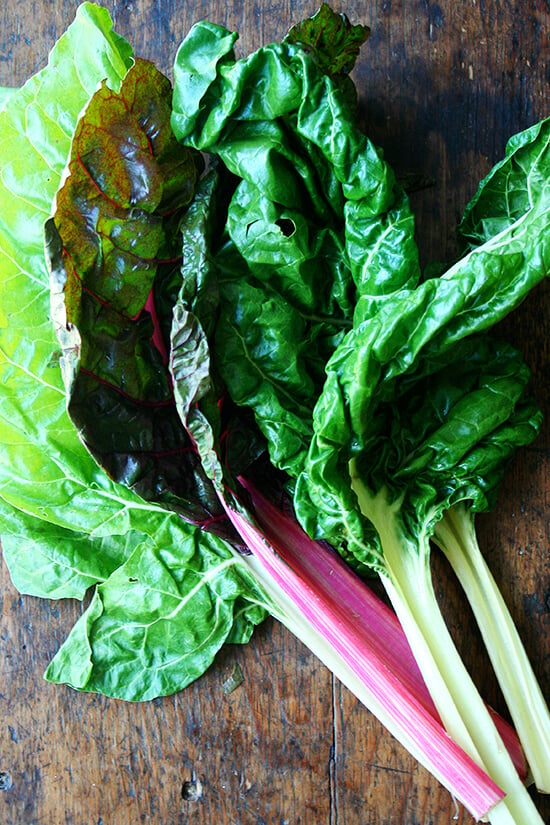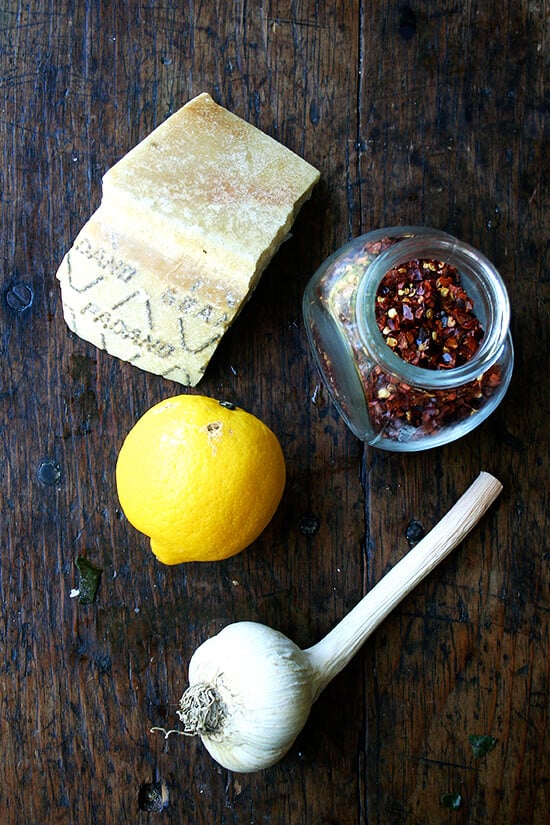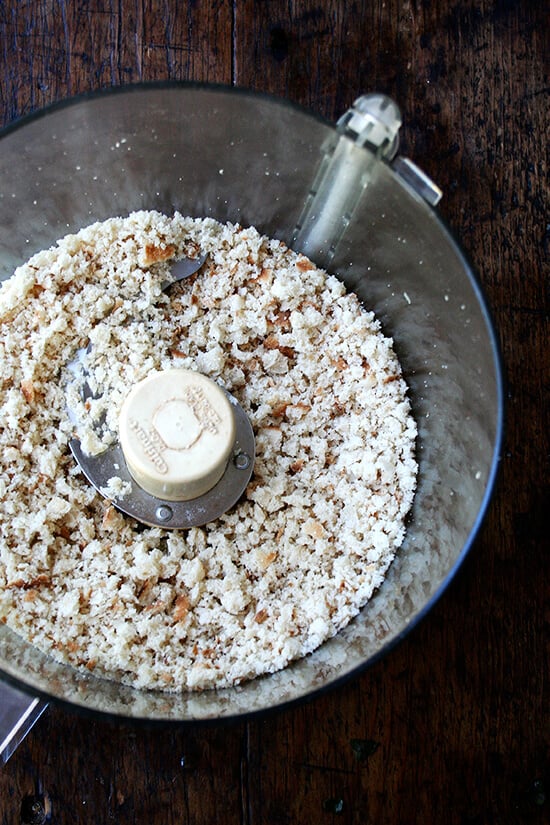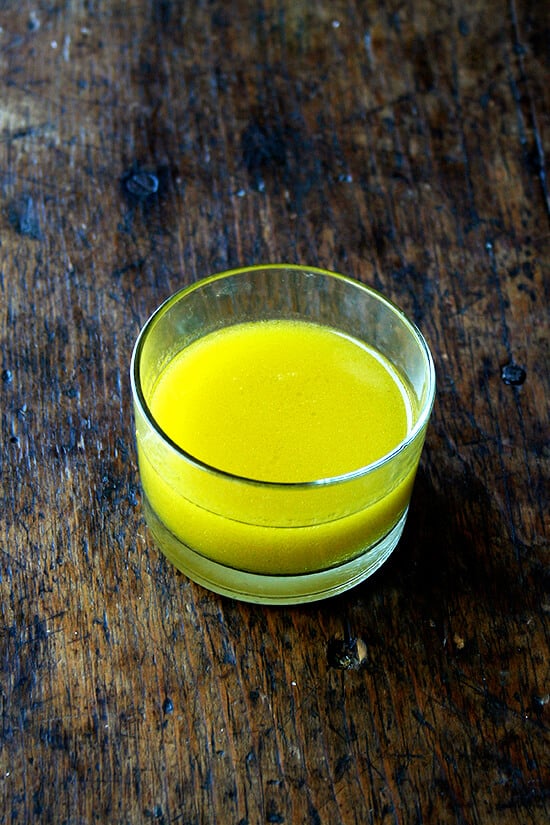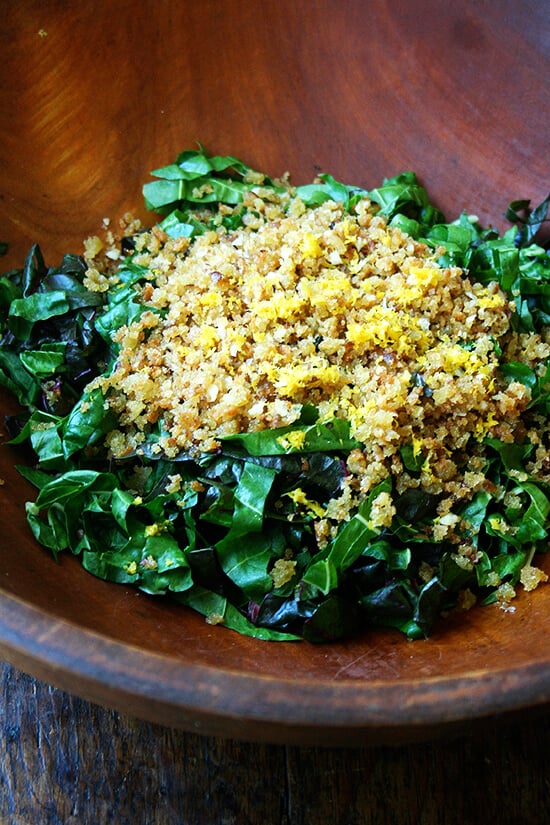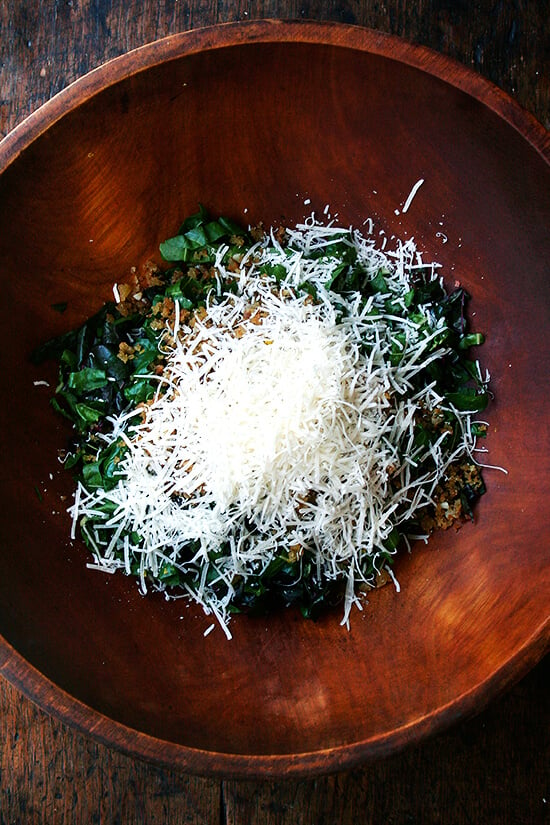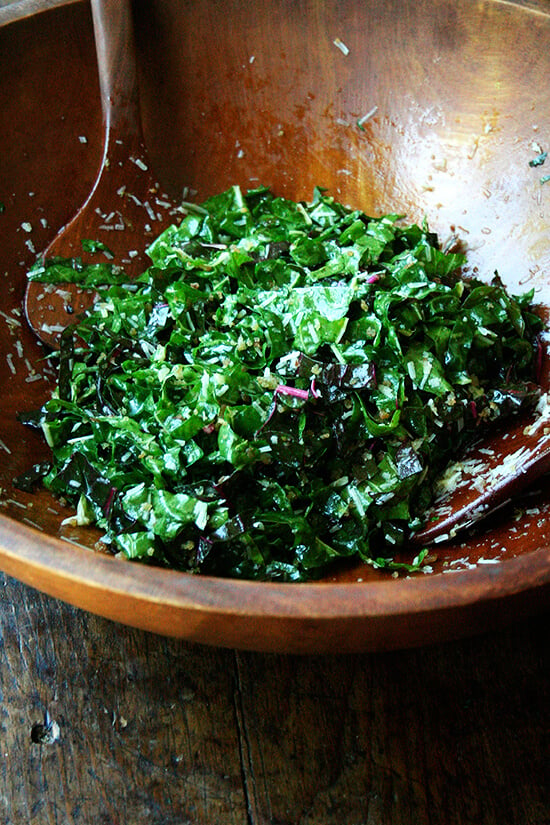 This is garlic from our CSA. Four enormous cloves per bulb. Isn't it pretty?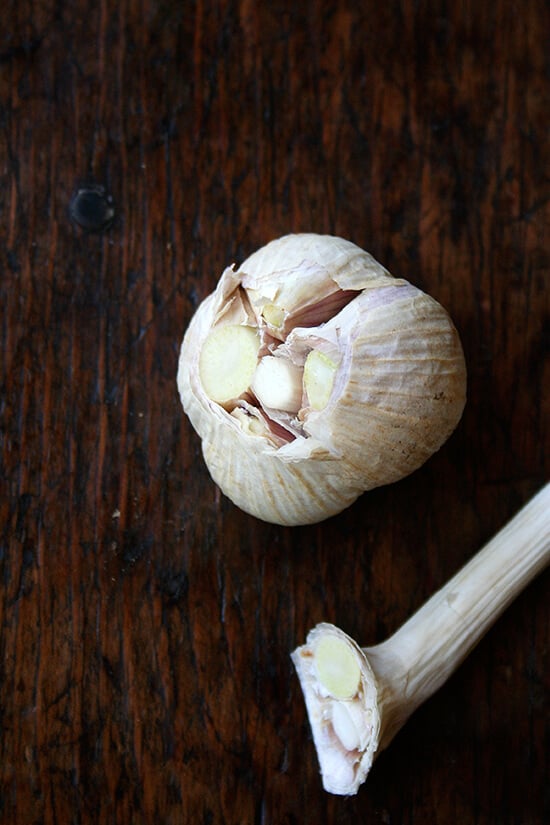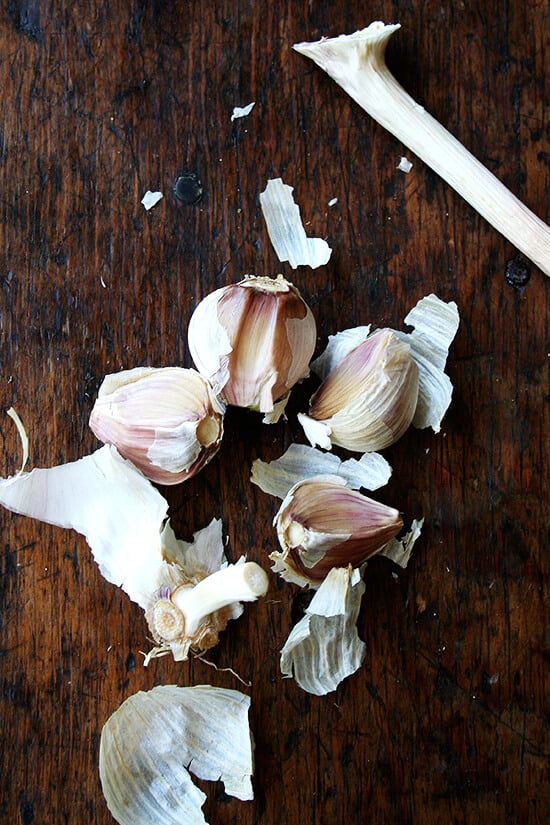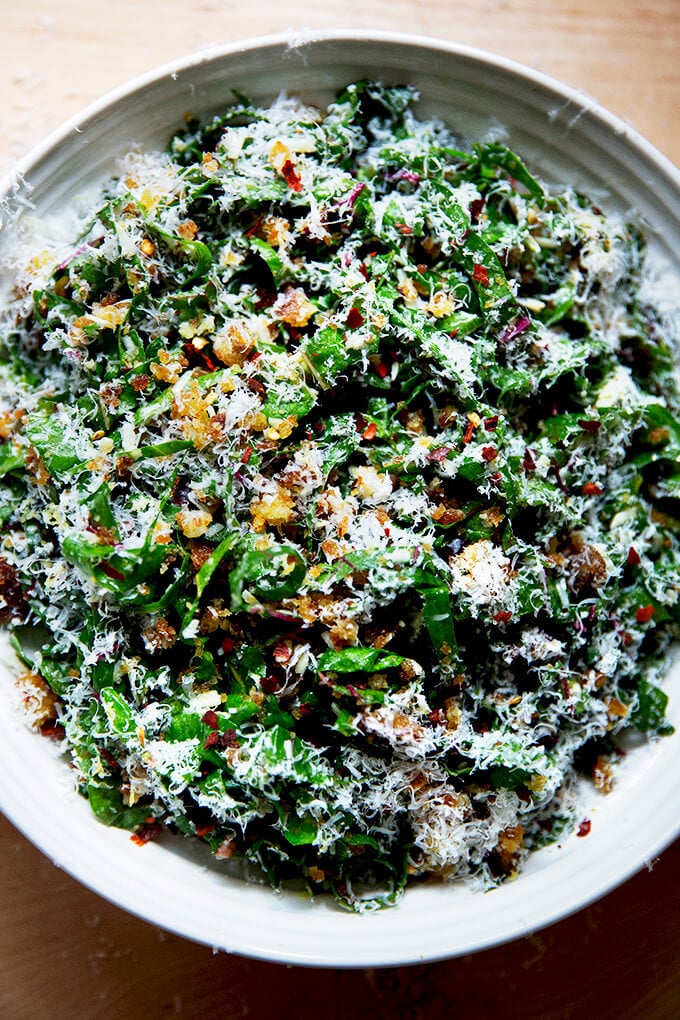 Print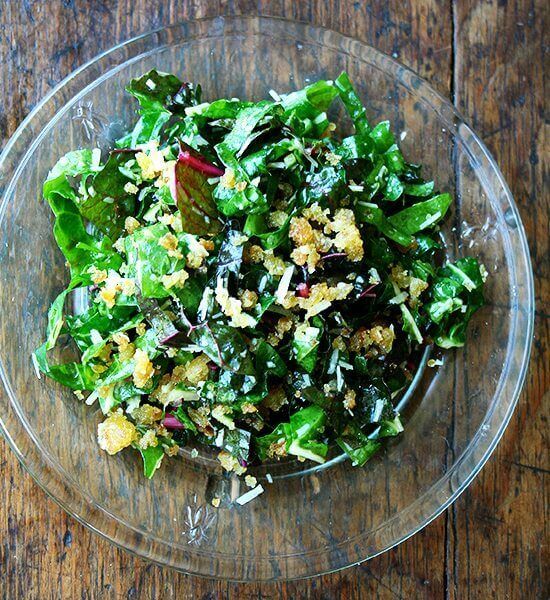 Swiss Chard Salad with Lemon, Parmesan & Bread Crumbs
---
Description
Slightly adapted from Food52.
Note: If possible, get your hands on some good, tender Swiss chard for this recipe. We've been getting beautiful chard from our CSA as well as from the Niskayuna Co-op, which carries chard from Hope Valley Farm. Farmers' markets, obviously, are a great source.
Bread crumbs: Once, when I made this, I was out of bread — the horror! — and I used two English muffins instead. Worked like a charm.
---
1

bunch Swiss chard, about

12 ounces

½ cup

extra virgin olive oil, divided

1½ cups

(

2.5 ounces

) fresh bread crumbs, see notes above

1

clove garlic, minced
sea salt to taste
crushed red pepper flakes, optional

1

lemon

¾ cups

(

1.5

–

2

ounces) grated Parmesan, Grana Padano or Pecorino
---
Instructions
Wash and dry the chard and remove the stems from the leaves. (Save stems for another use.) Stack a few of the leaves on top of each other, roll them like a cigar and cut the cigar into thin (1/8-inch) ribbons. Repeat until all the leaves are shredded. Put the leaves into a large salad bowl.
Warm ¼ cup olive oil in a small, heavy skillet over medium heat. Add the bread crumbs and cook, stirring frequently, until they are crisp and golden brown (about 5 minutes). Be careful not to burn them! Stir in the garlic, a pinch of salt and pepper flakes, and let them toast for another minute, then remove from the heat.
Zest the lemon into the bowl of chard. Juice the lemon into a small mixing bowl. Add a few generous pinches of salt. Slowly whisk in ¼ cup of the olive oil.
Add the Parmesan and about ⅔ of the lemon dressing to the bowl. Toss until nicely coated. Taste and add more dressing if you like. Toss in the toasted bread crumbs and serve immediately.
Prep Time:

15 minutes

Cook Time:

5 minutes

Category:

Salad

Method:

Toss

Cuisine:

American
Keywords: Swiss chard, salad, bread, lemon, parmesan, crumbs
This post may contain affiliate links. Please read my disclosure policy.