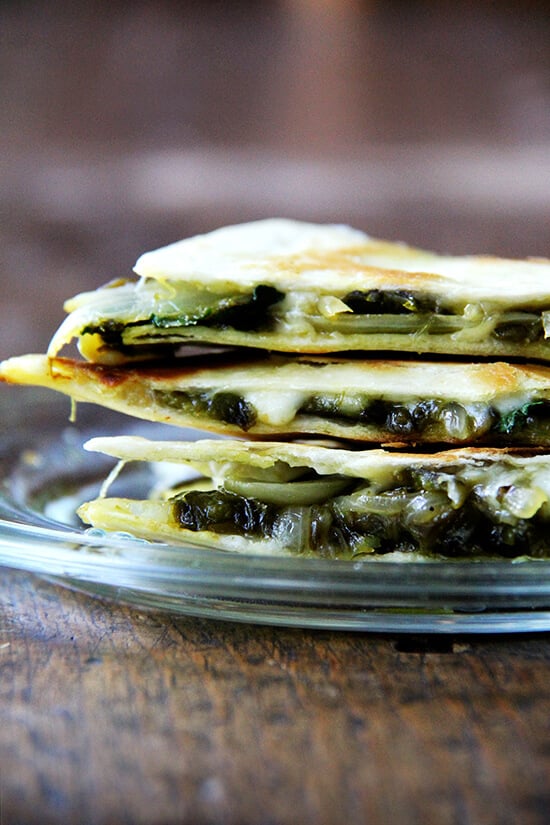 I had one goal in mind when setting out to the farmers' market this weekend: return with shishito peppers. I keep reading about them, and every time I do, I am reminded of a lovely dinner years ago at Casa Mono, where I sat at the bar with two friends, popping blistered, salty padrón peppers one after another, watching as the cooks worked with intense focus. Of all the delicious bites we sampled that evening, those charred peppers were the unanimous favorite. We ordered two plates.
I have been on the search ever since for padrón peppers and, more recently, shishito and fushimi peppers, which I understand are all similar — small, green and thin walled — and take well to high heat, fast cooking and showers of salt.
Alas, I had no luck at the farmers' market, but with beautiful peppers of countless varieties spilling out of baskets at every turn, I had no reason to despair. I picked up half a dozen poblanos with these quesadillas in mind, a long-time favorite summer recipe, a simple mix of sautéed onions and roasted poblano rajas ("strips") with Monterey Jack, cilantro and sour cream.
Every time I make these I am tempted to add more — sautéed corn, grilled summer squash — and I'm always happy when I don't. There is something so good about this simple combination, about tasting each element — the smoky peppers and sweet onions, the bright cilantro, the creamy, melty Jack. As with pizza, less is more with quesadillas — a thin layer of ingredients is best. Before serving, I love stretching open the cheese-locked layers and dropping in spoonfuls of sour cream.
With one bite of this golden, crispy quesadilla, I bid my shishito pepper pinings sayonara. We enjoyed the last bit of the weekend, a beautiful summer evening, with a grapefruit margarita, a recipe our neighbor introduced us to earlier this summer, one that has become a favorite: San Pellegrino sparkling grapefruit, Triple Sec and tequila — so easy, so refreshing, always a hit. Happy almost weekend, Everyone.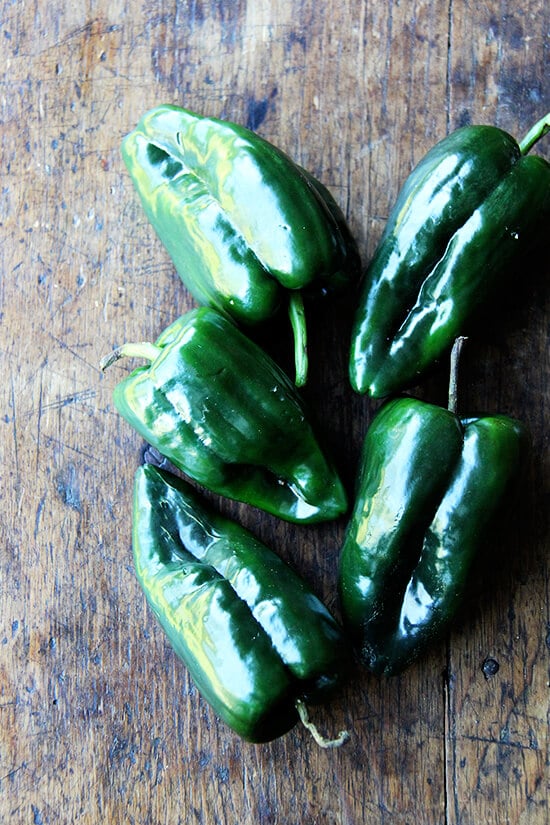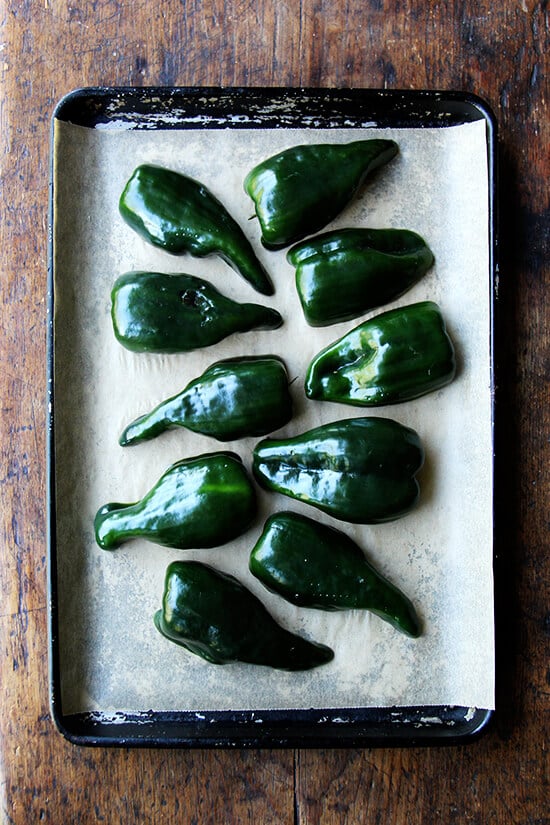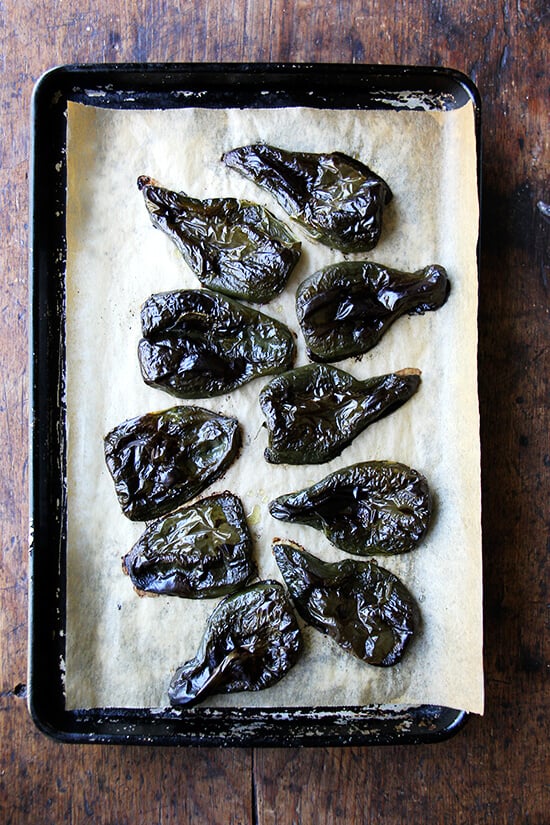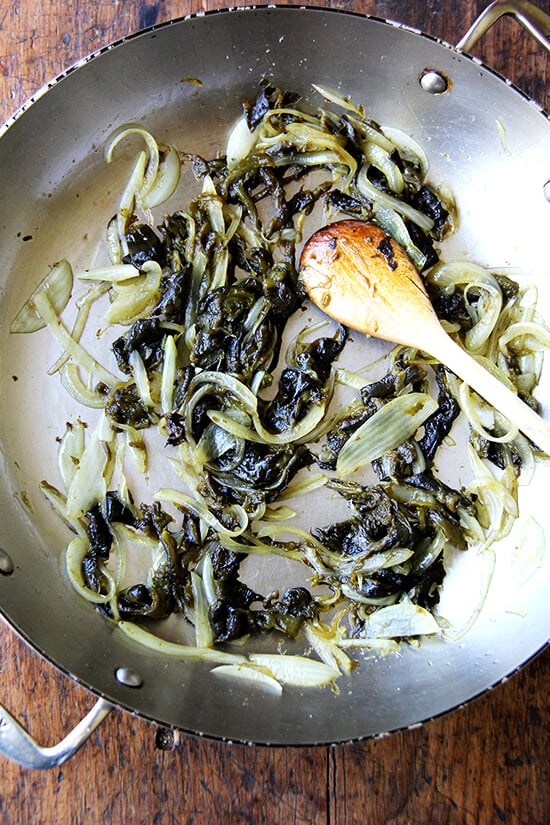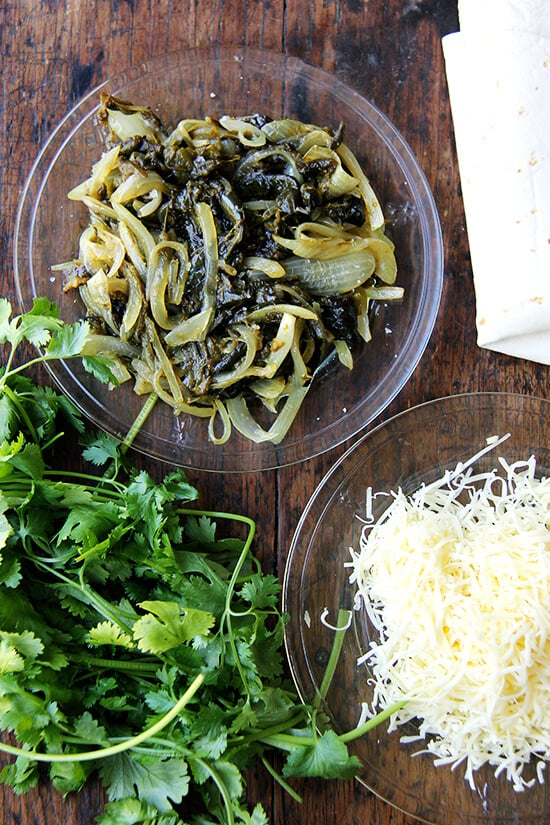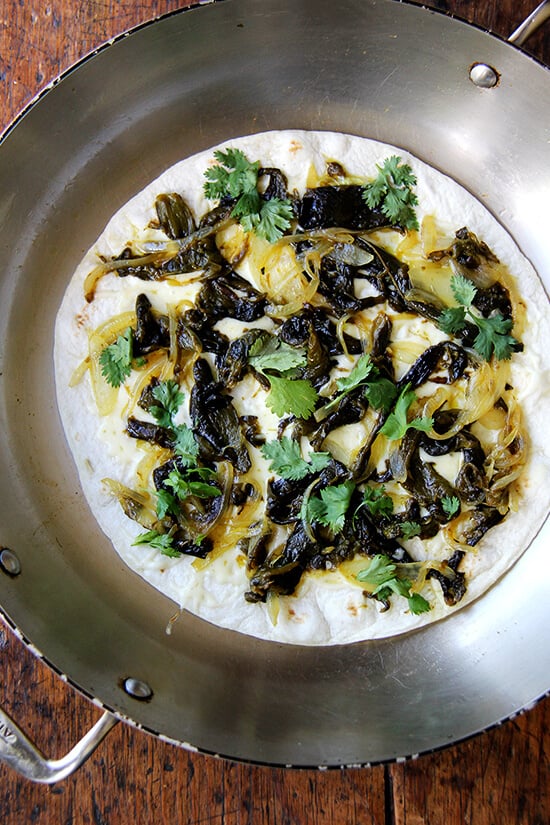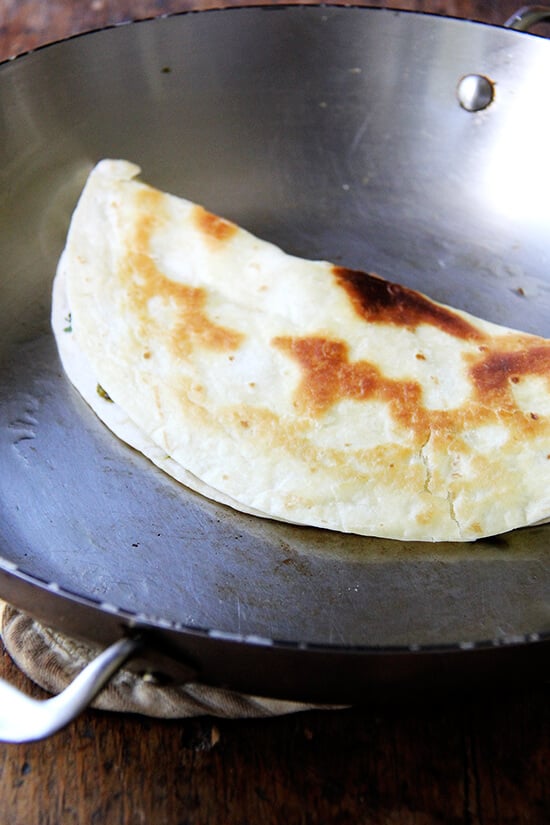 Print
Roasted Poblano, Onion & Jack Quesadilla
---
Prep Time:

15 minutes

Cook Time:

50 minutes

Total Time:

1 hours 10 minutes

Yield:

2 servings
Description
Inspired by this Fine Cooking recipe. The quantities are quite different so definitely check out the original recipe if you want to make smaller quesadillas with fewer peppers. In sum, the changes I made include: more poblanos, larger tortillas, less cilantro. The method, however, is nearly identical.
---
Ingredients
6

poblano chiles

¼ cup

loosely packed fresh cilantro

1 tablespoon

plus 2 tsp. olive oil

1

medium white onion, thinly sliced lengthwise (about 1-1/

2 cup

s)
Kosher salt and freshly ground black pepper
two

10

-inch flour tortillas
grated Monterey Jack cheese (4 to 8 oz.)
sour cream or crème fraiche to taste
---
Instructions
To roast the peppers using a gas flame: Turn a gas burner to high and char the poblanos directly over the flame, turning them with tongs as soon as each side becomes fully blackened, about 6 to 8 minutes per pepper. To roast the peppers in the oven: Preheat the oven to 400ºF. Halve and seed the peppers and place on a parchment-lined (for easy cleanup) baking sheet. Roast for about 30 to 35 minutes or until charred in some places. (Don't let them get too black as I did here or you will have trouble peeling them.)
Immediately after roasting, put the poblanos in a bowl, cover, and set aside to steam and loosen the skins. When they're cool enough to handle, peel the charred skin off with your hands or a small paring knife. Pull out and discard the stems and seed clusters (if you haven't already). Slice the peppers into ¼-inch-wide strips and put them in a small bowl.
Put a baking sheet in the oven and heat the oven to 150°F (or its lowest setting).
Meanwhile: heat 1 tablespoon of the oil in a large skillet over medium-high heat. Add the onion and cook, stirring frequently, until soft and lightly browned, 3 to 5 minutes. Add the poblano strips, season with a generous pinch of salt and a few grinds of pepper, and cook, stirring occasionally, until the peppers are heated through, another 1 to 2 minutes. Transfer to a plate and wipe the skillet clean.
Heat 1 tsp. of the oil in the skillet over medium-high heat until hot. Add one tortilla and scatter over it half of the cheese, half of the poblano mixture, and half of the cilantro. When the tortilla smells toasty and the bottom is browned in spots, in 1 or 2 minutes, fold it in half, pressing it with a spatula to flatten it. Transfer to the baking sheet in the oven to keep warm. Repeat with the remaining ingredients to make one more quesadillas. Cut each quesadilla into wedges and serve with the sour cream or crème fraiche on the side — I like to open my quesadilla up and drop spoonfuls of crème fraiche inside.
---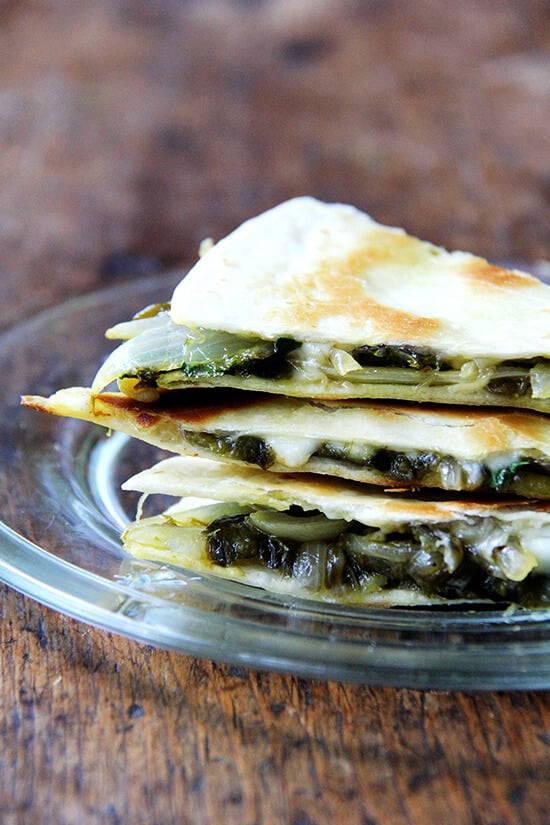 San Pellegrino grapefruit margarita:

SP sparkling grapefruit, Triple Sec, tequila:

Print
San Pellegrino Grapefruit Margarita
---
Prep Time:

3 minutes

Total Time:

3 minutes

Yield:

2 servings
Ingredients
1

can San Pellegrino sparkling grapefruit

2 oz

. tequila

1

to

2

tablespoons Triple Sec
ice
lime, optional
---
Instructions
Pour San Pellegrino grapefruit drink into a pitcher. Add tequila and 1 tablespoon of Triple Sec. Taste. Add more Triple Sec or tequila if desired. Pour over ice. Serve with lime if desired.
---
Aren't these ice cube trays fun? I like the mini cubes too.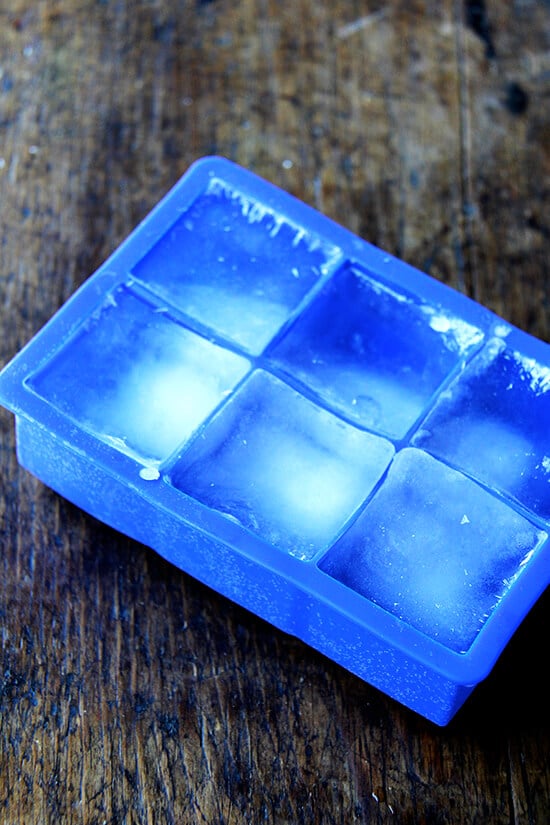 A few other things:
I have been writing a biweekly column for Food52 called A Bushel and a Peck. Each post in the column focuses on a single ingredient, such as radishes or garlic scapes or anything you — gardeners, CSA subscribers, enthusiastic market goers in particular — might find yourself overloaded with this time of year. The goal of each post is to give some guidance for storing and prepping and using these ingredients. A few of the entries now won't be of any use until next spring, but if you are still feeling overwhelmed by chard, green beans and peppers, those posts might be helpful. I can't stop making this Yotam Ottolenghi marinated pepper salad with basil and capers.
Also, last Friday, I shared a recipe for chimichurri skirt steak with rice noodles and nuoc cham over on Design Sponge. Most of you are probably familiar with Design Sponge, but if you aren't, I can't say enough good things about the site and the book, which I've had for years now and still look at all the time. It is filled with inspiring images from designers' homes as well as affordable and fun DIY projects. I've enclosed a few pictures below of DS projects I've taken on over the years.
Finally, pizza lovers, here's the latest over on Baking Steel: Tom Colicchio's oven-roasted tomatoes with garlic and burrata.
A few Design Sponge Projects:
Daybed from wooden pallets; see inspiration here:

decorative paper brick bookends: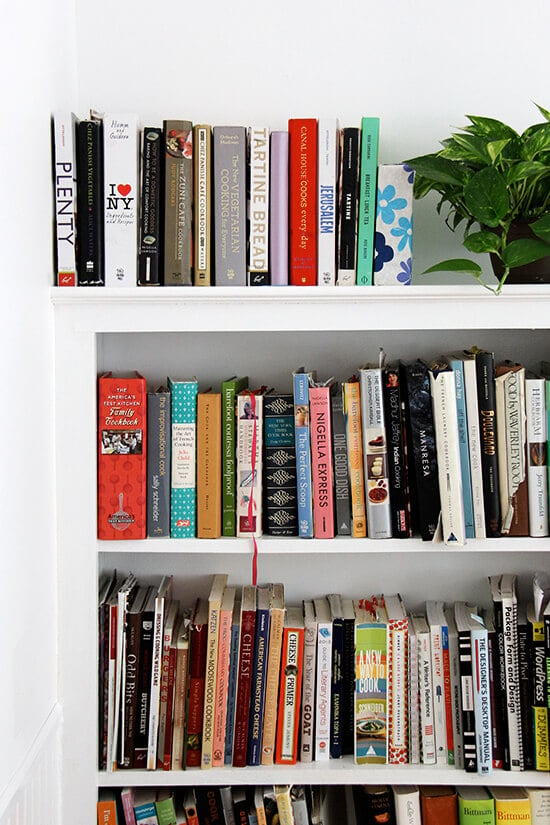 Bench from three chairs; see inspiration here: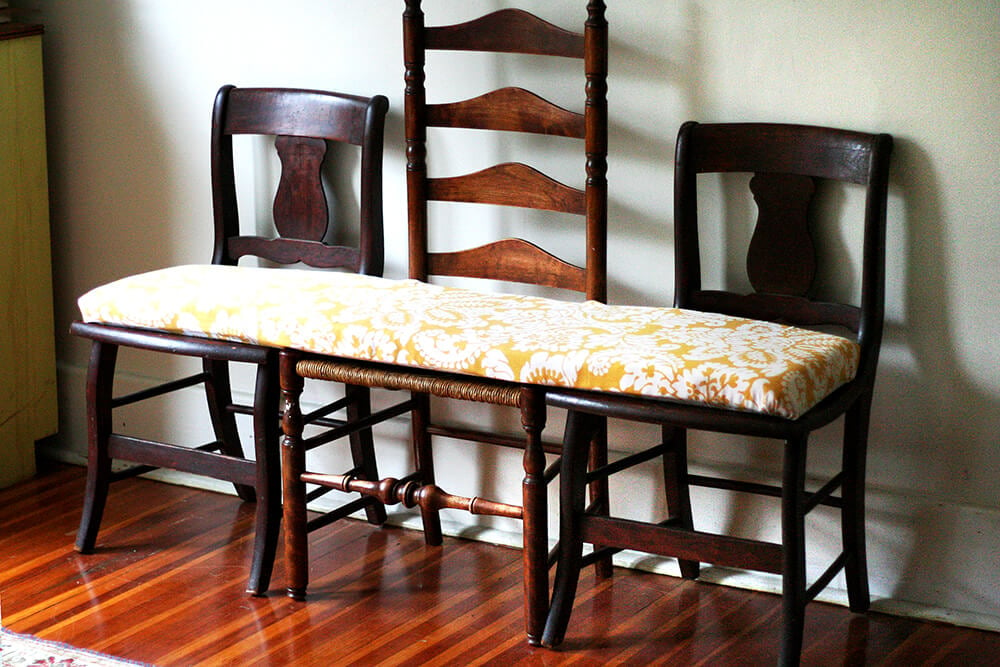 Such a good one: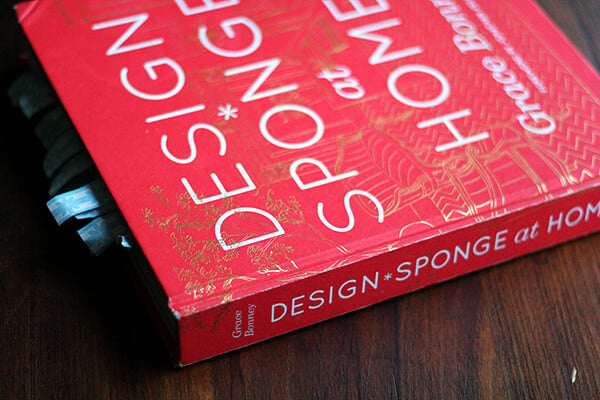 chimichurri skirt steak with rice noodles and nuoc cham: