Crispy, Panko-Crusted Eggplant
This post may contain affiliate links. Please read my disclosure policy.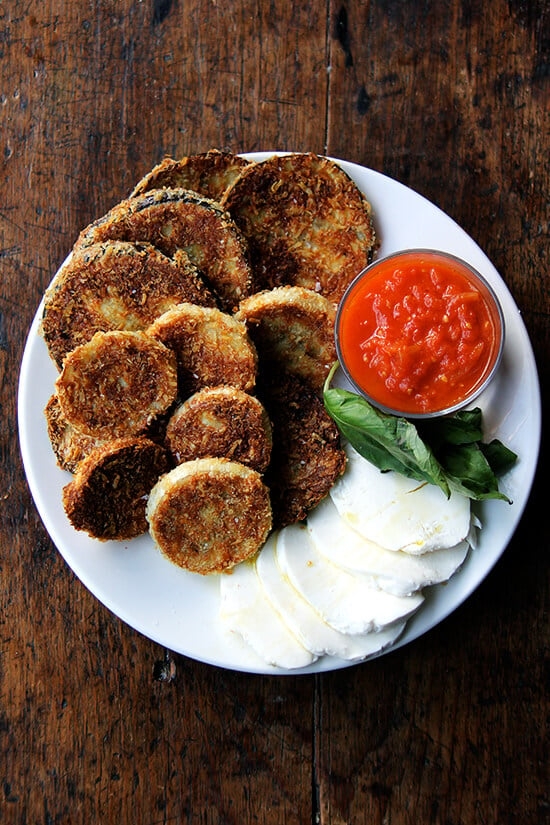 A few weeks ago, as I stood at the counter flouring, egg dipping, and breading two pounds of eggplant rounds, a little dolly screaming at my feet wanting nothing more than to be held at the height of this witching hour, I found myself asking "WHY?!" I know better than to make this sort of thing at this sort of hour. I shouldn't be so stubborn. But a craving for eggplant parmesan left me inflexible, and I pushed on until crumbs and parmesan covered every slice, trying to stay composed through every piercing cry. Oiy.
But as soon as those rounds entered the oven, I relaxed. And this is the beauty of The America's Test Kitchen Family Cookbook eggplant parmesan recipe. Once the breading is done, the hard work is over — there is no standing at the oven, frying the eggplant in batch after batch. The Test Kitchen's recipe calls for baking the eggplant on preheated baking sheets, a technique they developed to solve the oil-laden, pan-fried eggplant problem that leads to heavy, greasy eggplant parmesan. Oven-frying saves time to boot.
If you've made eggplant parmesan, you know, however, that no matter what time-saving tricks you've devised, it is still a labor of love. The eggplant should be salted and drained for about 40 minutes, which makes the slices less prone to soaking up gobs of oil. Breading takes time, too, and if you make your own sauce and breadcrumbs, you're going to be spending some time in the kitchen.
But this time of year, there is nothing more comforting than a cheese-and-sauce bubbling casserole, and the Test Kitchen's recipe is so good. I've shared the full recipe over on Food52, and I've included a little variation here in case exhaustion gets the best of you, and upon seeing those crispy eggplant rounds emerge from the oven, you throw in the towel and call dinner done — I've stopped here on more than one occasion. These crispy rounds are irresistible, and with a few slices of cheese, some bread, sauce, maybe some prosciutto or other cured meats, you can make a meal out of them. Little ones, teary eyed or otherwise, seem to like them, too.
A few other favorite eggplant recipes:
Eggplant Involtini
Chez Panisse Eggplant, Caramelized Onion and Tomato Pasta
Eggplant Caviar on Grilled Bread
Burnt Eggplant with Za'atar Flatbread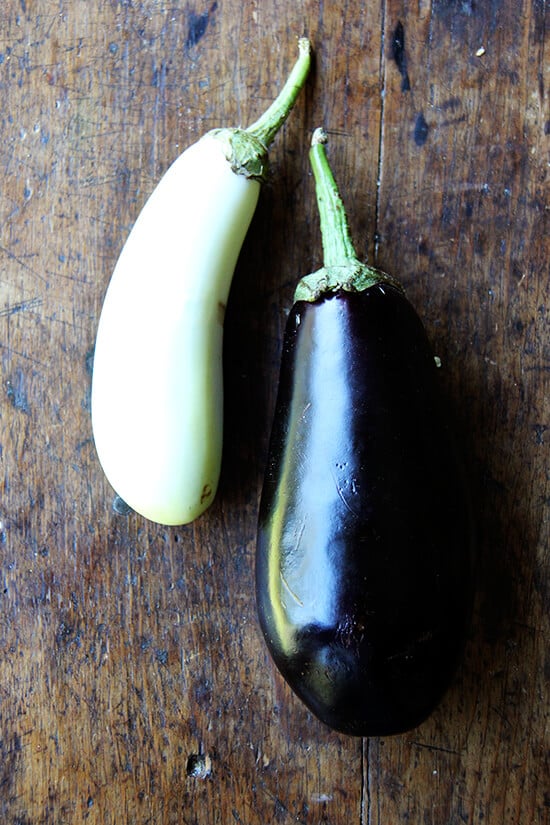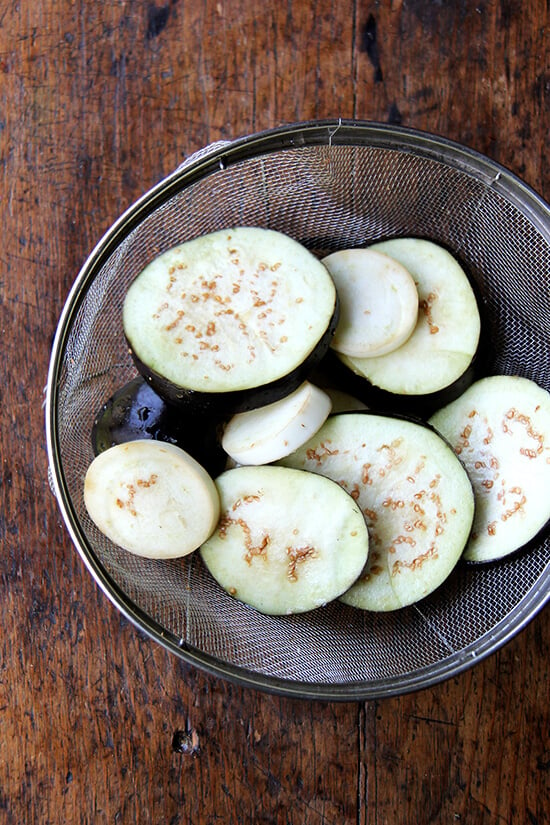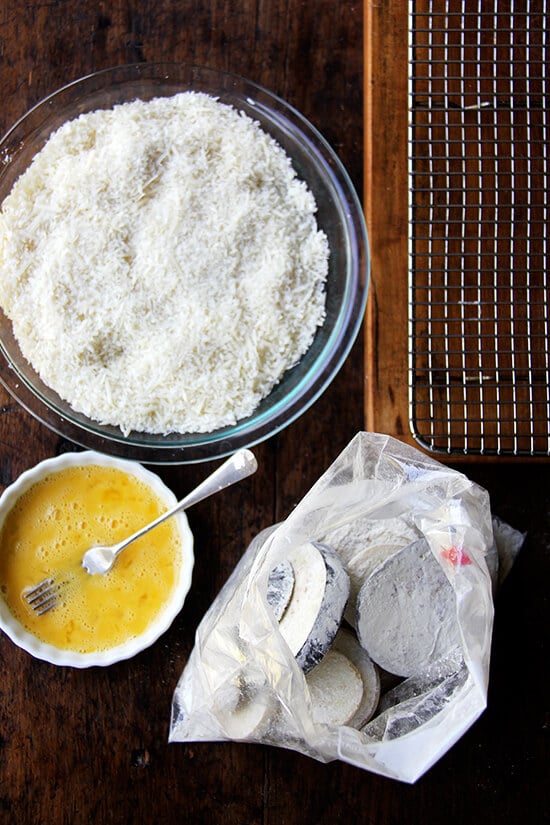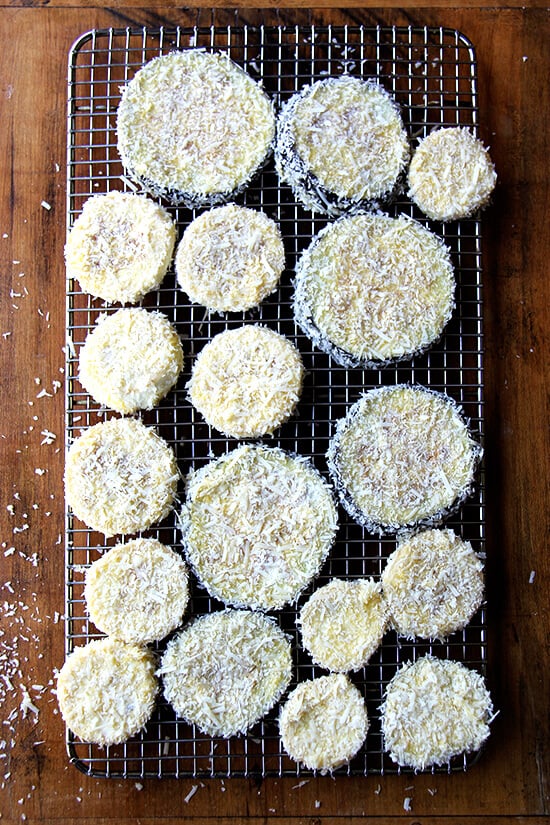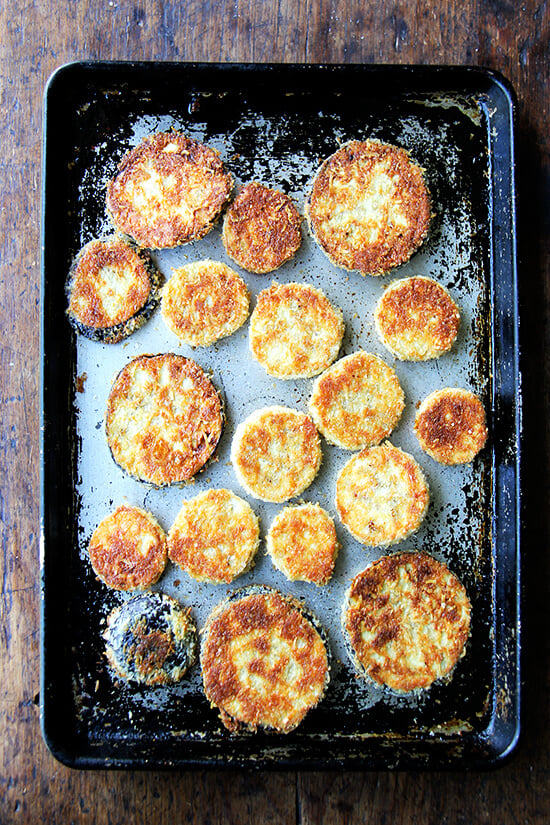 Making the sauce: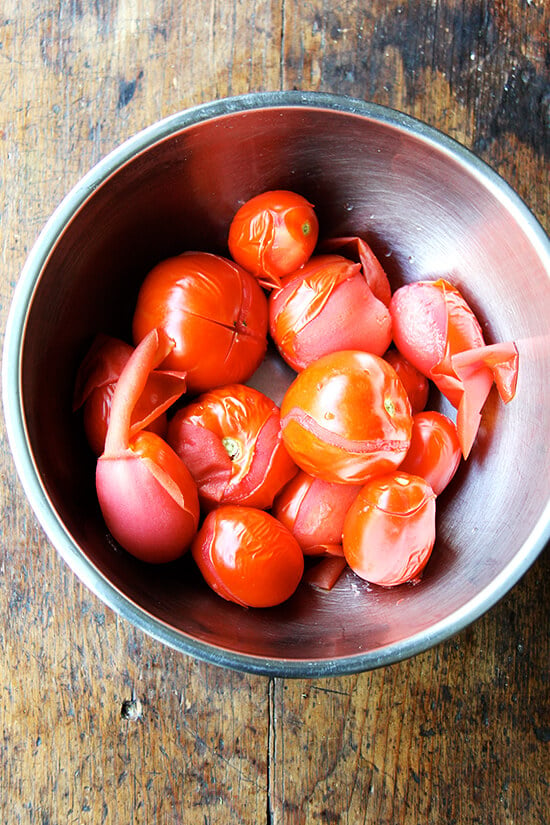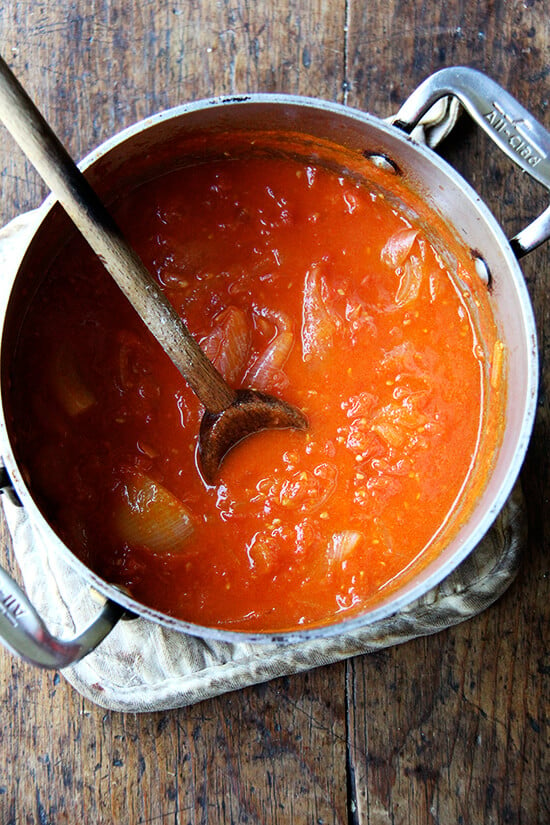 Dinner: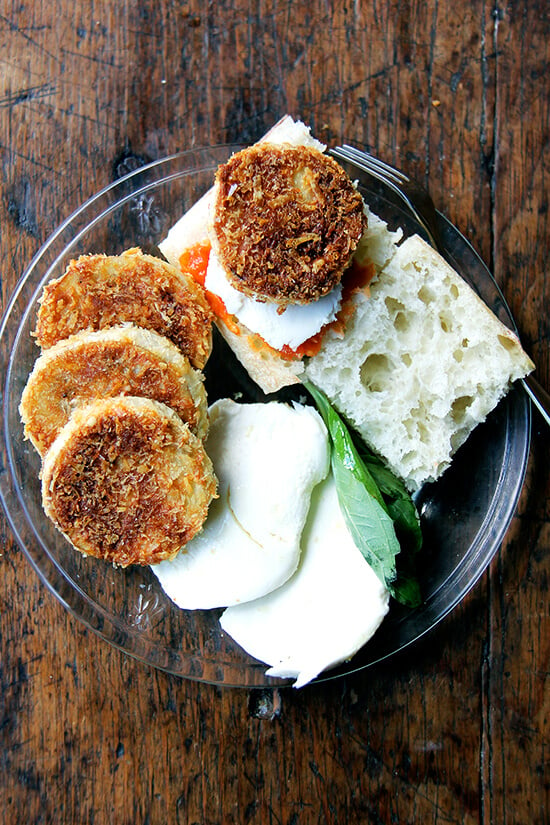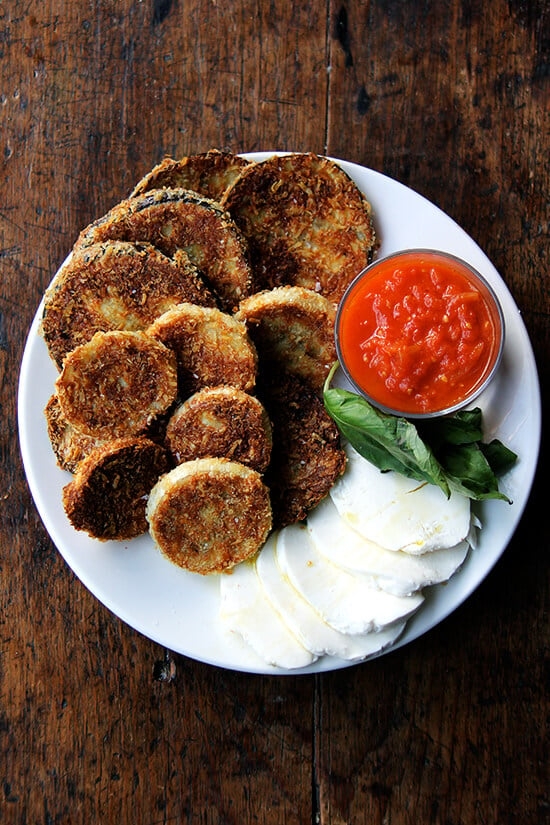 Print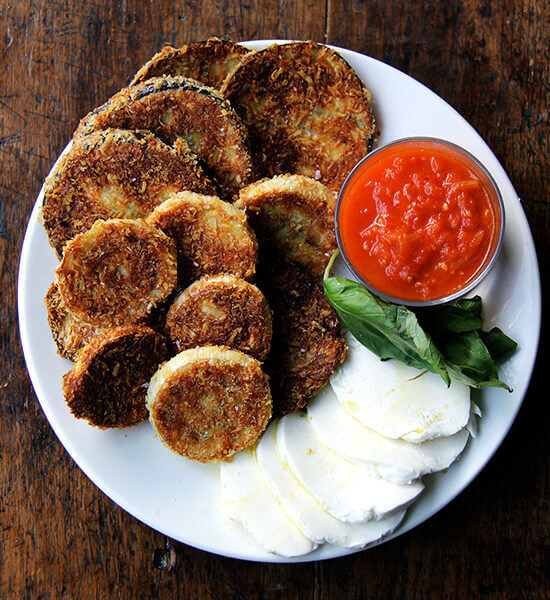 Crispy Panko-Crusted Eggplant
---
Author:

Alexandra Stafford

Total Time:

40 minutes

Yield:

Serves 4 as an appetizer

Diet:

Vegetarian
Description
This is a long-time favorite recipe from The America's Test Kitchen Family Cookbook. What I love about this recipe is that there is no standing over the stove frying the eggplant in seemingly never-ending batches. This step is eliminated by baking the breaded eggplant slices on preheated baking sheets. The eggplant emerge from this step crispy and golden and are irresistible. I love serving them with homemade tomato sauce (this one or this one), fresh mozzarella, and basil.
---
2 

globe eggplants, about 2 pounds total, sliced into 1/4- to 1/2-inch thick rounds

Kosher salt


1 

cup flour

Pepper


4 

eggs


4 

cups dried breadcrumbs, such as panko


1 cup

grated Parmesan cheese

6 

tablespoons olive oil


homemade tomato sauce, for serving

fresh mozzarella

fresh basil (optional)
---
Instructions
Adjust oven racks to upper- and lower-middle positions, place a rimmed baking sheet on each rack, and heat oven to 425° F. Combine the flour and about 1 teaspoon pepper in a large ziplock bag and shake to combine. Beat the eggs in a shallow dish. Combine the breadcrumbs, 1 cup of the Parmesan, 1/4 teaspoon salt, and 1/2 teaspoon pepper in a second shallow dish. (Alternatively, you can season the eggplant rounds once they are breaded with salt and pepper to taste.)
Working with about 8 eggplant slices at a time, place them in the bag with the flour, seal, and shake until thoroughly coated. Remove the eggplant, shaking off any excess flour, and dip it into the eggs. Remove the eggplant from the eggs, allowing any excess egg to drip off, and coat evenly with the breadcrumbs, pressing them to adhere. Lay the breaded eggplant on a wire rack. Flour, dip in egg, and coat the remaining eggplant in breadcrumbs in the same manner.
Remove the preheated baking sheets from the oven. Pour 3 tablespoons oil onto each sheet, tilting to coat the sheets evenly. Spread the breaded eggplant in a single layer over the hot sheets. Bake until the eggplant is well browned and crisp on the first side, about 15 to 20 minutes. Flip the eggplant slices over. Switch and rotate the baking sheets, and bake until the second side is brown, about another 10 minutes.
Serve with tomato sauce, mozzarella, and basil.
Prep Time:

20 minutes

Cook Time:

20 minutes

Category:

Appetizer

Method:

Baked

Cuisine:

Italian
Keywords: eggplant, parmesan, crispy, summer, appetizer
This post may contain affiliate links. Please read my disclosure policy.