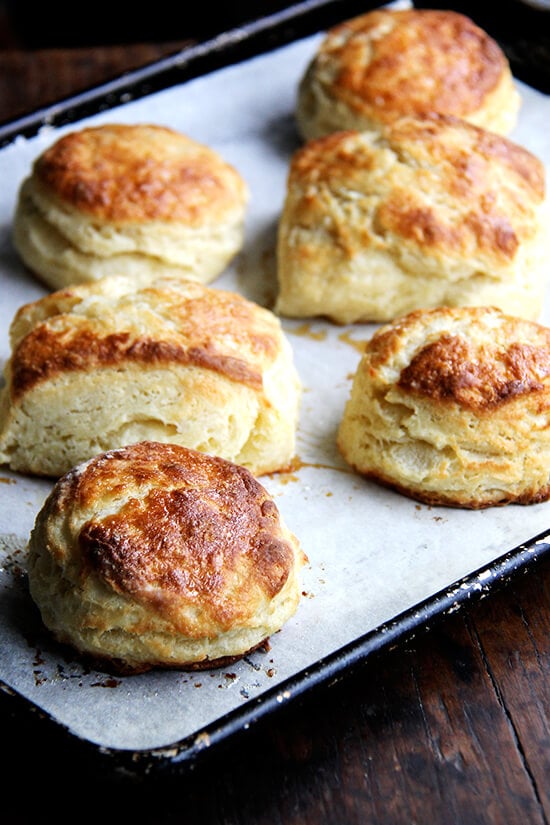 Last month I traveled to a wedding in Boston via a Greyhound bus, which dropped me off with hours to spare before the big event (so considerately deciding not to break down till the trip home), affording me the chance to have lunch at Flour Bakery.
I arrived just as the last sticky bun got snatched up, which in hindsight was a blessing, because had it still been around, I never would have discovered the best BLT in the world — seriously, the best — and I most likely wouldn't have grabbed a brown butter rice krispie treat (also incredibly delicious) on the way out the door. I've read about Joanne Chang in blogs and magazines for years, watched her beat Bobby Flay in a sticky bun throwdown, drooled over both of her cookbooks at the library, but for reasons I can't explain had never made any of her recipes until a few days ago.
The recipe, buttermilk biscuits with maple and black pepper, is in Dana Cowin's new cookbook, Mastering My Mistakes in the Kitchen. Many of you likely know Dana as the Editor in Chief of Food and Wine magazine, as someone who knows food better than anyone, as someone who wouldn't make too many mistakes in the kitchen, or who would be an unlikely person to admit to them.
Well, the secret's out: In MMM, Dana confesses to not being a great cook (though I'm still not sure I quite believe her). I don't want to give too much away because both the forward, written by Thomas Keller, and Dana's own introduction are inspiring and funny, highlights being a vignette revealing how Dana's "fails" in the kitchen led to the creation of a Food and Wine help column under a pseudonym, a story about killing lobsters with Eric Ripert and how he taught her to focus, and a note on how good cooking starts with honesty.
What follows in the book are recipes with advice and tips from 65 professional chefs, including Jean-Georges Vongerichten, Jose Andres, April Bloomfield, David Chang, and Thomas Keller who offers a three-step, foolproof recipe for roast chicken. Despite the presence and importance of these chefs in the book, however, the recipes are not cheffy at all: think meatballs (and how to make them light and tender), potstickers (and how to make them not only brown but also crisp), great ribs (and a no-fuss way to make them).
Joanne Chang's recipe for buttermilk biscuits is a perfect illustration of what sort of recipes and tips are in the book. I have made many a biscuit over the years, but until making this recipe, never have I folded the dough over itself four times before cutting it, a step that helps create beautiful layers in the finished biscuits, and never have I chilled the cut biscuits for an hour before baking, a step that helps make the biscuits flakier. This recipe is appended with 10 tips from Joanne ranging from how best to incorporate baking soda (I never would have imagined this to be an issue) to the role sugar plays in baking not only for sweetness but also for texture (also news to me).
In the spirit of the book, let me tell you what I've learned after making this recipe three times in three days:
1. Folding the dough four times truly creates incredible flakiness. These biscuits are the lightest, flakiest, best biscuits I've ever made.
2. The first time I made the recipe, I patted the dough too thin before cutting and as a result I got 10 biscuits vs 6 (which is what the recipe calls for). When I made them again, rather than focus on the thickness of the rectangle, I used my 3-inch biscuit cutter as a guide and stopped rolling out the dough when I was sure I could cut 6 biscuits from the rectangle. This left enough scraps for 2 more biscuits. I like this larger-sized biscuit.
3. While I liked the unexpectedness of freshly cracked pepper on top, I can't resist the salty-sweet dynamic, and I love to sprinkle these with Maldon sea salt. I know, boring and predictable, but so good. Know, however, that the topping can be tailored to your liking (the book offers several variations in fact) but it's the mixing and shaping techniques that should be followed closely.
4. When I bake these on the highest rack in my oven, the biscuits emerge beautifully golden after 15 minutes. Every oven is different, however, so this might not hold true for you.
5. Next time, I'm going to change the shape. While the circle shape is beautiful and fun, it inevitably leaves scraps that must be gently reworked (so as to not toughen them) into another rectangle, only to be cut into circles, only to leave scraps once again. When I made these the last time, after collecting the scraps into a rectangle, I simply cut the rectangle in half, which left me with two square biscuits and no scraps. I actually really like the square shape, so from here on out, square biscuits it will be.
6. I always forget how easy biscuits are — one bowl wonders, ready in a snap! With soup and stew season upon us, this is a good recipe to have on hand.
Last week, I traveled to NYC via train — sorry, Greyhound, I learned my lesson — to attend a blogging potluck with some local bloggers. Everyone brought a dish that at one point in time caused trouble but that over the years had been mastered. I met wonderful people, including a very modest Dana who insisted she had poor instincts in the kitchen, and most excitingly, I left with a copy of MMM, which I have been studying ever since. Of the 20 recipes I have bookmarked, top picks include halibut cooked in red coconut curry, baked ziti Arrabbiata (with tips from Mario Batali), Korean meat loaf (made with a whole cup of gochujang chile paste), braised chicken with leeks, beef stew with mushrooms, and Thomas Keller's foolproof roast chicken, all of which I will serve with these biscuits. I will be sure to report back with any and all discoveries, but if you want in on the fun, you can preorder the book here.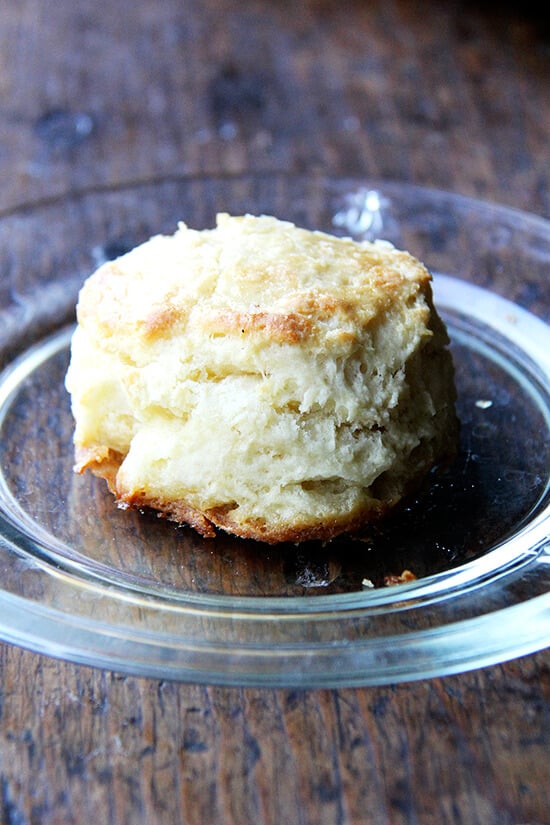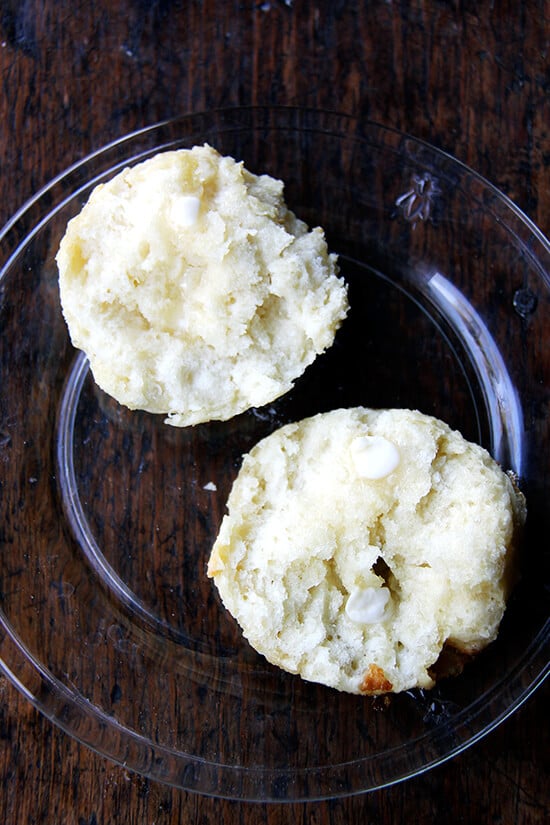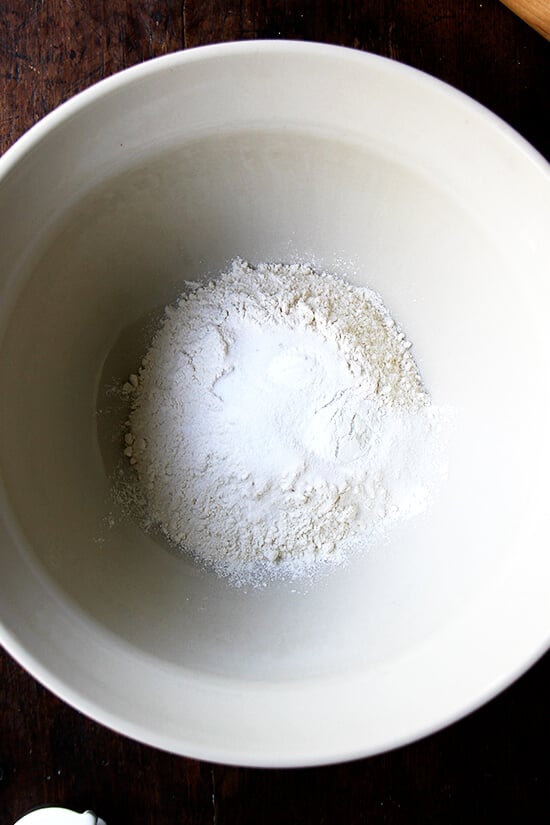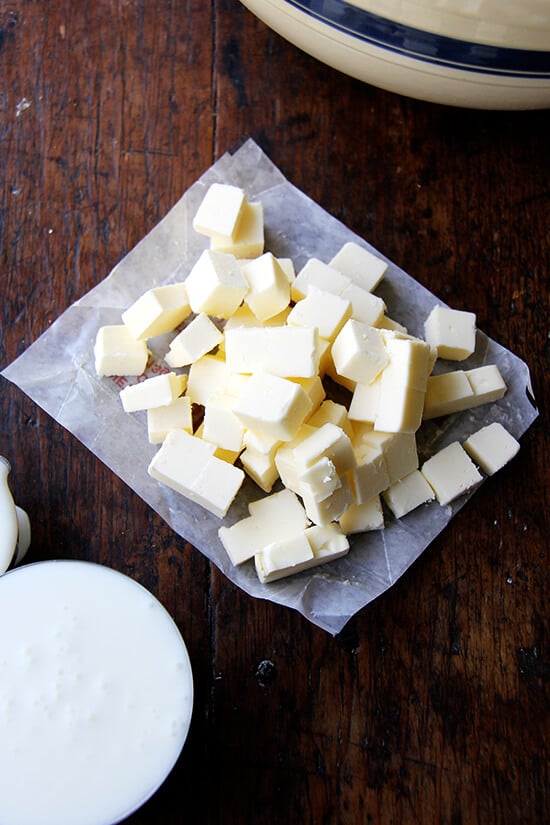 If you live in the area, this is the best buttermilk. Argyle Cheese Farmer also makes the best yogurt. The Niskayuna Co-op carries both: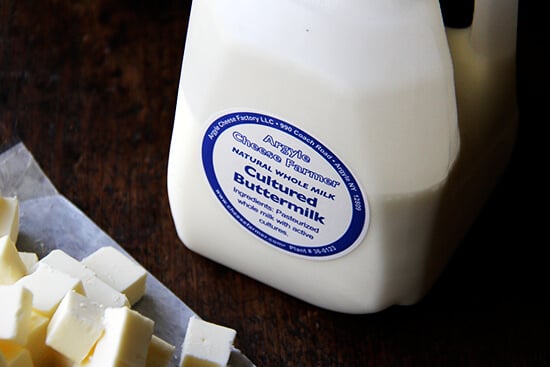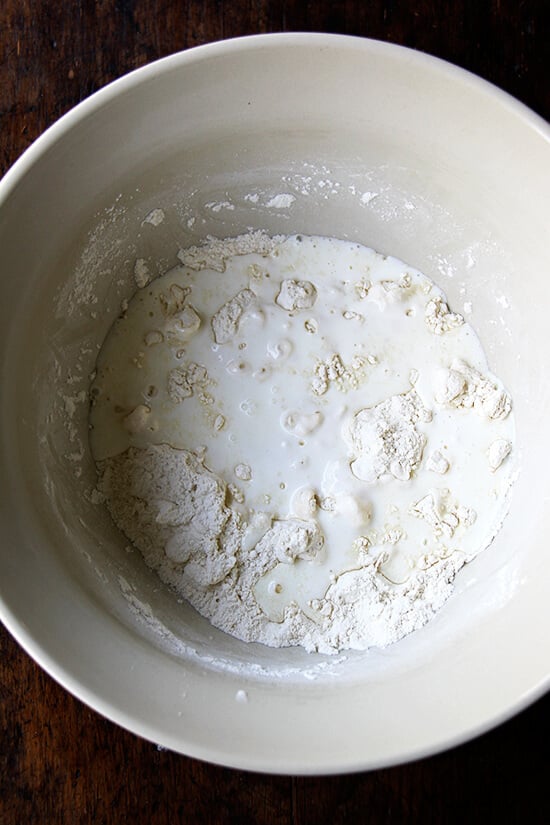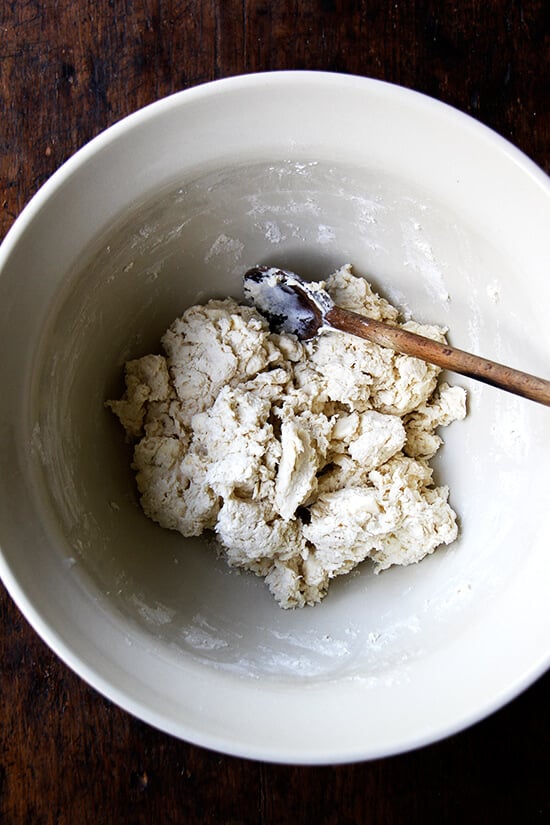 The four-fold shaping process: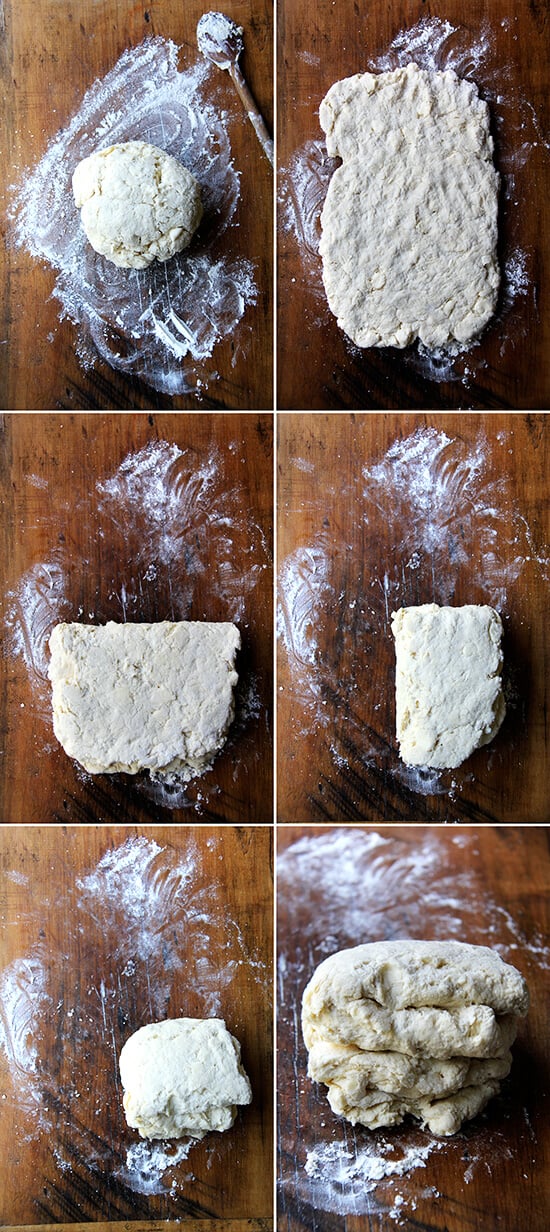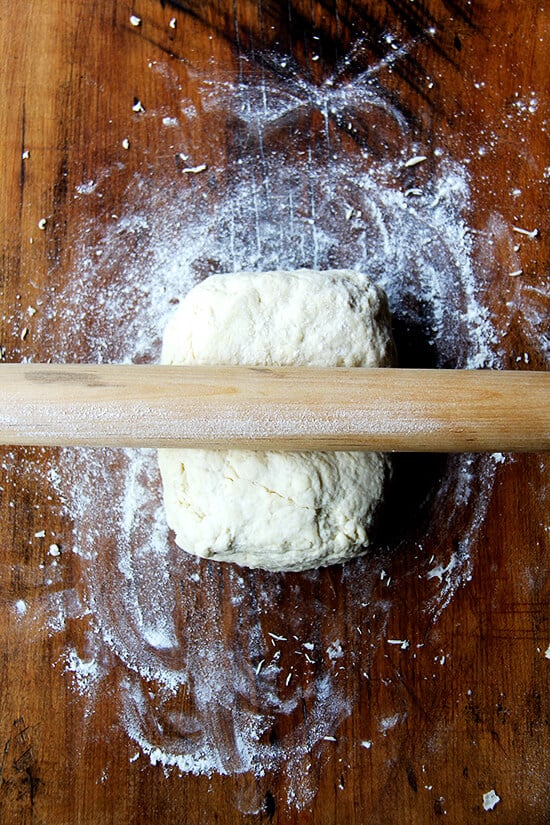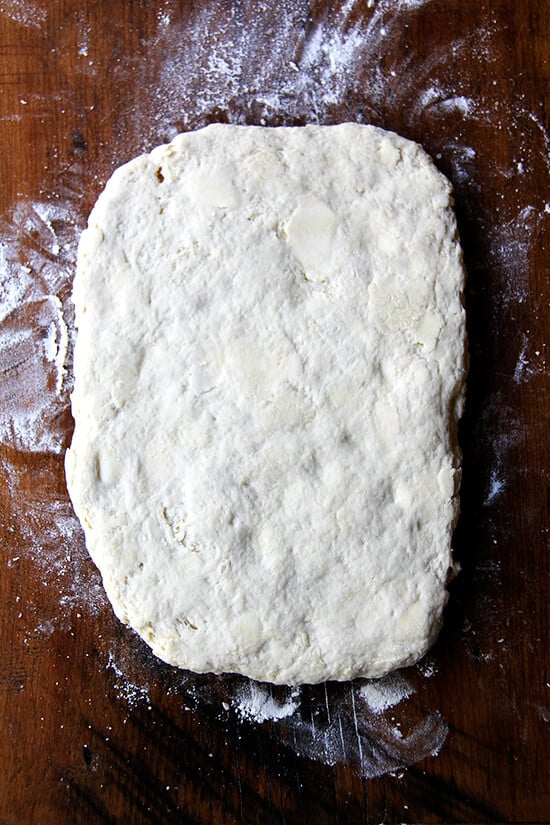 I find that a one-inch thick dough creates the size biscuit I like best: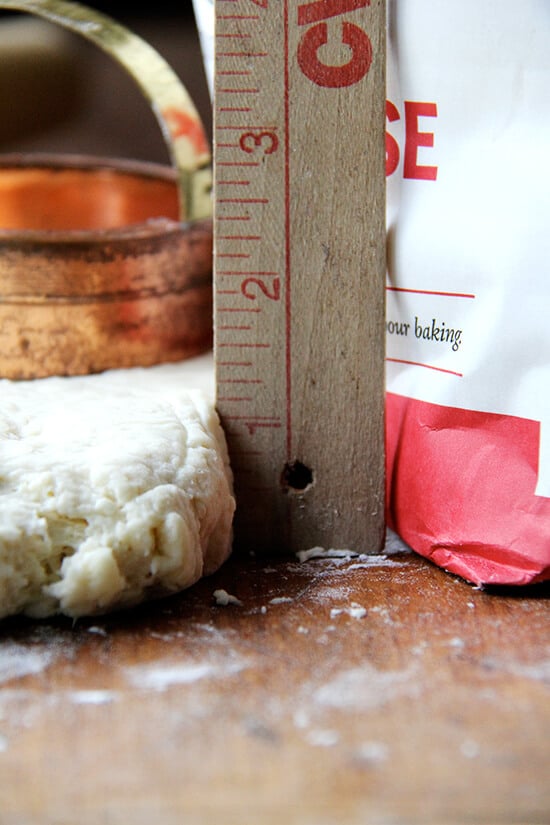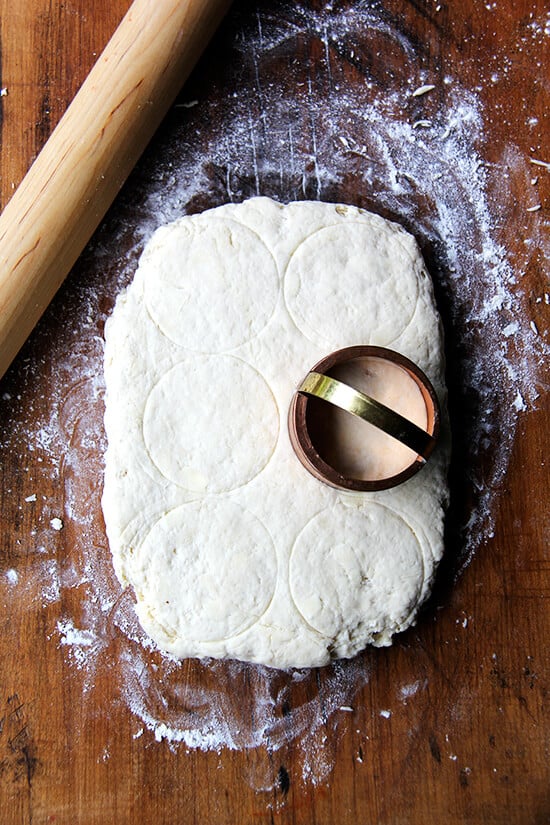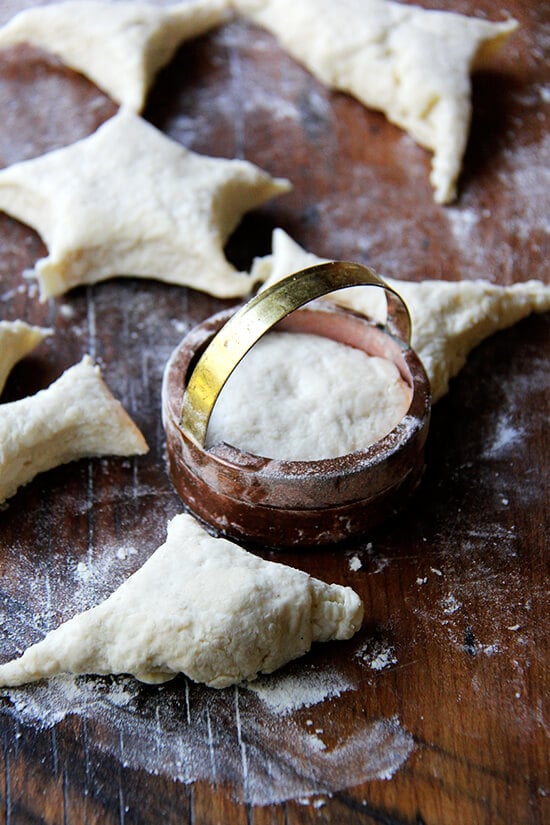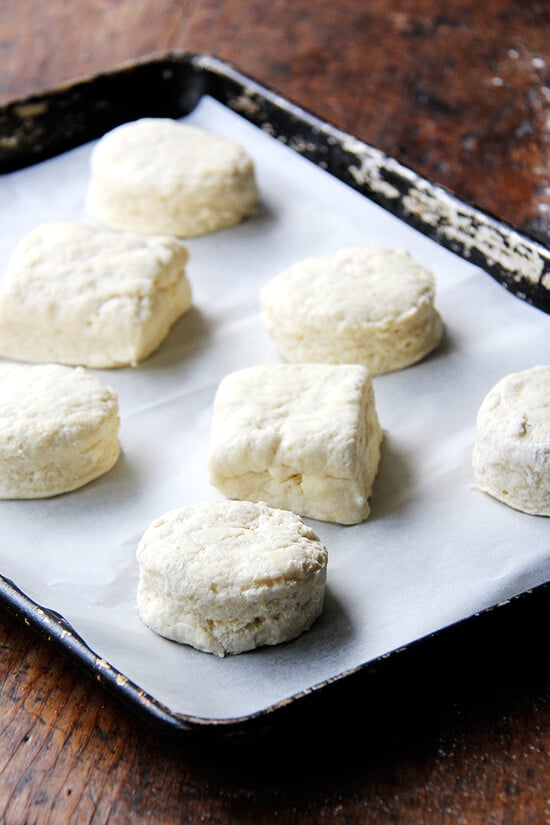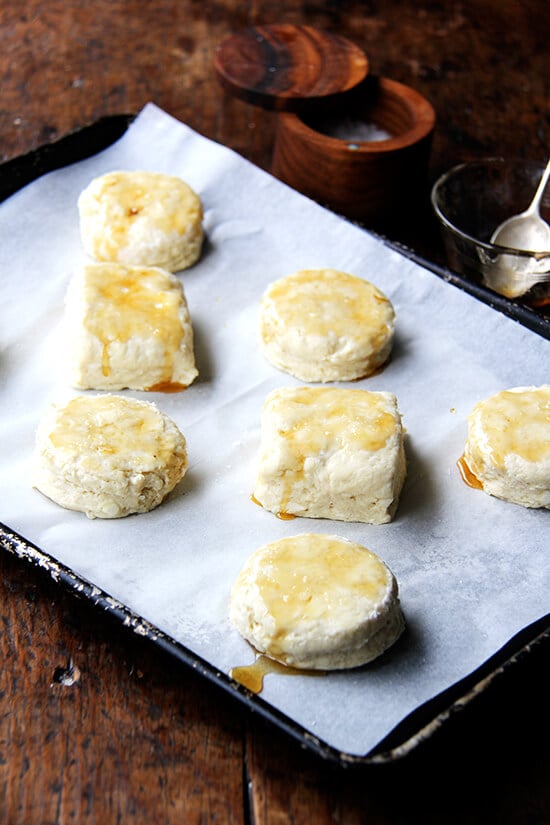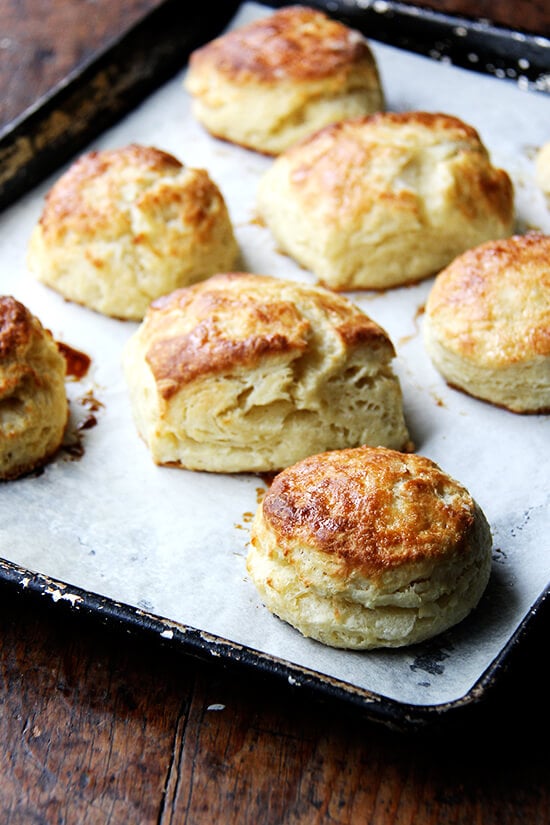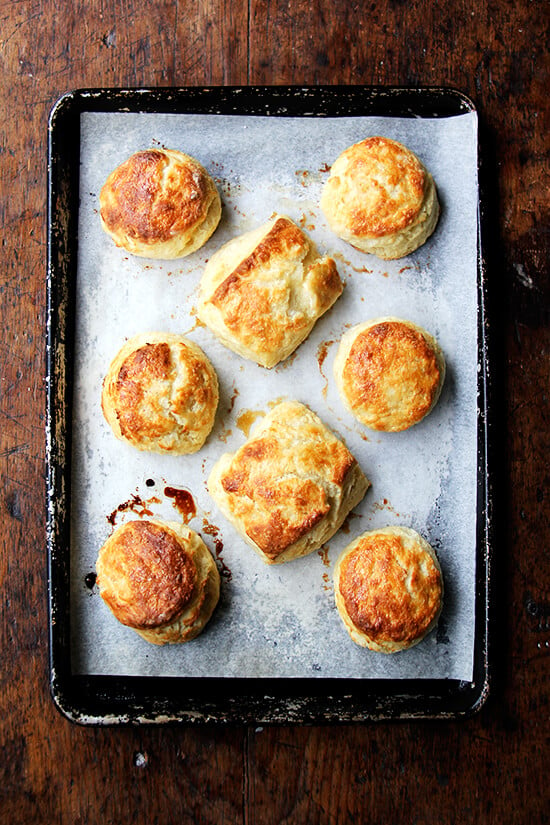 Square biscuit made from the scraps: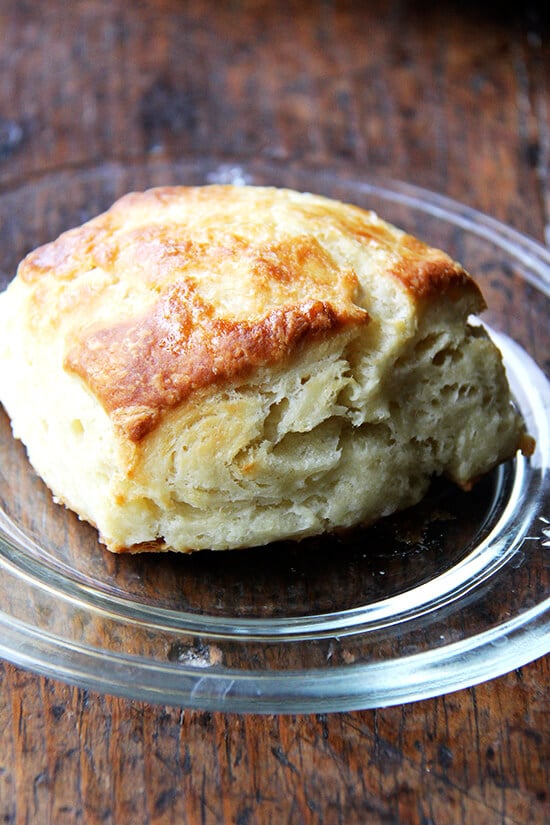 Print
Buttermilk Biscuits with Maple and Sea Salt
---
Prep Time:

25 minutes

Cook Time:

20 minutes

Total Time:

45 minutes

Yield:

6-8 biscuits
---
Ingredients
3 cup

s (

384

g) all-purpose flour, plus more for your work surface

3 tablespoon

s sugar

1 tablespoon

baking powder

1 teaspoon

kosher salt

½ teaspoon

baking soda

12 tablespoon

s cold unsalted butter, diced, plus more for searving

1¼ cup

s cold buttermilk
pure maple syrup, for rubbing the biscuits
nice sea salt or coarse freshly ground black pepper for sprinkling
---
Instructions
Line a baking sheet with parchment paper.
Whisk together the flour, sugar, baking powder, salt and baking soda in a large bowl. Using your fingers, work in the butter just until the mixture turns into coarse crumbs with some pea-size pieces of butter remaining. Using a wooden spoon, stir in the buttermilk just until the dry ingredients are evenly moistened.
Turn the shaggy dough out onto a very lightly floured work surface and pat into a ½-inch thick rectangle. Fold it in half once so that it's 1-inch thick. Do this three more times to create layers in the dough. Then roll the dough out to about a 1-inch thick rectangle (or large enough so that a 3-inch biscuit cutter can stamp out 6 biscuits) using a lightly floured rolling pin: Place the pin in the middle of the dough and roll it forward, then put the pin back in the middle of the dough and roll it backward.
Using a lightly floured 3-inch round cutter, cut out the biscuits (in one motion — do not twist the cutter), as close together as possible, and transfer to the prepared baking sheet leaving 2 inches between them. Gently pat the dough scraps together (do not overwork the dough), reroll and cut out more biscuits. (Note: You could just cut the rectangle into 8 squares, which will leave you with no scraps to reroll.)
If you have time, put the baking sheet in the refrigerator and chill the biscuits for at least an hour before baking — they will be flakier. (Skip this step if you don't have time.)
Preheat oven to 425ºF.
Use the back of a spoon to rub the biscuits lightly with maple syrup and sprinkle with salt or pepper to taste.
Place the biscuits in the oven and immediately turn the temperature down to 400ºF. Bake the biscuits until they're risen and golden, 15 to 20 minutes. I get the best results baking these on the top rack of my oven, but every oven is different, so play around with what works best with your oven. Serve warm, with butter.
---
These photos were from the first two rounds, when I patted the dough to 3/4-inch thick versus 1-inch thick, and topped some of the biscuits with pepper, and baked the biscuits on a lower shelf. They were still light and flaky and delicious, but I prefer a more golden top, and I like a bigger/taller biscuit: