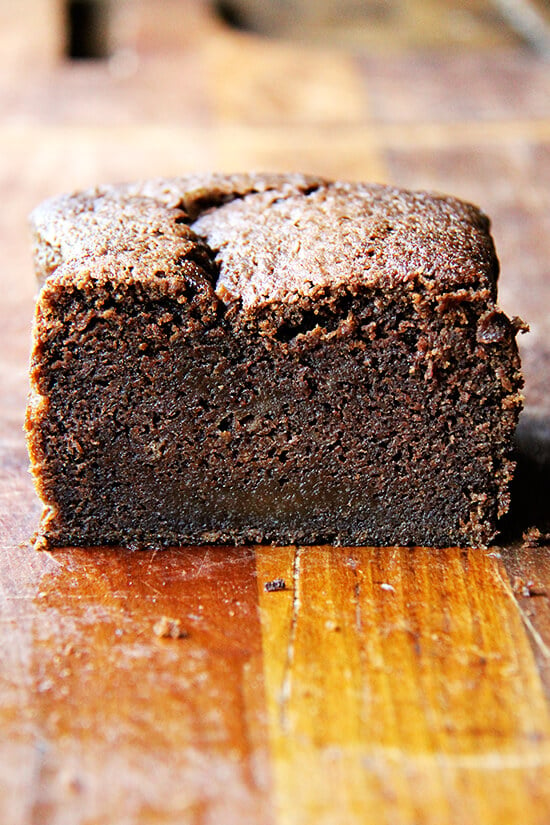 Nigella Lawson's recipe for dense chocolate loaf cafe, well traversed in the blogosphere, needs no tinkering. Moist, rich, tender, chocolatey — what's to improve?
Well, when my box of Fair Trade treats arrived, and I saw the bag of coffee and chocolate nestled together, I couldn't help think that coffee, known to heighten the flavor of chocolate without imparting much coffee flavor at all, might make a subtle difference. And because a splash of booze is often a nice addition to quick breads/loaf cakes, what would be the harm in replacing the final two tablespoons of water with brandy? And because every cake needs a pinch of salt, a pinch of salt would be added, too.
The result? Intense chocolate, subtle coffee and booze, perfect sweetness, complete deliciousness. This cake gets better by the day and is as impossible to resist with morning coffee as with postprandial cordials. Coffee, booze, salt — somehow I think you (and Nigella) would approve.
So, Friends, as you know it is October, when we celebrate all things Fair Trade, from chocolate and coffee to quinoa and lip balm. Let's review what Fair Trade means:
What is Fair Trade?
Products that bear the Fair Trade logo come from farmers and workers who are justly compensated.
Fair Trade helps farmers (more than 1.2 million worldwide) in developing countries build sustainable businesses that positively influence their communities.
Fair Trade ensures that farmers follow internationally monitored environmental standards and also provides financial incentives and resources for organic conversion, reforestation, water conservation and environmental education.
Fair Trade empowers women to play an active role in their families and in their co-ops by starting businesses with guaranteed access to health care, certain job rights and freedom from harassment.
Fair Trade supports education with revenues set aside to build schools and maintain enrollment.
Fair Trade Coffee Cooperative
This year, to help tell the stories about the people behind their food, Fair Trade paired every blogger participating in this event with a farmer. Meet my match: Munyaneza Gideon, a coffee farmer and member of the Dukunde Kawa Cooperative in Rwanda:
Munyaneza Gideon started farming coffee in 1980 at the age of 14. He joined the cooperative in 2000 with 300 coffee trees, and he now cultivates 1,200 trees. He says that one of the biggest benefits of the increased income he received after joining the fair trade cooperative was being able to invest in those additional trees. He has 4 children, 3 of which are able to attend school due to the higher prices from his coffee (the 4th will attend school when he is old enough).
Munyaneza also used his additional income to increase food security for his family and invest in additional sources of income such as selling onions and bananas at the local market. He was able to purchase cows, goats, and pigs which provide organic manure for his coffee trees, with the added benefit of the cows & goats providing milk for his family. His family used to eat potatoes and beans every day, but now they are able to eat meat at least once per week and can make a variety of dishes.
"We used to only be able to eat what we grew. Now we can buy food." – Mynaneza Gideon
Before joining the cooperative Gideon says he sold his coffee to middle-men, which resulted in prices that varied wildly day-to-day. He says processing coffee at home was very difficult, and he didn't have the technical assistance or fertilizer necessary to grow high quality coffee. Due to the low prices he received for his coffee his children had malnutrition, but now they are healthy. He used to light his home with a dangerous gas lamp, but now has electricity at his home. Soil erosion used to be a big problem, but now the intercropping he learned from the cooperative prevents erosion. He says that his training to increase the quality of his coffee includes collecting only the best cherries and using shade to protect the coffee trees from the sun & rain.
Fair Trade Giveaway
The contents of each giveaway are pictured below. Please leave a comment below to enter. I also wanted to thank Le Creuset, who donated A Tea for One Set (so cute!), and Dreamfarm, who donated a Teafu Infuser (so fun!), to every blogger participating in this Fair Trade event. Thank you for your support of Fair Trade!

UPDATE: THE GIVEAWAY IS NOW CLOSED. Congrats to Melanie and Elizabeth. I have emailed you.
Contents of the 1st giveaway pictured below. Thank you to all of these Fair Trade companies for donating their products: Equator Coffees and Teas, Guittard semi-sweet chocolate, BarkThins, Lake Champlain Chocolates, LARABAR, Traditional Medicinals, Dang Foods, Numi Organic Tea, Frontier cinnamon, Eco Lips, Alter Eco, Badger Balm, Third Street, Celestial Seasonings, SunSpire, Nourish Organic, and to Kelsey Timmerman for donating his book: Where am I Eating?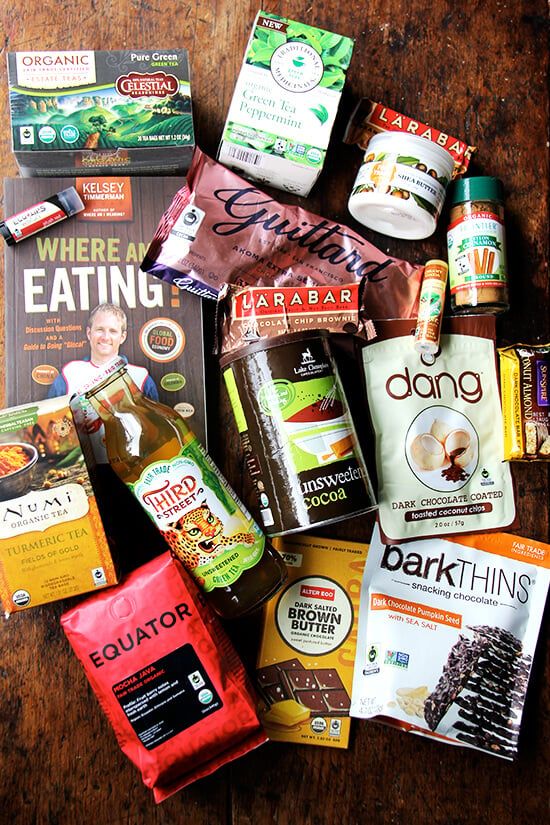 The second giveaway will be a box of This Bar Saves Lives, a product I recently discovered and can't stop thinking about: for every bar you buy, the company gives a life saving packet of food to a child in need. Check it out. Warning, you will cry. The bars are also available at Whole Foods Market. I particularly like the Madagascar Vanilla, Almond and Honey Bar, which uses Fair Trade vanilla extract.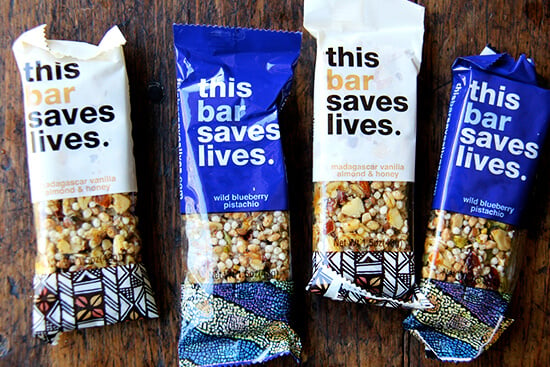 In Nigella's cake I used Guittard semi-sweet chocolate, though bittersweet works well, too, and Equator Mocha Java coffee: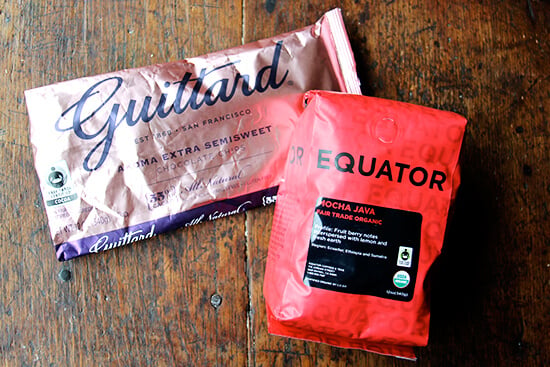 Don't be tempted to pour the whole batter into one loaf pan — it will overflow: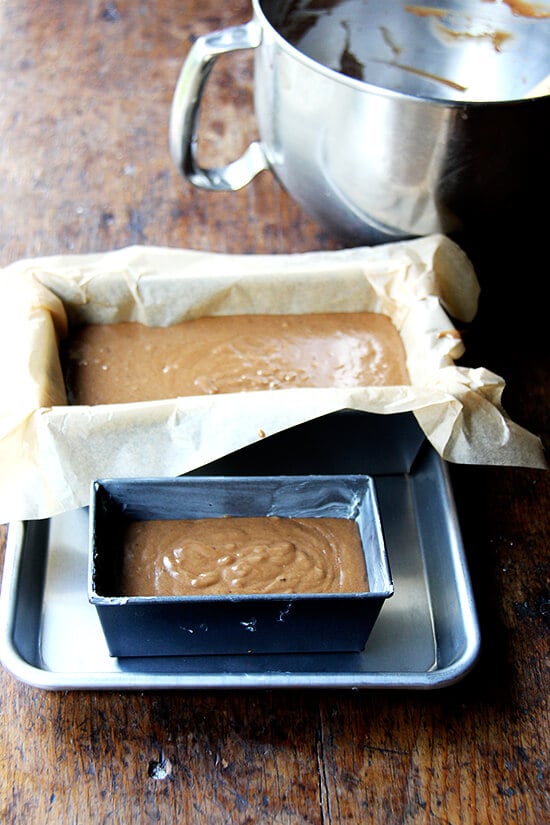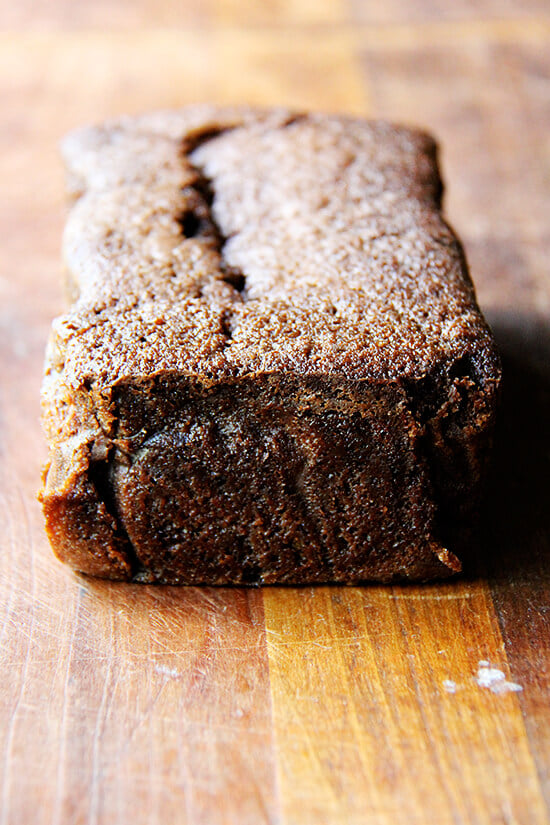 If you can resist, let it rest for a full day before cutting: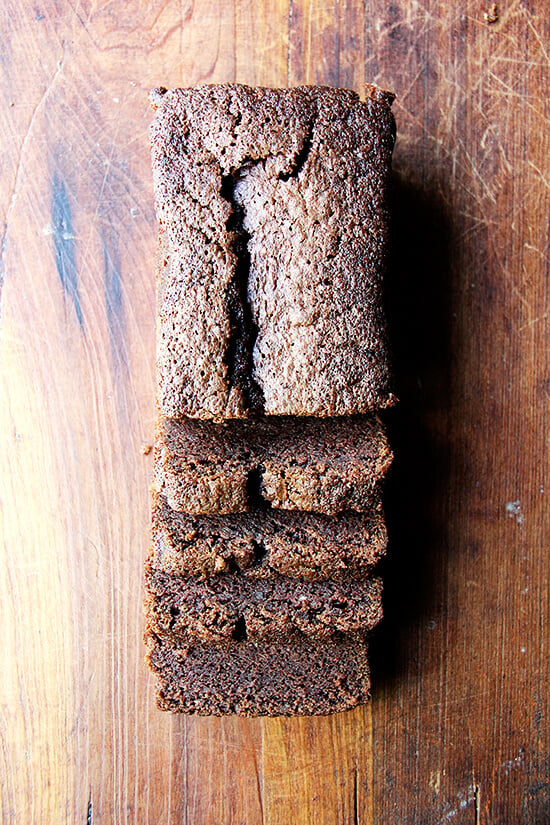 Print
Nigella Lawson's Dense Chocolate Loaf Cake with Brandy and Coffee
---
Author:

Alexandra Stafford

Prep Time:

15 minutes

Cook Time:

45 minutes

Total Time:

60 minutes

Yield:

1 loaf
Description
Source: Nigella Lawson's How to Be a Domestic Goddess If you don't feel like adding booze or coffee, simply use 1 cup plus 2 tablespoons boiling water instead.
---
Ingredients
1 cup

soft unsalted butter

1 2/3 cup

(316 g |

11 1/8 oz

) dark brown sugar

1 1/3 cup

(

170

g) all-purpose flour

1 teaspoon

baking soda

1 teaspoon

sea salt, such as Maldon or Fleur de sel (or use

3/4 teaspoon

kosher salt)

2

large eggs

1 tablespoon

vanilla extract

4 ounce

s best bittersweet or semisweet chocolate, melted

2 tablespoon

s brandy or bourbon or Grand Marnier

1 cup

freshly brewed coffee
---
Instructions
Heat the oven to 375°F. Line a 9×5-inch loaf pan with parchment paper — just shove a whole sheet in there (versus cutting to make it fit — this way no batter will seep through the cracks). Also, prepare a smaller loaf pan (or some other vessel such as a muffin tin) in a similar manner — I butter the smaller loaf pan well, and I never have issues getting the cake out.
Cream the butter and sugar, either with a wooden spoon or with an electric hand-held mixer.
Meanwhile, whisk together the flour, baking soda and salt. Set aside.
Add the eggs and vanilla to the butter-sugar mixture and beat until combined.
Next, fold in the melted and now slightly cooled chocolate, taking care to blend well but being careful not to overbeat. You want the ingredients combined: You don't want a light, airy mass. Add the brandy and mix to combine.
Next, gently add the flour mixture alternately spoon by spoon with the coffee until you have a smooth and fairly liquid batter.
Pour into the lined loaf pan, being sure the batter does not come closer than 1 inch from the rim of the cake pan or it risks overflowing. Pour the excess into the smaller prepared pan. Bake 30 minutes. Turn the oven down to 325 degrees and continue to cook for another 15 minutes. (I remove the smaller pan after the first 30 minutes.) The cake will still be a bit squidgy inside, so an inserted cake tester or skewer won't come out completely clean. Place the loaf pan on a rack, and leave to get completely cold before turning it out. (Leave it for a whole day if you can resist.) Don't worry if it sinks in the middle — it will do so because it's such a dense and damp cake.
---
Category:

Quick Bread

Method:

Oven

Cuisine:

American
Keywords: boozy, chocolate, cake, dense, moist, coffee, Nigella, Lawson