Creamy Parsnip and Pear Soup
This post may contain affiliate links. Please read my disclosure policy.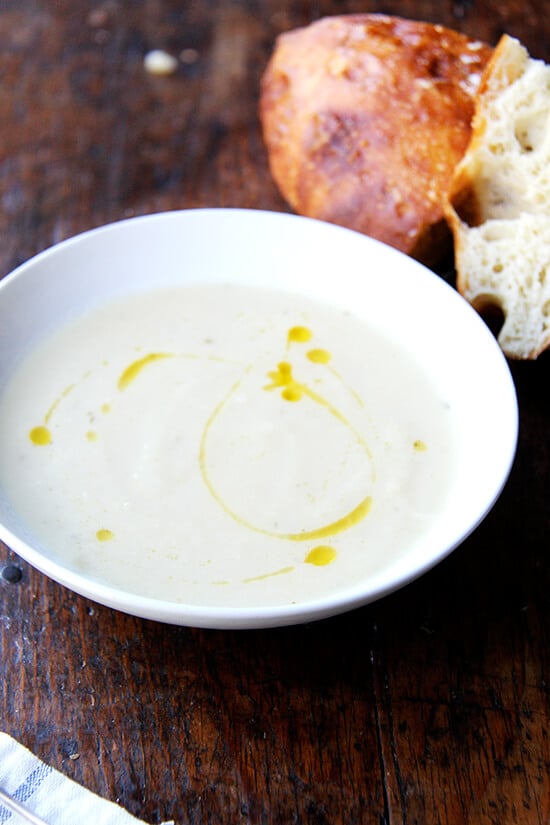 Let's get right down to business: soup season has officially arrived, bringing with it bowls of warm, comforting goodness, smells that permeate the house, the nourishment we crave on chilly days, and blisters to our little, out-of-practice fingers.
Whenever I make soup, I immediately think back to my time at Fork, when I spent the better part of a year prepping carrots, parsnips, onions and celery, the four vegetables that went into every hot soup chef Thien made.
Almost every other morning began with soup making, with the stovetop lined with cauldrons, with a constant sprint up and down the basement stairs, in and out of the walk-in, a large aluminum bowl in hand, hours of peeling and chopping before me. The blisters made haste, but soon calloused, making the work less painful, physically if not mentally.
So many soups require a lot of chopping, but the time dedicated to the process almost always pays off: quantities that feed a crowd often at little cost. Thien liked to remind me that soup was how restaurants made money.
OK, in an effort to make soup season go a little more smoothly, I've compiled a few thoughts below:
How to Be A More Efficient Soup Maker
1. A good chef's knife, of foremost importance when prepping vegetables, will only be helpful if it is sharp. A few months ago I bought a Wusthof knife sharpener for $30 and couldn't be happier with how it works. This is an especially nice gadget to have on hand if you find using sharpening stones and steels awkward.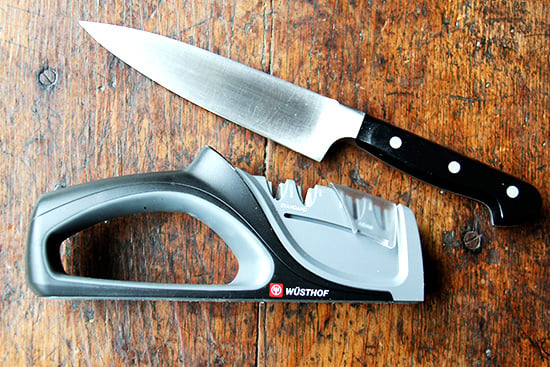 2. A good peeler. This one has been my long-time favorite: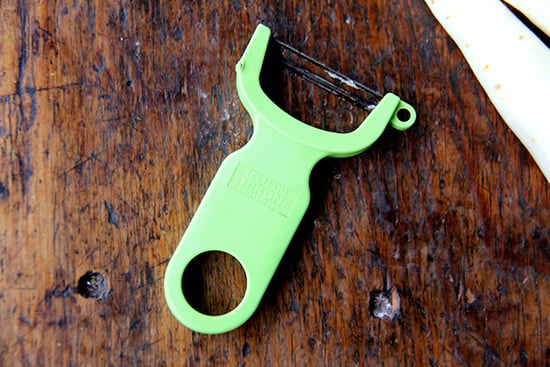 3. Because soup making often requires a fair amount of peeling and chopping, you will find yourself making many trips to the garbage can. If, at the commencement of your prepping journey, you designate a large, light bowl as your garbage bin, have your bench scraper handy for whisking away those scraps, and keep a small bowl nearby for transfering your prepped vegetables to your soup pot, you will save a lot of time.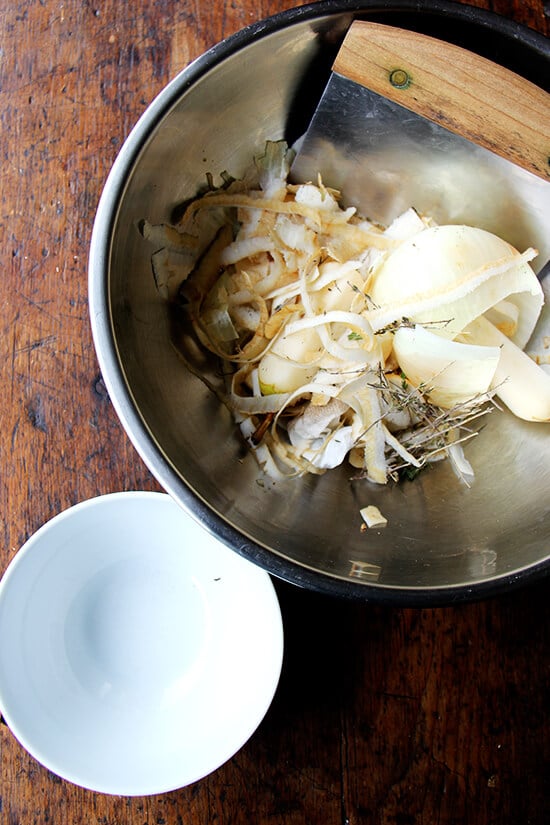 4. Homemade Stock. We all know delicious soups can be made without any stock at all, but when a soup calls for chicken, beef, duck or whatever stock, homemade is best. Also, I never make anything other than chicken stock, so don't be deterred by a recipe that calls for some sort of exotic stock — chicken stock, which is a snap to make, can almost always be substituted. Vegetable stock similarly is very easy to make not to mention fast: Homemade Vegetable Stock.
5. Storage containers. These quart containers, which are BPA-free, are so handy for storing homemade stock as well as leftover homemade soup. Last year I went through a purging frenzy of getting rid of all of my old plastic storage containers, replacing everything with glass. But, the thing is, you need plastic if you want to freeze your soups and stocks — glass jars shatter in the freezer. Having the right size storage vessels on hand is a such a joy.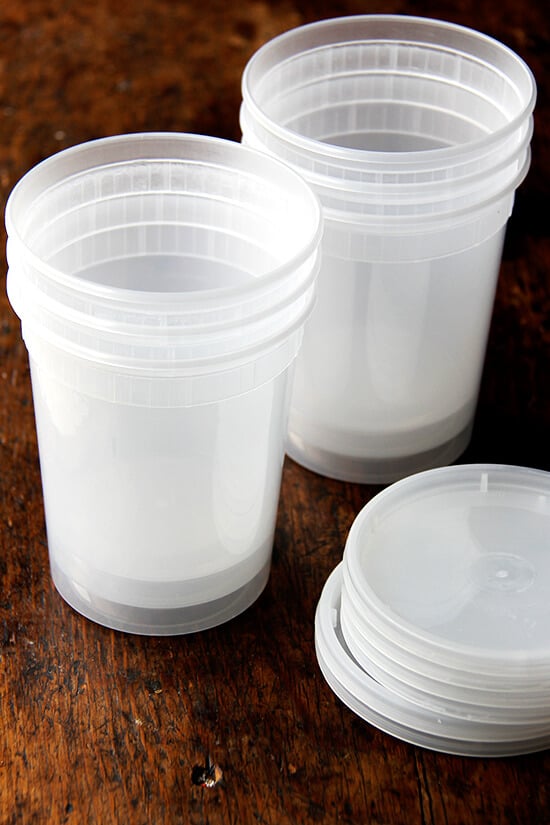 6. An immersion blender is so handy for puréed soups. I don't have a fancy one — it has been years since I bought this one but I don't think I spent more than $35 or so: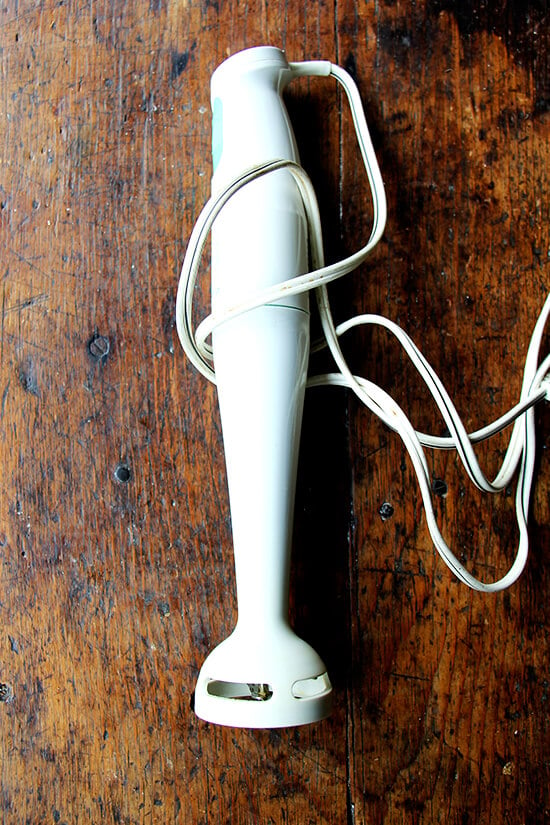 Friends, what soups have you been making? What are your favorite soup-making tips?
How to Make Parsnip and Pear Soup
Pear and parsnip soup ingredients: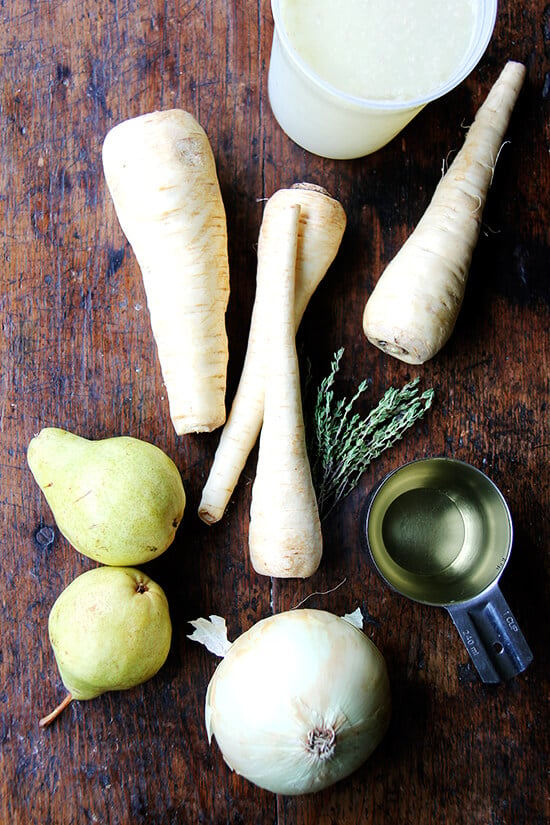 Is there any better smell than onions sweating in butter?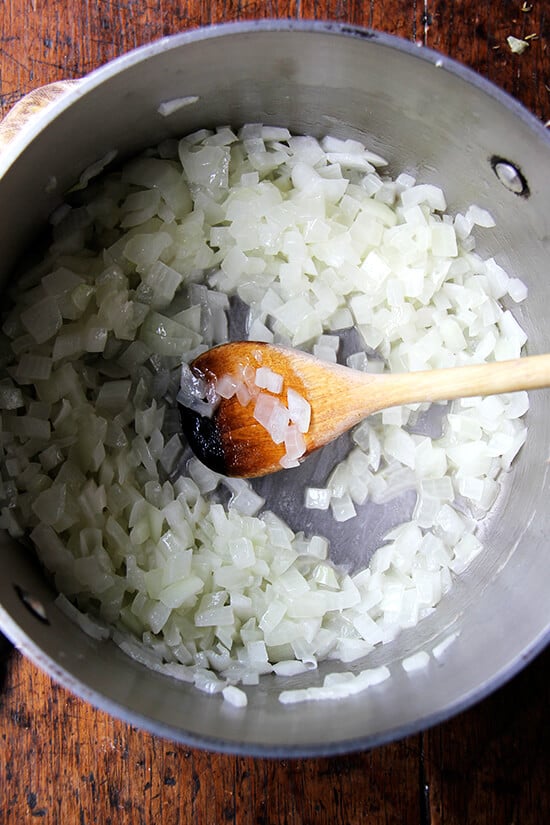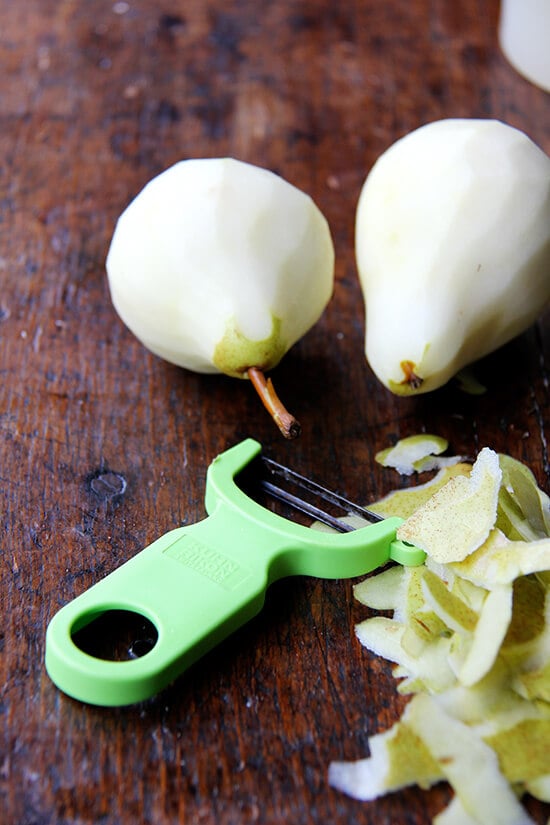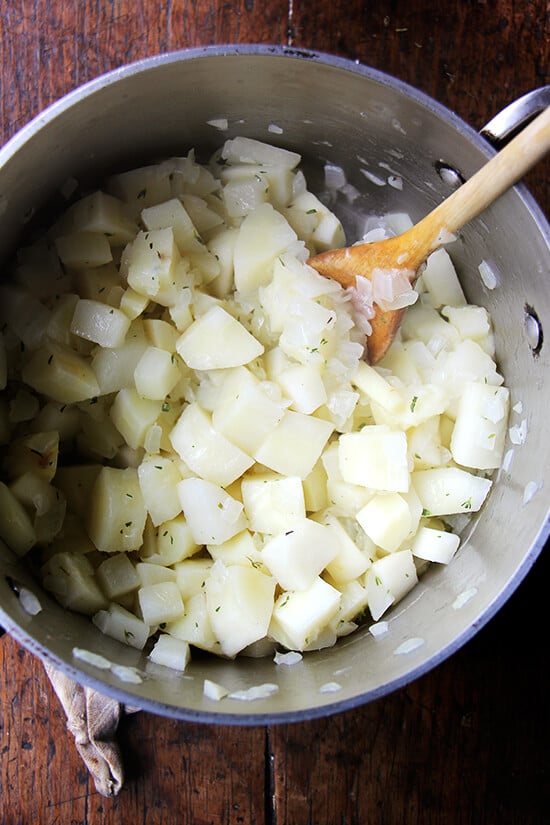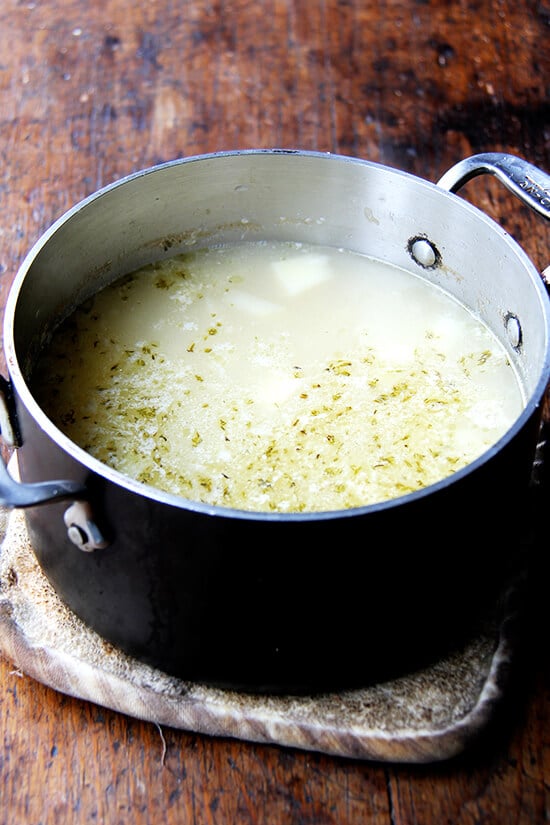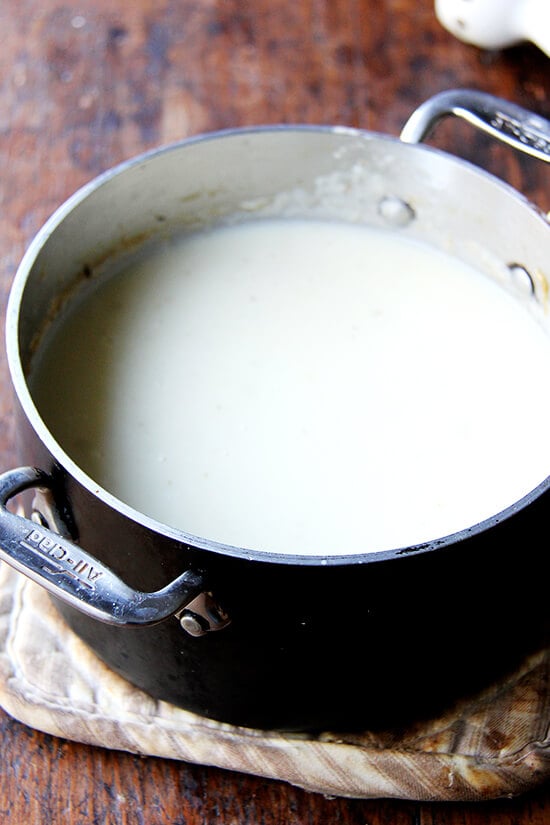 Serve with lots of crusty bread: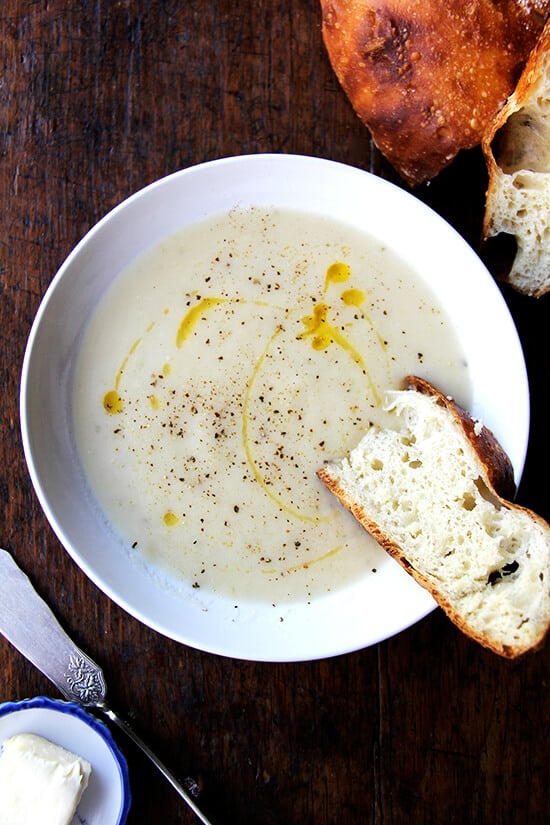 Print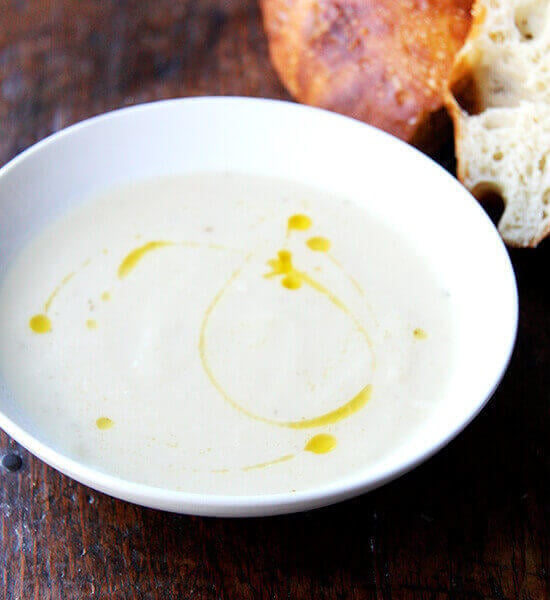 Creamy Parsnip & Pear Soup
---
---
2 tablespoons

unsalted butter or olive oil

1 cup

shallots or onions, small diced 
kosher salt

2 cups

parsnips, peeled and roughly chopped (

2

to

3

parsnips depending on size)

½ cup

celery root, optional
fresh thyme leaves, minced, about a tablespoon or so (original recipe calls for rosemary)

1

to

2

cups pear, peeled and roughly chopped (

1

to

2

pears)

1 cup

dry white wine

5 cups

homemade chicken stock or vegetable stock

½ cup

half-and-half or cream
Pear vinegar or other: I use white balsamic vinegar
truffle oil (optional, for drizzling, so good)
Pepper to taste
---
Instructions
In a medium stockpot, melt the butter over medium-low heat, add the shallots or onions, a pinch of salt, and sweat for 2 to 3 minutes. Add the parsnip, celery root (if using), minced thyme, and pinch of salt and continue to sweat for 5 to 6 minutes. Add the pear, and continue cooking for 4 to 5 minutes. Add the white wine, increase the heat to high, and reduce by half — to about 1 cup of liquid. Note: It is will be really hard to tell if the wine has reduced by half — just simmer for about 5 minutes or until the alcohol smell dissipates.
Add the stock and a pinch of salt, bring to a boil, reduce to a simmer and cook for 45 minutes. Remove the soup from the heat, and stir in the half and half or cream.
Transfer the soup to a blender or use an immersion blender, and purée on high speed until smooth. Taste. Add more salt if necessary.
To serve, season to taste with vinegar (just a few drops), drizzle with truffle oil (if using), and black pepper if you wish. Serve with lots of crusty bread.
This post may contain affiliate links. Please read my disclosure policy.