Homemade Fluff, Bruléed or Not
This post may contain affiliate links. Please read my disclosure policy.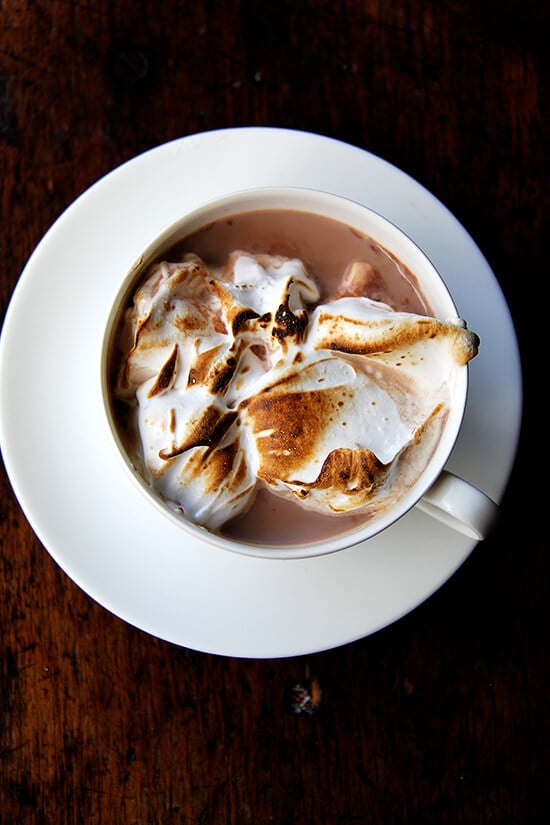 Upon returning from NYC, I headed straight to Lowe's to purchase a blowtorch and a one-pound tank of propane gas. On my way home, I stopped at the Co-op for Fluff and a pint of dulce de leche ice cream.
Lest you worry I'm embarking on some sort of dark, emotional journey, let me remind you about that sundae my friend and I split at Ichabod's a few weeks ago: homemade vanilla ice cream, pretzel bits, salted caramel, bruléed marshmallow. The bruléed marshmallow, it turns out, was Fluff, which got torched just before serving.
As you might imagine, I felt a little tormented purchasing the Fluff. I avoided looking at the ingredient list for days, choosing an ignorance-is-bliss approach to enjoying my daily -Fluff topped hot cocoa and ice cream sundae.
But when I found the courage to take a peak at the list, much to my surprise, it was not horrifying: corn syrup, sugar, egg whites, vanillin. Only 4 ingredients — Michael Pollan would approve! I know, I know. Corn syrup, high fructose or otherwsie, is vile! And what is vanillin?! And how does Fluff keep that magical texture and never, ever spoil?! Look, Fluff will not be returning to my pantry anytime soon, but as far as bad stuff goes, there are far worse offenders out there. Also, I've learned how to make fluff at home, and it doesn't require corn syrup.
This is what happened: Graham turned 3, and instead of making the family's favorite cake, I decided to make something new, something so promising, an autumnal birthday cake made with maple syrup and a meringue icing. The cake unfortunately was disgusting, but the frosting was delicious with a texture just like Marshmallow Fluff. Serendipity!
After we consumed the celebratory slices, I salvaged enough icing to test in my new torching rituals. It turns out that meringue icing is the best fluff ever, and once it has been torched, it's as good as, if not better than, any campfire marshmallow you can imagine.
Now, you may or may not want to know this, but making fluff at home takes five minutes. It's as simple as whipping egg whites, sugar, cream of tartar, and salt over a double boiler until stiff peaks form, and then whipping in vanilla off the heat. That's it. Compared to making marshmallows, making fluff is a total breeze.
Anyway, this isn't really my thing — encouraging people to make insanely sweet dessert condiments — but I've been enjoying this discovery so much that I couldn't resist sharing. Also, having a BernzOmatic in the kitchen is kind of amazing. Also, if any of you are like me, you might find yourself already mentally preparing for a long winter — won't the time pass more quickly with homemade fluff on hand? And even faster if we can set it on fire as we please? As always, Julia says it best.(Update: Card no longer available … apologies!!)
Finally, the giveaway is closed. Congrats to Melanie and Elizabeth. I have emailed you. Also, if you are interested in buying a box of This Bar Saves Lives, you can receive 20% off your order using this code — ALEXANDRA — at checkout. Thank you TBSL!

Two egg whites, sugar, cream of tartar, salt:

This whipping process happens over a double boiler: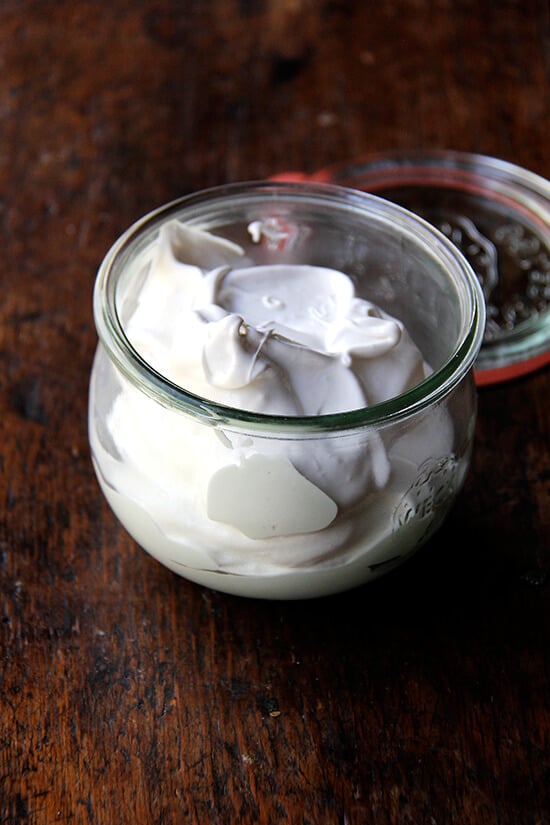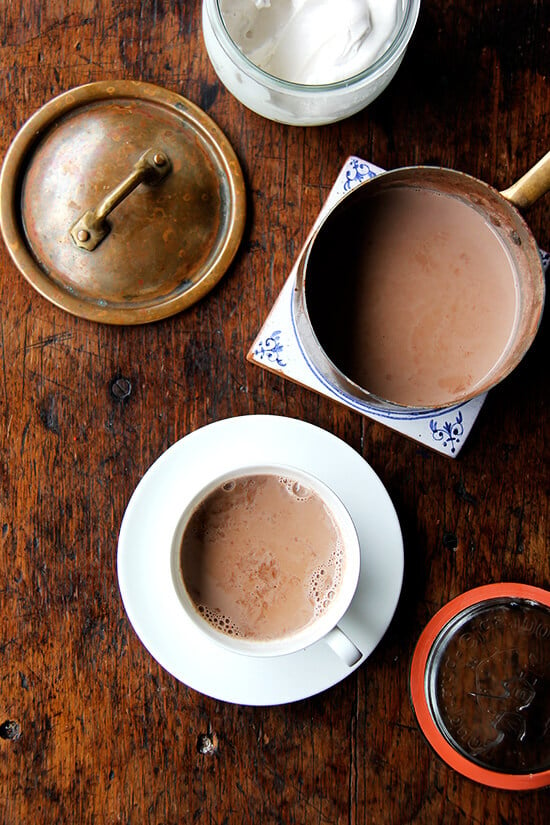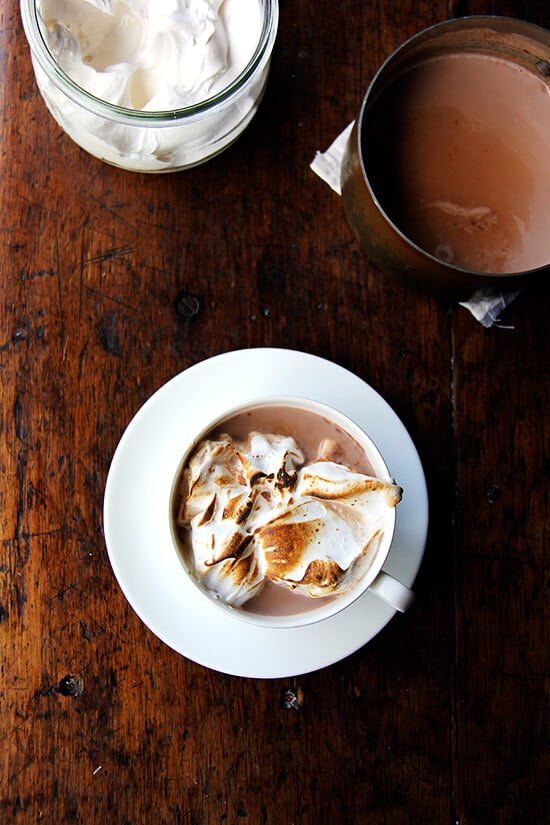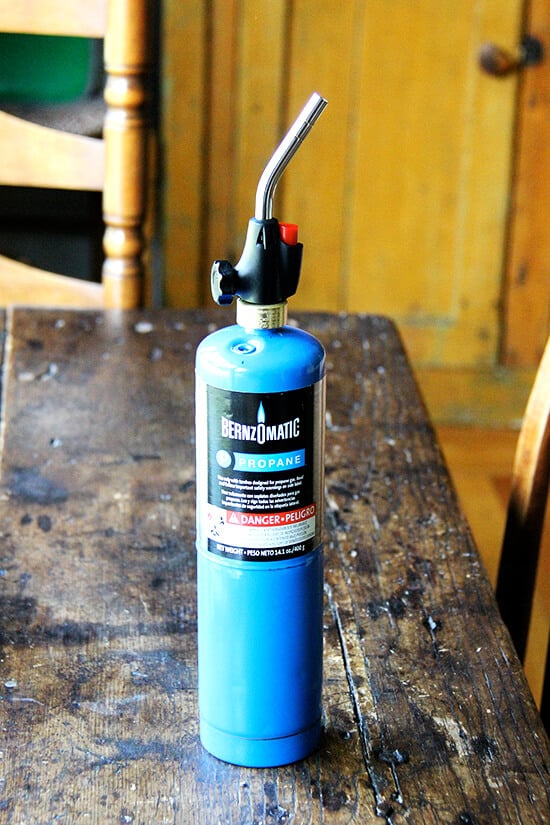 One day I will get around to making homemade vanilla ice cream and salted caramel sauce and assembling a sundae that truly resembles Ichabod's, but until then, a tub of dulce de leche ice cream and homemade fluff are doing the job quite nicely: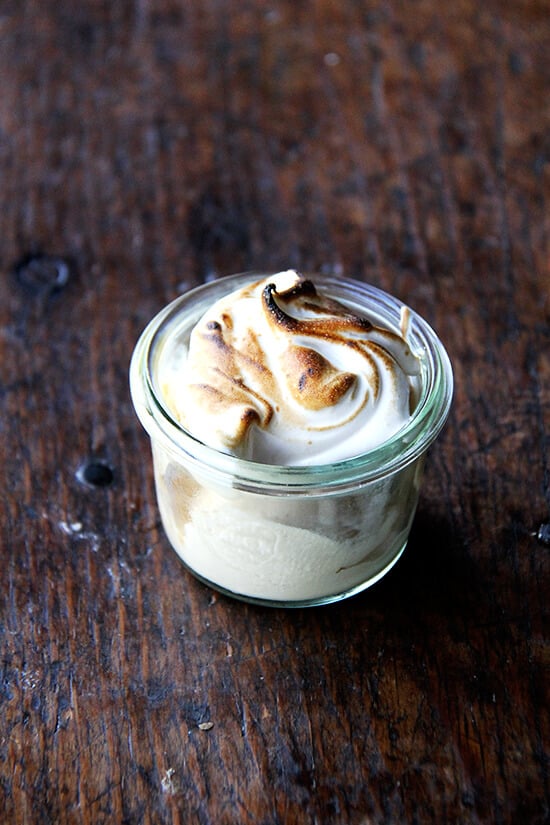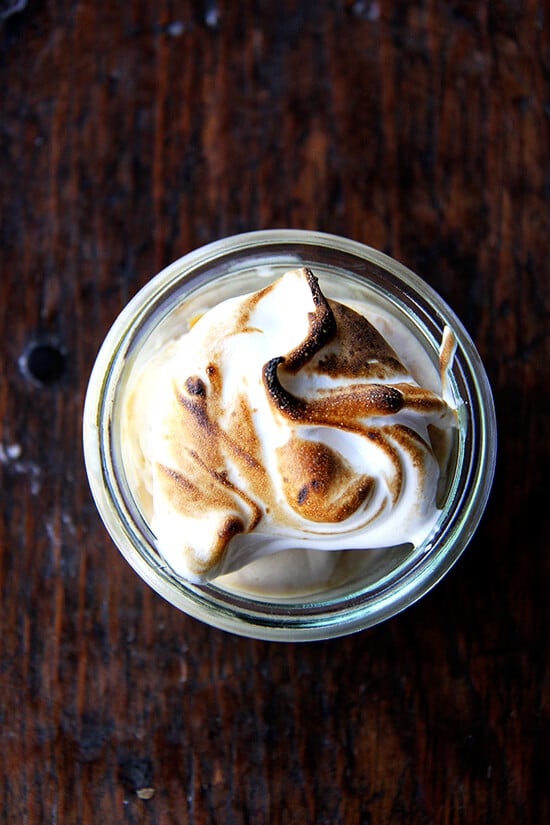 Print
Homemade Fluff, Bruléed or Not
---
Description
Adapted from the frosting recipe in Autumnal Birthday Cake in Nigella Lawson's How to Be a Domestic Goddess, which uses maple syrup in addition to sugar.
---
2

large egg whites

3/4 cup

plus 3 tablespoons sugar (or

1 cup

minus

1 tablespoon

sugar)

1/4 teaspoon

cream of tartar

1/4 teaspoon

sea salt (or kosher)

1 teaspoon

vanilla extract
---
Instructions
Put everything except the vanilla extract in a mixing bowl that fits over a saucepan to make a double boiler. Fill the saucepan with enough water to come just below — but not touching — the bowl when it sits on top. Bring the water to a boil, set the bowl on top, and using an electric handheld whisk, beat the mixture vigorously for 5-7 minutes. It should stand up in peaks like a meringue mixture. Take the bowl off the saucepan, away from the heat, and add the vanilla. Beat for another minute. The meringue should feel pretty warm to the touch.
Let it cool to room temperature before storing. I store mine in the fridge. Not sure about this one, but I have a feeling it will last for quite a long time.
This is the disgusting birthday cake. But isn't the bunting cute? It makes me happy.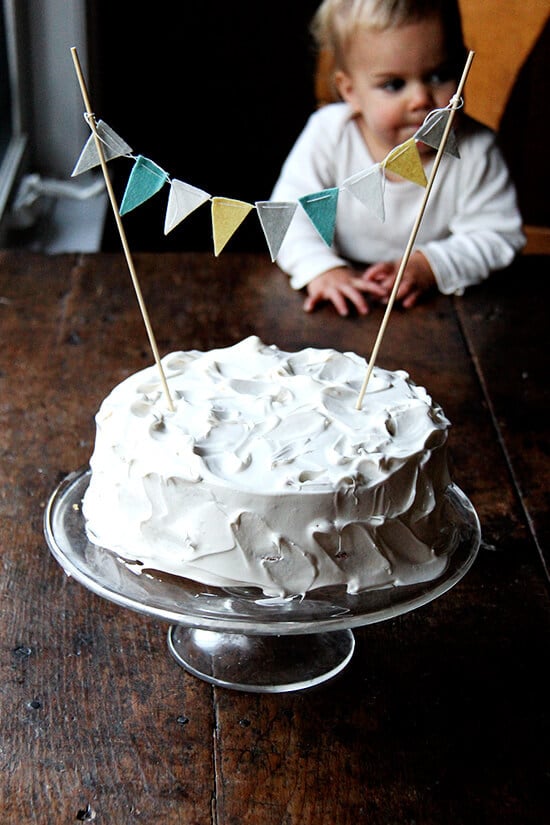 This post may contain affiliate links. Please read my disclosure policy.