Butternut Squash and Cider Soup with Herbed Flatbread
This post may contain affiliate links. Please read my disclosure policy.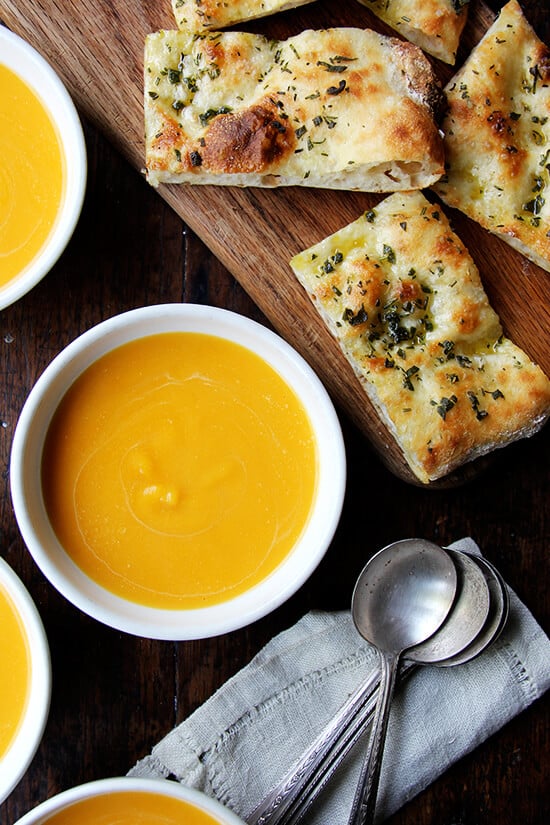 The trouble with the butternut squash soup I make again and again every winter is that it takes so much time: 45 minutes to roast the squash, 30 minutes to simmer it with the stock, and 15 minutes here and there for prepping. Although much of the time is hands off, I never feel I can whip it up on a weeknight.
So when I saw this recipe for butternut squash soup with cider and sour cream, which apparently could be "made in a flash," a few things caught my eye:
In step 1, onion and garlic simmer in a small amount of water — not butter or oil — for about five minutes.
In step 2, the squash cubes steam in stock (or water) for 20 minutes.
In step 3, the soup is puréed with apple cider and sour cream, and then it's done.
I followed the recipe to a T and was pleased to discover that a completely flavorful soup had materialized in 30 minutes start to finish. As the onions and garlic cooked down in the water, I was able to peel, seed and cube the squash. And the puréed soup needed nothing more than a pinch of salt and a splash of stock before it was ready for serving.
I've made this soup, which is at once light and comforting, three times in a week, and the past few evenings, I've been serving it with flatbread topped with olive oil, sea salt, and minced sage and rosemary, two of butternut squash's best pals.
With Lahey dough stored in the fridge, this meal comes together in a flash and couldn't taste more like fall, the fragrant herbs so nicely complementing the squash and the subtle sweetness of the apple, the tangy sour cream balancing it all out.
PS: ALL the soups right here → Soup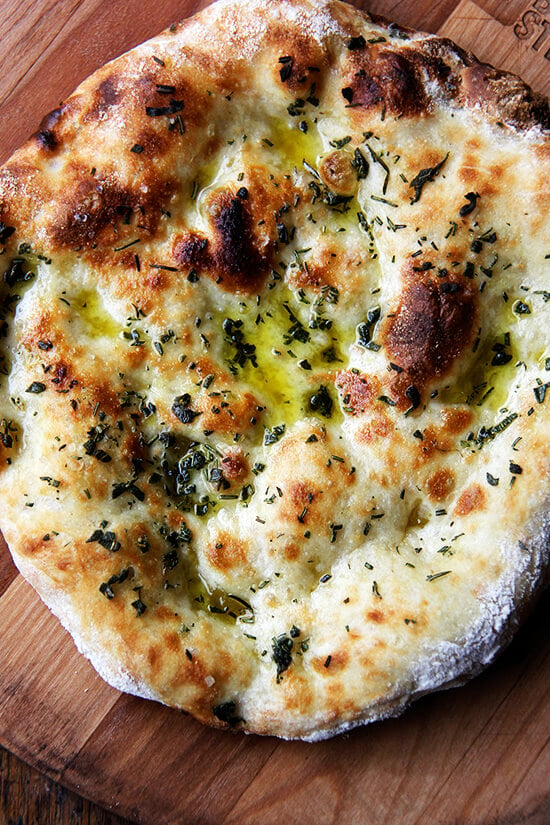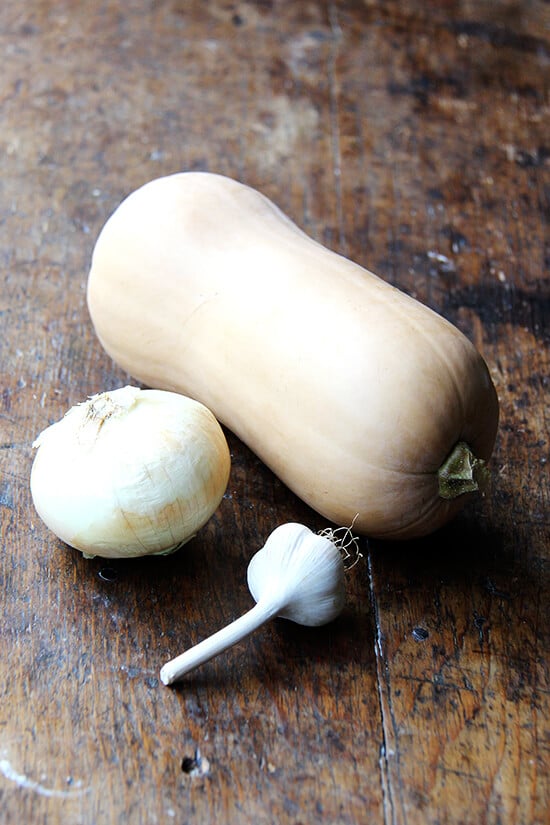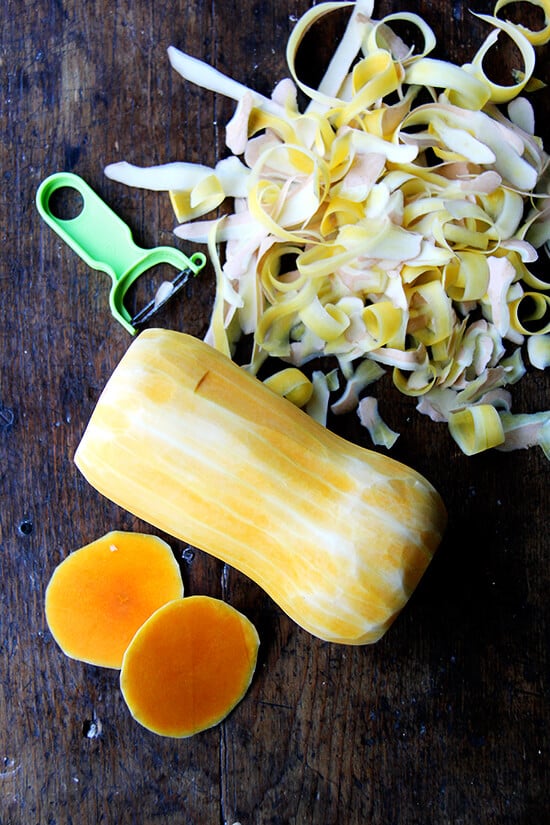 This soup begins with simmering minced onions or shallots and garlic in water…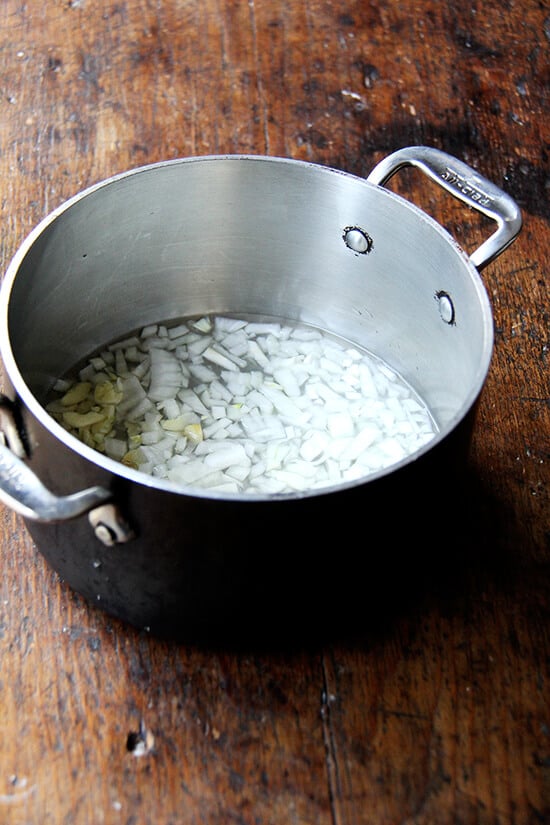 …until they are soft and the liquid has nearly evaporated: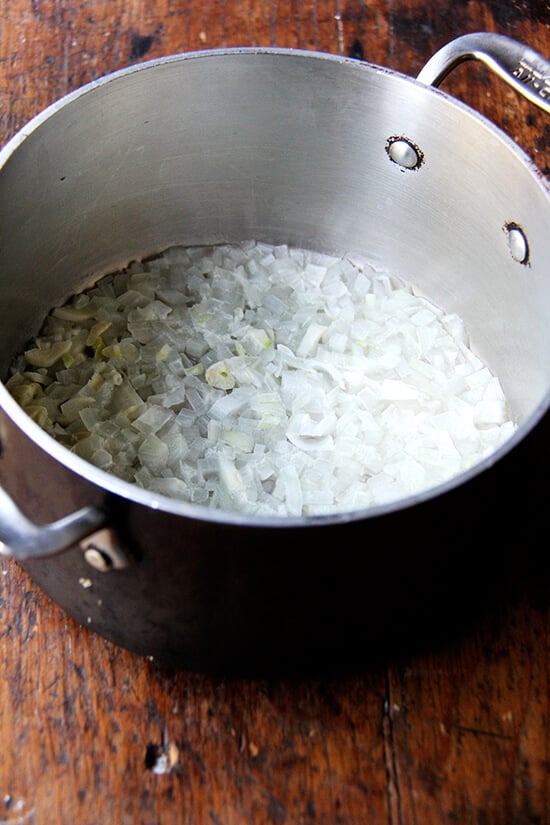 Eight cups of cubed butternut squash…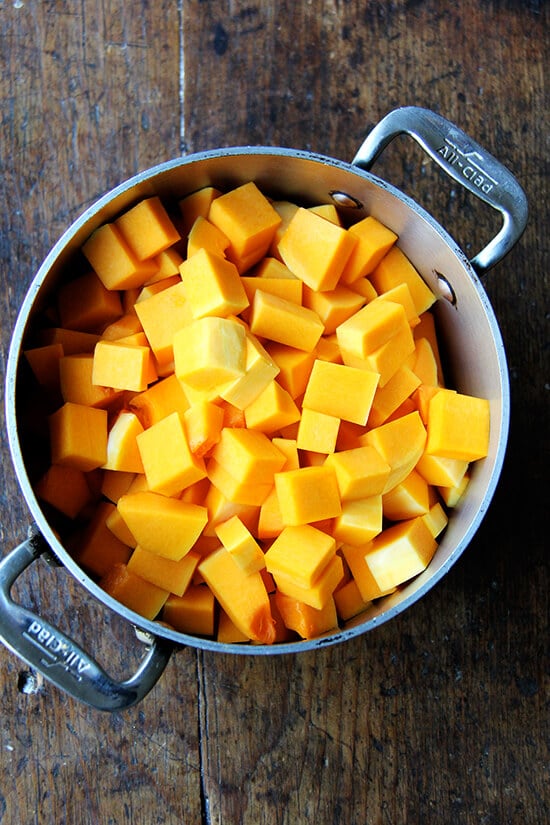 …steam for 20 minutes in a cup of chicken stock: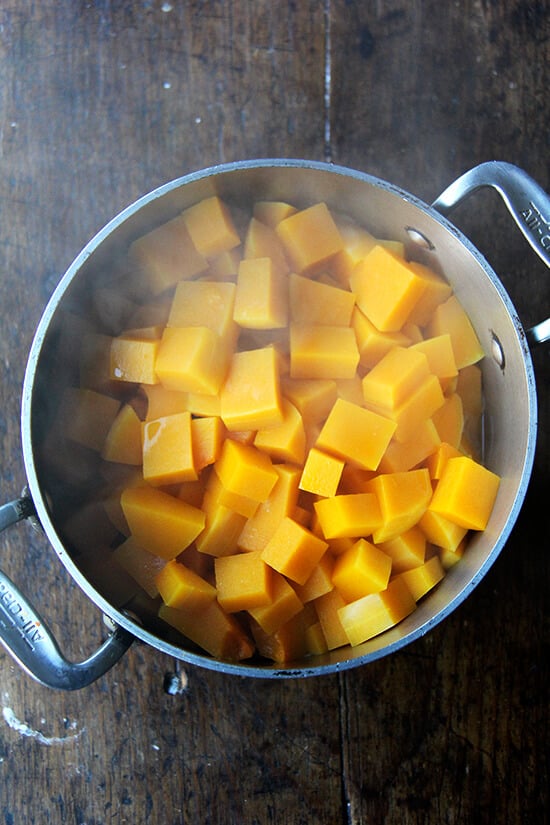 After the soup is partially puréed, apple cider and sour cream enter the pot: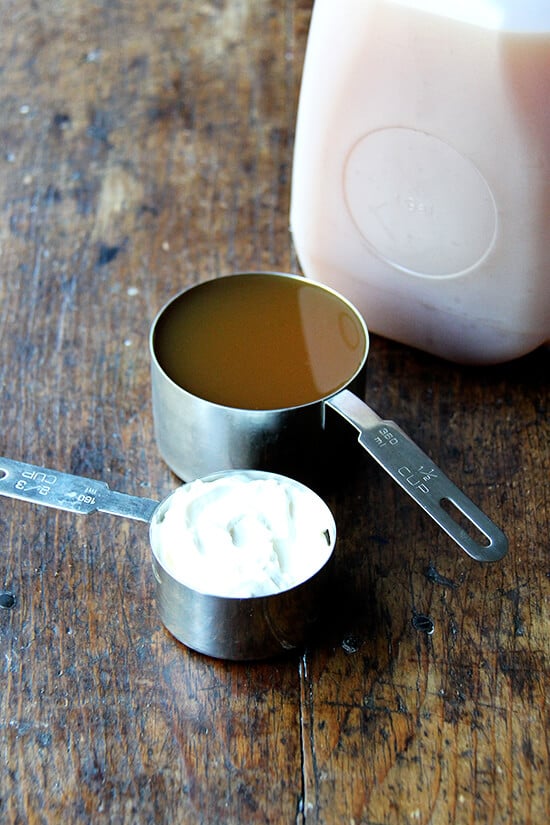 Sometimes I have to add a bit more stock at the end to thin it out, but most of the time, it purées into a silky smooth consistency that needs little doctoring: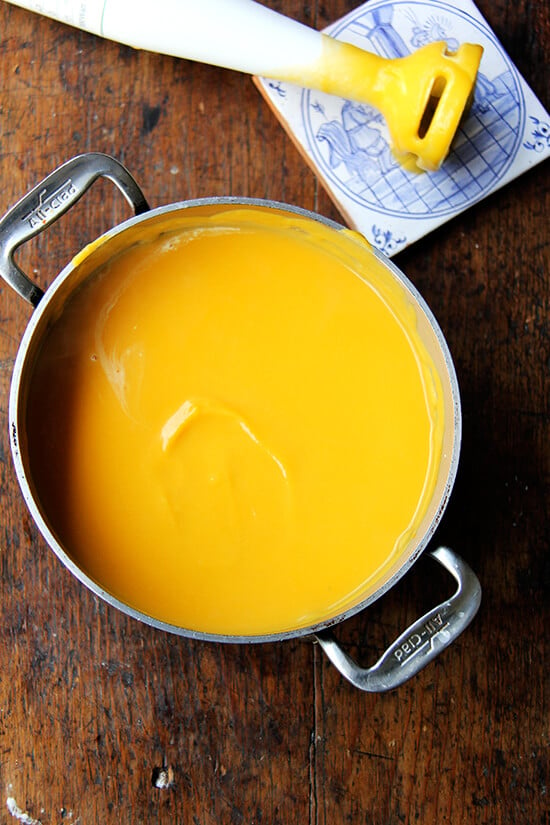 Last week a friend dropped off the most fragrant rosemary and sage from her garden. We have been sprinkling it over flatbreads for the past three days: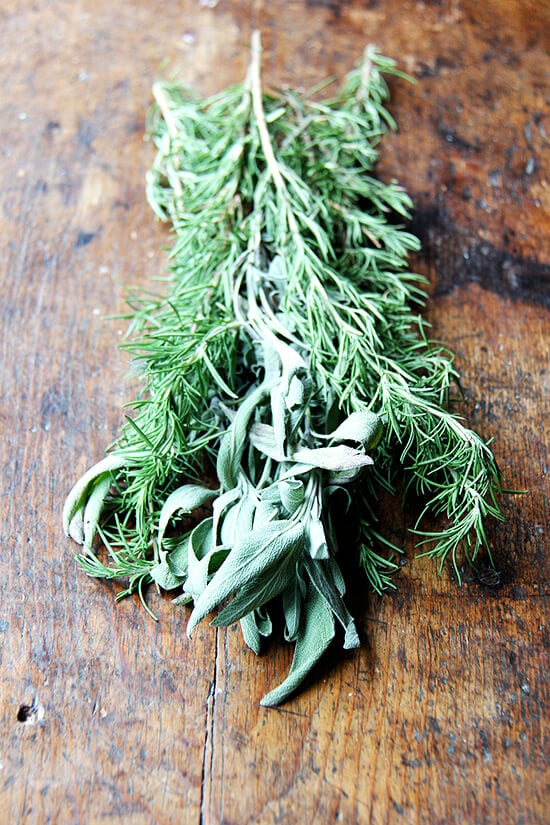 Another great use for these quart storage containers: Lahey pizza dough. A quart container might feel unnecessarily large for one round of dough, but I've had lids of pint containers pushed off by expanding dough after a day or two in the fridge.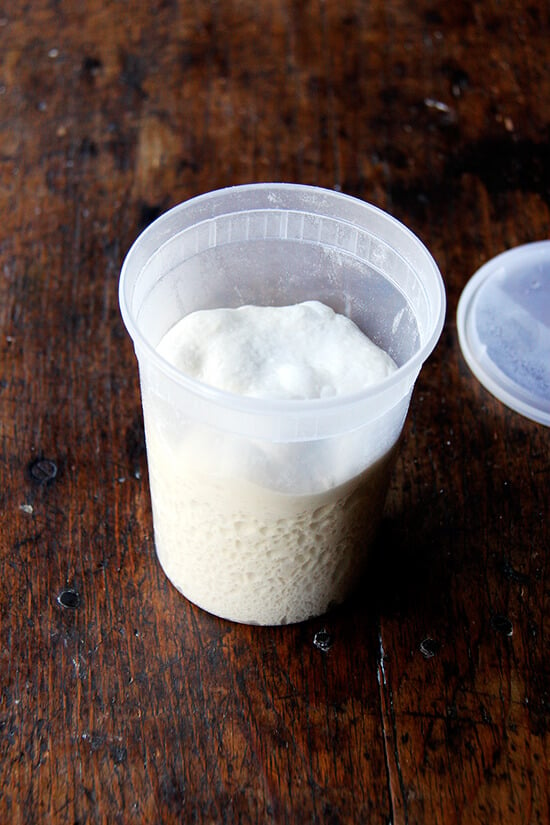 Olive oil, sage, rosemary, sea salt: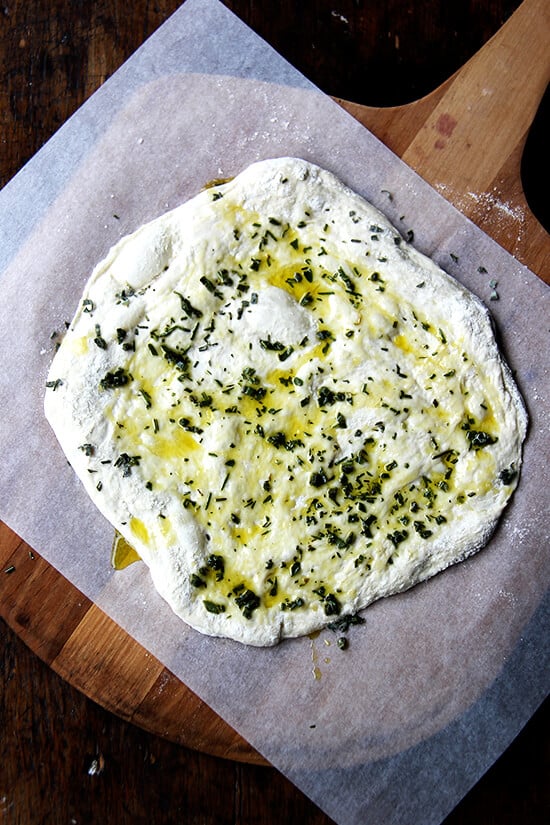 Five minutes on the Baking Steel: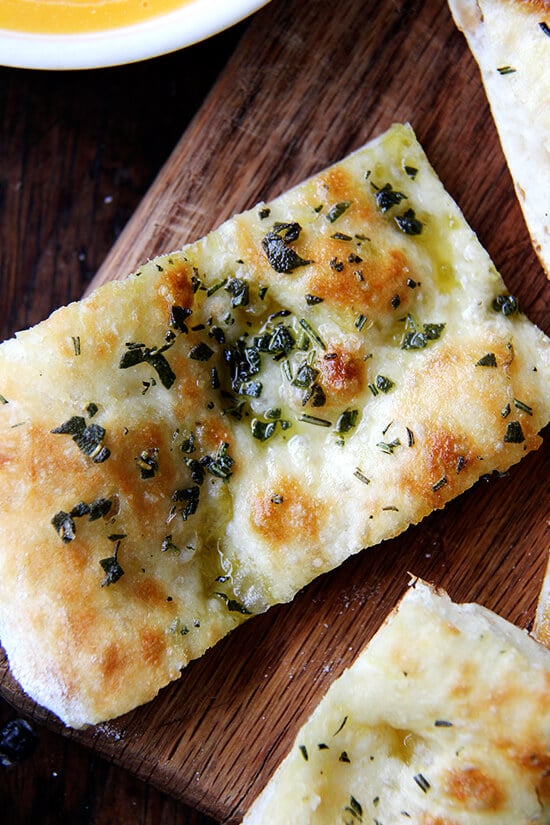 Dinner: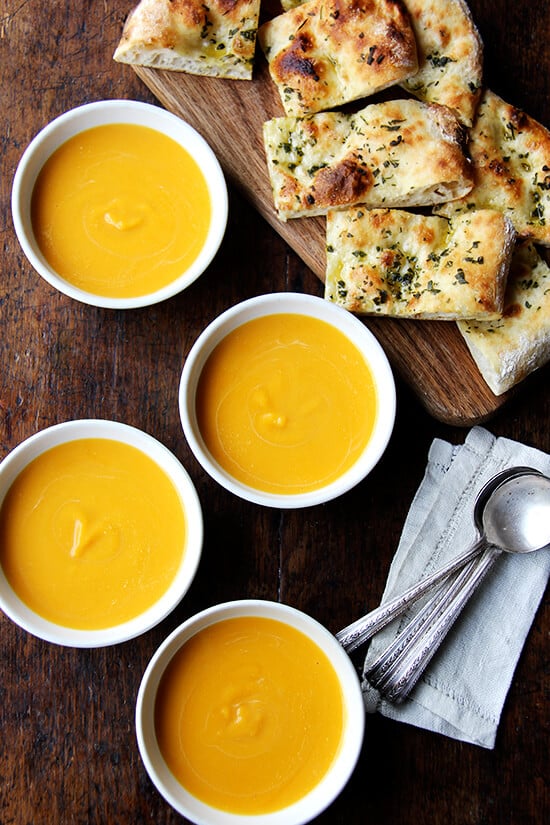 Oven spring: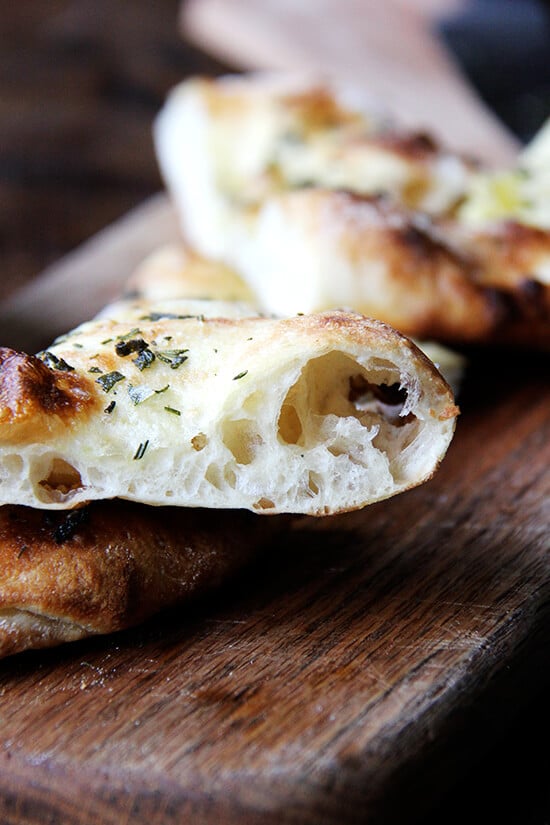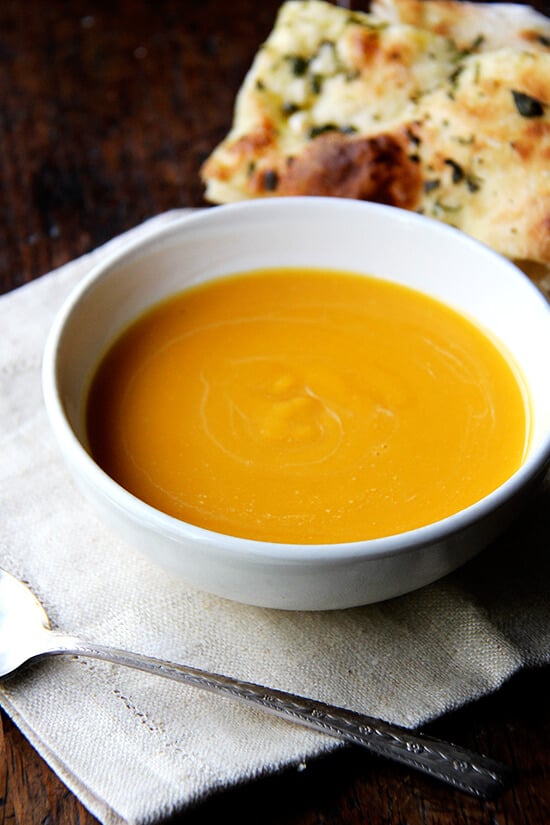 5 Secrets to Foolproof Bread Baking
See how easy bread baking can be in my free ecourse!
Print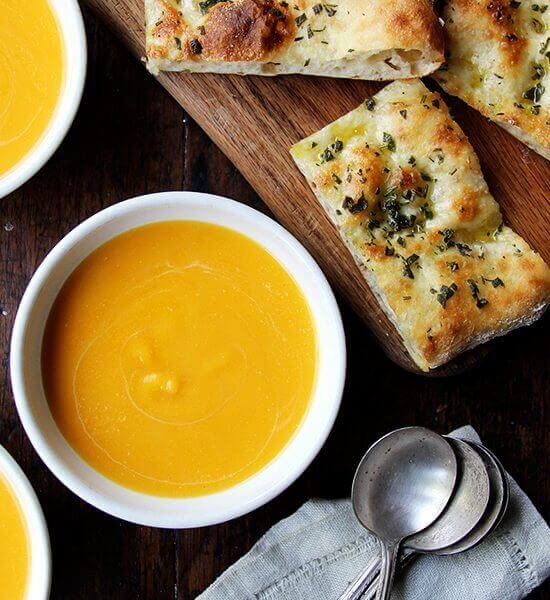 Butternut Squash & Cider Soup
---
---
1/2

large white or yellow onion, minced

1

clove garlic, peeled and minced

8 cups

peeled, seeded and cubed butternut squash

1 cup

chicken stock (or water), preferably homemade, plus more for thinning out as needed

1 1/2 cups

apple cider

1/2 cup

to 2/3 cup sour cream

1 teaspoon

salt, plus more to taste
Cracked black pepper
Bread for serving
---
Instructions
Heat a medium-size saucepan over low heat. Add the onion, garlic, and 1/2 cup water. Cook until the shallot and garlic are softened, being careful not to let them burn, 5 to 7 minutes — the water will be nearly evaporated.
Add the squash and the chicken stock and bring to a boil. Reduce the heat, cover, and simmer until the squash is soft, about 20 minutes.
Using an immersion blender, purée until roughly smooth. (Alternatively, carefully pour the mixture into a blender. Holding the top down with a towel, blend until smooth.) Add the cider, 1/2 cup of the sour cream, and salt. Continue blending until well combined. Taste, add more salt if necessary. (I often add another teaspoon of kosher salt.) Add more sour cream if desired (I always do.). Thin out with more stock — you may need as much as another cup of stock. Taste, adjust seasoning again as necessary. Serve immediately with good bread.
Prep Time:

15 minutes

Cook Time:

30 minutes

Category:

Soup

Method:

Stovetop

Cuisine:

American
Keywords: butternut, squash, soup, cider, sour cream, fast, easy, fall
Print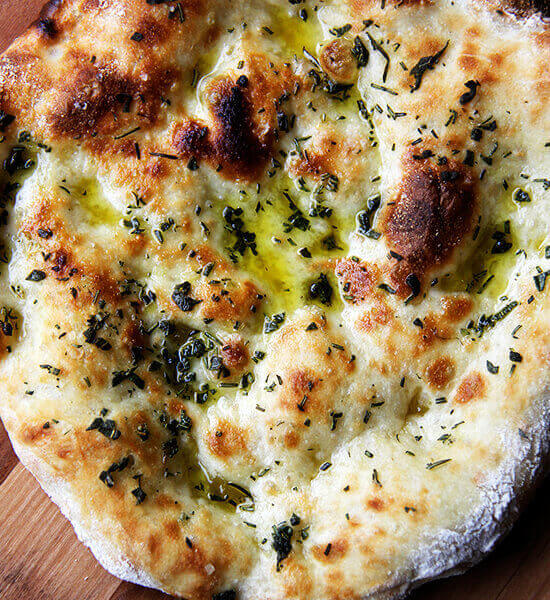 Herbed Flatbread
---
Description
Dough Source: Bon Appetit via Jim Lahey's book: My Pizza.
I love Jim Lahey's Pizza Dough. It takes five minutes to throw together a day before you plan on baking, and it is worth every effort to plan ahead for — no other dough, in my experience, creates those beautiful air pockets.
I also am partial to this Tipo 00 flour, which I order in bulk and store in the freezer.
Finally, the Baking Steel creates pizzas with that beautiful oven spring in the crust and a nice crisp undercarriage.
---
For the dough:
7 1/2 cups

all-purpose or tipo 00 flour (

1000 grams

) plus more for shaping dough

4 teaspoons

fine sea salt (I use Diamond kosher)

1/2 teaspoon

active dry yeast
For the herbed flatbread:
1

garlic clove minced
extra-virgin olive oil
fresh rosemary minced, about a teaspoon per flatbread
fresh sage minced, about a teaspoon per flatbread
flaky sea salt, such as Maldon
---
Instructions
Make the dough: Whisk flour, salt, and yeast in a medium bowl. While stirring with a wooden spoon, gradually add 3 cups water; stir until well incorporated. Mix dough gently with your hands to bring it together and form into a rough ball. Transfer to a large clean bowl. Cover with plastic wrap or tea towel and let dough rise at room temperature (about 72°) in a draft-free area until surface is covered with tiny bubbles and dough has more than doubled in size, about 18 hours (time will vary depending on the temperature in the room).
Transfer dough to a floured work surface. Gently shape into a rough rectangle. Divide into 6 equal portions. Working with 1 portion at a time, gather 4 corners to center to create 4 folds. Turn seam side down and mold gently into a ball. Dust dough with flour; set aside on work surface or a floured baking sheet. Repeat with remaining portions.
Wrap each dough ball separately in plastic wrap and chill. Unwrap and let rest at room temperature on a lightly floured work surface, covered with a light dusting of flour for about an hour or two before shaping. DO AHEAD: Can be made 3 days ahead.
To Make the flatbread: Pull out a pizza round from the fridge one hour before you plan on baking. Dust dough with flour and place on a floured work surface. Preheat oven to its hottest setting, 550°F. Gently shape dough into a 10″–12″ disk handling it as minimally as possible. Arrange dough disk on parchment-lined baking peel.
Drizzle dough with olive oil. Top with minced herbs. Sprinkle with nice salt. Drizzle with a splash more olive oil.
Transfer pizza, parchment paper and all to Baking Steel. Bake pizza until top is blistered, about 5 minutes. Transfer to a work surface. Cut and serve.
Prep Time:

24 hours

Cook Time:

5 minutes

Category:

Pizza/Flatbread

Method:

Oven

Cuisine:

American
Keywords: pizza, flatbread, herbed, rosemary, sage, salt, olive oil, fall
This post may contain affiliate links. Please read my disclosure policy.