Butternut Squash and Apple Cider Soup
This post may contain affiliate links. Please read my disclosure policy.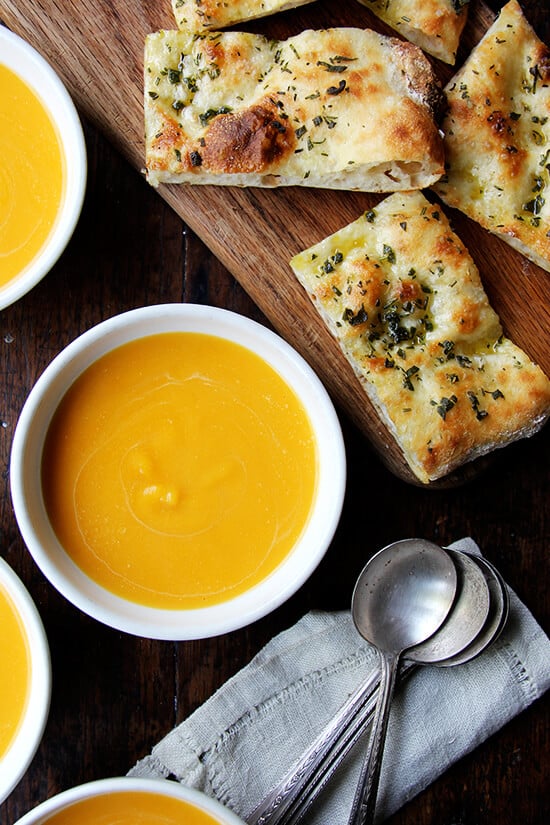 The trouble with the butternut squash soup I make again and again every winter is that it takes so much time: 45 minutes to roast the squash, 30 minutes to simmer it with the stock, and 15 minutes here and there for prepping. Although much of the time is hands off, I never feel I can whip it up on a weeknight.
So when I saw this recipe for butternut squash soup with cider and sour cream, which apparently could be "made in a flash," a few things caught my eye:
In step 1, onion and garlic simmer in a small amount of water — not butter or oil — for about five minutes.
In step 2, the squash cubes steam in stock (or water) for 20 minutes.
In step 3, the soup is puréed with apple cider and sour cream, and then it's done.
I followed the recipe to a T and was pleased to discover that a completely flavorful soup had materialized in 30 minutes start to finish. As the onions and garlic cooked down in the water, I was able to peel, seed and cube the squash. And the puréed soup needed nothing more than a pinch of salt and a splash of stock before it was ready for serving.
I've made this soup, which is at once light and comforting, three times in a week, and the past few evenings, I've been serving it with flatbread topped with olive oil, sea salt, and minced sage and rosemary, two of butternut squash's best pals.
With Lahey dough stored in the fridge, this meal comes together in a flash and couldn't taste more like fall, the fragrant herbs so nicely complementing the squash and the subtle sweetness of the apple, the tangy sour cream balancing it all out.
PS: ALL the soups right here → Soup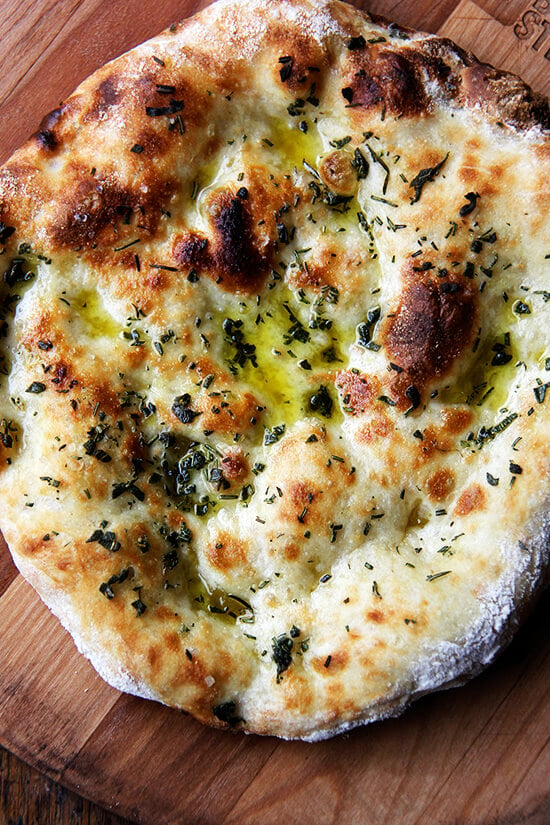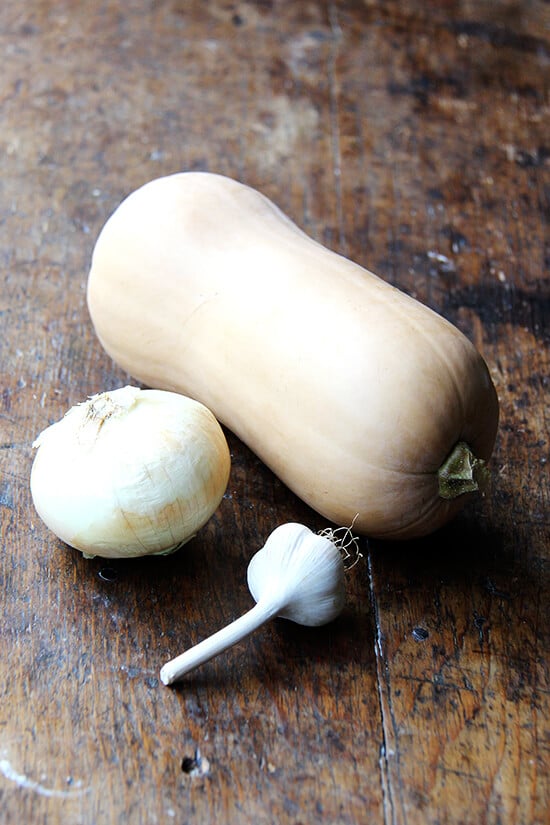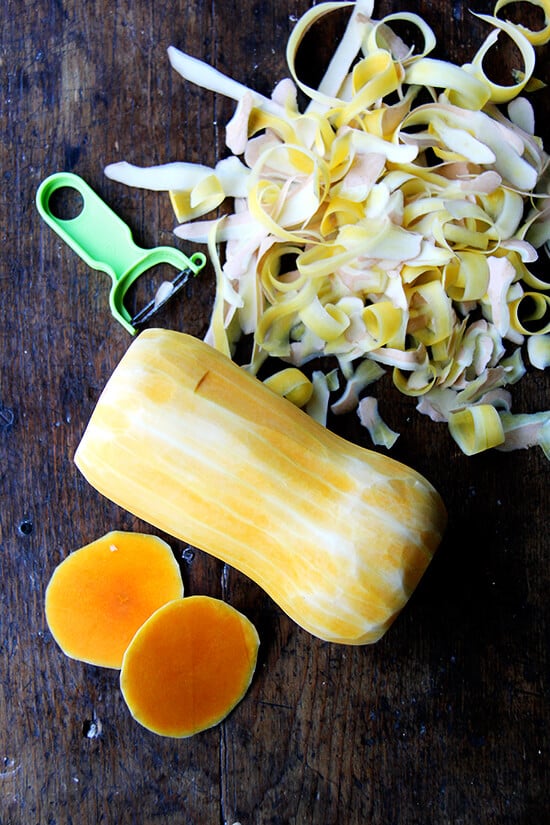 This soup begins with simmering minced onions or shallots and garlic in water…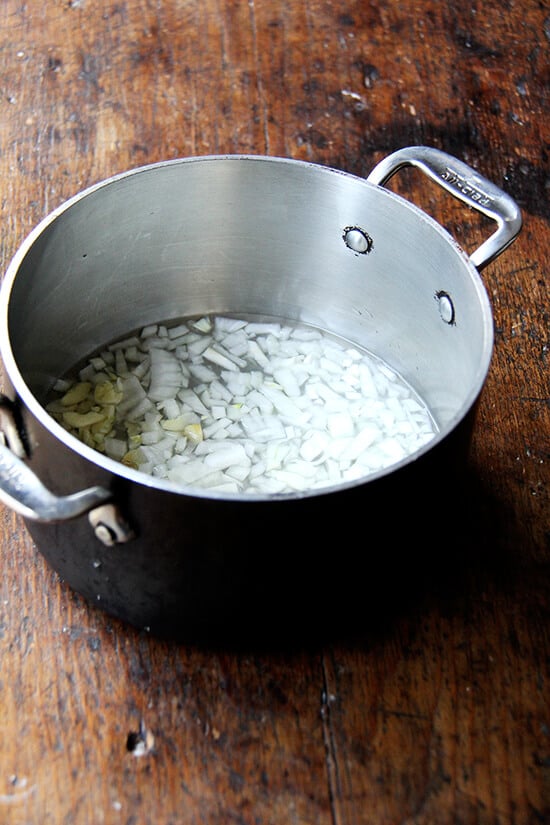 …until they are soft and the liquid has nearly evaporated: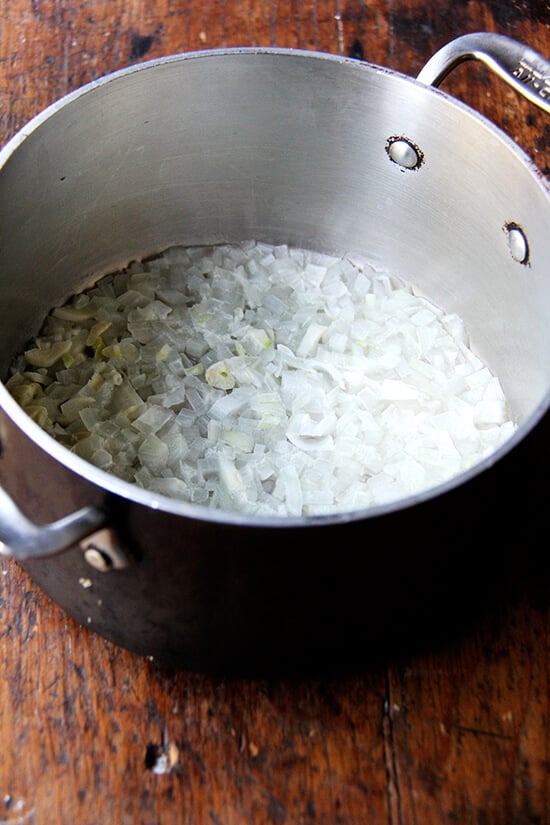 Eight cups of cubed butternut squash…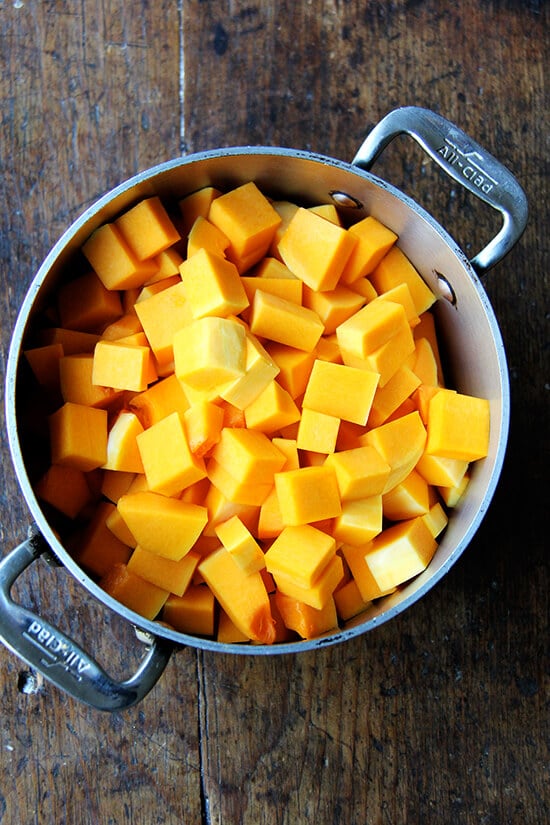 …steam for 20 minutes in a cup of chicken stock: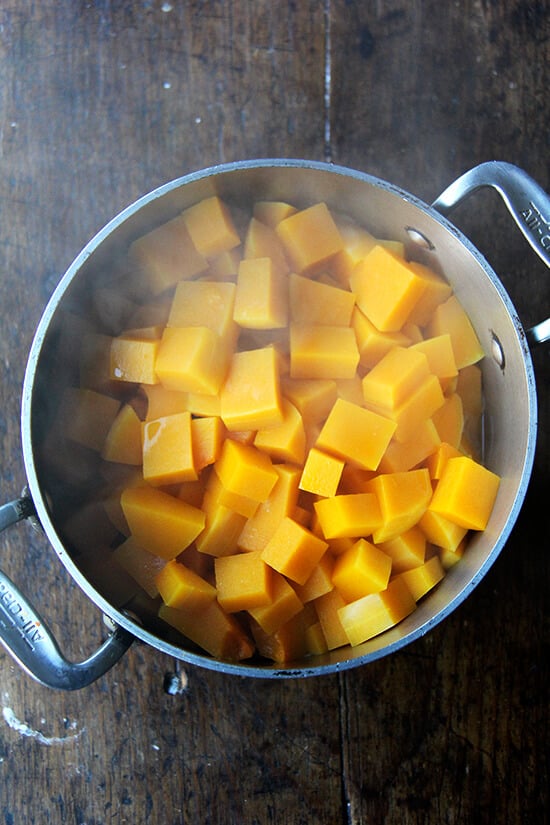 After the soup is partially puréed, apple cider and sour cream enter the pot: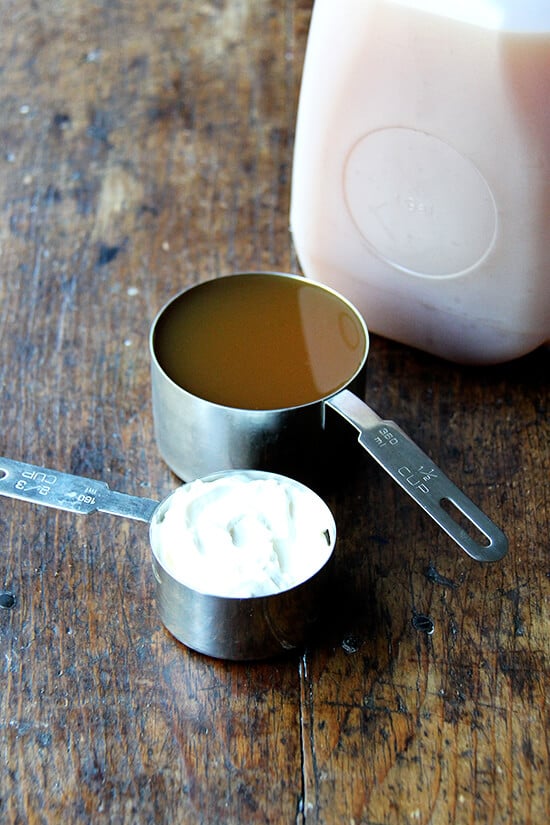 Sometimes I have to add a bit more stock at the end to thin it out, but most of the time, it purées into a silky smooth consistency that needs little doctoring: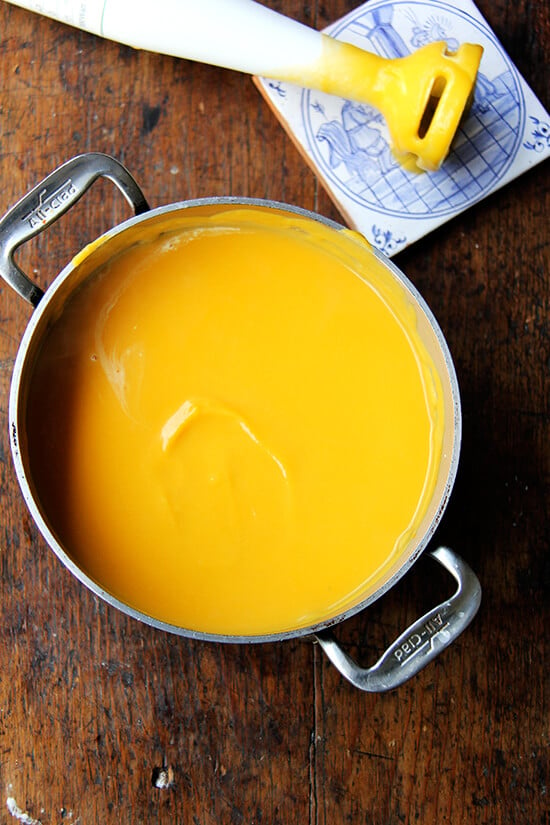 Last week a friend dropped off the most fragrant rosemary and sage from her garden. We have been sprinkling it over flatbreads for the past three days: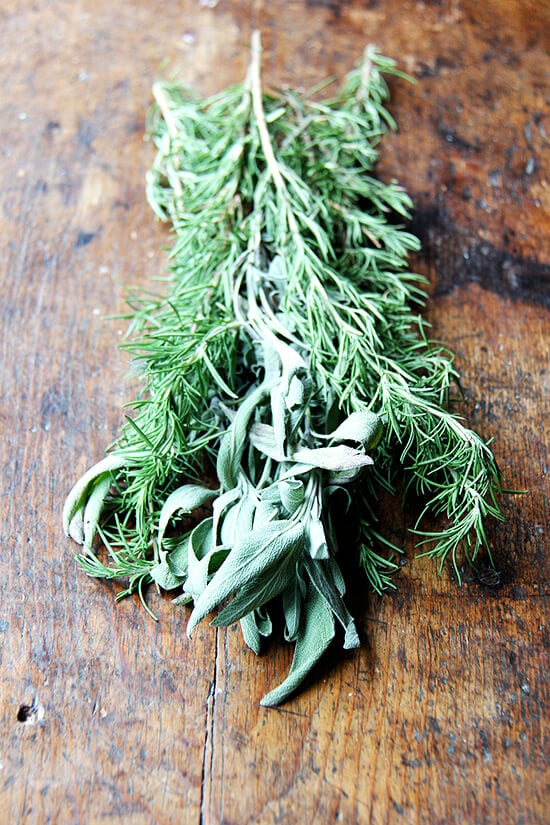 Another great use for these quart storage containers: Lahey pizza dough. A quart container might feel unnecessarily large for one round of dough, but I've had lids of pint containers pushed off by expanding dough after a day or two in the fridge.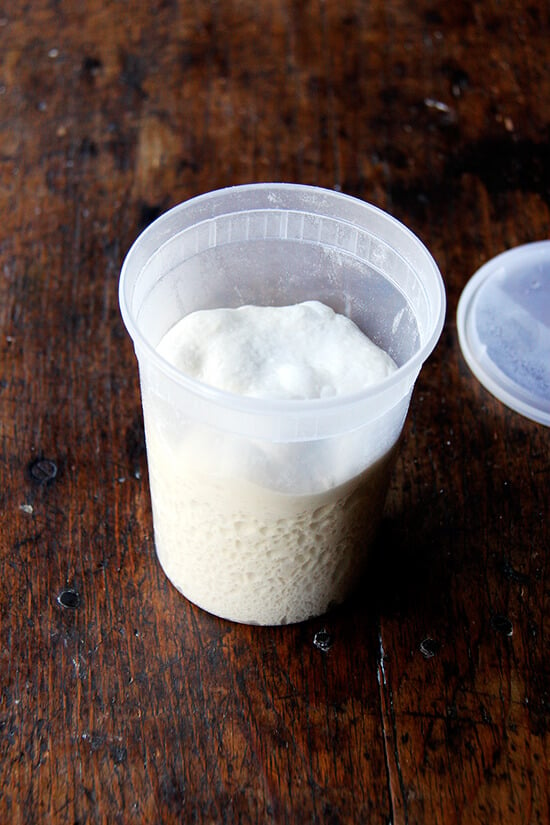 Olive oil, sage, rosemary, sea salt: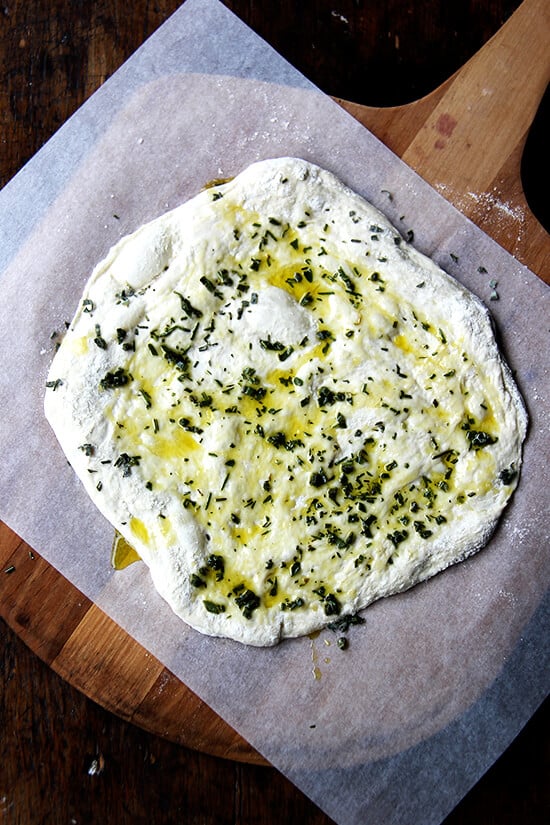 Five minutes on the Baking Steel: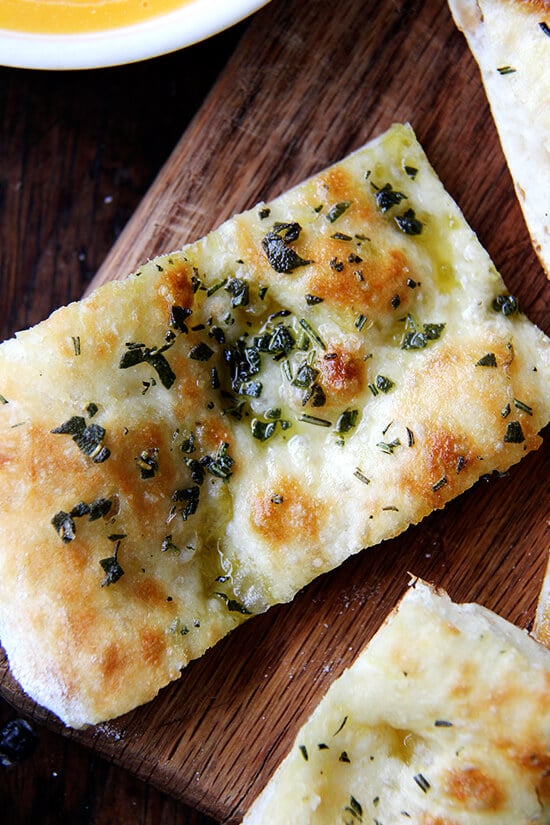 Dinner: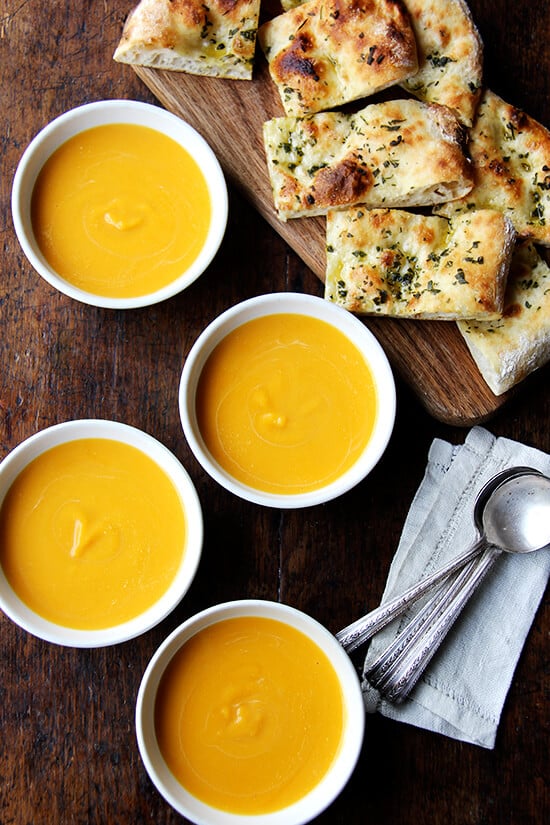 Oven spring: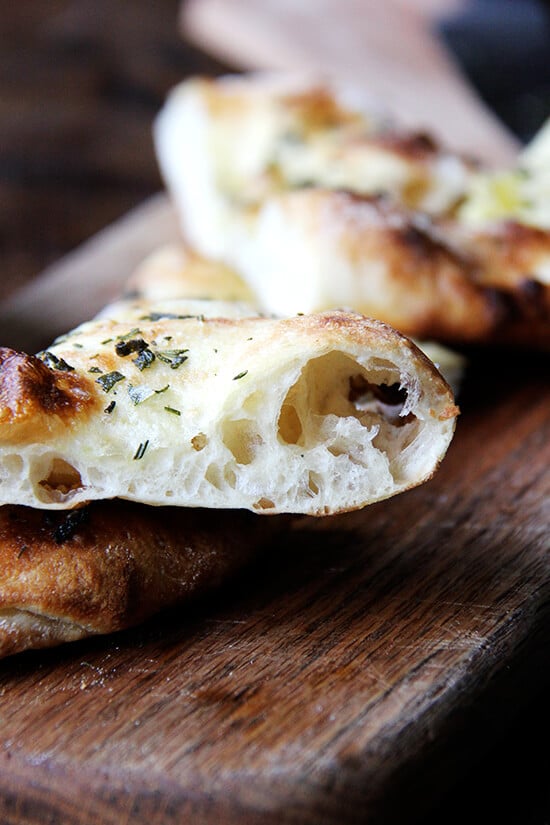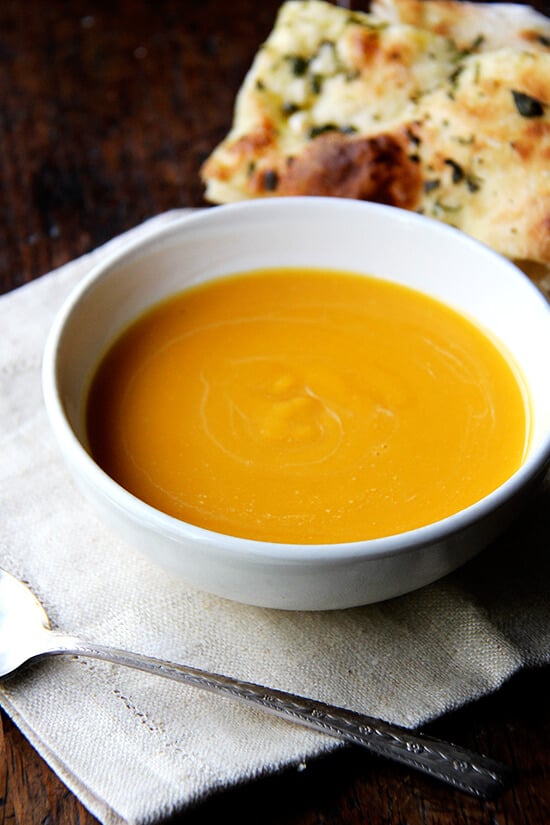 Pizza Perfected
7 Secrets to Mastering Pizza at Home
Always Free. Unsubscribe Anytime.
Print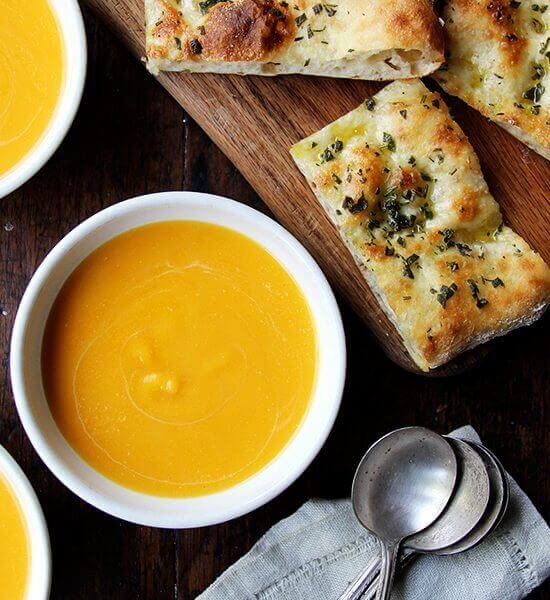 Butternut Squash and Apple Cider Soup
---
---
1/2

large white or yellow onion, minced

1

clove garlic, peeled and minced

8 cups

peeled, seeded and cubed butternut squash

1 cup

chicken stock (or water), preferably homemade, plus more for thinning out as needed

1 1/2 cups

apple cider

1/2 cup

to 2/3 cup sour cream

1 teaspoon

salt, plus more to taste
Cracked black pepper
Bread for serving
---
Instructions
Heat a medium-size saucepan over low heat. Add the onion, garlic, and 1/2 cup water. Cook until the shallot and garlic are softened, being careful not to let them burn, 5 to 7 minutes — the water will be nearly evaporated.
Add the squash and the chicken stock and bring to a boil. Reduce the heat, cover, and simmer until the squash is soft, about 20 minutes.
Using an immersion blender, purée until roughly smooth. (Alternatively, carefully pour the mixture into a blender. Holding the top down with a towel, blend until smooth.) Add the cider, 1/2 cup of the sour cream, and salt. Continue blending until well combined. Taste, add more salt if necessary. (I often add another teaspoon of kosher salt.) Add more sour cream if desired (I always do.). Thin out with more stock — you may need as much as another cup of stock. Taste, adjust seasoning again as necessary. Serve immediately with good bread.
Prep Time:

15 minutes

Cook Time:

30 minutes

Category:

Soup

Method:

Stovetop

Cuisine:

American
Keywords: butternut, squash, soup, cider, sour cream, fast, easy, fall
This post may contain affiliate links. Please read my disclosure policy.