Homemade Vegetable Stock + Farro Risotto with Squash and Kale
This post may contain affiliate links. Please read my disclosure policy.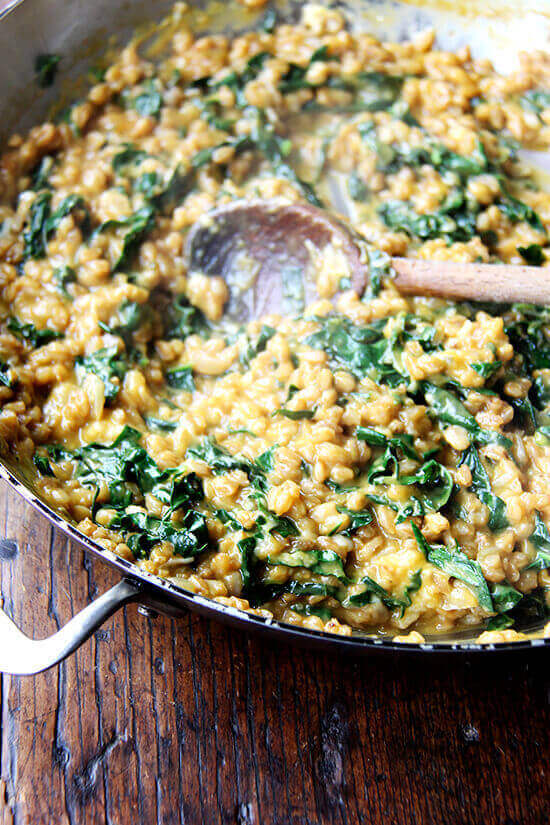 Risotto is something I feel moved to make about once a season — it's delicious, everyone loves it, and when it's made with whole grains and lots of vegetables, it's healthy to boot.
But it takes FOREVER to cook. This one is no exception. Please don't try to whip this one up on a weeknight — even if you use pearled farro, it will take over an hour to become creamy.
That said: I love this farro risotto with creamy butternut squash and kale. My mother and I gobbled up the whole pan sitting by a roaring fire, which made every effort worthwhile. I used homemade vegetable stock, which is easy and delicious.
If you leave out the cheese, this dish becomes vegan, and while I love the cheese, the puréed butternut squash adds a creaminess and richness. I suspect if the cheese were not there, I wouldn't miss it.
Farro Risotto Notes:
The squash can be roasted (and puréed) a day (or two or three) in advance.
If you are partial to chicken stock, use it. Making and using vegetable stock is a new discovery for me, and I am a fan — it is so easy and so flavorful! It can be made days in advance, and it freezes nicely too. I ran out of stock here, and used about a quart of water during the last half hour or so of cooking, and it didn't dilute the flavor at all.
Different grains will take different lengths of time to cook. I was surprised to discover that my pearled farro, which can be boiled/fully cooked in 15 minutes, took over an hour to become creamy/cooked when made risotto style.
Use any squash in place of the butternut. One roasted butternut squash will leave you with lots of extra purée — freeze it or make soup with it or make this risotto again.
Any dark, leafy green can be substituted for the kale.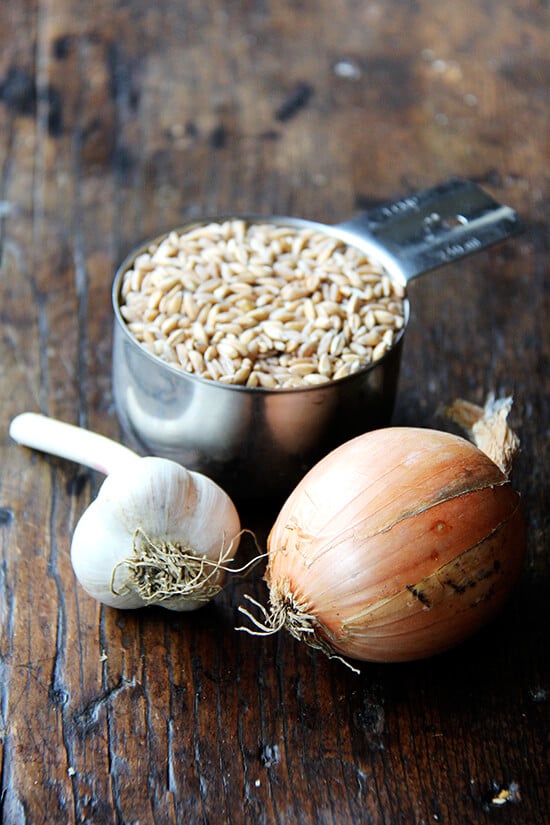 First, minced onion and garlic sweat in a little butter, then farro enters the pan:

Meanwhile, you roast squash, butternut or acorn or whatever you have on hand: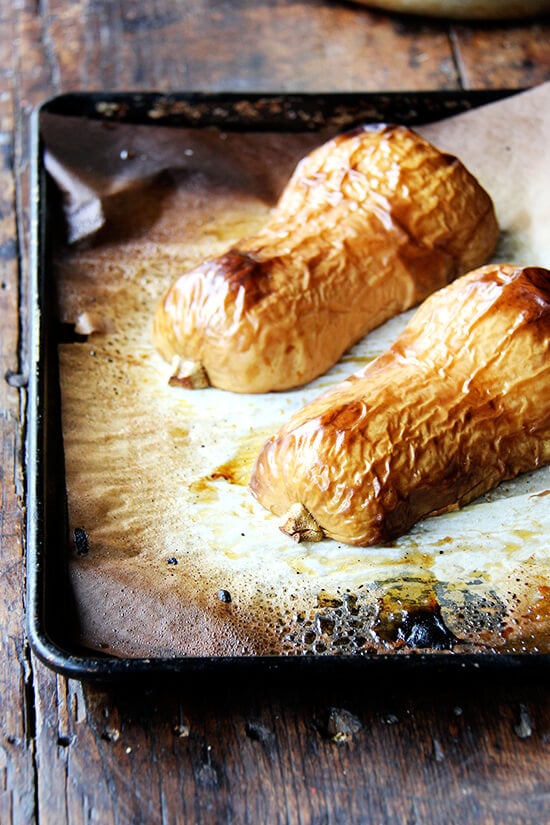 Then you purée it with some of your homemade vegetable stock: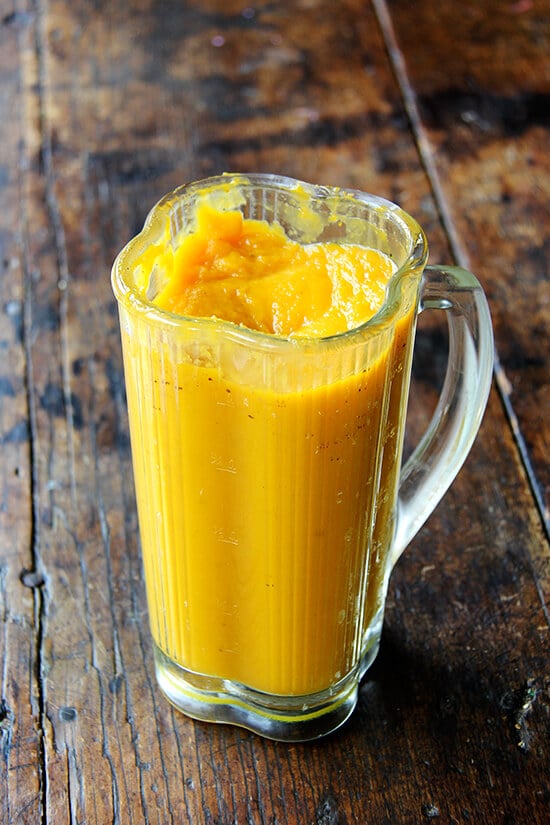 Ready in 45 minutes, vegetable stock couldn't be simpler to prepare: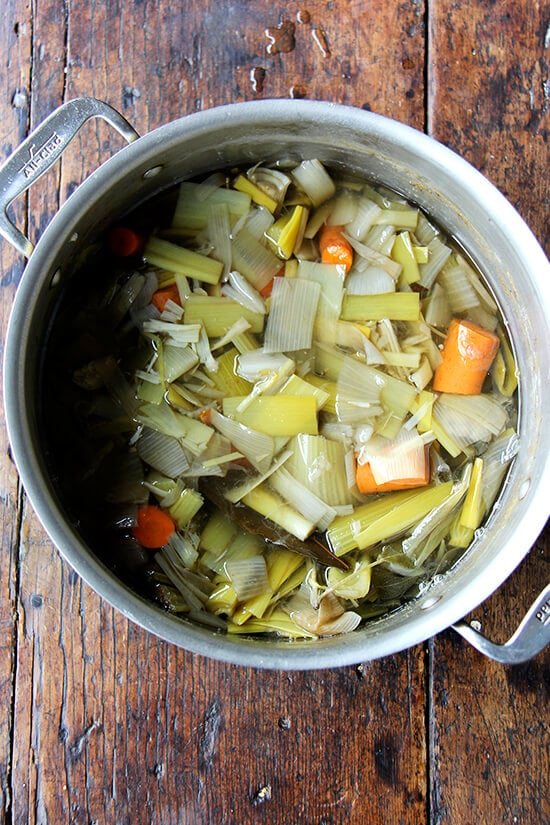 After about an hour, the farro should start looking creamy: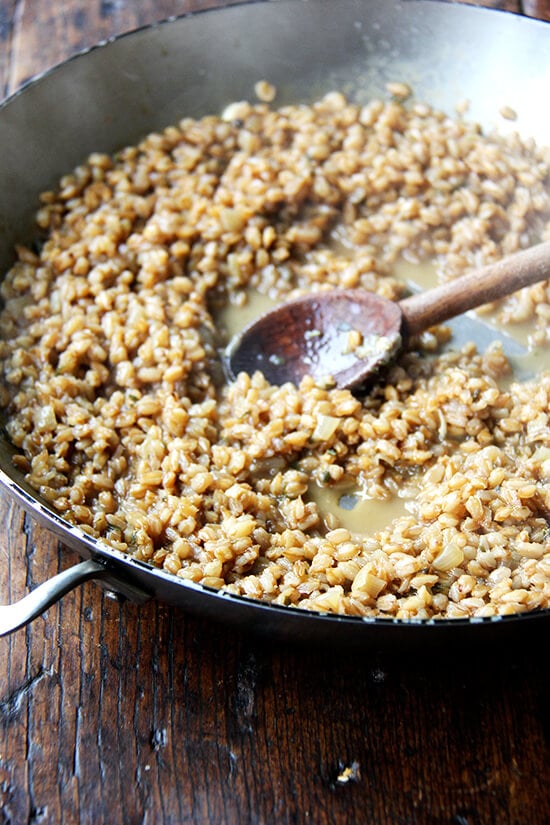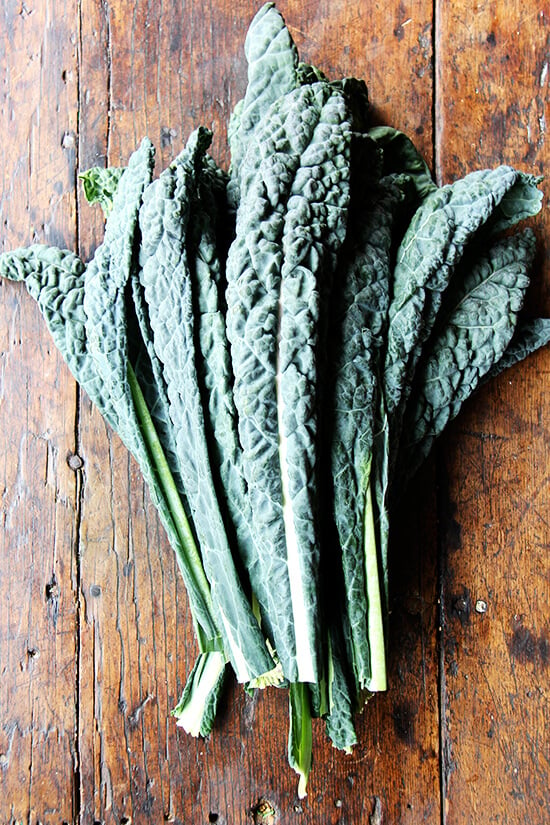 After you add some of the puréed squash to the farro, toss in a handful of slivered kale: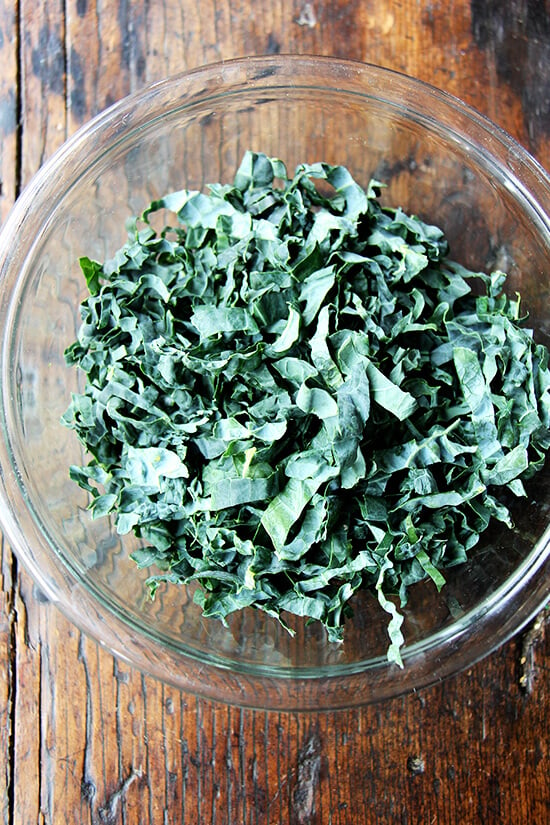 Finally, mix in a little more butter and freshly grated Parmigiano Reggiano: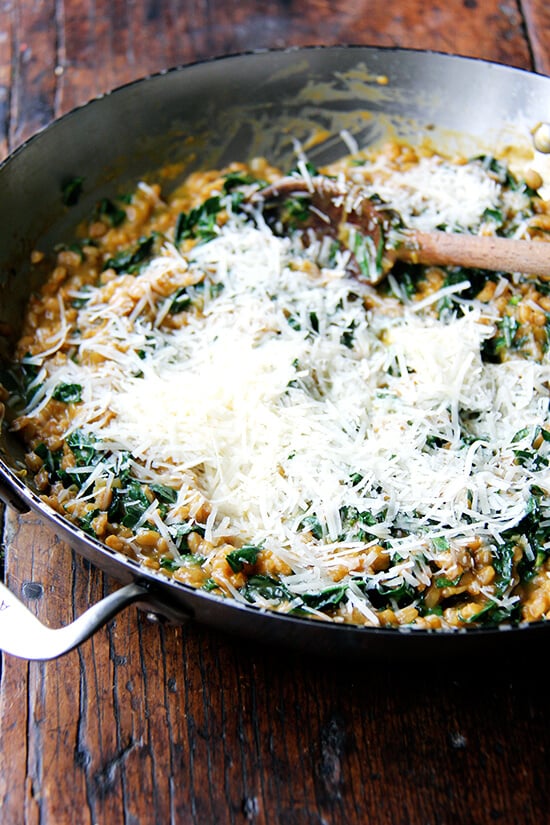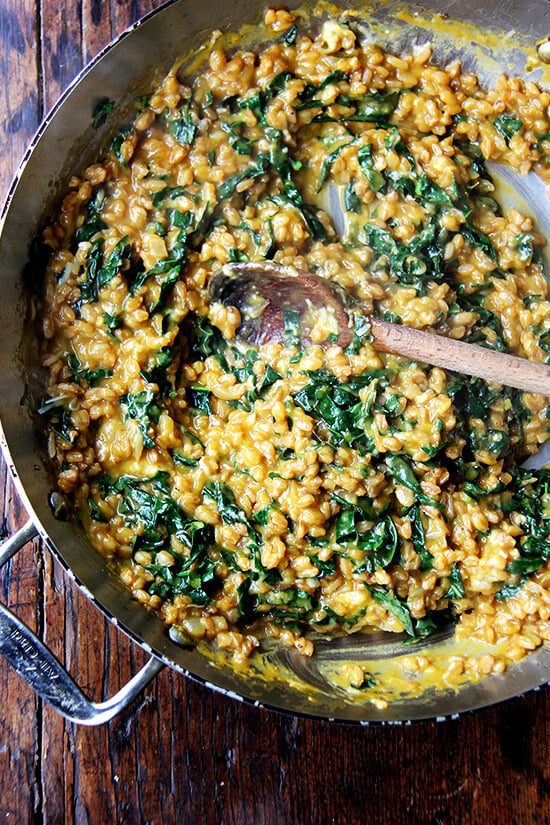 Print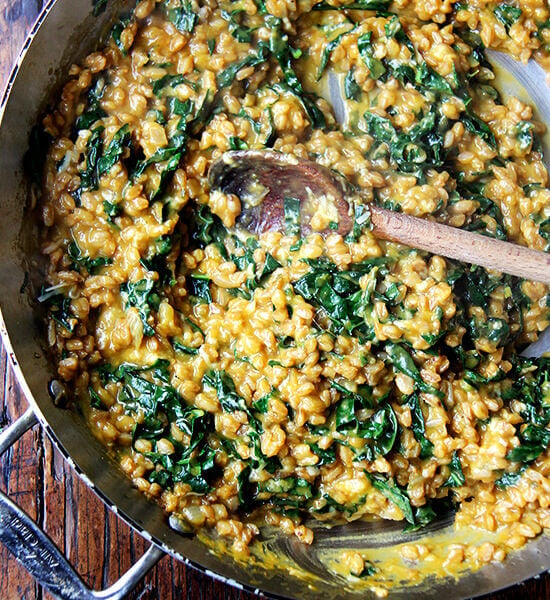 Farro Risotto with Squash and Kale
---
Prep Time:

20 minutes

Cook Time:

105 minutes

Total Time:

2 hours 5 minutes

Yield:

4 servings
---
Ingredients
For the risotto:
1

butternut squash
olive oil
kosher salt
pepper to taste

4 tablespoons

butter, divided

2 quarts

vegetable stock (recipe below or

1 quart

stock plus

1 quart

water)

1

onion, small or large, small diced

1

clove garlic, minced

1 cup

pearled farro

½ cup

dry white wine or Sherry
kale, a small bunch, thinly sliced

1 cup

grated Parmigiano Reggiano
For the vegetable stock:
1

large yellow onion, peeled and roughly chopped

2

large carrots, peeled and roughly chopped

1

stalk celery, roughly chopped

1

large leek, roughly chopped

3

cloves garlic, peeled and crushed with the back of your knife

4

sprigs fresh parsley

4

sprigs fresh thyme

2

sprigs fresh tarragon

1

bay leaf

1 teaspoon

coarse salt

1 teaspoon

black peppercorns

3 quarts

cold water
---
Instructions
Preheat the oven to 425ºF. Cut squash in half lengthwise. Scoop out the seeds (and save or compost). Rub flesh of squash lightly with olive oil and season with salt and pepper. Place cut side down on parchment-lined baking sheet, and roast until tender, 30 to 45 minutes depending on the size of the squash. Set aside to cool. Note: You can do this ahead of time, but the farro takes so long to turn into risotto, that you could certainly do this while the farro is cooking — whatever's easiest for you.
Place stock in a small saucepan and heat over medium heat so that it's hot but not simmering.
Meanwhile, in a large, wide sauté pan, melt 2 tablespoons of the butter over medium heat. Add the onion and cook until it's translucent, about five minutes. Add the garlic, and cook for another minute. Add the farro and cook stirring constantly for another minute. Add the wine and let it reduce until it's nearly gone. Add ½ cup of the warm stock, reduce the heat to medium, and stir until the liquid is almost absorbed. Continue cooking, adding ½ cup of warm stock at a time, stirring to prevent scorching and letting each addition be absorbed before adding the next, until the farro grains have expanded and are al dente, about 1 hour. The farro will look creamy like risotto.
Meanwhile, purée the flesh of the squash (discard the skin, which should pull off easily) with enough stock until it's a smooth, silky consistency — I used about a cup of stock. (Note: you will have lots of leftover purée. Freeze it or turn it into soup.)
Meanwhile, prepare the kale: remove the stems and ribs from the leaves. Make stacks of the leaves, roll them into cylinders, and cut them into very thin ribbons. Wash and dry the kale if necessary.
Stir one cup of the squash purée into the risotto. Add a handful of the thinly sliced kale strips and stir until the kale is wilted. Add more kale to taste — a small handful was enough for me, but add as much as you like. Add the remaining 2 tablespoons of butter and the cheese. Stir, taste, adjust seasoning, and serve.
To  make the  vegetable stock: Combine stock ingredients in a pot. Bring to a boil, lower the heat, and simmer for 45 minutes. Let stock cool and strain into clean containers. Stock keeps in the refrigerator for 1-2 weeks and in in the freezer for up to 6 months.
---
This post may contain affiliate links. Please read my disclosure policy.