"Balance is Overrated" — Wisdom from Charlotte Beers and Others at Martha Stewart's American Made Summit
This post may contain affiliate links. Please read my disclosure policy.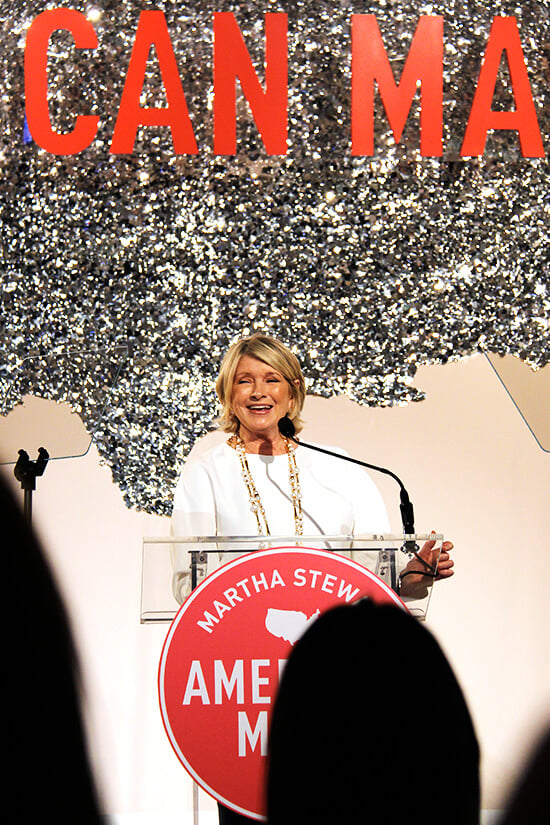 Upon being asked how she was able to find balance in her work-dominated life, Charlotte Beers responded: "I think balance is highly overrated," adding that "if you find your life is out of control, it's probably a sign of being very alive and in the game."
I loved hearing this and what Barbara Corcoran followed up with: "Don't strive for balance; strive for anti-exhaustion."
And the gems kept coming: After admitting to being in her fourth retirement, Beers said: "You are going to work longer than you think, so don't get too unglued about the first 15 years," adding that it's important to "think about why you work," and noting that her work allowed her, "to grow, to create an ever larger self."
I felt like Charlie Simms listening to Colonel Slade dish out pearls on the plane to NYC.
This was the last panel of the event, and while I found all of the speakers over the course of the weekend to be inspiring, I can't stop thinking about this one. These men and women, all seasoned veterans of big businesses, spoke candidly about their lives, about failure, success, divorce, affairs, etc. But I loved the bit about imbalance because that's how life feels right now, and it feels good. So often it seems that Ben comes home, and I run out the door, and vice versa. But, when I think about what Beers said — "think about why you work" — it puts the imbalance in perspective. We both want to be engaged in meaningful activities — teaching a cooking class, being on the Co-op board, volunteering at various farm share events — and we want to show our kids that it's important to make sacrifices and to contribute to things we feel strongly about. But alas, when life feels so busy, I can't shake the words of my YouTube yoga teacher: "Balance, in both practice and life, is the key to finding inner peace." (By the way, I'm not complaining. I have a happy and healthy family, and we live in a beautiful town with access to apple cider donuts at every turn. Just feeling reflective, that's all. )
Anyway, I don't know how much you all know about Martha Stewart's American Made Award, so here's a brief summary: For the past three years, Martha Stewart she has been honoring small businesses — rising stars in the fields of food, crafts, design and style — who are making a difference in their communities, influencing how we eat, shop, live, etc. The Summit, a two-day event, celebrates the ten honorees and their work and brings together a number of industry experts who, through panel discussions and presentations, offer tips, tricks, advice, etc.
A few things I learned:
On a practical level, I learned about Intuit QuickBooks, which I signed up for immediately, something I should have done a long time ago.
On an emotional level, I felt inspired by things I have heard before just never quite so convincingly: don't fear failure, trust your instincts, be true to yourself, be authentic, etc.
But what struck me the most was this: not one person — not the woman making aprons in LA, not the President of the UPS Store, not the founder of Alex and Ani — made any mention of money or how making money was ever a goal or an upshot of his/her business successes. Each person seemed most proud that he or she was employing others whether it was five people in New Bedford, MA or a whole town in Idaho. And each speaker just seemed thrilled to be doing what he or she loved as a living.
In this regard, the apron lady, Ellen Bennett of Hedley and Bennett, stole the show. Ellen, who I am fairly sure convinced all 750 event attendees to buy one of her aprons, started her business making three aprons a week. With the money she made selling those aprons, she bought more fabric and made more aprons, and so on and so on. She and her team of 20 now make 1,400 aprons a week. I've never listened to anyone speak so passionately about a craft — seriously, the girl loves her aprons — and I loved hearing how her business began and grew and how much satisfaction she derives from bringing jobs to the American economy. Also, second to her love for aprons is her love for the book, Delivering Happiness by Zappos CEO Tony Hsieh. As soon as I find "my apron", this will be the first book I read.
A few other highlights:
• The story of Pashon Murray of Detroit Dirt, who started a compost company in an effort to turn abandoned land in Detroit into urban farms that will not only feed but revitalize her community.
• The story of Hamdi Ulukaya, founder and CEO of Chobani, who, upon wanting to start a Greek yogurt company in America, faced a number of challenges, namely the American palate, which was considered unfit for enjoying tart Greek yogurt. Hamdi, who spoke little English, pushed on and opened Chobani, now the leading producer of Greek yogurt in America.
• Blake Lively, who is as lovely and beautiful as you would imagine, described her business, Preserve, as "an extension of herself" and whose goal is to preserve the traditions of artisans all over America making quality-crafted goods.
In sum, I left the event feeling well-fed and very inspired. But the event made me realize, too, that I haven't quite, shall I say, found my apron. And so running off to start a business, which is something I've always wanted to do, might not make too much sense right now. But, if any of you have already found your apron and for whatever reason haven't yet strapped it on, my vote is to get cooking!
Thoughts? What's your apron? Who and what inspires you? Is balance overrated?
The final panel of the weekend: Charlotte Beers, Martha Stewart, David Bobbitt, Tim Davis, and Barbara Corcoran:

The 2014 American Made Honorees:

Blake Lively and Martha Stewart:

How beautiful is this flower arrangement? And this table?

Love this box of recipe cards and all of the cards made by Little Low: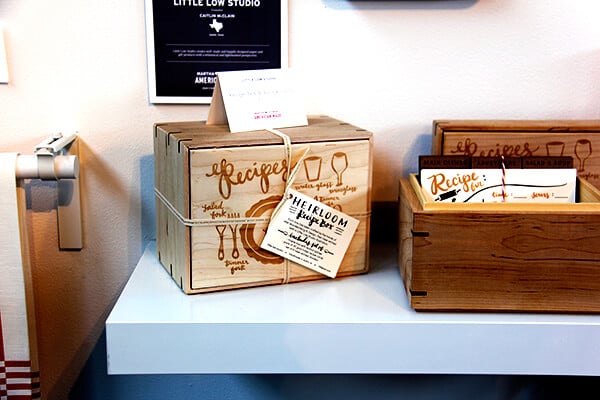 Another really cute card:

Bought a bag of the Type 00 flour — excited to try it: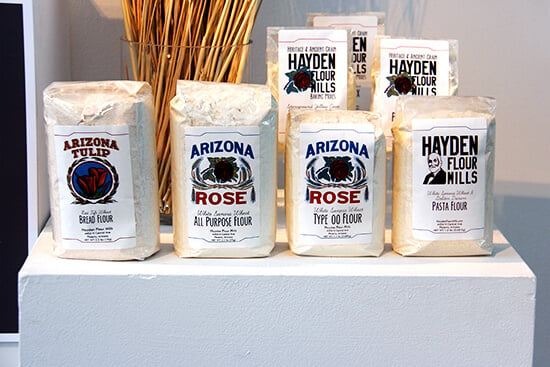 Love this Peg and Awl clutch:

Rompers!

Pie Box! I love mine:

Hedley and Bennett aprons — so cute: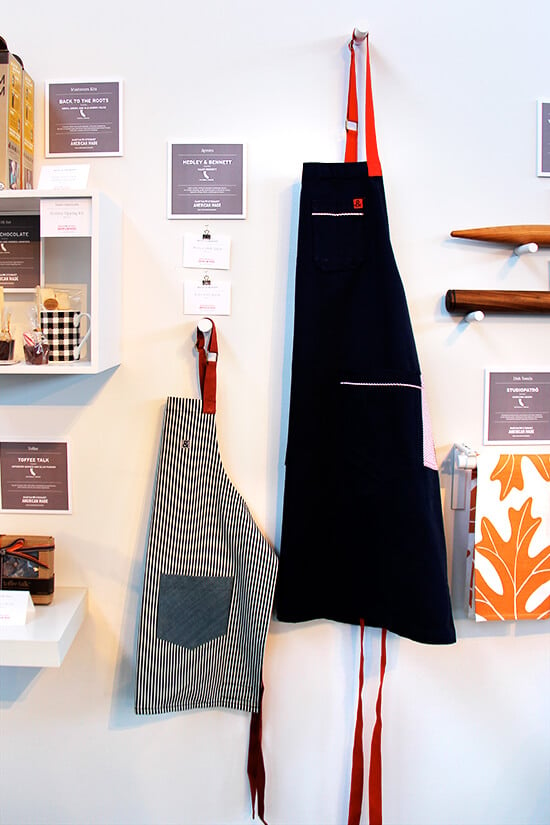 And now, the food:

I'm still dreaming about the chocolate babka from Breads Bakery: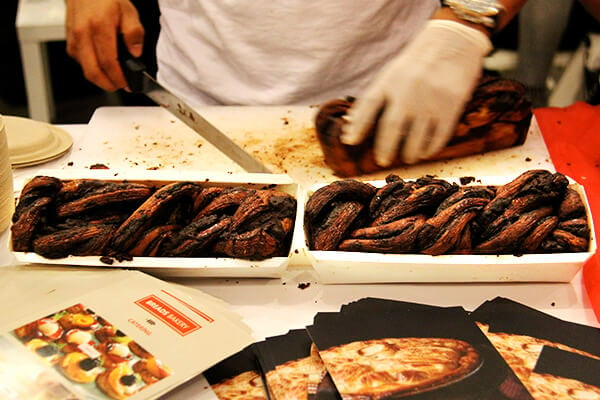 And the sandwiches from Jim Lahey's Sullivan Street Bakery:

This post may contain affiliate links. Please read my disclosure policy.