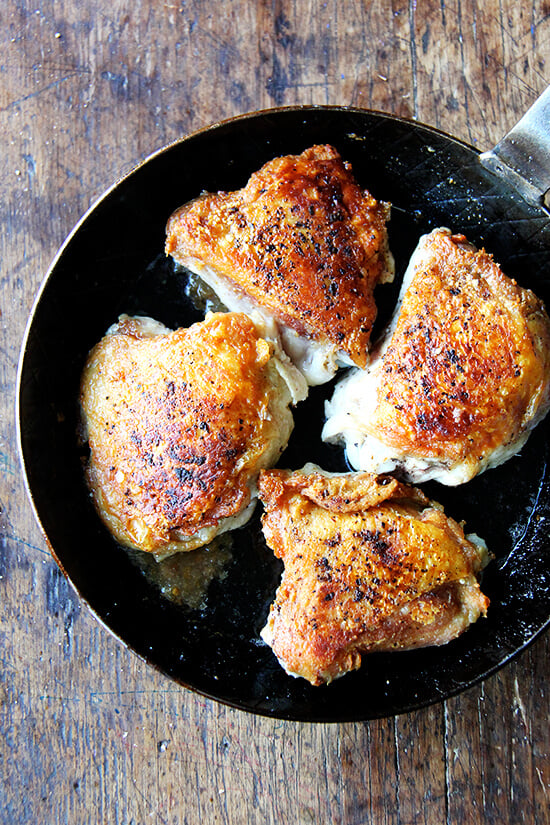 Remember those preserved lemons we made last fall? Well, I think I've found my favorite use for them yet: this five-ingredient chicken, a recipe which arrived two weeks ago in my mailbox — my real, outdoor mailbox — on a 4×6-inch recipe card.
Shortly after the card, one of three, arrived, I secured it to my fridge, and I made the recipe, chicken thighs with lemon from Canal House, a day later. And then I made it the next day and the next.
I should know by now not to be so confounded when simple meets spectacular, but one bite of these thighs left me puzzled: How can this be? How can salt, pepper and preserved lemon alone produce something so tasty? Why have I never used this method — 30 minutes skin side down, 10 minutes skin side up — to cook thighs? How can such a simple method create the crispiest skin, the juiciest meat?
If I had my way, we'd skip turkey altogether this year. This recipe is just one of many I cannot wait to have in printed form when the Genius Recipes Cookbook arrives at my door next spring. The recipe not only embodies the spirit of the Canal House ladies' cooking, which I adore, but also captures the essence of "genius recipes," which, in Food52's words, "surprise us and make us rethink cooking tropes. They're handed down by luminaries of the food world and become their legacy. They get us talking and change the way we cook. And, once we've folded them into our repertoires, they make us feel pretty genius too."
Many of you likely read Kristen Miglore's Genius Recipes column on Food52 and over the years probably have discovered a few gems of your own. A few of my favorites include Roger Vergé's Fried Eggs with Wine Vinegar, Ideas in Food's Korean-Style Chicken Wings, Kevin Gillespie's Barbecue Chicken with Alabama White Barbecue Sauce, and Cook's Illustrated Blondies.
If you want in on the book's sneak preview fun, order a copy today, and when those three little cards arrive at your door, email me the recipes? But make this chicken first.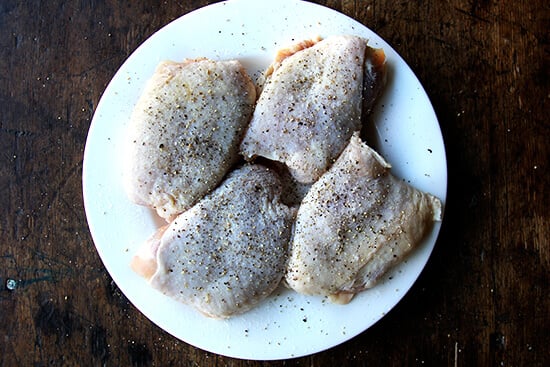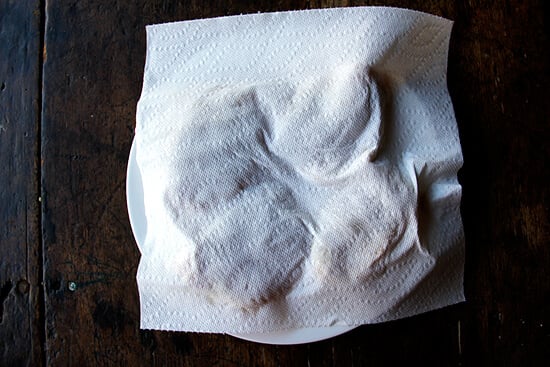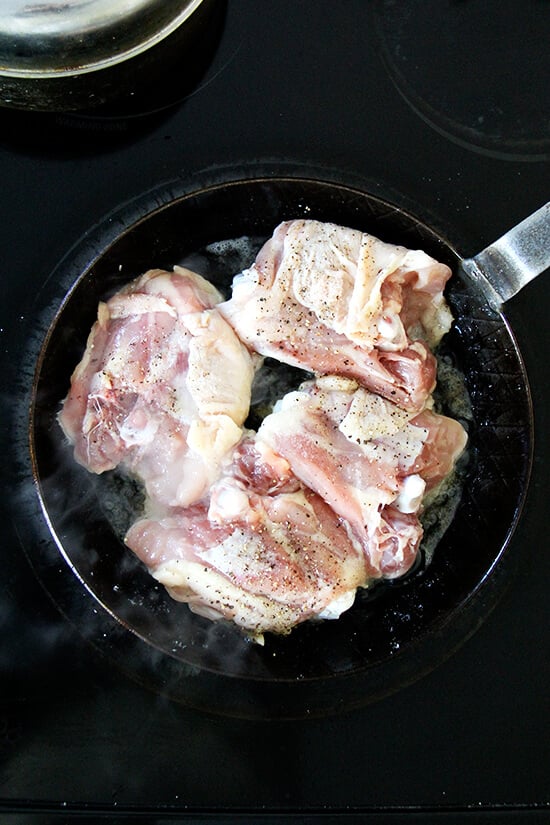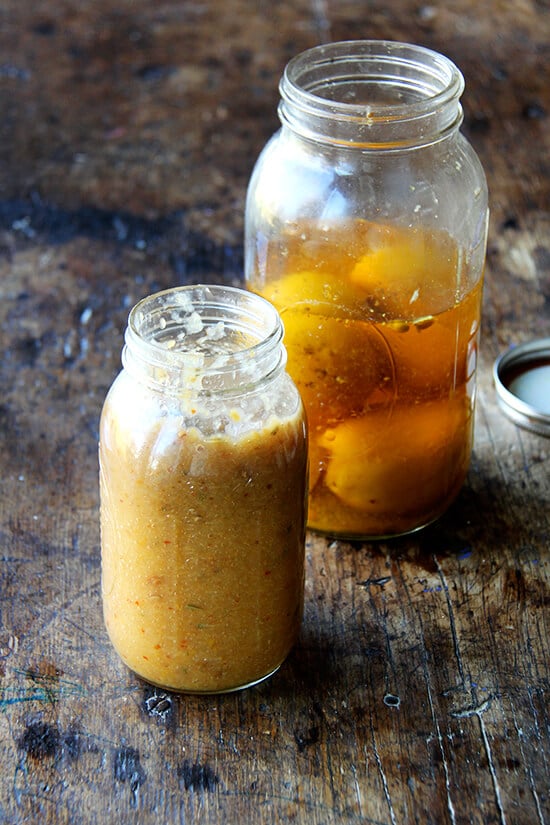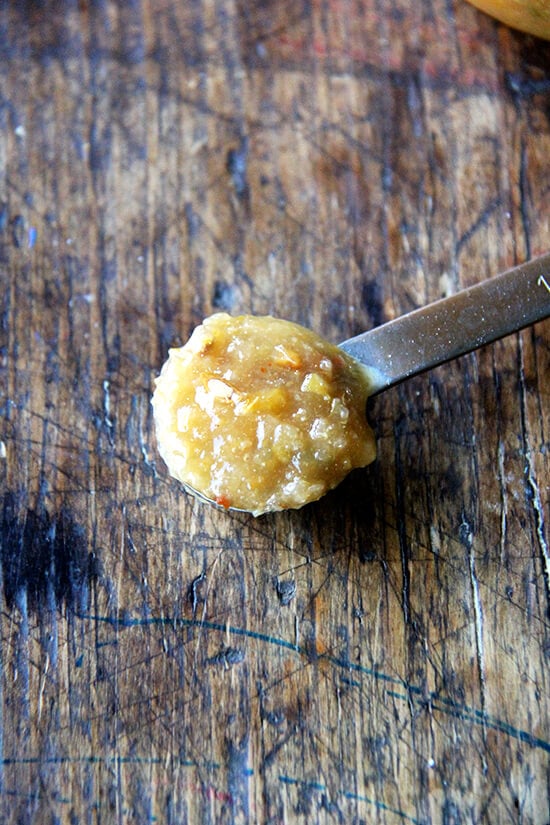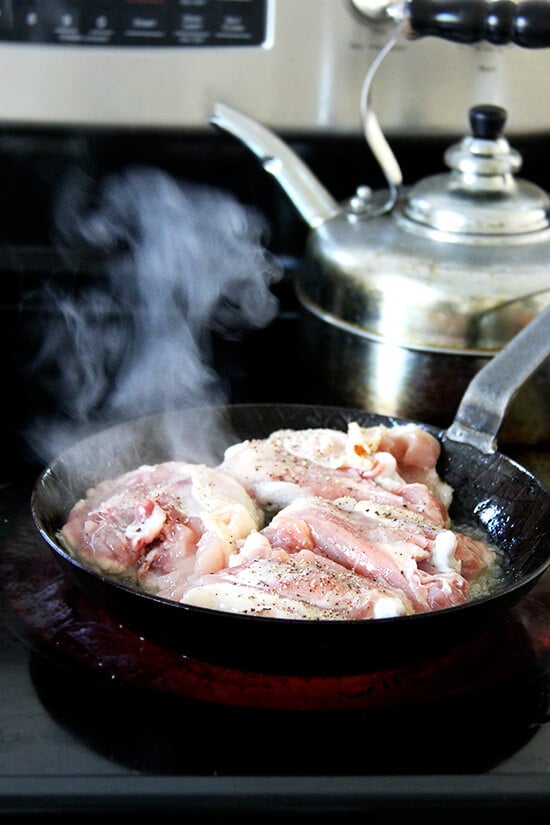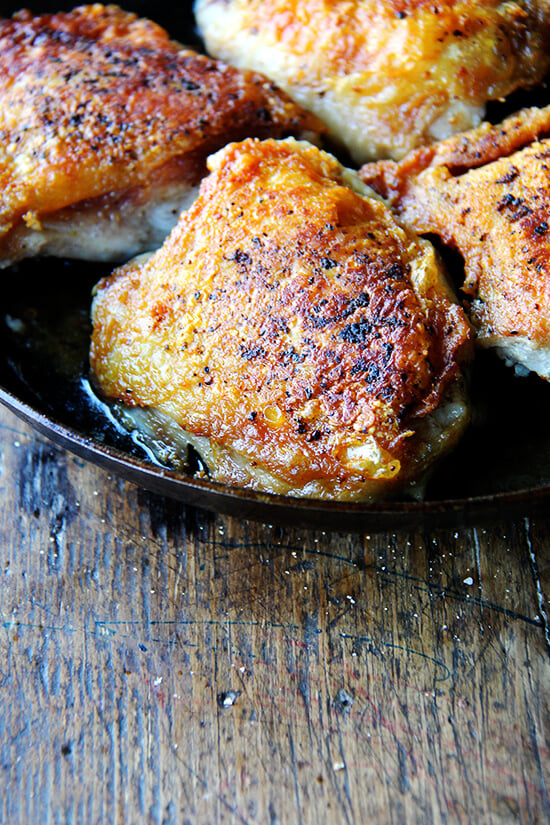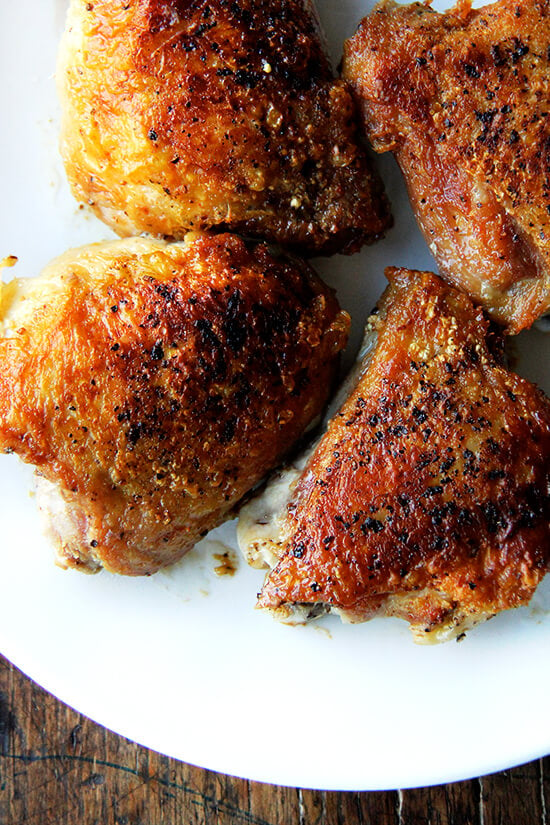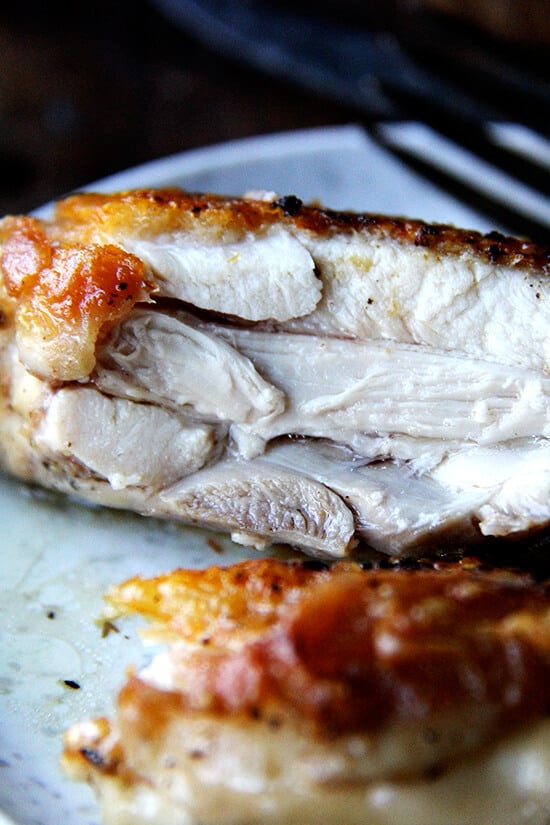 Print
Crispy Chicken Thighs with Preserved Lemon
---
Author:

Alexandra Stafford

Prep Time:

5 minutes

Cook Time:

40 minutes

Total Time:

40 minutes

Yield:

4 to 6
---
Ingredients
1

to

2

tablespoon olive oil (I use grapeseed)

4

to

8

chicken thighs
kosher salt and pepper to taste

1/2

rind of a preserved lemon, finely chopped (see notes above for using purée)
lemon wedges for serving
---
Instructions
Put the olive oil in a large, heavy skillet over medium heat. (If you are using 8 thighs, I suggest using two pans, with 1 tablespoon of oil in each.) Pat the chicken dry — don't skip this as this will help it brown and not stick. Season generously with salt and pepper on both sides. When the oil is hot, place the thighs in the skillet, skin side down.
Cook them like this without moving them, until the fat has rendered out and the skin is deep golden brown and crisp, 15 to 30 minutes. Fiddle with the heat, reducing it to medium-low if the skin begins to burn before it gets evenly golden brown. I keep my temperature at medium low, and the thighs almost always take 25 minutes to get deeply golden brown.
Turn the thighs over and stir the preserved lemon rind (or purée) into the fat in the skillet. Continue cooking the thighs until the meat closest to the bone is cooked through, about 8 to 15 minutes longer, depending on the size of the thighs and the temperature of the skillet. Taste the sauce. Add more preserved lemon purée or rind if desired. Let the thighs rest five minutes before serving. Serve the thighs and lemony pan drippings with the lemon wedges. (I always forget the wedges…the sauce is so good on its own.)
---
Category:

Chicken

Method:

Stovetop

Cuisine:

American
Keywords: crispy, chicken, thighs, stovetop,