Roasted Butternut Squash Pie
This post may contain affiliate links. Please read my disclosure policy.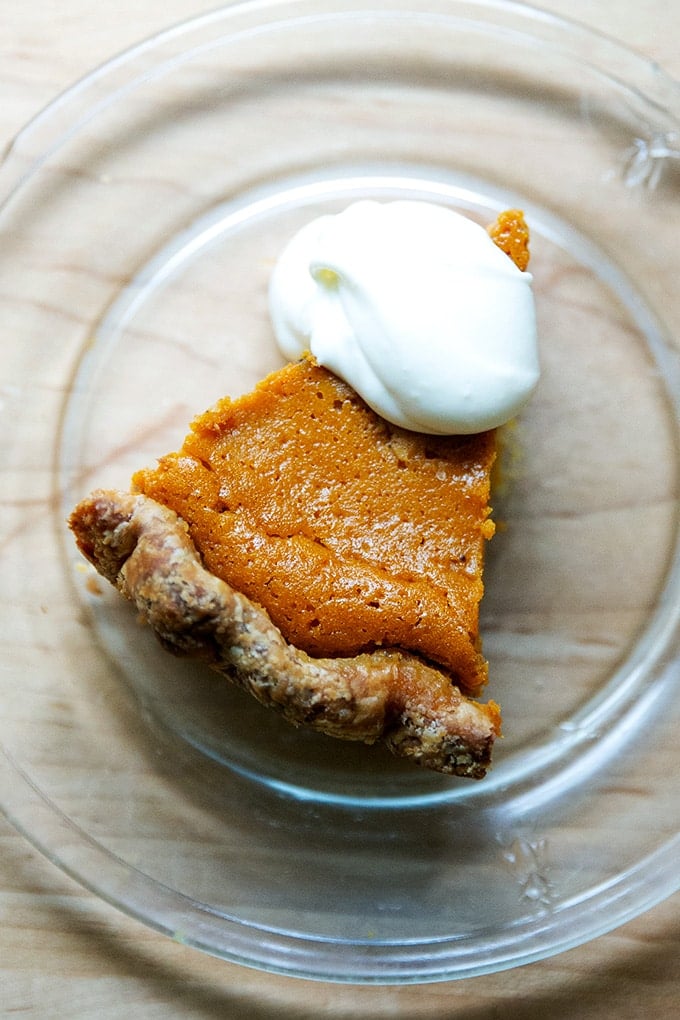 In the notes to Ronnie Hollingsworth's Most Excellent Squash Pie recipe in The Dirty Life, Kristin Kimball writes:
"Pumpkin shmumpkin, winter squash has more flavor and better texture."
So true. I have been making this squash pie with butternut squash for the past five Thanksgivings, and it always receives rave reviews.
Are you skeptical about switching up your pumpkin pie routine?
Consider this: Would you agree butternut squash makes the silkiest soup and the creamiest pasta sauce? For these same reasons, it makes the most custardy "pumpkin" pie.
Don't let the work of roasting a butternut squash deter you. Can I say it? It's easy as pie! How many times do you roast a squash over the course of a winter? You can do it in your sleep.
I promise you: If you forget the pumpkin this year, you won't be disappointed.
PS: Thanksgiving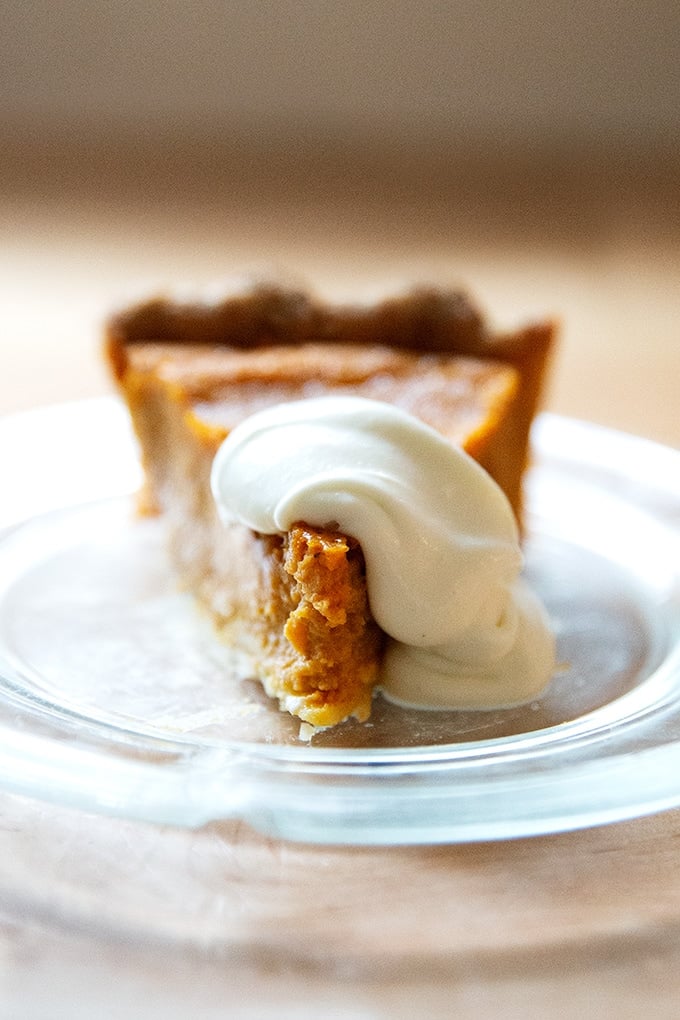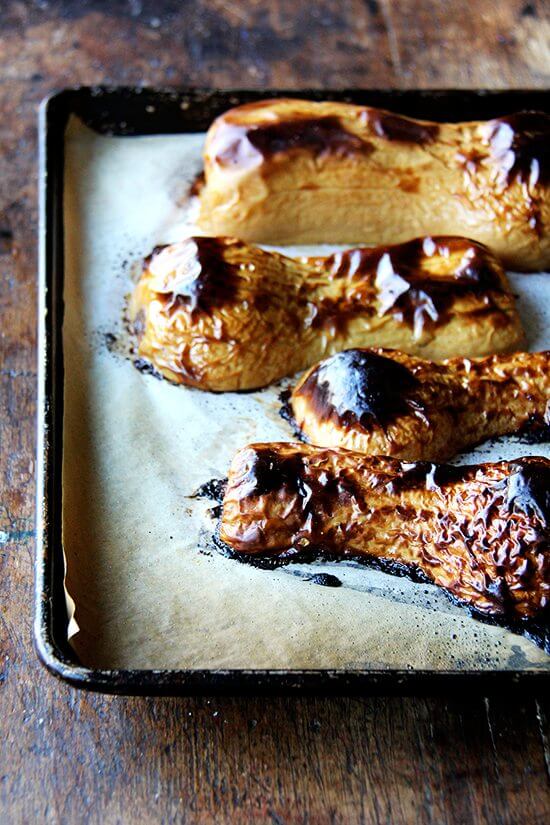 One 2 lb. 10oz butternut squash yields about 3 cups purée: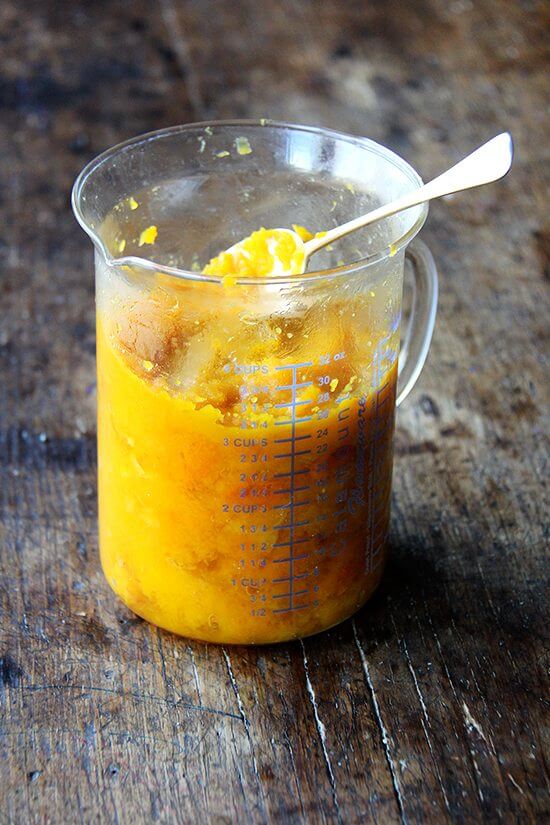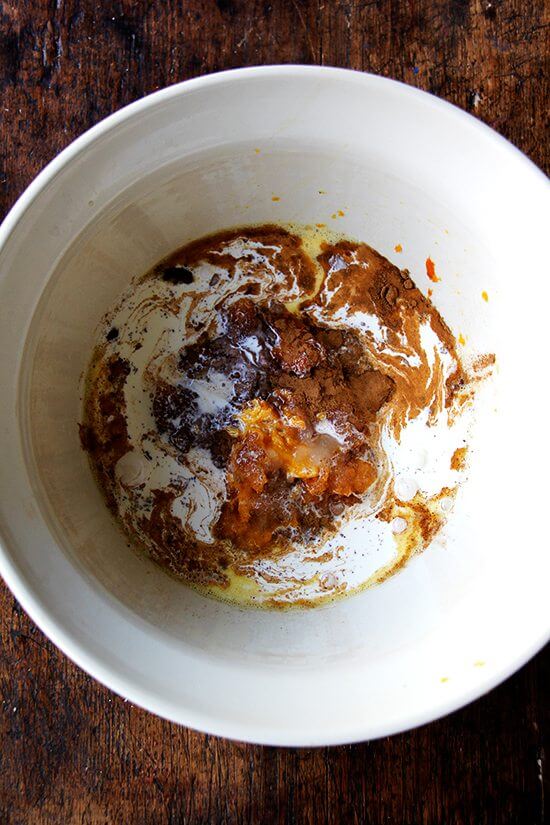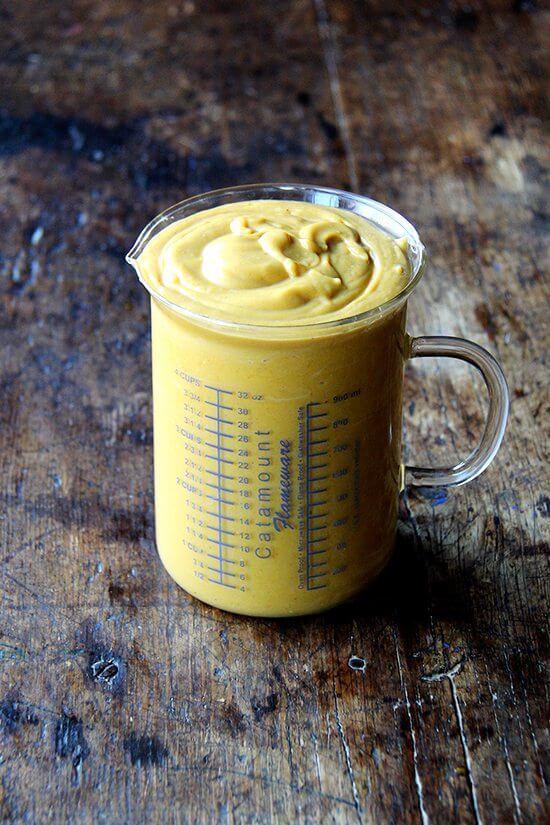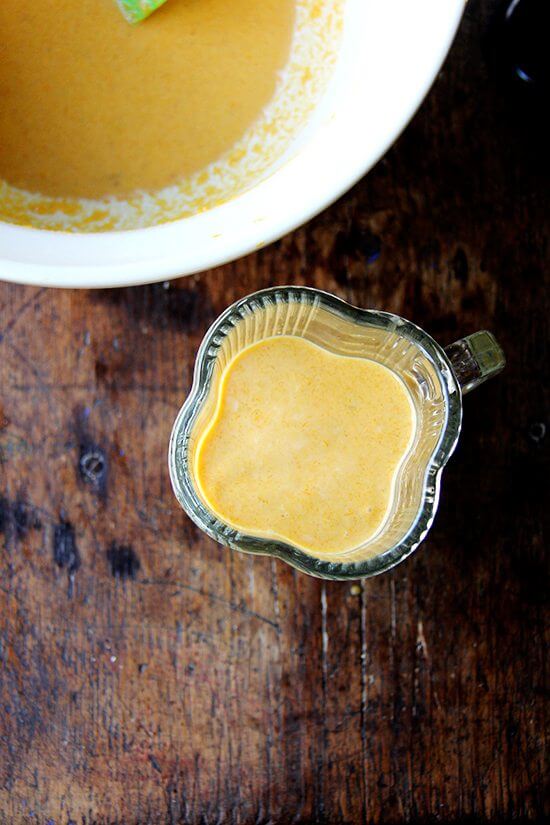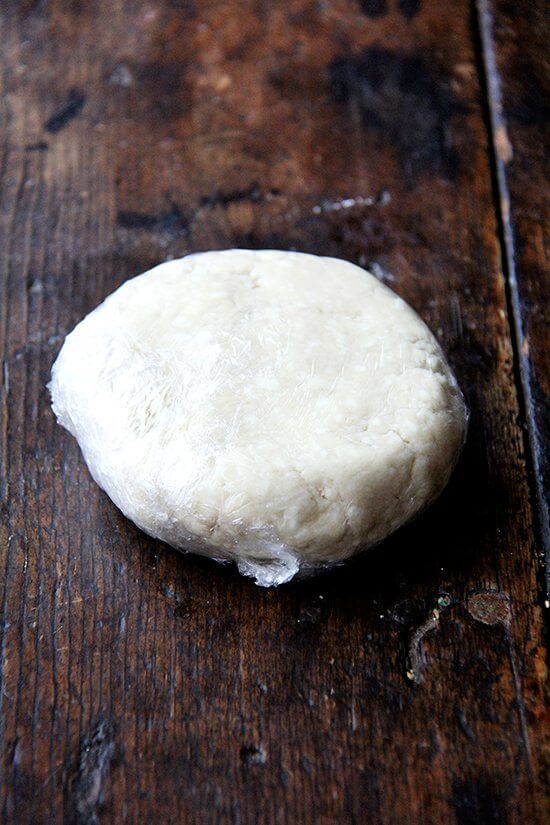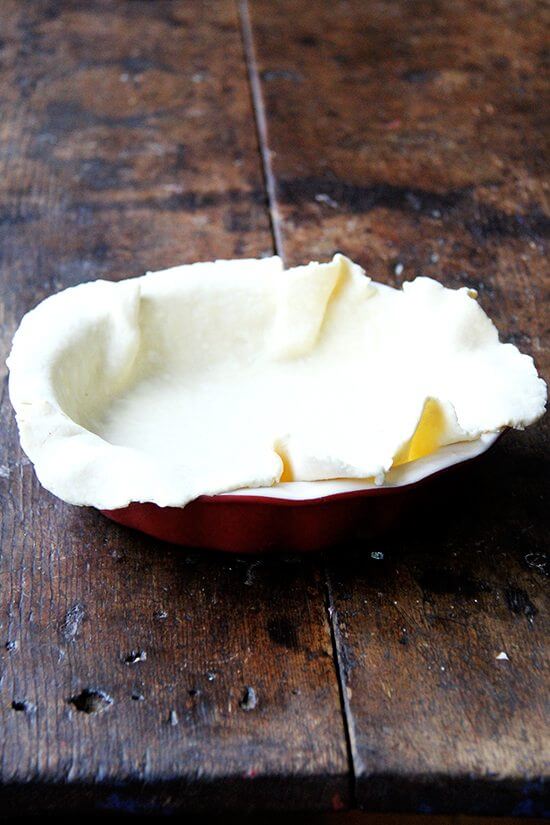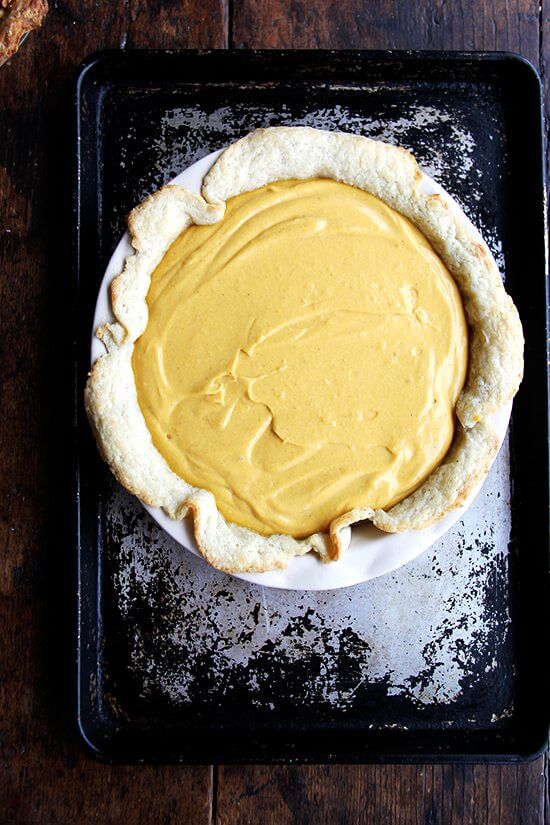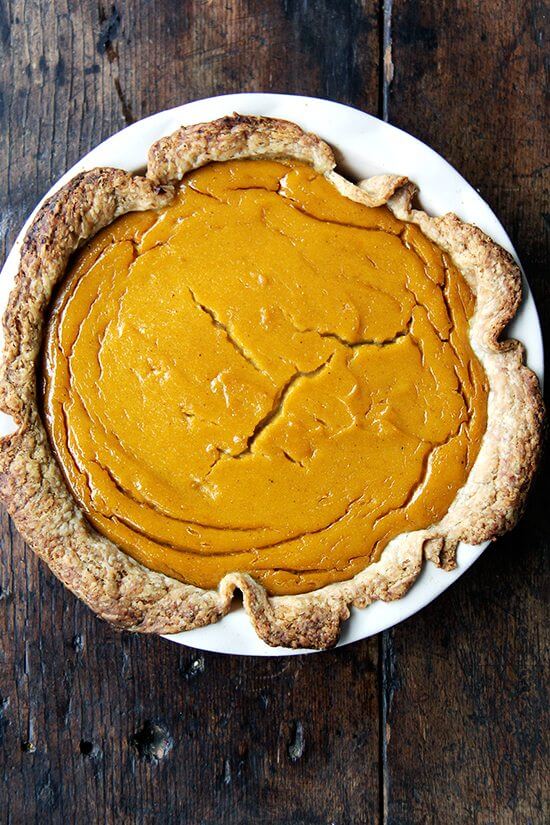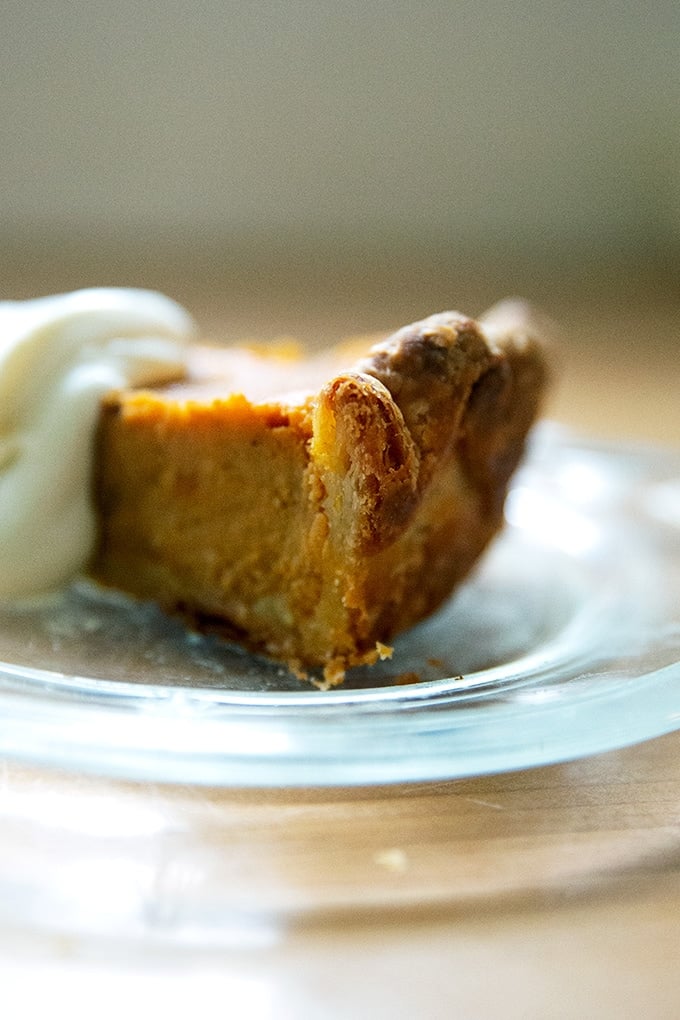 Freshly whipped cream: If, and only if, you have a tiny kitchen lacking a blender or food processor, know that you can make whipped cream using a mason jar. I saw a little recipe in the back of the latest Saveur that called for a 15-minute freezing of a 1-qt mason jar filled with 1 cup of heavy cream, two tablespoons confectioners sugar, and 1 teaspoon of vanilla. After the brief freezing, you shake the jar till your arms fall off, and with any luck you will open the jar to find…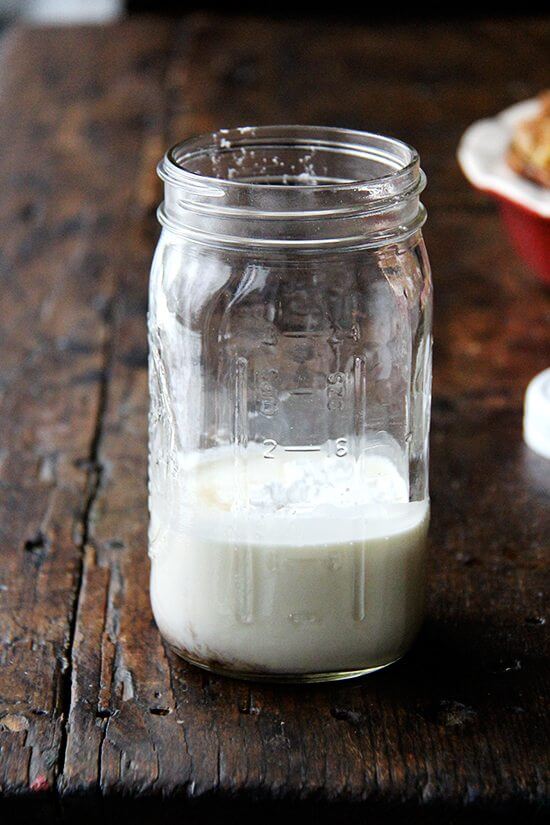 Luscious whipped cream!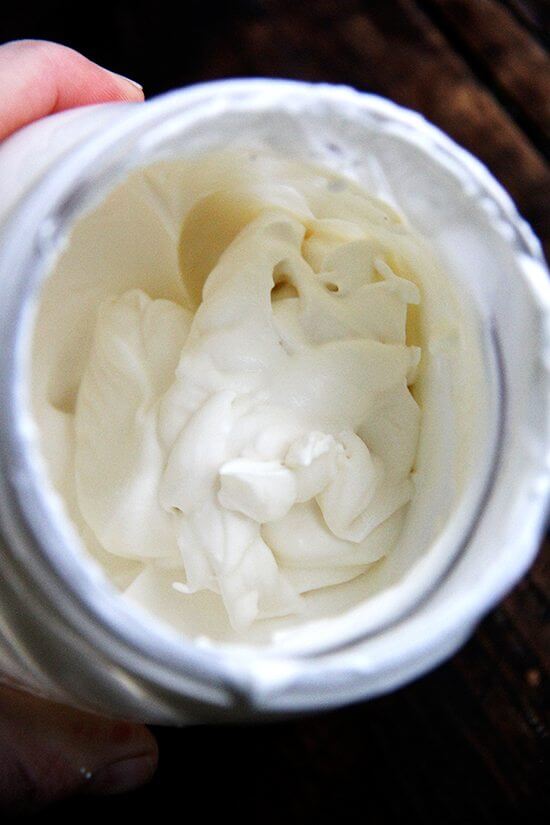 Garnish with pie crust cookies, if you wish!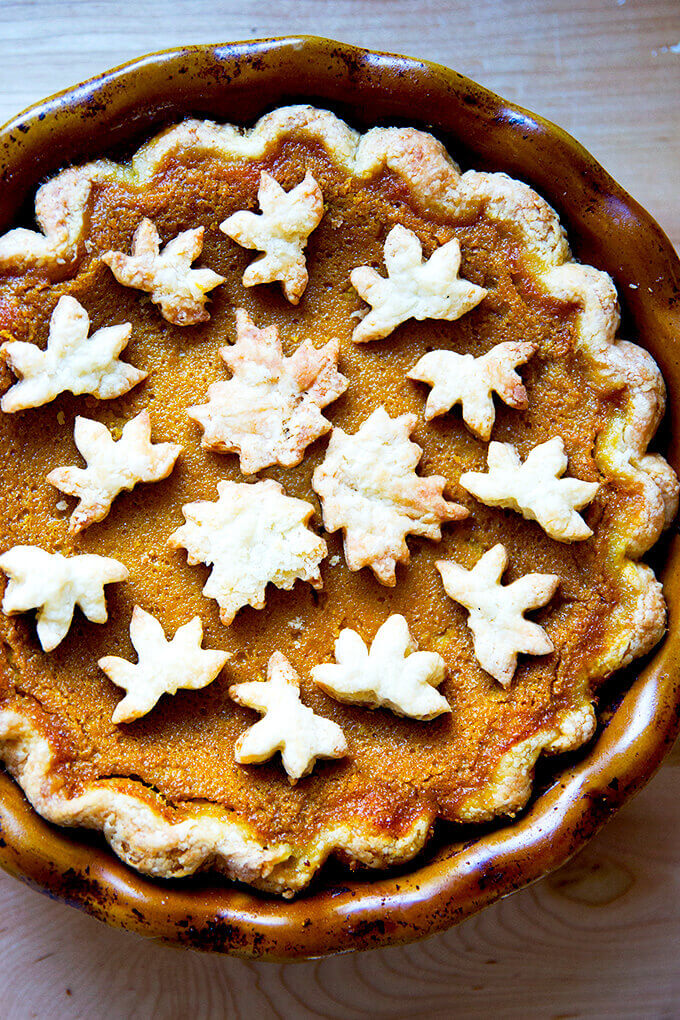 Print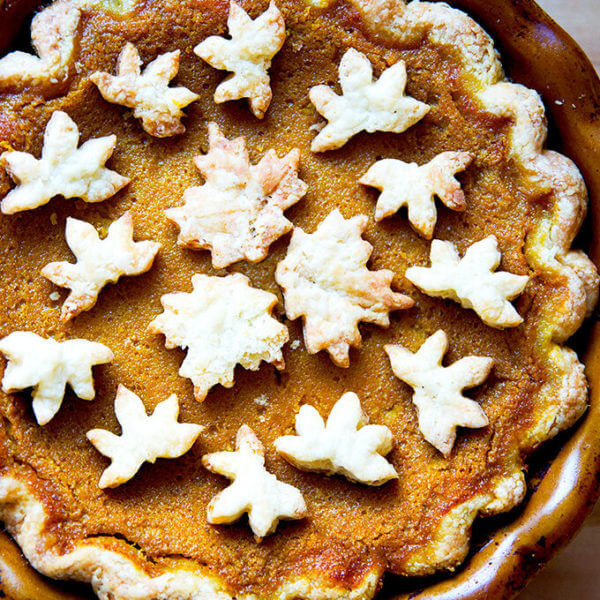 Roasted Butternut Squash Pie
---
Description
Notes: 
Dough yields two 9-inch rounds, enough for 2 single-crust pies/tarts. If you don't want to make 2 pies, freeze one of the rounds. It will keep for months frozen. Thaw in fridge overnight before using. (Or you could simply halve the recipe.) If you're looking for another pie to make, here are three ideas:
For a more visual guide to making the pie dough, rolling it out, and crimping the edges, watch the video below.
I love my Emile Henry pie plate (similar to this one).
Also, if you cannot muster the energy to roast a butternut squash — but please please try…you won't be disappointed — you can use one 15-oz can of pumpkin purée in place of the 2 cups of squash purée.
To make the pie crust cookies, roll out the pie trimmings, cut into shapes using whatever cutters you have on hand, place on parchment-lined baking sheet, freeze one hour, then bake at 350ºF for 20 to 25 minutes. Arrange on top of the finished pie as you wish. 
---
For the pastry:
2½ cups

(

320 g

) all-purpose flour

2 tablespoons

sugar

½ tsp

. table salt

16

T. (227 g) unsalted butter

½

C. + 2 T. (

142 g

) ice water
For the pie:
1

medium butternut squash, about

2.5

lbs or enough to yield 2 cups of purée, see notes above

1 1/2 cups

heavy cream

3

eggs, beaten

3/4 cup

sugar

1 teaspoon

cinnamon

1/2 teaspoon

ginger

1/2 teaspoon

salt

1/2 teaspoon

freshly ground or powdered nutmeg

1/8 teaspoon

ground cloves (I omit)
For the whipped cream:
1 cup

heavy cream
confectioners' sugar
flaky sea salt, such as Maldon
---
Instructions
Make the pie dough:
In the bowl of a food processor, pulse the flour, sugar, and salt together. Cut the butter into small pieces, then add to the food processor. Pulse at 1-second intervals until butter is the size of peas—should be about 10 quick pulses. Add the ice water and pulse again about 10 times until the mixture is crumbly but holds together when pinched. Lay two clean tea towels on a work surface. Dump the crumbly dough mixture into the center of each towel. Working with one towel at a time, grab the four corners of the towel together and twist to create a beggar's purse, pressing the dough into a round. Use your hands to pack and flatten the round. If time permits, chill the dough for 30-60 minutes before proceeding. 
On a lightly floured work surface, roll out the dough into a 12- or 13-inch round. Use as much flour as needed to prevent the dough from sticking, and every few rolls, flip the dough over. Transfer it to a 9-inch pie plate or pan. Trim dough that hangs over by a lot — leave at least an inch over hanging; you may not need to trim everywhere. Tuck the overhanging edges under, between the rim of the pie plate and the dough, and crimp the edge of the dough. If time permits, chill the dough in the fridge until firm, about 30 minutes.
Parbake the dough (Optional):
Note: this is new guidance. If you've had success not parbaking with this recipe, you can skip this step. I have in fact had succes not parbaking here, but I do think parbaking makes a superior crust. 
Heat your oven to 425ºF. If you have a Baking Steel or pizza stone, place it on a rack in the lower third of your oven. On a lightly floured work surface, roll out one of the chilled rounds of pie dough, flipping the round over every few strokes, until you have a circle roughly 15 inches in diameter — the thickness should be about that of a Ritz cracker — learned this visual tip from King Arthur Flour. 
Transfer the round to a pie plate. Trim any excessive overhanging pie dough — there should be roughly 1/2 inch of dough overhanging the edge. Save the scraps in an airtight container in the fridge. Tuck the overhanging dough behind itself; then use your fingers to crimp the edge into a fluted pattern — video guidance here. Lay a sheet of parchment across the pie plate and pour pie weights or dried beans into the center until they reach the top of the pie crust. Use your hands to press the weights down and fit them into the edges of the fluted crust.
Transfer the filled pie crust to a parchment-lined sheet pan and transfer to the oven for 15-20 minutes or until the edges are just beginning to color — do rely on the visual cues here. It sometimes takes my crusts a little longer to take on that light color at the edges.
Remove the pan from the oven and carefully remove the pie weights or dried beans (which you can use again and again — let them cool completely; then transfer to a storage bag). Return the pan to the oven for another 2 to 3 minutes — it should take on only the slightest bit of more color all around. 
Make the Filling and Bake the Pie: 
Halve and clean the butternut squash, rub the flesh lightly with olive oil, and bake at 400ºF on a parchment-lined baking sheet, until very soft, about an hour (but start checking after 45 minutes). When cool enough to handle, scoop out the flesh, transfer to a food processor and puree until smooth. Measure out 2 cups. It a large bowl, whisk together the eggs, cream, salt, sugar and spices. Whisk in the squash.
Add squash mixture to pie shell and bake at 350ºF for 55 to 65 minutes, depending on your oven and how much squash purée you ended up using, until the center is barely set. Let cool completely before serving.
To make the salted whipped cream: Whip heavy cream in the bowl of a stand mixer until soft peaks begin to form. (You can do this by hand, too, with a bowl and whisk.) Add confectioner's sugar — start with 1/4 cup and add more to taste. Add a big pinch of sea salt and beat to combine and until the peaks begin getting firmer. Taste — the mixture should be slightly sweet and the salt should be noticeable, though the whipped cream should not taste salty.
Prep Time:

25 minutes

Cook Time:

1 hours 45 minutes

Category:

Dessert

Method:

bake

Cuisine:

American
Keywords: squash, pie, Thanksgiving, dessert, pumpkin, easy
This post may contain affiliate links. Please read my disclosure policy.