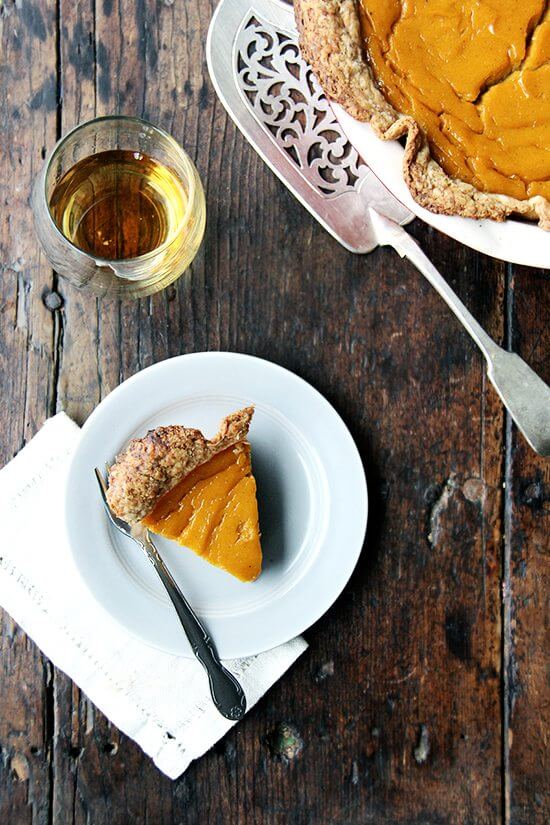 May through September, it never crosses my mind to open a can of fruit to make a pie. But as soon as October rolls around, it never crosses my mind not to open a can to make my favorite pies and quick breads and muffins. Is this odd?
I hadn't thought about it till last week, and the truth is that I had no intention of mastering pumpkin pie from scratch — using canned pumpkin never bothered me. Besides, last Thanksgiving I made Ina Garten's pumpkin pie from Foolproof, and everyone, high on punch or otherwise, raved.
And I would have made it again had I not read The Dirty Life and been directed by one of you (thank you, Laurie!) to Ronnie Hollingsworth's Most Excellent Squash Pie, one of four recipes printed at the back of the book. In the preface to the recipe, Kristin Kimball sold me: "Pumpkin shmumpkin, winter squash has more flavor and better texture." She likes butternut best.
Again, I've never tried roasting pumpkin but from what I've read online — that it's watery, fibrous, bland — I'm happy I've been using the canned stuff for all of these years. And I'm not surprised by Kimball's note because none of these characteristics apply to squash, whose cooked flesh makes the silkiest soup, the creamiest pasta sauce. And, it turns out, a damn good pie.
Look, I'm not trying to create more work for you, but if you think about it, roasting a butternut squash is as easy as — can I say it? — pie. How many times do you roast a squash over the course of a winter? You can do it in your sleep. This one is for all of you from-scratch types. Forget the pumpkin this year — you won't be disappointed.
oopsidasies…may have left these in a little too long: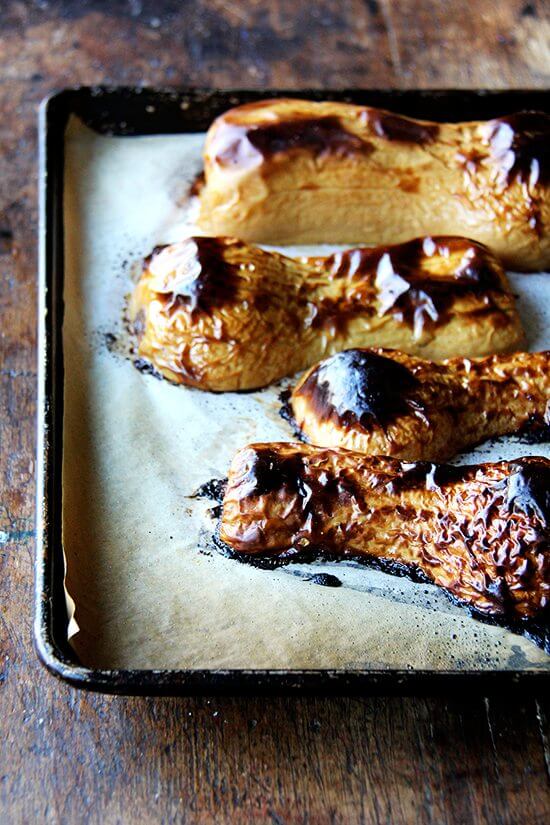 One 2 lb. 10oz butternut squash yielded about 3 cups purée: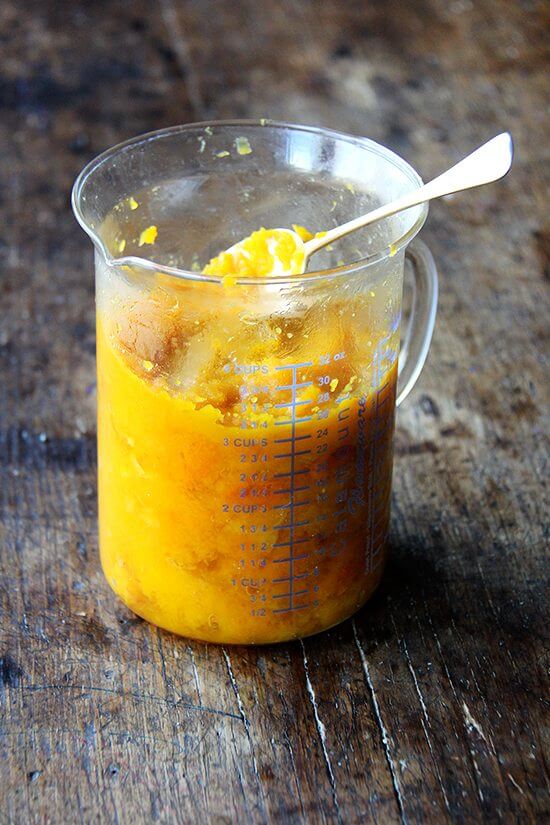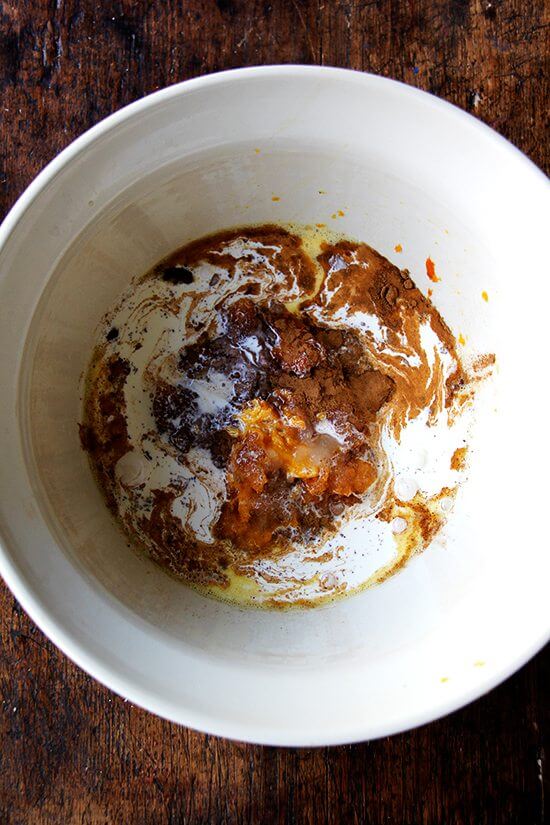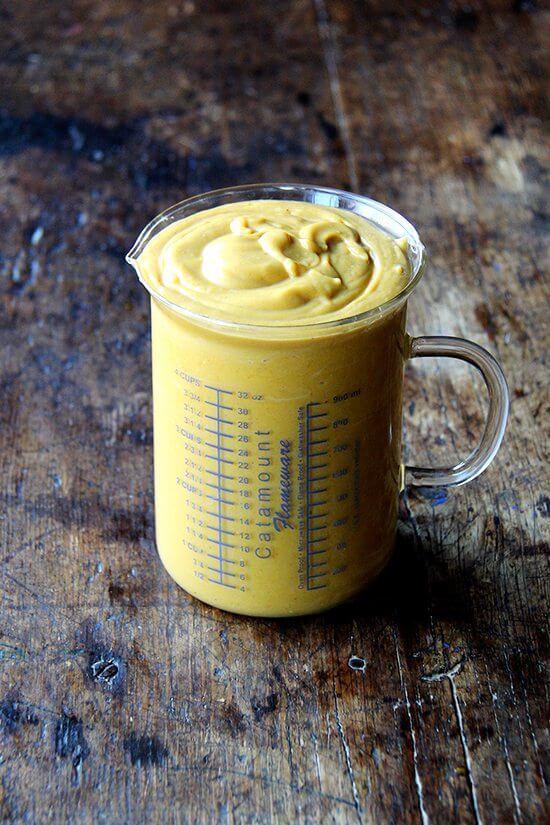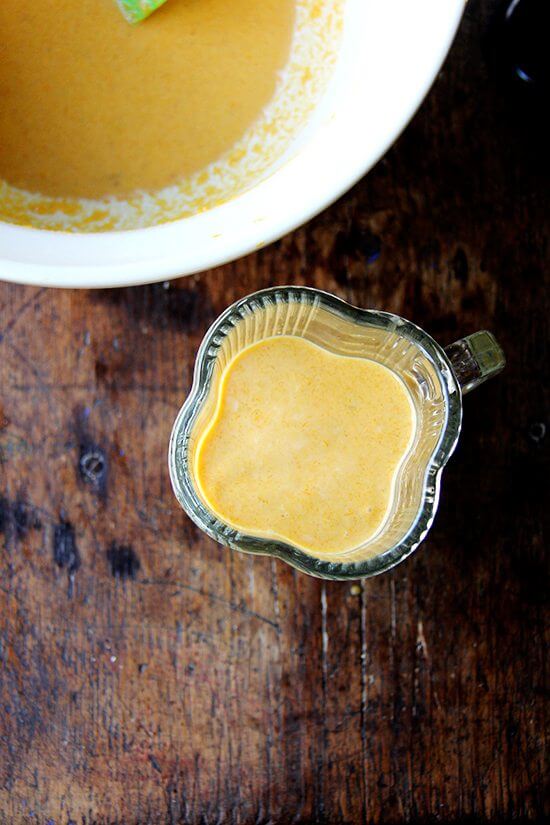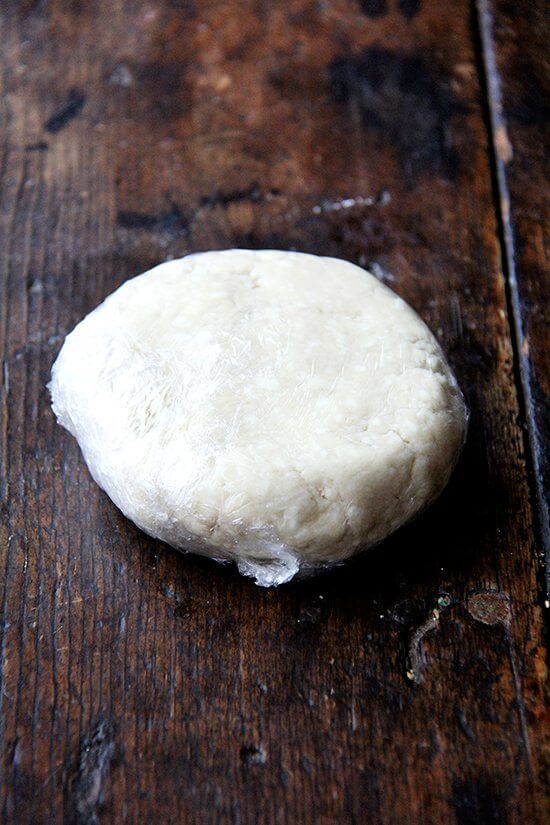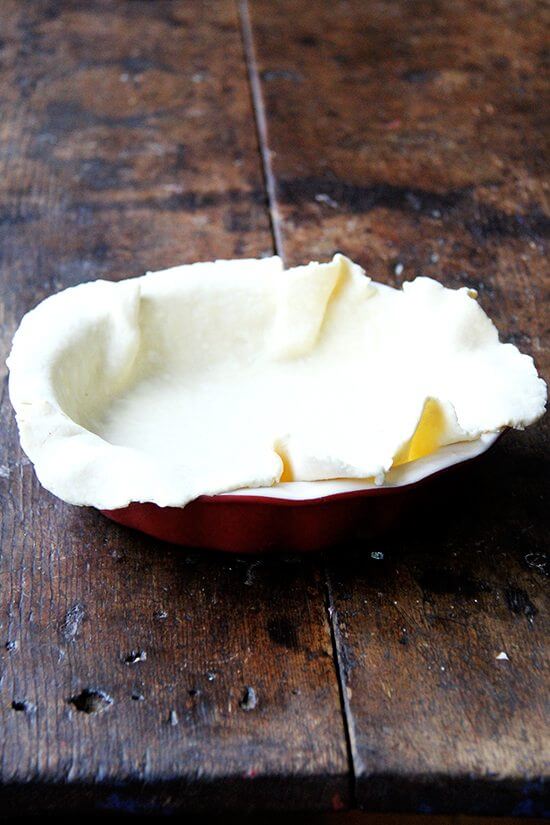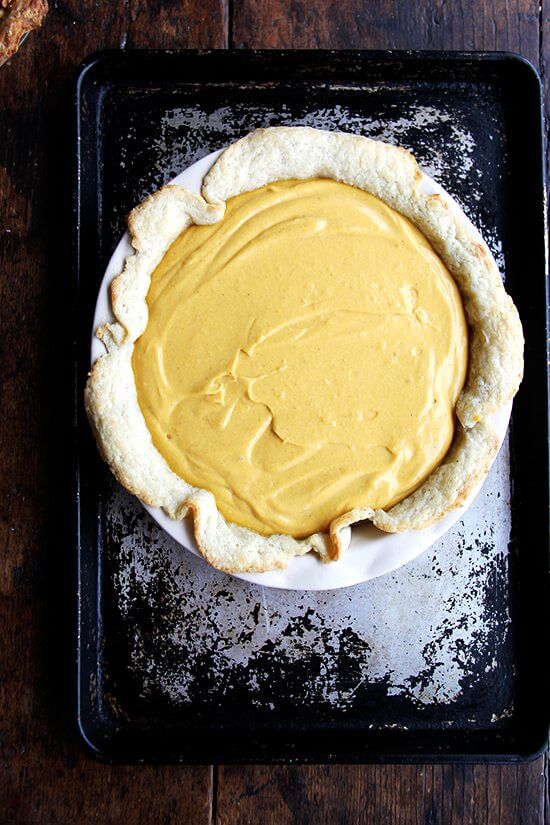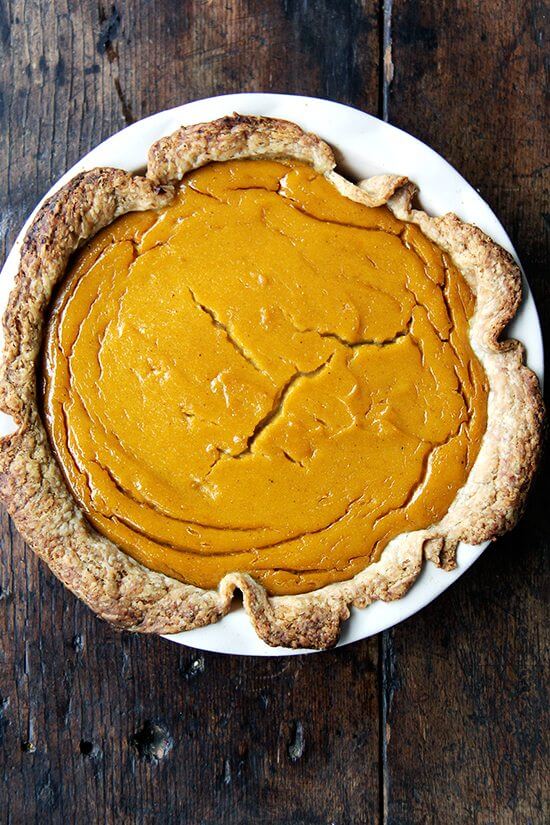 Thanksgiving ideas:
A few staples:
Philadelphia Fish House Punch (lethal but delicious and always a hit)
Alice Waters' Potato Gratin
Red Wine Cranberry Sauce
No-Knead Thyme Dinner Rolls
The Prettiest Pink Apple Sauce
Many more ideas can be found on this Pinterest board.
A few ideas for what to serve with this most excellent squash pie: 1. Calvados: Last weekend, a few friends made brunch and served small glasses of this Calvados with homemade pound cake, and the combination was lovely. Calvados is a nice complement to pumpkin pie as well and I imagine so many desserts on the Thanksgiving Table:

2. Freshly whipped cream: If, and only if, you have a tiny kitchen lacking a blender or food processor, know that you can make whipped cream using a mason jar. I saw a little recipe in the back of the latest Saveur that called for a 15-minute freezing of a 1-qt mason jar filled with 1 cup of heavy cream, two tablespons confectioners sugar, and 1 teaspoon of vanilla. After the brief freezing, you shake the jar till your arms fall off, and with any luck you will open the jar to find…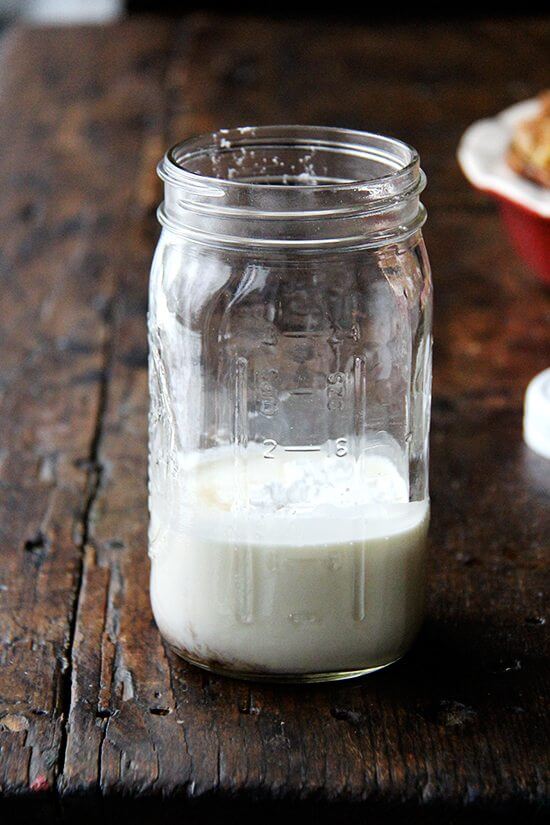 luscious whipped cream. Good luck.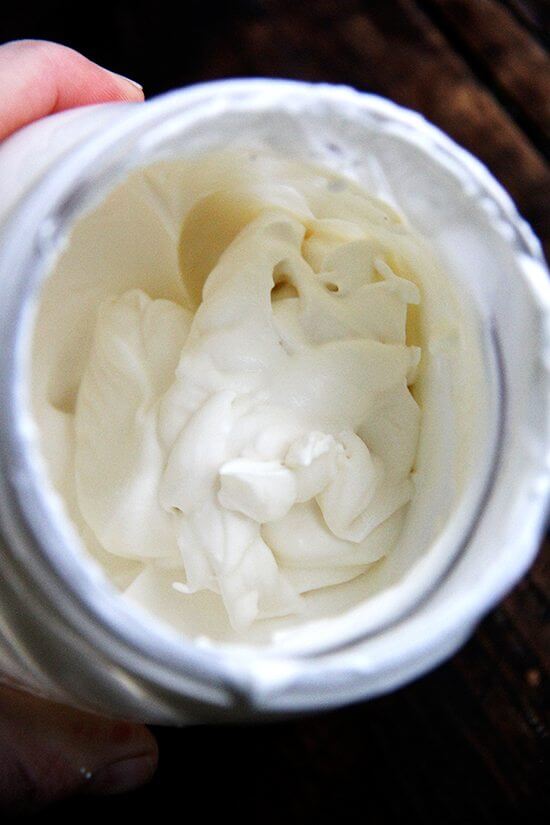 Print
Ronnie Hollingsworth's Most Excellent Squash Pie
---
Author:

Alexandra

Prep Time:

25 minutes

Cook Time:

1 hours 45 minutes

Total Time:

2 hours 10 minutes

Yield:

Serves 10
Description
Notes: 
Dough yields two 9-inch rounds, enough for 2 pies. Dough can be frozen and stored for weeks.
For a more visual guide to making the pie dough, watch this video.
I've used a variety of squashes, but typically use butternut squash.
I no longer blind bake the crust. It doesn't seem necessary. As soon as I make the dough, I divide it into two portions, roll it out, fit each into two pie plates, and chill them wrapped in plastic wrap or wax paper until ready to use them. Because I always make this for Thanksgiving, I use one of the rounds for this No-Corn Syrup Bourbon Pecan Pie. 
---
Ingredients
For the pastry:
2½ cup

s (

11.25 oz

| 320g) all-purpose flour

2 tablespoon

s sugar

½ tsp

. table salt

16

T. (8 oz | 227g) unsalted butter

½

C. + 2 T. (

4 oz

+

1 oz

) ice water
For the pie:
1

medium butternut squash, about

2.5

lbs or enough to yield 2 cups of purée

1 1/2 cup

s heavy cream

3

eggs, beaten

3/4 cup

sugar

1 teaspoon

cinnamon

1/2 teaspoon

ginger

1/2 teaspoon

salt

1/2 teaspoon

freshly ground or powdered nutmeg

1/8 teaspoon

ground cloves (I omit)
---
Instructions
Make the dough: In a large bowl, whisk flour, sugar and salt together (or pulse in food processor). Cut butter into flour and using the back of a fork or a pastry cutter, incorporate butter into flour mixture until butter is in small pieces. (If using food processor, pulse at 1-second intervals until butter is the size of peas.) Add ice water and continue to stir with fork until mixture comes together to form a mass. Add more ice water if necessary, one tablespoon at a time. Gently form mass into a ball, divide in half, and flatten each half into a disc.
If you are making a pie immediately, roll out one disc, place in a 9-inch pie dish and chill until ready to use. Wrap remaining disc in plastic wrap and refrigerate or freeze until ready to use.
Meanwhile, halve and clean the butternut squash, rub the flesh lightly with olive oil, and bake at 400ºF on a parchment-lined baking sheet, until very soft, about an hour (but start checking after 45 minutes). When cool enough to handle, scoop out the flesh, transfer to a food processor and puree until smooth. Measure out 2 cups. It a large bowl, whisk together the eggs, cream, salt, sugar and spices. Whisk in the squash.
Add squash mixture to chilled shell and bake at 350ºF for 45 to 60 minutes, depending on your oven and how much squash purée you ended up using, until the center is barely set. Let cool completely before serving.
Category:

Dessert

Method:

bake

Cuisine:

American
Keywords: squash, pie, Thanksgiving, dessert