Butternut Squash Lasagna | Thanksgiving in VT
This post may contain affiliate links. Please read my disclosure policy.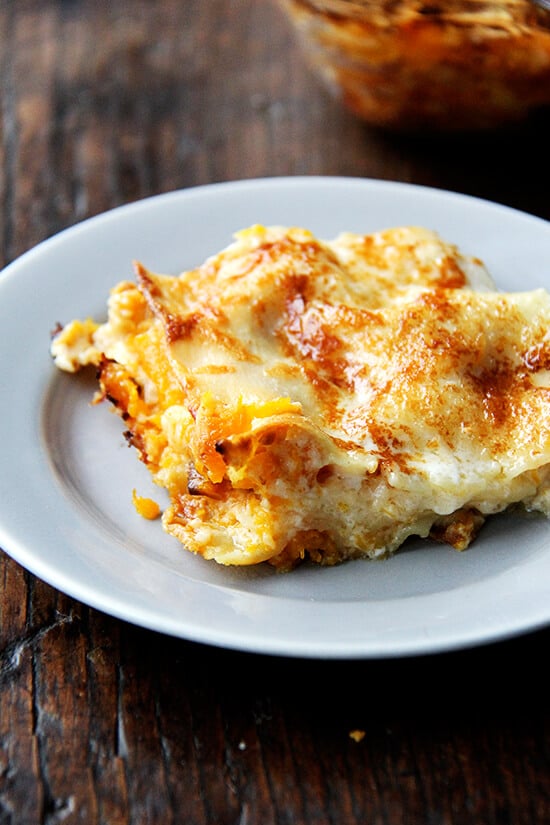 Snow, dogs, a constant fire — I couldn't have asked for anything more of Thanksgiving in Vermont.
But, as always, all of the Vermont treats — the Jasper Hill Farm cheeses, the Dakin Farm ham (with the ham sauce!), Uncle Wade's waffles with Vermont maple syrup, Shed beer — did make we want to pack up and stay forever. I left dreaming about all of my aunt's cooking, from biscotti and koulourakia to grilled artic char and coconut-milk marinated cauliflower steaks.
Punch, as always, was a massive hit, but hands down, the hit of all hits was this butternut squash lasagna, a dish brought to Thanksgiving dinner by a vegetarian friend of my aunt and uncle's. Having taken a peak inside the insulated carry tote (which is the coolest thing…Santa, take note), I had to ask for some details immediately. Kris, the friend, kindly obliged and described the basic process, brushing it all off as an old recipe from Gourmet, just something she and her mother had been making for years.
Well, seriously, it stole the show. Everyone at the table raved, ultimately confessing it was the highlight of the meal.
The process of lasagna — all of the steps, the sauce making, the bechamel, the cheeses — always deters me from giving it a go. I think I've made two lasagnas total in my life, the second being this one I made on Sunday, which actually came together pretty painlessly. As the diced butternut squash roasted, garlic and butter melted on the stovetop, while milk simmered with sprigs of rosemary and sage.
No-boil noodles and one cheese, grated Parmigiano Reggiano, made for an easy assembly, and the final layer of whipped heavy cream, which sounds odd but is oh so right, came together in a snap.
This is the kind of meal you will want to make all winter long, one you'll want stashed in your freezer, ready to take to a friend in need, the crowd-pleasing recipe you'll turn to for your next holiday party, one proven to please both carnivores and vegetarians alike.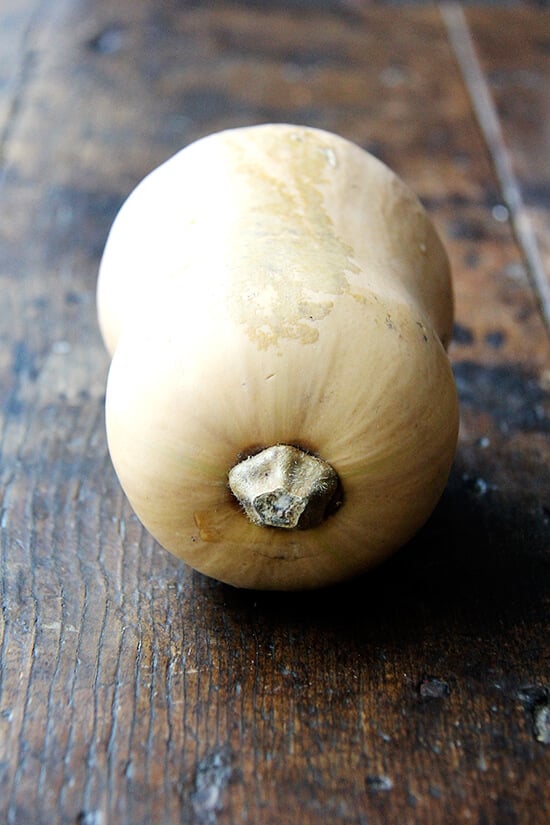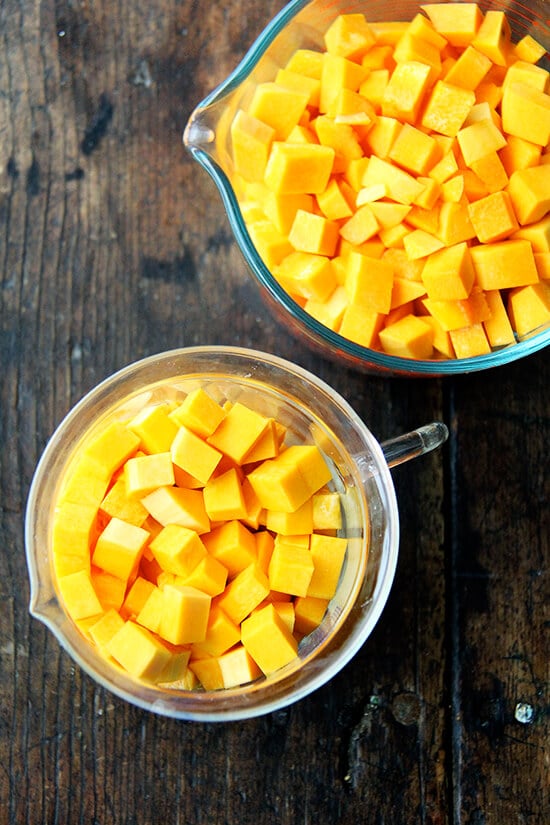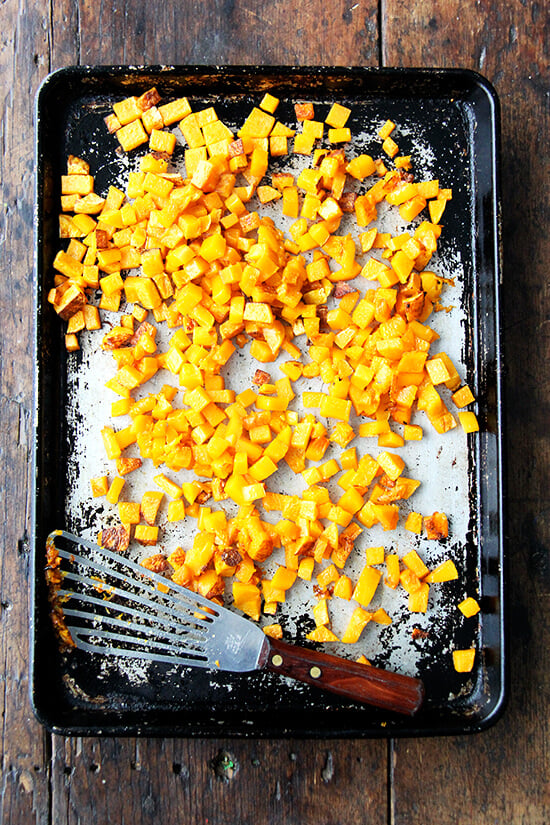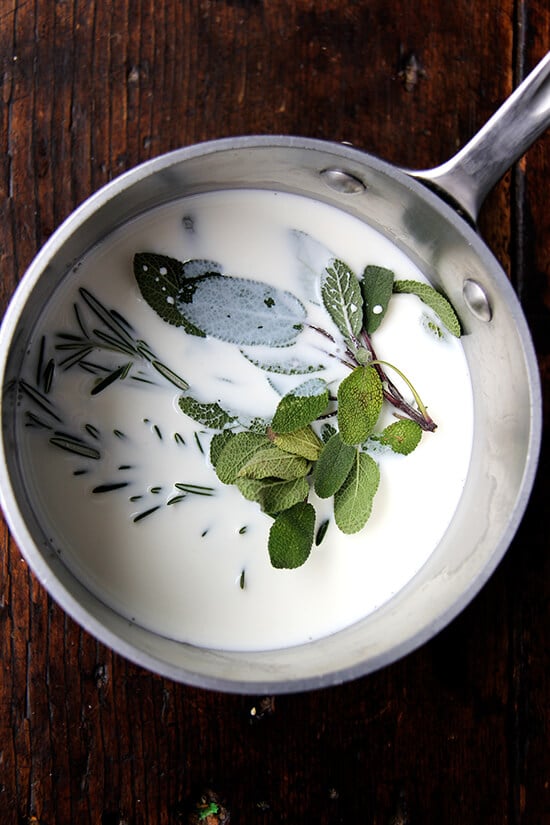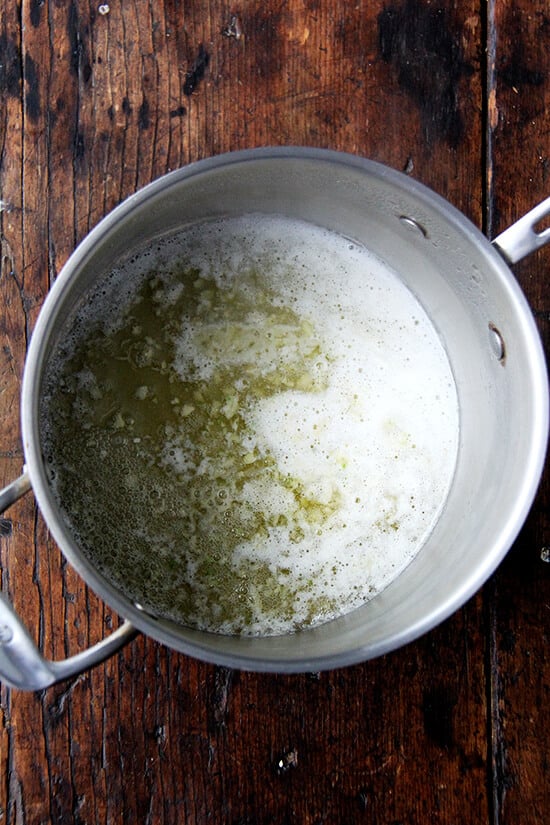 If you walk away from your stovetop, like, say, to take a photo of butter and garlic, and return to something like this, be sure to throw a big fit — you'll feel better, I promise: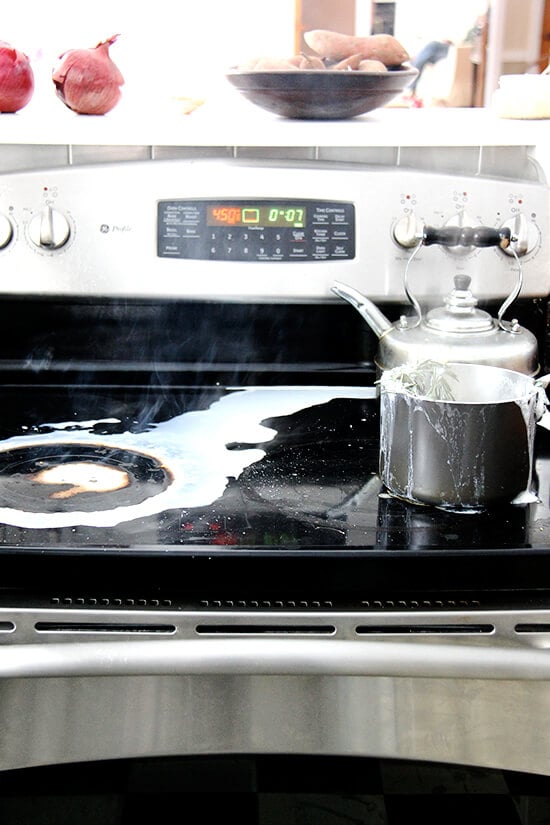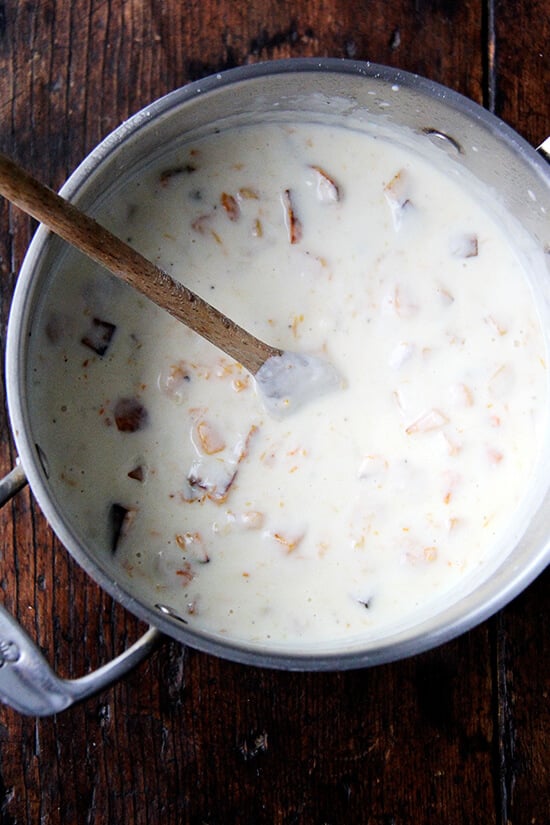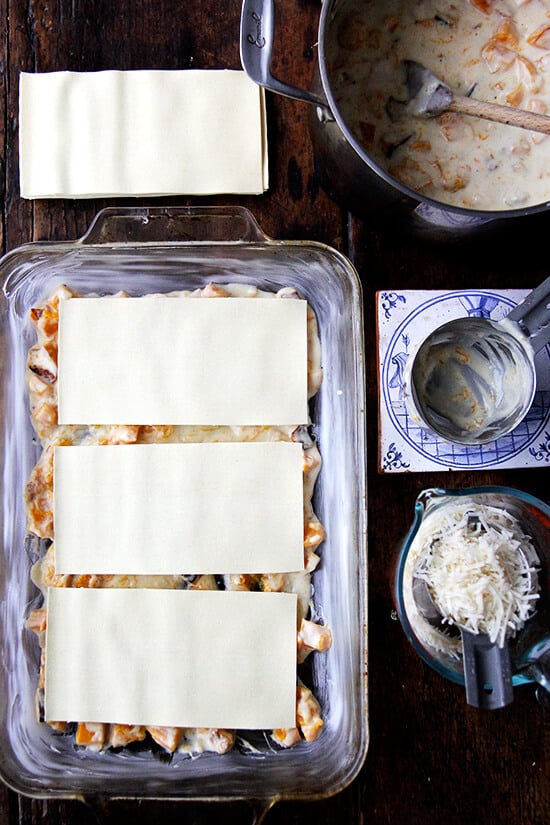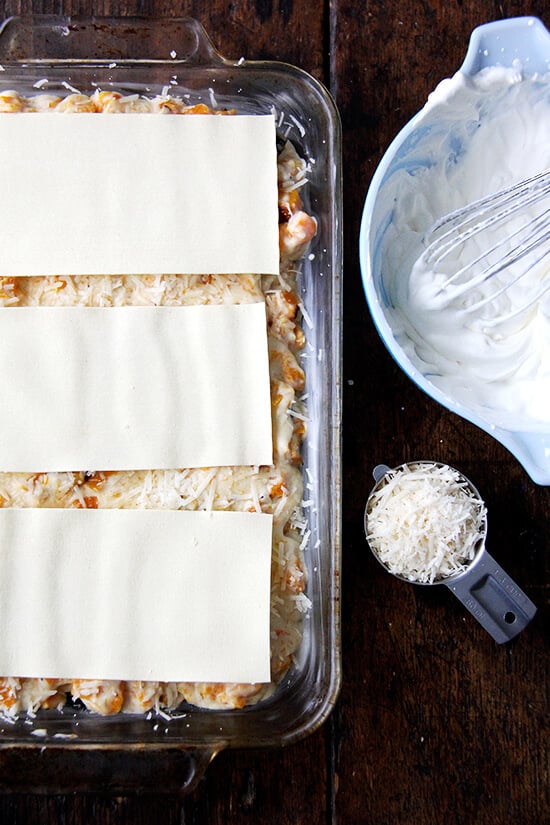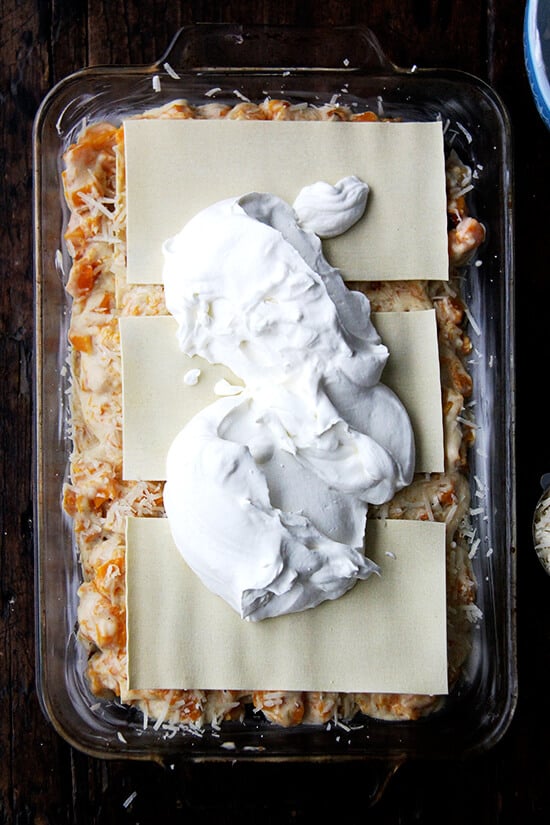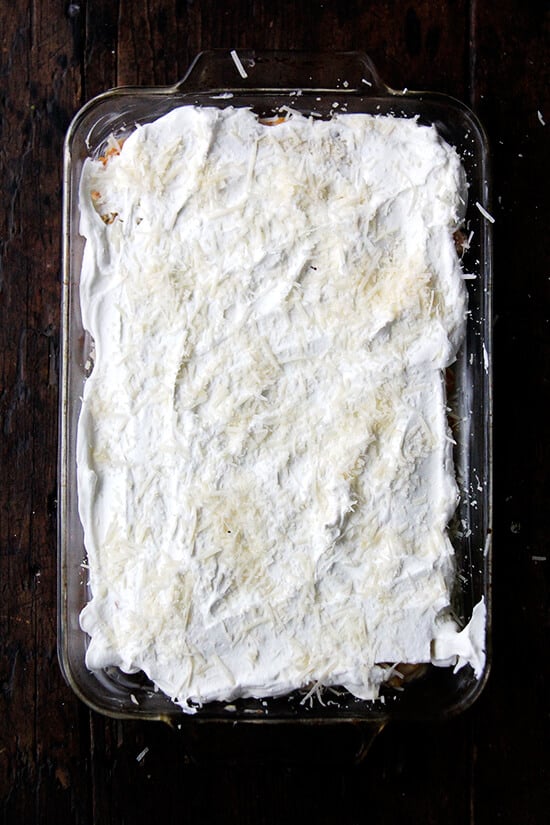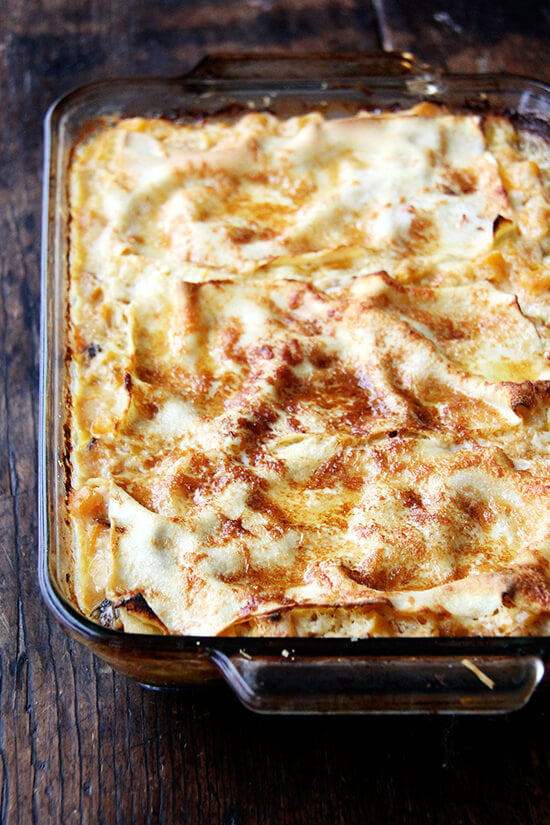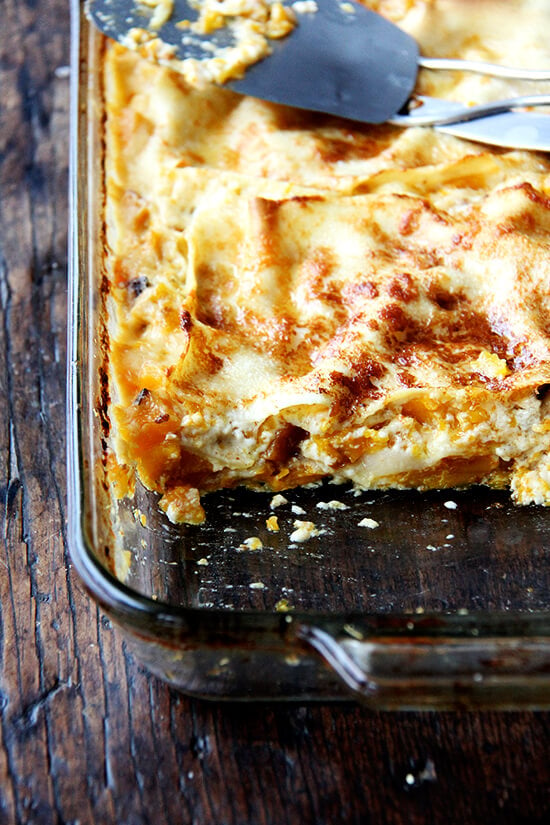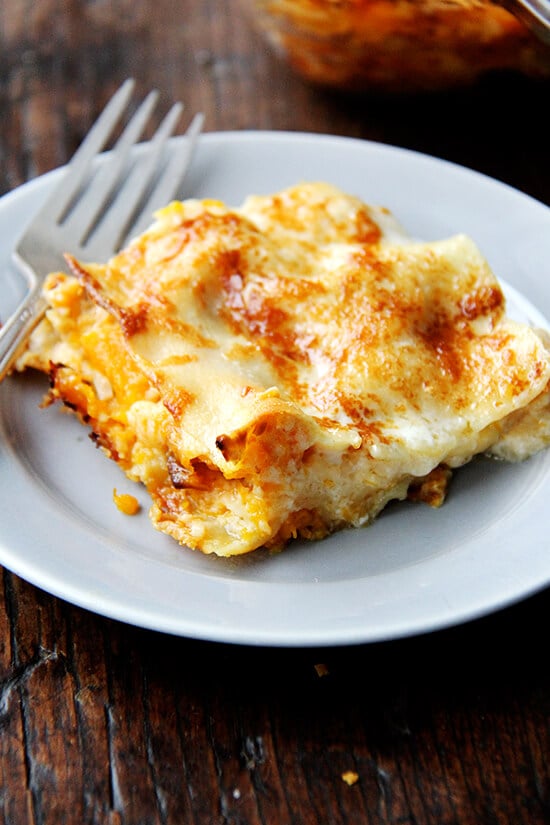 A few shots from Thanksgiving in VT:
We arrived 15 minutes before the snow, which quickly turned Middlebury into a winter wonderland: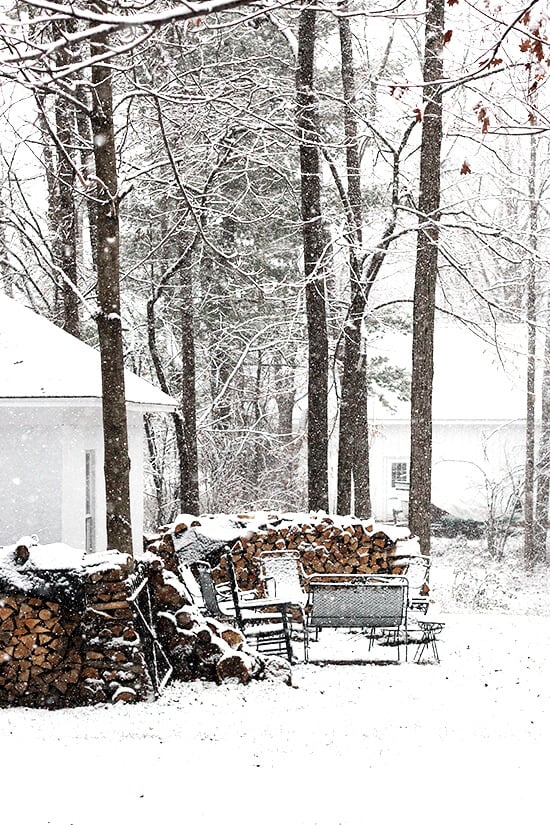 So, we sat by the fire,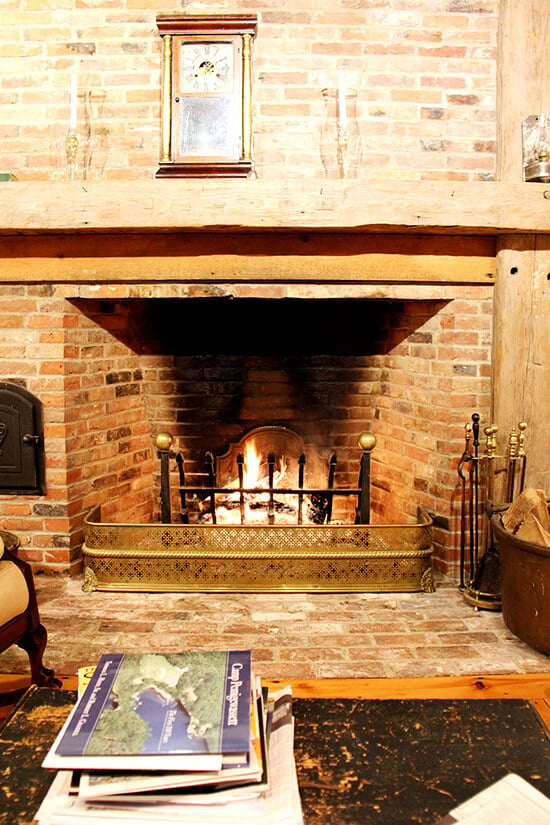 lounged with the pups,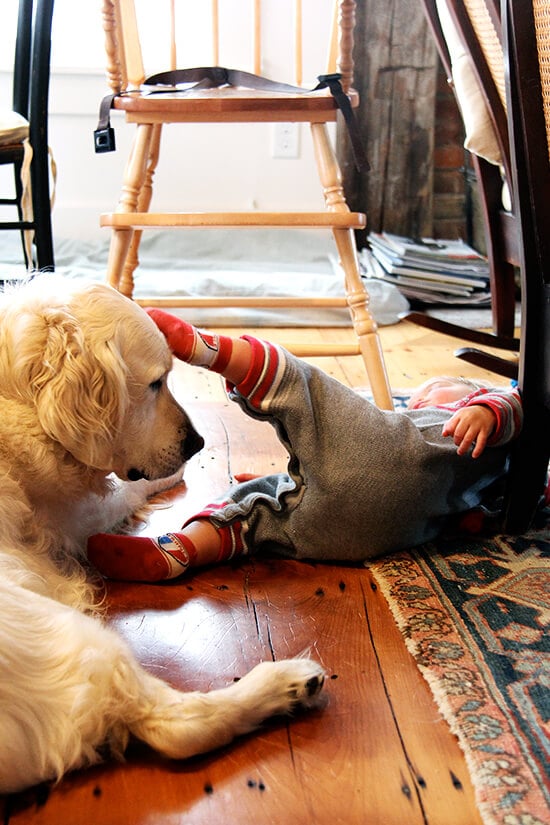 played with legos,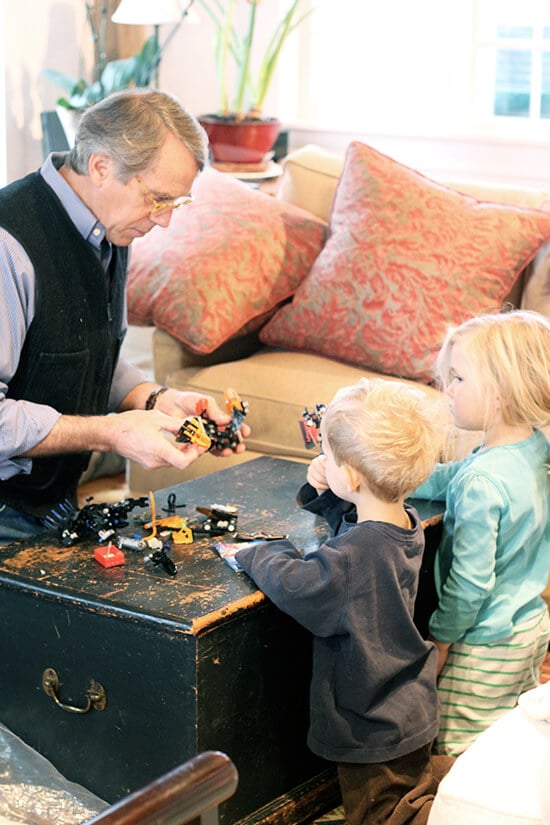 and ate some lunch: bagels and cream cheese, Dakin Farm Ham (so good) and my gramma's mustard sauce (the best!):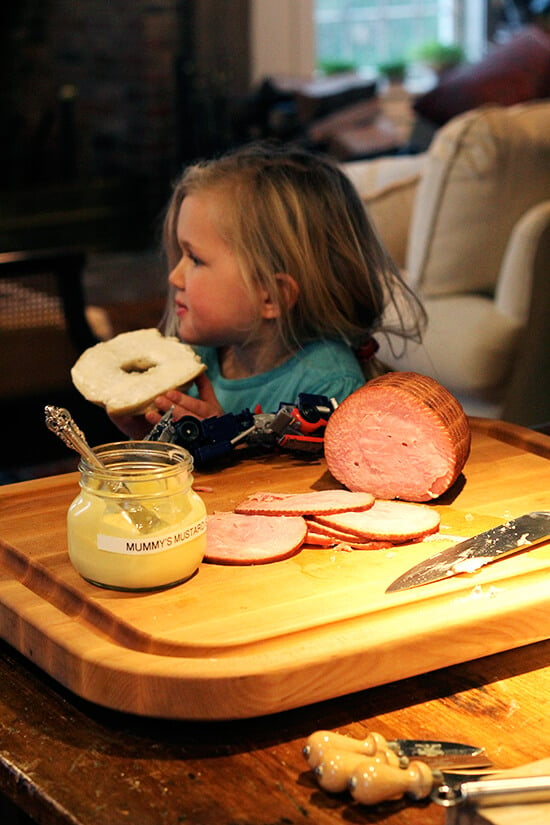 Thanksgiving morning, Uncle Wade made waffles: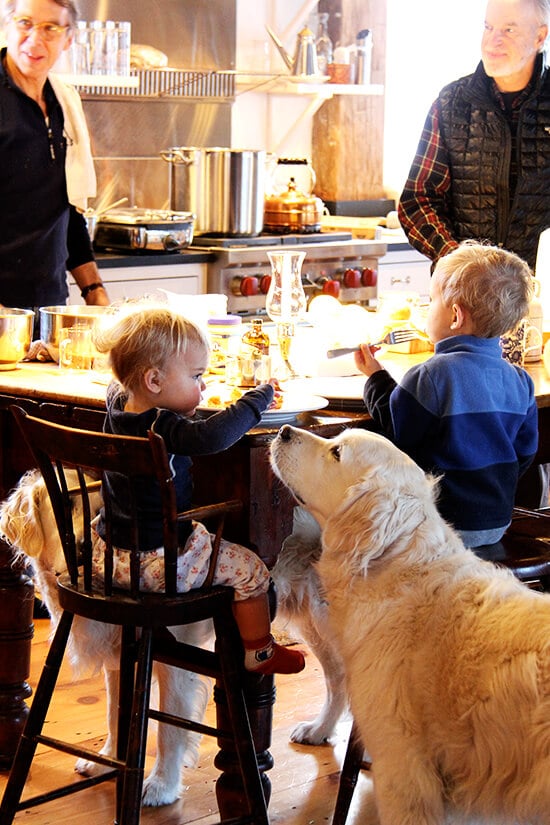 and everyone pitched in preparing for the feast:
pies: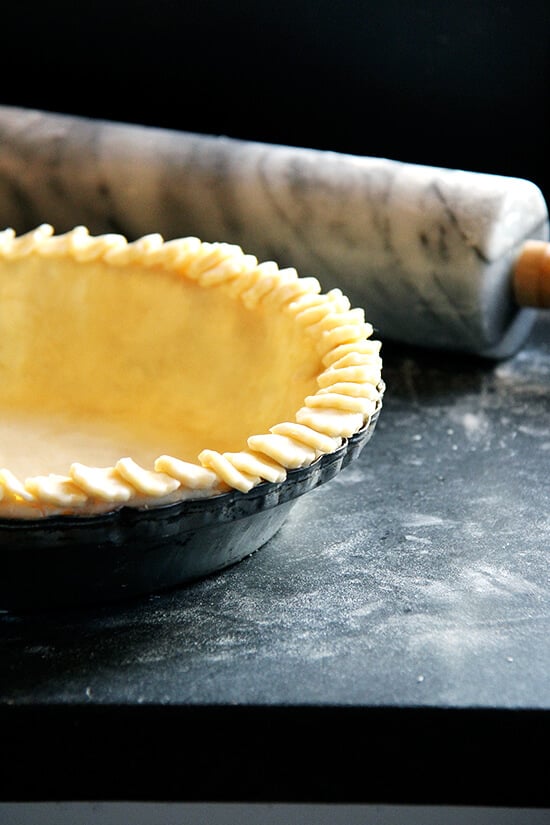 bar: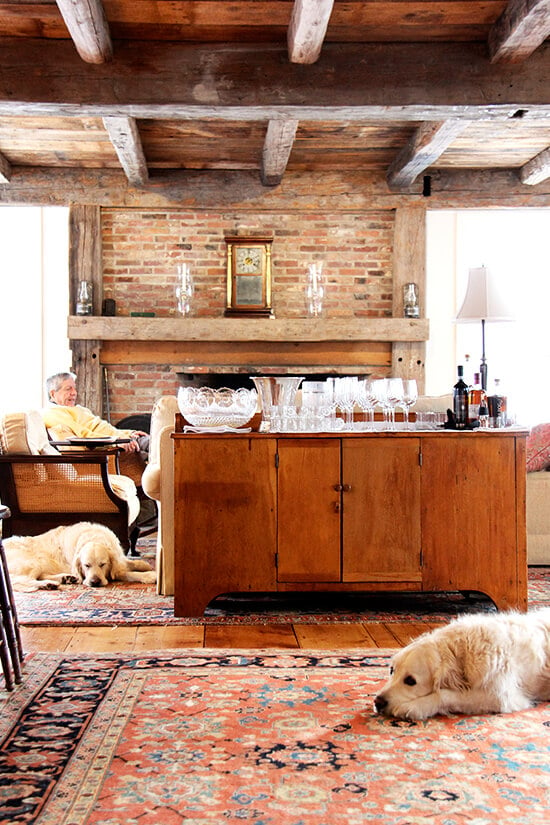 table: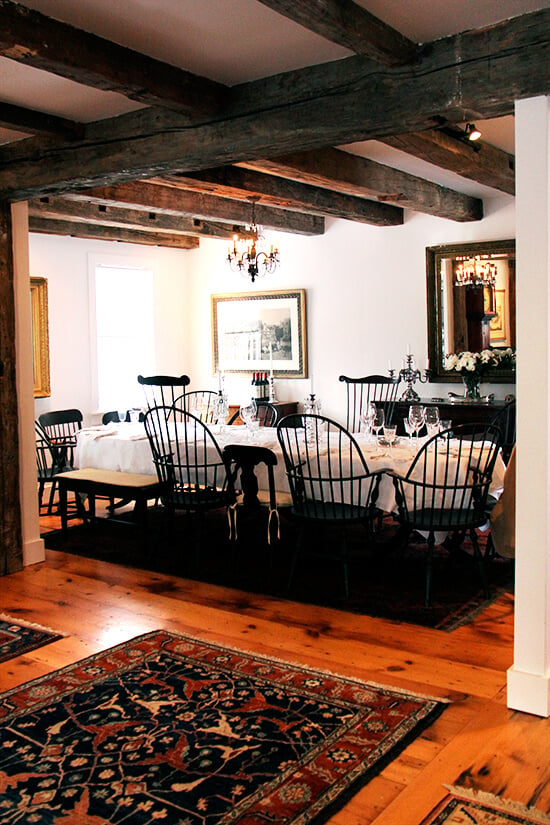 kitchen: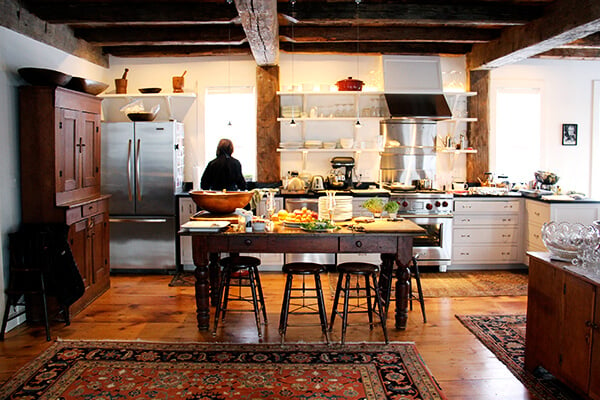 Before dinner, we ate radishes from Nola's Secret Garden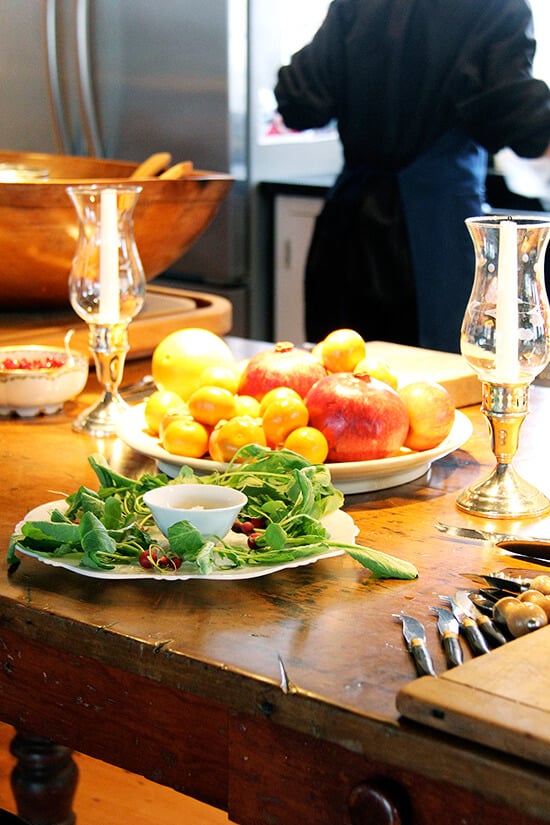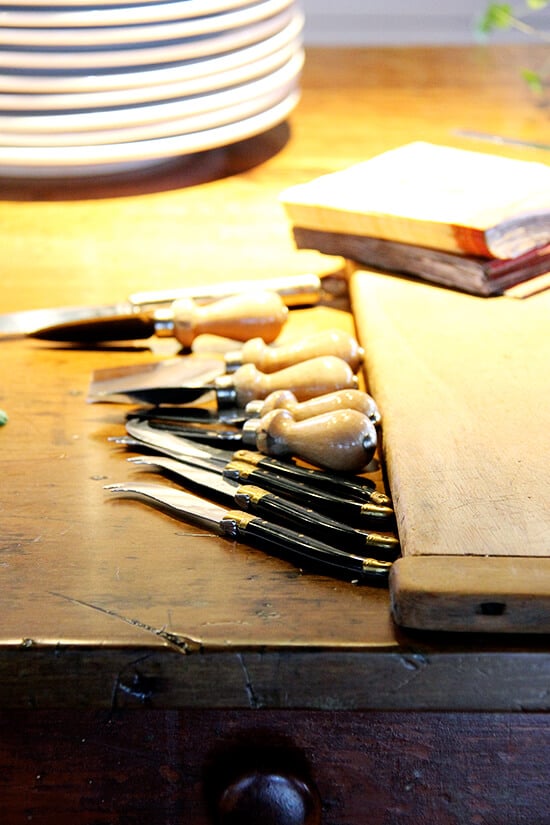 while awaiting the arrival of friends and lots of cheese from Jasper Hill Farm, all of which were delicious, the Winnemere being especially memorable.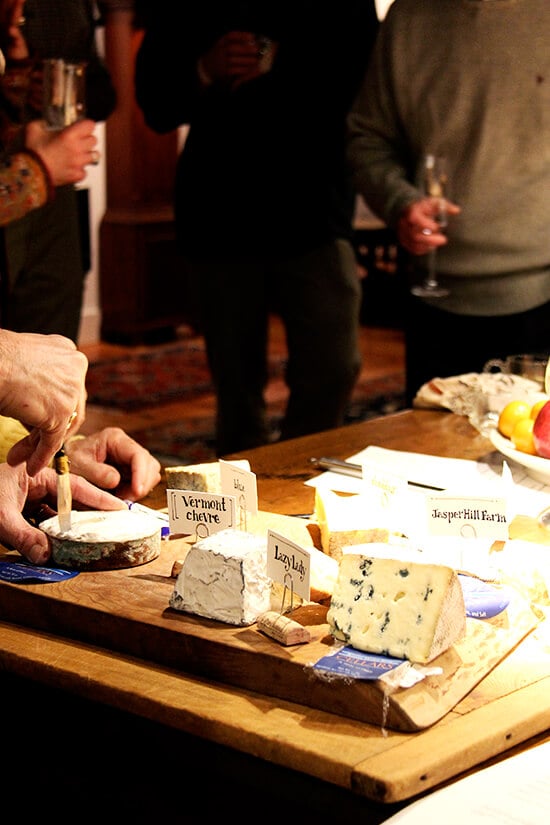 During dinner, Wren discovered the dog door,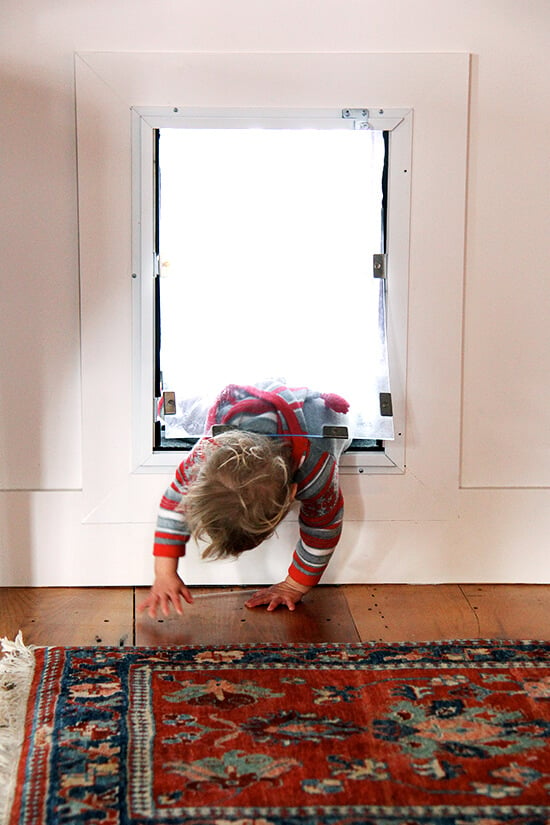 and Ajax took a nap.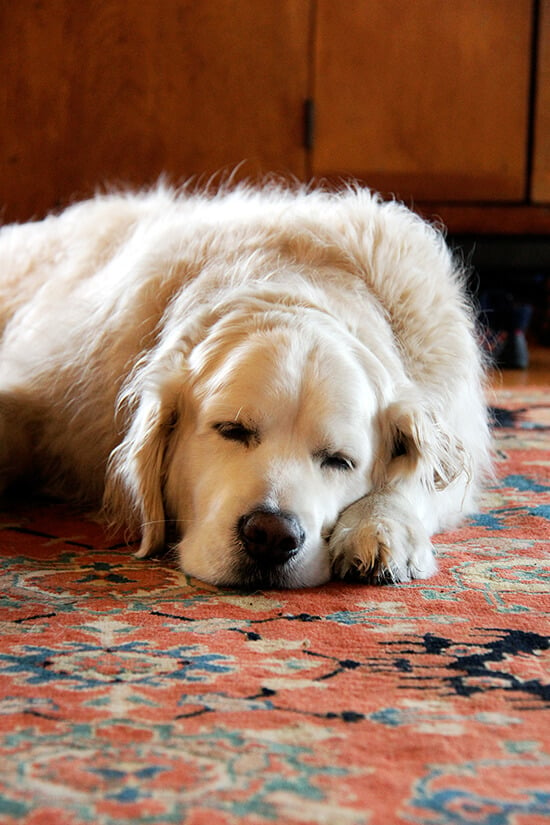 Print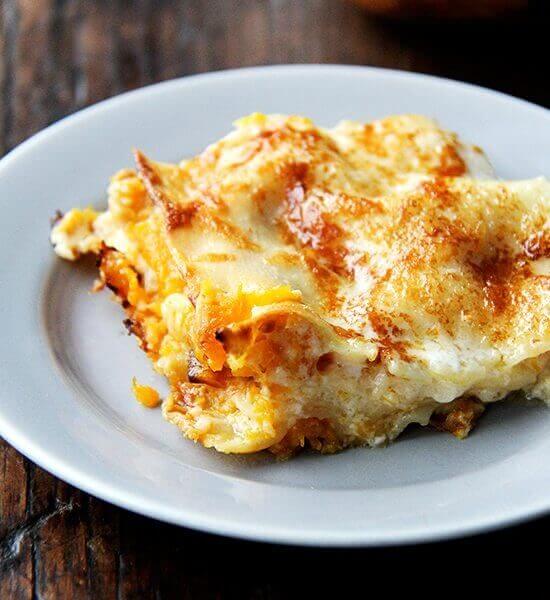 Butternut Squash Lasagna
---
Author:

Alexandra Stafford

Prep Time:

15 minutes

Cook Time:

1 hours 10 minutes

Total Time:

1 hours 25 minutes

Yield:

8 to 10
---
3

pounds butternut squash, quartered, seeded, peeled, and cut into 1/2-inch dice (about

8

to

9

cups of cubed squash)

3 tablespoons

grapeseed or olive oil

4 cups

milk, 2% or whole
a few sprigs fresh rosemary and sage

1 tablespoon

minced garlic

4 tablespoons

unsalted butter

4 tablespoons

all-purpose flour
nine

7

– by 3 1/2-inch sheets dry no-boil lasagne pasta (I use Barilla brand)

1 1/3 cups

freshly grated Parmesan

1 cup

heavy cream

1/2 teaspoon

salt
---
Instructions
Preheat oven to 450°F and oil 2 large shallow baking pans with a tablespoon of oil each.
Spread squash on each sheet pan and toss with oil until coated well. Add additional tablespoon of oil if necessary. Roast squash in oven 10 minutes, then season with salt. Stir squash and roast 10 to 15 minutes more, or until tender and beginning to turn golden.
While squash is roasting, in a saucepan bring milk to a simmer with the rosemary and sage sprigs. Heat milk mixture over low heat 10 minutes and pour through a sieve into a large pitcher or measuring cup.
In a large heavy saucepan cook garlic in butter over moderately low heat, stirring, until softened. Stir in flour and cook roux, stirring, 3 minutes. Remove pan from heat and whisk in milk mixture in a stream until smooth. Return pan to heat and simmer sauce, whisking occasionally, about 10 minutes, or until thick. Stir in squash and salt and pepper to taste. Sauce may be made 3 days ahead and chilled, its surface covered with plastic wrap.
Reduce temperature to 375°F and butter a 13 by 9 by 2 inch baking dish.
Pour 1 cup sauce into baking dish (sauce will not cover bottom completely) and cover with 3 lasagne sheets, making sure they do not touch each other. Spread half of remaining sauce over pasta and sprinkle with 1/2 cup Parmesan. Make 1 more layer in same manner, beginning and ending with pasta.
In a bowl with an electric mixer (or not) beat cream with salt until it holds soft peaks and spread evenly over top pasta layer, making sure pasta is completely covered. Sprinkle remaining 1/3 cup Parmesan over cream. Cover dish tightly with foil, tenting slightly to prevent foil from touching top layer, and bake in middle of oven 30 minutes. Remove foil and bake lasagne 10 minutes more, or until top is bubbling and golden. Let lasagne stand 5 minutes.
Category:

Lasagna

Method:

Oven

Cuisine:

Italian, American
Keywords: butternut, squash, lasagna, rosemary, sage, no-boil
This post may contain affiliate links. Please read my disclosure policy.