Holly's Challah Bread Recipe
This post may contain affiliate links. Please read my disclosure policy.
This challah is perfection: golden-crusted with a light, airy crumb. My friend, Holly, learned this recipe from the wife of a rabbi, and one day she taught me how to make it. I am forever grateful because it's so delicious, so easy, and every time I make it, my children think I'm a hero. Also: It makes the BEST French toast.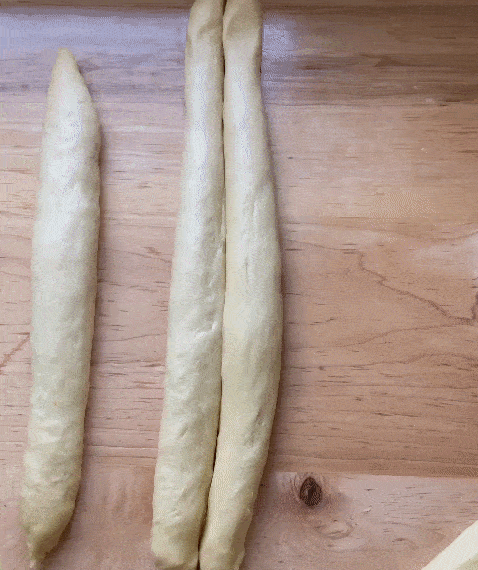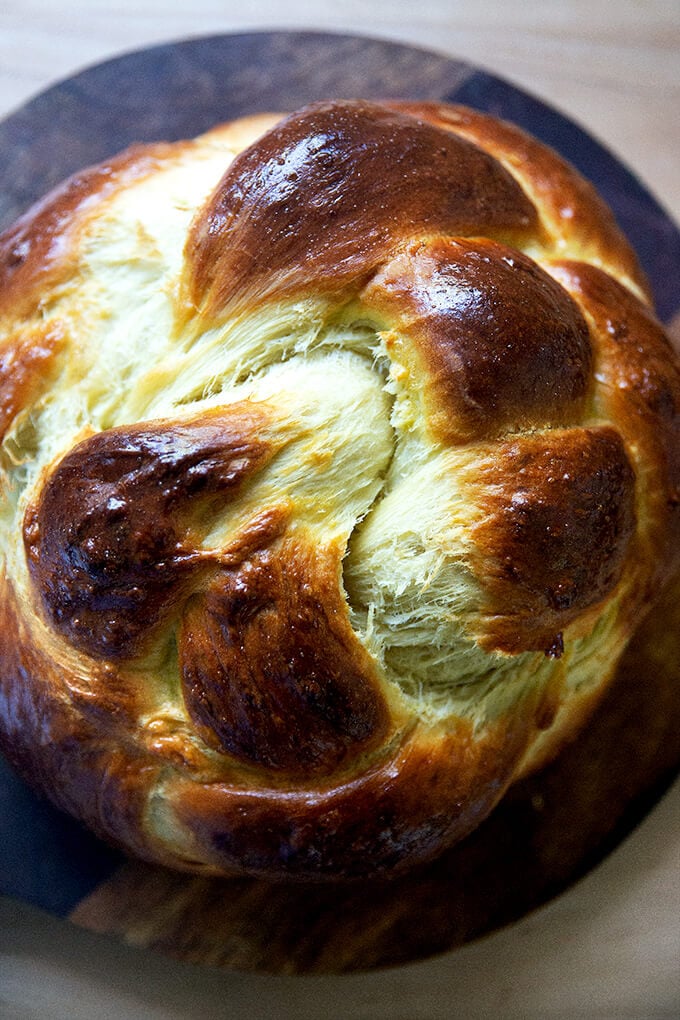 When my friend Holly, one of the most reliable cooks I know, told me she had a great challah bread recipe, one she learned from a wife of a rabbi, and offered to show me how to make it, I nearly leapt into her arms.
Shortly thereafter on a Friday morning, after dropping the kids off at school, I joined Holly at her house for coffee and a challah bread lesson. When I arrived, Holly had already made the sponges — 1 cup water, 1 cup flour, 1 packet yeast — which looked alive and ready for action. This is her Friday ritual: make the sponge before dropping her kids off at school; finish the process when she returns.
What I loved about Holly's challah bread recipe and process is that it is so simple, so unfussy, so unlike the challah bread I had been making.
Into each bowl we cracked two eggs, then added the honey, salt, oil and finally the remaining flour. After a brief kneading by hand, the dough was ready to rise. At this point I left, bowl of dough in hand, and completed the process on my own, guidance provided by Holly via text.
The dough rose beautifully and baked into a perfectly golden, light and airy, tangle of braids. Nearly every week since, I have made Holly's challah bread, a treat aside any soup (lots of this one and this one these days), a treasure for weekend brunch.
Incidentally, while I was in VT for Thanksgiving, my aunt mentioned she had made a breakthrough with her koulourakia (a twisted Greek cookie): after burning the bottom of several batches, she layered one cookie sheet on top of another, which provided enough insulation to prevent the bottoms from burning. Genius! The conversation immediately made me think of my challah bread-making trials, a burnt underside almost always a constant.
And so, the day after Thanksgiving, I made a loaf of Holly's challah bread for my family, baked the bread on two layers of sheetpans, and for the first time, the bottom of my challah bread cooked evenly without the slightest sign of overbrowning — a miracle! The Greeks raved! The abstemious indulged! What can I say, Holly's challah makes me wanna holla holla!
PS: Overnight Refrigerator Focaccia = The Best Focaccia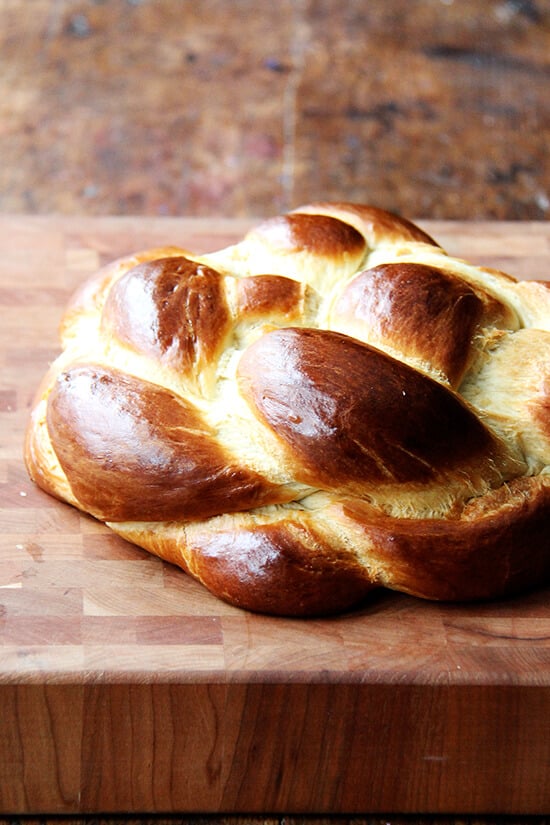 This is what the sponge — 1 cup water, 1 cup flour, 1 packet yeast — looks like after about an hour: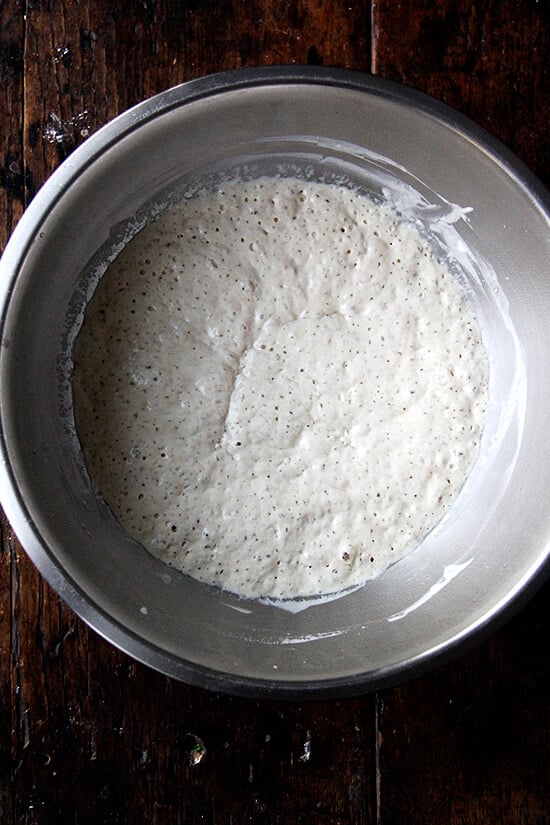 Then, you add the eggs, honey, salt and oil right into the bowl: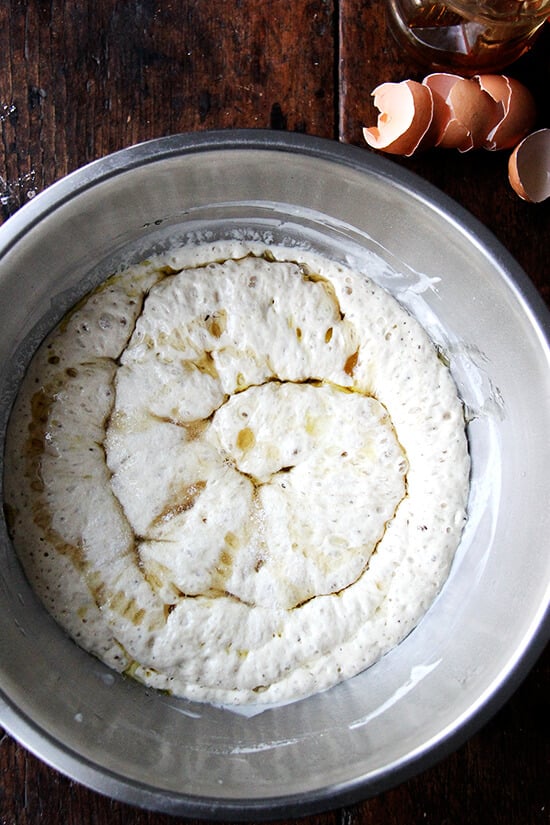 Work in the flour: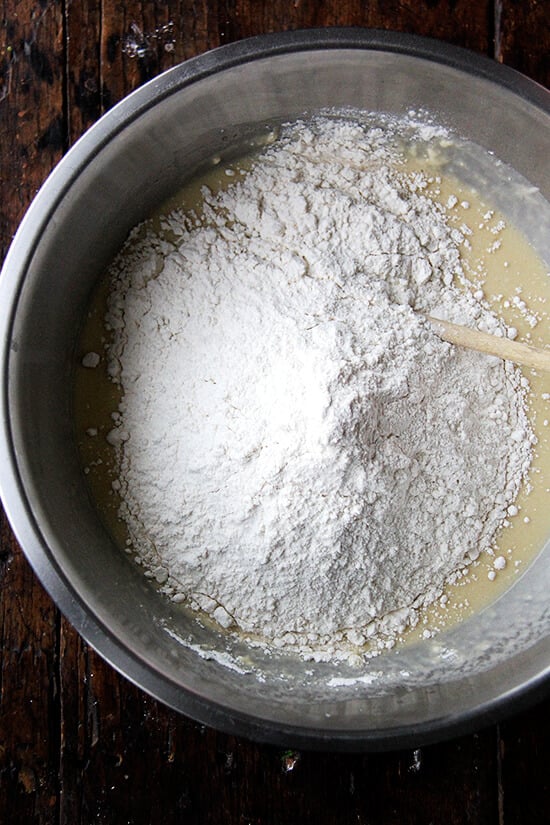 Mix until sticky: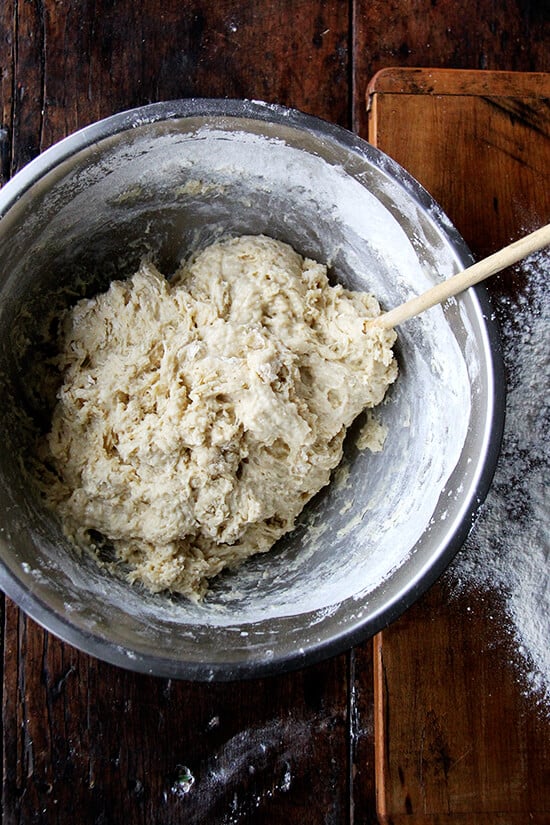 Knead briefly until smooth: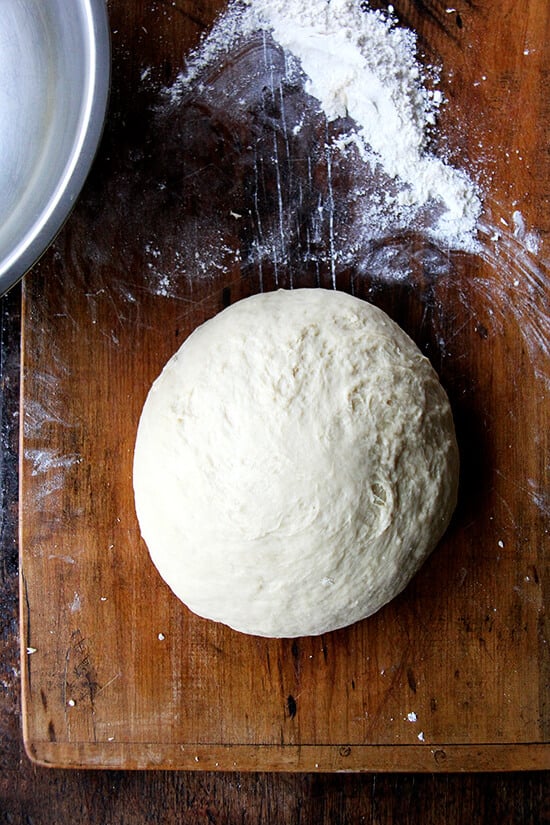 Transfer to an oiled bowl to rise: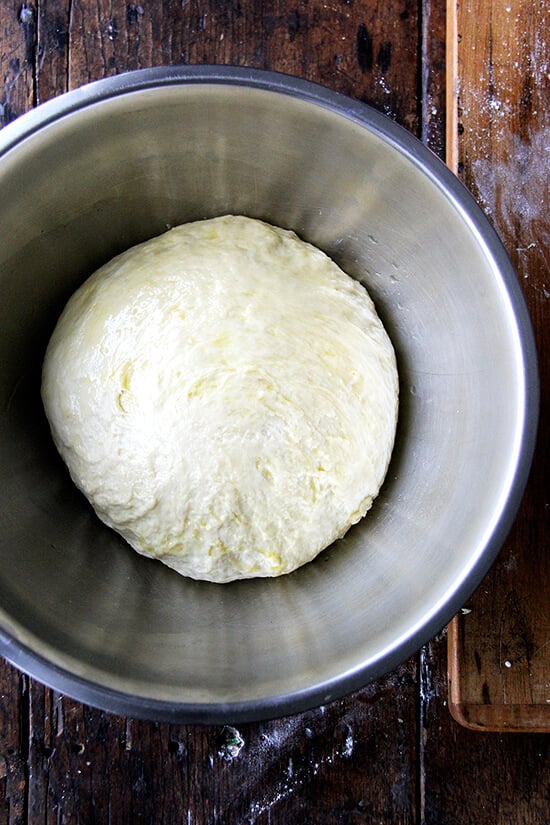 Then wait an hour or two: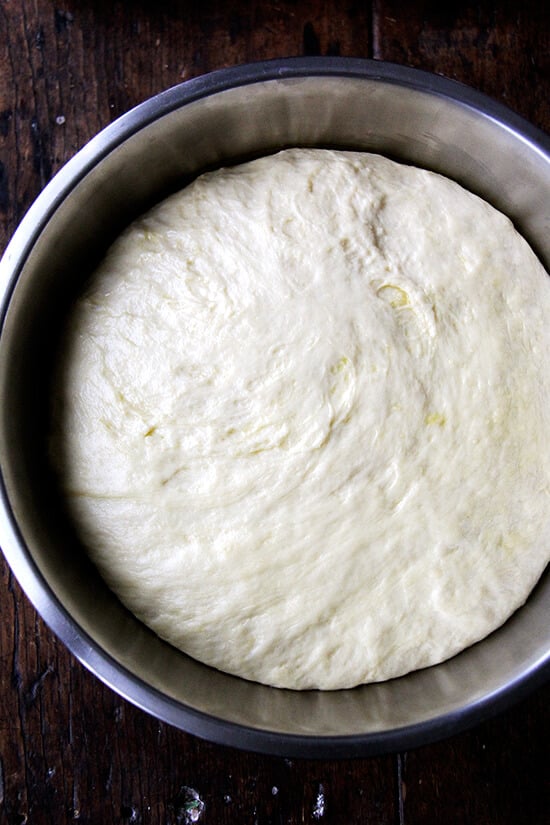 I made a double batch this time, so I divided the dough into 8 portions: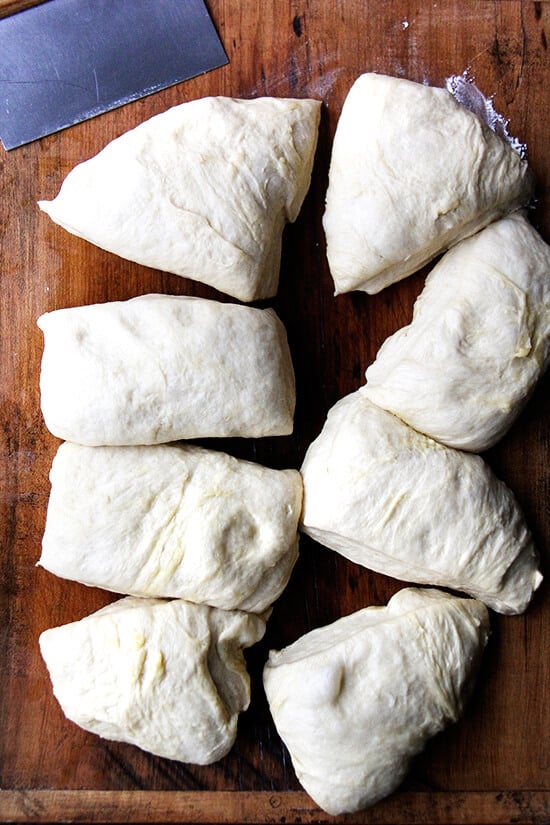 But with a single batch, divide the dough into three or four portions. Be sure to have a helper by your side: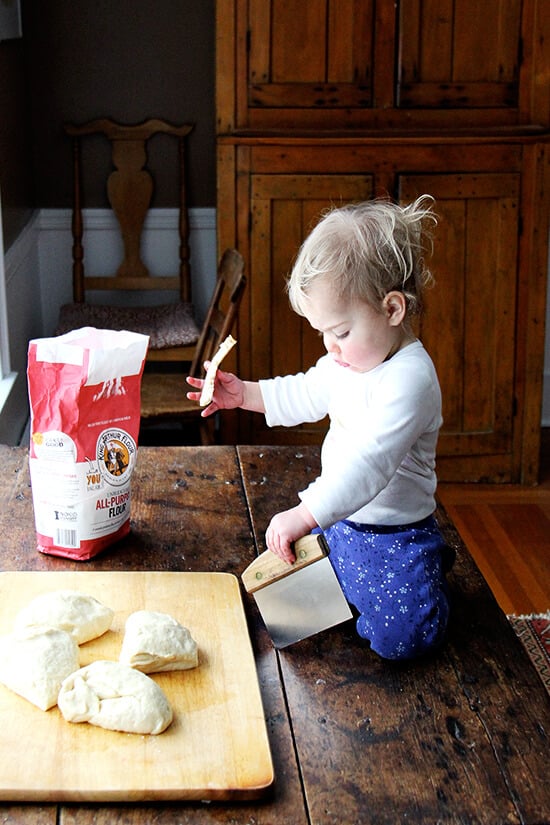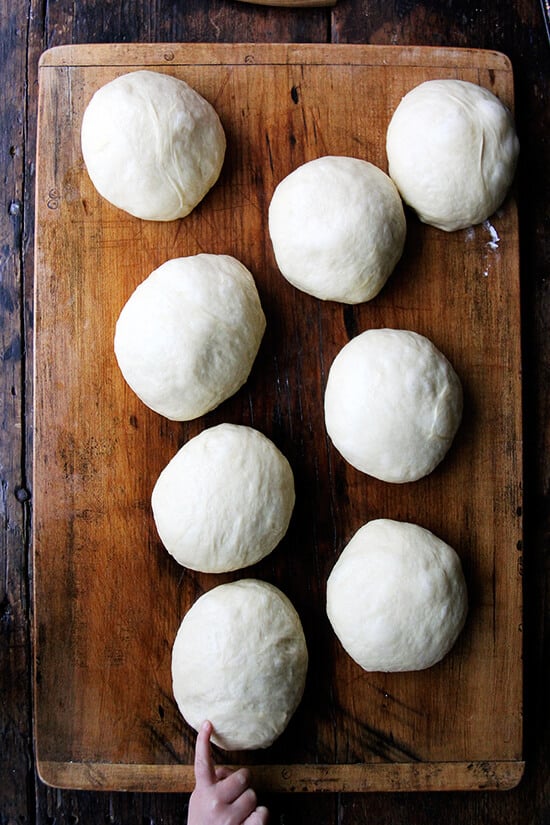 Time to shape! Here's a quick video on how to shape a round loaf of challah.
And the basic steps: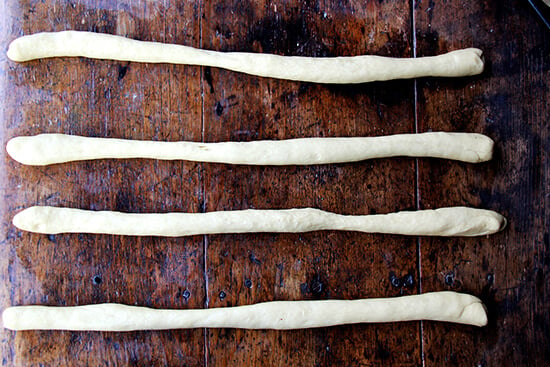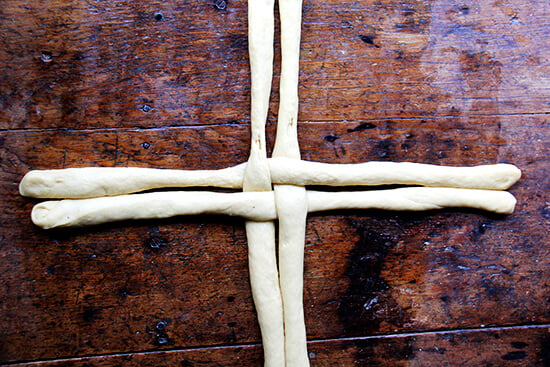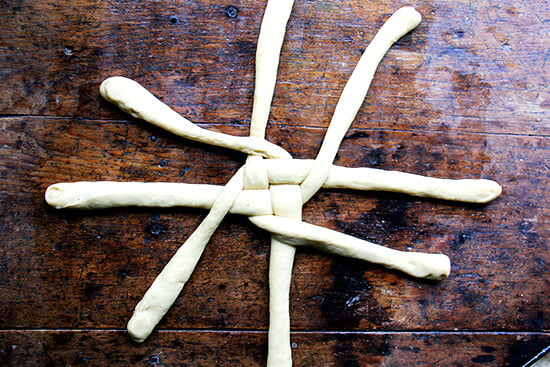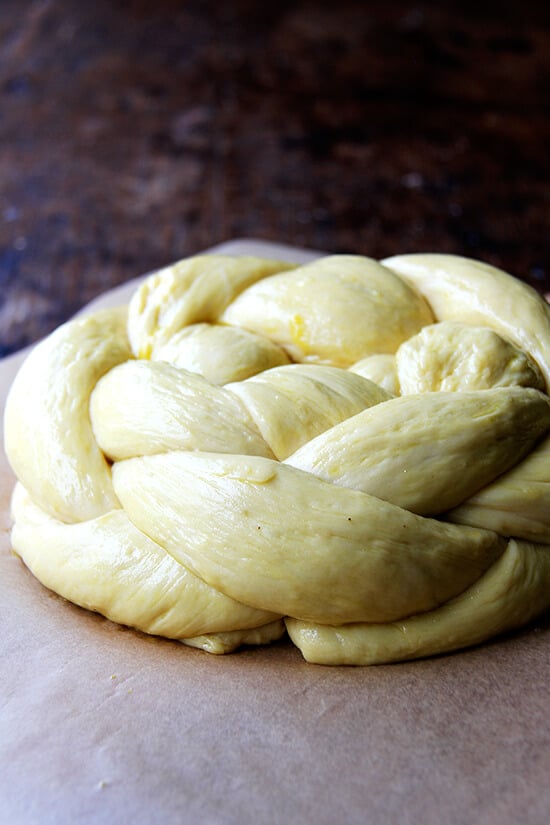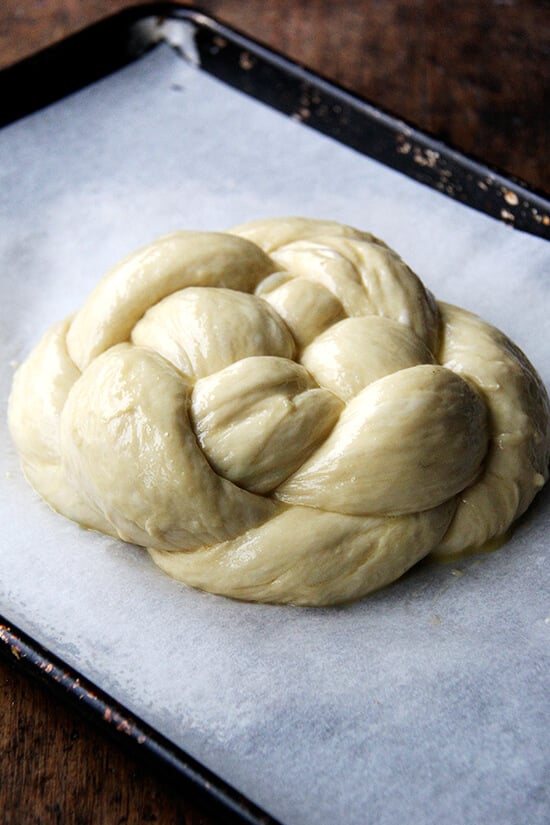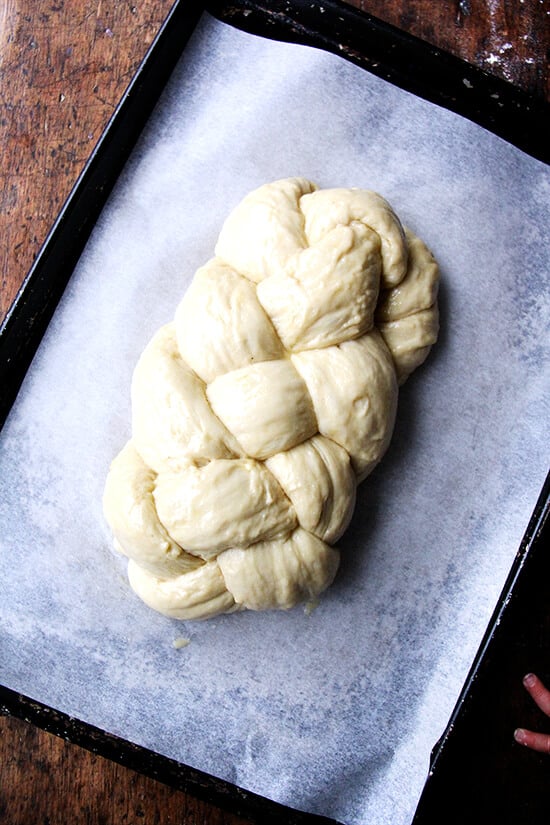 Holly's is much prettier: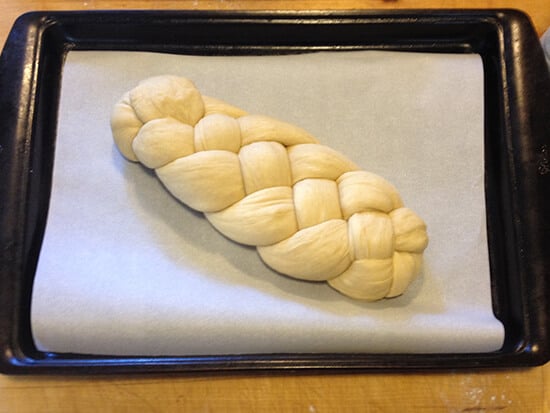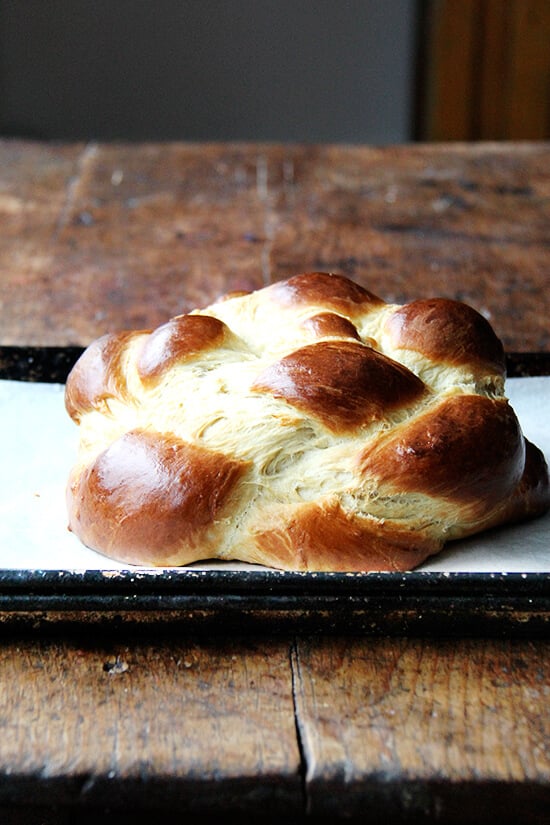 I actually prefer the shape of the more traditional 3 or 4 braid challah bread for purposes of toast and French toast, but the circular shape is so pretty.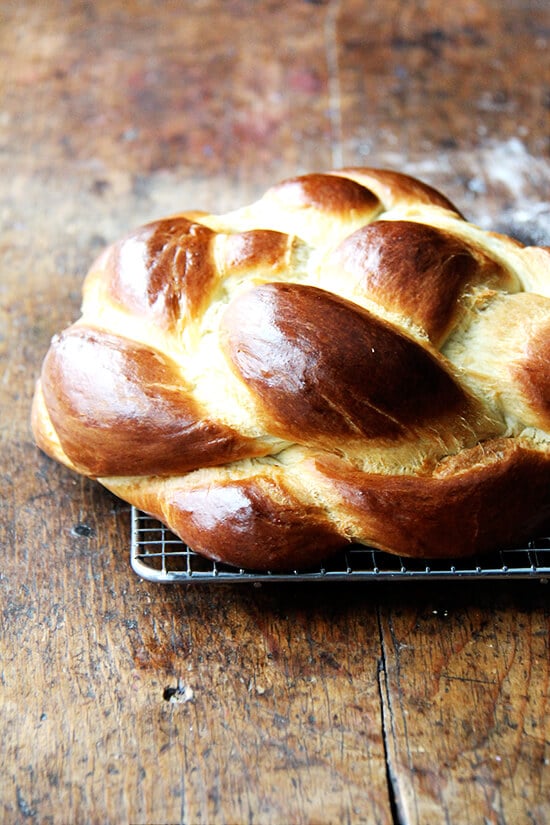 Baking the challah bread on two sheet pans prevents a burnt bottom: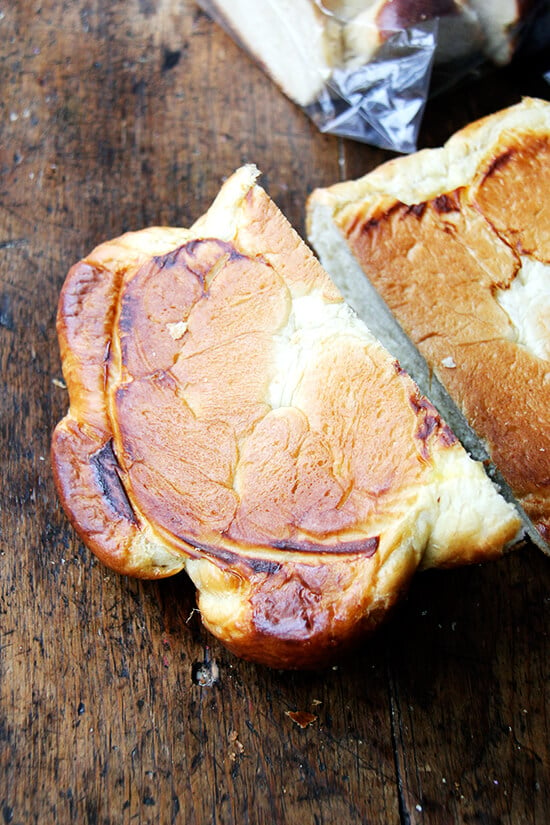 This is day-old challah bread: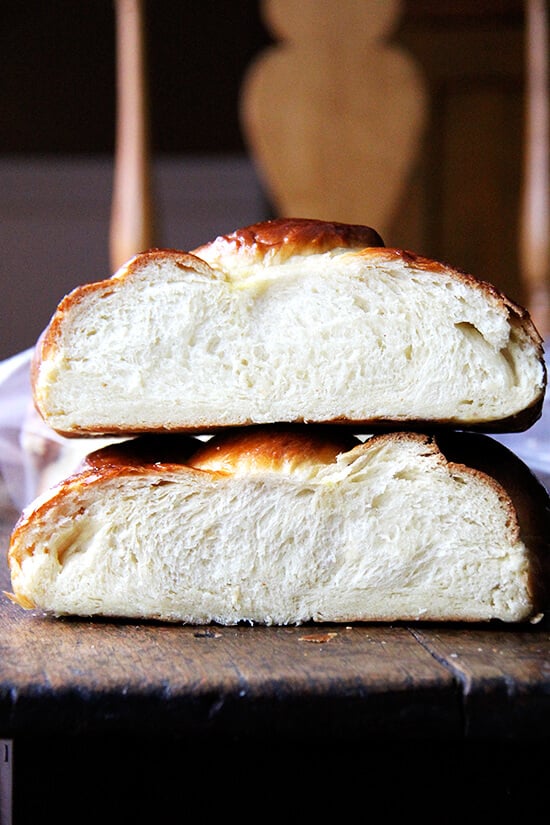 The benefit of making a double batch?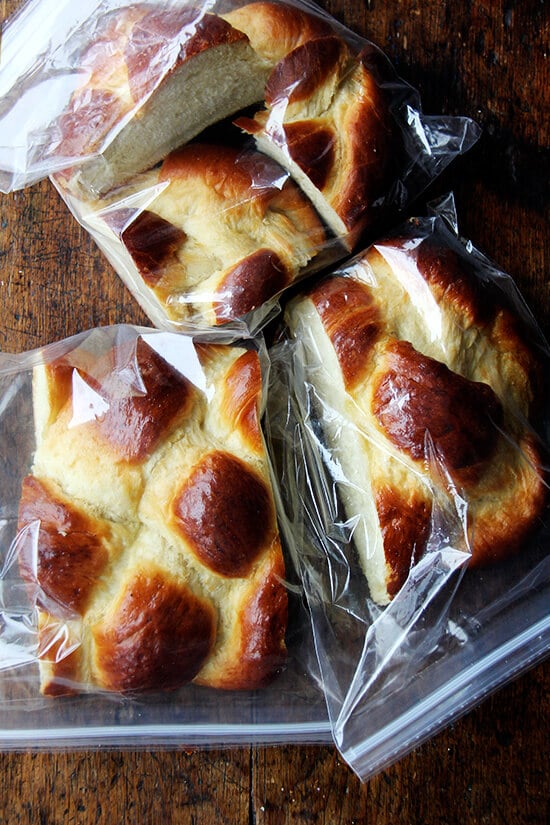 French toast of course.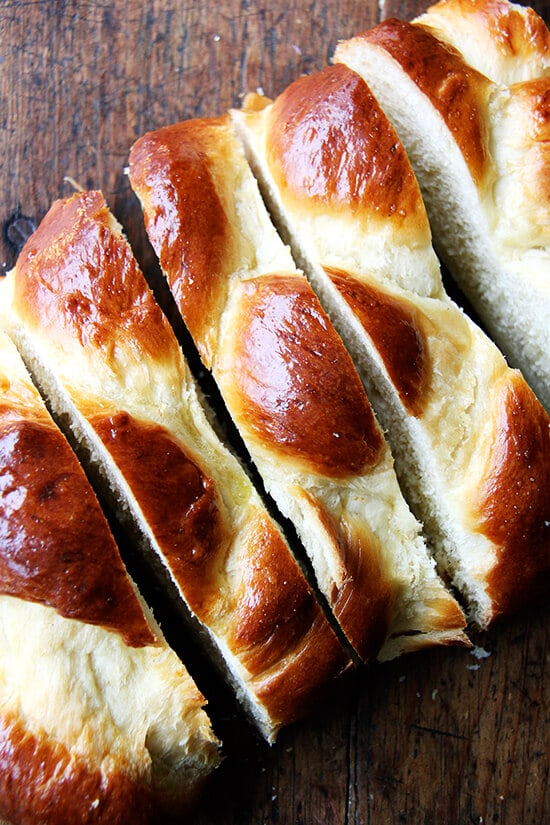 I like to dry out slices overnight: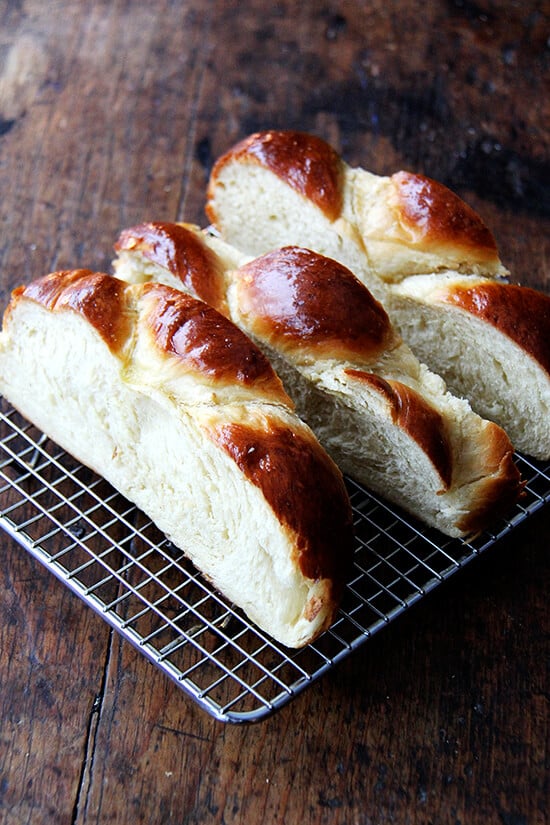 And I love the Tartine recipe, which calls for lots of lemon zest and no cinnamon, but traditional pan-fried recipes work just fine, too. I bet the overnight method would be delicious with challah bread, too.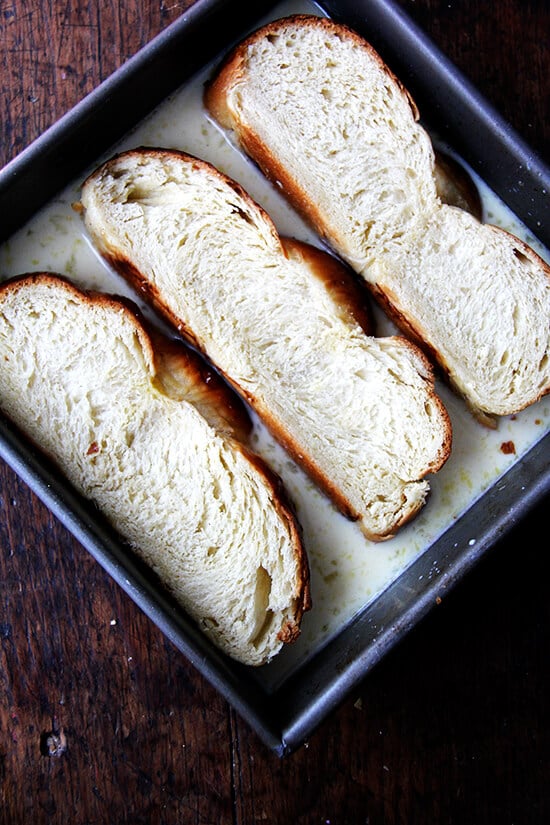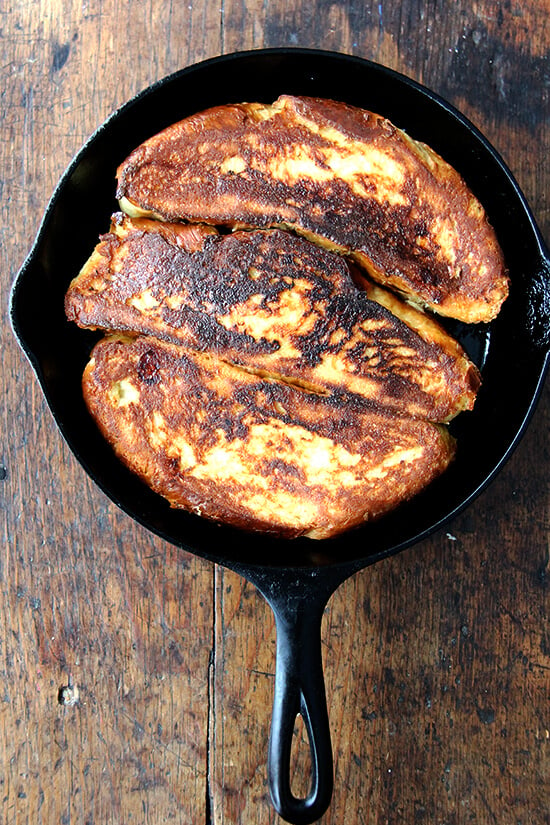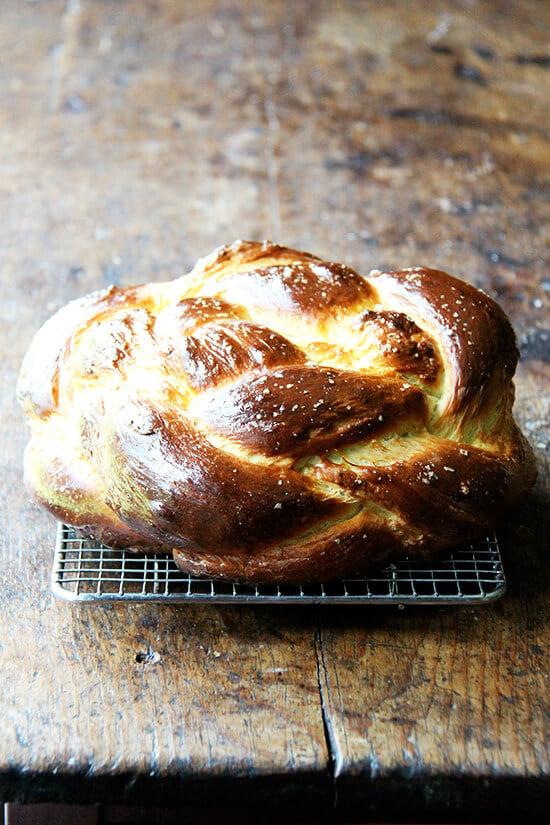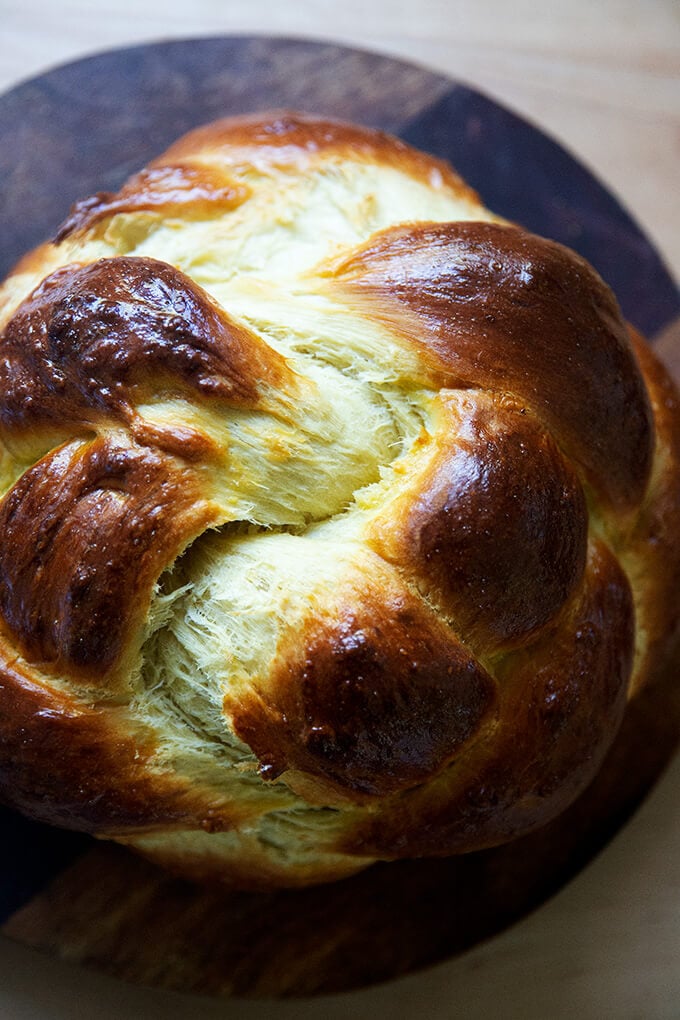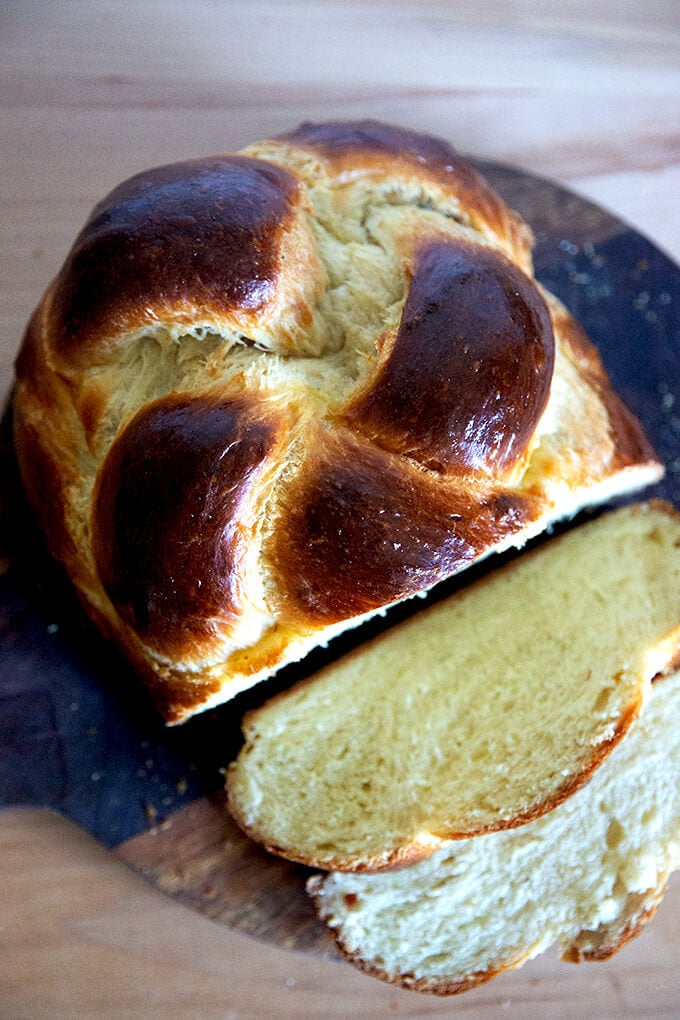 5 Secrets to Foolproof Bread Baking
See how easy bread baking can be in my free ecourse!
Print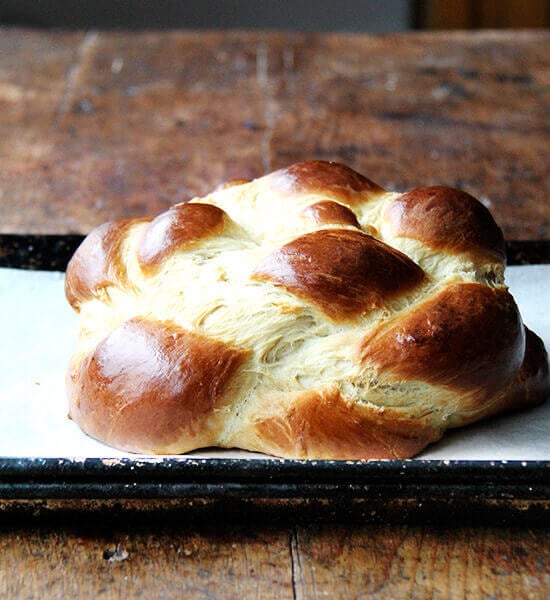 Holly's Challah Bread Recipe
---
Description
I learned this recipe from my friend, Holly, who calls it Jennifer's Challah.
The recipe doubles well. Bread keeps well in a ziplock bag on the counter for several days, and it freezes well, too.
A few notes:
You can use at least one cup of whole wheat flour or white whole wheat flour. (Holly always does.)
To create lukewarm water: use ¼ cup boiling water and ¾ cup cold water, which will give you perfect lukewarm water.
To create a warm place for your bread to rise: Heat your oven for 1 minute, then shut it off. It doesn't matter what temperature you set it to when you heat it; the key is to only allow it to heat for 1 minute. This brief blast of heat will create a cozy, draft-free spot for your bread to rise.
A double egg wash creates a beautifully golden and shiny finish to the challah.
Baking on two sheet pans prevents the bottom of the challah from burning.
As for shaping, there are lots of resources on youtube. I included one video below for making the entire challah, and a quick gif at the very start of the post, which shows how to shape the round challah.
---
4

to

5

cups (

510 g

to

620 g

) all-purpose or bread flour

1

package or 2¼ teaspoons (

8 g

) instant yeast

1 cup

(

236 g

) lukewarm water (made by mixing

1/4 cup

boiling water and

¾ cup

cold water)

1 tablespoon

(

10 g

) kosher salt

¼ cup

honey

½ cup

safflower oil or other neutral oil (canola, grapeseed, etc.)

2

eggs
Egg wash:
1

egg beaten with 1 teaspoon water
poppy seeds, optional
---
Instructions
Make the sponge: Whisk one cup (128 g) of the flour with the yeast and stir in the lukewarm water until the sponge is smooth. Cover with plastic wrap or a dish towel and let rise about 45 minutes or until puffy and bubbly.
Directly into the bowl, add the salt, honey, oil and eggs. Stir with a spatula or spoon until well mixed, then add the remaining three cups (384 g) of flour. Stir with a spoon until dough forms a sticky mass. Add a bit more flour, and use your hands to knead briefly in the bowl; then turn dough onto lightly floured work surface and knead for a minute or two, until the dough becomes smooth. Transfer to a lightly oiled bowl, cover it with dish towel or plastic wrap and let it rise in a warm spot until doubled in bulk, one to two hours or longer depending on the temperature of your kitchen. (Note: you can make the dough to this point, punch it down, and stash it in the refrigerator overnight).
Punch down and divide into three or four parts, depending on what shape you want to make. Roll each portion into a ball. Let rest 10-15 minutes. Roll each ball into long ropes (at least 12 inches in length for the 4-braided challah) and braid into desired shape (see notes above or check youtube). Brush with egg wash.
Preheat the oven to 350ºF. Let the loaf rise on a greased or parchment-lined baking sheet, about 30 minutes. Place another baking sheet underneath it — this will help insulate the bottom and keep it from burning.
Brush one more time with egg wash and sprinkle with poppy seeds if you like. Bake for 45 to 50 minutes, checking after 40 minutes. Cool completely before slicing.
Prep Time:

20 minutes

Cook Time:

45 minutes

Category:

Bread

Method:

Yeast-Risen

Cuisine:

Jewish
Keywords: challah, easy, bread
This post may contain affiliate links. Please read my disclosure policy.