Bialy Recipe: A Step by Step Guide
This post may contain affiliate links. Please read my disclosure policy.
This post shows you step-by-step with lots of guidance, how to make a simple, foolproof, and delicious bialy recipe at home using a no-knead, overnight method. Let's do this!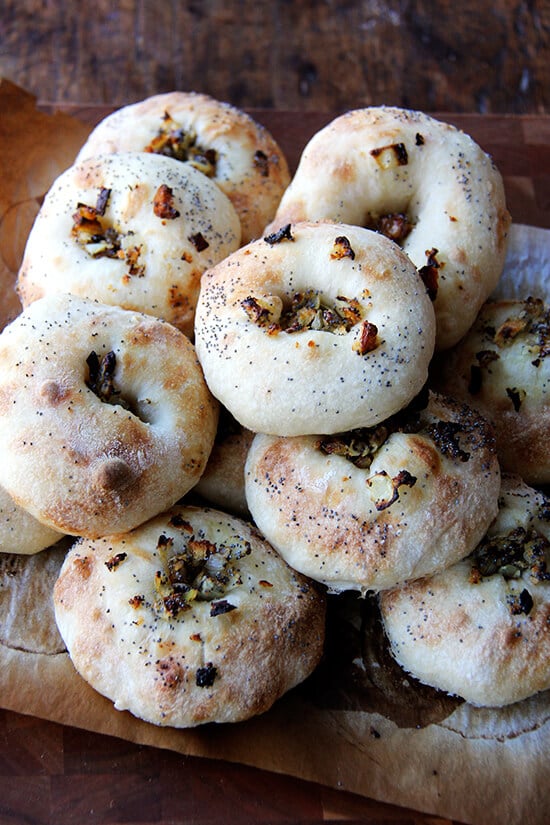 This past fall, while teaching cooking classes, I met a man named Len, who loved to bake and who always showed up to class a few minutes early, ready to help with any remaining prep work, always with some sort of baking adventure to recount.
Before the last class, Len asked me if I had ever made bialys, which he had learned to make at a "bagels and bialys" cooking class held at the local community college. When I told Len I hadn't, he assured me bialys were very simple to make — much simpler than bagels as they don't require boiling. He sent me the recipe later that night.
What is a bialy?
A bialy is a type of bread, similar in size and shape to a bagel, containing a depressed center, which is filled with sautéed onions, poppyseeds, and fresh bread crumbs.
Bialys originate from Bialystok, Poland and are a traditional dish of the Polish Ashkenazi Jewish cuisine. While they are often likened to bagels, they taste more like a roll. They're not as chewy and are much lighter in texture than a bagel.
Overnight, No-Knead Bialy Method
This bialy recipe is very similar to the Jim Lahey no-knead pizza dough recipe. As you know, I love the Lahey no-knead, slow-rise technique, which creates beautiful air pockets in the final product, whether it's a boule, a pizza, or something else.
The overnight method works beautifully for bialys and, as it turns out, so does the no-knead method.
How to Make Bialys
Whisk together flour, salt, and instant yeast. Add water. Stir to combine. Let rise at room temperature.
Twelve hours later the dough will have doubled in volume, and its surface will be dimpled with bubbles.
Portion the dough and ball up each portion.
Make the onion, poppyseed, bread crumb filling.
Make a well in the center of each portioned dough ball; then fill with the onion mixture.
Bake on a preheated Baking Steel for best results.
How to eat a bialy?
Bialys can be eaten on their own, without a smear of butter or cream cheese. That said, here are a few more ideas:
Halve and toast day-old bialys; then spread with softened butter or cream cheese.
Bialy egg sandwich: Broil one half covered with a slice of cheddar; broil the other half naked. Slide a fried egg onto the toasty, naked half, and hit it with a healthy squirt of Sriracha. Top with the cheesed half. Enjoy.
Halve it, spread it with cream cheese, and top it with gravlax, capers, onions, chives and lemons. So good.
5 More No-Knead Bread Recipes to Try
All the bread recipes right here: Bread Recipes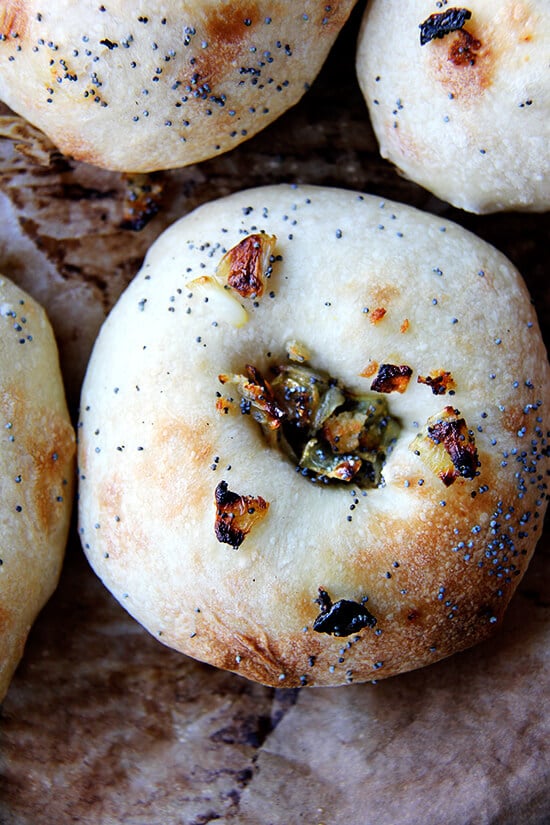 Here's the play-by-play: Mix the dough and let it rise at room temperature for 12 hours.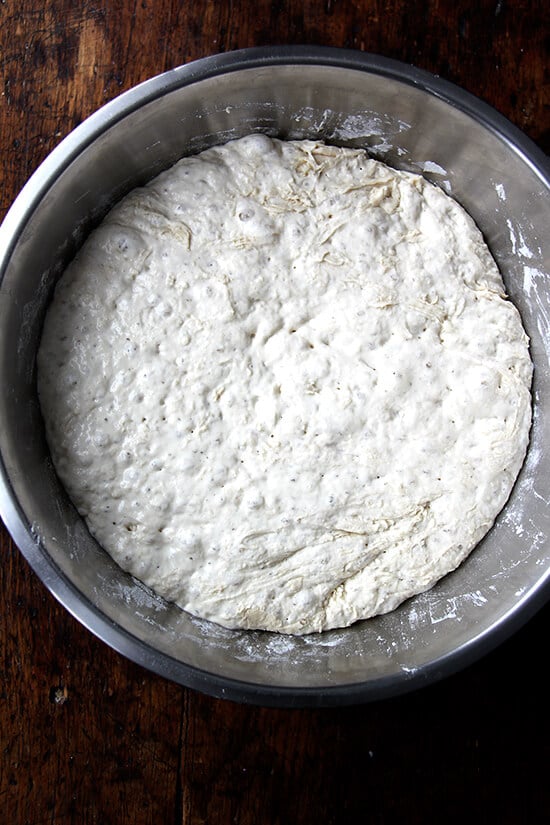 Turn the dough out onto a floured work surface.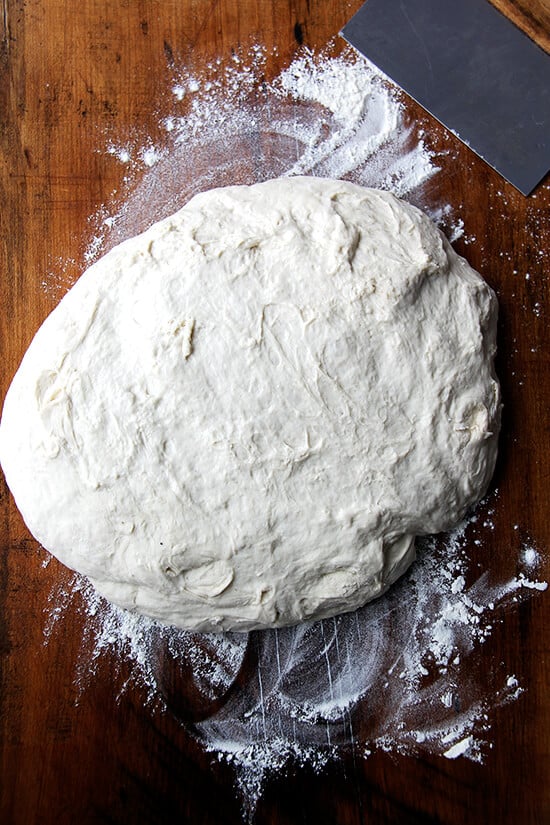 Portion the dough into 18 (roughly) equal pieces.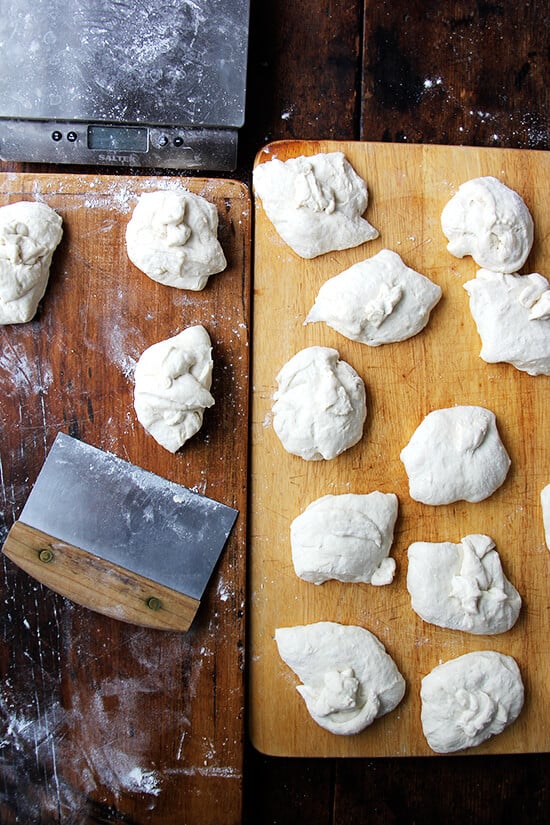 Ball each piece up.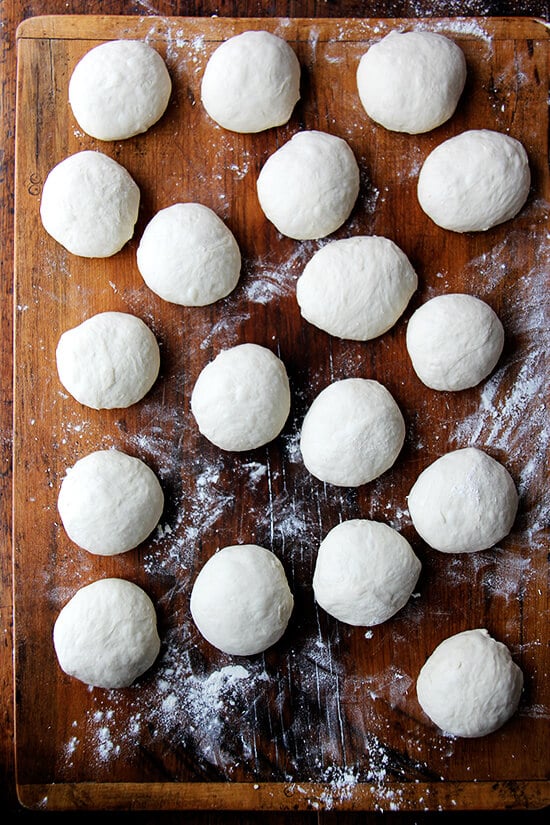 While the balls rest for another 45 minutes, get on with the filling: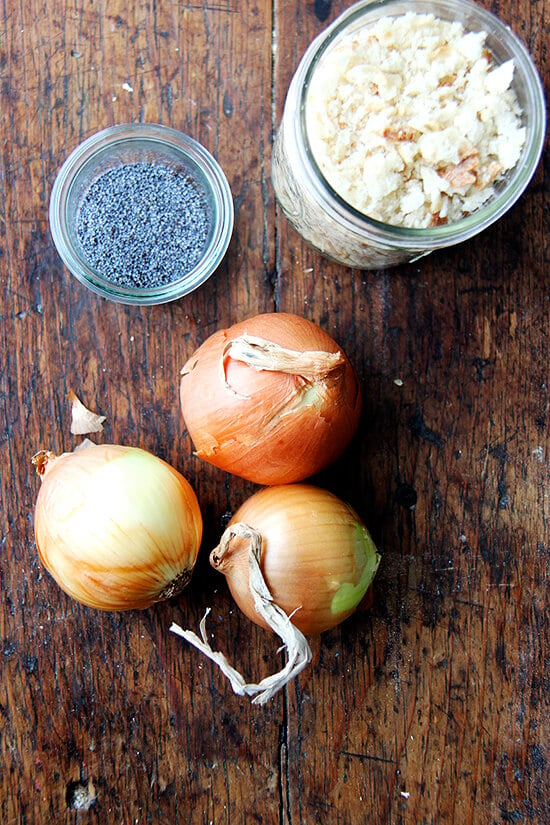 Sauté an onion.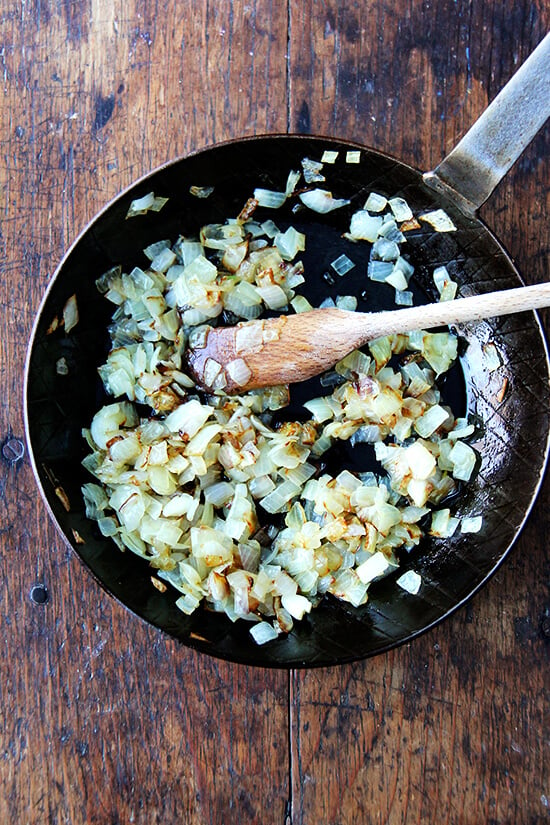 Then add poppy seeds and bread crumbs.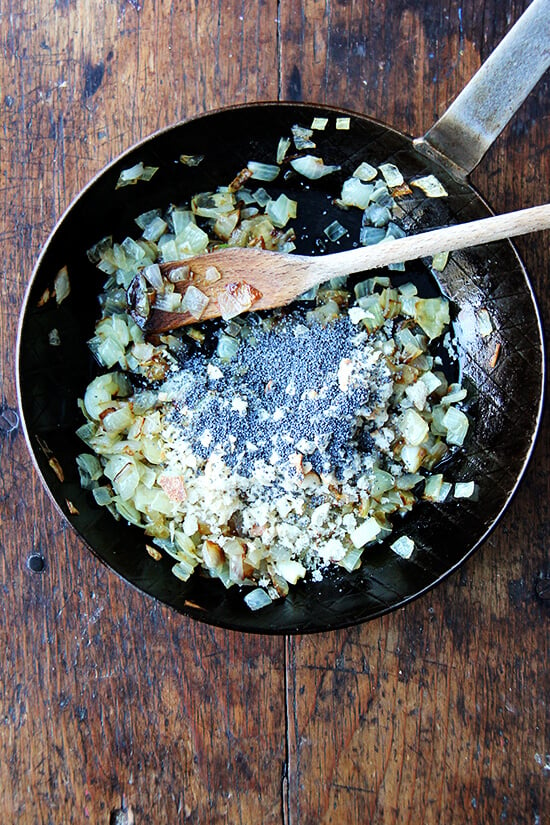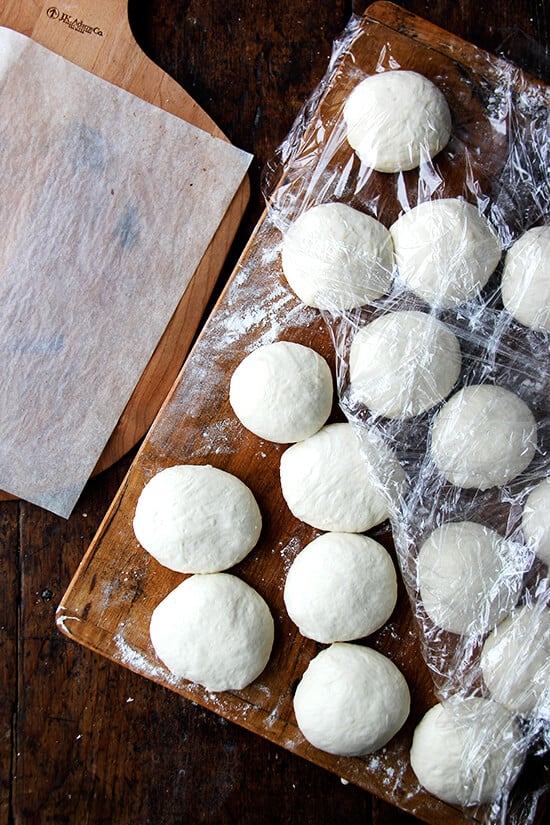 Make a well into the center of each bialy.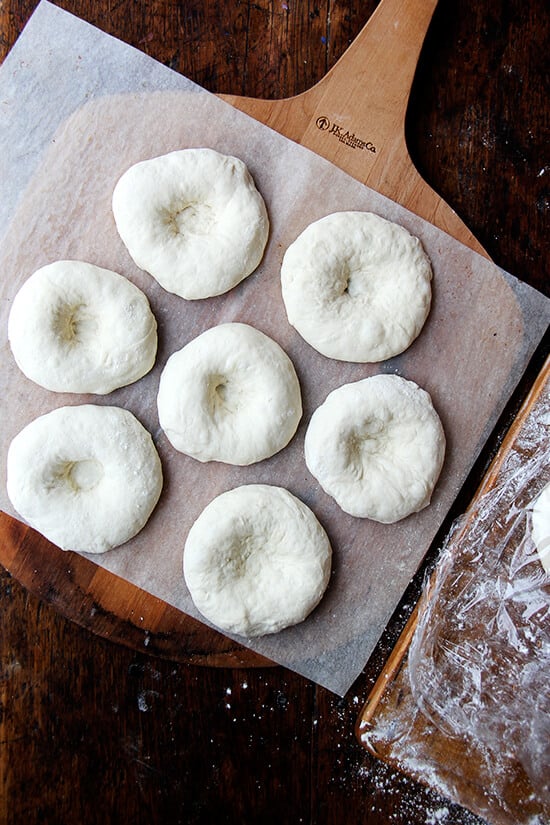 Fill each will with the poppyseed filling mixture.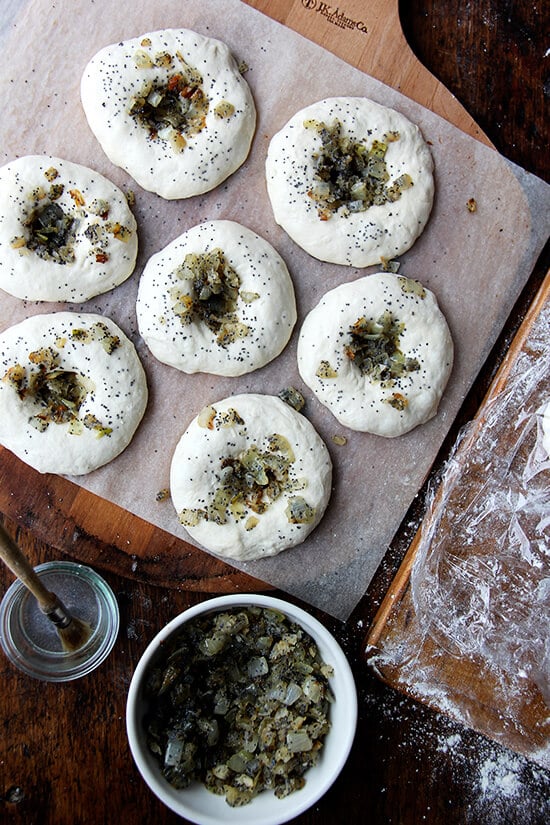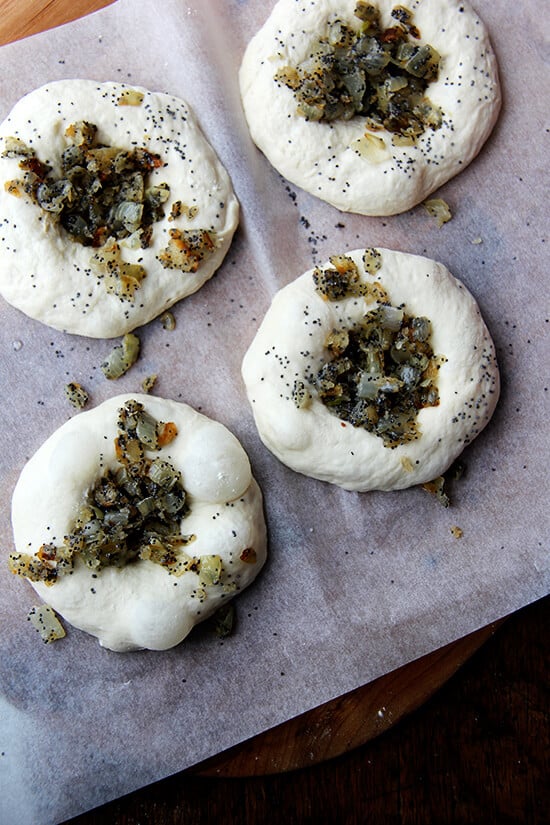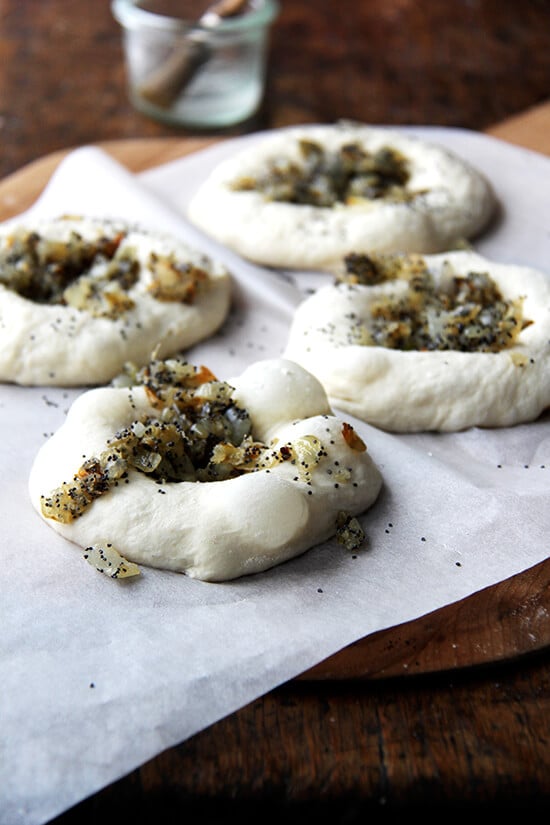 Transfer to preheated Baking Steel or pizza stone and bake for 8 to 12 minutes or until lightly golden.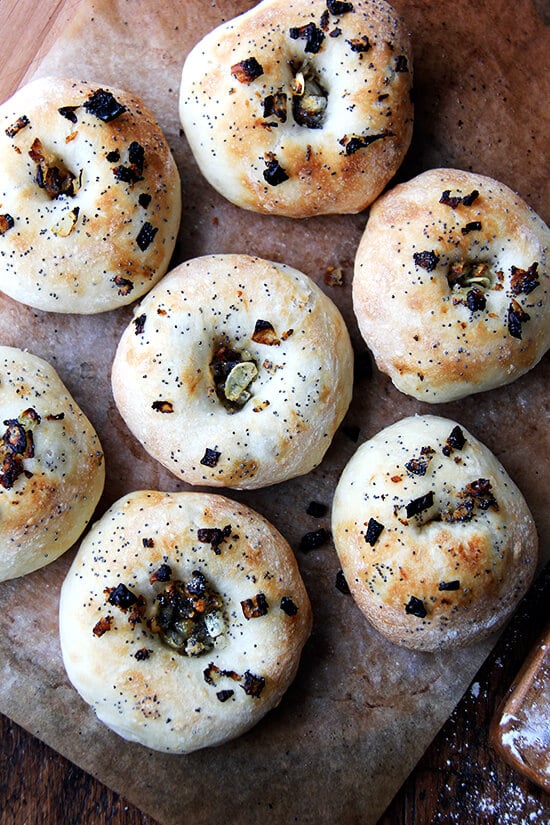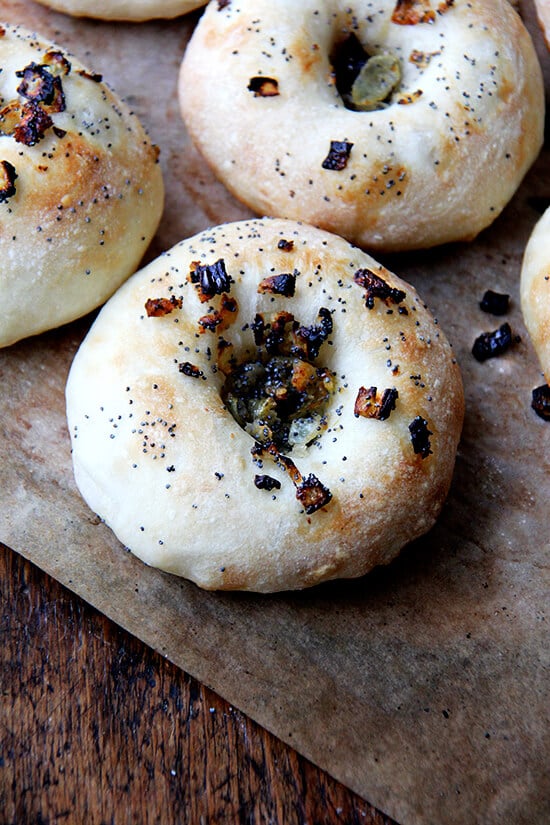 Eat as you wish. Here are a few ideas …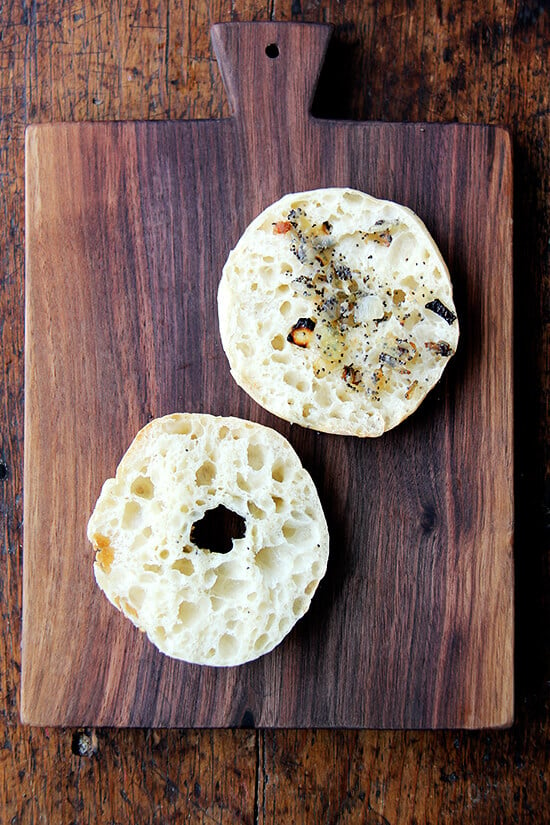 … topped with cream cheese, gravlax, capers, onions, chives, lemon.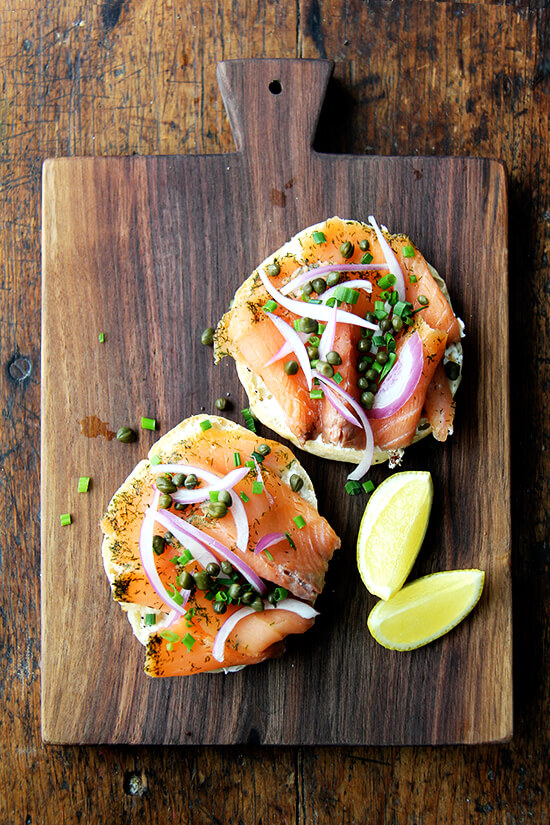 … or melted cheddar, fried egg, and sriracha: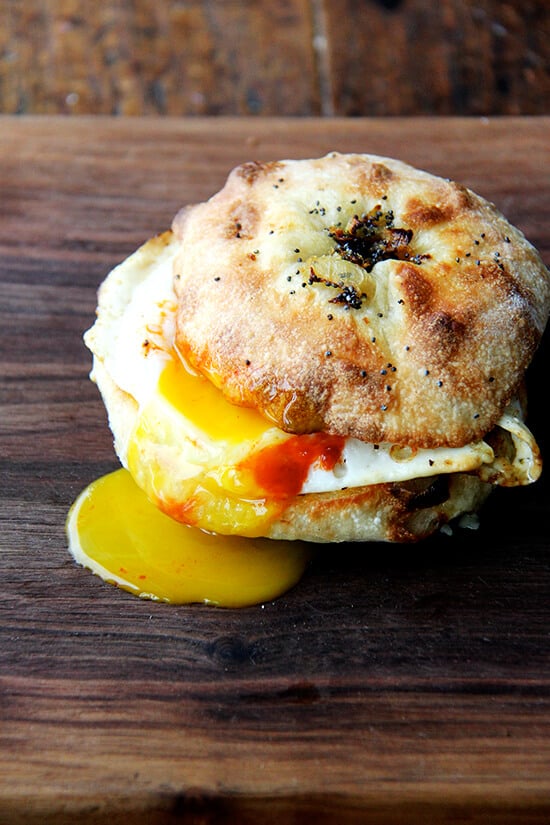 Note: The first batch I made puffed way up, which is totally fine and delicious, but maybe not as traditional. Be sure to really press down and stretch out that center area while you are shaping if you want that more traditional bialy shape.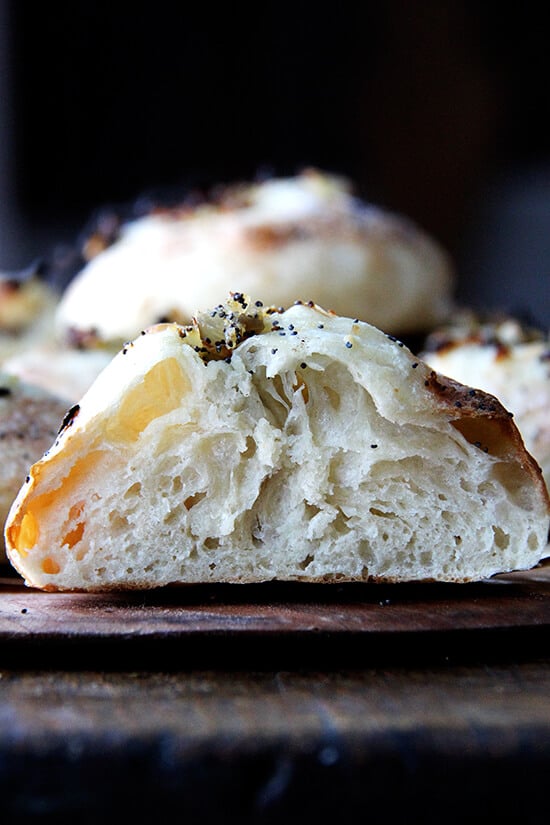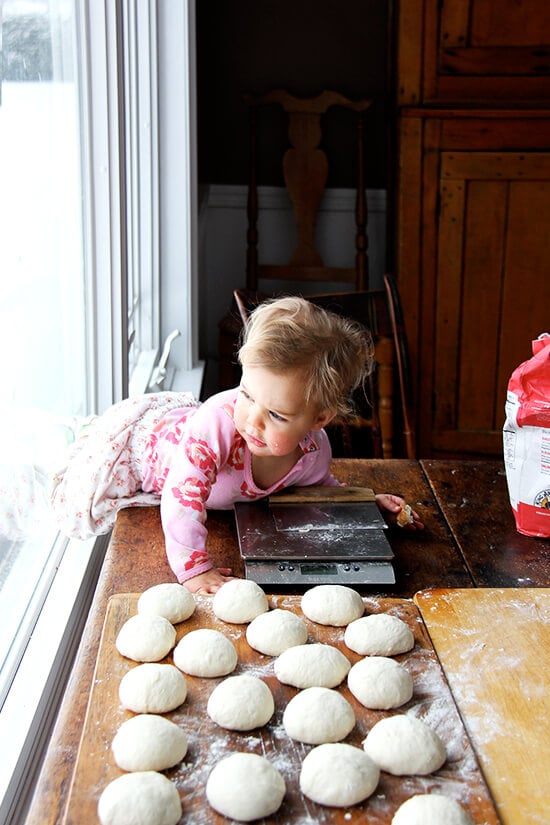 5 Secrets to Foolproof Bread Baking
See how easy bread baking can be in my free ecourse!
Print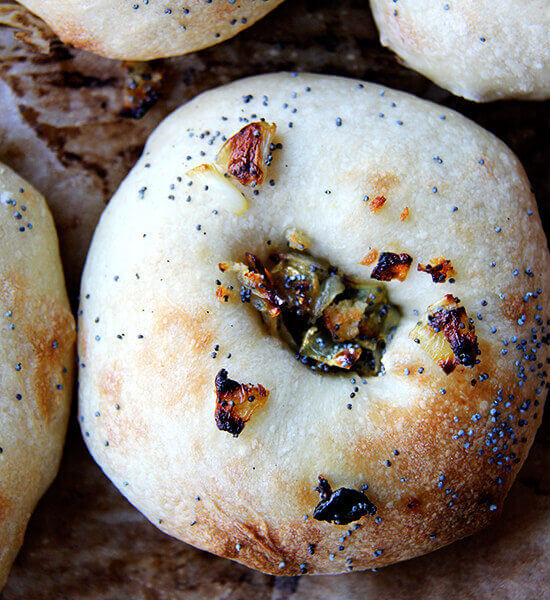 Bialy Recipe: A Step by Step Guide
---
Description
Recipe slightly adapted from Paul Krebs of Schenectady County Community College. Method adapted from Jim Lahey.
Krebs recommends using a high-protein flour. For the Lahey dough and for these bialys, I am partial to Tipo 00 flour. As always, SAF instant yeast is my preference.
Notes: You don't have to make these bialys using the no-knead, long, slow rise method. If you want to make them in the same day, increase the yeast to 2 teaspoons, and decrease the water to 2¾ cups. Knead the dough by hand or in a mixer until smooth and elastic. Let it rise for two hours, then proceed with the recipe.
---
for the bialys:
1000 g

(

7.5 cups

) bread, all-purpose or tipo 00 flour

20 g

(

5 teaspoons

) kosher salt

4 g

(

1 teaspoon

) instant yeast* (see notes above)

3 cups

(

680 g

) water** (see notes above)
for the filling:
2 tablespoons

olive oil or neutral oil (grapeseed, canola, etc.)

2

small onions, diced
kosher salt

¼ cup

fresh bread crumbs

1 tablespoon

poppy seeds plus more for sprinkling
---
Instructions
Whisk the flour, salt and yeast together. Add the water. Stir with a wooden spoon until combined, then knead gently with your hands to make sure all of the flour is incorporated. The dough should stick to your hands.
Cover bowl with plastic wrap and let rest at room temperature for at least 12 hours. When dough has risen, remove plastic wrap, and turn dough out onto a lightly floured surface. Portion dough into 90 g pieces.
Using lightly floured hands or enough flour to keep dough from sticking to you and your work surface, shape each portion into a ball. Cover balls with plastic wrap, then let rest for 45 minutes.
Meanwhile, place a baking stone or Baking Steel in your oven. It's OK if you don't have one. Preheat oven to 450ºF if you're using a stone or Steel, otherwise, preheat to 500ºF.
Make the filling: Heat the oil over medium or low heat. Add onion and sauté slowly until translucent. Add a pinch of salt. Continue to cook until onion is only slightly brown — I always overdo it…better to err on the side of underdone because the onions burn quickly once they are in the oven. Add breadcrumbs and poppy seeds to the pan. Stir to combine. Set aside.
Shape your bialys into 5-inch rounds with a raised rim and thin center: I do this by first punching down in the center of each dough ball when it is resting on my work surface. Then I lift up the round and with my thumbs in the center of the dough, I gently stretch the dough out so that the center begins looking paper thin, while the rim stays ballooned. It will take a little practice getting your shaping technique/method down, but the truth is that it doesn't really matter unless you are looking for that really traditional bialy shape — they will taste delicious regardless of the shape.
After shaping each one, place it on a parchment-lined baking peel. When you have five or six on your peel, brush each ball lightly with water. Sprinkle sides with extra poppy seeds. Spoon filling into center or scatter it over the top of each. Bake for 8 to 12 minutes depending on oven, baking vessel, etc.
When lightly golden, remove bialys from oven, let cool on wire rack and repeat baking process with remaining dough balls.
Prep Time:

25 minutes

Cook Time:

12 minutes
Keywords: no-knead, bialy, overnight, poppyseed
This post may contain affiliate links. Please read my disclosure policy.