Slow Cooker Flageolets, Gratinéed | Also, Bread Bowls
This post may contain affiliate links. Please read my disclosure policy.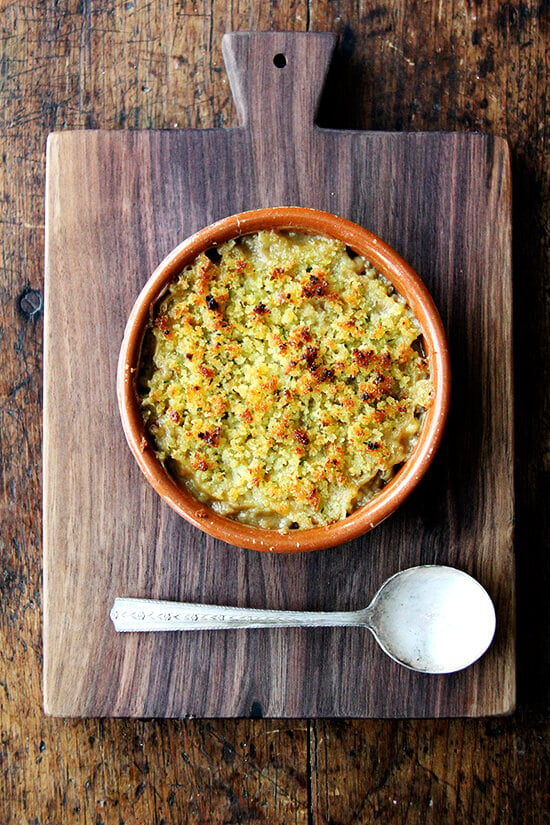 In the span of two weeks, I have managed to deplete a many-years-old supply of dried beans, freeing my pantry of half a dozen half-filled boxes and countless rubber band-bound bags (some holding mere tablespoons of beans). Yes, you guessed it, I have my slow cooker to thank for this small but very satisfying feat. The rebuilding has begun — just ordered more gigantes and flageolets — and it feels good.
What can I say, I've become a crockpot-for-beans evangelist. Here are a few things I've learned these past two weeks:
• Water works just as well as stock, so save your stock for your favorite soups and sauces.
• This combination of pantry staples produces an incredibly flavorful stock and, in turn, pot of beans: a bay leaf or two, 2 to 3 chopped onions, 2 to 3 cloves minced garlic, crushed red pepper flakes, thyme, olive oil, bacon or pancetta, and a parmesan rind if you have it.
• Nice additions include canned San Marzano tomatoes crushed right into the pot, and/or finely diced carrots and celery added during the final hour of cooking.
• For every 8 oz. of dried beans, 4 to 5 cups of water is about right.
• It doesn't seem to pay to use more than 2 oz. of bacon or pancetta — you end up with a thick layer of fat floating on top, which is no big deal — it can be skimmed off — but easily avoided.
• Gratinéed beans are irresistible. Most of the time I just ladle the stewy beans into a bowl, and tuck in with crusty bread. But, I recently made Ina Garten's Mustard Roasted Chicken, which reminded me how much I love crispy herbed breadcrumbs, which reminded me of gratinéed beans, which I made immediately. You can use any concoction of beans that emerge from your slow cooker or Dutch oven or whatever: just ladle beans into shallow dishes, cover with herbed breadcrumbs and bake until golden, about 20 minutes.
• Also, bread bowls. See below.
Sick of beans? And crockpot discussions? May I suggest a favorite chicken recipe this time of year? Ottolenghi's Roast Chicken with Clementines.
Or another sort of gratin? Love this sheetpan mac n' cheese.
Have a wonderful weekend, Everyone.
The basics for an incredibly flavorful broth and, in turn, pot of beans: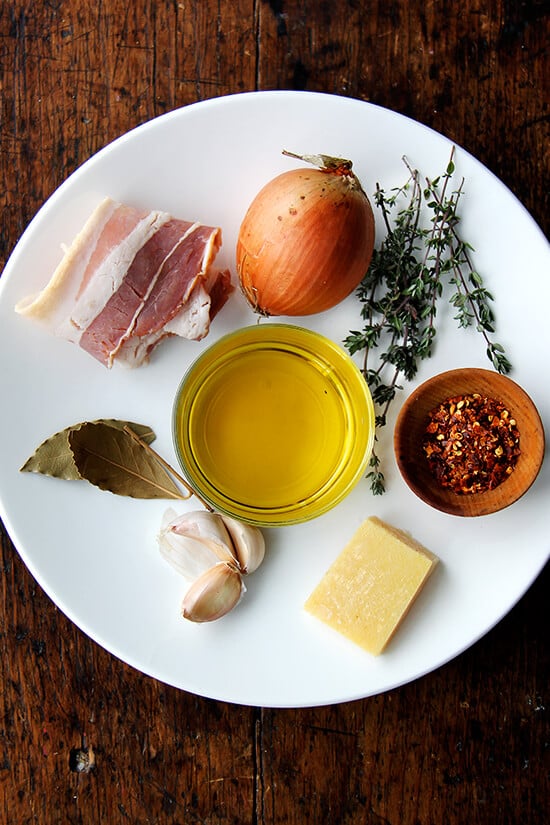 Flageolet beans can be hard to find, and if you can't find them, white beans work well here, too. I found this brand at Whole Foods, but I also love these Roland flageolets.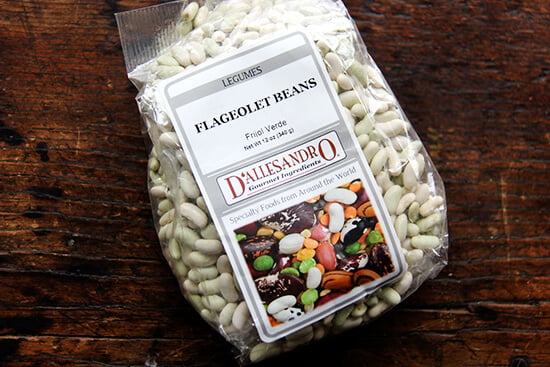 This is what the beans look like after 6 hours in the slow cooker: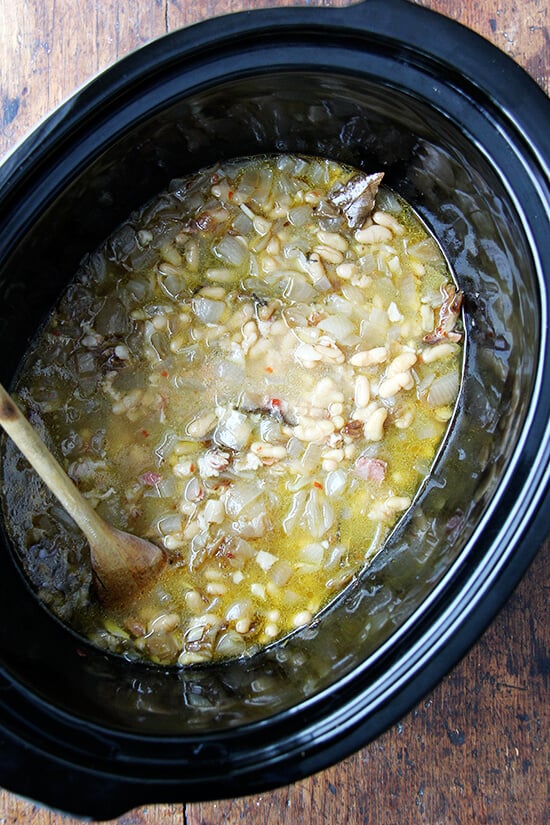 At this point, you can add finely diced carrots and celery and let the beans cook for an hour longer, which will allow the vegetables to cook without turning to mush. Or you can eat them as they are.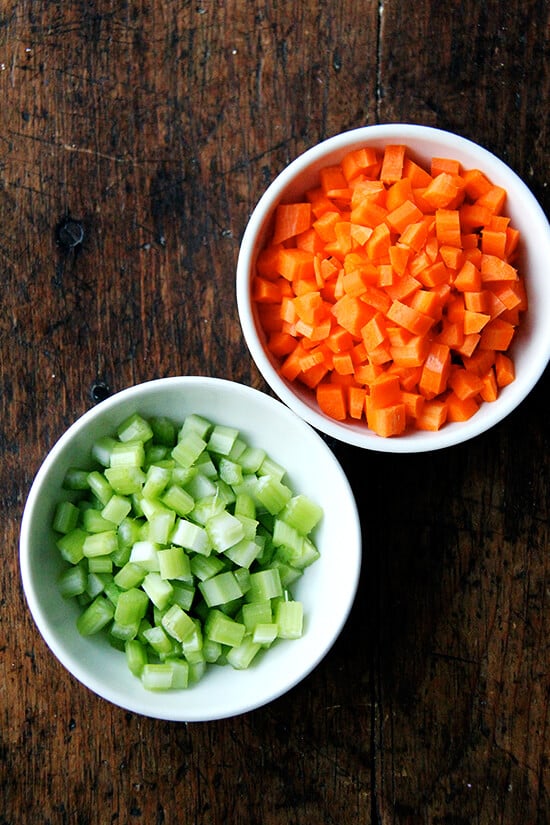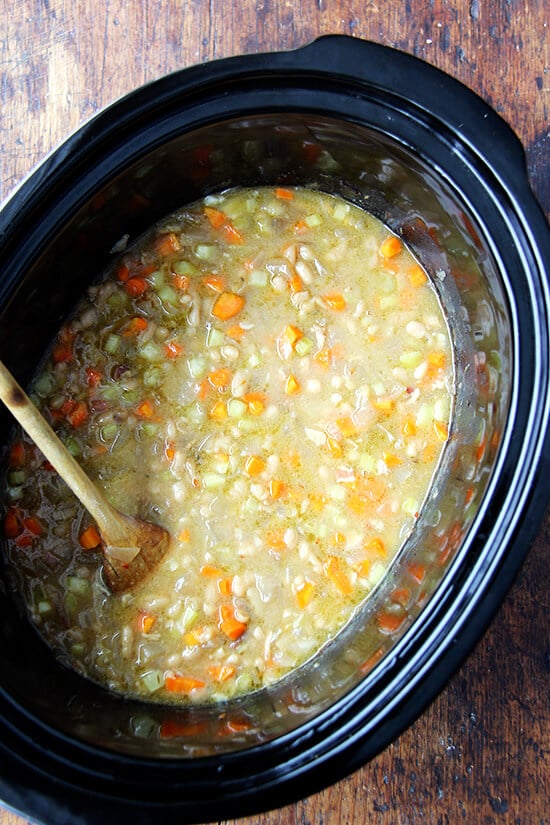 These are the same herbed breadcrumbs I use for Ina's mustard roasted chicken and similar to the ones in this sheetpan mac n' cheese gratin.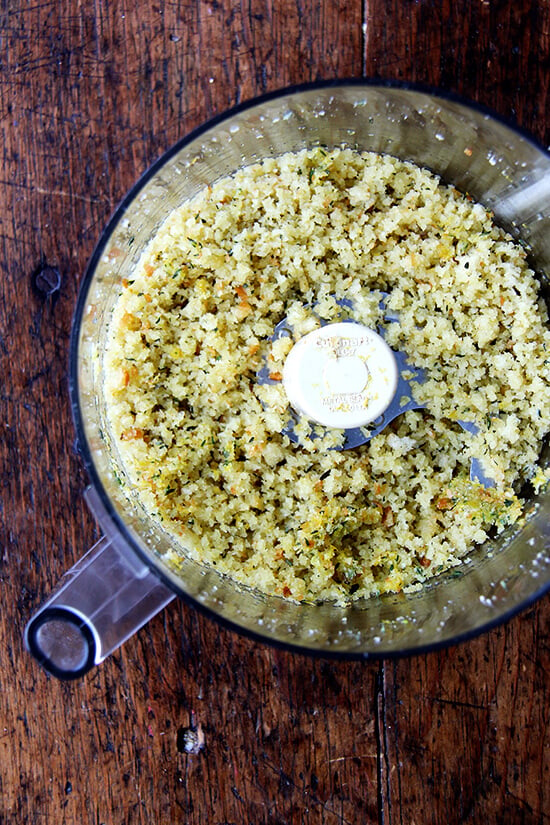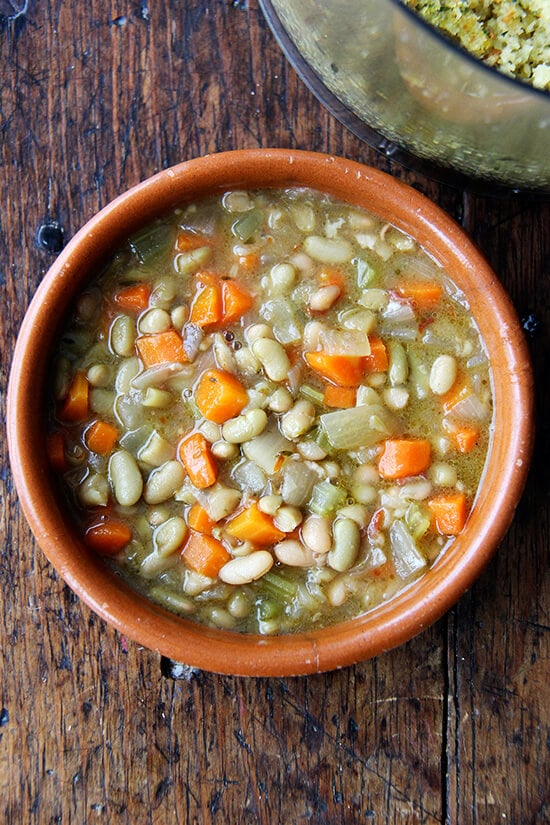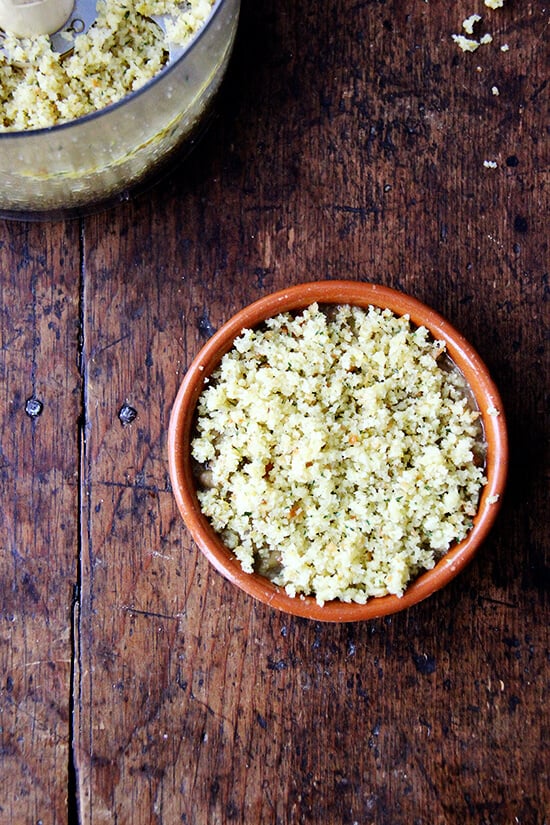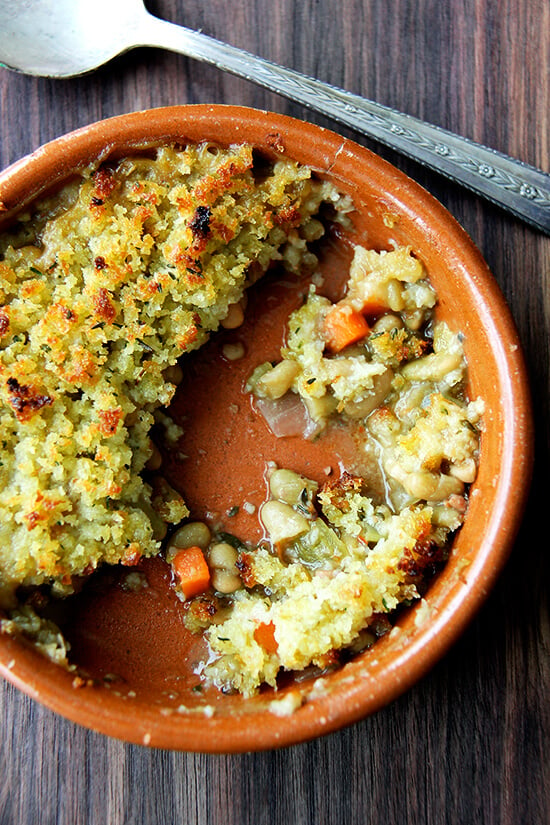 Print
Slow Cooker Flageolets, Gratinéed
---
Description
Last week I had my first slow cooker success: Gigante Beans with Pancetta and Tomatoes, and I've been using my slow cooker every other day since to make some sort of slow-cooked bean dish. I love these flageolets straight from the crockpot with crusty bread, but it's fun to cover them with breadcrumbs and bake them until they bubble, too.
---
for the beans:

8 oz

dried flageolet beans or white beans

1

bay leaf
pinch red pepper flakes
a few cloves garlic, smashed

two

onions, chopped
a few sprigs thyme

2 oz

. diced bacon
parmesan rind if you have one

4 cups

water

1/4 cup

olive oil
kosher salt to taste

1 cup

finely diced carrots

3/4 cup

finely diced celery
fresh cracked pepper for serving
shavings of Parmigiano Reggiano for serving (optional if you are making the gratin)
toasted bread for serving (optional if you are making the gratin)
for the breadcrumbs:

2

garlic cloves, peeled
a small handful fresh thyme leaves (if the strands are soft, no need to strip the leaves)
zest of

one

lemon
Kosher salt

2 cups

fresh breadcrumbs

3

to

4

tablespoons of olive oil
---
Instructions
Place beans, bay leaf, pepper flakes, garlic, onions, thyme, bacon, parmesan rind, water and olive oil into your crockpot. Cook on high for six hours. Taste beans. They should be done or close to done. Add carrots and celery, salt to taste — two teaspoons of kosher salt does it for me, but start with one then add more as necessary — and cook for 1 more hour. Note: You also can add the carrots and celery during the last hour of cooking, especially with flageolets, which seem to cook faster than other white beans. As alway, check water level every so often, and if it looks low, add more.
At this point, you can serve the beans with crusty bread, shaved Parmigiano Reggiano, and cracked pepper or you can spoon the beans into gratin dishes, cover with breadcrumbs and bake until golden. See below.
Make breadcrumbs: Place the garlic, thyme strands (stems, if they are soft, and all), lemon zest, and 1 1/2 teaspoons kosher salt in a food processor fitted with the steel blade and process until the garlic is finely minced. Add the breadcrumbs and 3 T of the olive oil, and pulse a few times to moisten the breadcrumbs. The crumbs should be moist — add the additional tablespoon of olive oil if necessary.
Preheat oven to 400ºF. Spoon beans into gratin dishes or any shallow, oven proof dish you have — if you are serving a lot of people, you could make one larger gratin in a pie plate or something similar. Cover beans with a layer of breadcrumbs. Cook until golden, about 20 minutes. Let sit 20 minutes before serving — these beans retain their heat for so long.
Is it passé to serve soup in a bread bowl? Good, just checking. I tried three vessels: a 2-cup Lifefactory storage container (the one with the orange sheath, which is ovensafe), an oven-proof cereal bowl, and a 6-oz ramekin.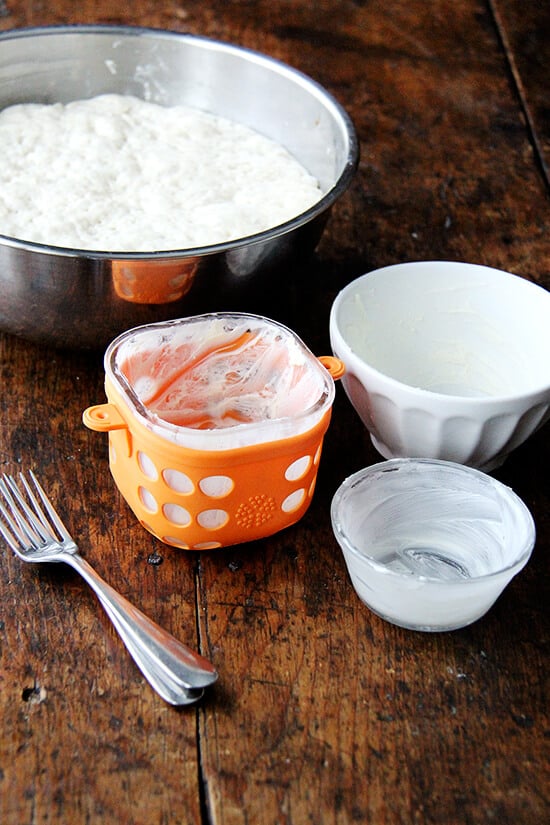 Rising: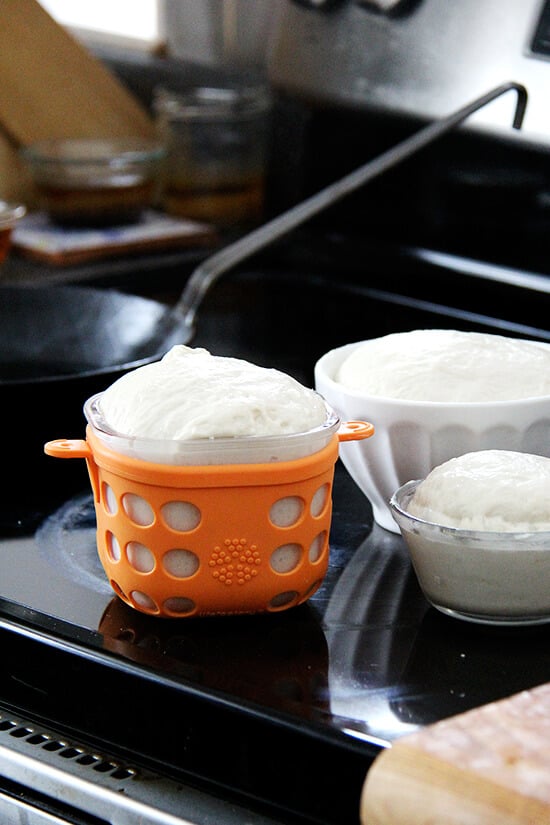 In the oven: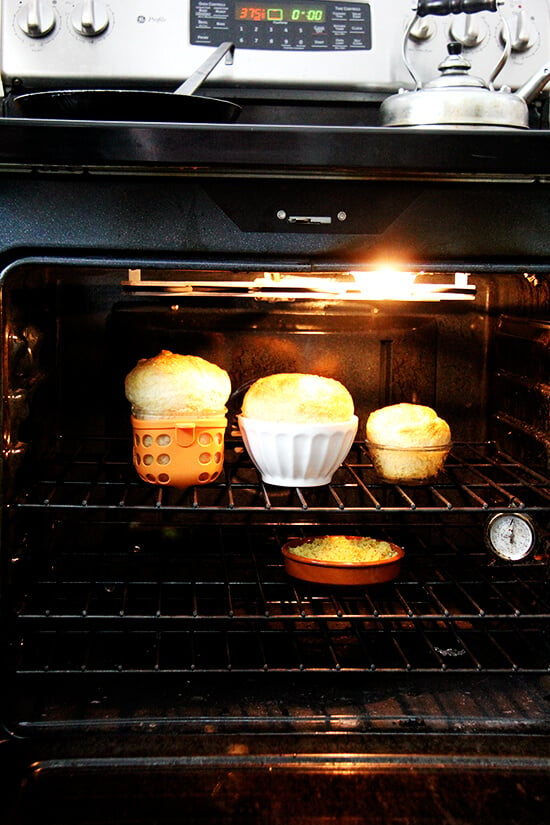 Just baked: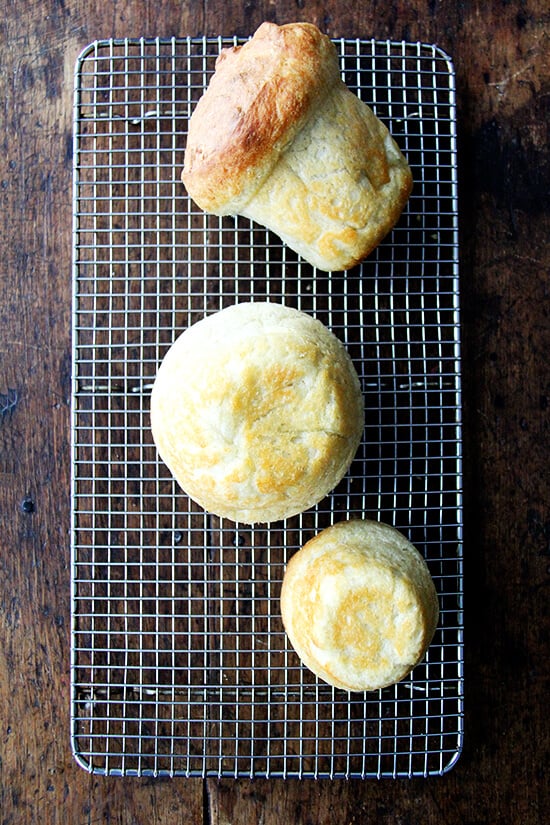 The winner? The 6-oz ramekin: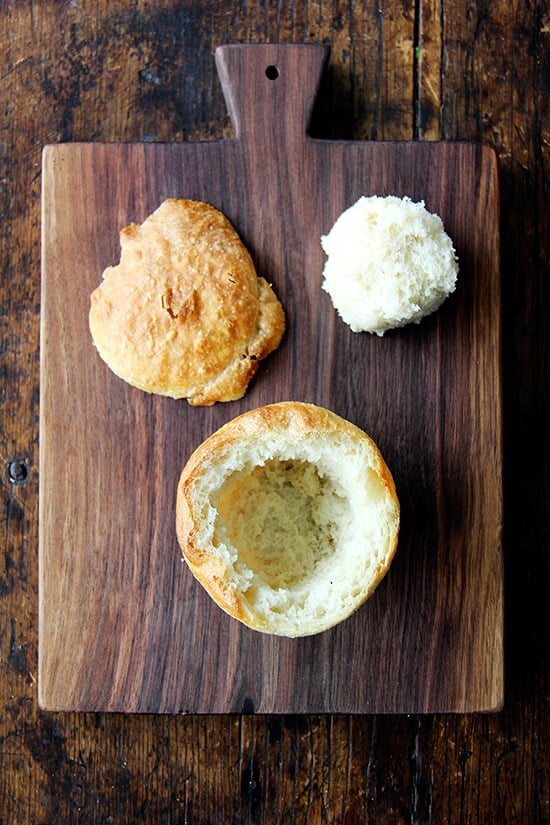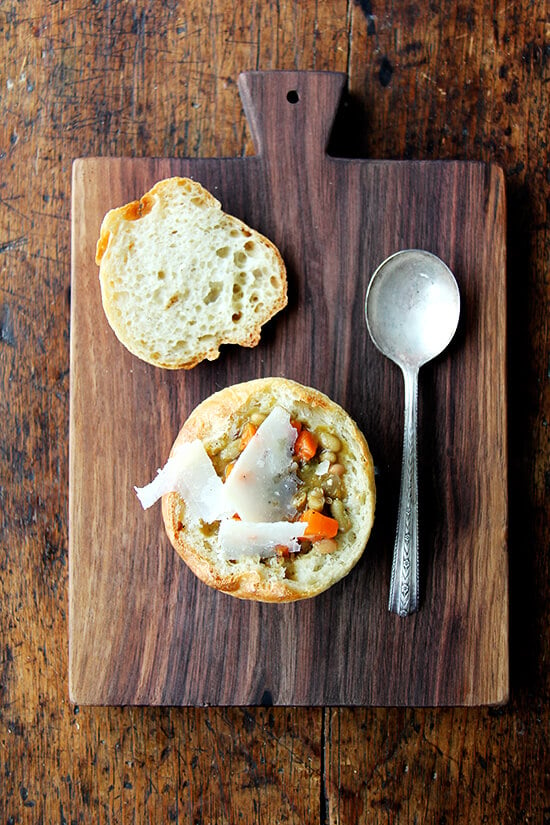 To make bread bowls: Follow peasant bread recipe through step 2. Then, preheat the oven to 425ºF, grease 6-oz ramekins or something similar with butter — be generous. Divide the dough so that each ramekin is filled with dough till just below the rim. Let ramekins of dough rise in a warmish spot (on top of the oven as long as it is not too hot is a good spot) for 20 minutes or until the dough begins to creep above the rim. Bake for 15 minutes. Reduce heat to 375ºF and bake for 15 to 17 minutes more or until the bowls are golden. Turn loaves out onto cooling rack and let cool completely before using for bread bowls.
To use as bread bowl, cut off a small portion of the top. Use a knife to carve out the innards. Pull out the bread, pour in the soup, and serve.
Note: I would imagine one peasant bread recipe would yield about 6 to 8 bread bowls, maybe more.
This post may contain affiliate links. Please read my disclosure policy.