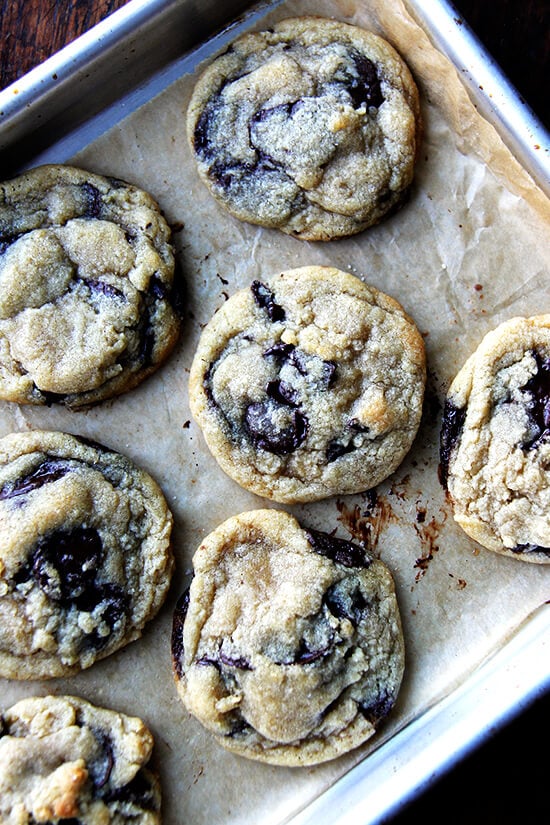 I need another cookie. You?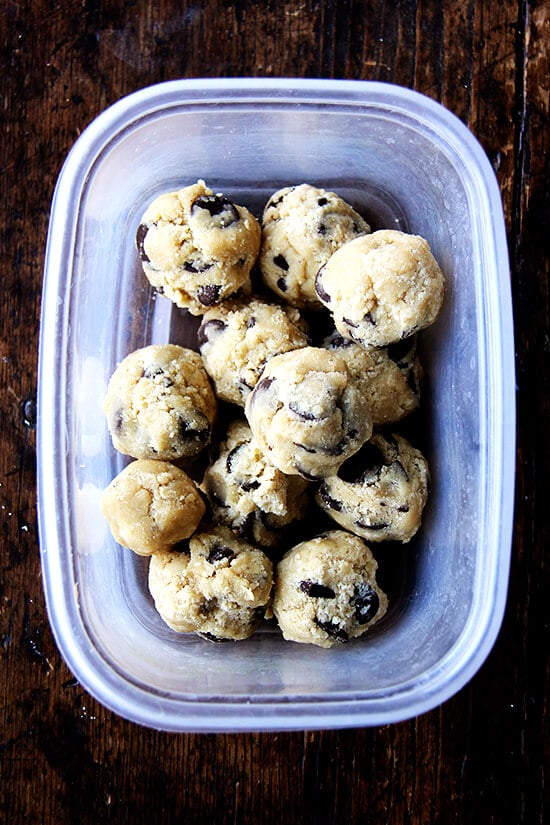 Over the weekend, Ella and I made cookies, soft and chewy chocolate chip cookies, the ones that still happen to be my favorite, chocolate chip or otherwise, a decade after first making them. I've posted this Fine Cooking recipe before, twice actually, but in each post it has been buried beneath another recipe, and I thought it was time to give it its own space.
Also, snow. You might be holed up. Cookies might help. I can't think of a better way to pass the time. Stay warm, Everyone.
A few thoughts/notes for perfect soft and chewy chocolate chip cookies every time:
1. A scale is best for accurate measuring. Butter should be at room temperature.
2. Chocolate: Over the years I have made these cookies with crappy chocolate chips, crappy chocolate chunks, high-quality chocolate bars roughly chopped, and chocolate pistoles. The cookies have never failed to please no matter the chocolate morsel, but, in my old age, I do have two preferences:
• Most recently I discovered chocolate pistoles (Guayaquil Pistoles Ecuadorian Cacao, 64% cacao, photo above) at the Honest Weight Food Co-op in Albany. The flavor of the chocolate is great, and I love having big chunks of chocolate in my cookies that are distinct from the soft and chewy dough.
• Before I discovered these pistoles, however, I was chopping up bars of Scharffen Berger 62% cacao, which creates the effect of chocolate melting throughout the cookie along with some nice chunks. Both chocolates/methods are delicious, it's just a matter of preference.
3. For this recipe, portion the dough into 1.75 oz (48 g) balls, also using your scale. So anal, I know, but the cookies bake evenly every time.
4. Chill the dough balls. The cookies taste even better when baked from dough balls that have been chilled. Keep unbaked balls in an airtight container in the fridge — they'll last for weeks there. Bake off as you need.
5. Bake cookies of this size for exactly 11 minutes at 375ºF. Remove tray from oven and let cookies cook completely on cookie sheet. They will not look done when you pull them out of the oven. Have faith. Again, do not remove cookies from sheetpans until they are completely cool. I think these cookies taste best once they are completely cool.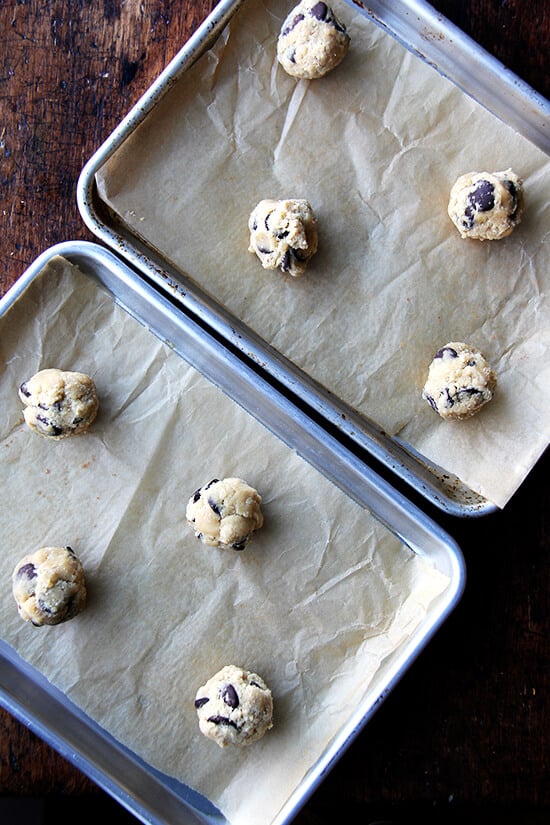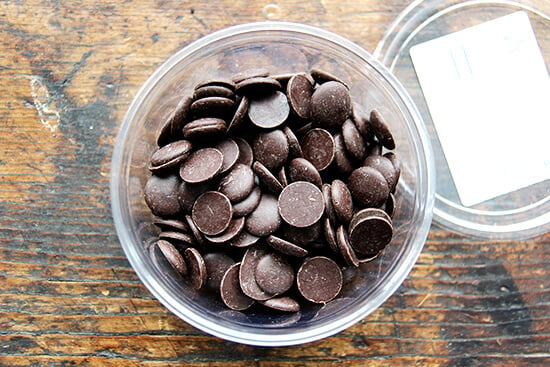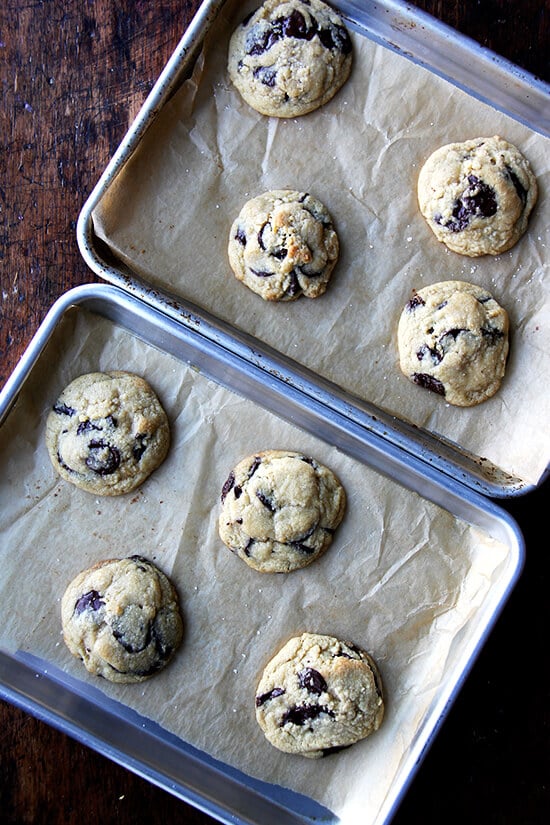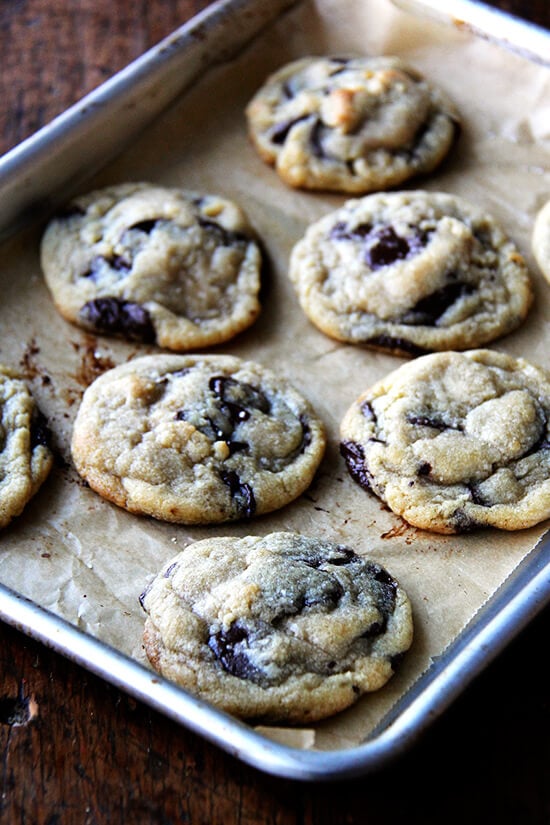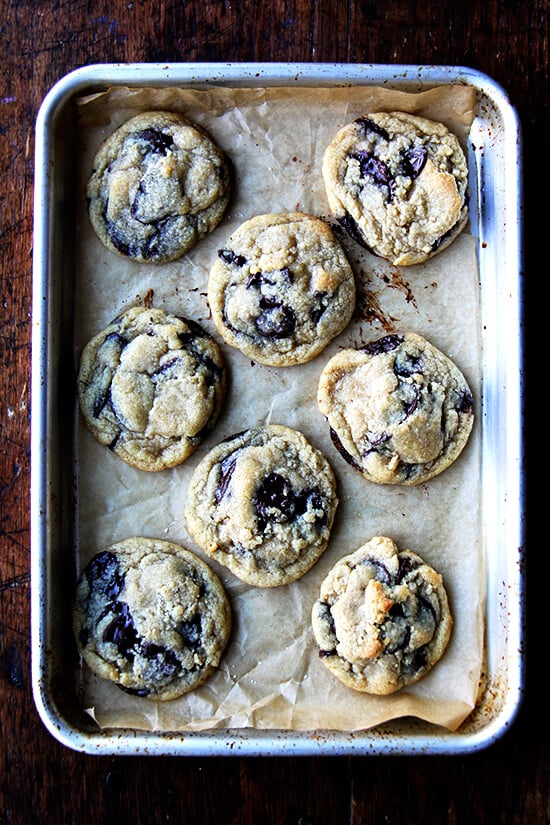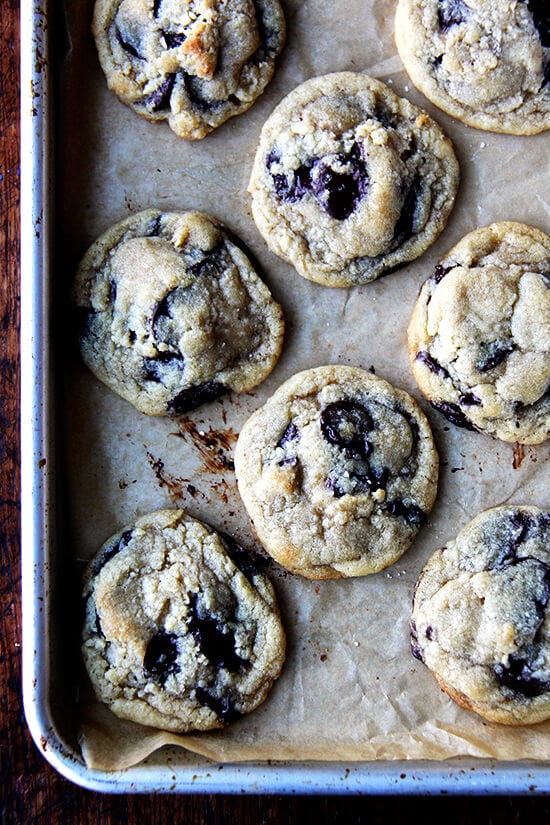 Print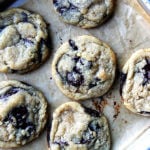 Soft and Chewy Chocolate Chip Cookies
---
Prep Time:

15 minutes

Cook Time:

11 minutes

Total Time:

1 hours 36 minutes

Yield:

35 cookies
Description
Source: Fine Cooking 2003
Notes: This recipe halves beautifully, too. When I make a half batch, I use two teaspoons of vanilla, and I use a scant teaspoon of kosher salt. See other notes above re measuring/baking.
---
Ingredients
10¾ oz

unsalted butter (

1⅓ cup

s)

10¼ oz

light brown sugar (

1½ cup

s packed)

7¾ oz

granulated sugar (

1 cup

)

2

large eggs

1

T. pure vanilla extract

17 oz

unbleached all-purpose flour (

3¾ cup

s)

1.5 tsp

table salt

1 tsp

. baking soda

12 oz

semisweet or bittersweet chocolate chips (see notes above)
nice sea salt for sprinkling, optional
---
Instructions
Cream butter and sugars together in the bowl of a stand mixer fitted with the paddle attachment, until light and fluffy. Scrape the bowl, beat again on high for one minute. Add the eggs and vanilla and beat until well blended, about another minute on medium-high speed. Whisk flour, salt and baking soda together in separate bowl. Add to butter mixture and combine with a spatula or wooden spoon (or very briefly with paddle attachment) until just blended. Add the chocolate chips and stir till combined. The dough will be stiff.
Portion into 1¾ oz (48 g) sized balls. This is a tedious task, but it makes for beautiful and uniform cookies that bake evenly. If you have a digital scale, this is easy; if you have no scale, use a small ice cream scoop or some other uniform measuring device. Chill the portioned balls for at least one hour, or keep in the fridge for weeks or freeze for months.
Preheat oven to 375°. Place portioned balls nicely spaced on an ungreased or parchment-lined jelly roll pan. Sprinkle with sea salt if using. Bake for 11 minutes, rotating the sheet halfway through cooking. Keep a close watch. You want to remove the cookies from the oven when they still look slightly raw—you will think you are removing them too early. The cookies will continue cooking as they sit on the tray out of the oven. Let cookies cool completely on tray before removing.
---