Easy Garlic Monkey Bread
This post may contain affiliate links. Please read my disclosure policy.
Making homemade monkey bread requires understanding a method more than a recipe. Take pizza dough, divide it into small balls, brush those balls with a flavored butter, cram those balls together into a vessel, top with grated cheese, and bake until golden. Simple and delicious! 🍞🍞🍞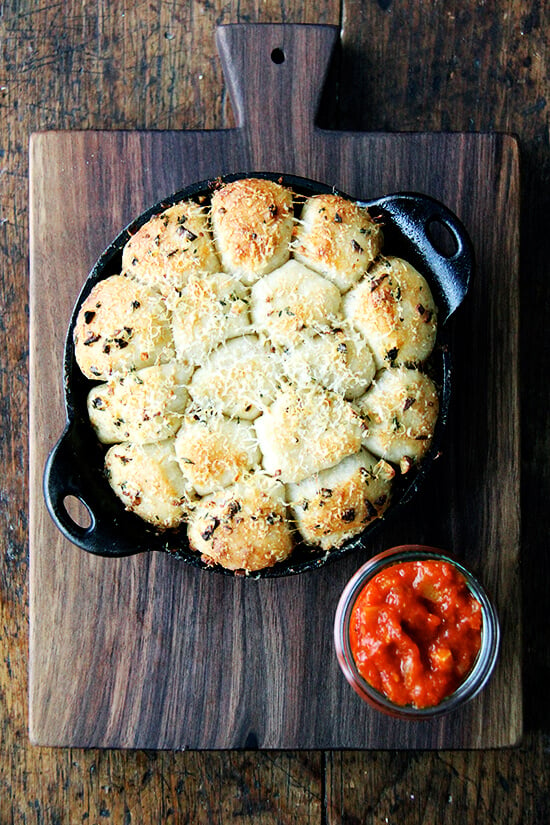 This past fall, a friend who was traveling, cooking and eating her way through Italy, sent me the loveliest book: Pasta, a collection of recipes from the kitchen of The American Academy in Rome. She had learned about the book and the story of the Rome Sustainable Food Project during her travels, and found the recipes in the book, many of which she made during her stay, matched the food she was eating out and about on a daily basis.
The story of the RSFP begins in 2006, when the AAR decided it was time to step up its game in the kitchen, which had been surprisingly poor given its location in a city with traditions deeply rooted in its food. And so the AAR reached out to Alice Waters, who said she would help provided her efforts would lay the foundation for a movement, a sustainable model other institutions could replicate. And so was born the RSFP, a teaching kitchen in which interns learn the basics of Italian and seasonal cooking.
The layout of Pasta mirrors how the RSFP teaches interns, beginning with simple pasta dishes, graduating to more complex. I have made several recipes now, including a macaroni with slow-cooked cauliflower, anchovies, garlic and rosemary, a baked pasta with tomato sauce and mozzarella, and this spicy tomato sauce with onions and guanciale — the sauce for the book's bucatini all'amatriciana — all of which have been delicious.
Soon I will make the bucatini all'amatriciana, but in the meantime, I will continue polishing off skillets of this garlic-and-thyme monkey bread, each bite accompanied by a dollop of smoky, spicy sauce.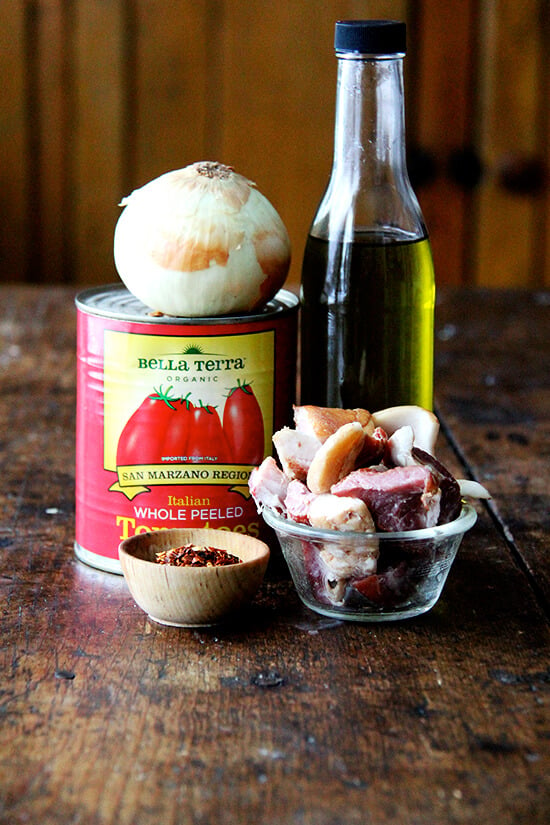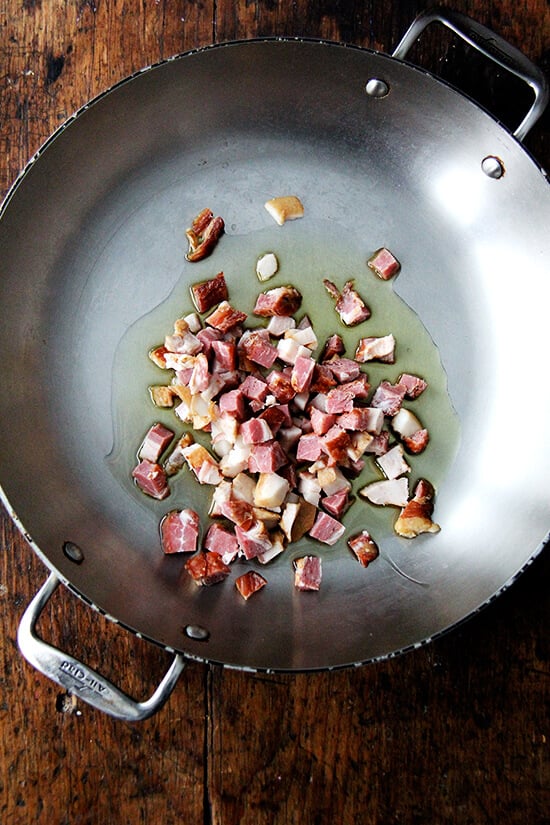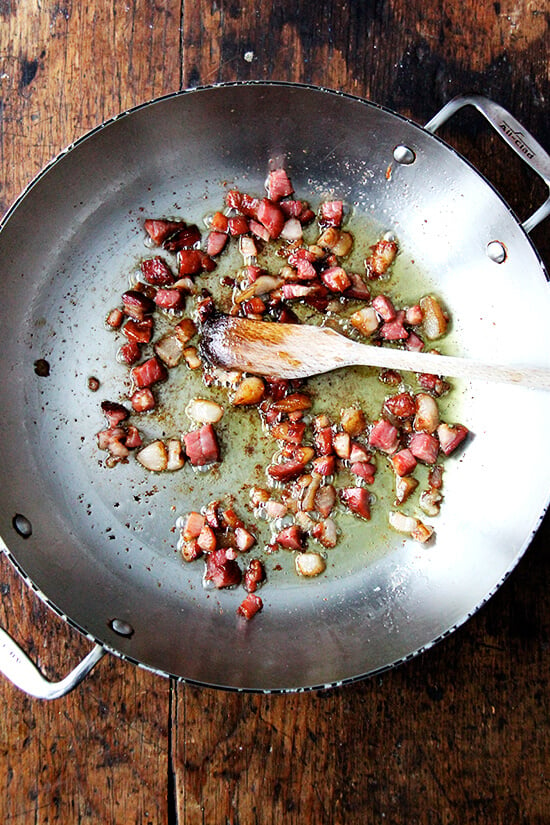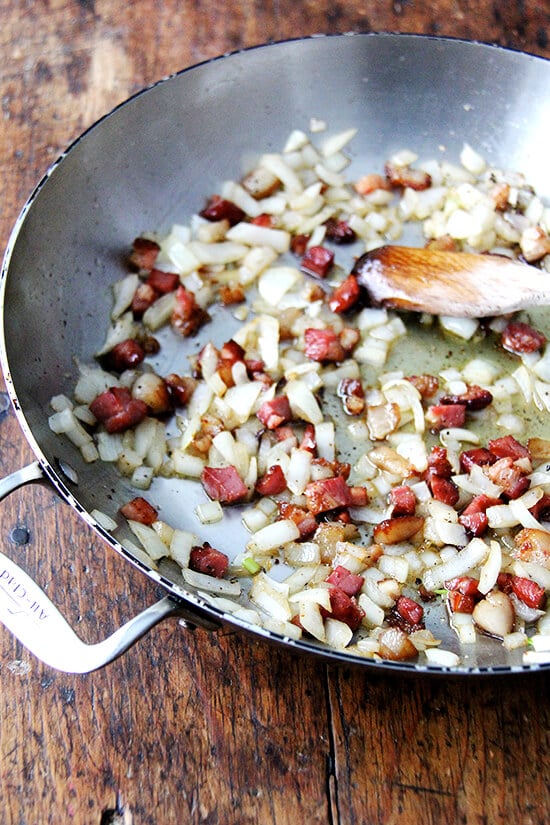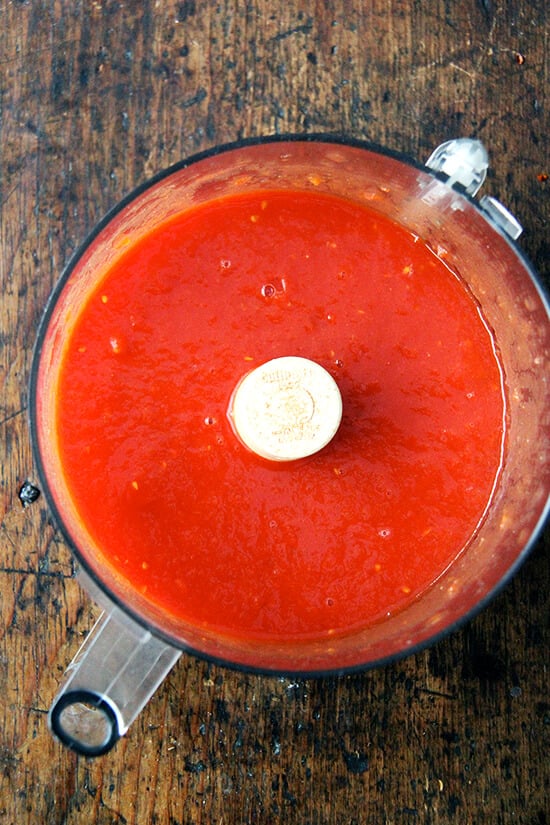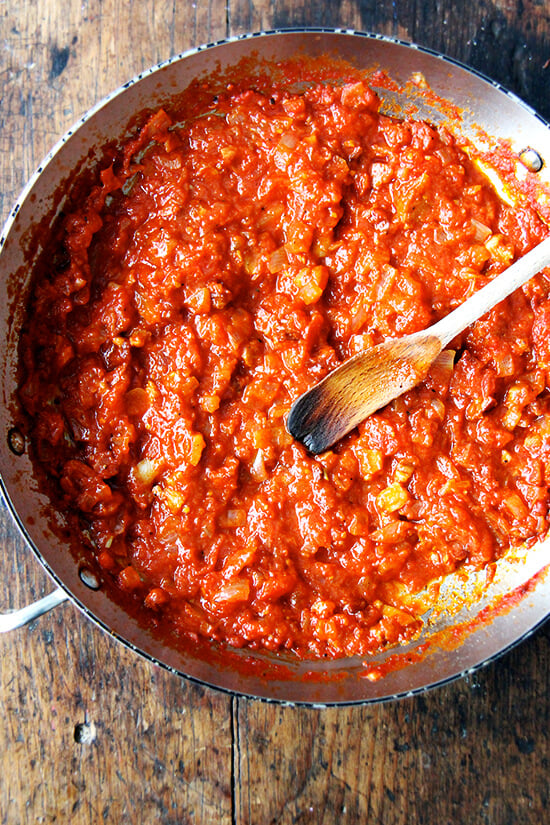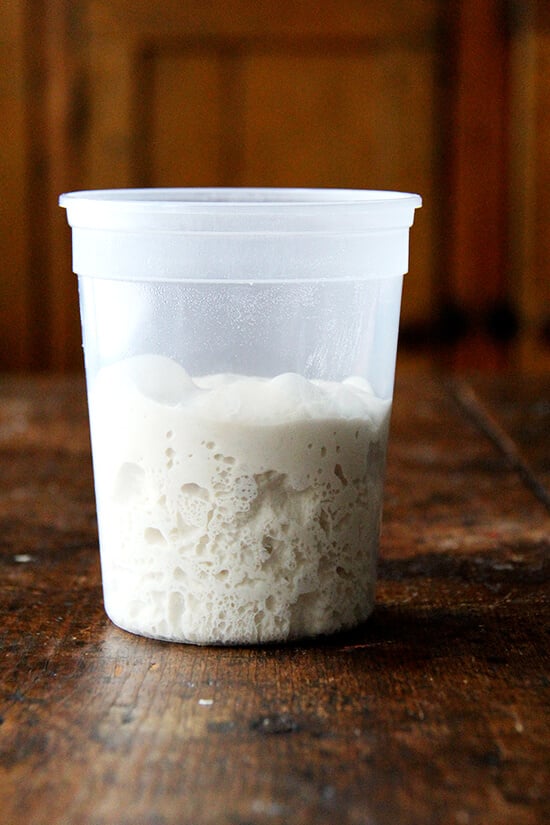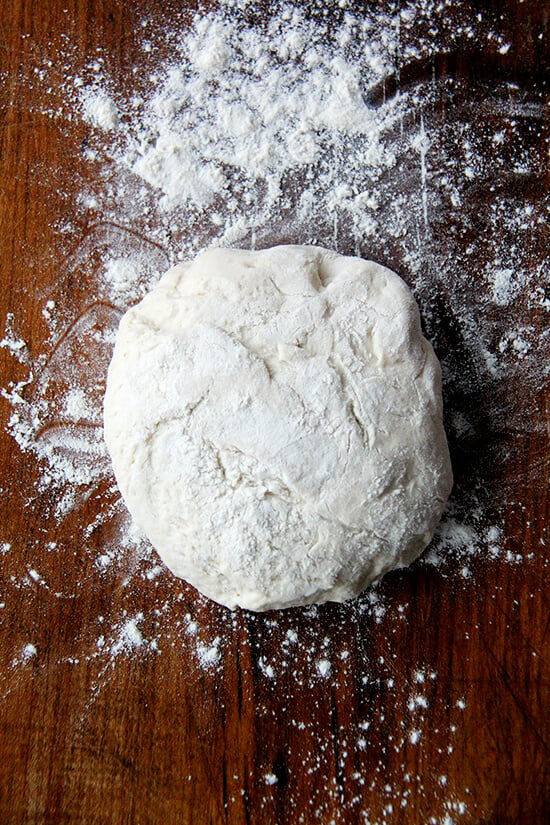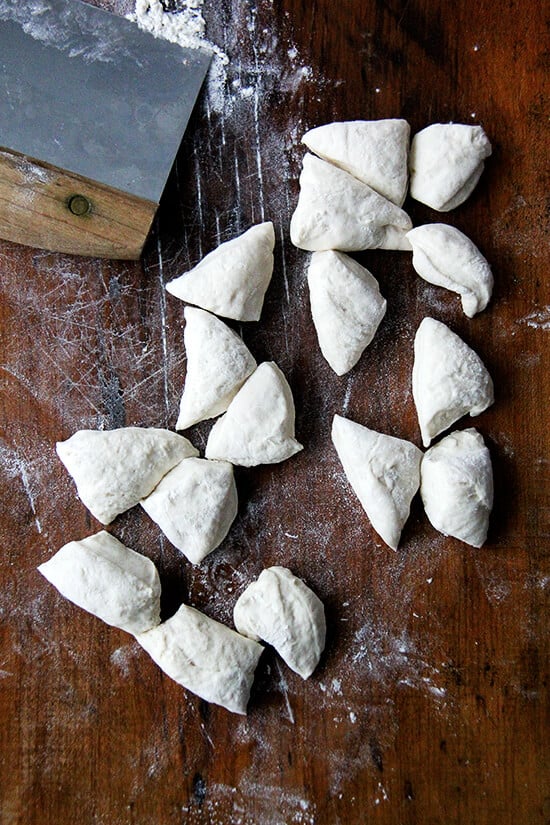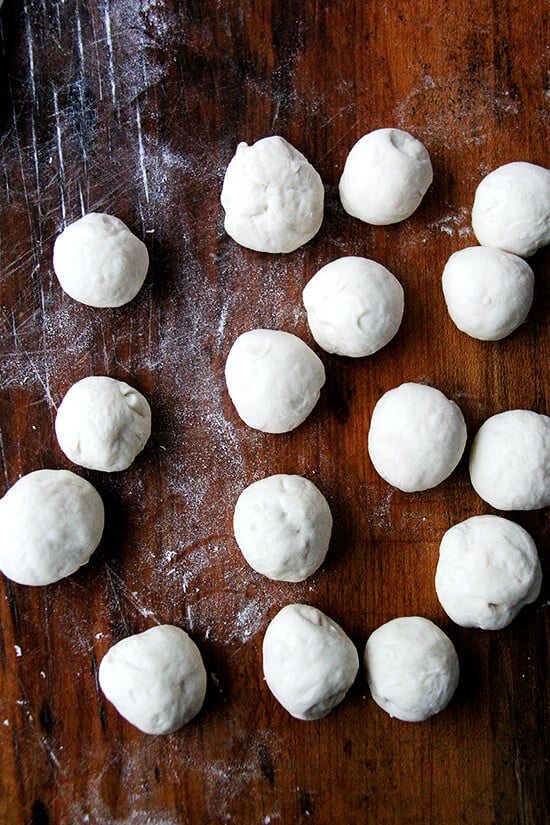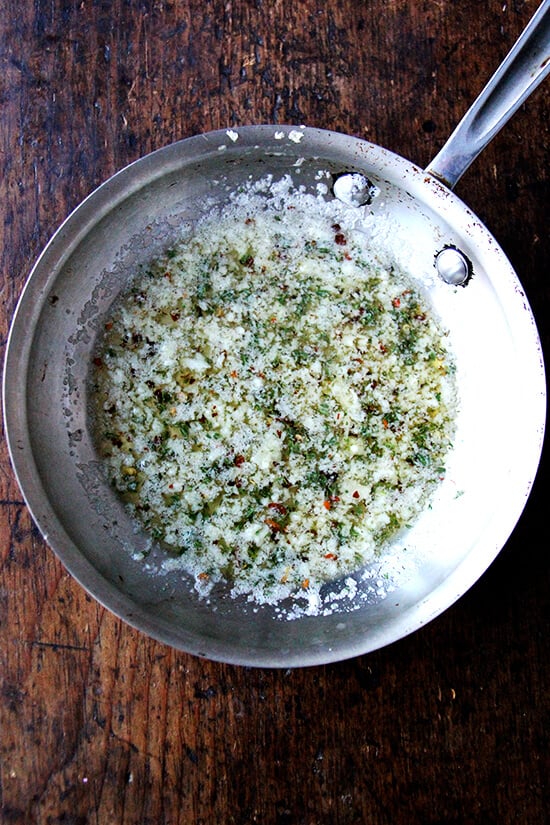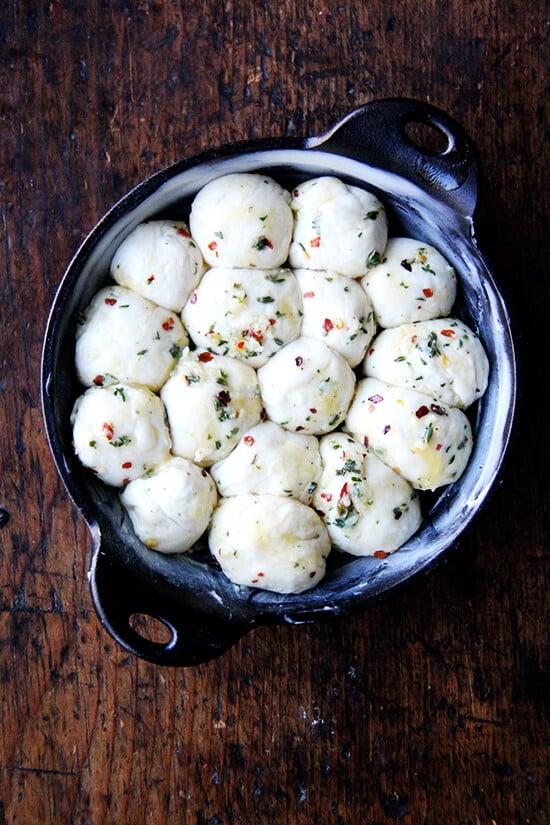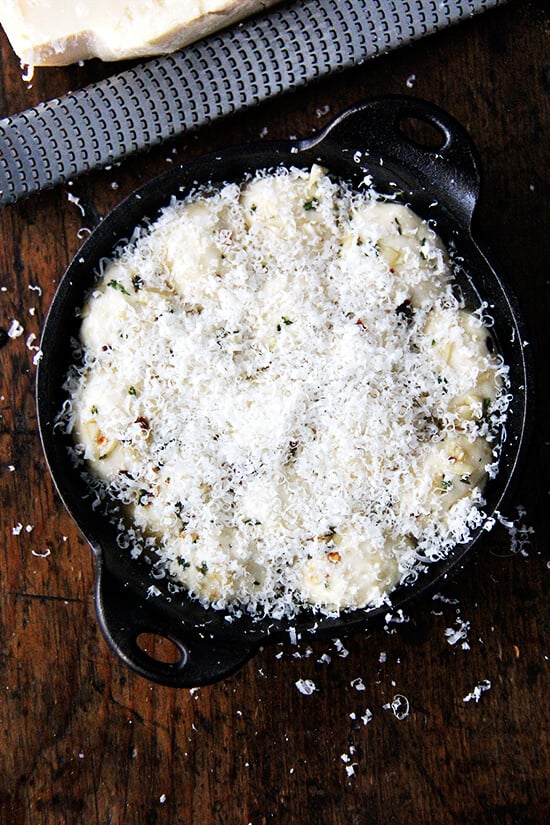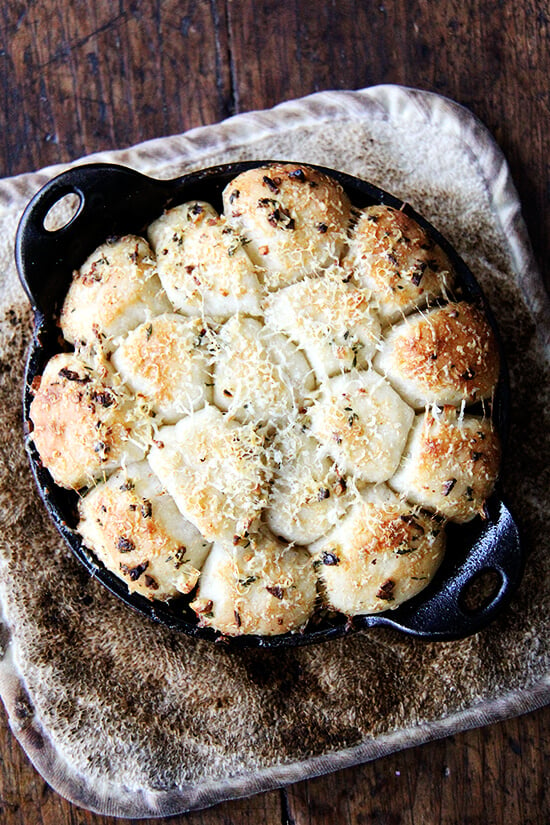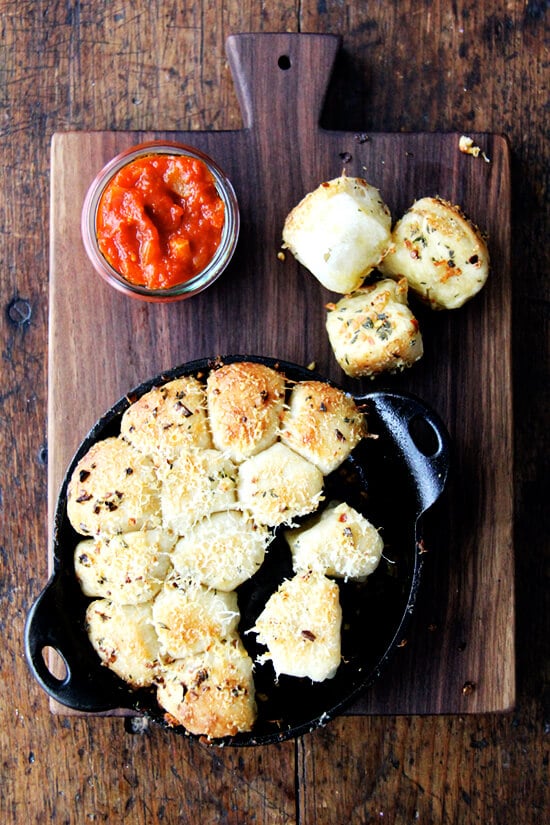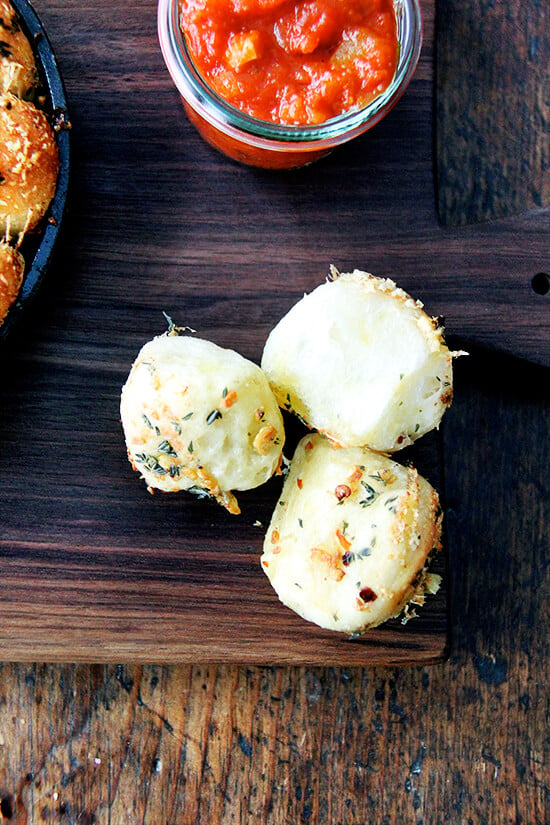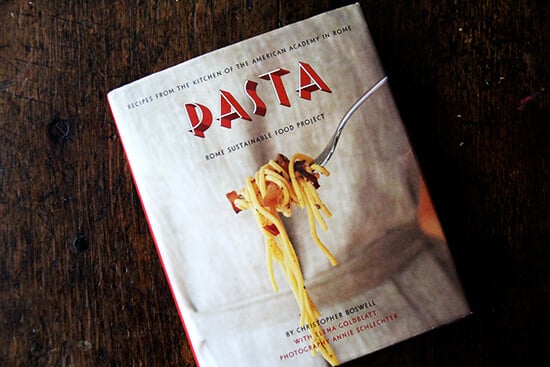 Print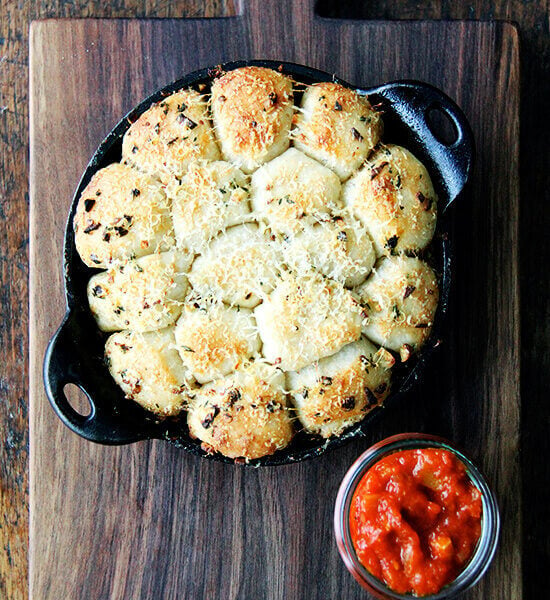 Easy Garlic Monkey Bread
---
Description
Monkey Bread Dough recipe adapted from the pizza recipe in my cookbook, Bread Toast Crumbs. 
Making monkey bread requires understanding a method more than a recipe. Essentially, you take pizza dough (about a pound for a standard 9-inch skillet or baking dish), divide it into small balls, brush those balls with a flavored butter, cram those balls together into a vessel, top with grated cheese if desired, and bake until golden.
You can bake monkey bread in Bundt pans, too — you might need as many as two pounds of dough for a Bundt pan. Adjust butter, garlic, thyme quantities to taste.
Notes:
If you don't want to make the dough from scratch, you can use a pound of store-bought pizza dough in its place. 
If you make my pizza dough recipe, this is half the recipe, so if ever you find yourself with two rounds of dough stored in your fridge, you can use those two rounds in this recipe. 
Sauce recipe: Pasta: Recipes From the Kitchen of the American Academy in Rome
---
for the monkey bread dough, see notes above:
2 cups

(

256 g

)  all-purpose flour

1 teaspoon

(

6 g

) salt

1 teaspoon

(

4 g

) instant yeast

1 cup

(

227 g

) lukewarm water
for the garlic butter:
4 tablespoons

butter

2

cloves garlic
pinch red pepper flakes
fresh thyme leaves, a tablespoon or more
sea salt
Parmigiano Reggiano
for the tomato sauce:
3 tablespoons

extra-virgin olive oil

6 oz

. guanciale, pancetta or bacon, cut into

½

-inch dice

1

large onion, diced
coarsely ground black pepper to taste

28

-oz can canned whole San Marzano-style tomatoes, puréed with hand blender or food processor

1 teaspoon

hot red pepper flakes (or less if you are sensitive to heat)
---
Instructions
Make the monkey bread dough: In a large bowl, whisk together the flour, salt, and instant yeast. Add the water. Using a rubber spatula, mix until the water is absorbed and the ingredients form a sticky dough ball. 
Cover the bowl with a damp tea towel or plastic wrap and set aside in a warm spot to rise for 1 to 1 1/2 hours, or until the dough has doubled in bulk. (If you are making the tomato sauce, jump down to step 7 and get going on that :)). 
Preheat the oven to 450ºF. Butter a 9-inch cast iron skillet or baking dish. Cover a work surface or cutting board liberally with flour — use at least 1/4 cup and more as needed. The dough is very wet, so don't hesitate to use flour as needed. Turn the dough out onto your floured surface and use a bench scraper to divide the dough into 18 to 20 small portions (or 12 to 14 larger portions). With floured hands, roll each portion into a ball, using the pinkie-edges of your hands to pinch the dough underneath each ball. Transfer the balls to the prepared skillet, and let sit for at least 30 minutes without touching.
Make the flavored butter: Place butter in a small saucepan over low heat. Finely mince the garlic — I suggest using your garlic press here if you have one — and add to the butter. (The more finely minced the garlic, the less it will burn.) Add a pinch of red pepper flakes. Mince the thyme leaves and add to the butter. Once butter is melted, remove the pan from heat.
Brush the seasoned butter over the bread balls, being sure to reserve a few tablespoons for brushing the rolls out of the oven. Season with a pinch of nice salt. Grate a thin layer of cheese over top — I used my microplane here.
Bake for 15 to 20 minutes or until the balls are puffed and beginning to brown. Remove from the oven and brush with the reserved garlic-herb butter. Let cool briefly before serving with spicy tomato sauce on the side.
 To make the sauce: Put the olive oil and guanciale in a 14-inch sauté pan over medium heat. After 3 minutes, add the onions. Cook, stirring occasionally until they are translucent and the guanciale has started to brown. Season with coarsely ground black pepper.
Add the tomatoes and the hot pepper flakes and simmer the sauce at low heat until it has reduced by about two-thirds, or until it's a consistency you like. Turn off the heat. Taste. Salt may or may not be necessary depending on the bacon and tomatoes you are using. Set sauce aside.
Prep Time:

2 hours

Category:

Bread

Method:

Oven

Cuisine:

American
Keywords: monkey, bread, easy, garlic, spicy, tomato, sauce
This post may contain affiliate links. Please read my disclosure policy.