Julia Child's Chocolate Mousse
This post may contain affiliate links. Please read my disclosure policy.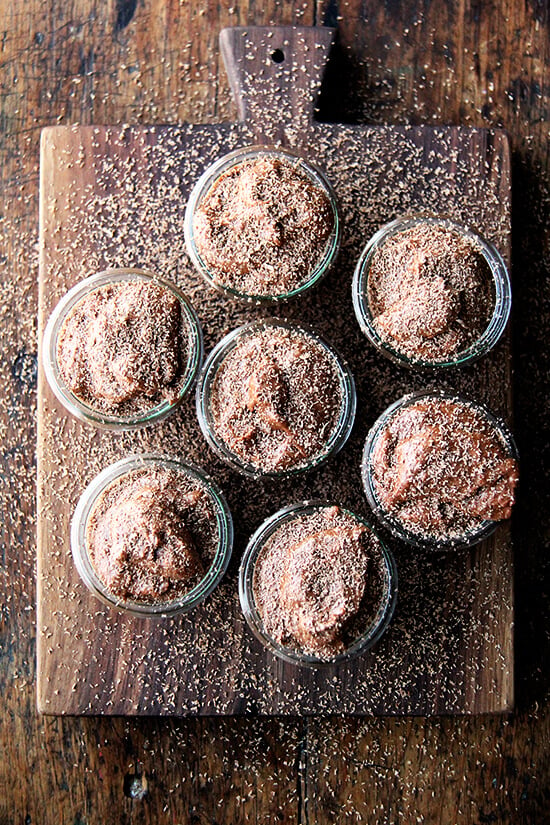 My search for a perfect chocolate mousse, led me to Julia Child's recipe on David Lebovitz. In addition to containing booze and coffee, Julia's recipe calls for a technique that resembles parfait-making but that is simpler. Yolks and sugar get whisked until thick, first in a double boiler then over an ice bath. Beaten egg whites get folded in at the end.
Lebovitz describes Julia's mousse as having "a perfect, slightly-gummy texture, backed up by a wallop of pure dark chocolate flavor." This "gumminess" or chew is what I love about parfait and what I love about Julia's chocolate mousse — it doesn't just taste like chocolate-flavored whipped cream. It has body with a lightness coming exclusively from beaten egg whites.
I adjusted the recipe slightly by using less sugar than called for because I was using a sweeter chocolate, and I've made notes in the recipe. Chocolate mousse is a great make-ahead recipe if you plan on spending Valentine's Day at home, and, I mean, as much as I love love love those vanilla bean pots de crèmes, Valentine's Day calls for chocolate, right?
Anyway, what are your plans for Valentine's Day? What are your essentials for a romantic dinner at home? For us it's good bread, stinky cheese, stinky pickles (details below), some cured meats, some sort of tinned fish, a simple salad and three little cubs pawing at our feet.
If all goes well this year, we'll get the cubs to bed early and stay awake to watch the first episode of the new season of Foyle's War! Did you hear?! Yes, it's true, two of three new episodes have been released.
Have a wonderful Friday/weekend, Everyone.
PS: More Valentine's Day Dinner Ideas here.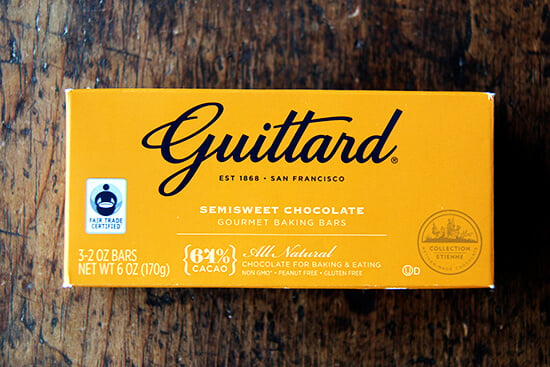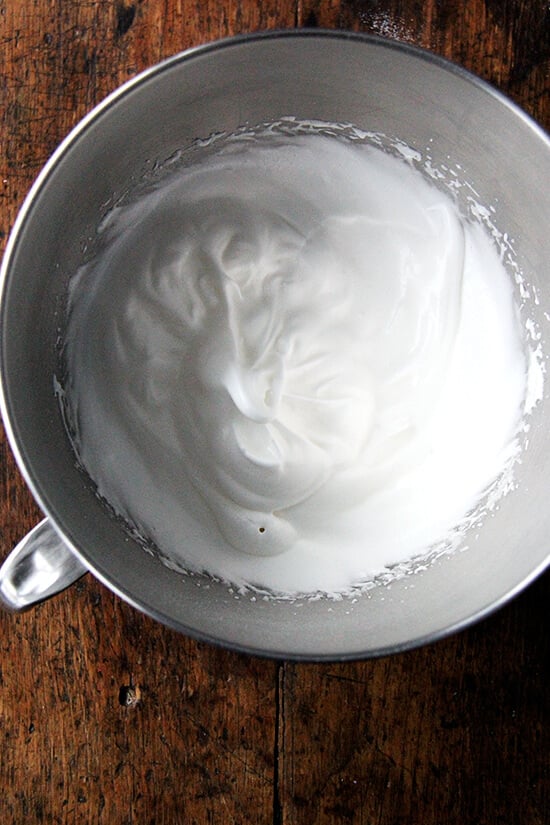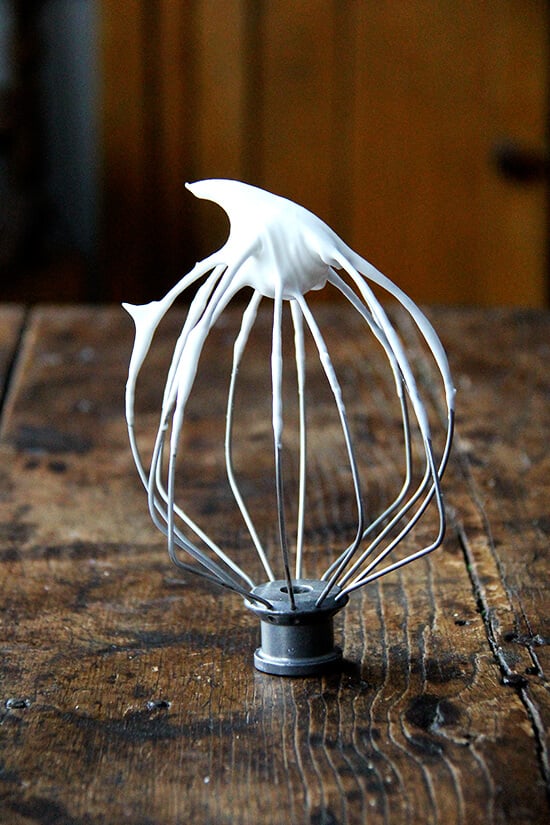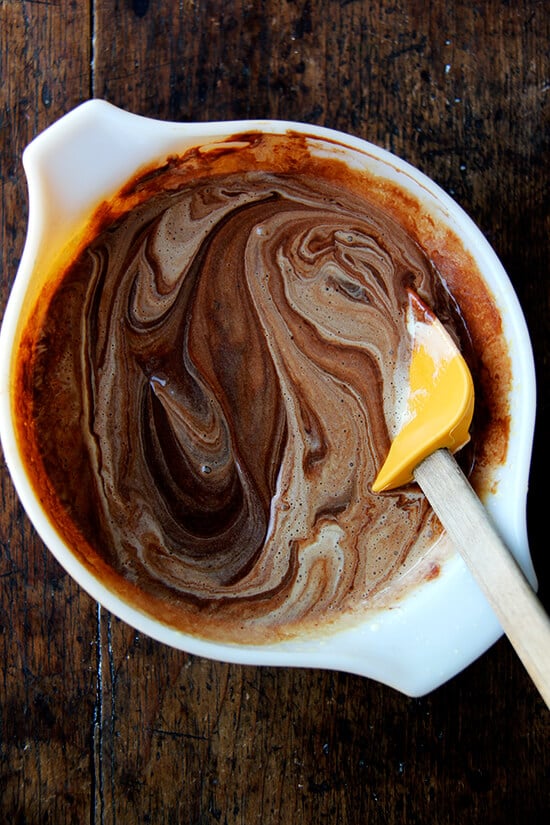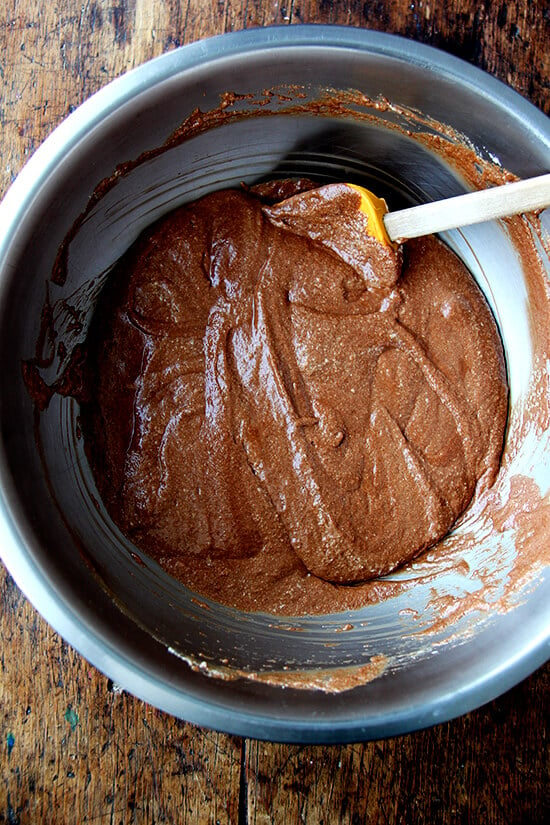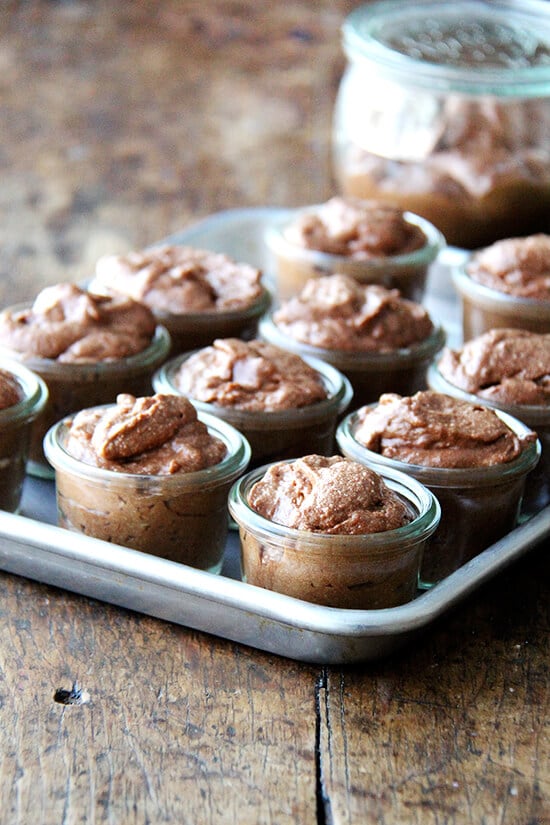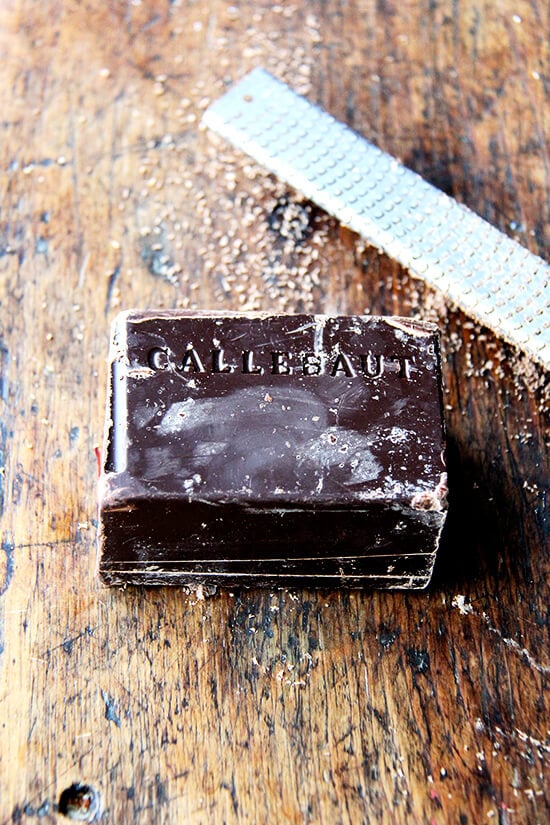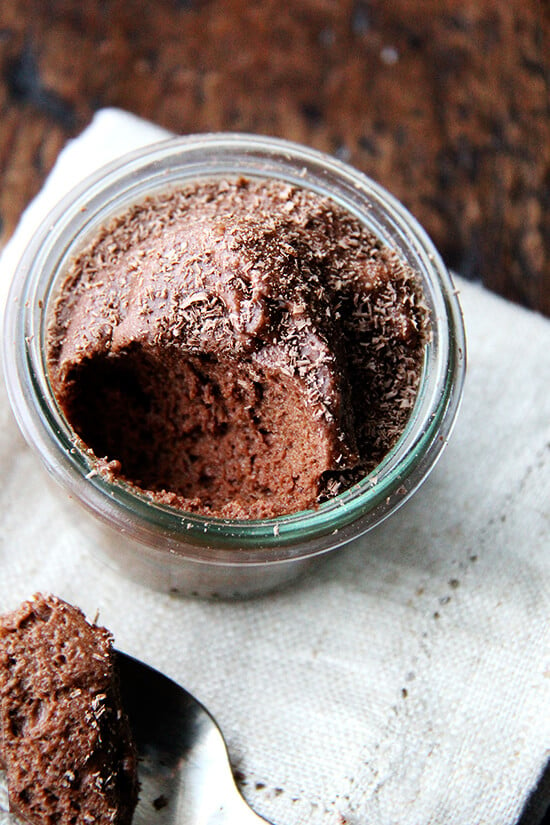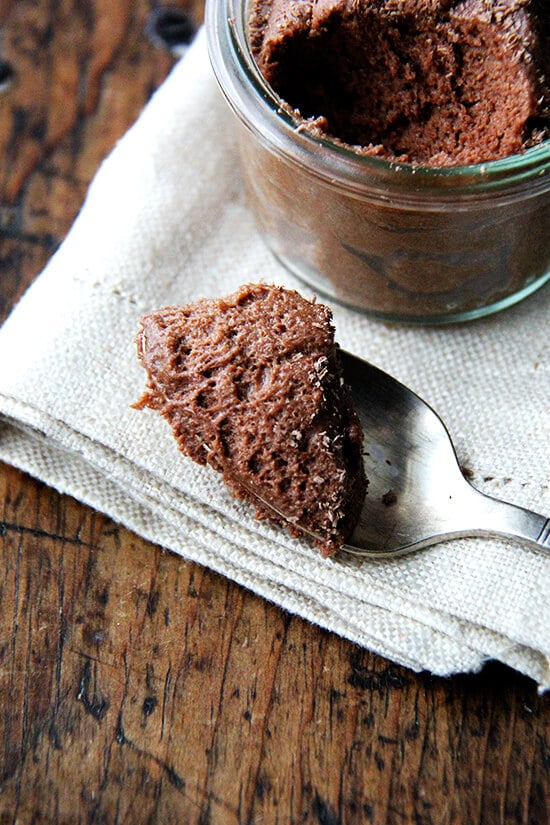 Print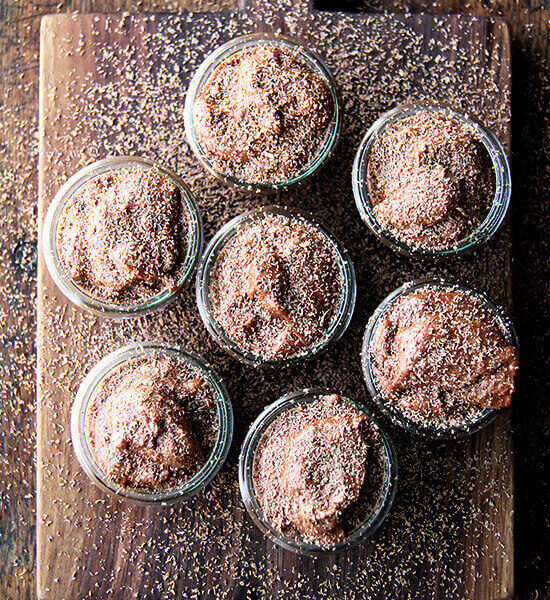 Julia Child's Chocolate Mousse
---
Description
Adapted from Julia Child's Mastering the Art of French Cooking via David Lebovitz
Notes: I use Guittard Chocolate, 64% cacao. Lebovitz used Green and Black, 72% cacao. I mention this because I cut the sugar to ½ cup due to the extra sugar in the chocolate. If you are using a darker chocolate, you might want to use ⅔ cup sugar, which is what the original recipe calls for.
What I love about this recipe is that there isn't any whipped cream. One recipe I tried this week tasted too much like chocolate-flavored whipped cream. This one has body with a nice lightness thanks to the whipped egg whites. The key to making this recipe successfully is getting those egg yolks to that pale yellow ribbon stage — see DL's photo for guidance. If you don't get that consistency in the yolks, the finished mousse will not have that nice chew.
---
6 ounces

(

170g

) bittersweet or semisweet chocolate, chopped (see notes above)

6 ounces

(

170g

) unsalted butter, cut into small pieces

¼ cup

(60ml) dark-brewed coffee

4

large eggs, separated

½ cup

(

116g

) to

⅔ cup

(

170g

), plus

1 tablespoon

sugar (see notes above)

2 tablespoons

(30ml) dark rum

1 tablespoon

(15ml) water
pinch of salt

1 teaspoon

vanilla extract
dark chocolate for shaving over top, optional
---
Instructions
Heat a saucepan one-third full with hot water, and in a bowl set on top, melt together the chocolate, butter and coffee, stirring over the barely simmering water, until smooth. Remove from heat.
Fill a large bowl with ice water and set aside.
In a bowl large enough to nest securely on the saucepan of simmering water, whisk the yolks of the eggs with the ½ to ⅔ cup of sugar (see notes), rum, and water for about 3 minutes until the mixture is thick, like runny mayonnaise. (You can also use a handheld electric mixer. Note: Be sure this mixture is thick before removing bowl from heat. )
Remove from heat and place the bowl of whipped egg yolks within the bowl of ice water and beat until cool and thick, as shown in the photo in DL's post. Then fold the chocolate mixture into the egg yolks.
In a separate bowl, beat the egg whites with the salt until frothy. Continue to beat until they start to hold their shape. Whip in the tablespoon of sugar and continue to beat until thick and shiny, but not completely stiff, then the vanilla.
Fold one-third of the beaten egg whites into the chocolate mixture, then fold in the remainder of the whites just until incorporated, but don't overdo it or the mousse will lose volume.
Transfer the mousse to a serving bowl or divide into serving dishes, and refrigerate for at least 4 hours, until firm.
Use a microplane grater or peeler to shave chocolate overtop before serving (optional).
Prep Time:

30 minutes

Cook Time:

5 minutes

Category:

Dessert

Method:

Stovetop

Cuisine:

French
Keywords: chocolate, mousse, Julia Child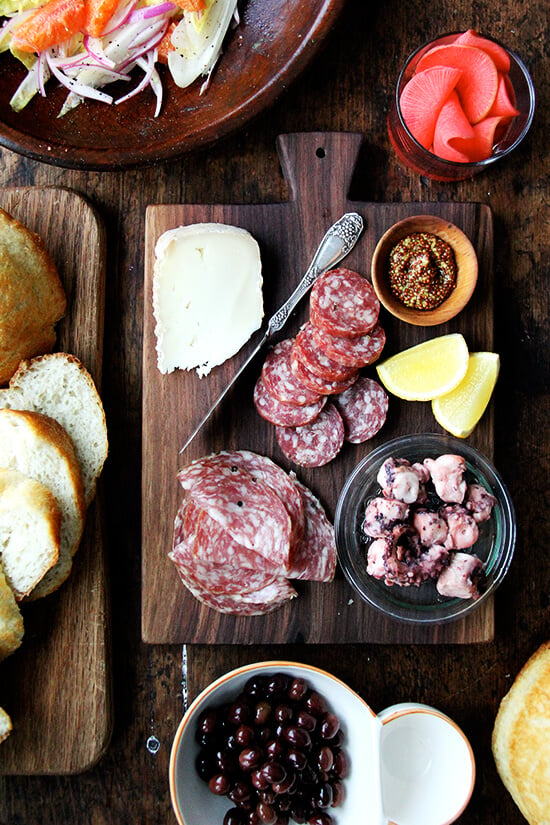 These days, nothing is more fun or relaxing or special feeling for me than arranging a few cheeses and meats on a platter, making a simple, wintry salad and serving it with homemade bread. My latest discovery, which make a nice addition to any charcuterie platter, are pickled watermelon radishes, which I wrote about over on Food52 last week. Warning: They couldn't be more delicious but they also are about the stinkiest pickle/food I have ever tasted. Give them some time to breathe before serving, or as one commenter suggested, open the jar outside.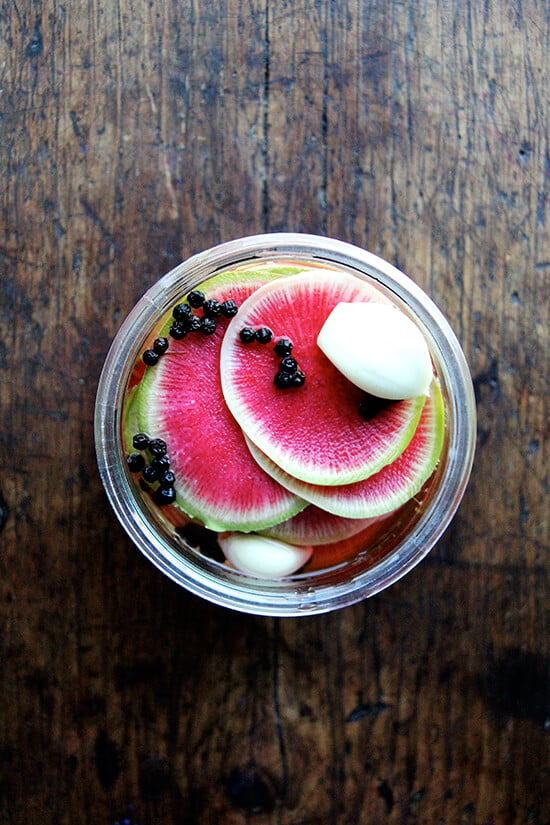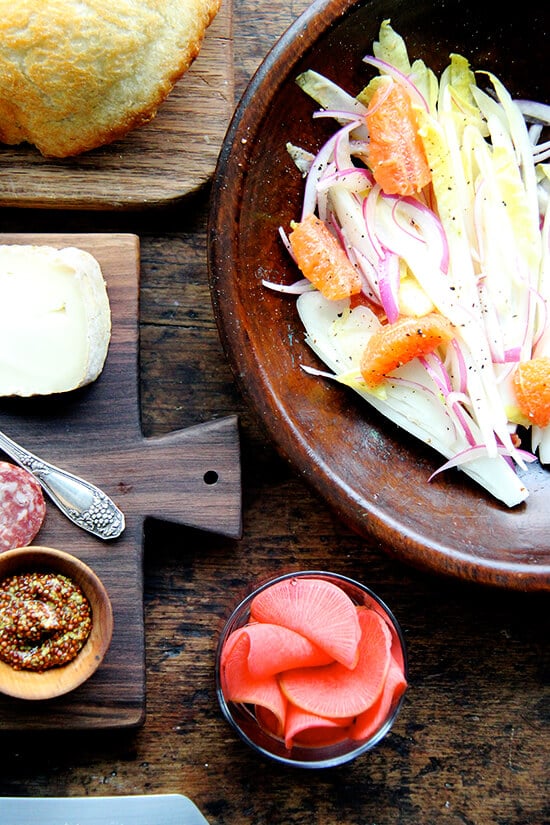 This tinned octopus is kind of a splurge, but it's delicious, and when you're staying in for Valentine's Day, you're saving a boodle anyway: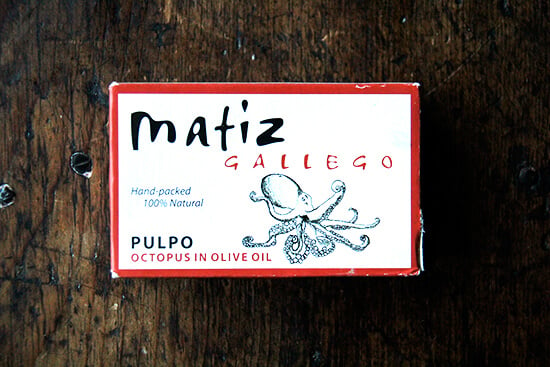 This post may contain affiliate links. Please read my disclosure policy.