Bircher Muesli | Homemade Muesli | Bulk Food Shopping
This post may contain affiliate links. Please read my disclosure policy.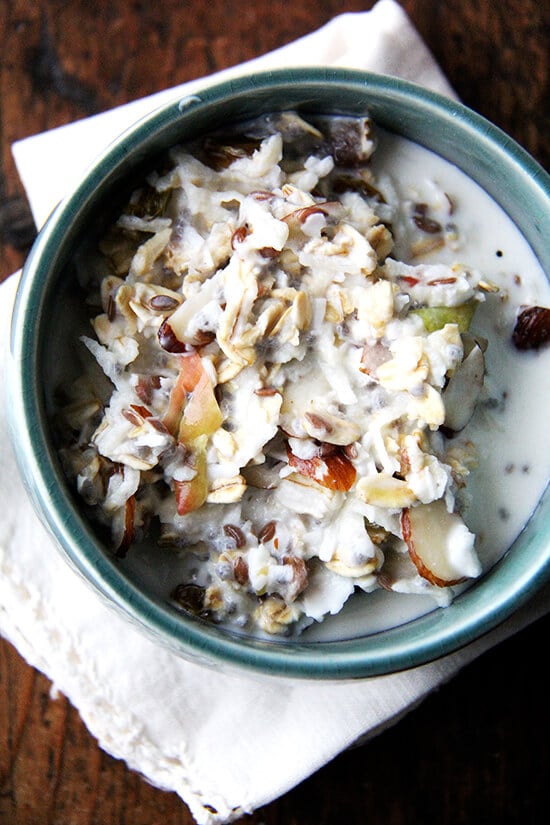 Thanks to an amazing co-op in Albany, I've discovered the joys of bulk food shopping. A quarter (wild guess) of the 31,000 square feet that is the Honest Weight Food Co-op is lined with tubes, bins, and barrels holding every nut, seed, grain, flour, pasta, oil, butter, extract, paste you could imagine. It's an astonishing site — really, I've never seen anything like it: whole aisles dedicated to unpackaged food, which you can cart home in your own vessels or in an array of glass jugs and jars sold at the store.
I had never found myself drawn to bulk food shopping until I started making this toasted muesli (granola, really), which everyone in my family adores. It's truly the only thing I make that instantly silences my children, that keeps them sitting at the table focused on what's before them, that they invariably ask for seconds of. When I found myself making double batches of it twice a week, I started paying more attention to the prices of the teensy bags of almonds and flaked coconut and large jugs of maple syrup I was ripping through.
I'm stating the obvious here, but bulk shopping is the way to go for these sorts of ingredients, and while I am by no means suggesting that shopping at HW will save you money, shopping their bulk section (or your store's) will.
The other breakfast staple in our house is muesli — traditional muesli — a mix of raw oats, nuts, seeds and dried fruit. I learned how to make it, or actually Bircher muesli, many years ago from a tired, talented, disgruntled French man, Chef Pasche, who was working a second job as an instructor at the culinary program I was attending in South Philly. There are countless ways to make Bircher muesli — my friend, Talley, who lives in Switzerland wrote about it last fall — but the basic idea is that you throw raw oats, nuts, and dried fruit into a bowl and soak them in milk. Chef Pasche always added a grated apple and whatever fresh fruit was in season — oranges in the winter, berries in the summer — as well as grapes (which he peeled!) and a handful of sugar. Sometimes he stirred in yogurt.
For awhile I would make the Bircher muesli in small batches, throwing handfuls of oats, almonds and coconut into a bowl, dicing up dates and grating apples, letting it all soak with milk and yogurt until the oats softened. But with mornings getting busier and busier — lunches to pack! coffee to brew! — gathering ingredients, cutting and grating became such a chore.
Now, to make things easier in the morning, I make a big mix of muesli using oats, unsweetened shredded coconut, flax seed, chia seed, sliced almonds, golden raisins and date pellets (an amazing discovery — I find cutting dates to be such a pain). I never measured my mix until I thought it would be fun to blog about, so please use the ratio given below as a guide. Add more oats, use other nuts, omit the chia if you think it's weird, etc. It's so nice having an enormous vat, hideous storage container and all, of muesli sitting on my counter — truly, I feel lost in the morning when we are out.
One Tip for Bulk Shopping:
I love bulk shopping, but bulk shopping with children is not ideal/maddening/impossible. What is so nice about the HW co-op is that you can bring in your own vessels. When you arrive, someone will weigh/tare your containers so you're not charged for the weight of the vessels. And then off you go. I now arrive with a 4-qt Cambro, which I fill with oats, a dozen or so quart containers (the same ones I use for soup and stock), and a glass jug or two, all of which I have marked with the correct PLU numbers/names, which makes shopping the bulk section a breeze. I know all stores don't allow you to bring in your own vessels, but it might be worth asking/requesting because it is a serious time/headache saver.
Bulk storage containers: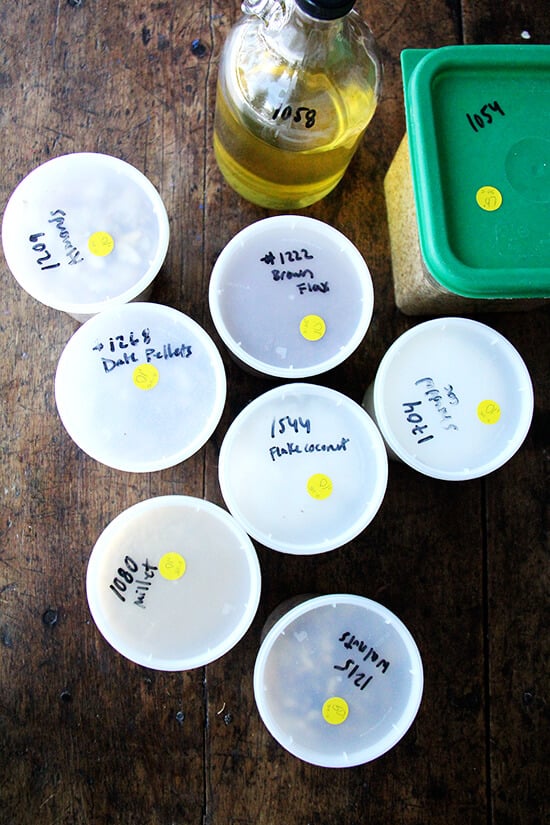 Date pellet thief: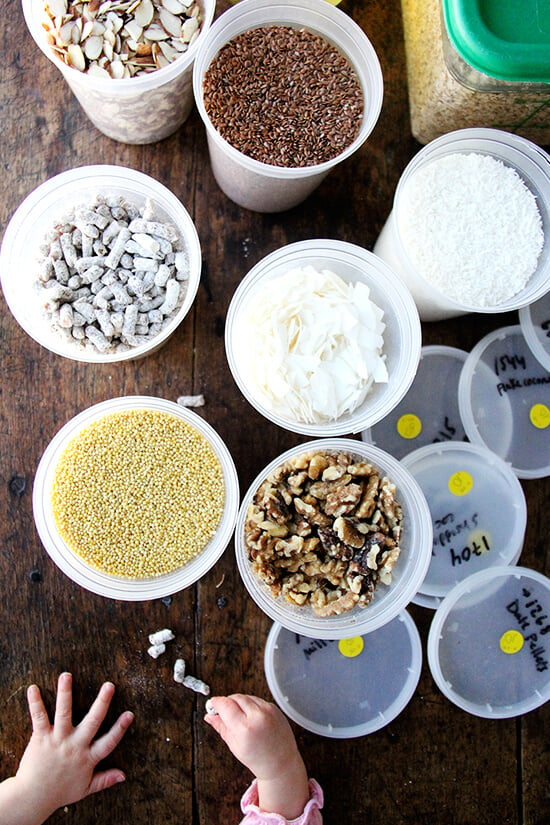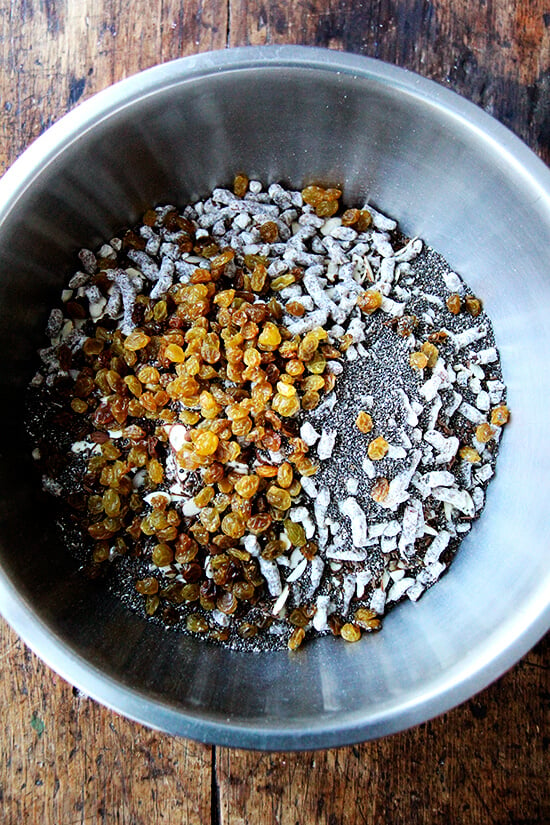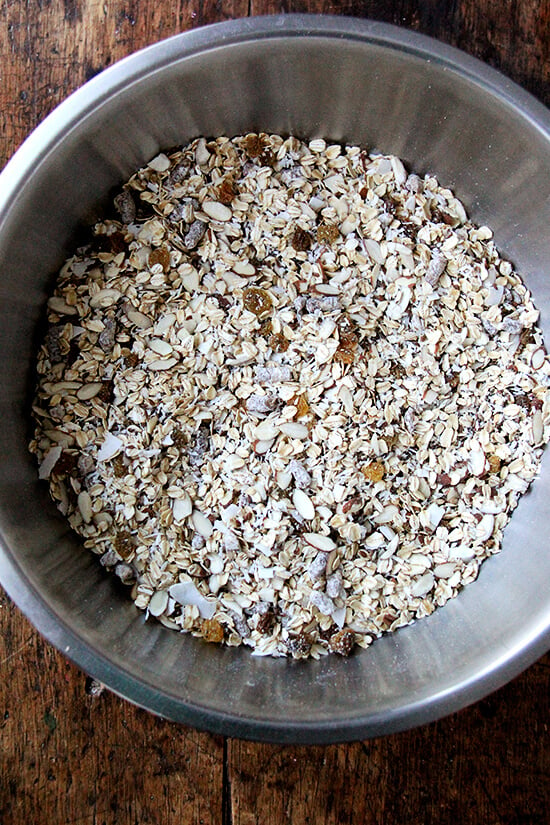 Homemade muesli: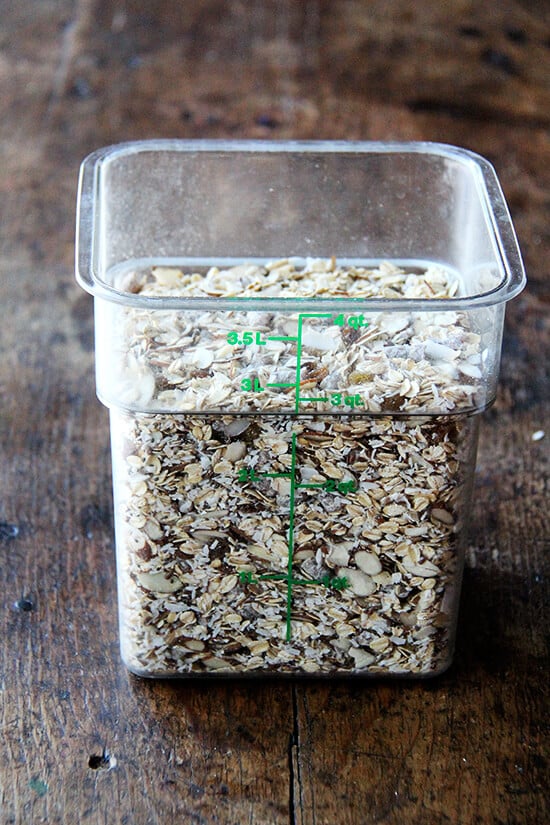 Bircher muesli ingredients: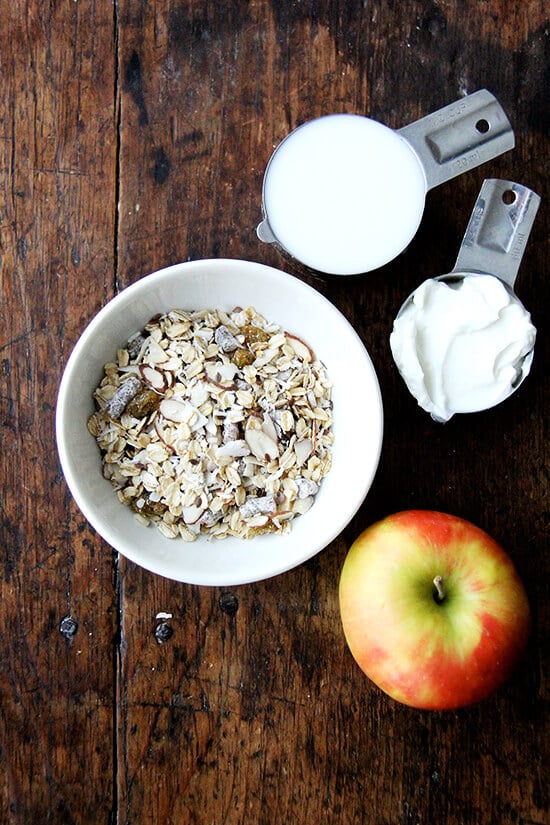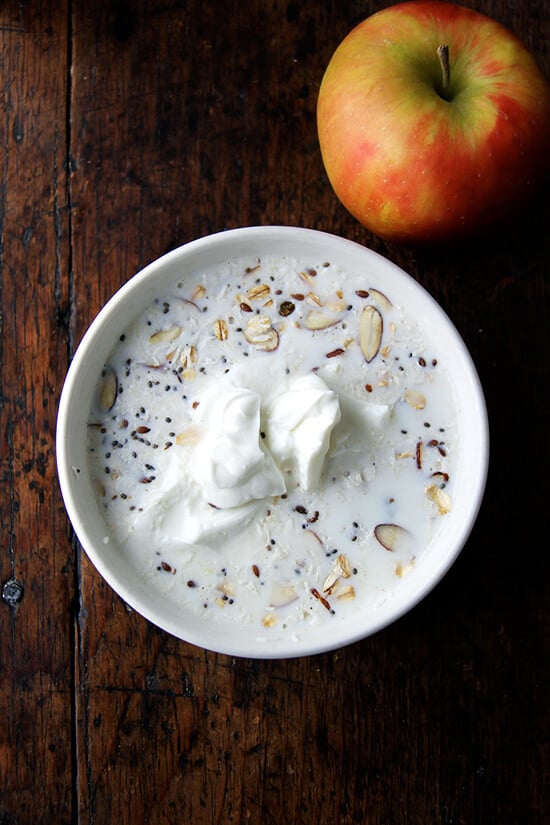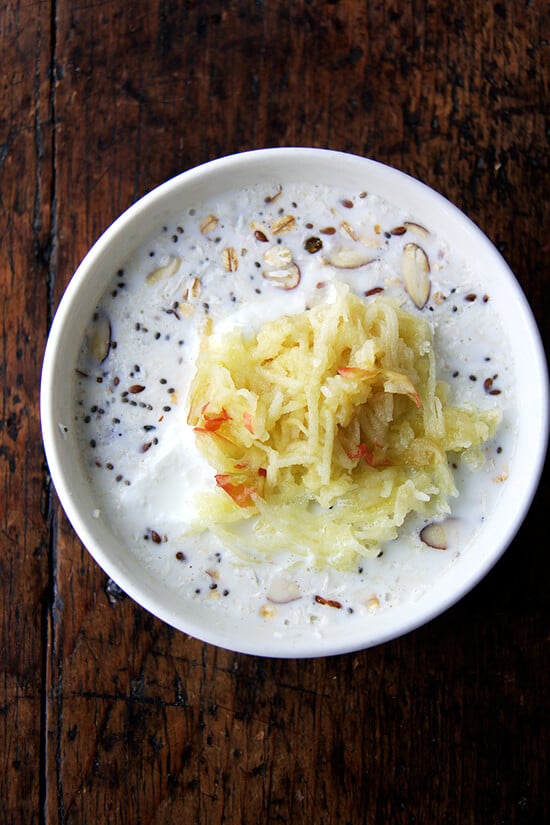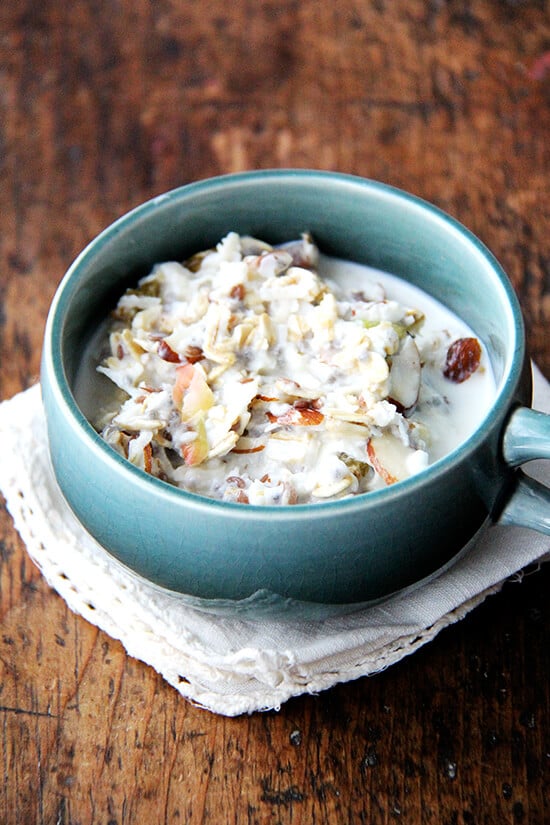 Print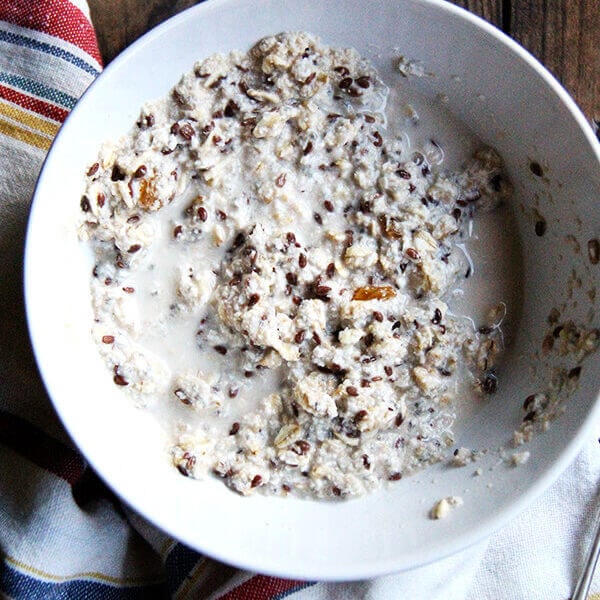 Bircher Muesli Mix
---
Description
As I mentioned above, this is the first time I've measured, so adapt the recipe to your liking — this is purely meant to be a rough guide. Any number of nuts, seeds, dried fruit, etc. will work. Also, wheat flakes, oat flakes, etc. can be added.
Bircher muesli is a great thing to make for a crowd. Last summer I reunited with some dear friends at the beach, and I made a huge batch of this every morning. Count on 1/2 cup of the dry muesli mix and 1/2 grated apple per person. If you're not using date pellets, I like to use one date per person for sweetness. You don't have to measure, but I basically do a ratio of equal parts milk to muesli, then half as much yogurt, but again, adapt recipe to your liking.
Also, on a daily basis, I just soak the muesli in milk for about 15 minutes — no apple, no yogurt. For me, I'll soak 1/2 cup of muesli with 1/2 cup of milk for at least 15 minutes. Sometimes I add more milk if it has gotten too thick. It is delicious on its own just like that, though the apple provides a nice sweetness and the yogurt, a nice creaminess.
---
Ingredients
For the mix:
5 cups

(1 lb.

4 oz

. |

556 g

) rolled oats

2 cups

(

6 1/4 oz

. |

180 g

) unsweetened shredded coconut

2 cups

(

7 oz

. |

200 g

) sliced almonds

1/2 cup

(

3 oz

. |

86 g

) flax seed

1 cup

(

6 1/4 oz

. |

176 g

) date pellets

1/2 cup

(

3 1/4 oz

. |

90 g

) chia seeds

1 cup

(

4 3/8 oz

|

126 g

) golden or brown raisins
For 1 serving:
1/2 cup

muesli mix*

1/2 cup

milk

1/2

grated apple
any other fresh fruit you feel like adding

1/4 cup

plain yogurt
---
Instructions
1. Mix oats, coconut, almonds, flax seed, date pellets, chia, and raisins in a large bowl, then transfer to storage container.
To make an individual serving: Mix together the muesli mix with milk, apple, fruit and yogurt. Let sit for 15 minutes at least before serving.
*If you haven't made the muesli mix, just use 1/2 cup oats and a pinch of any nuts, seeds, dried fruit, etc. you have on hand. Before I discovered date pellets, I would just chop up a date — one date per serving/person.
---
This post may contain affiliate links. Please read my disclosure policy.