Whole-Roasted Cauliflower with Fried Capers and Brown Butter Breadcrumbs
This post may contain affiliate links. Please read my disclosure policy.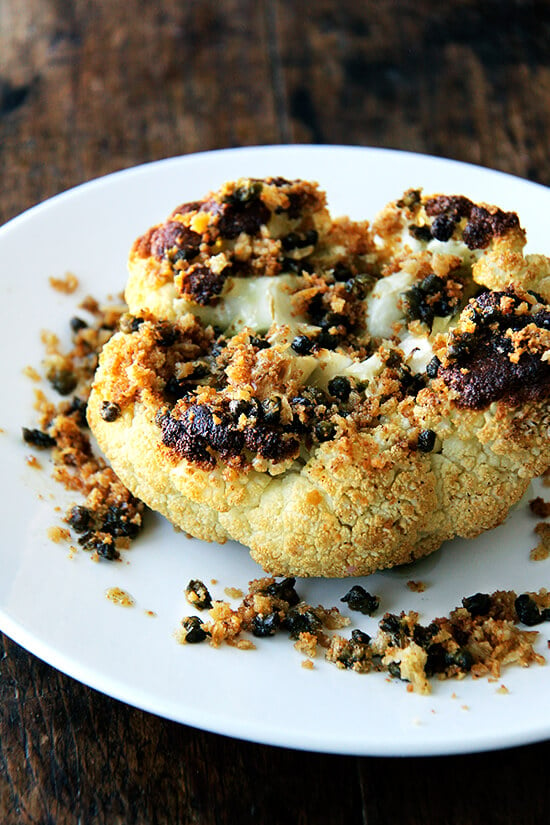 Last Friday, for the first time in months, Ben and I braved a dinner out with the children, an exercise that most often leaves us asking ourselves, "WHY?!" and swearing off future dining excursions with the children for life.
Much to our surprise, the dinner at Ali Baba in Troy, which began with a wood-fired, manta ray-sized, puffed, blistered and seed-speckled lavash, transfixed the children, keeping them mostly content throughout dinner, allowing us to shovel down our kebabs, smoky eggplant salads and pickled onions at a relatively civilized pace.
Inspired by our Ali Baba success, we joined friends Sunday evening at Ala Shanghai, where we ordered nearly everything on the menu — cold spicy cabbage, cucumber salad, fish soup, pork and leek dumplings, to name a few — and two dishes — scallion pancakes and fried rice — that again, along with the lazy Susan in the center of table, kept the children seated, happy and (mostly) quiet.
All of this is to say that it was nice to take a little break from cooking, to use the time to flip through some of my favorite cookbooks, to spend another few days with Prune before the library demands it back. I mentioned last week I had been loving Gabrielle Hamilton's braised cabbage with anchovies and garlic, and this week, it's another Prune recipe I can't get enough of: whole roasted cauliflower with fried capers and brown butter breadcrumbs.
In the past few years, cauliflower, roasted whole or in steaks, has become a popular vegetarian entrée, and recipes abound online, some calling for poaching the head of cauliflower in a flavorful brine first, others for coconut-milk marinades, all of which sound and look so appealing.
What drew me to Hamilton's recipe, however, is its simplicity: it roasts for just under an hour with olive oil and salt, then gets dressed with butter-fried capers and breadcrumbs. The biggest sell, however, was Hamilton herself, who notes that she can eat — "no sweat" — a whole one of these by herself. Minimal ingredients, minimal hands on time, a strong endorsement — it sounded like a winner.
And it is. This cauliflower emerges from the oven knife tender but not mushy and not oil laden as sometimes cauliflower can get when roasted in florets. Here, the head's edges crisp and caramelize both from the heat of the oven and the oil pooling in the bottom of the pan, and the nutty crumbs and burst capers that nestle in the web of stems and spill all around the serving platter couldn't be more irresistible.
This is a great dish to share with two or three (or more) people, a centerpiece to admire briefly, then attack with forks and knives, utensils necessary for both trimming off florets and fending off neighbors who, after one bite, will begin fighting for those buttery crumbs.
Warning: There will be fights.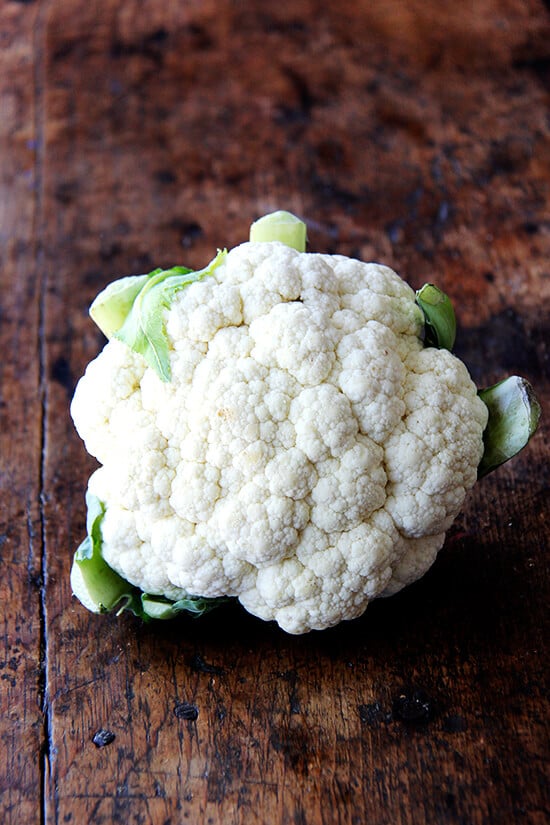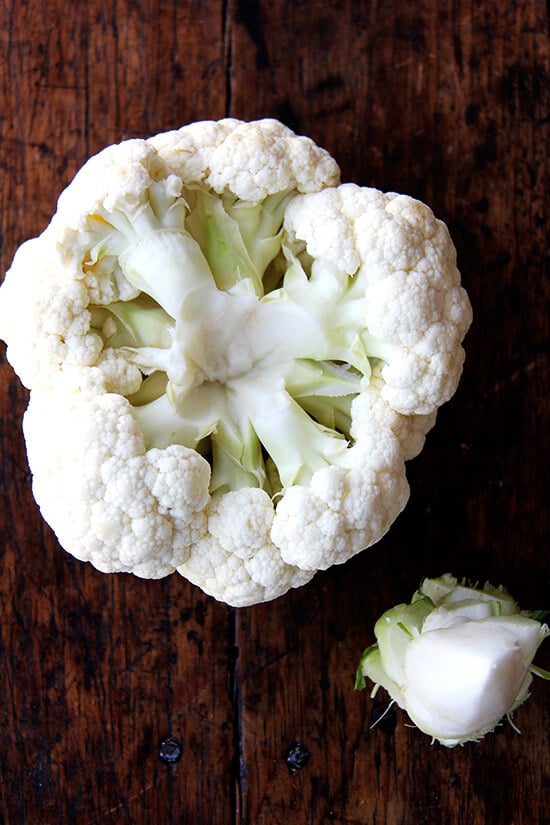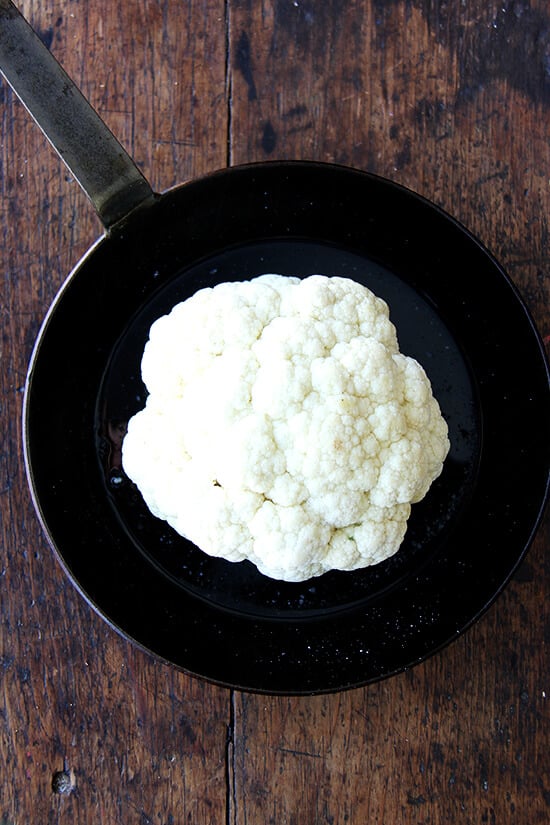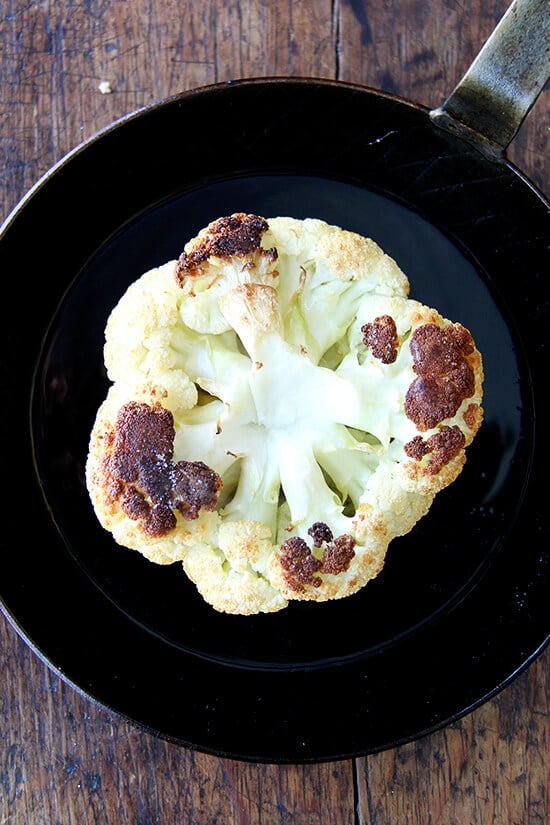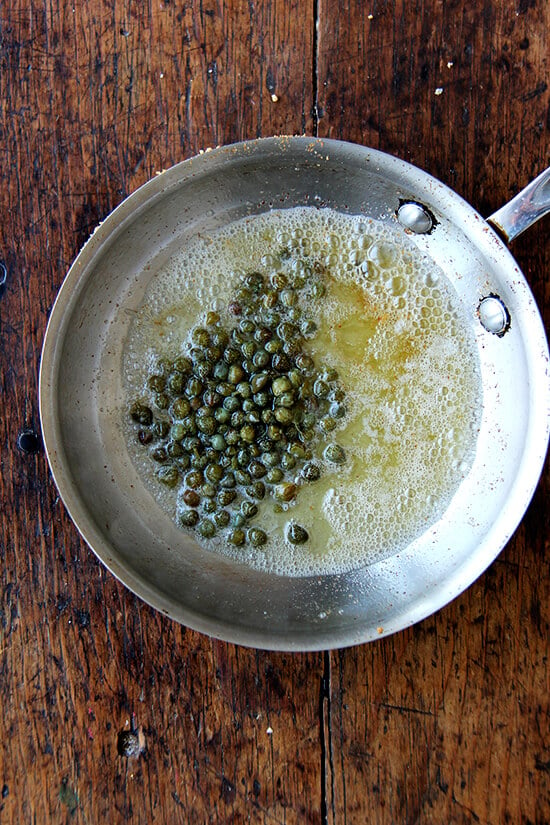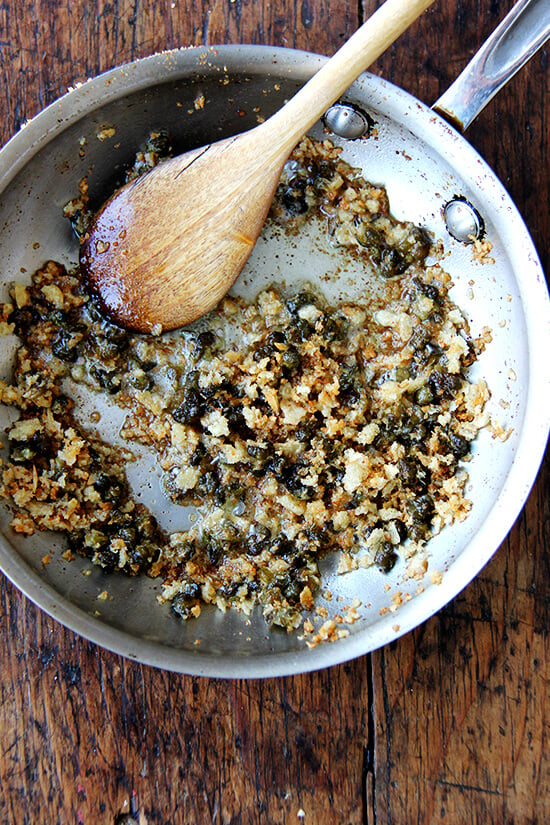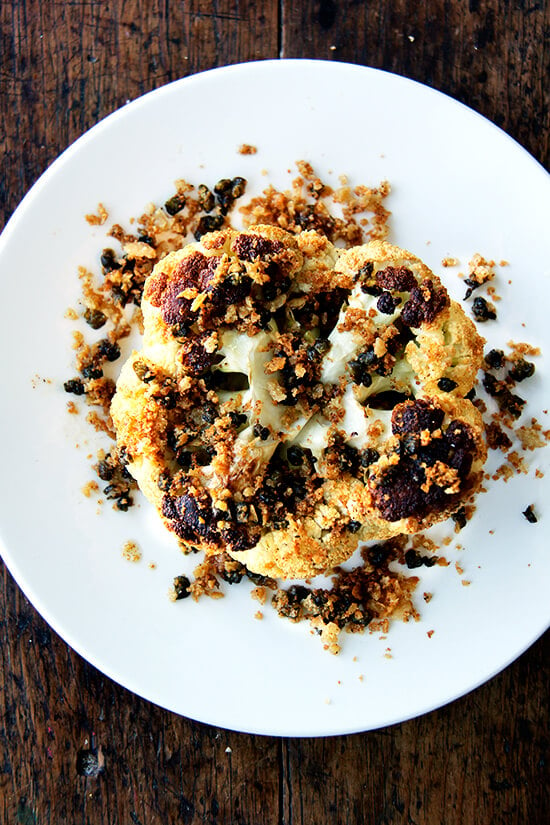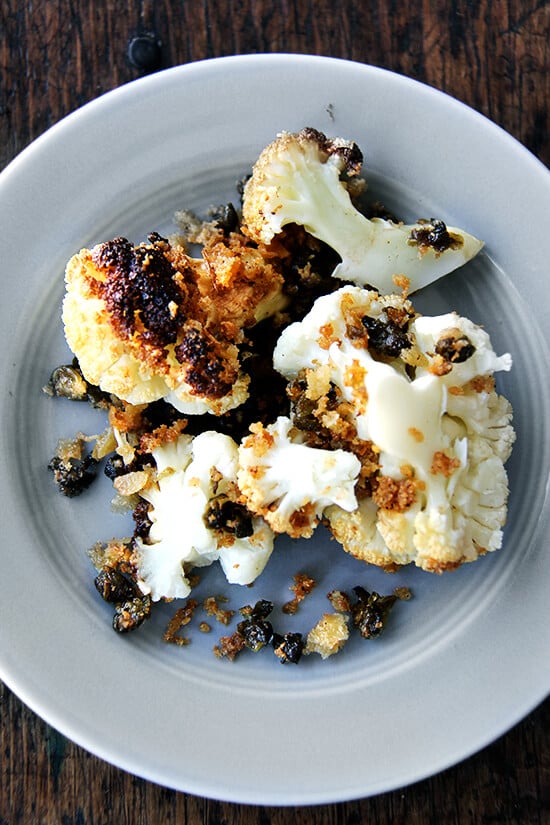 Day old peasant bread, pulsed in food processor: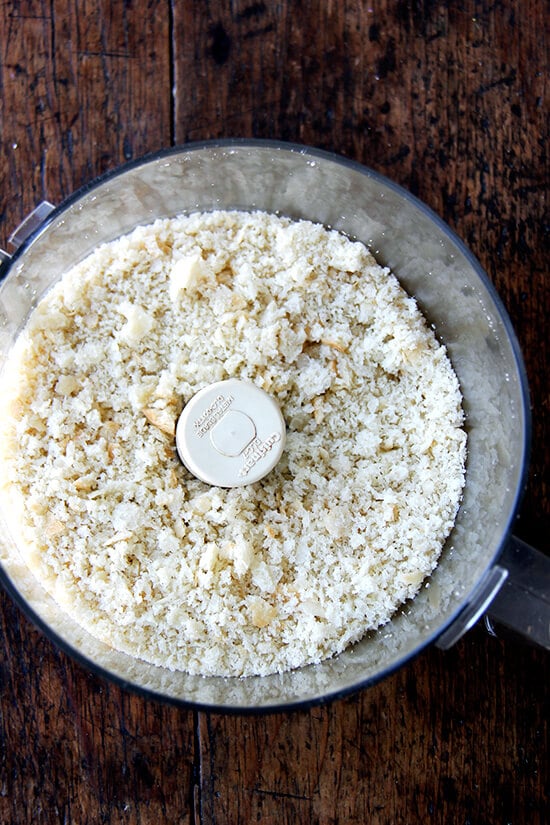 Homemade dried breadcrumbs: Crumbs pictured above toasted on rimmed baking sheet at 200ºF for 40 minutes: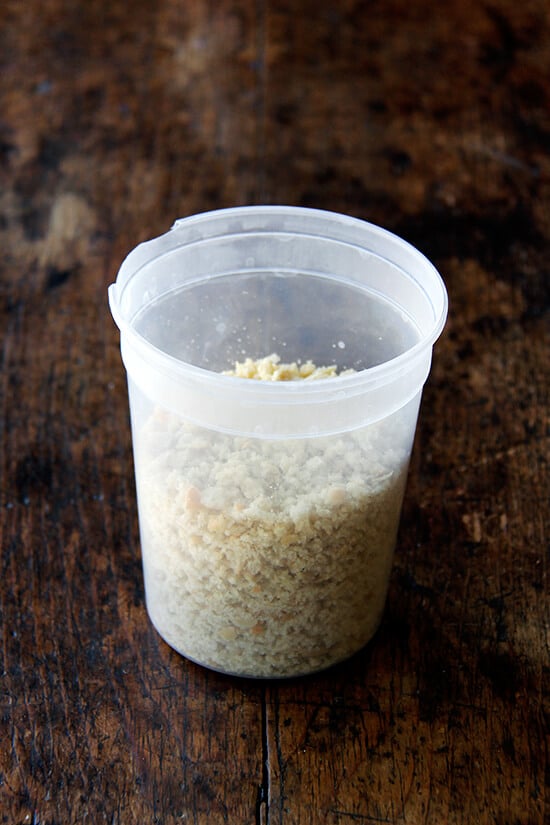 Have a nice weekend.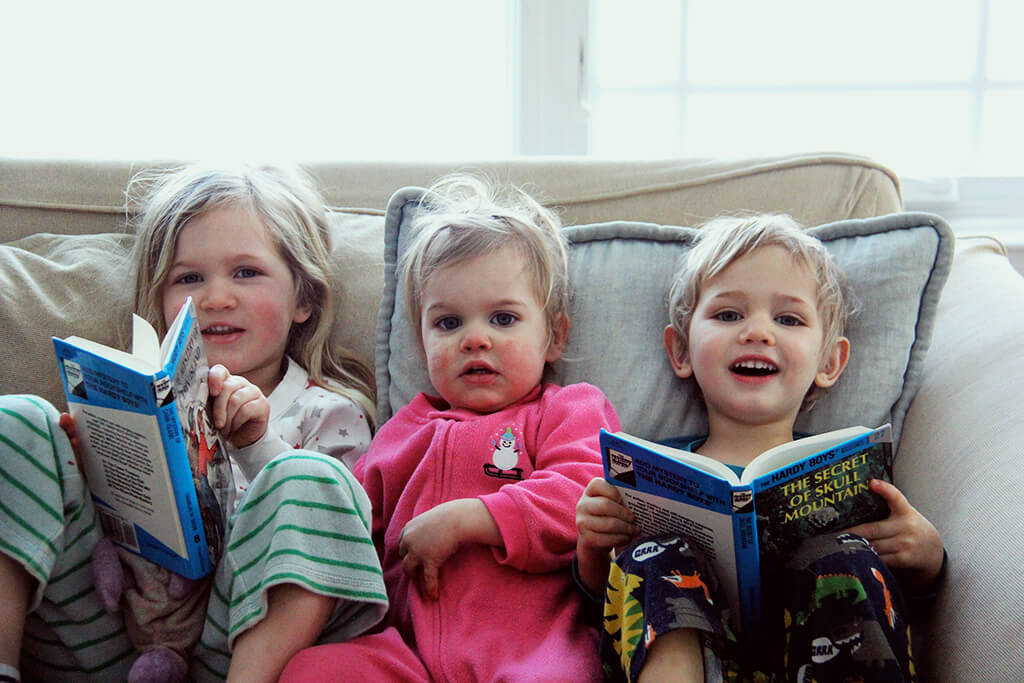 Print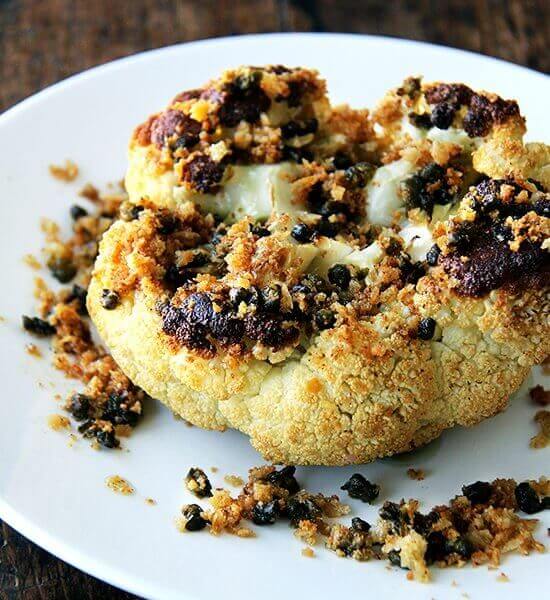 Whole-Roasted Cauliflower with Fried Capers and Brown Butter Breadcrumbs
---
Author:

alexandra

Total Time:

45 minutes

Yield:

2
Description
Source: Prune, page 195 (noted because there is no index in the book).
Breadcrumbs: Hamilton specifies homemade breadcrumbs vs. panko. This is how I make my homemade dried breadcrumbs: Pulse day-old bread (crusts and all) in food processor until fine. Toast in an even layer on a rimmed baking sheet at 200ºF for 40 minutes. Let cool completely before using. The crumbs should take on very little color. Once cool, store in an airtight container until ready to use.
Making the fried capers and brown butter breadcrumbs: Although this part of the recipe is simple, the timing is still a little tricky. The first time I made it, I added the capers to the butter too soon, and they charred a little too much as I waited for the butter to brown. My breadcrumbs, too, didn't have enough time to toast because I needed to get the butter and capers out of the pan. I've got my timing down now, but just know that it might take a bit of trial and error to get your timing right. I like to toast the breadcrumbs first in a dry skillet, remove them from the pan, add the butter until it begins to turn color, then the capers until they burst, and finally the crumbs just until they're nicely coated.
It's simple once you get the hang of it.
---
1

medium cauliflower, whole but cored

1 tablespoon

capers in brine

3 tablespoons

unsalted butter

3 tablespoons

homemade dried breadcrumbs (see notes above)
kosher salt

1/2 cup

(or less) extra-virgin olive oil or grapeseed oil, divided
sea salt for finishing
lemon for serving (optional)
---
Instructions
Preheat oven to 375ºF. Put whole head in sauté pan just big enough to hold it. Drizzle with 1/4 cup of oil. Season with salt rained down evenly. Roast for 25 minutes. Remove pan. Flip cauliflower and add another 2 tablespoons of oil (or the full 1/4 cup if you think it's necessary — I find 2 T to be plenty) and a sprinkling of salt. Return to oven for 25 minutes. To test for doneness, insert sharp knife or skewer, which should meet little resistance. If it feels too firm around the core, return to oven for another 10 minutes.
On stovetop in a small sauté pan over medium heat, toast breadcrumbs briefly, just until they turn slightly golden. (Note: If your dried breadcrumbs are already browned a bit, you can skip this step — my dried breadcrumbs are the color of panko, which is why I like to brown them briefly here.) Transfer to a plate. Immediately add butter to pan and cook until it just begins to darken a bit, then add the capers and fry until the butter browns and capers burst open. Quickly add breadcrumbs and toast until golden brown.
Place cauliflower on serving platter. Spoon buttered caper breadcrumbs all over. Serve with lemon wedges if desired. Pass sea salt if necessary.
Prep Time:

5 minutes

Cook Time:

40 minutes
This post may contain affiliate links. Please read my disclosure policy.