Chez Panisse's Famous Calzones
This post may contain affiliate links. Please read my disclosure policy.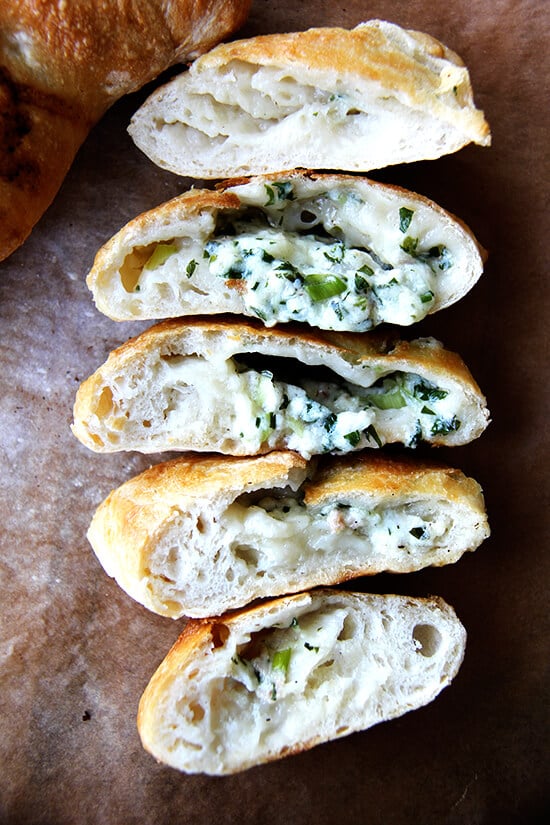 Before last week, I never would have described a calzone as light. Or as something that tastes like spring. Or as something I would consider serving to company, maybe sliced into rounds to reveal its oozing, cheesy goodness.
Well, leave it to Chez Panisse to create that very calzone, a six-inch round of pizza dough filled with a mix of goat cheese and mozzarella, minced scallions, parsley and garlic, and slivers of prosciutto.
I discovered this recipe of all places in a favorite vegetarian cookbook, Deborah Madison's Vegetarian Cooking for Everyone, which (obviously) offers a variation without prosciutto, which I have no doubt is equally delicious — envelope cheese and any number of ingredients in a steaming hot pocket of dough, and it's bound to be good. I haven't yet strayed from Chez Panisse's famous recipe but I am excited to experiment with this new-to-me format. Madison's recipe with sautéed escarole, walnuts, capers, olives, mozzarella and fontina sounds particularly good.
Madison's book, by the way, is one I have turned to again and again since discovering it last summer. There is not a single photo in the entire book but somehow I always leave it with half a dozen more pages dogeared and a lengthy grocery list in hand. If you are a vegetarian or, for whatever reason, have found yourself cooking with less meat, this book is a great resource, especially as we head into spring…it has to near, right?
PS: Thank you for all of your sweet wishes re baby. Tig is being a good girl. Hope you all are well!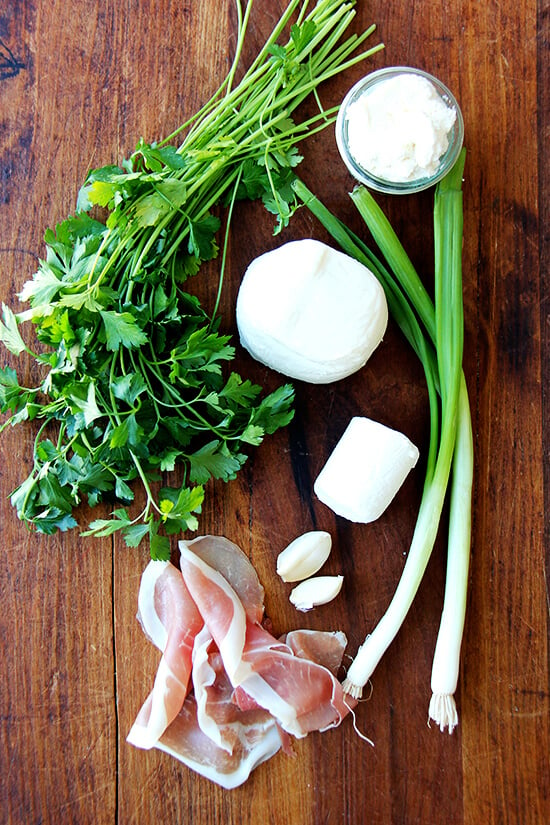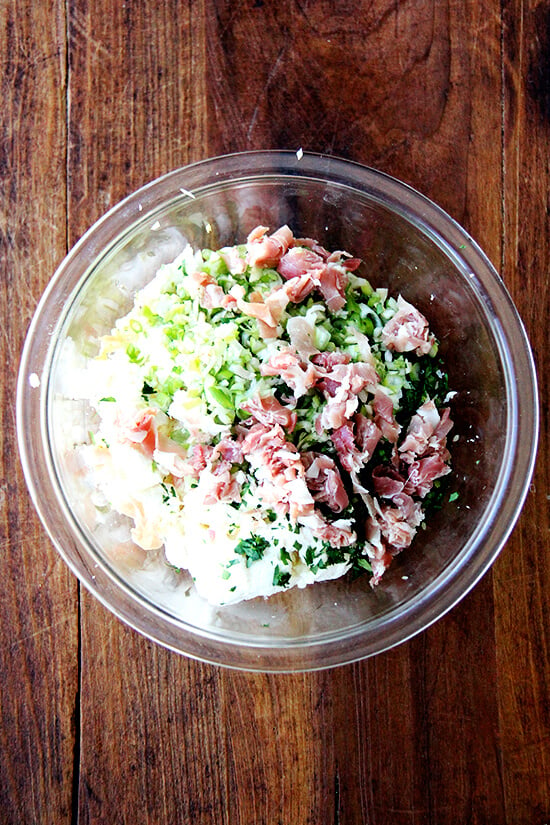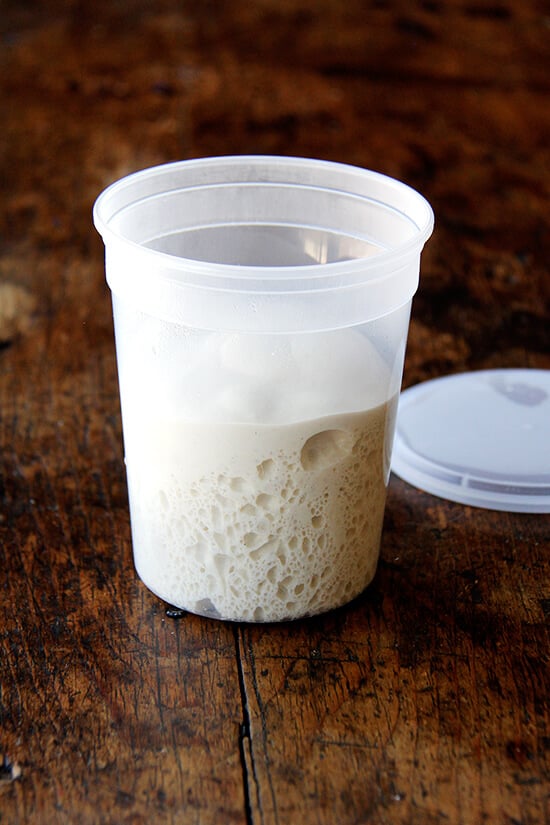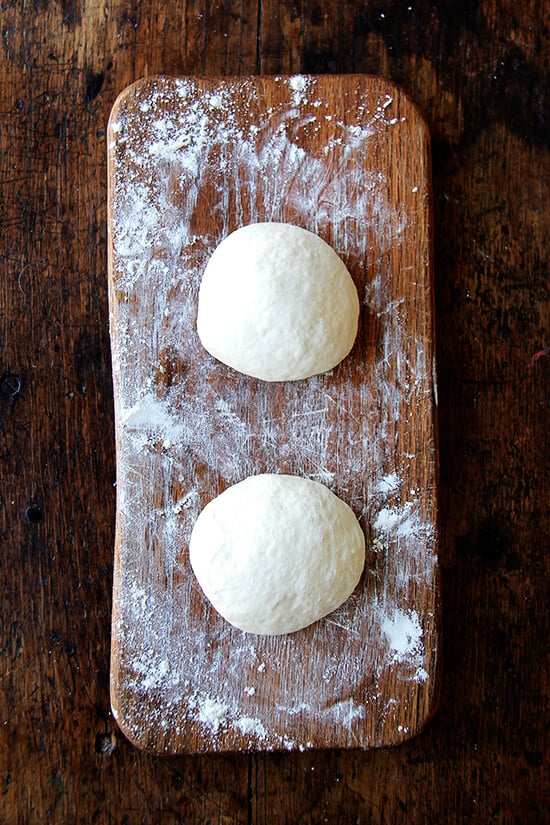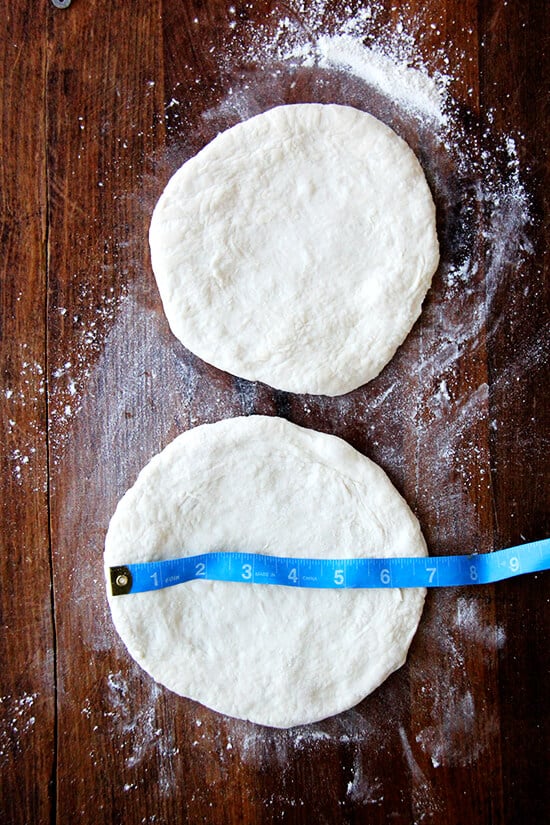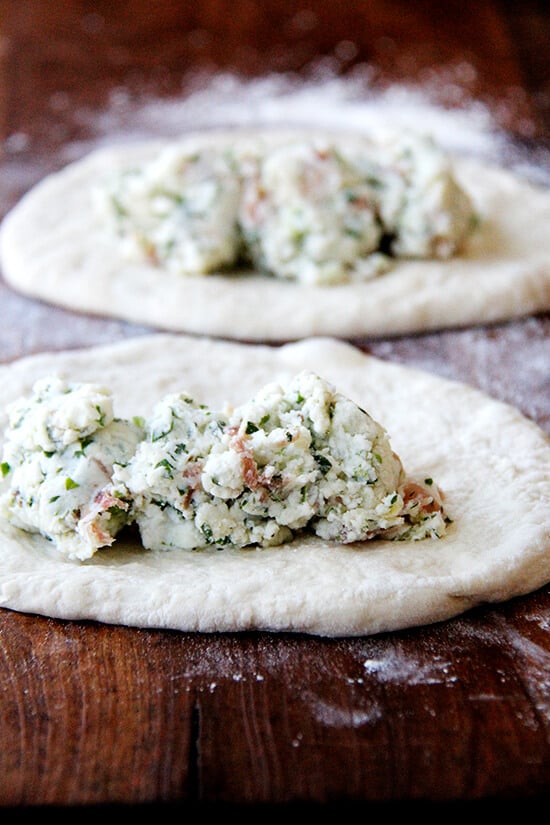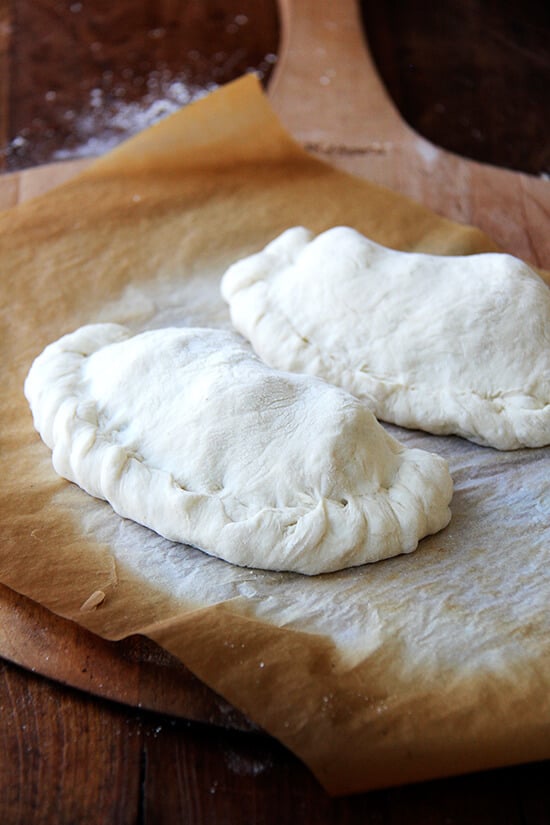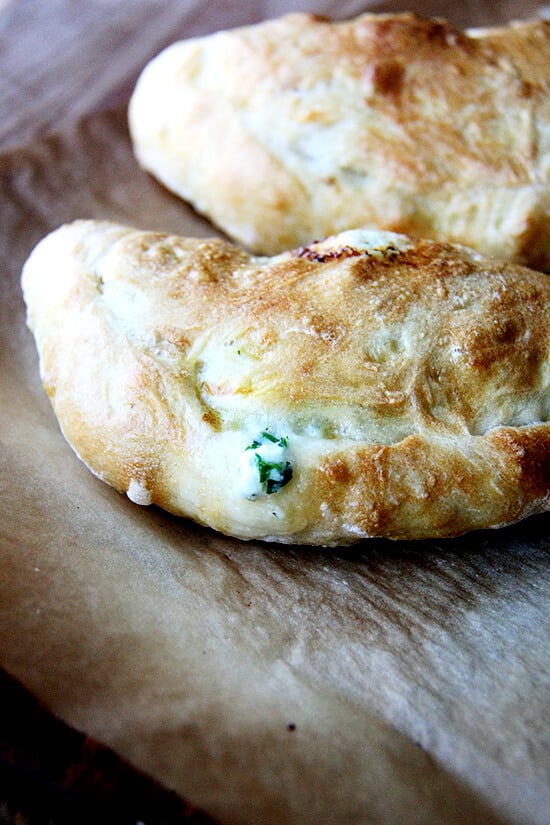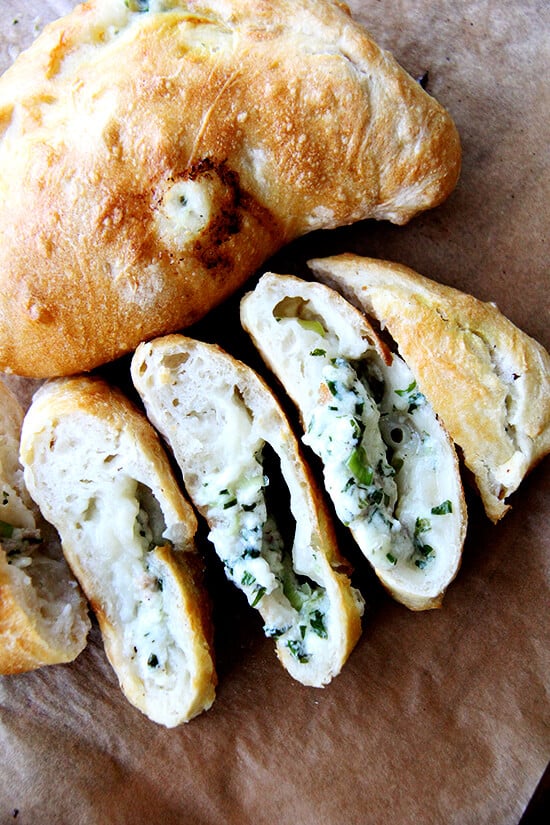 Hi from Tig and Wren: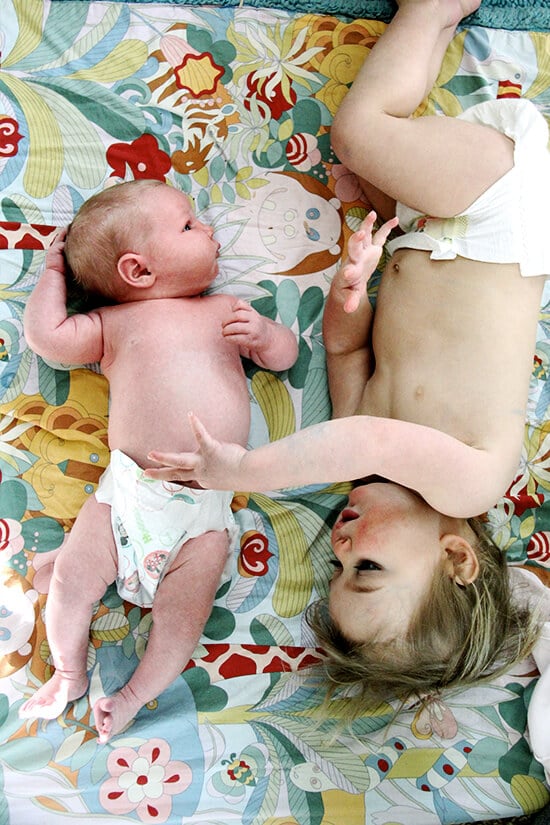 Pizza Perfected
7 Secrets to Mastering Pizza at Home
Always Free. Unsubscribe Anytime.
Print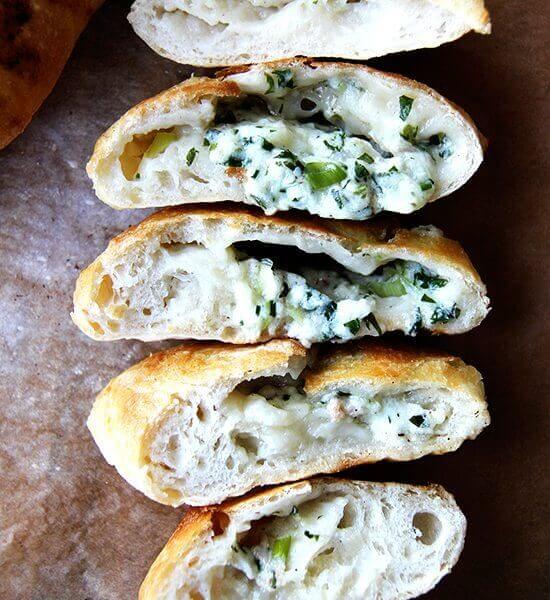 Chez Panisse's Famous Calzones
---
Author:

alexandra

Total Time:

25 minutes

Yield:

6 to 8
Description
Source: Deborah Madison's The New Vegetarian Cooking for Everyone, whose recipe leaves out the prosciutto.
Filling yields 6 small calzone; for each calzone, use about 4 oz. pizza dough.
I am partial to the Jim Lahey pizza dough recipe, which would yield 12 calzones — his full recipe calls for dividing the dough into 6 rounds, and I find that half of each of these rounds is perfect for one calzone.
These are small calzones — 6 inches in diameter before folded. Also, I have used store-bought dough for these but the finished product wasn't nearly as light — it was doughy and on the heavy side. There is something magical about the Lahey dough.
Original recipe calls for no egg wash — apparently at Chez Panisse, they brush these with olive oil as they exit the oven and sprinkle them with parmesan cheese. I've done both, but like how the egg wash gives these a golden crust.
A Baking Steel is a great tool for baking these as well as pizza and bread at home.
---
pizza dough (about 4- to 5-oz per calzone)

2 cups

grated mozzarella cheese, about

8 oz

1 cup

crumbled goat cheese, 4 oz (or a mix of goat and ricotta)

2 tablespoons

parsley chopped with 2 cloves garlic

1/4 cup

finely sliced scallions, including some of the greens

2

slices prosciutto, finely diced/sliced
salt and pepper to taste

1

egg beaten with 1 tablespoon water for eggwash
---
Instructions
Remove pizza dough from fridge and divide into 4- to 5-oz portions. Roll into balls and let sit on floured work surface while you make the filling.
Preheat oven to 450* F. If you have a Baking Steel or stone, place it in the oven.
Combine cheeses, herbs, prosciutto, salt and pepper to taste. Taste. Add more salt if necessary. Set aside. Filling can be made several hours/days in advance and refrigerated.
Line a pizza peel with a piece of parchment paper. (If you are not using a steel or stone, place parchment on baking sheet.)
Roll each round out into a 6- to 7-inch round. Transfer each round to prepared peel. These are small, but I would bake no more than 3 to 4 at a time. Mound 3 heaping tablespoons of filling on the bottom half of each circle. Paint the edges with water, then fold the top down, press the dough together, and crimp the edges — try very hard to create a tight seal or it will burst while baking and filling will ooze out.
Brush the tops of each calzone with egg wash. Bake for about 10 to 15 minutes or until golden on top. Remove from oven, let cool briefly, then serve.
Prep Time:

10 minutes

Cook Time:

15 minutes
This post may contain affiliate links. Please read my disclosure policy.