Pasta with Swiss Chard, Brown Butter & Walnuts
This post may contain affiliate links. Please read my disclosure policy.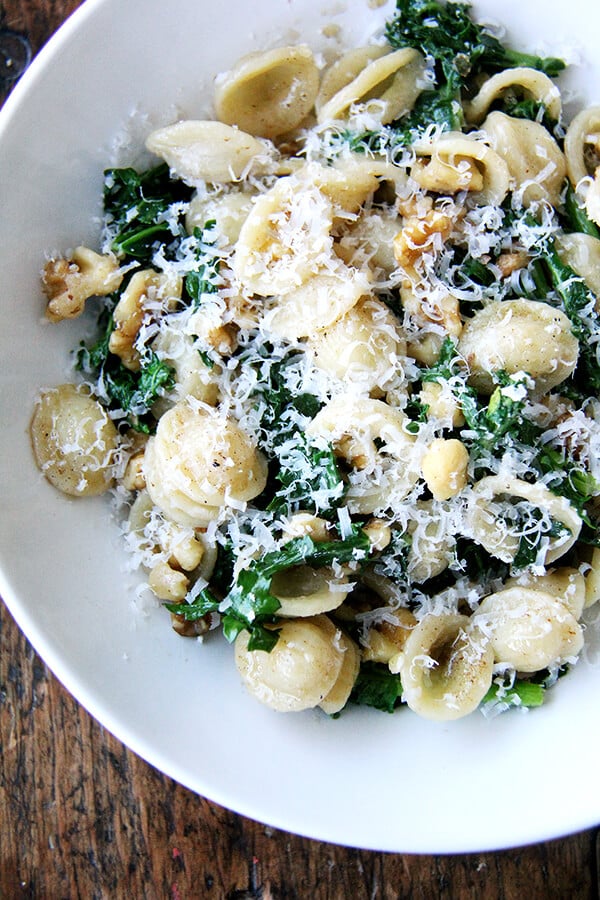 This pasta is a variation of a favorite pasta I make all winter with Brussels sprouts, brown butter and walnuts, which I love, but which is a little fussy — peeling all of those sprouts takes time.
Here, the pasta is simply drained over the chard or kale — just enough to wilt it — and when you use baby Swiss chard or kale, which I found at my Green Market last Sunday, it is especially good.
Simply toss with brown butter, toasted walnuts, and lots of shaved parmesan, and call dinner done! Simple and delicious.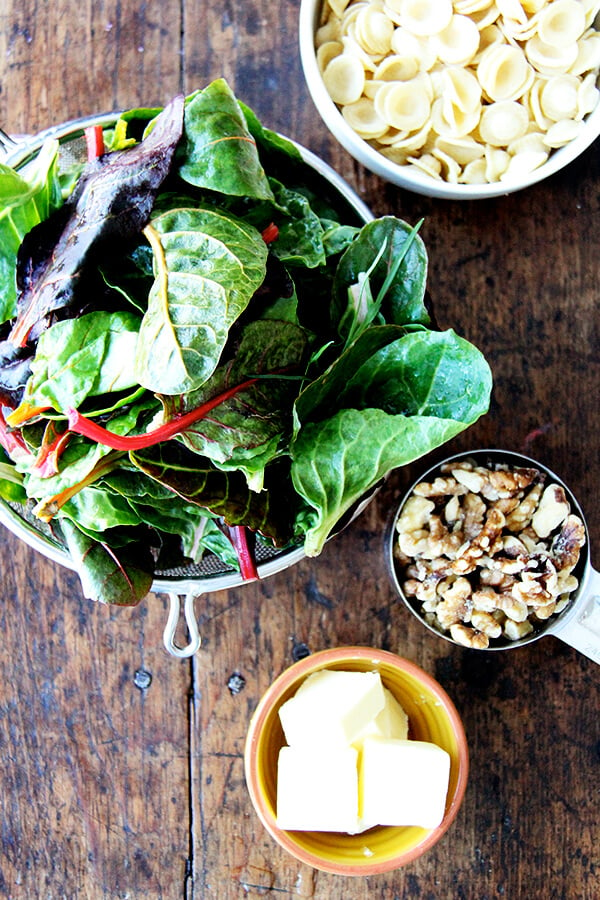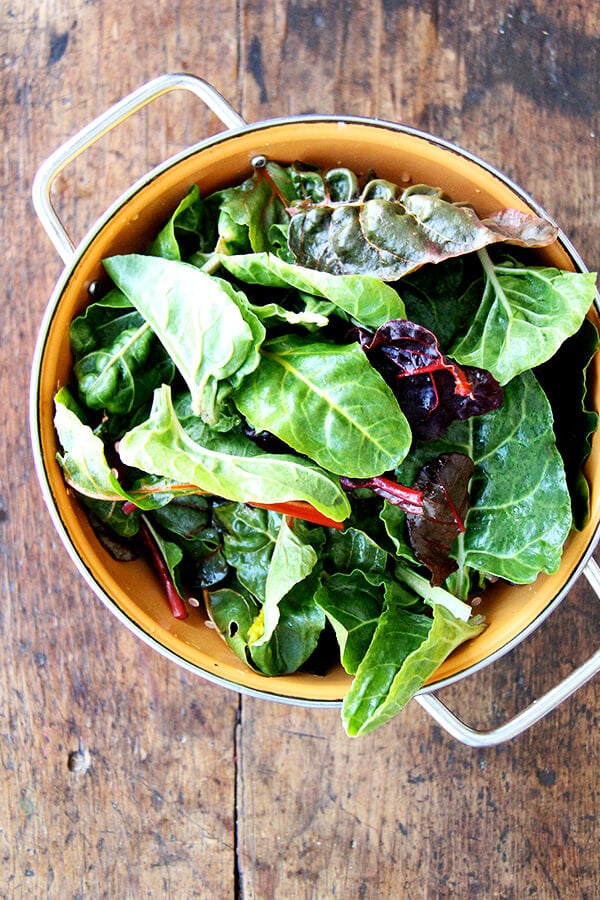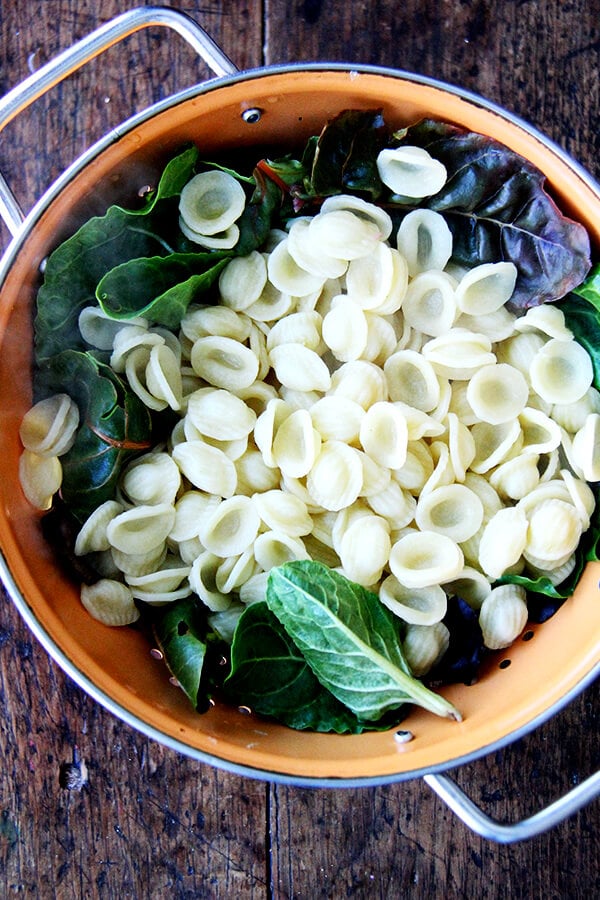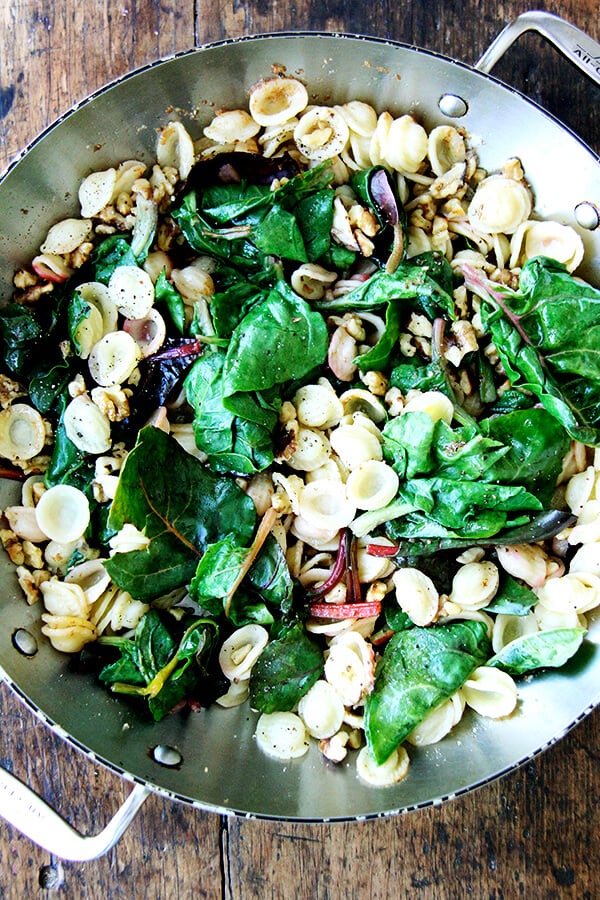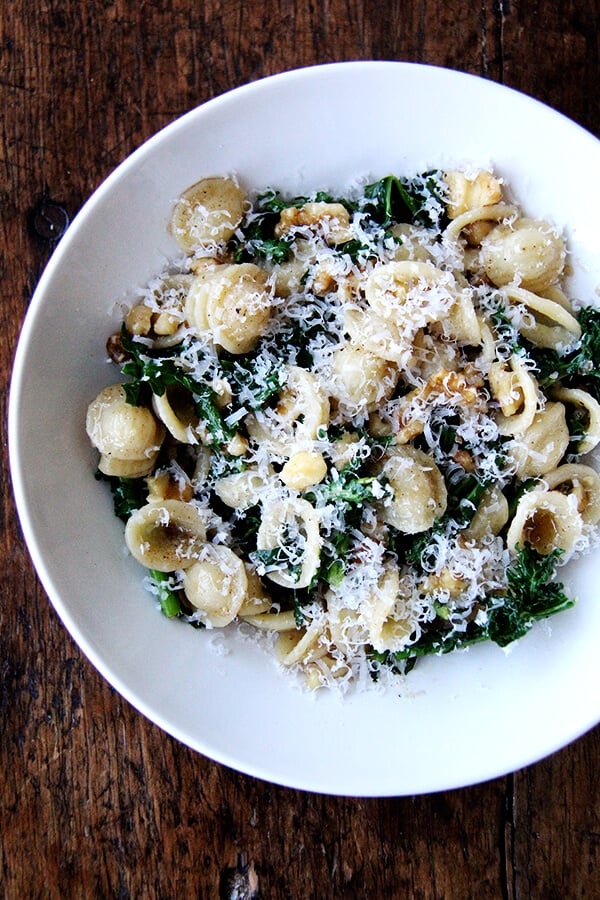 Print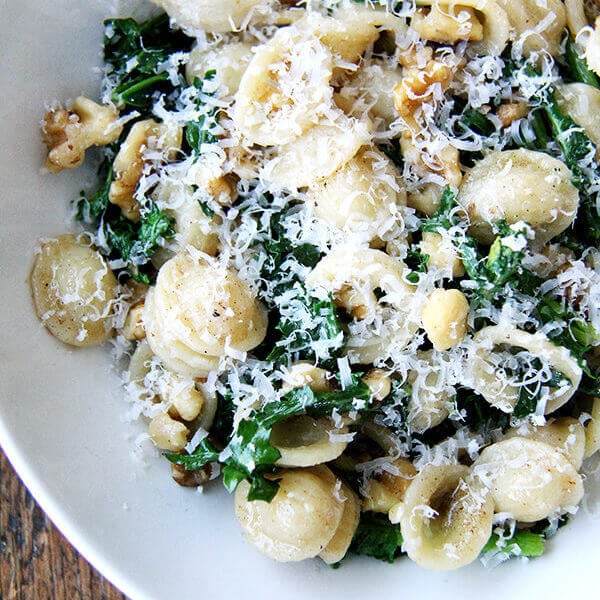 Pasta with Swiss Chard, Brown Butter, and Walnuts
---
8 cups

(about

9 oz

.) packed baby Swiss chard, baby kale or spinach*

1 tbsp

. kosher salt

1/2

lb. (8 oz.) orecchiette

6 tbsp

. unsalted butter

1 cup

walnuts
a handful (about 1/4 cup) of grated Pecorino or Parmigiano
salt and freshly cracked pepper, to taste
*These were the greens I found at the market most recently, and they were all incredibly tender. If you are using more mature greens and the stems feel tough, remove greens from stem. Also, asparagus, Brussels sprouts or peas—anything green, really—can be substituted for the greens. If you use one of these tougher vegetables, add them to the pot of pasta during the last two minutes of cooking time.
---
Instructions
Place greens in a large bowl and cover with cold water. Let sit for five minutes to allow any dirt to settle. Scoop greens from water and place in a large colander to drain. Any water clinging to the leaves is just fine.
Fill a large pot with water and bring to a boil. Add the tablespoon of salt and stir in the pasta.
In a large sauté pan (large enough to fit the pasta and greens) melt the butter over medium heat. Once the butter begins turning brown and smelling nutty, turn off the heat.
Meanwhile, in a small sauté pan over medium heat, toast the walnuts until they become lightly browned and fragrant, about 10 minutes. (Alternatively, toast the walnuts on a baking sheet at 350F for 8 to 10 minutes—watch closely to prevent burning.) Place the toasted walnuts in a tea towel and rub together to remove papery skin. Transfer walnuts to a sieve and shake again to remove any additional skin. I know this is fussy, but it makes a difference. Set aside.
Boil pasta till al dente. Reserve one half cup of the cooking liquid and set aside—you might not even need this, but it can be nice to have on hand. Drain pasta directly over the colander filled with the greens.
Bring the brown butter back up to temperature over medium or medium-high heat; add the pasta and greens to the pan. Add the walnuts and toss to coat. Grate cheese over top and toss again. Taste. Add more salt (if you have salted the cooking water with the tablespoon of kosher salt, you shouldn't have to add too much more salt) and pepper to taste. If necessary add some of the pasta cooking liquid to the pan—it's nice to have reserved pasta cooking liquid on hand if you make this ahead and need to reheat it, but just beware that the cooking liquid is salty. Serve pasta, passing more cheese on the side.
Prep Time:

15 minutes

Cook Time:

10 minutes

Category:

Pasta

Method:

Stovetop

Cuisine:

American
Keywords: pasta, orecchiette, Swiss chard, brown butter
This post may contain affiliate links. Please read my disclosure policy.