Pickled Egg Salad Toasts
This post may contain affiliate links. Please read my disclosure policy.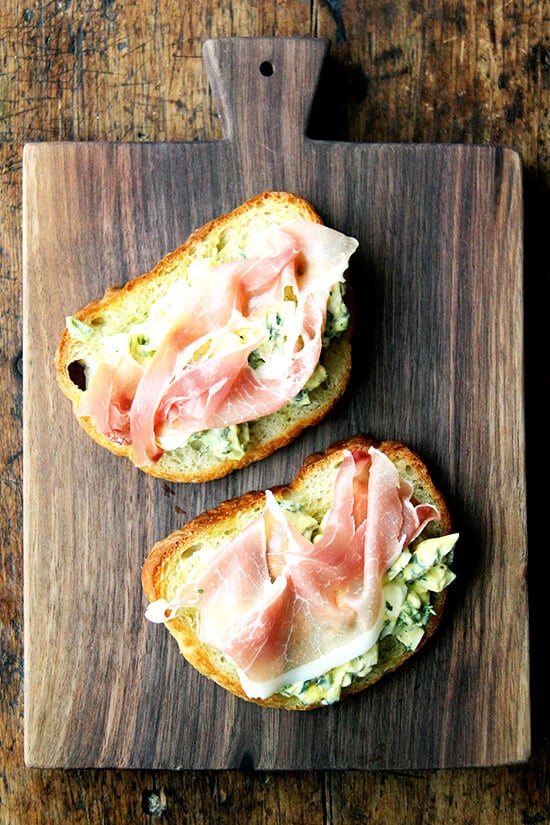 About this time of year every year, I wonder why I don't make egg salad more often — it's so good, it's light (or can be at least), and it's filled with protein to boot. Earlier this week, I made a recipe from Shed via Bon Appetit, and I am now wondering why for all these years I haven't been pickling my hard-boiled eggs before turning them into salad. Yes, the pickling is more work, but the bite and flavor this extra step brings is well worth the effort, which, by the way, takes all of five minutes.
Still have a dozen or so hard-boiled eggs on hand? Up for adding a little zing to your egg salad? Here's what you do:
Pickle half a dozen hard-boiled eggs and let sit for at least 12 hours: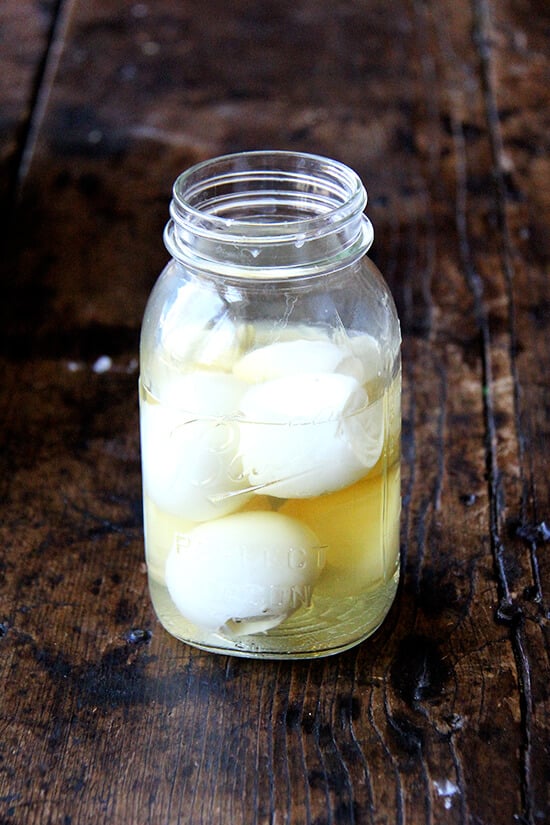 Chop up scallions or chives and parsley and mix with mayonnaise: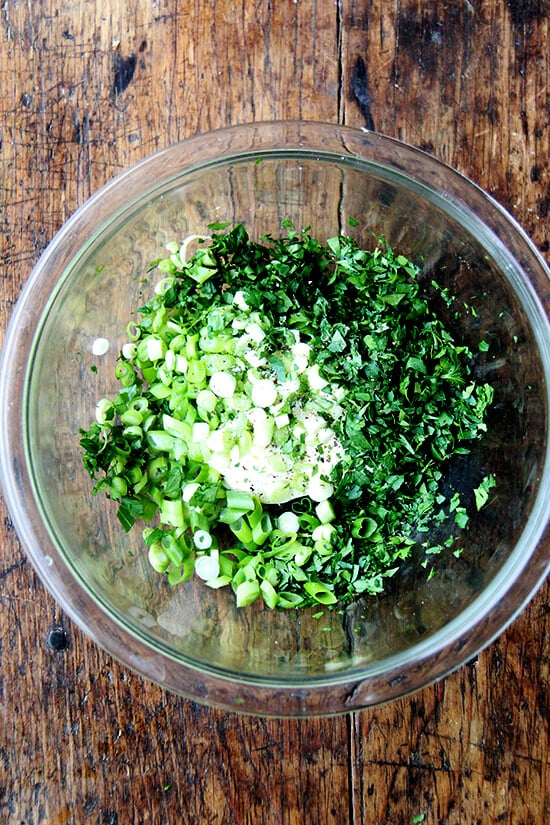 Fold in those pickled, chopped hard-boiled eggs: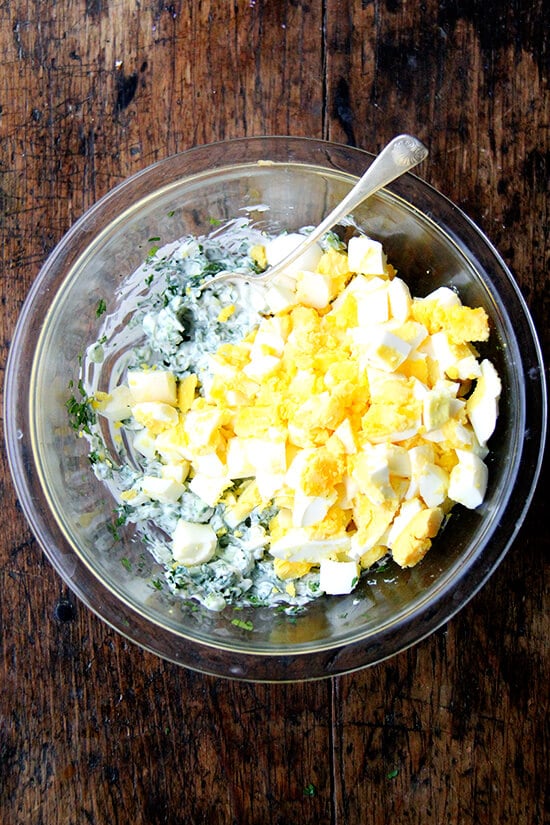 Meanwhile, bake some bread: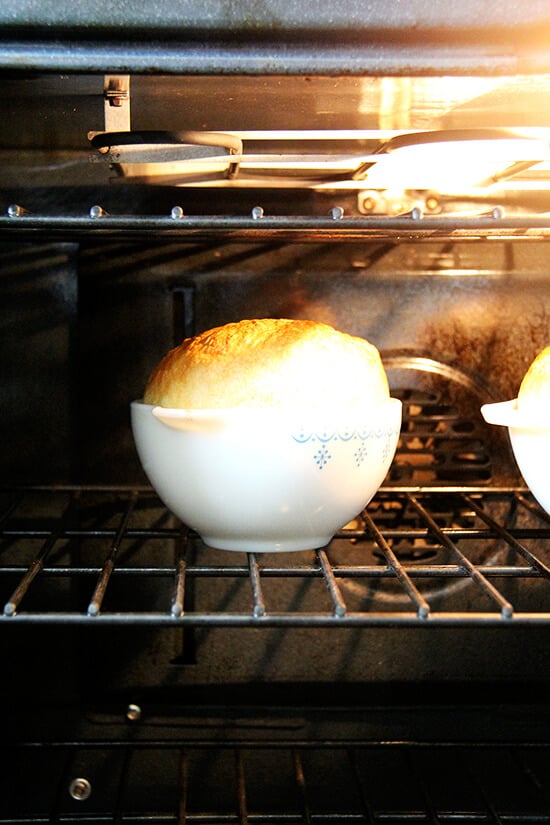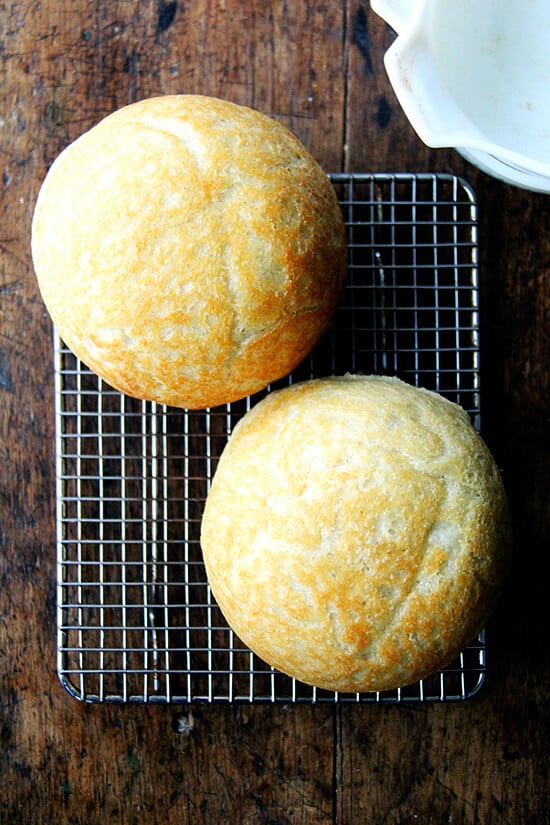 Then toast it: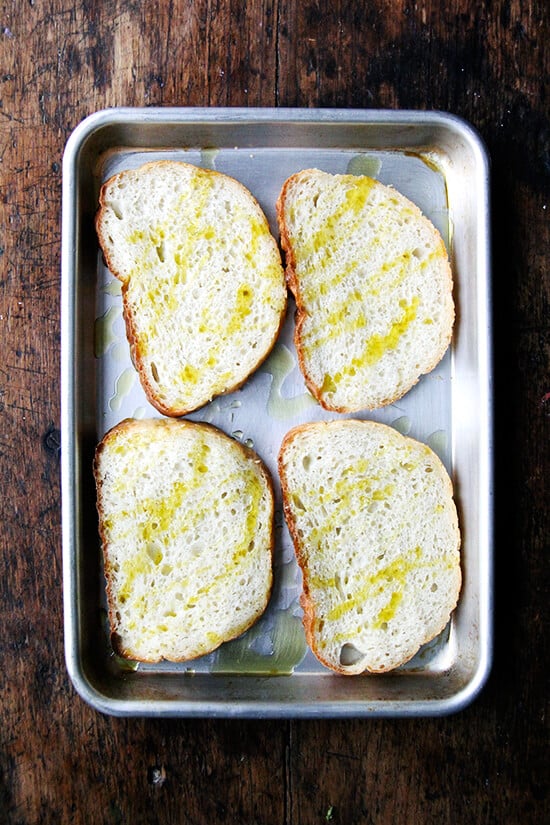 Rub it with garlic after you pull it from the oven: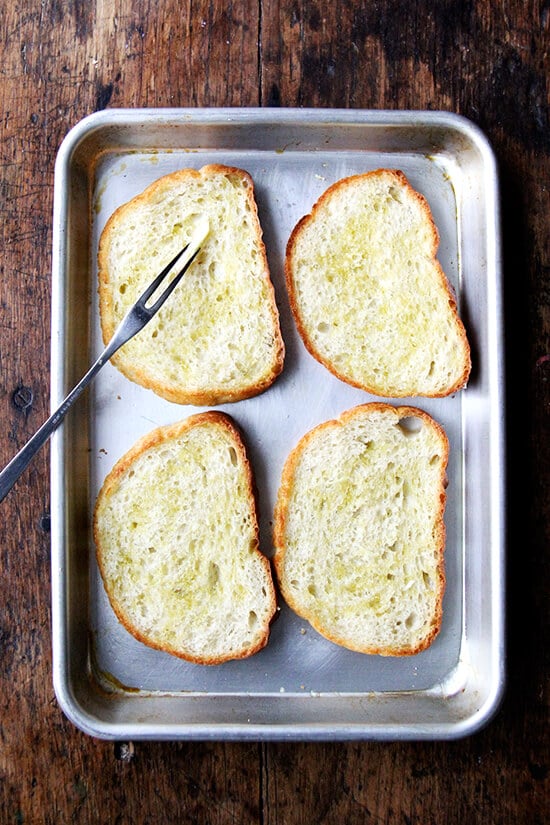 Top with pickled egg salad: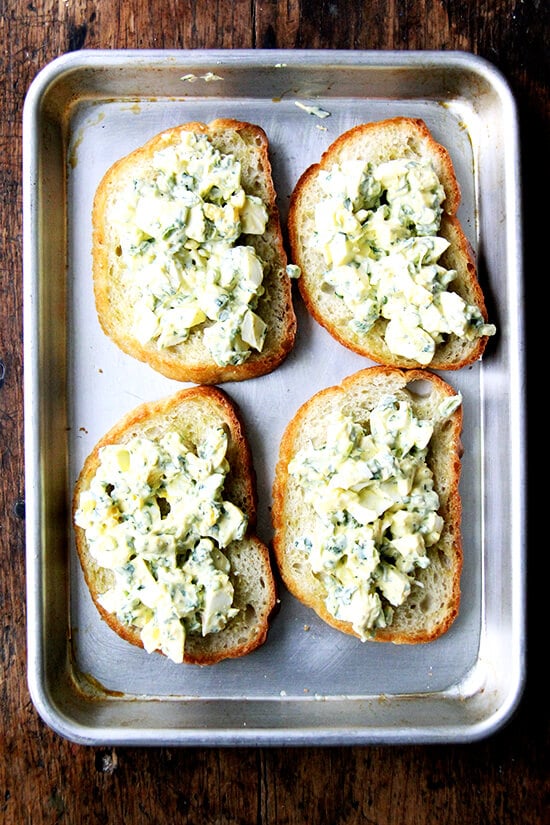 And some prosciutto or ham, if you've got it — it's not essential.
That's it! Have a wonderful weekend, Everyone. We're heading up to VT for Greek Easter, taking a little detour to Vergennes Laundry en route.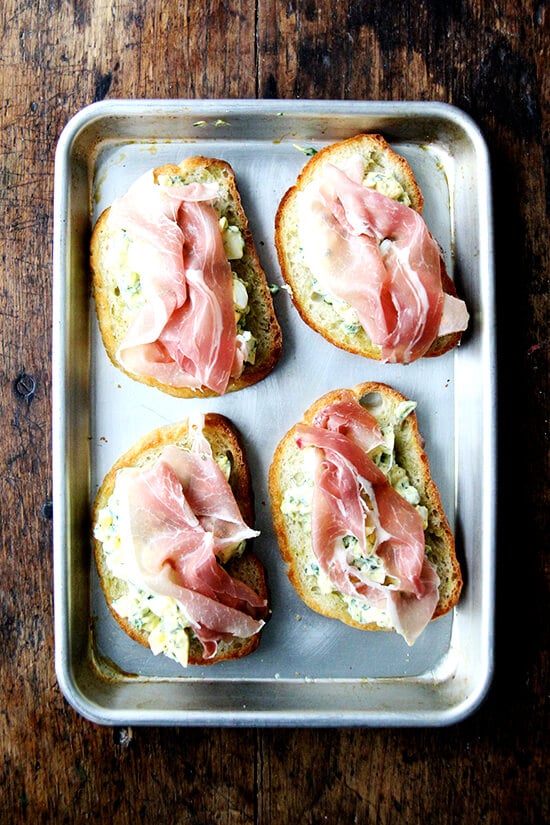 Print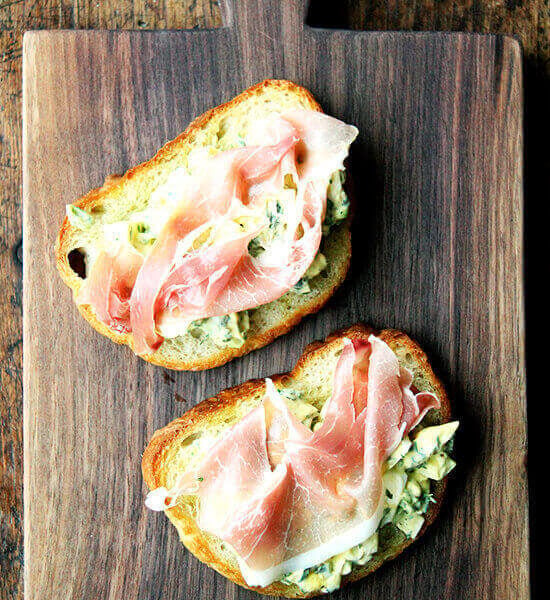 Pickled Egg Salad Toasts
---
Total Time:

12 hours 48 minutes

Yield:

6 servings
Description
Source: Bon Appetit Feb 2015
Note: You can hard boil the eggs as described below or use leftover hard-boiled eggs you have on hand. Also, one reviewer on Epicurious found the pickling to be too strong, so if a pickled flavor isn't quite your thing, maybe don't make a double batch of these to start. I find traditional egg salad bland in comparison — I made a batch to test — but I do love a good, strong pickle.
---
½ cup

apple cider vinegar

½ cup

distilled white vinegar

1 teaspoon

sugar

1½ teaspoons

kosher salt, plus more

6

large eggs

⅓ cup

mayonnaise

1

bunch scallions or

¼ cup

finely chopped fresh chives
lots of finely chopped fresh parsley
Freshly ground black pepper
peasant bread, country-style bread or ciabatta (however much you would like)
olive oil

1

–

2

garlic cloves
Chervil or parsley leaves with tender stems (optional — I skipped this)
Serrano ham or prosciutto for serving (optional, it's pretty and tasty, but not essential)
---
Instructions
Bring vinegars, sugar, 1½ tsp. salt, and ½ cup water to a simmer in a medium saucepan. Let cool.
Meanwhile, place eggs in a medium saucepan and add water to cover by 2". Bring to a boil, cover, and remove from heat. Let sit 10 minutes. Transfer eggs to a bowl of ice water to cool. Drain, peel, and return to bowl. Add pickling liquid; cover and chill at least 12 hours. Remove eggs from pickling liquid. Coarsely chop; mix with mayonnaise, scallions or chives, and parsley in a medium bowl. Season with salt, pepper, and some pickling liquid, if desired. (I used about 2 teaspoons.)
Preheat oven to 425°. Place bread on a baking sheet and drizzle with oil. Toast until golden brown, 5–8 minutes. Rub with garlic. Top each toast with pickled egg salad, some chervil (if using), and a slice of ham.
Do Ahead: Eggs can be pickled 1 week ahead. Keep chilled.
Prep Time:

20 minutes

Cook Time:

8 minutes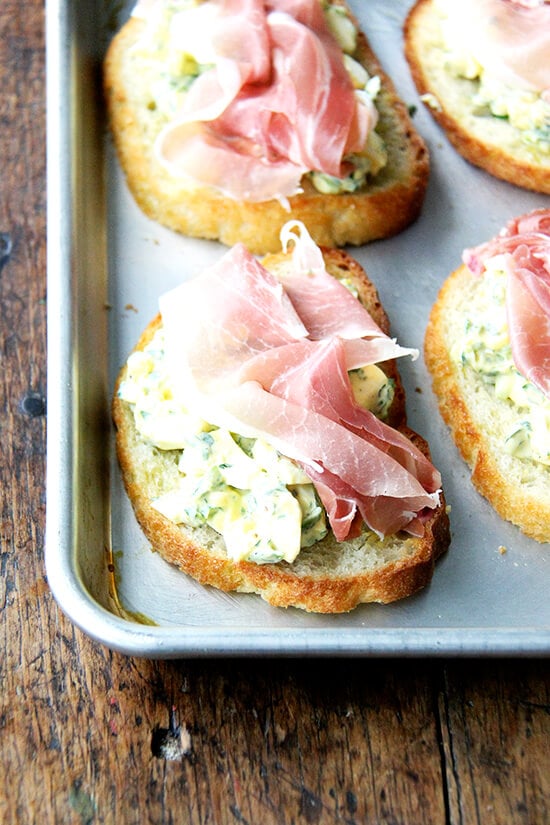 This post may contain affiliate links. Please read my disclosure policy.