Ginger Fried Rice with Poached Egg
This post may contain affiliate links. Please read my disclosure policy.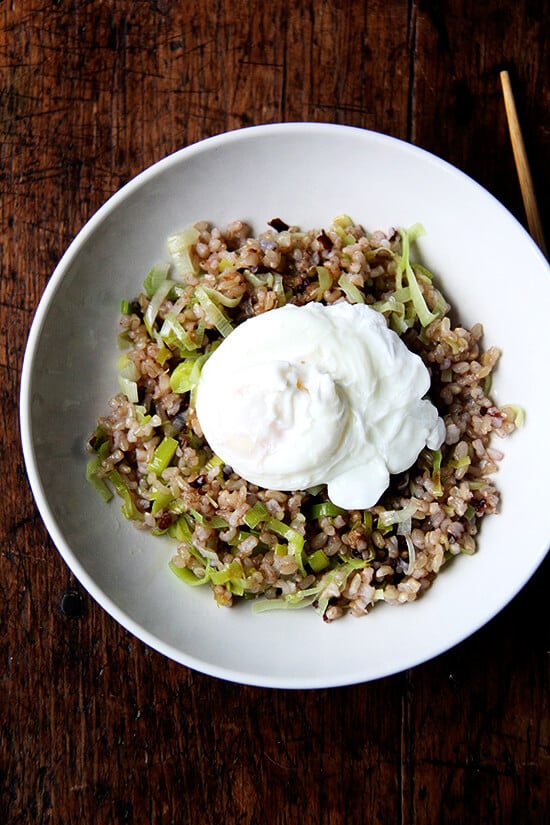 A surefire way to create a viral stir, in the food blogosphere at least, is to post a three-ingredient-or-less recipe: One-ingredient ice cream! Two-ingredient pancakes! Three-ingredient pasta sauce! What's not to love?
I am the first to click on these links and never cease to be amazed by their outcome. They often take little time to make and rarely require odd ingredients. Last fall, I discovered one of my favorite such recipes: the Canal House's chicken with preserved lemon, a dish that, in my mind, exemplifies the notion of simple meeting spectacular.
That recipe, you might recall, arrived in the mail as a preview of what was to come in the Genius Recipes cookbook, which has finally arrived, and which I have been studying ever since. I am so happy to see a number of these three-ingredient-or-less recipes I have yet to try: Dan Barber's one-ingredient crackers, Diane Kennedy's three-ingredient carnitas, and Hervé This' chocolate mousse made with chocolate and water alone. This past winter I made Francis Mallmann's potato dominoes and fell in love.
The recipe here, ginger-fried rice, does not fall into this three-ingredient category but it's in the same vein — a simple process with a modest ingredient list made from many pantry staples. And the genius of this recipe is that you don't need day-old rice. Whereas in traditional fried rice, crunch is provided by browning day-old rice, here crunch comes by way of ginger and garlic that have been crisped in oil and reserved for sprinkling overtop at the end.
What I love about this recipe is that once you get the basic idea — fry garlic and ginger, sauté vegetables, add rice — you can make endless variations. I haven't once made this with day-old rice (see notes in recipe), and while it is truly special with leeks, I love using steamed broccoli or sautéed onions or any vegetable I have in the fridge. There is no sauce making — each serving is drizzled with a teaspoon of soy sauce and half a teaspoon of sesame oil — and if you want to make the dish more complete, top it with an egg (fried, poached, soft-boiled, etc.)
Whatever you do, don't forget to add the reserved crispy bits of garlic and ginger, the most essential element of this dish. As the photo above reveals, I did this, and I will sheepishly admit why: I was having a moment with the tidiest, most unmangled poached egg I have made. If you've ever had trouble poaching eggs, check out this Julia Child trick the Kitchn wrote about last week.
PS: Potato dominoes.
PPS: I do not want to lead you astray: I love the Genius Recipes cookbook for more than just its three-ingredient-or-less gems — there are so many recipes, each with its own genius twist, I am dying to make: Julia Child's zucchini and rice gratin, a Dorie Greenspan apple cake, and Yotam Ottolenghi's black pepper tofu, to name a few.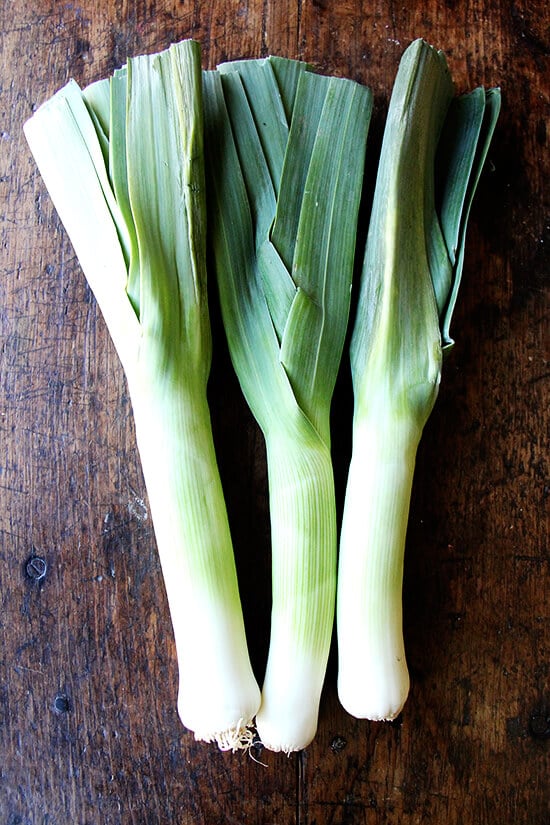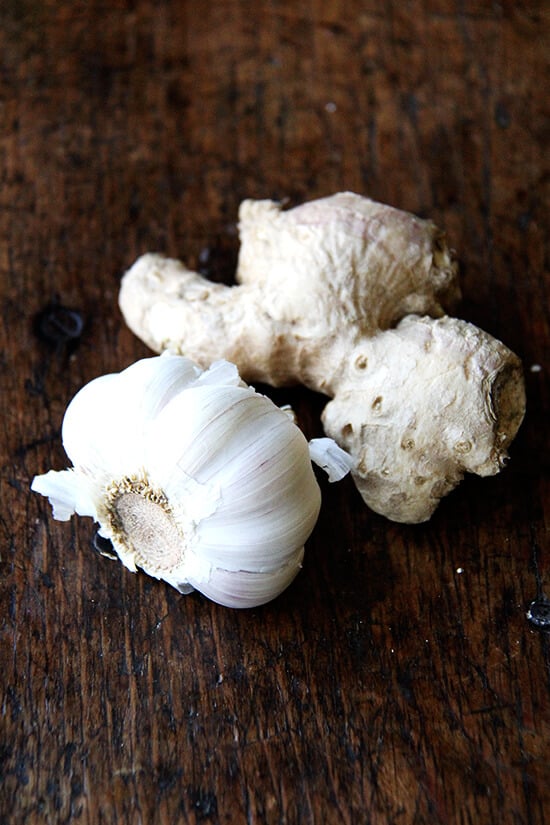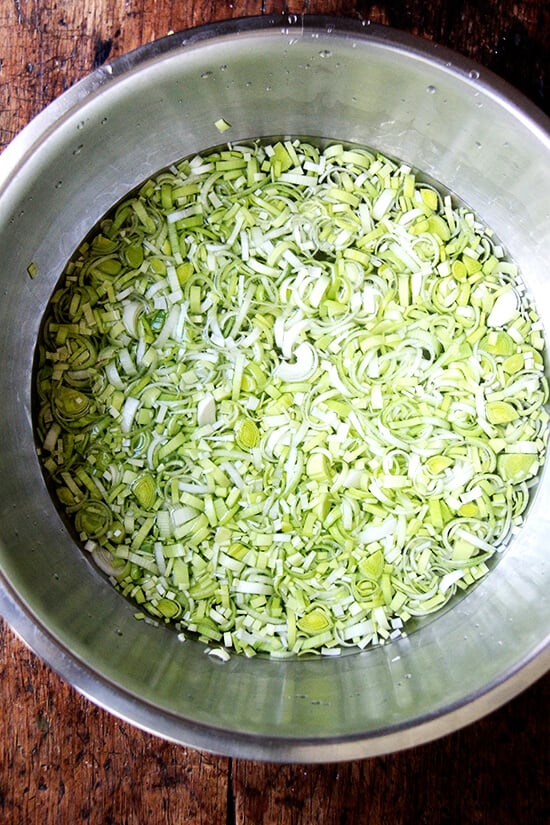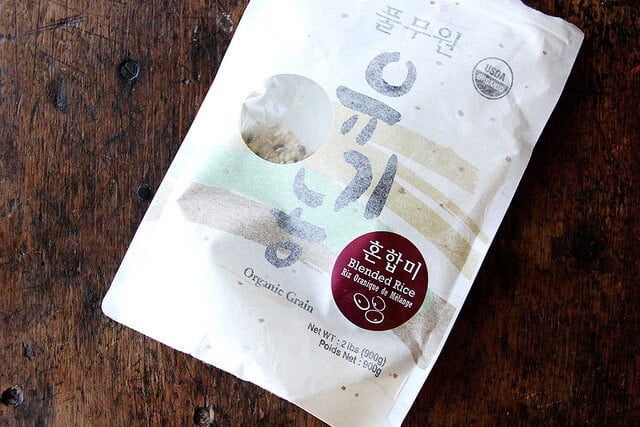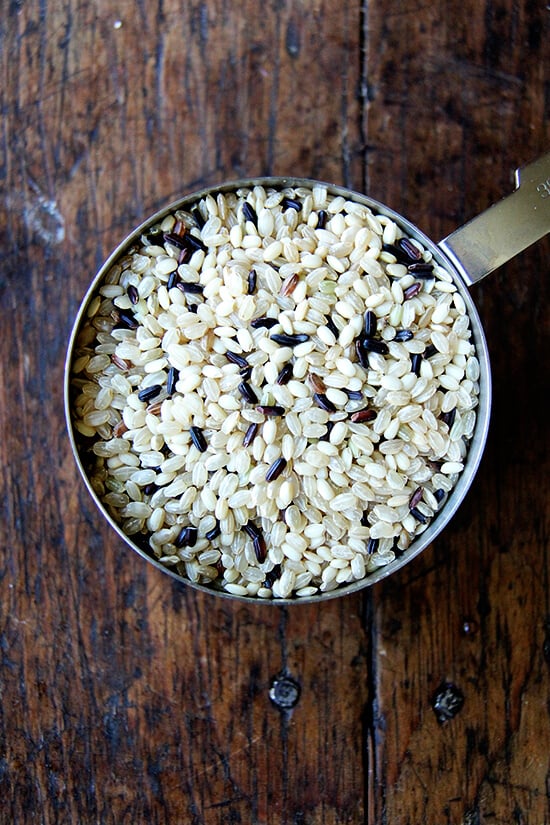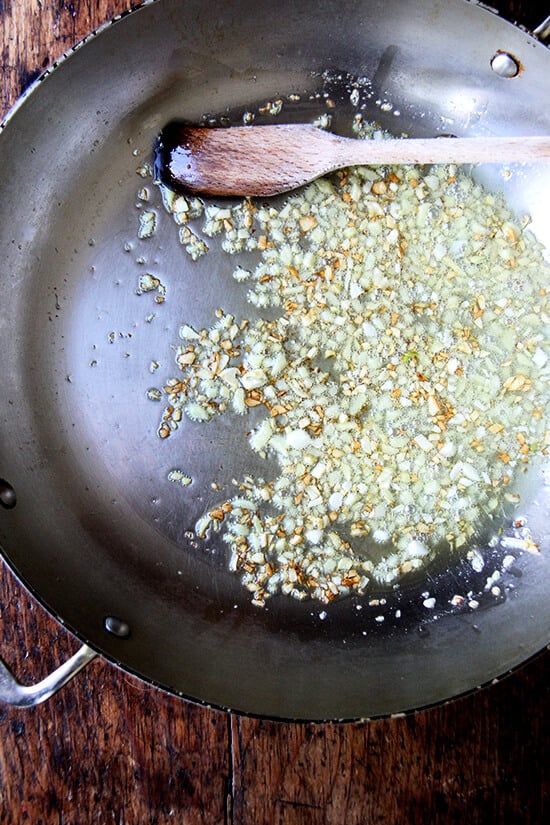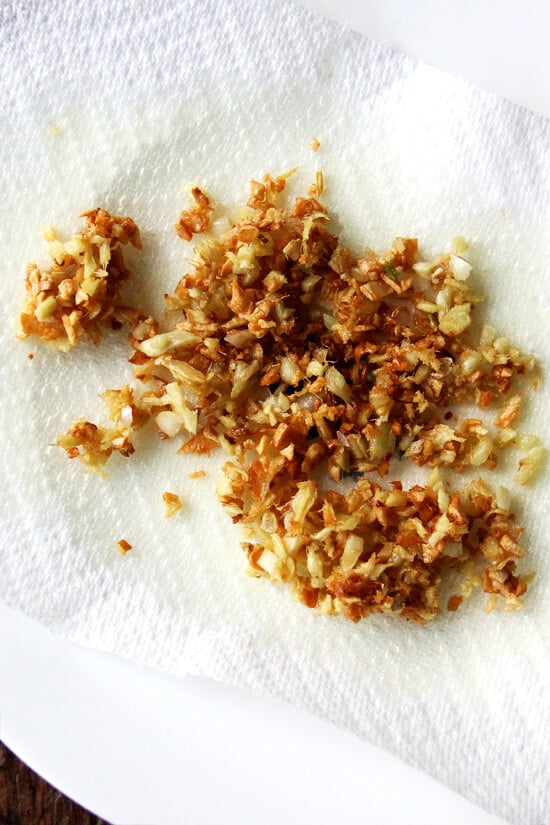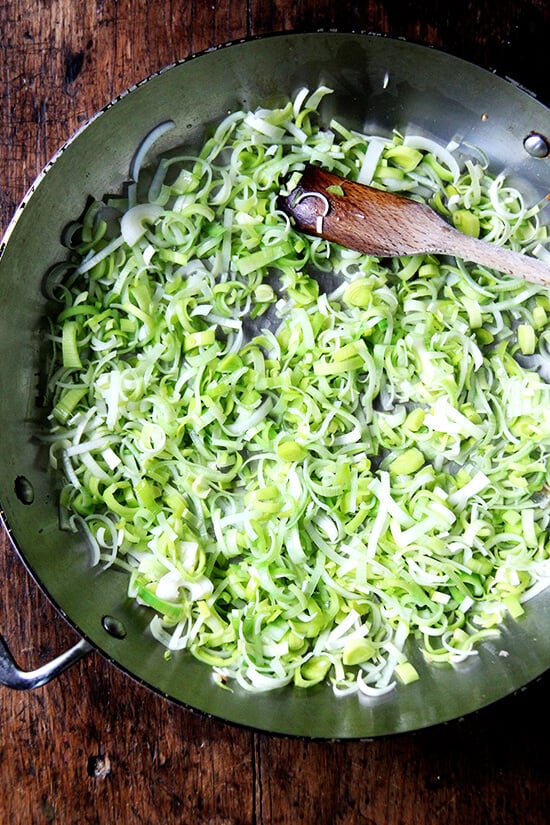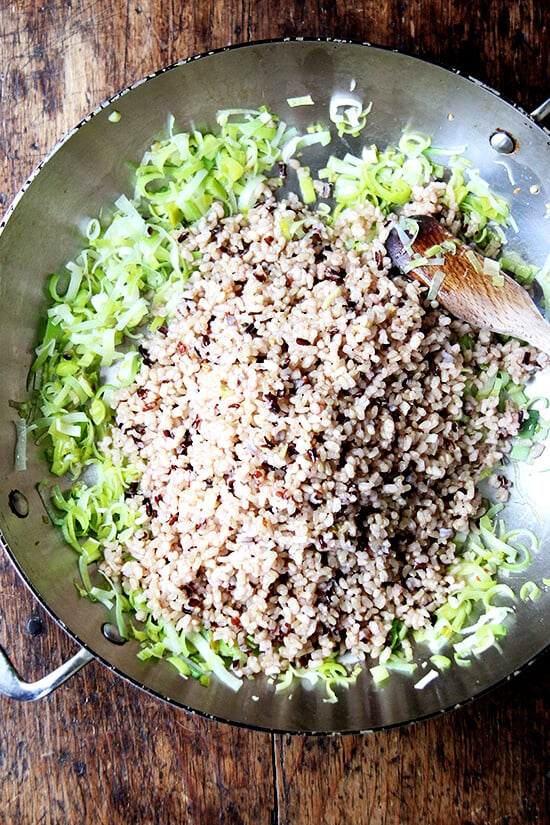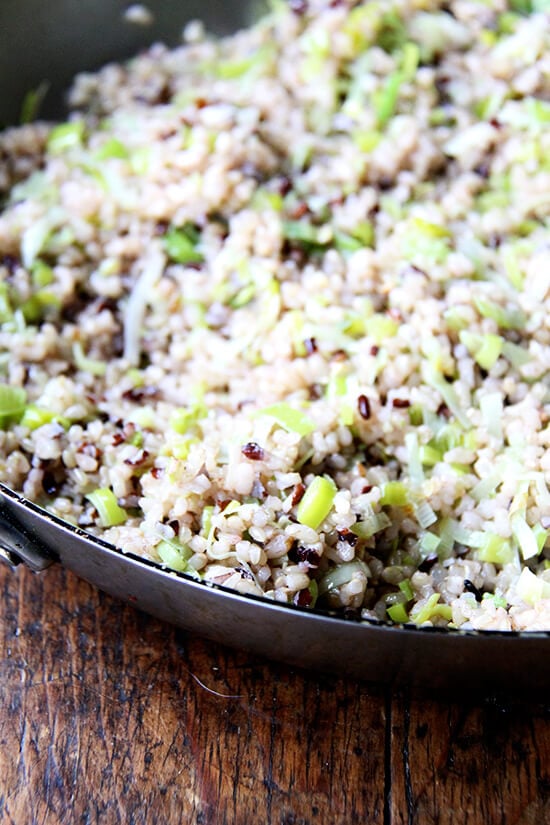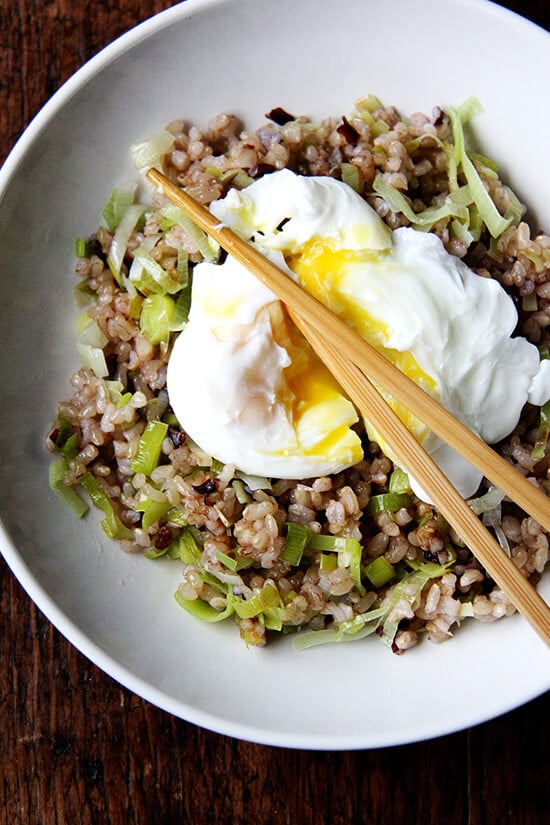 Print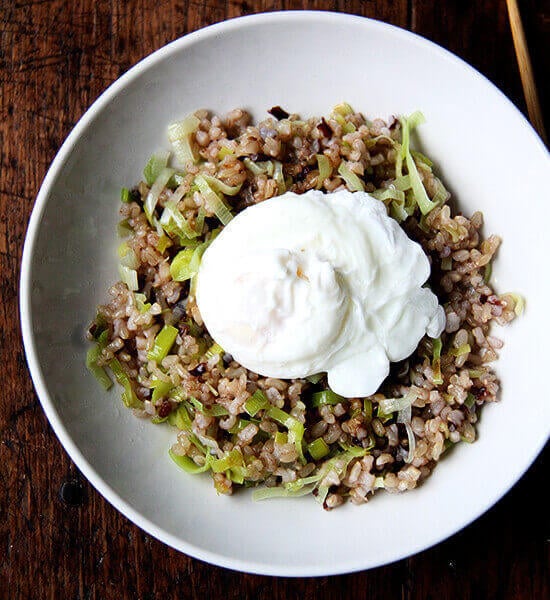 Ginger Fried Rice with Poached Egg
---
Author:

Alexandra

Total Time:

30 minutes

Yield:

4
Description
Source: Genius Recipes
Egg poaching method: The Kitchn via Julia Child
I have been using a blended rice mix that I find at my Korean market. I've also just been boiling it pasta-style with a tablespoon of kosher salt until it's al dente — it takes about 45 minutes. One cup of dried rice yields about 4 cups of cooked.
Notes from the Genius Recipes cookbook: Use leftover cooked rice if you have it. Here are some tips if you're cooking the rice fresh, to make sure it isn't too soggy: When the cook time is done, leave the rice undisturbed in the pot (uncovered) for 5 minutes. Spread the rice on a tray (or two) to dry out. While you prep the rest of the ingredients, put it by an open window or a fan, or pop the tray in the fridge or freezer if you have room. Jaden Hair at Steamy Kitchen also recommends starting with 1/4 to 1/3 less water when cooking the rice.
---
1/4 cup

– 1/2 cup neutral oil such as grapeseed or canola

2 tablespoons

minced garlic

2 tablespoons

minced ginger
Salt

2 cups

thinly sliced leeks, white and light green parts only, rinsed and dried

4 cups

cooked rice or any rice blend (see notes above)
eggs, however many you feel like poaching/frying
sesame oil
soy sauce
---
Instructions
In a large skillet, heat 1/4 cup oil over medium heat. Add garlic and ginger and cook, stirring occasionally, until crisp and brown. With a slotted spoon, transfer to paper towels and salt lightly. Alternately, you can pour the oil into a heat-proof bowl through a fine-mesh strainer, then return the flavorful oil to the pan, reserving the ginger and garlic bits.
Reduce heat under skillet to medium-low and add 2 tablespoons oil and leeks. Cook about 10 minutes, stirring occasionally, until very tender but not browned. Season lightly with salt.
Meanwhile, bring a pot of water to a boil. Using a safety pin, make a small hole in the eggshell. Lower the whole egg (still in the shell) in the boiling water for exactly 10 seconds. Remove the egg from the water, and lower the heat to bring the water to a simmer. Once the egg is cool enough to handle (this should take just a few seconds), poach the egg as you normally would, by cracking the egg into gently simmering water.
Meanwhile, raise heat under the sauté pan to medium and add rice. Cook, stirring well, until heated through. Season to taste with salt.
Divide rice among four dishes.
Drizzle with 1/2 teaspoon sesame oil and 1 teaspoon soy sauce. Top with an egg. Sprinkle crisped garlic and ginger over everything and serve.
Prep Time:

10 minutes

Cook Time:

20 minutes
This post may contain affiliate links. Please read my disclosure policy.