Ramp Green Pesto & Pizza | Pickled Ramps
This post may contain affiliate links. Please read my disclosure policy.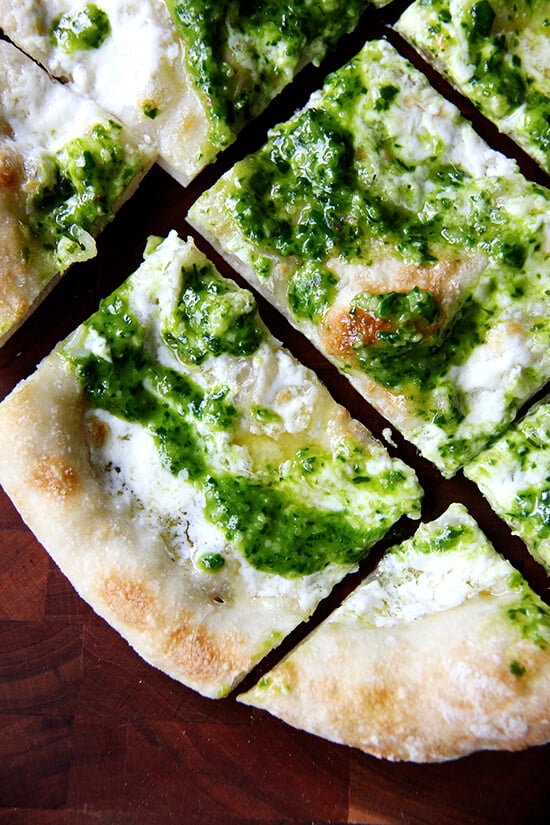 About this time last year, I discovered the beauty of baking pizzas naked and dressing them out of the oven with simple, light herb-and-cheese sauces. The benefits of this method are twofold: 1.) Liberated of toppings, the dough springs in the oven, emerging with dramatic crests and craters that so nicely cradle sauce and cheese. 2.) Ingredients, herbs especially, sprinkled on post baking retain their fresh, bright flavors.
When I spotted the first ramps of the season at the Co-op last week, I thought of those summer pizzas and bought two large bags. After trimming the ends and soaking them for a bit, I whizzed the greens into pesto, and submerged the bulbs into brine. The pesto has made its way into everything we've been eating — sandwiches, pasta, and this pizza, where it has been thinned with a little more olive oil and vinegar to allow for easy brushing.
Here, while the pizza isn't baked completely naked, the process is similar: scatter burrata (or mozzarella or ricotta) lightly across dough, drizzle it with olive oil and bake it until bubbling. Immediately upon pulling it from the oven, brush it with a thinned-out ramp pesto and a sprinkling of sea salt. Withholding the pesto from the pizza until it's out of the oven preserves not only its sharp, punchy flavor but also its vibrant green color.
This pesto and pizza (and pasta and pickle, see below) are delicious, but one bite of the raw, sweet greens upon returning from the store with them reminded me why everyone goes crazy for ramps this time of year. How have you all been cooking them? I'm going to try using the greens in this favorite spring chicken recipe this weekend.
Happy Friday, Everyone.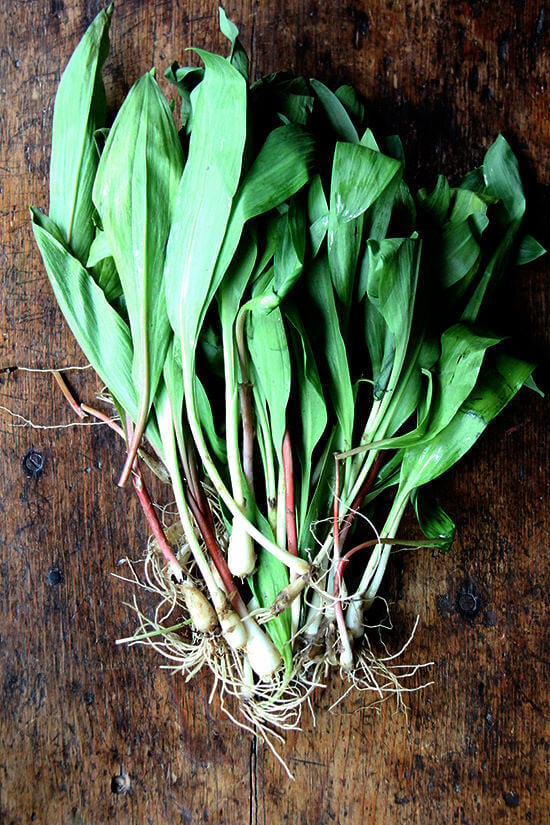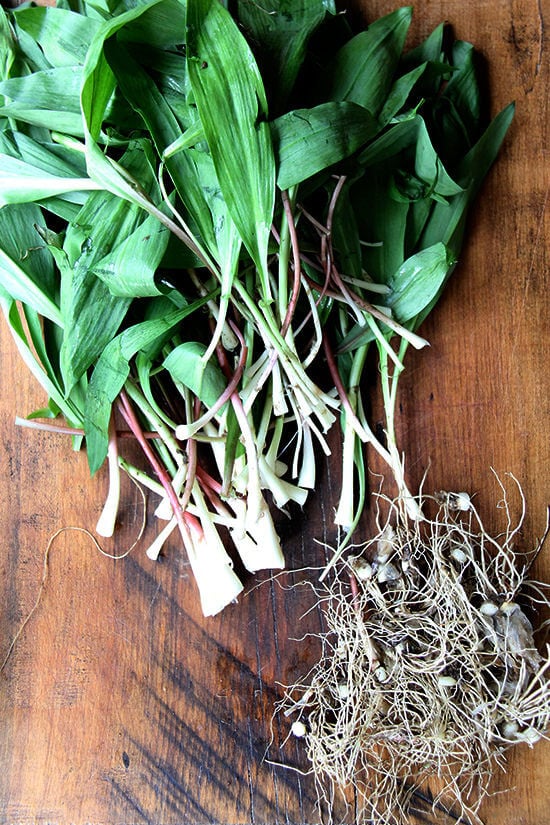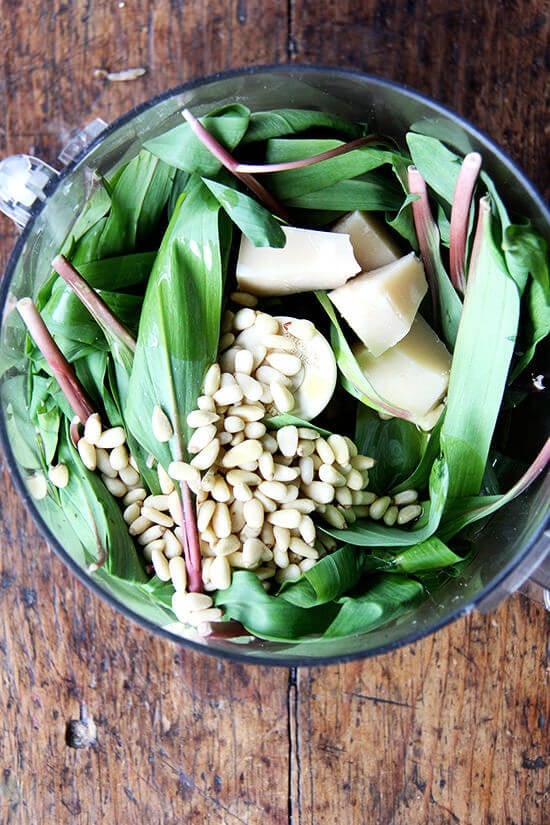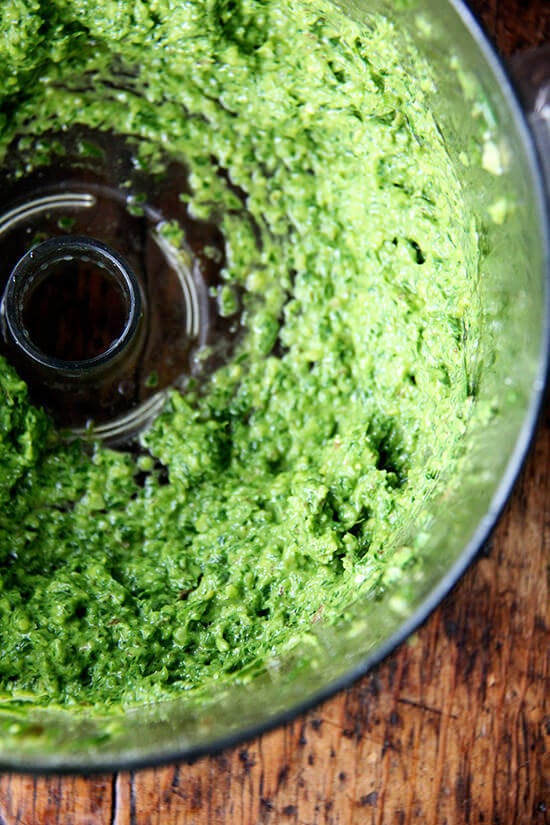 Lahey dough: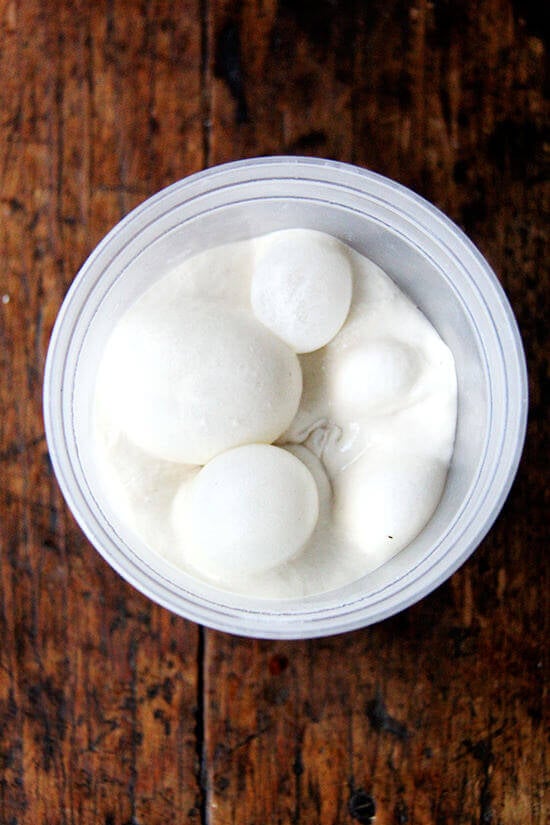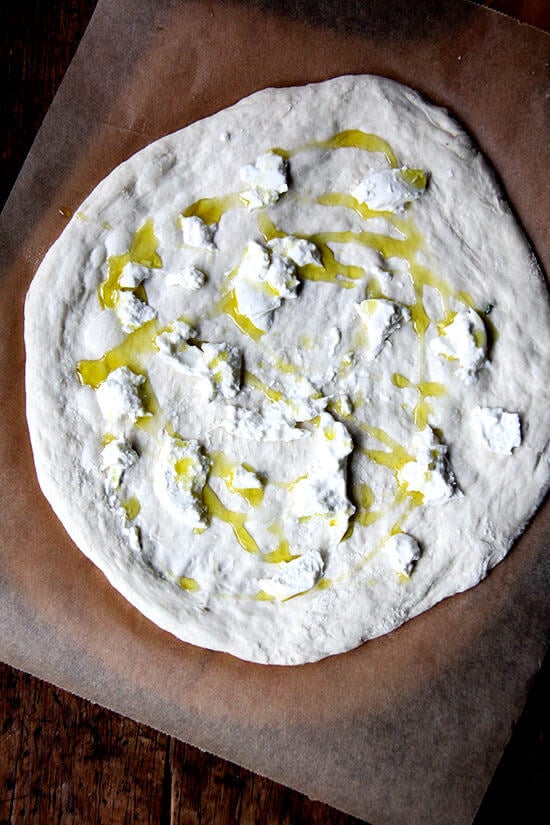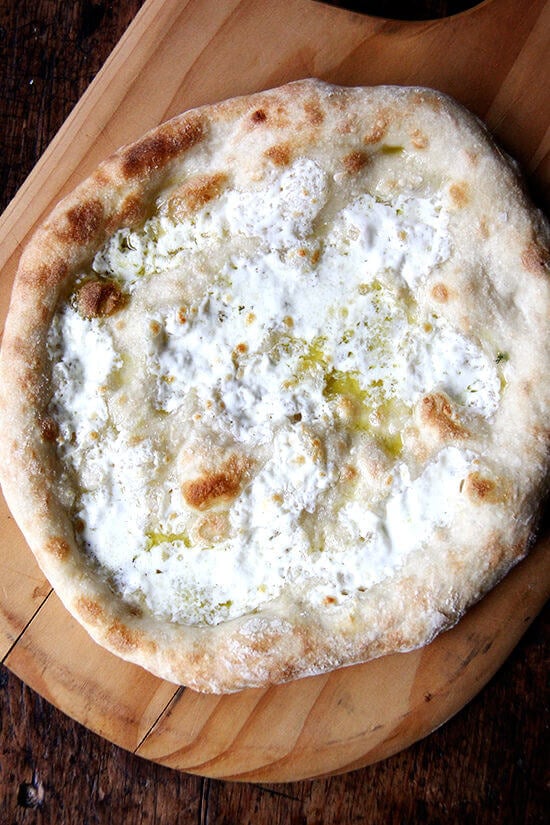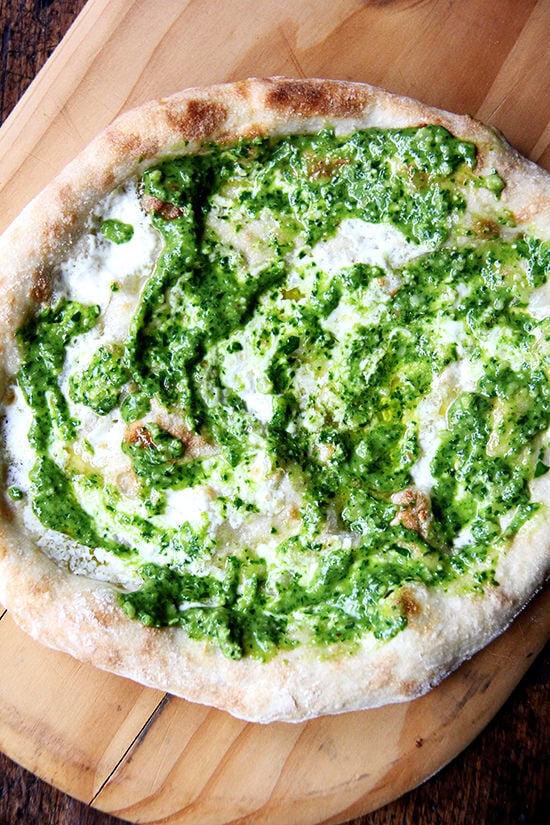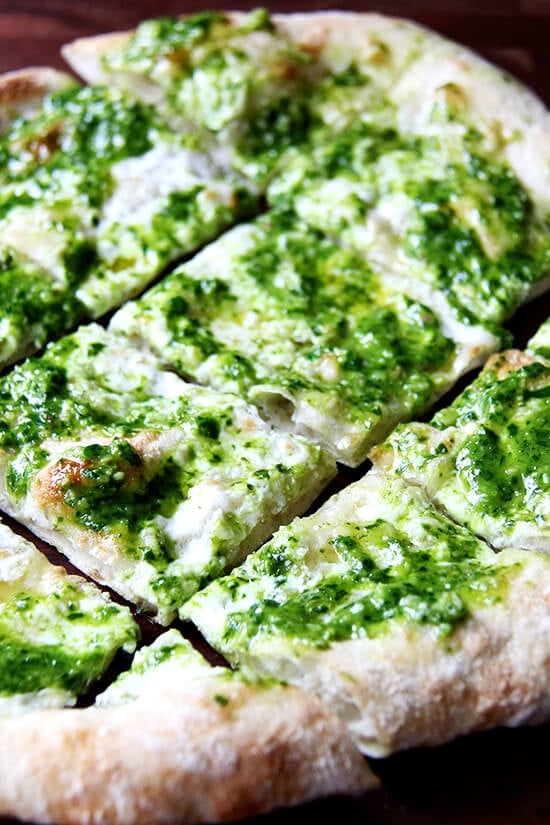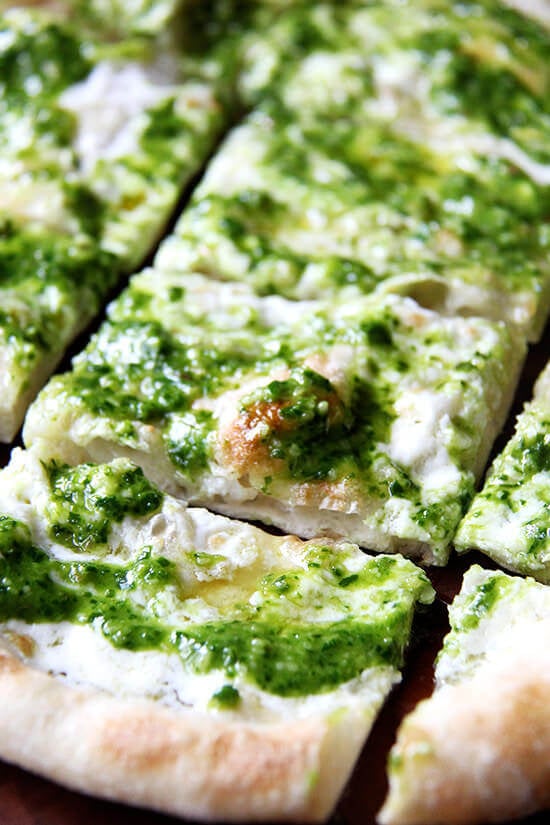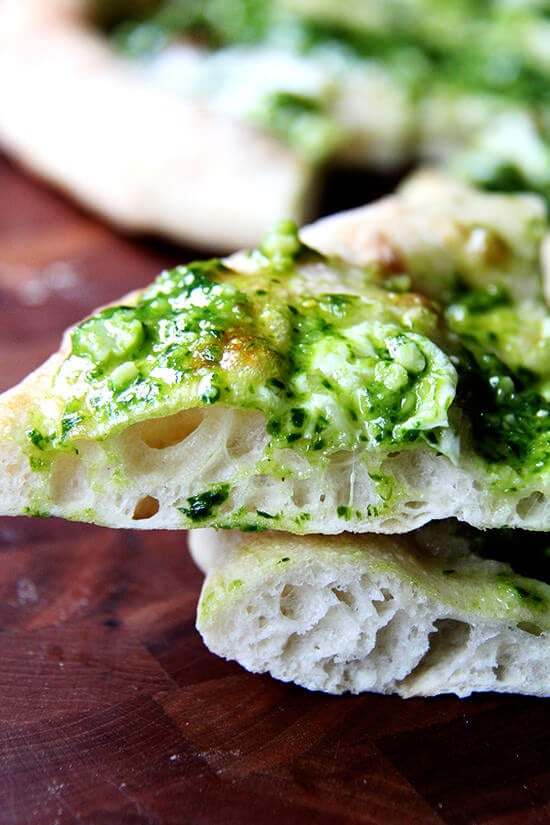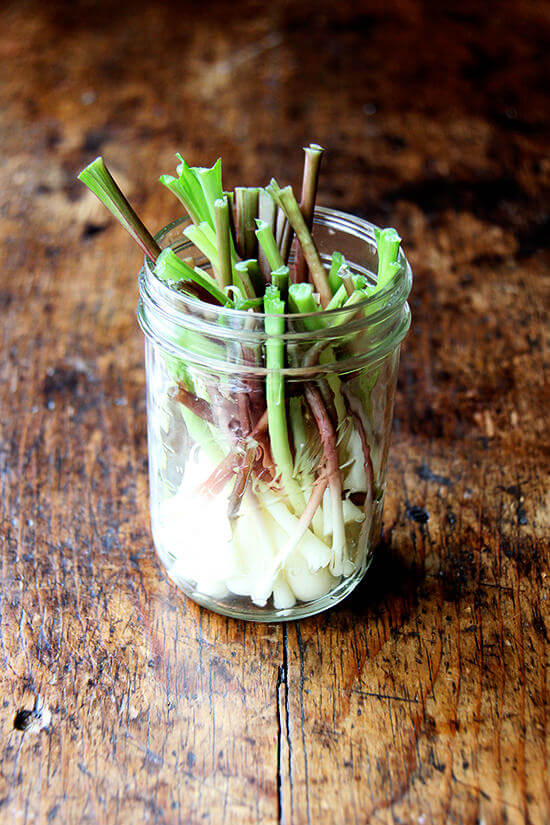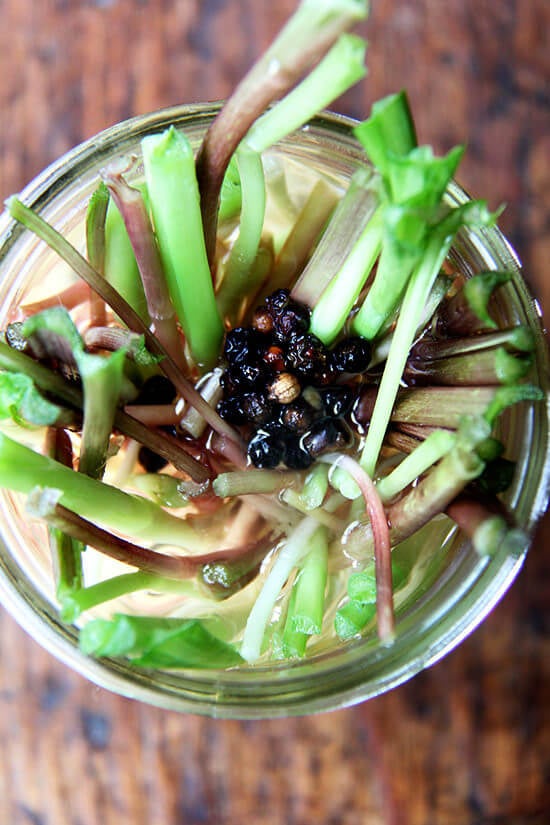 To pickle the ramp bulbs: Make sure the bulbs are clean: let them soak in water for 5 minutes or so, or rinse them under cold water. Peel away any slimy outer layers. Place the bulbs in a clean glass jar. Meanwhile, in a small saucepan, bring 1/2 cup water, 1/2 cup white vinegar, 1 teaspoon salt, and 1 teaspoon sugar to a boil, and simmer for one minute or until the sugar and salt are dissolved. Remove from heat and add 1/2 teaspoon peppercorns. Pour the hot liquid including the peppercorns over the ramps. Let cool to room temperature, then cover and refrigerate. This is the same method, essentially, I used for the pickled watermelon radishes.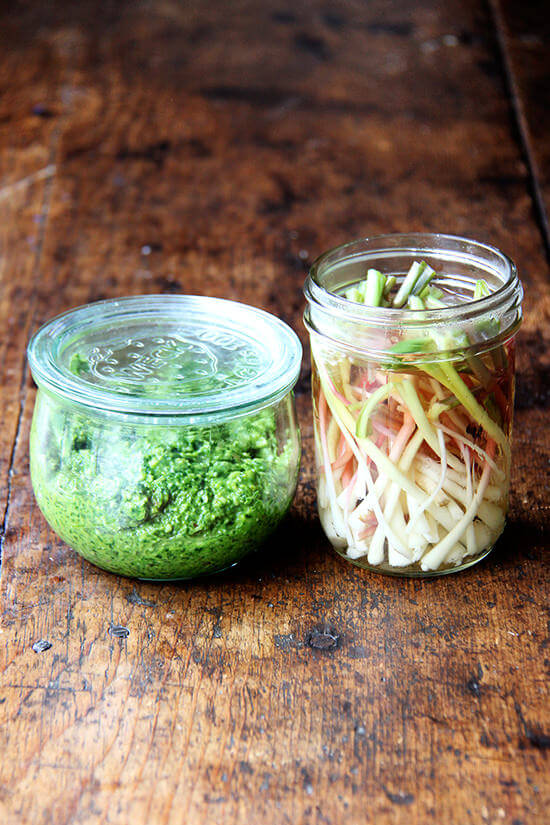 What else to do with the pesto? Pasta. Boil pasta with 1 tablespoon kosher salt. Thin pesto out with a little bit of the pasta cooking liquid before tossing with pasta. Add more parmesan if desired.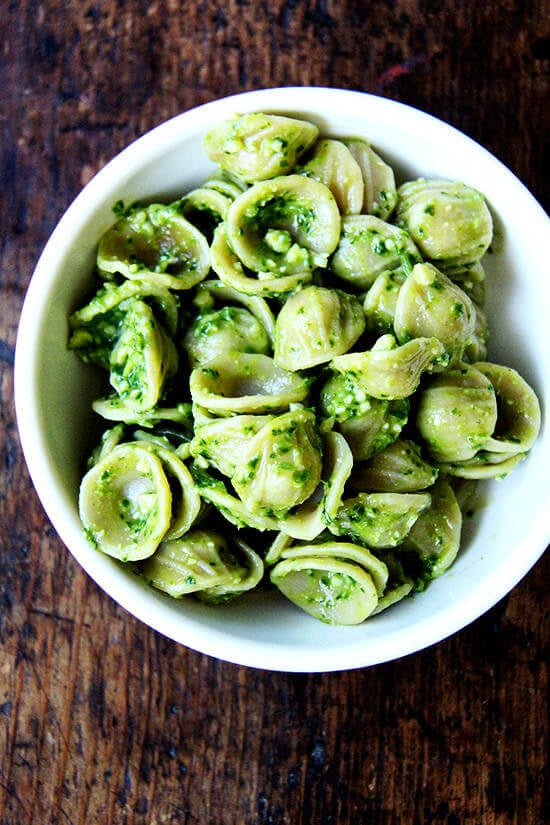 Ramp pesto and pickled ramp sandwich with burrata — too much? Perhaps.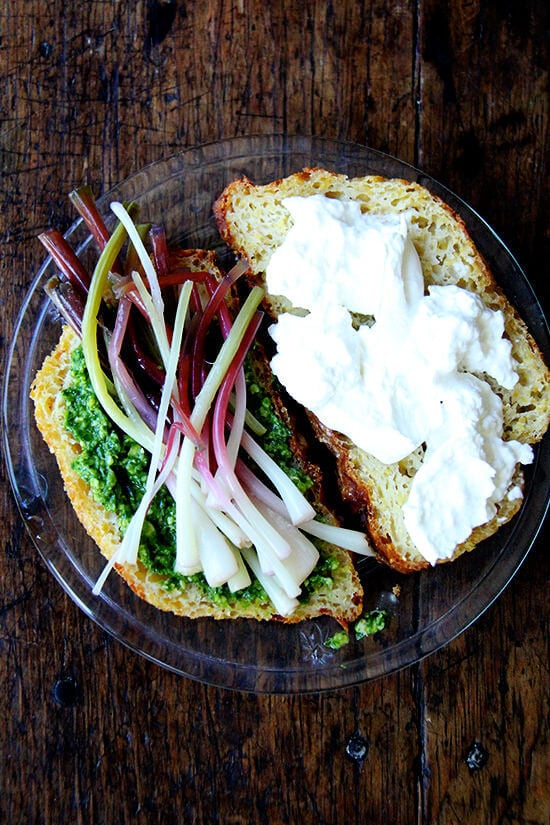 Pizza Perfected
7 Secrets to Mastering Pizza at Home
Always Free. Unsubscribe Anytime.
Print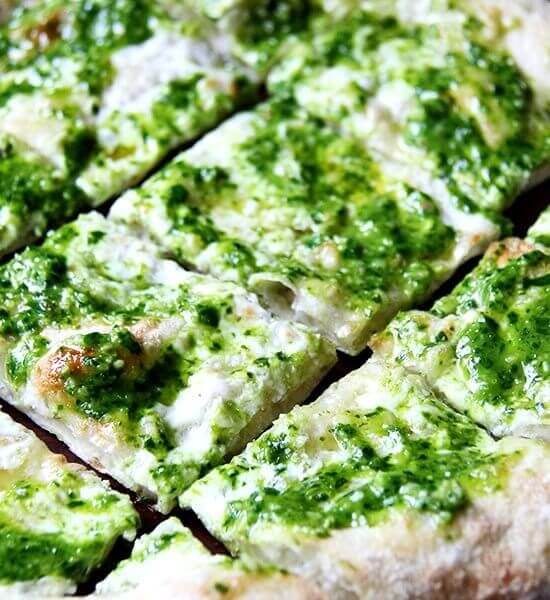 Ramp Green Pesto Pizza with Burrata
---
Author:

Alexandra

Total Time:

15 minutes

Yield:

2
Description
Use any pizza dough you like. My preference, as you know, is the Lahey recipe. See notes and recipe here.
Ramps hardly feel like a find anymore, but if you can't find ramps, use basil or a mix of herbs: parsley, tarragon, chives, etc.
Burrata is now available at most big grocery stores, but if you can't find it, use fresh mozzarella or ricotta instead. I use half of one ball per pizza.
My favorite tool for making great pizza at home is the Baking Steel.
---
for the pesto:
4 oz

. ramp greens, about

8 cups

2 oz

. Parmigiano Reggiano, cut into

4

chunks

1/4 cup

pine nuts

1/3 cup

olive oil

2 tablespoons

white balsamic vinegar
pinch salt
for one pizza:
1

round pizza dough
olive oil

2 oz

burrata
sea salt
ramp green pesto
white balsamic vinegar
---
Instructions
Make the pesto: Combine ramp greens, cheese, nuts, oil, vinegar and pinch salt in food processor. Pulse until smooth or until it's the consistency you like. Taste. Adjust seasoning as needed with more salt, vinegar, oil, etc. Transfer to storage bowl. Store in fridge.
For the pizza: Pull out a pizza round from the fridge one hour before you plan on baking. Dust dough with flour and place on a floured work surface. Place a Baking Steel or pizza stone in top third of oven and preheat oven to 550°F or to its hottest setting. Gently shape dough into a 10″–12″ disk handling it as minimally as possible. Arrange dough disk on parchment-lined baking peel; spread burrata evenly overtop. Sprinkle with nice salt. Drizzle with olive oil.
Bake pizza until top is blistered, about 5 minutes. Meanwhile, spoon a heaping tablespoon of pesto into a bowl. Thin it with another tablespoon of olive oil and 2 teaspoons vinegar. Taste it and adjust sauce as needed with more vinegar or oil or salt. Transfer pizza to a cutting board. Spoon and spread sauce overtop. Cut and serve immediately.
Prep Time:

10 minutes

Cook Time:

5 minutes
This post may contain affiliate links. Please read my disclosure policy.