CSA Week 1: Anchovy Butter, Pickled Kohlrabi, Turnips — What to do with them?
This post may contain affiliate links. Please read my disclosure policy.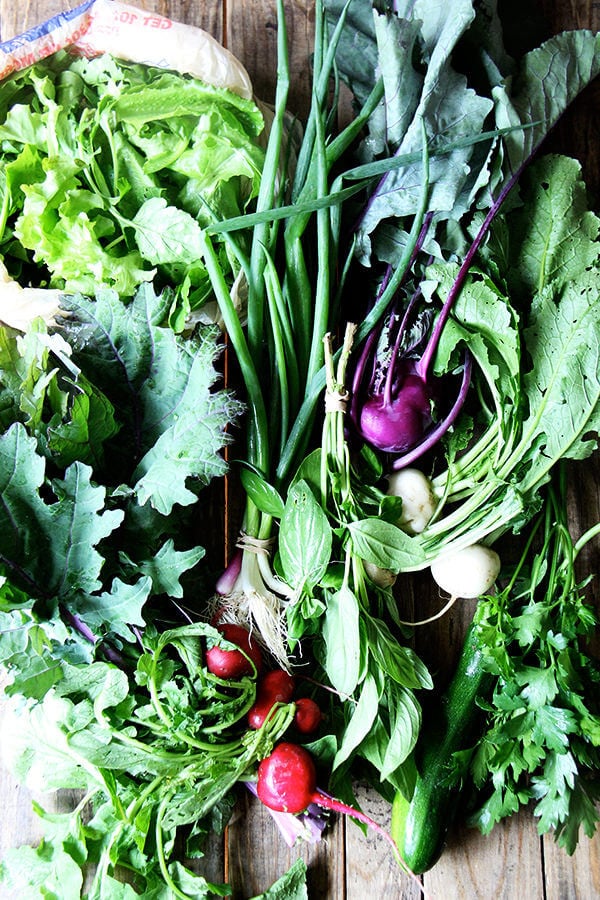 We received our first CSA of the season on Tuesday. Pictured above are the contents of a 1/2 share from Roxbury Farm. Pictured below are the contents organized and ready to be stored.
Let's review a few tips for preparing your vegetables for storing:
1. Always snip greens from roots: radishes, turnips, kohlrabi, carrots, beets, etc. Store the greens and roots in the fridge. I keep all of the greens in one bag and the roots in another bag — just my preference.
2. Always snip off rubber bands from anything they are binding — herbs, asparagus, radishes, etc.
3. Herbs: I remember reading something last summer about a better way to store basil — not in the fridge, but out on the counter in a glass or bowl with the stems dipped into a little bit of water and the greens covered in a plastic bag. This worked beautifully — my basil lasted so much longer than when it was stashed in the cold fridge. This week, I stored the basil and parsley in an open ziplock on my counter. They are still looking fantastic. As it gets warmer out, it might be a good idea to use the water trick.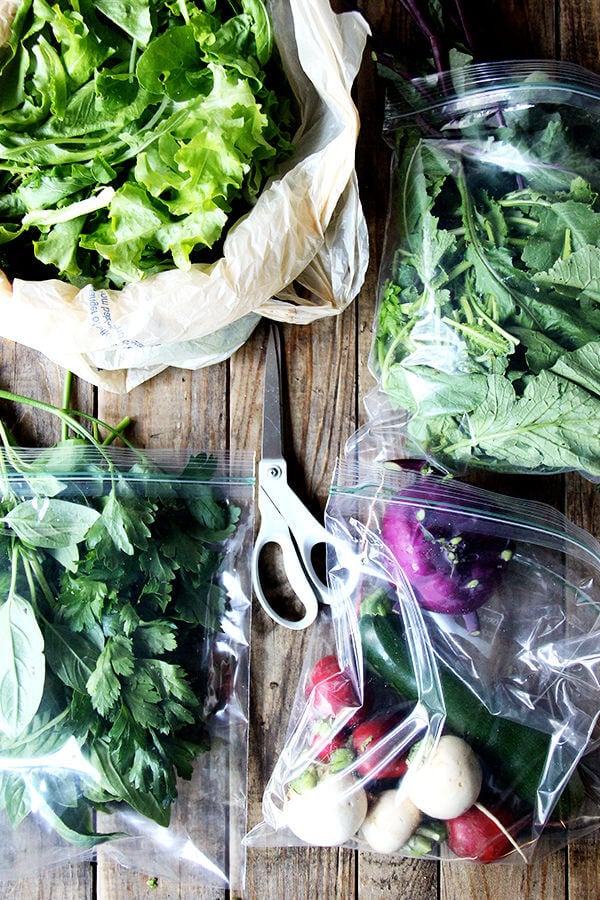 A few recipe ideas:
Mixed greens: This needs no explanation really, but if you are looking for a super simple dressing, this is what I love to do: mince a shallot (or small red or white onion), cover with white balsamic vinegar and a pinch of salt; let sit for 15 minutes; whisk in olive oil to taste. The greens, the arugula especially, need very little dressing — they are so tasty on their own. If you have scallions and radishes from your farm share, throw them in the salad, too.
Kohlrabi: Pickle it — so easy and delicious. Recipe below.
Radishes: Anchovy butter makes everything better. I saw this recipe in The New Greenmarket Cookbook , and ate radish tartines all week: 1 stick softened butter, 6 finely minced anchovies, 1 minced scallion, 1 tablespoon minced dill (I used basil and parsley from the farm share), 1 minced garlic clove, pinch salt and pepper, 1 tablespoon lime (I used lemon): Mix everything together. Taste. Adjust seasoning as necessary. Spread bread with anchovy butter. Top with thinly sliced radishes. Top with a sprinkling of good salt.
More ideas for radishes here.
Herbs: This harissa is a great way to use up any number of herbs. Pesto, of course, is a great idea.
Kale: Kale caesar, crustless quiche, kale, kale, kale.
Greens snipped from radishes, turnips, etc: These can be sautéed with olive oil and garlic and a pinch of red pepper flakes. Toasted breadcrumbs are a nice addition.
The biggest challenge for me this week was what to with the turnips. I ended up making turnip burgers — puréed the raw turnips and their greens with a zucchini, scallion, cooked rice and herbs, mixed it all together with a mix of seeds and fresh breadcrumbs, then pan-fried them. I will share the recipe soon.
Questions: What have you been doing with your turnips? And what have you been making with your CSA veg?
Hope you all are having a nice weekend.
PS: A few more CSA tips here.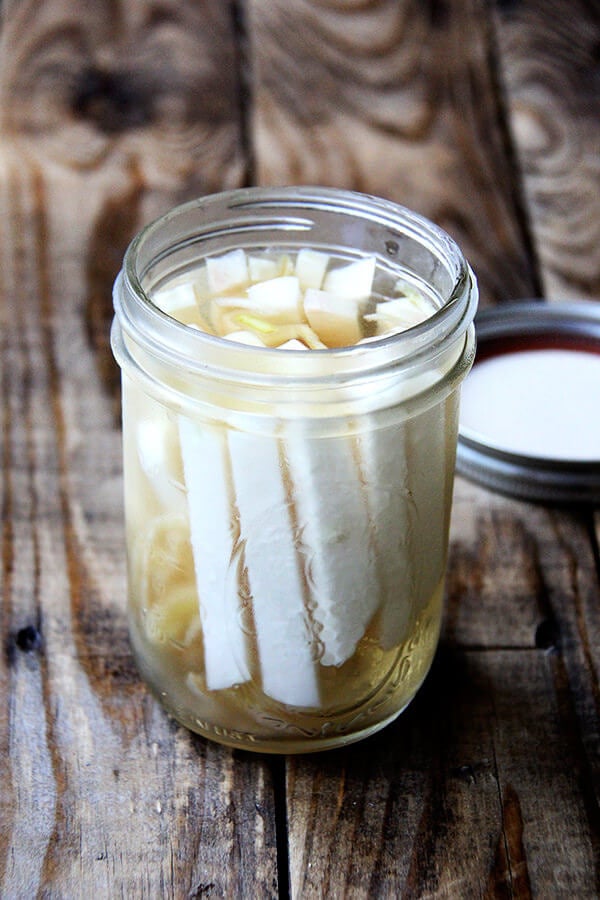 Print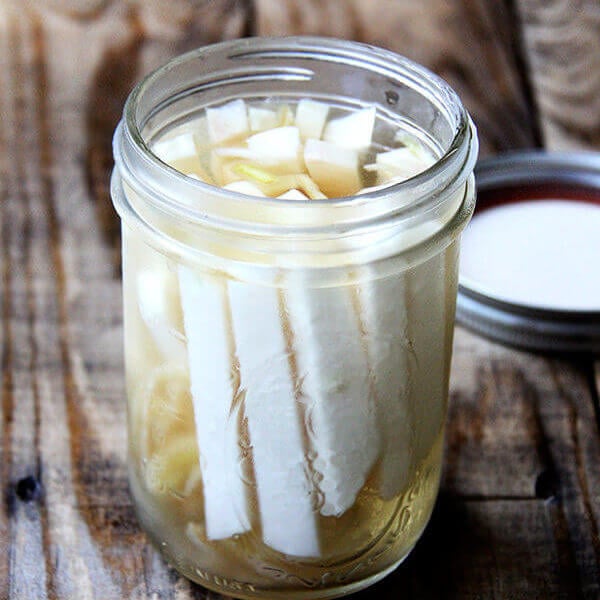 Pickled Kohlrabi
---
Description
I have used this quick-pickle method for carrots, watermelon radishes, and now kohlrabi — so good!
---
1

bulb kohlrabi, greens removed, bulb peeled

½ cup

distilled white vinegar

½ cup

water

1 teaspoon

kosher salt

1 teaspoon

sugar

2

cloves garlic, peeled

½ teaspoon

peppercorns, lightly crushed
---
Instructions
Slice your kohlrabi into ½-inch thick slices, then stack, and cut into ½-inch thick batons. Place them in a clean canning jar.
In a non-reactive saucepan, bring the water, vinegar, salt, and sugar to a boil, and simmer for one minute or until the sugar and salt are dissolved. Remove from heat and add the garlic and peppercorns.
Pour the hot liquid including the garlic and peppercorns over the kohlrabi. Let cool to room temperature, then cover and refrigerate.
Prep Time:

5 minutes

Cook Time:

10 minutes
This post may contain affiliate links. Please read my disclosure policy.