CSA Week 2: Simple Creme Fraiche Dressing, Turnip Burgers,and Bok Choy — Help?
This post may contain affiliate links. Please read my disclosure policy.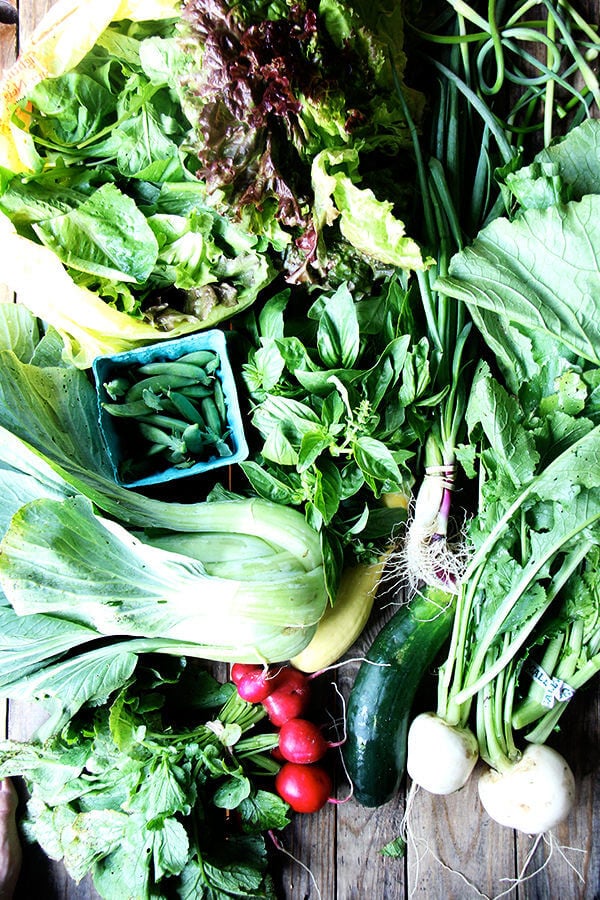 CSA Week 2: arugula, mixed greens, head lettuce, radishes, turnips, scallions, peas, bok choy, broccoli rabe, basil, cilantro, cucumber, garlic scapes, and summer squash.
What I am most excited about this week: this crème fraîche salad dressing: Whisk together 1/4 cup white balsamic vinegar with 1/4 cup crème fraîche and a pinch of salt, then slowly whisk in 3/4 cup extra-virgin olive oil. The crème fraîche not only helps the dressing quickly emulsify but also makes the dressing taste slightly creamy without tasting heavy — it has been so good on all of the greens.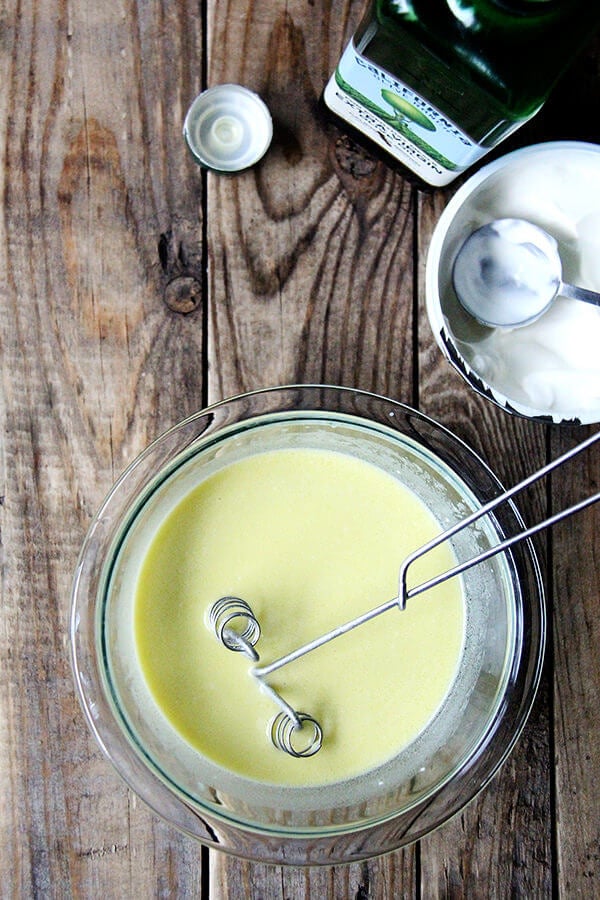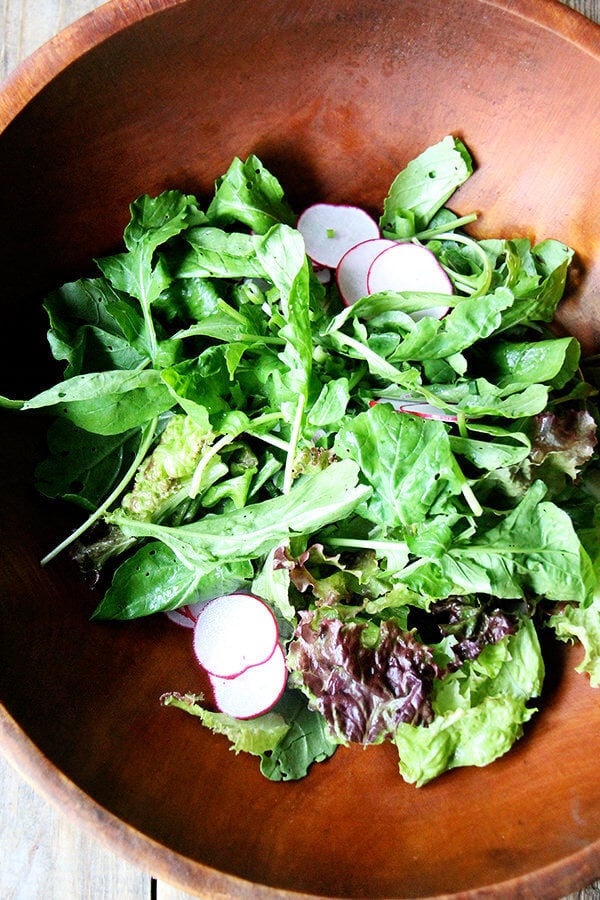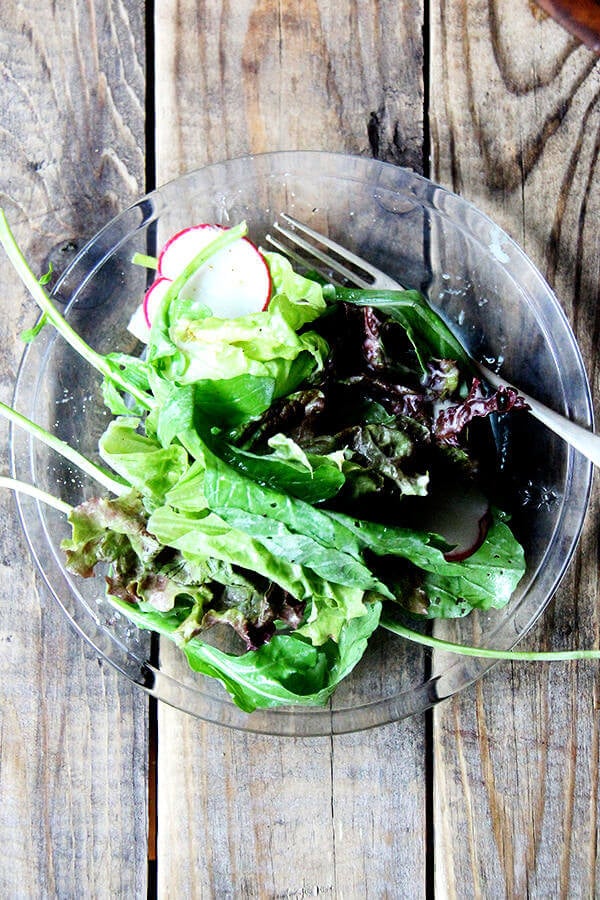 My basil tired much more quickly this week, so I stuck the stems in a couple glasses of water. I ended up using half of the bunch immediately but was pleased to see that the remaining basil…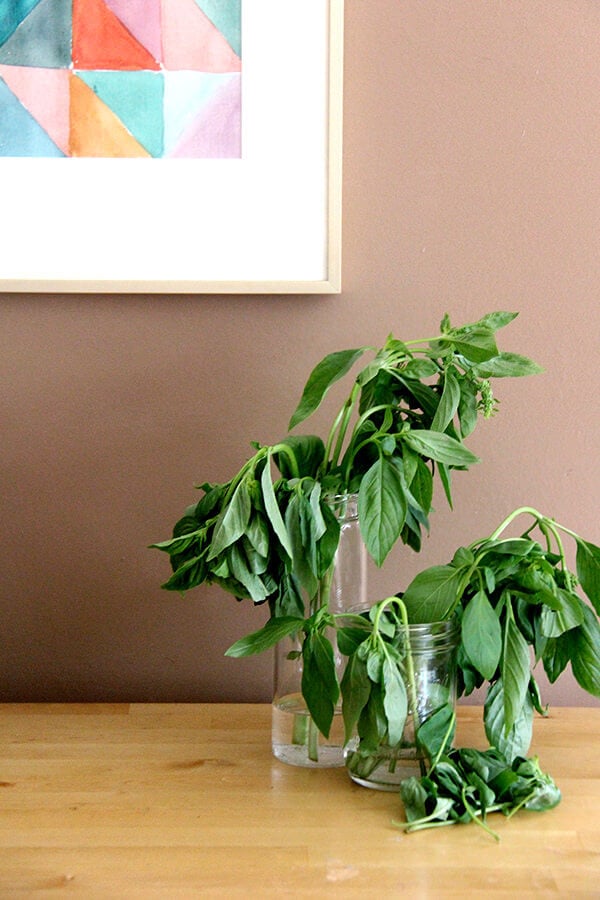 revived! This photo was taken yesterday, three days after I received the basil, and it's still looking strong. If you are looking for more guidance re storing herbs, read this Serious Eats post (thank you, Ileana, for passing it along!) — I learned so much (like how to store cilantro in your fridge for 51 days).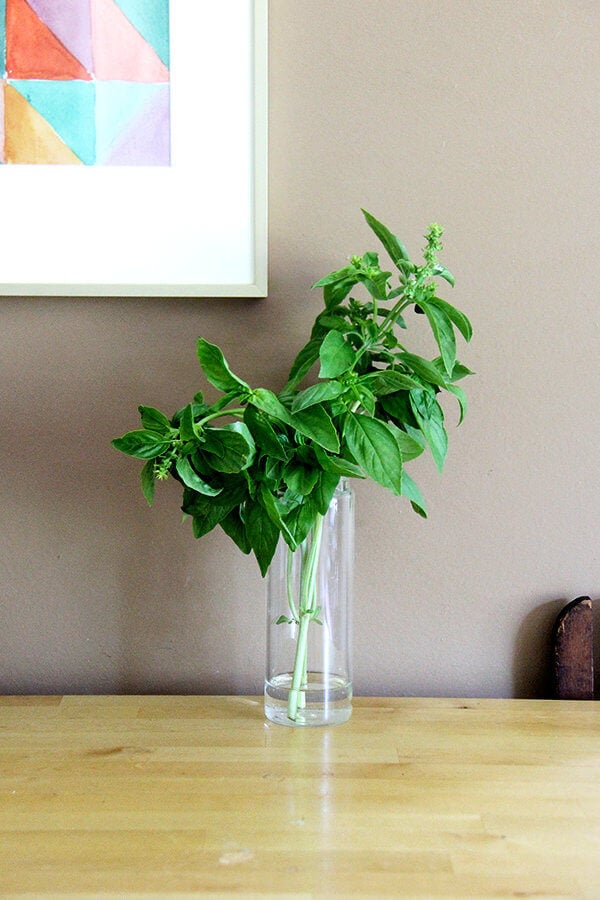 Because I was worried about the basil, I ended up puréeing it with all of the garlic scapes and all of the cilantro, along with a few scallions, olive oil (started with 2/3 cup), and vinegar (started with 3 tablespoons). I seasoned it with salt and thinned it out with more olive oil and vinegar. The taste of this green sauce is very similar to the harissa without the heat. I dressed both a pasta and grain salad with it this week — very nice to have on hand.
Garlic scapes will keep for months in your fridge. You can chop them up finely and use them as you would garlic cloves. They are particularly good in scrambled eggs.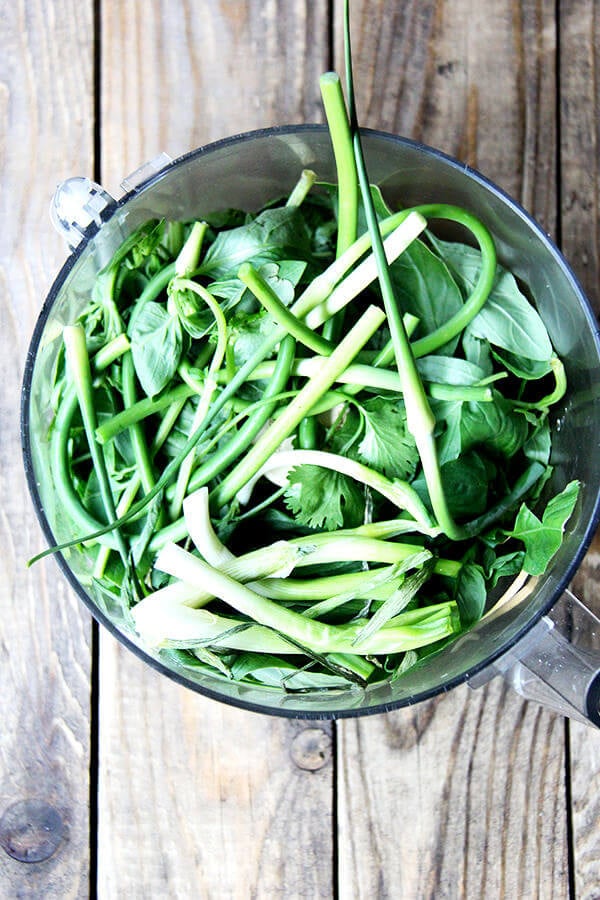 Turnip Burgers: Inspired by these beet and farro burgers, I gave my turnips the same treatment: here, both the turnips and their greens go into the food processor with herbs and rice, which allows the patties to come together in a snap. Fresh breadcrumbs hold the patties together, and a mix of seeds gives the burgers a crunchy texture. They brown and crisp so nicely stovetop and are particularly good with hummus (though tahini sauce would be delicious) and these zucchini pickles.
What I love about these turnip burgers is that you can form them ahead of time, store them in the fridge and fry them up as you wish — there are no eggs, so there's nothing to worry about regarding storage or handling (short-term anyway).
Here are a few more ideas for using those turnips (thank you for sending them along!):
Roasted Turnips with Cilantro Peanut Sauce
Miso-Glazed Turnips
Glazed Hakurei Turnips
A few more ideas on Food52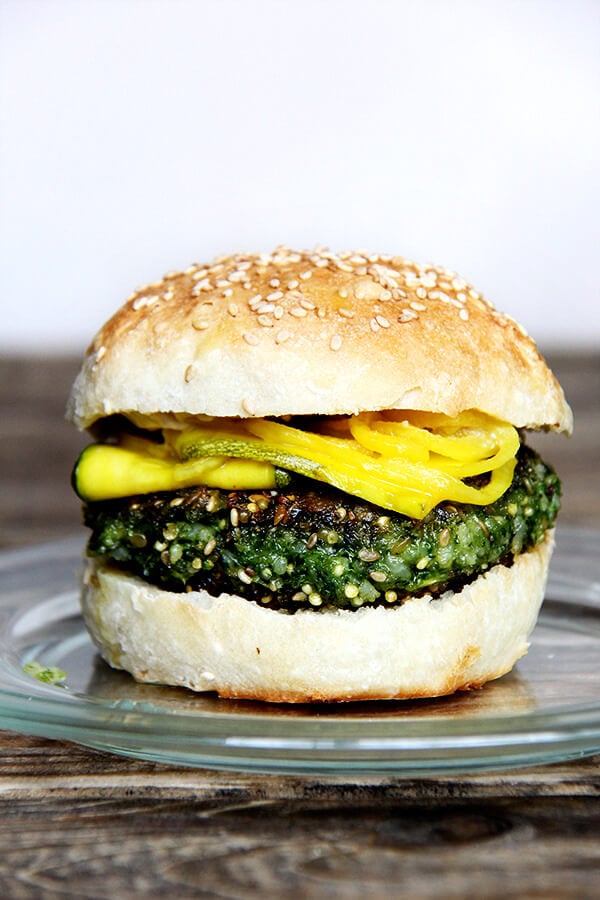 What's left? We ate the peas — so good! — and the cucumber sliced up immediately just raw as a snack. I still haven't used the summer squash, broccoli rabe or the bok choy. I will likely make some sort of raw, julienned squash salad with Pecorino with the summer squash. And I am planning on making this Batsaria (Phyllo-less Spanakopita) with the broccoli rabe and radish greens. (Thank you for the idea, Charlene!)
This orecchiette with broccoli rabe pesto and sausage also sounds delicious.
Now for the bok choy. I imagine I will slice it up, sauté it, and dress it in some sort of sesame-soy sauce. Thoughts? What would you do with an enormous head of bok choy?
This post may contain affiliate links. Please read my disclosure policy.