Summer Vegetable Strata | CSA Week 3
This post may contain affiliate links. Please read my disclosure policy.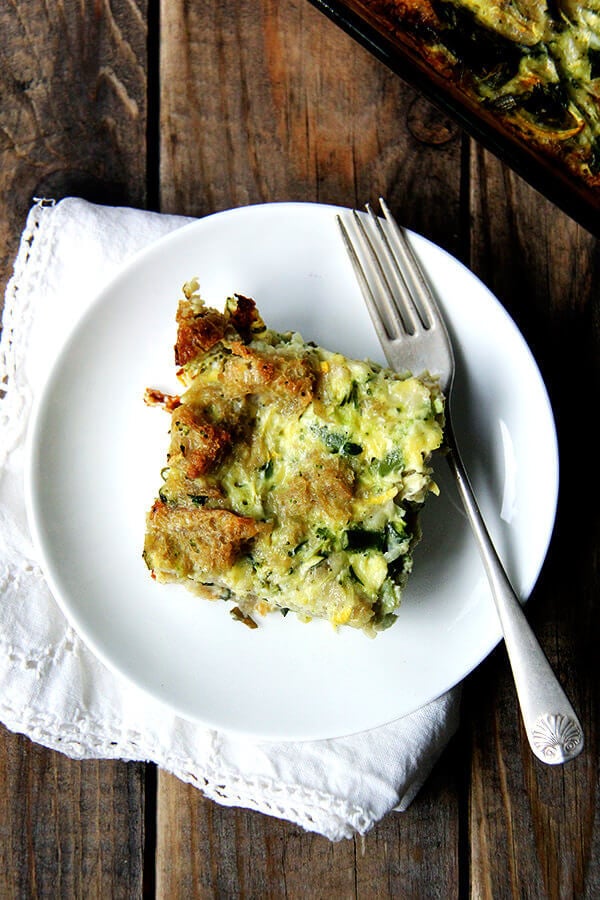 I don't think there is a gadget in my kitchen that gives me more pleasure than the shredder attachment of my food processor. Last night, in an effort to clean out the vegetable bin, I pulled out my favorite tool and began sending my bounty down the shoot. In seconds, one zucchini, one summer squash, a head of broccoli (stem and all), and a block of cheddar cheese disintegrated into perfect little wisps.
Into a bowl filled with eggs, milk and bread went the vegetables and cheese along with some chopped parsley, cilantro and garlic scapes. I was making a strata, a dish whose merits, I'm discovering, are endless: no-fuss, feeds a crowd, well-suited for any number of vegetables. A little bit of meat — sausage, bacon, ham, pancetta — and a splash of Tabasco transforms this strata into the perfect brunch casserole. Use a loaf of homemade bread and feel virtuous.
Have a wonderful weekend, Everyone.
PS: Another great use for that shredder attachment.
CSA week 3: beets, lettuce, tatsoi, cone cabbage, mustard greens, scallions, parsley, cilantro, garlic scapes, snow peas, broccoli, zucchini: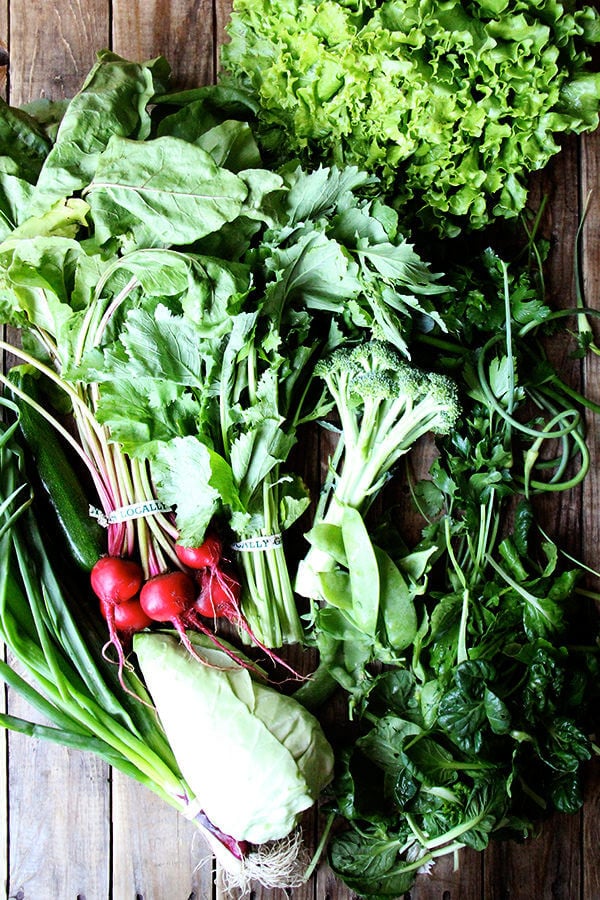 Lettuce, tatsoi and mustard greens: we have been eating all of these with that crème fraîche salad dressing — delicious with toasted breadcrumbs and shaved parmesan.
Cone cabbage: I've had my eye on this cabbage vegetable pad thai recipe for a few weeks. A number of vegetables (scallions, zucchini, garlic scapes, tatsoi, snow peas) from this week's share could work well here. This braised cabbage with anchovies and garlic is better suited for colder days, but it was about my favorite thing to eat this winter.
Beets: This salad is an old favorite, though I'd just as soon boil the beets till tender than salt roast them — less fussy and just as delicious.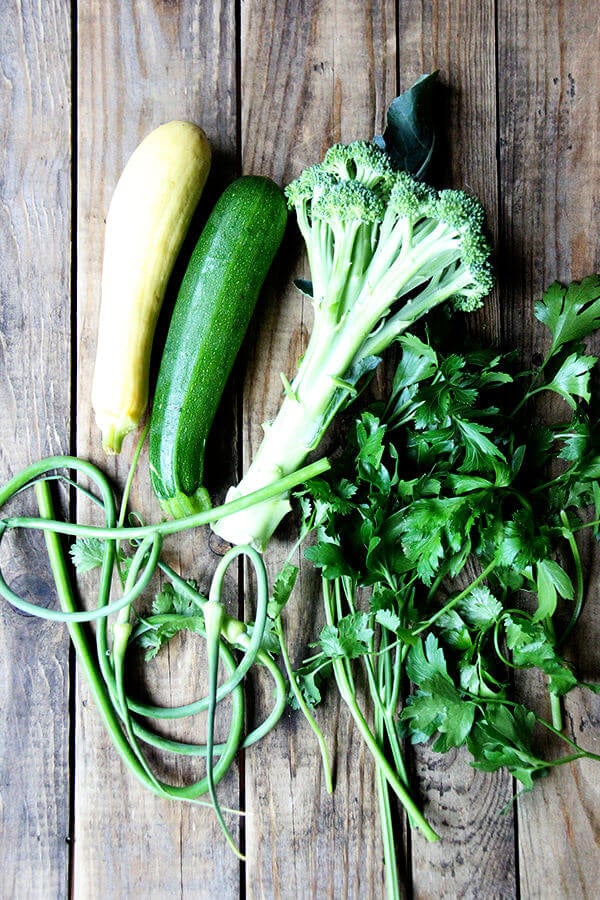 The base: 10 eggs, 2 1/2 cups milk and 1 loaf of two-day-old peasant bread (made with some whole wheat flour) cubed up: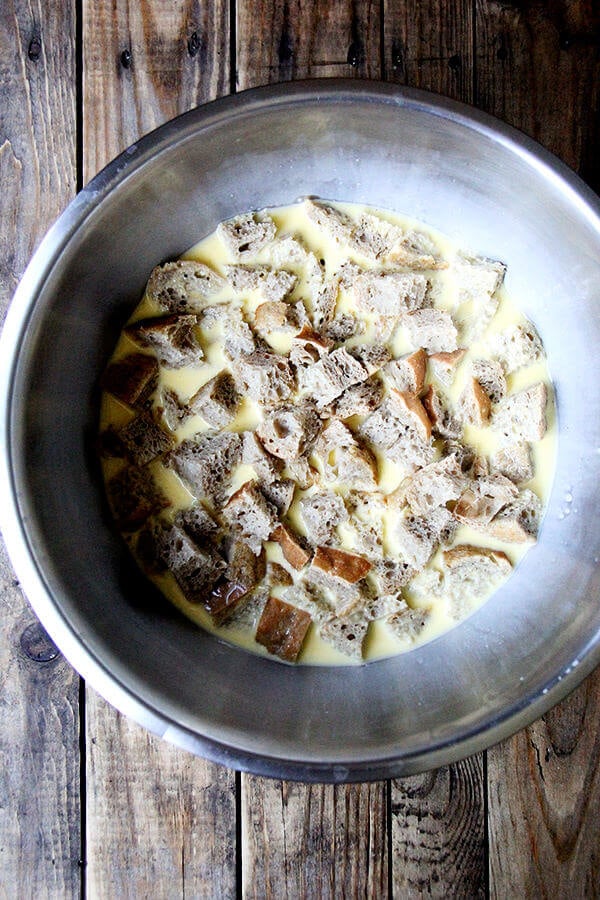 The shredder attachment makes for very fast prep work: squash, zucchini, broccoli and cheddar cheese grated in a flash.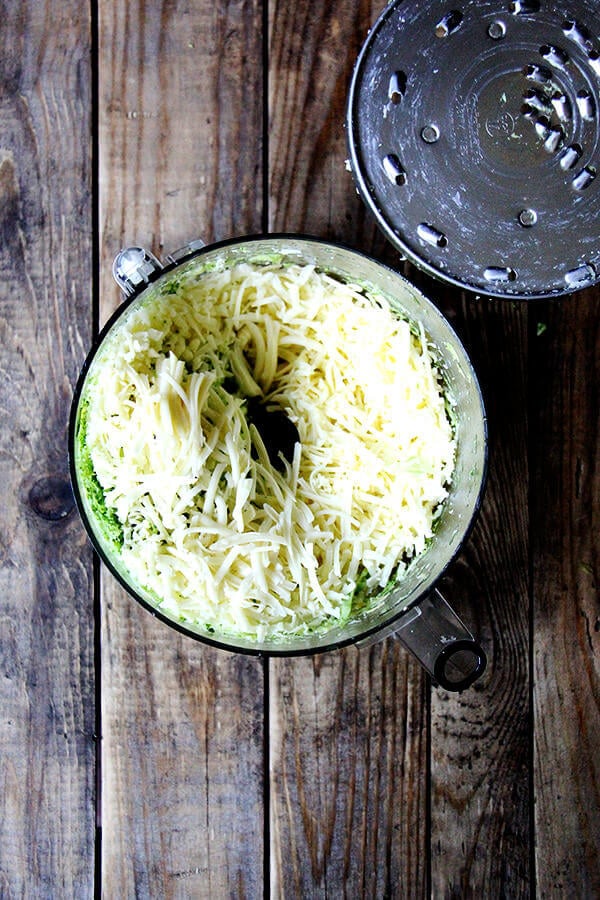 Use any herbs you have on hand: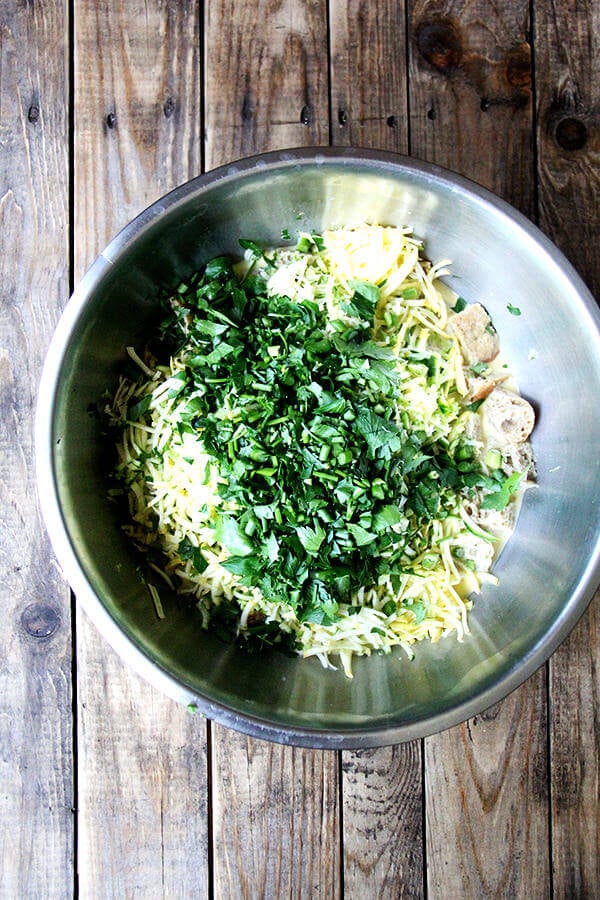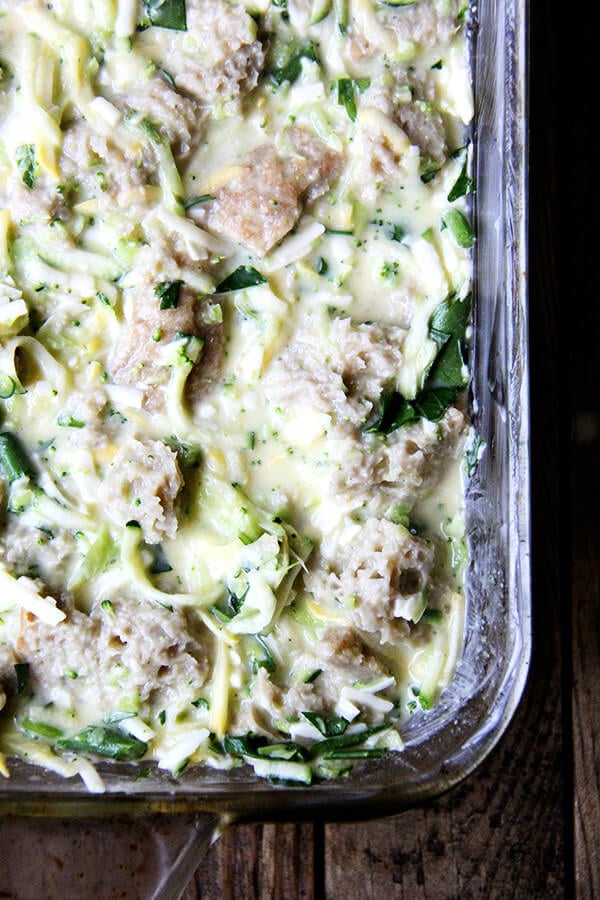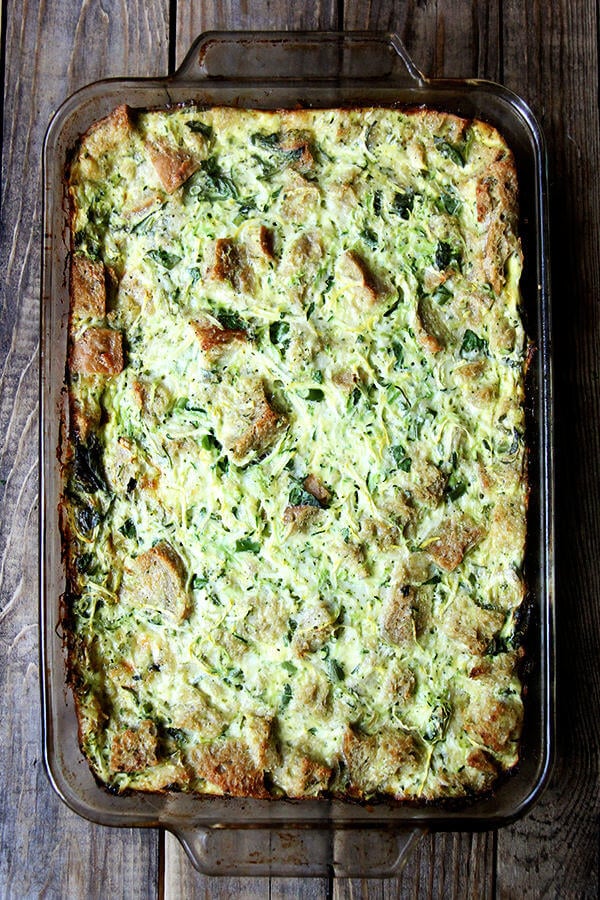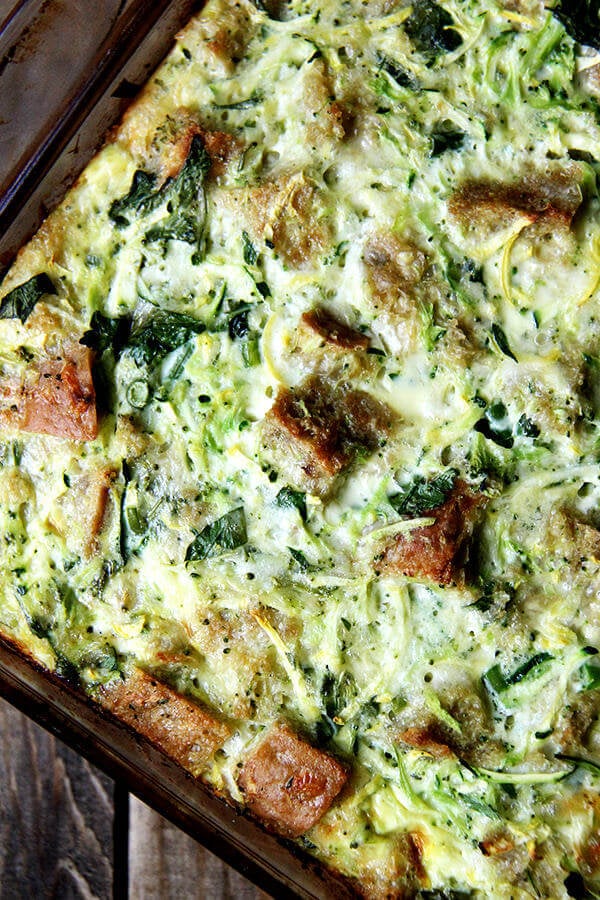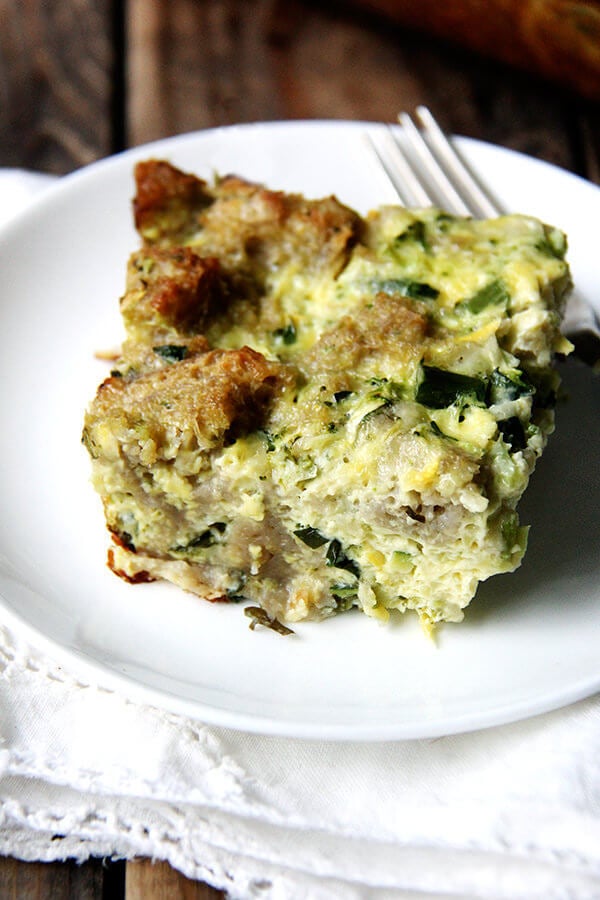 Print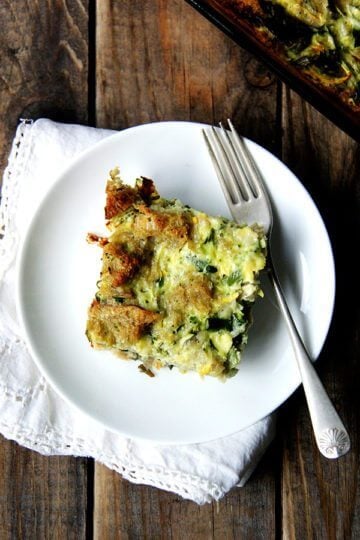 Summer Vegetable Strata | CSA Week 3
---
Author:

Alexandra

Total Time:

1 hours 15 minutes

Yield:

8 to 10
Description
Bread: I used 1 loaf of two-day old peasant bread, crust and all. It was stale but still soft, and I didn't take any further steps to dry it out (toast in oven, slice and dry out over night, etc). It weighed just under 13 oz. If you are using an artisan bread with a thick crust, I suggest removing it. Ingredients: Use whatever you have no hand. Everything I used here (with the exception of the herbs and garlic scapes) got shredded in the food processor with the shredder attachment. I used one 8-oz block of Cabot cheddar cheese, which I halved lengthwise and sent down the shredder shoot as well. Some sort of breakfast meat — sausage, bacon, ham, pancetta — would be an excellent addition here.
---
10

eggs

2 1/2 cups

whole milk (2% would probably be fine, too)

2 teaspoons

kosher salt

1

zucchini

1

summer squash

1

very small head broccoli

8 oz

. cheddar or gruyère

13 oz

. bread (see notes above)
herbs (parsley, basil, cilantro)
garlic scapes (if you have them)
---
Instructions
Preheat oven to 350ºF. In a large bowl, whisk eggs, milk and salt together. Set aside.
Using the shredder attachment of the food processor, slice up the zucchini, squash, and broccoli. Send any cheese in block form down the shoot as well.
Cut the bread into 1/2-inch cubes. Add to the bowl of eggs. Add the vegetables to the bowl as well. Finely chop the garlic scapes and herbs. Add to the bowl and toss everything together.
Butter a 9×13-inch baking dish. Pour egg mixture into pan. Cover with foil. Bake for 20 minutes. Remove foil and continue baking for 40 to 50 minutes longer. Let rest 10 minutes before serving.
Prep Time:

15 minutes

Cook Time:

60 minutes
This post may contain affiliate links. Please read my disclosure policy.