Kale Salad with 4-Minute Egg Caesar Dressing
This post may contain affiliate links. Please read my disclosure policy.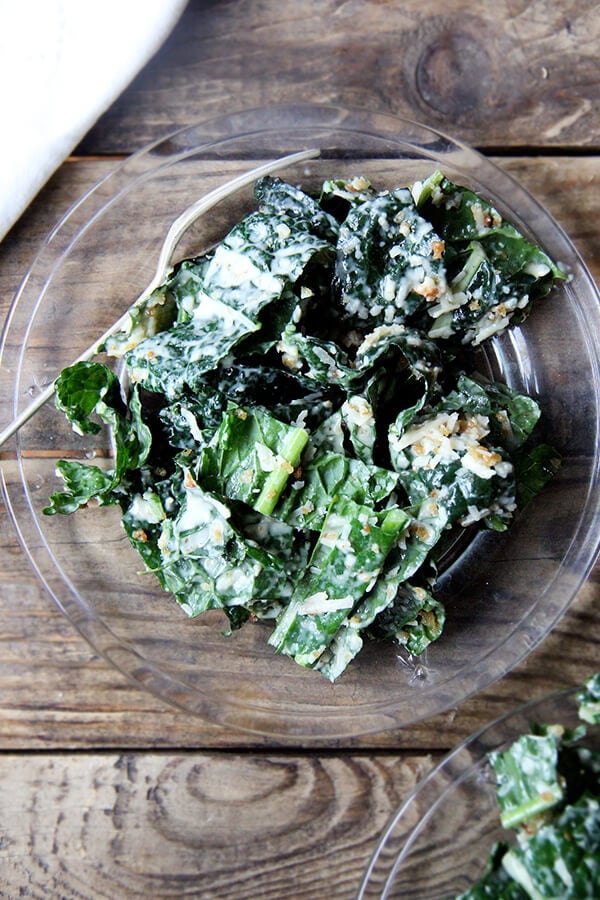 A few weeks ago, while flipping through The Zuni Cafe Cookbook in pursuit of pickles, I stumbled across a recipe for Four-Minute Egg Gribiche, a half-cooked version of sauce gribiche, which is typically made with hard-cooked eggs, shallots, capers and herbs. Judy Rodgers described the sauce as a rich, herby, shalloty mayonnaise and ensured it would transform "ordinary boiled potatoes into excellent potato salad."
Over the July Fourth weekend, I gave it a go and discovered she wasn't kidding: boiled red potatoes dressed with a satiny, caper-studded, basil-packed dressing have never tasted so good (see below). I followed the Zuni proportions to a T but instead of using a whisk, I opted for the food processor — so lazy! — and pulsed the very-soft boiled egg with the mustard, then drizzled the oil down the teeny hole of the food-pusher insert, which we know as the key to making foolproof, delectable mayonnaise.
This method — using a mostly cooked egg as an emulsifier — made me think about all of the other similar dressings that could be made in the same manner, namely caesar. I gave it a go, replacing the raw yolk in my favorite caesar dressing with a four-minute egg, and again, the method worked like a charm, producing a dressing with no discernible difference in flavor but with the most undulant, luscious texture.
I have never thought twice about using raw eggs in dressings, but I do understand the concern, and over the years I've been asked if anything can be done about that raw yolk in the caesar dressing — who knew the solution was so simple?
PS: Another gem from the Zuni cookbook: eggs fried in breadcrumbs.
PPS: Yesterday Kristen Miglore wrote about a similar method/dressing in her Genius Recipes column. The dressing featured there calls for using a soft-boiled egg (7-minutes of cooking), so if the 4-minute egg still makes you squeamish, looks as though a 7-minute egg will do the job, too.
Says the voice from above the hand: "Eeewwww. That's a busgusting."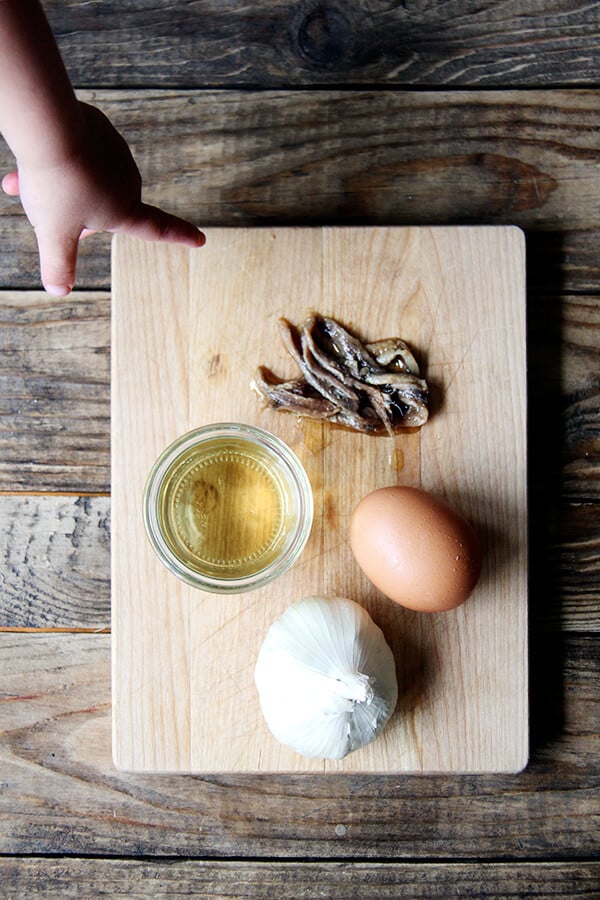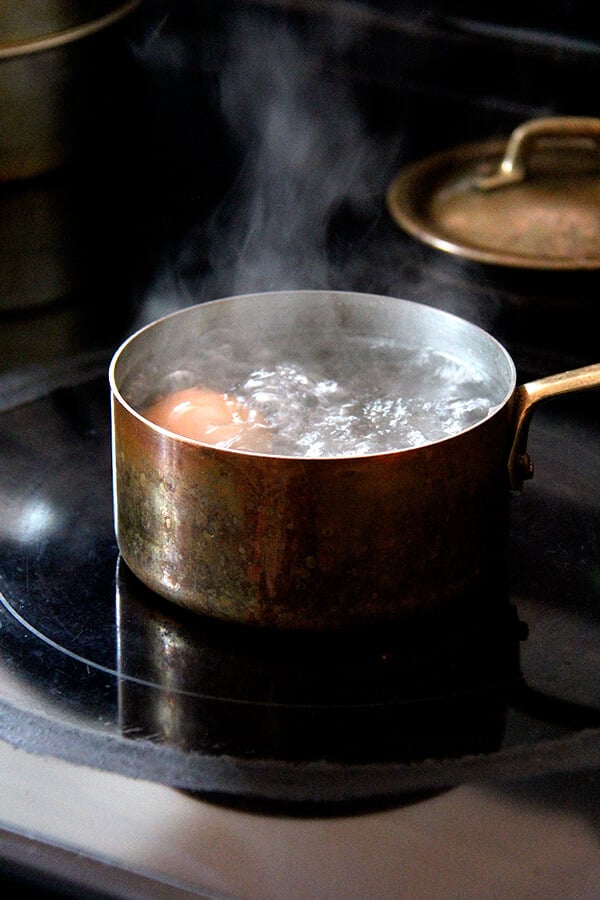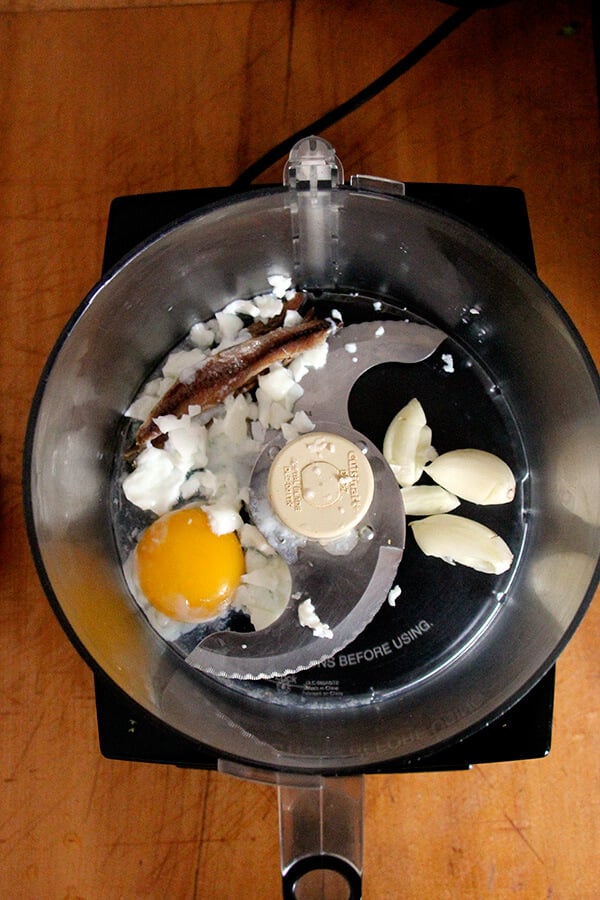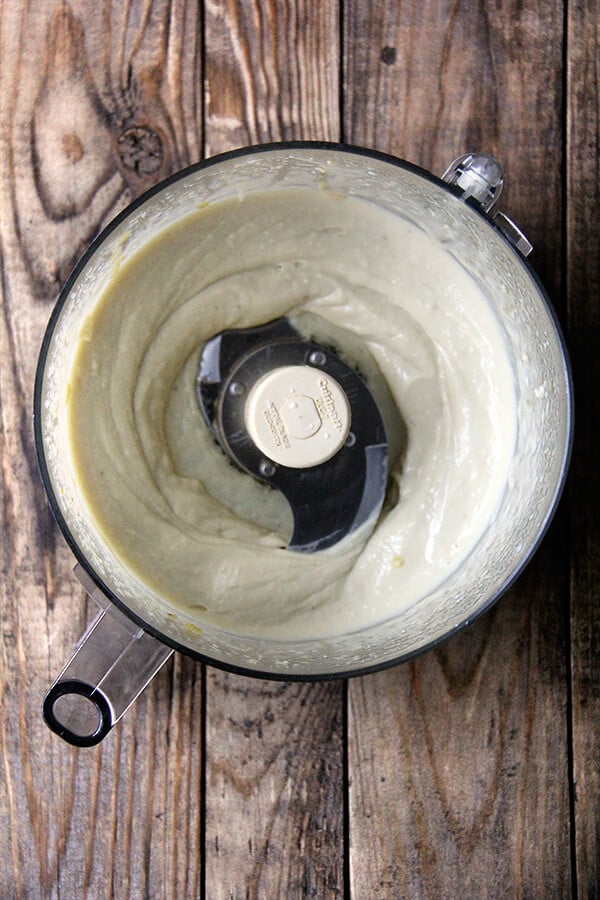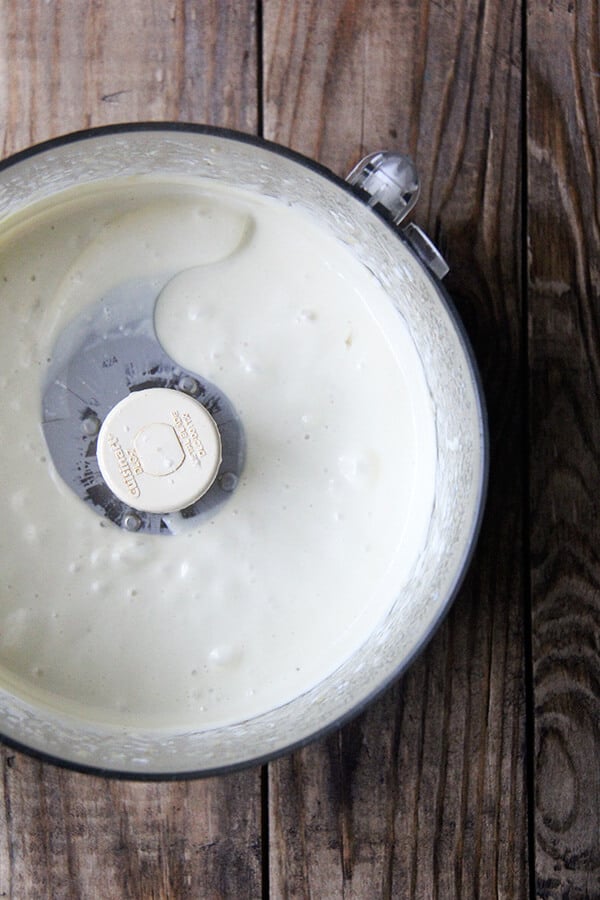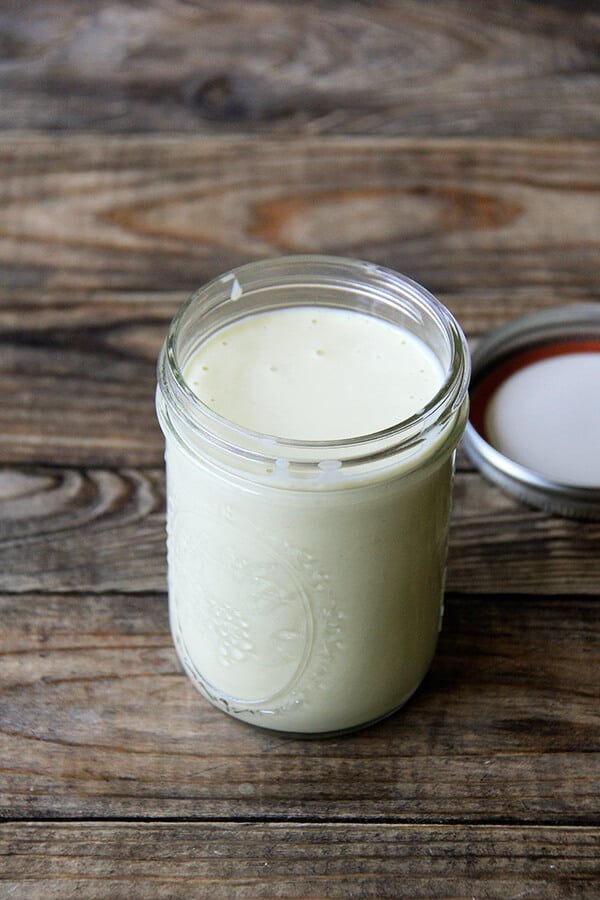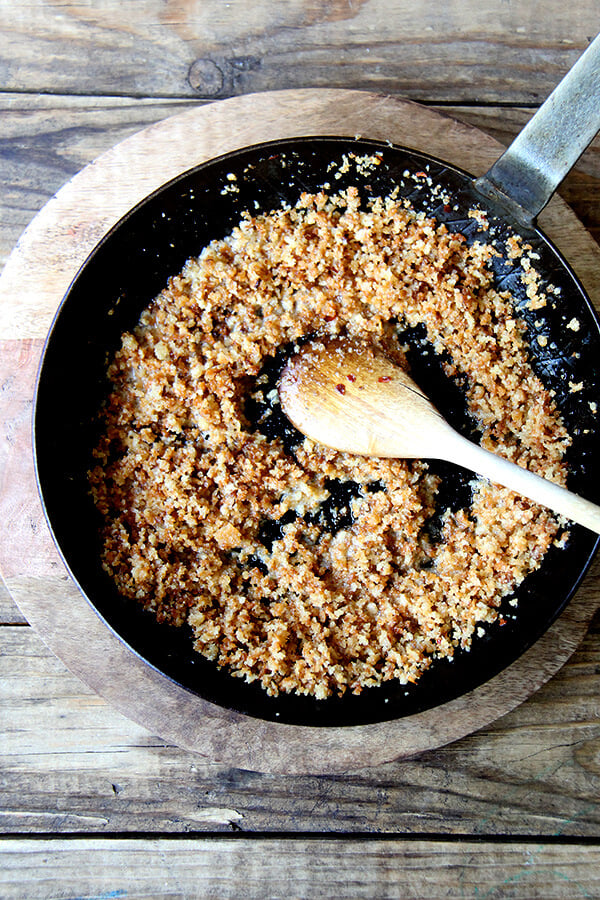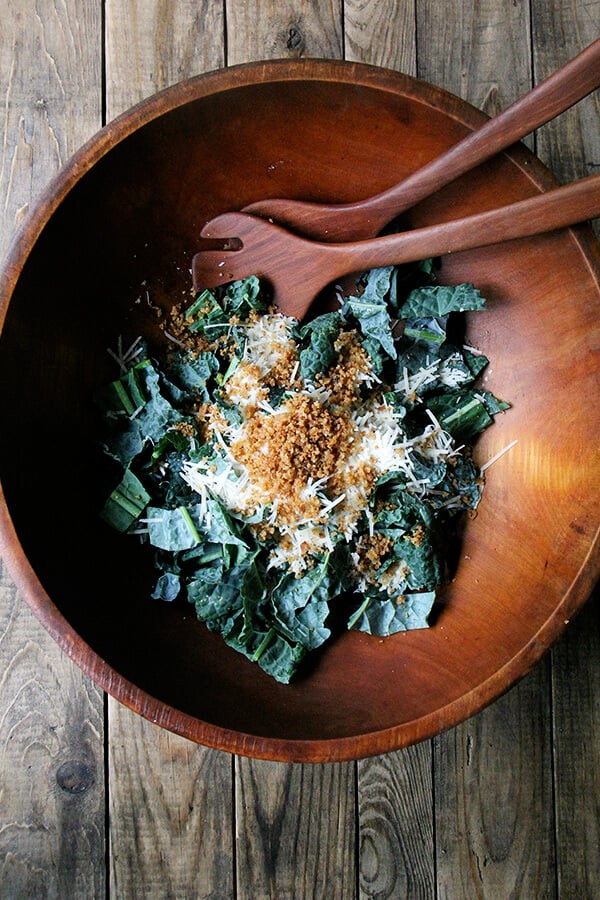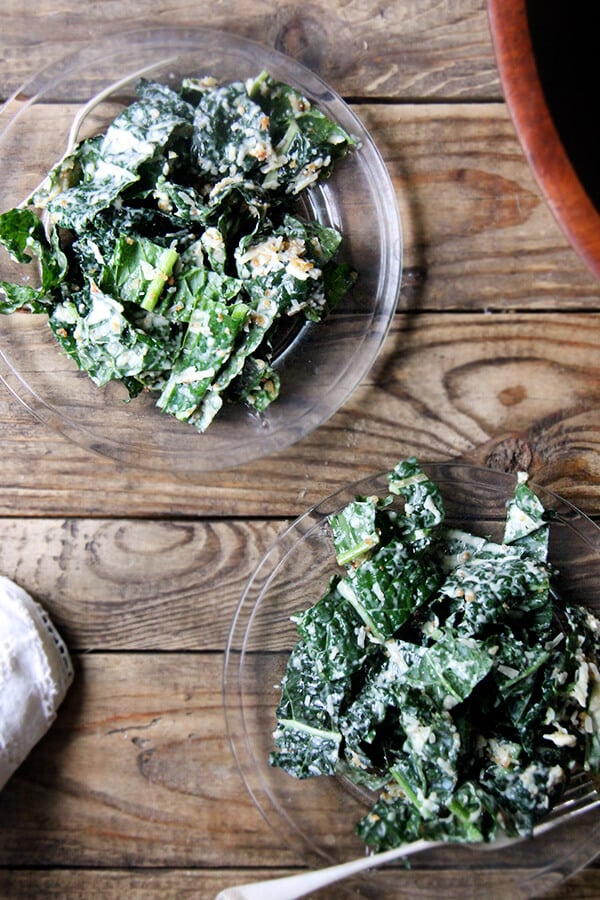 Here's the four-minute sauce gribiche: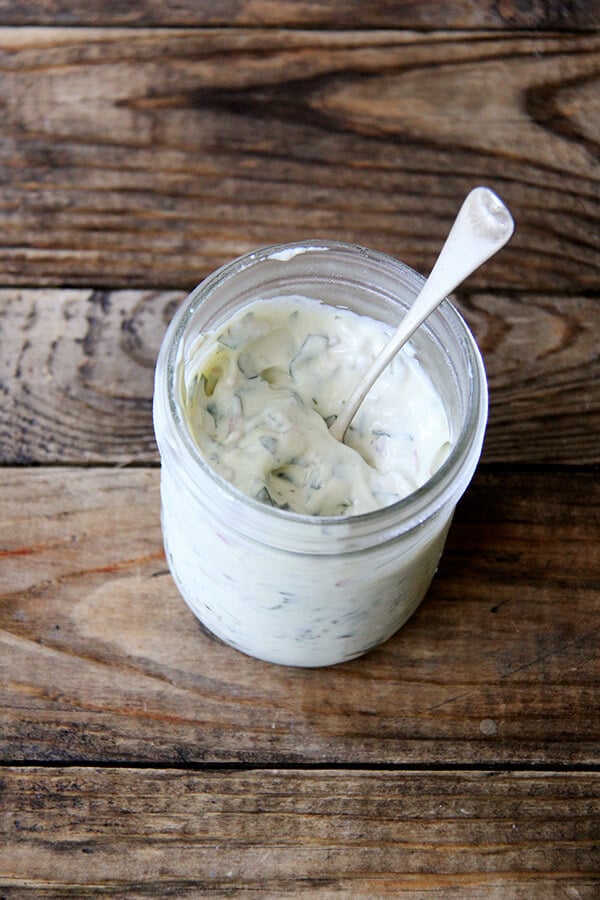 And potato salad with four-minute sauce gribiche: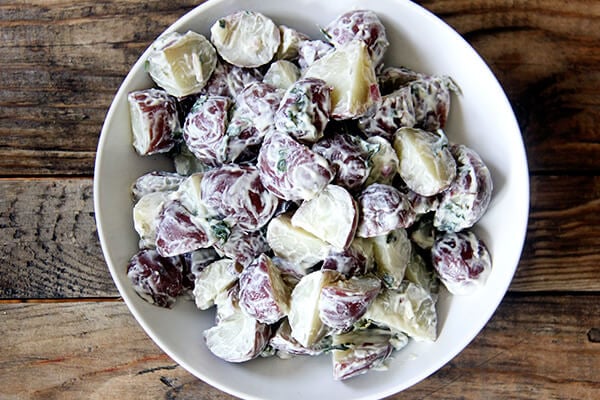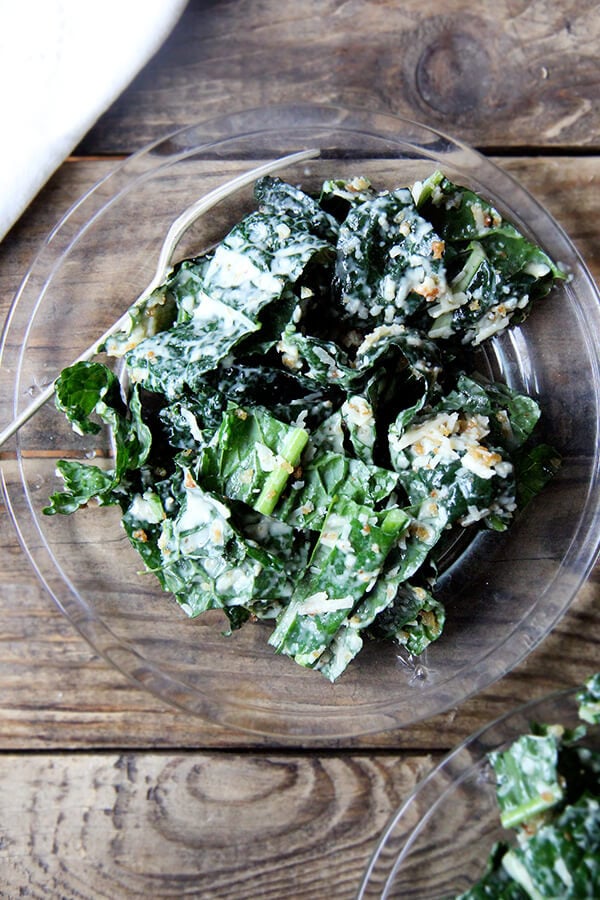 Print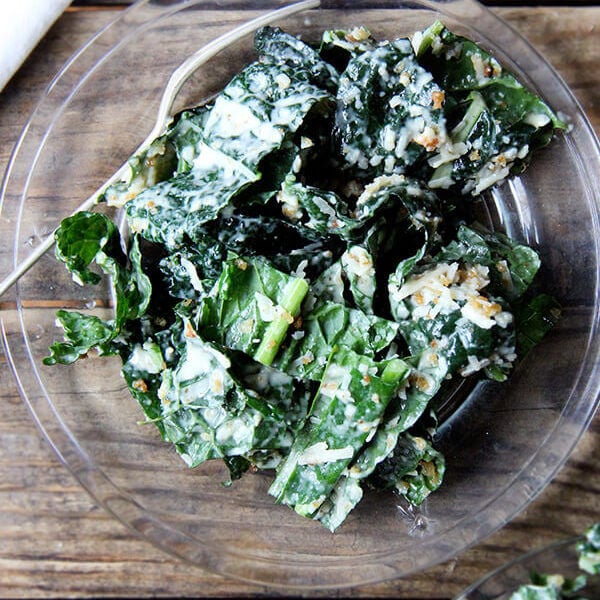 Four-Minute Egg Caesar Dressing
---
Description
Inspired by the four-minute egg gribiche recipe in: The Zuni Café Cookbook
Yield = 1.25 cups
Note: If you don't care about raw eggs in caesar dressing, feel free to use 1 egg yolk in place of the egg, and omit the cooking step.
To turn this into a salad, grate some Parmigiano Reggiano, toast some breadcrumbs, cut some kale or romaine or chard, and toss it all together.
---
1

egg

3

cloves garlic

3

anchovies
pinch kosher salt

1 cup

extra-virgin olive oil or grapeseed oil

1/4 cup

white balsamic vinegar
---
Instructions
Bring a small pot of water to a boil. Carefully lower in egg. Simmer for 4 minutes. Drain and leave to cool briefly in a bowl of cold water.
Crack the 4-minute egg into a bowl of a food processor. The yolk will fall right out. Some of the watery white of the egg will fall into the processor; the rest will have to be scraped out of the shell — sometimes this can be a little annoying. Pulse egg with the garlic, anchovies, and salt until puréed. With the machine running, add the oil in a slow, steady stream through the teeny hole of the food pusher insert. When an emulsion forms and all of the oil has been added, pour in the quarter cup of white balsamic vinegar. Purée until smooth.
This post may contain affiliate links. Please read my disclosure policy.