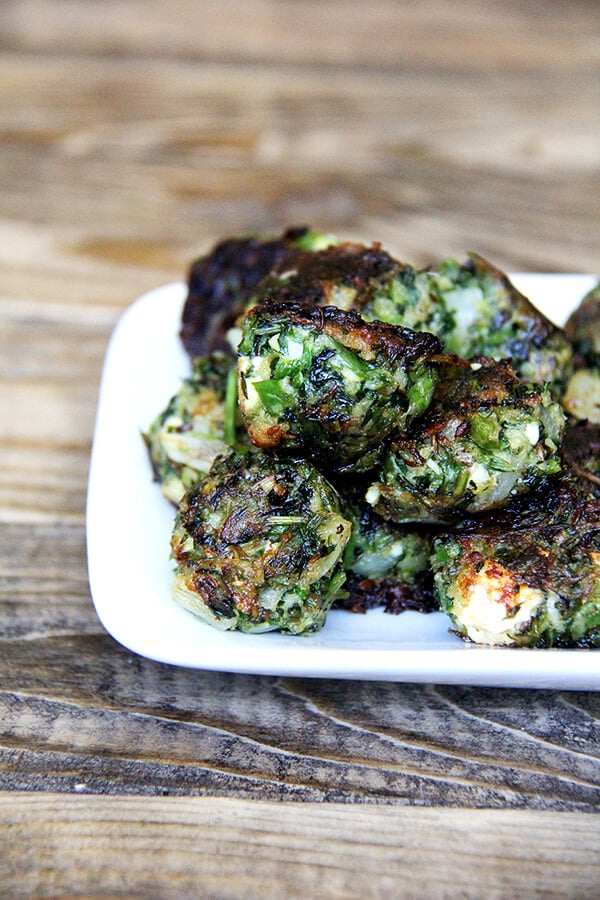 CSA Week 5/6: zucchini, squash, cabbage, onions, scallions, carrots, beets, cucumbers, green beans, lettuce, green peppers, cilantro, parsley, basil, kale, chard.
My latest, favorite discovery: Fried Greens Meatlessballs. The recipe comes from Twelve Recipes by Chez Panisse's Cal Peternell. The beauty of these meatlessballs is that any green can work — turnip, beet, chard, kale, etc. Last week, when no greens arrived, I used the greens from the carrots and the greens from the onions — it worked like a charm. More greens will be arriving today — phew! — and these meatlessballs, seasoned with cumin seeds, garlic, and feta, is a great use for them along with the onions and any of the herbs, though the original recipe calls for cilantro. Find the recipe here. (Twelve Recipes, by the way, is a beautiful book — love it.)
Zucchini: Very excited to try these soft taco zucchini tortilla shells — how cool?
Cabbage: I finally made the cabbage pancakes. I didn't use shrimp, I used way too much cabbage, and I served them with a soy dipping sauce, but they were delicious nonetheless and a great use of the cabbage and scallions. If you want a simpler, 10-minute sauté with eggs and soy, Mama Poule has an idea for you.
Beets: I was flipping through the My New Roots cookbook and came across a recipe for pickled turnips and beets — just the recipe I needed for the few turnips languishing in my vegetable bin along with those beautiful, candy-striped beets. Note: All color (including pretty stripes) is leached from the beets after a few hours in the brine. Recipe below.
Green beans: I've been steaming them and tossing them with Zuni Cafe's 4-minute sauce gribiche, the recipe which the 4-minute caesar is based on. Incidentally, 4-minute sauce gribiche is also delicious on burgers. Recipe below. In the weeks ahead, if you find yourself really overloaded by greens beans, I love this Madhur Jaffrey recipe for Masaledar Sem (spicy green beans).
We've been eating the carrots, cucumbers and green peppers raw with hummus. So good.
What have you all been making? Any favorite carrot recipes?
PS: Sorry once again if the site is being a little wacky. Might be this way for a few more days.
PPS: All past CSA posts can be found here.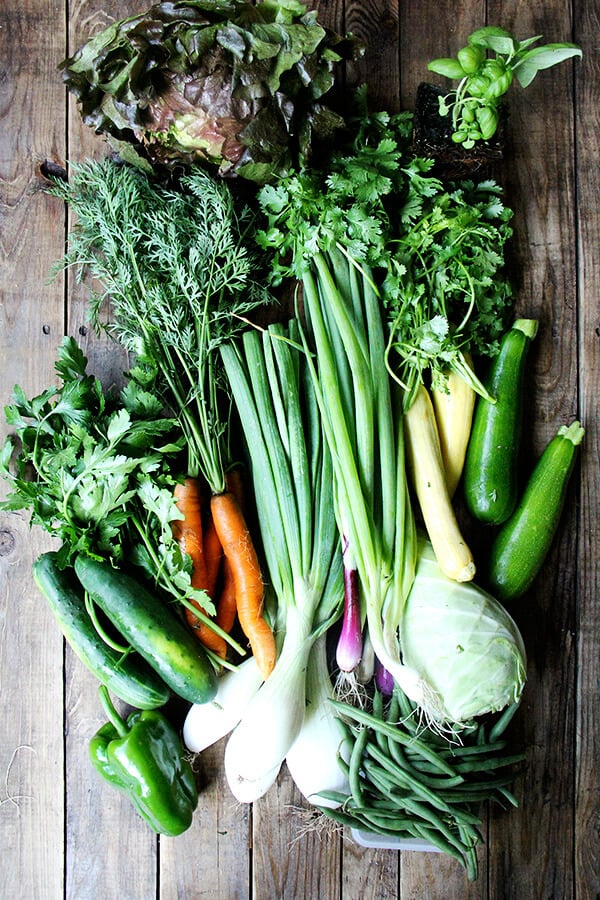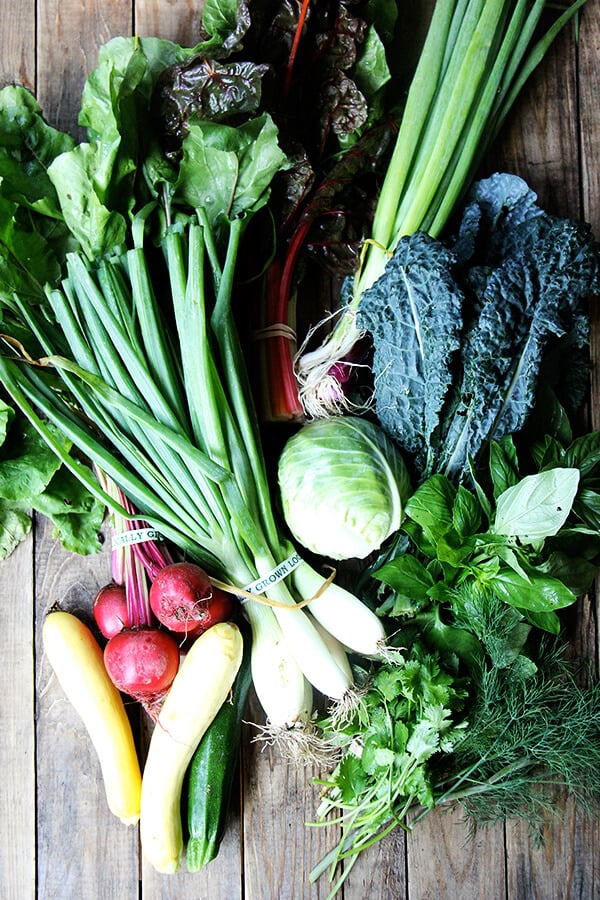 Pickled turnips and beets: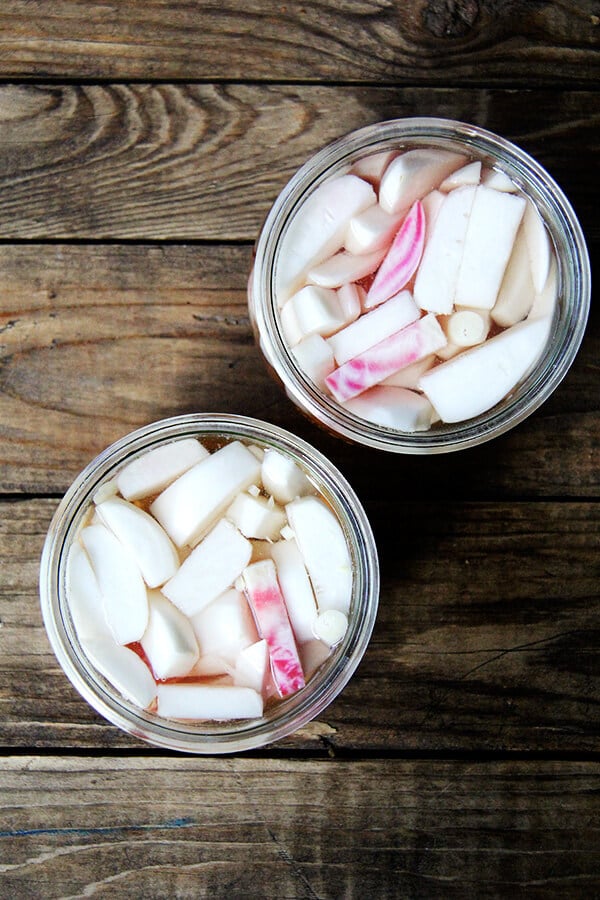 Cabbage pancakes: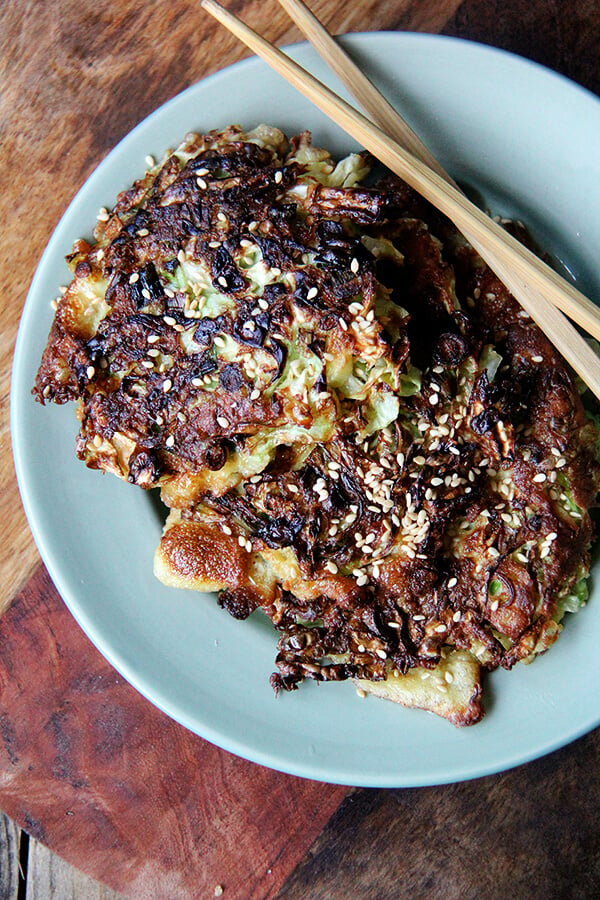 Fried Greens Meatlessballs: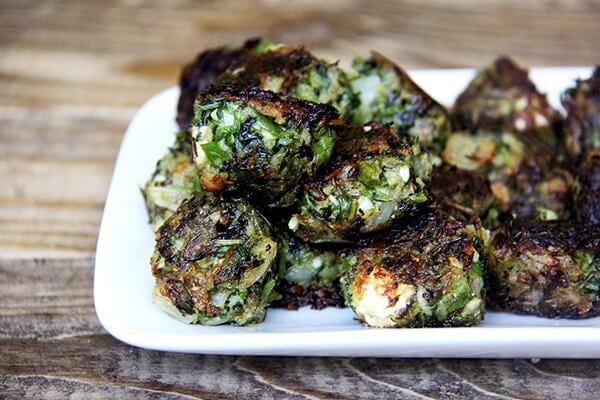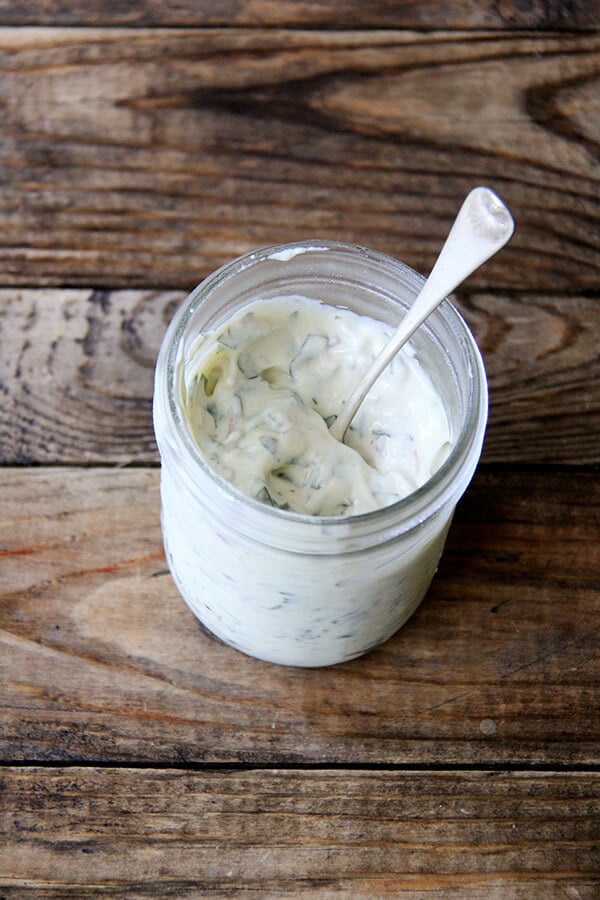 Print
Pick-me-up Pickled Turnips and Beets
---
Author:

Alexandra

Prep Time:

5 minutes

Total Time:

5 minutes

Yield:

2 cups
---
Ingredients
2

lbs. of a mix of turnips and beets

3/4 cup

apple cider vinegar

2 tablespoons

pure maple syrup

2 tablespoons

fine sea salt (or kosher salt)

2

large cloves garlic

2

sprigs dill (optional)
---
Instructions
Slice the turnips and beets into batons about the size of large French fries.
In a large measuring cup, combine the vinegar, maple syrup, and sea salt with 2 cups of water. Stir to combine and dissolve the salt.
Place the turnips, beets, garlic and dill into one large (1 qt) jar or a couple of smaller jars. Pour the pickling liquid overtop. Cover the jar with a tight-fitting lid and keep at room temperature for a week (or a day) before eating. Store for 6 weeks.
---
---
Print
Four-Minute Egg Gribiche
---
Prep Time:

5 minutes

Cook Time:

10 minutes

Total Time:

25 minutes
---
Ingredients
1

large egg
Salt

2 tsp

. Dijon mustard

1 1/4

to

1 1/2

cups mild-tasting olive oil or grapeseed oil

1 tablespoon

finely diced shallot

1 tablespoon

finely chopped herbs (parsley, chervil, chives, tarragon, etc)

1 tablespoon

capers, rinsed and roughly chopped

1

to

2

tablespoons sherry vinegar or red wine vinegar or white balsamic vinegar
---
Instructions
Place the egg in a small pot of barely simmering water and bring to a boil, then reduce the heat and simmer for about 4 minutes. Drain, and leave to cool in a bowl of ice water.
When the egg is cool, crack it and scrape into the bowl of a food processor. Add a pinch of salt and the mustard. Start the processor, then add the oil in a thin stream through the tiny hole of the food pusher insert. Stop adding oil when the mayonnaise is satiny and has lots of body, like hot fudge sauce. Stir in the shallots, herbs and capers. Add vinegar and salt to taste.
---