Fried Green Meatless Balls
This post may contain affiliate links. Please read my disclosure policy.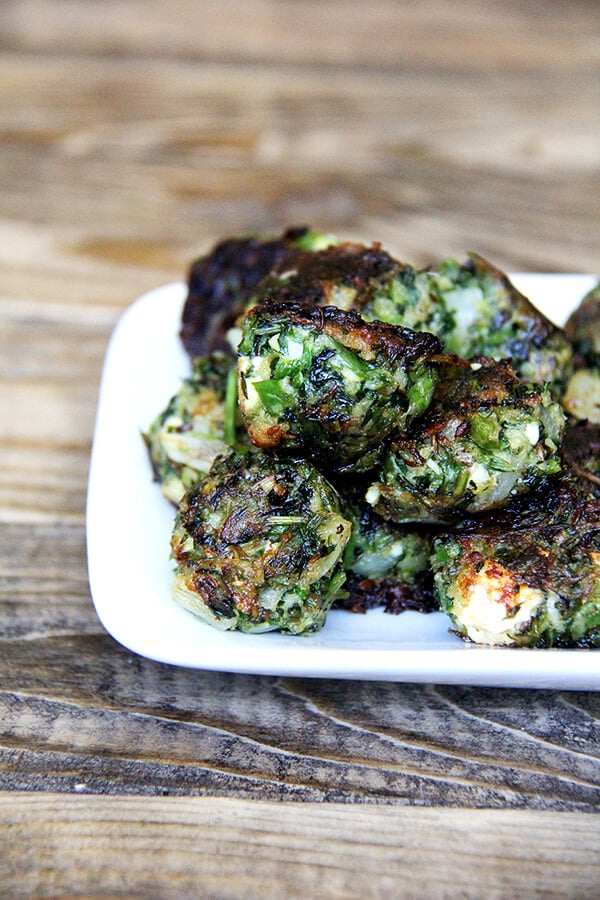 CSA Week 5/6: zucchini, squash, cabbage, onions, scallions, carrots, beets, cucumbers, green beans, lettuce, green peppers, cilantro, parsley, basil, kale, chard.
My latest, favorite discovery: Fried Greens Meatlessballs. The recipe comes from Twelve Recipes by Chez Panisse's Cal Peternell. The beauty of these meatlessballs is that any green can work — turnip, beet, chard, kale, etc. Last week, when no greens arrived, I used the greens from the carrots and the greens from the onions — it worked like a charm. More greens will be arriving today — phew! — and these meatlessballs, seasoned with cumin seeds, garlic, and feta, is a great use for them along with the onions and any of the herbs, though the original recipe calls for cilantro. Find the recipe below. (Twelve Recipes, by the way, is a beautiful book — love it.)
Zucchini: Very excited to try these soft taco zucchini tortilla shells — how cool?
Cabbage: I finally made the cabbage pancakes. I didn't use shrimp, I used way too much cabbage, and I served them with a soy dipping sauce, but they were delicious nonetheless and a great use of the cabbage and scallions. If you want a simpler, 10-minute sauté with eggs and soy, Mama Poule has an idea for you.
Beets: I was flipping through the My New Roots cookbook and came across a recipe for pickled turnips and beets — just the recipe I needed for the few turnips languishing in my vegetable bin along with those beautiful, candy-striped beets. Note: All color (including pretty stripes) is leached from the beets after a few hours in the brine. Use this all-purpose pickling brine.
Green beans: I've been steaming them and tossing them with Zuni Cafe's 4-minute sauce gribiche, the recipe which the 4-minute caesar is based on. Incidentally, 4-minute sauce gribiche is also delicious on burgers. Recipe below. In the weeks ahead, if you find yourself really overloaded by greens beans, I love this Madhur Jaffrey recipe for Masaledar Sem (spicy green beans).
We've been eating the carrots, cucumbers and green peppers raw with hummus. So good.
What have you all been making? Any favorite carrot recipes?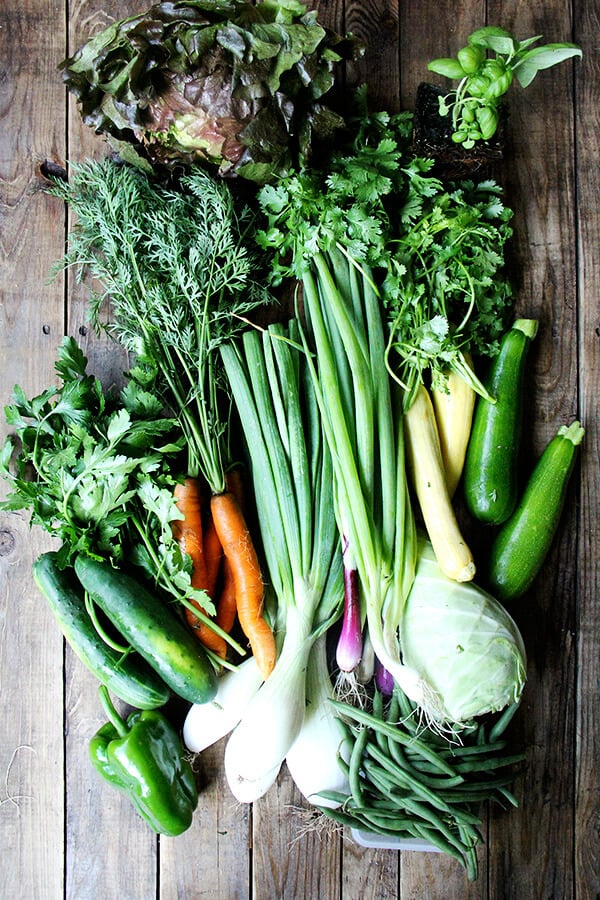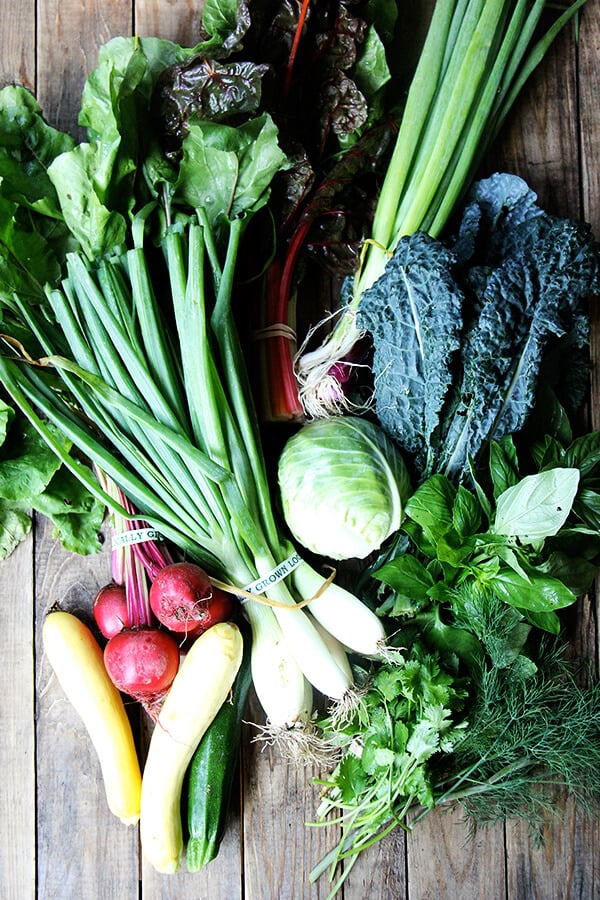 Pickled turnips and beets: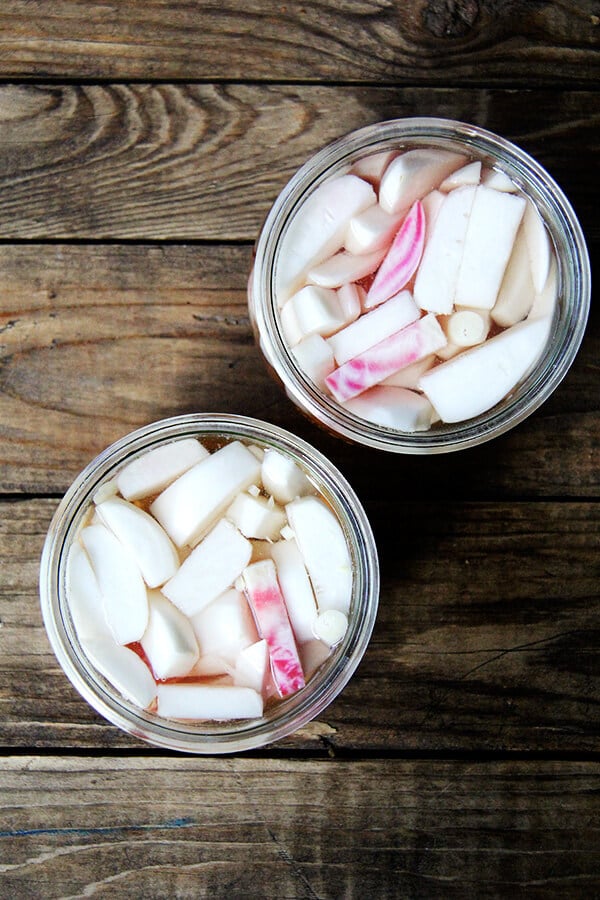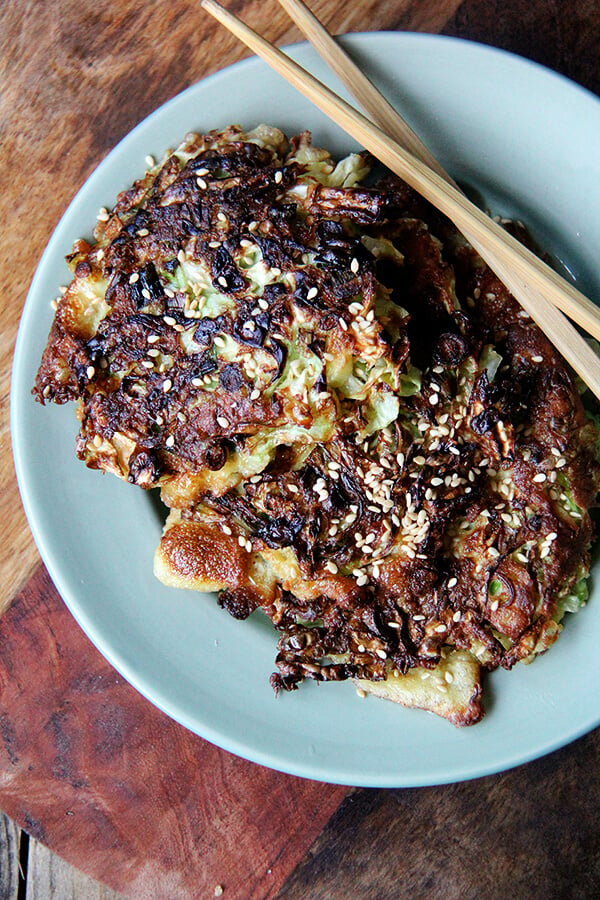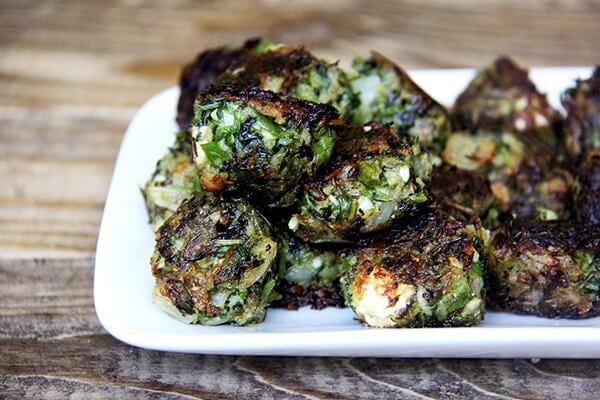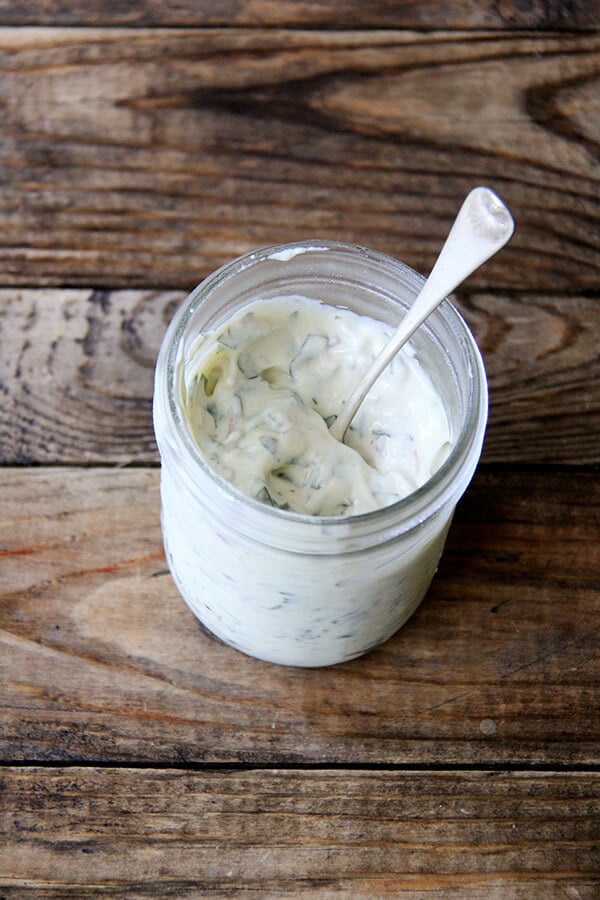 Print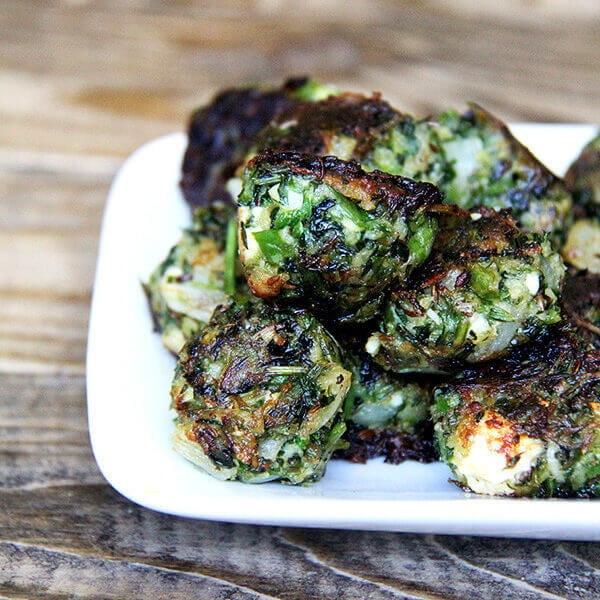 Fried Green Meatless Balls
---
Author:

Alexandra Stafford

Total Time:

40 minutes

Yield:

Serves 3 to 4 as an appetizer

Diet:

Vegetarian
Description
Adapted from Twelve Recipes by Cal Peternell
Notes:
Any greens—beet, turnip, kale, chard, mustard, etc.—can be used here. I've even made these with a mix of the green tops from my CSA carrots and onions.  
I like to give my greens a quick pulse in the food processor. The greens need to be chopped finely at some point, and I find it easier to do it before they are sautéed. You could chop them finely by hand, too.
If you have garlic scapes, you can purée them in the food processor after you pulse the greens. Use a few tablespoons of the scape purée in place of the garlic. Store the purée in an airtight vessel in the fridge.

 

Basil or parsley can be substituted for the cilantro
---
 8-10

oz greens, about 10 cups loosely packed, see notes above

3

 tablespoons olive oil or grapeseed oil

1

 small yellow onion, diced
salt, to taste

2

 cloves garlic, chopped

1/2

 cup cilantro

1

 tablespoon cumin seeds

1

 cup fresh bread crumbs or panko

1/4

 cup crumbled feta

1

or

2

 eggs
oil for frying
---
Instructions
If you haven't made your bread crumbs yet, purée some stale bread in a food processor first. Transfer to a storage vessel. Set aside. No need to wash the processor.
Tear the greens into rough pieces; then pulse them in a food processor or finely chop with a knife—they should be small but not puréed or mushy. Set aside.
If you are using garlic scapes, purée them in the food processor, transfer to a storage vessel and set aside.

 

If you are using Swiss chard, remove the leaves from the stems, and finely chop the stems.

 

Heat a large skillet over medium heat and add the oil, onion, Swiss chard stems, if using, and salt. Cook, stirring occasionally, until soft and lightly browned, 7 to 10 minutes. Add the cumin seeds, and cook while stirring for 1 minute. Add the garlic or garlic scape purée, and cilantro. Cook for 1 minute more.
Add the greens to the pan and sauté for a minute or two, until they have wilted. Turn the mixture into a large bowl.
Let cool for five minutes, then add the bread crumbs and feta. Mix well, then taste for seasoning. Add more salt and pepper to taste—this is your chance to get the seasoning right while the mixture is egg-free. Crack one egg into the bowl and mix with your hands to incorporate. Squeeze a small ball of the mixture. If it holds together, begin portioning out the remaining mixture into small balls. If it doesn't hold together, add another egg. I usually find one egg to be enough.
The key, I think, before frying, is to really make sure you squeeze the portions into tight balls.

 

Heat oil in a skillet over medium-high heat. Add balls to pan—they should sizzle when they hit the oil—then turn heat down to medium or medium-low. Cook until golden, about 2 minutes. Use a fork to flip the balls to the other side and cook for another 2 minutes or so.

 

Transfer to a serving platter. Let cool, then taste one. Sprinkle with sea salt if you wish and serve with lemon on the side. These are delicious warm, at room temperature or cold straight from the fridge.
Prep Time:

30 minutes

Cook Time:

10 minutes

Category:

Appetizer

Method:

Sauté

Cuisine:

American
Keywords: fried, greens, meatless balls, kale, chard, cumin
This post may contain affiliate links. Please read my disclosure policy.