All-Purpose Thai Peanut Sauce
This post may contain affiliate links. Please read my disclosure policy.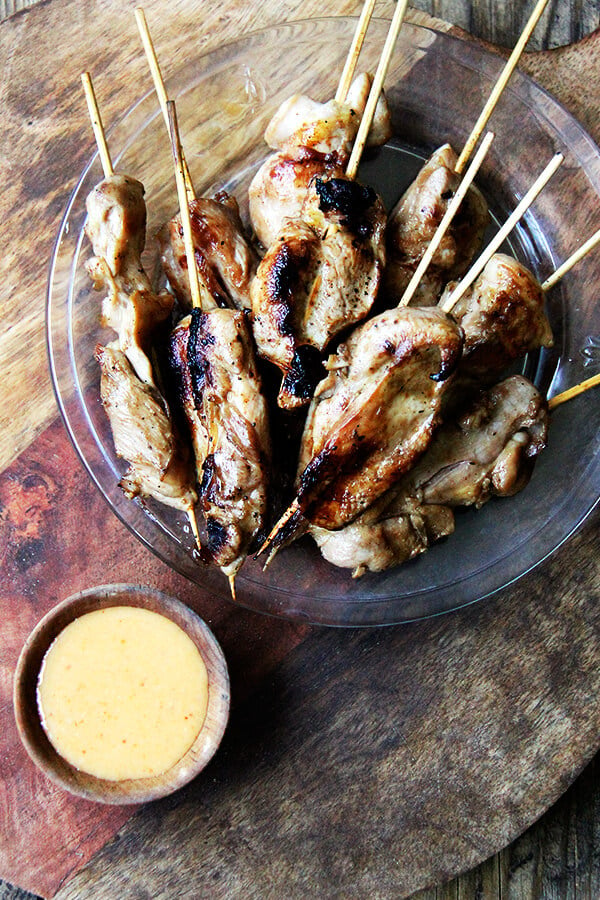 Last summer ambitious garden plans got the best of us, mostly by way of the greens (kale and chard), which we just couldn't keep up with. We learned our lesson and kept it simple this summer, planting five tomato plants in the raised bed and herbs — Thai basil, basil, and tarragon — in three large pots.
Thus far we've been able to keep up, picking the herbs often, weeding here and there, watering as needed. It has been such a treat having fresh herbs on hand, especially the Thai basil — one of my favorites — which I can only find at Asian markets.
In early June, when the Thai basil began flourishing, I made a double batch of She Simmers' Easy Thai peanut sauce, a sauce I have made a number of times over the years, one I love for its versatility: for chicken satay, lettuce wraps, and fresh spring rolls. It, along with copious amounts of Thai basil, even transforms tofu.
I should note my uses for the sauce are probably inauthentic. Leela of She Simmers notes, "If you're looking for a Chinese-style peanut sauce that goes over noodles or Vietnamese-style peanut sauce that is served with fresh spring rolls, this is not it. You can use this sauce in that way, if desired."
Well, I do desire and confess: I like this sauce on noodles, too. Leela actually notes you can thin the sauce with more vinegar for a totally untraditional salad dressing. I like her thinking.
A few notes: I am not a fan of the grocery store options for Thai red curry paste (or any curry paste). It's worth making the trip to an Asian market to stock up on the Maesri brand — it's made with all good things — and tastes far superior to anything I've found at the grocery store. While you're at the Asian market, you might as well pick up some coconut milk, too — you'll save a boodle — and as many enormous bags of Thai basil you can can handle.
PS: Have you ever wondered how Asian markets can keep their prices for produce so low? This Lucky Peach article has some answers.
PPS: More chicken recipes here. And How to Cut up a Chicken.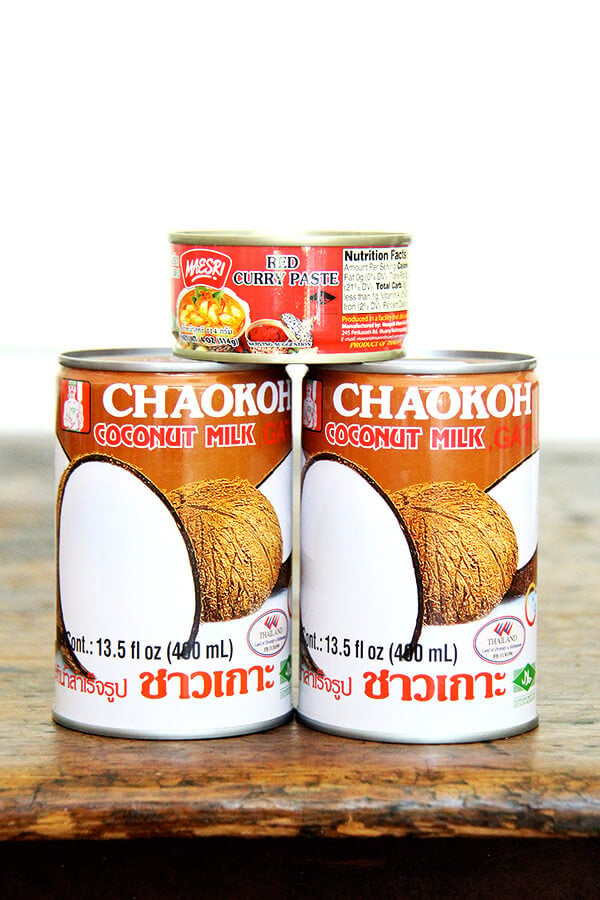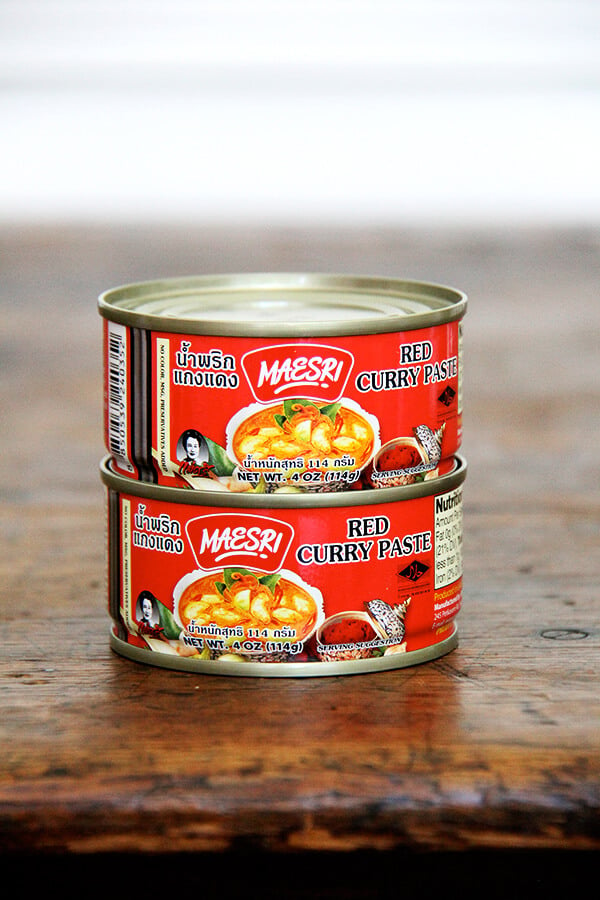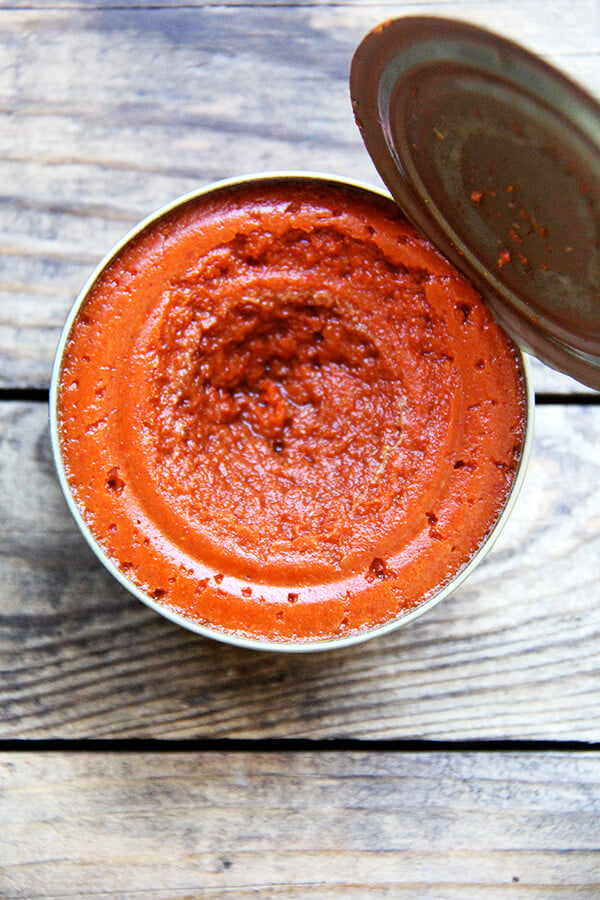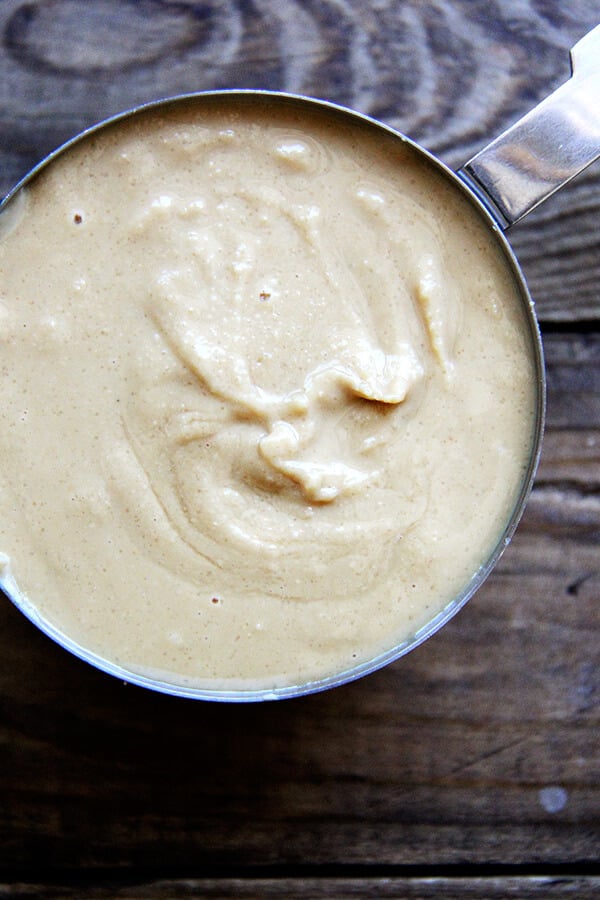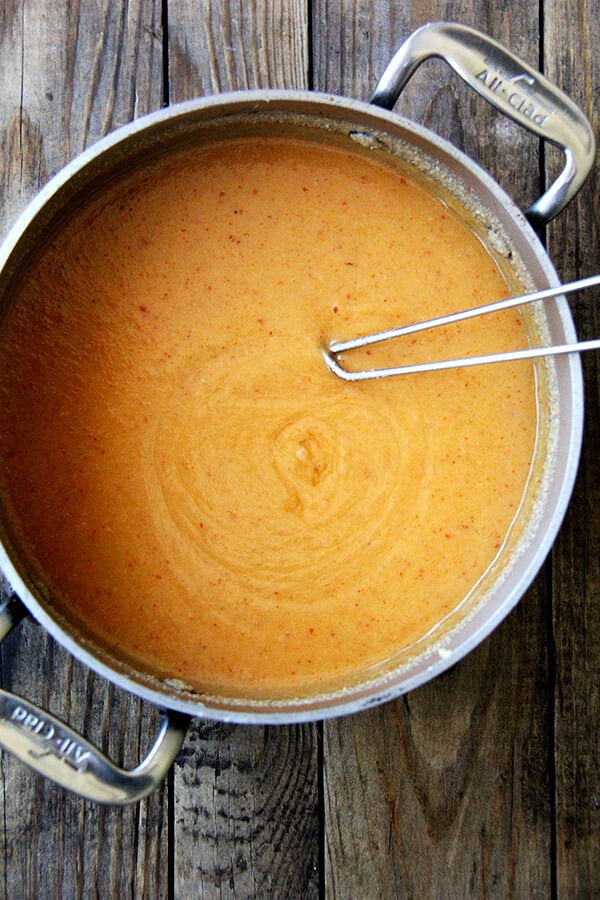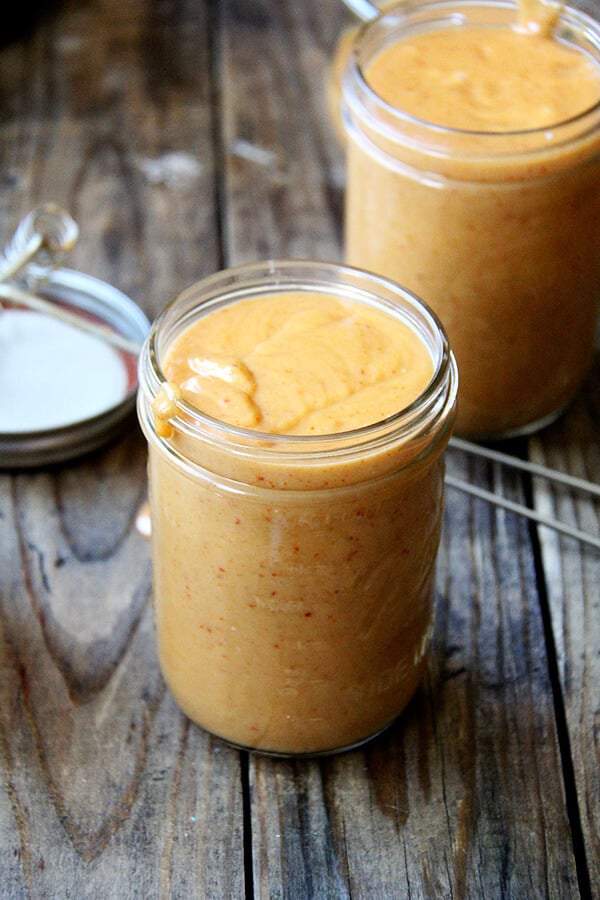 Thai basil plant: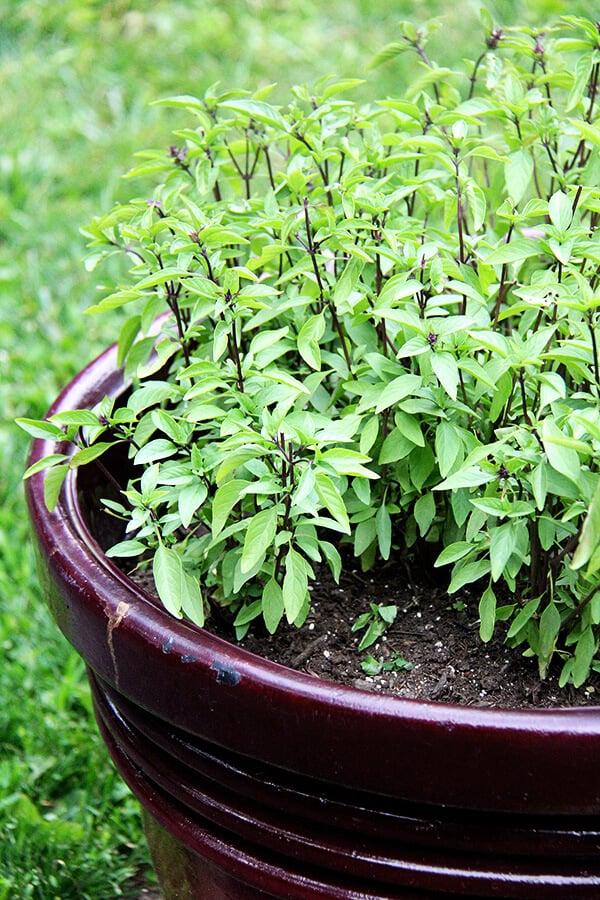 I love this peanut sauce for grilled chicken satay (chicken marinade is below)…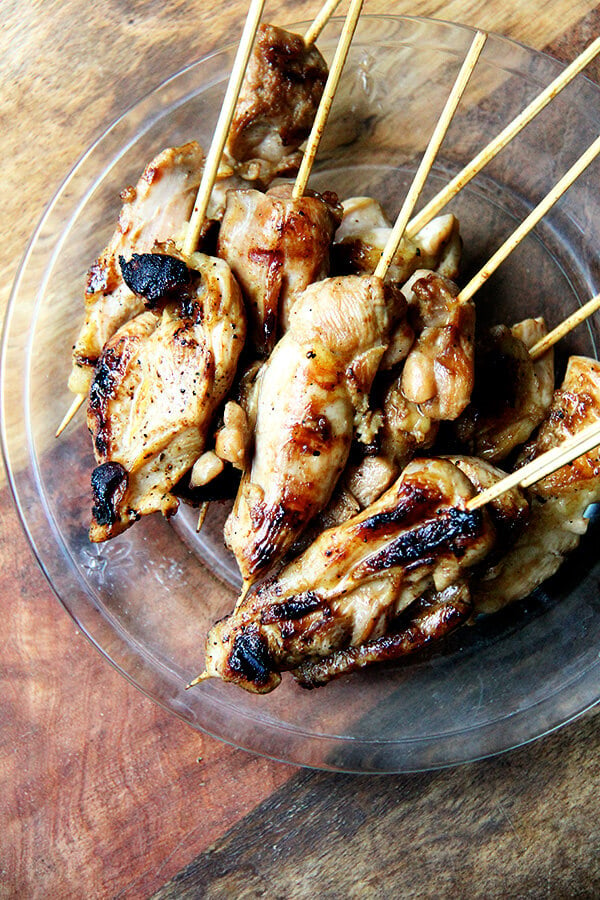 …and lettuce wraps: bibb lettuce, chicken satay, chopped peanuts, pickled carrots and daikon (see below), tons of herbs (Thai basil, mint, cilantro, basil, tarragon — whatever you have.) I like serving it with nuoc cham, too.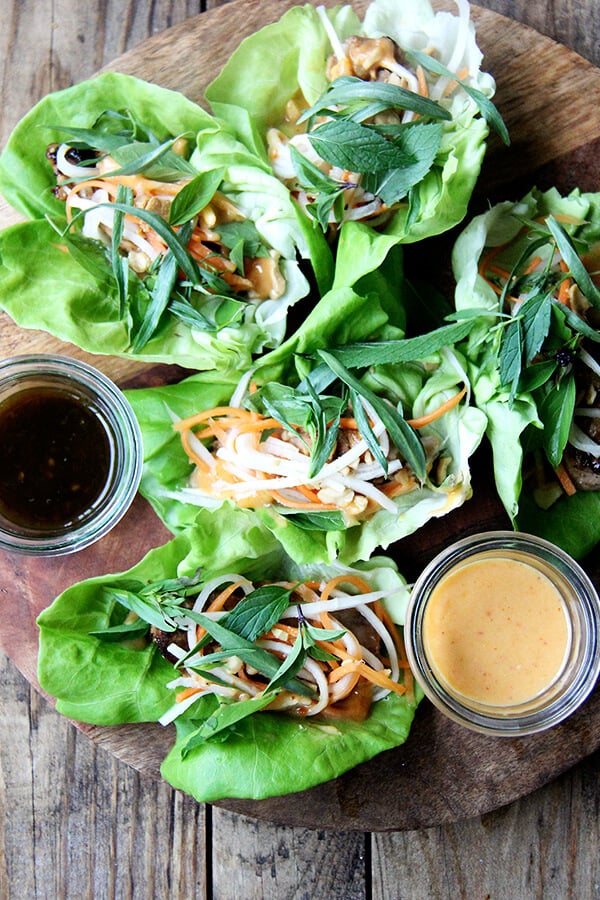 …and, my favorite, fresh rolls: lettuce, chicken satay, pickled carrots and daikon, herbs.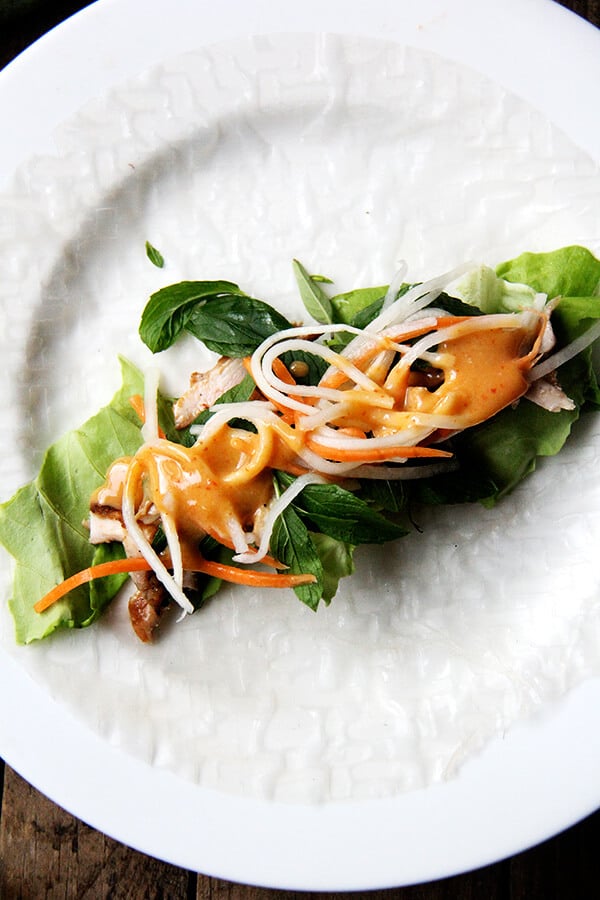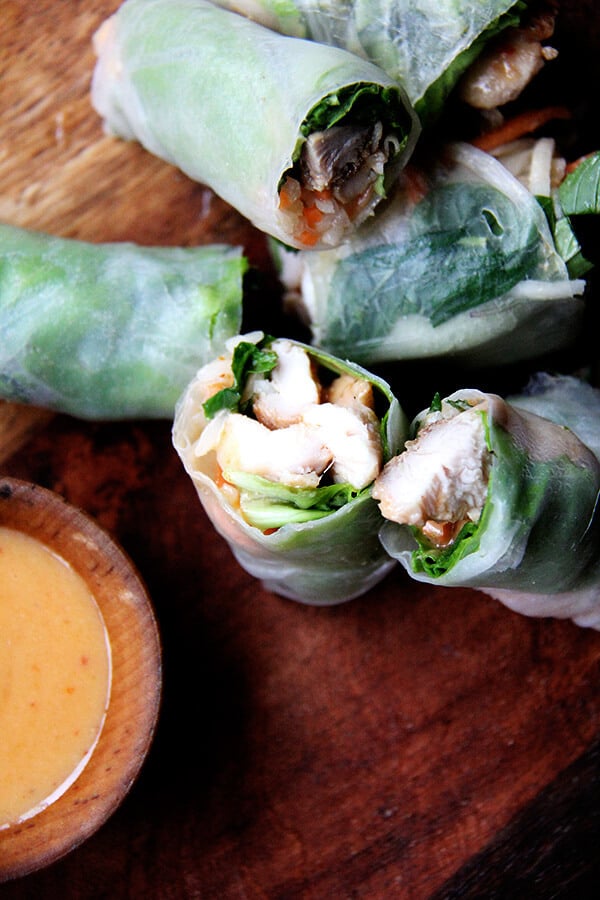 Love this Serious Eats recipe for pickled carrots and daikon. Will keep for weeks in fridge.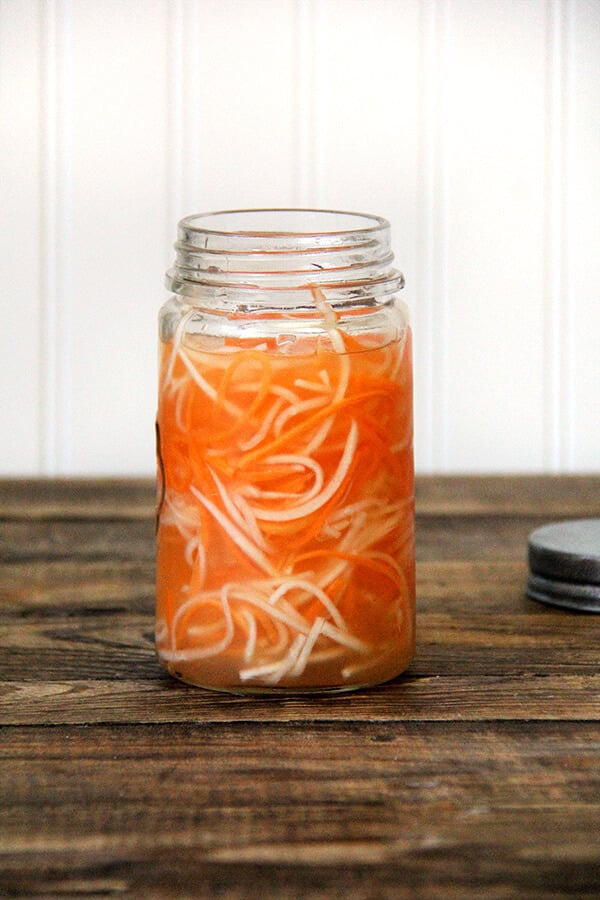 Print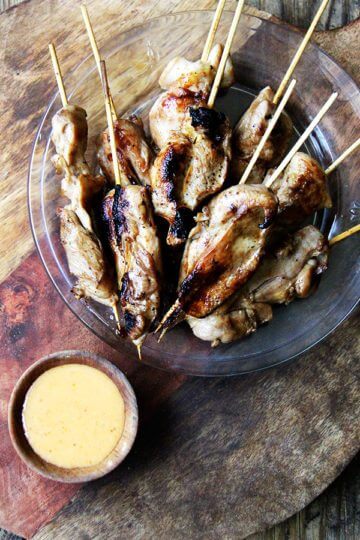 Chicken Satay with All-Purpose Thai Peanut Sauce
---
Description
Source: She Simmers
It's worth making the trip to an Asian market to stock up on the Maesri brand, which is made with all good things.
You can find the curry paste and coconut milk online, too — we used both of these brands when I worked at Fork, and I still use them today.
This recipe doubles well. You will have a ton, but it keeps for weeks in the fridge. The double recipe, too, will prevent you from having half a can of curry paste chillin' in your fridge indefinitely. The sauce will thicken considerably in the fridge, so when you are ready to use it, thin it out with hot water or gently heat and add water to taste.
---
For the chicken:
4

boneless, skinless chicken thighs or

2

breasts, lightly pounded and cut into strips
kosher salt and pepper

1 tablespoon

soy sauce

1 tablespoon

fish sauce

1 tablespoon

vinegar
For the satay sauce:
13.5

-ounce can of full-fat, unsweetened coconut milk

2 ounces

(approximately

¼ cup

) of Thai red curry paste

¾ cup

unsweetened (natural) creamy peanut butter, like Smucker's

½ tablespoon

salt

¾ cup

sugar

2 tablespoons

apple cider vinegar or white vinegar

½ cup

water
---
Instructions
Season chicken with salt and pepper. Whisk together the soy sauce, fish sauce, and vinegar in a large bowl. Place the chicken in the bowl to marinate for at least 20 minutes, then thread the pieces onto skewers.
Preheat a grill to medium high. Put the satay sauce ingredients into a medium heavy-bottomed pot and bring to a very gentle boil over medium heat, whisking constantly. Let the mixture simmer for 3-5 minutes over low heat; be careful not to let the mixture scorch at the bottom of the pot. Take the pot off the heat, let the sauce cool down to room temperature (or slightly warmer).
Grill chicken until cooked through, 3 to 4 minutes total. Serve with satay sauce on the side.
Prep Time:

25 minutes

Cook Time:

5 minutes
This post may contain affiliate links. Please read my disclosure policy.