CSA Week 7,8,9: Corn, Eggplant, Tomatoes, Potatoes, Peaches
This post may contain affiliate links. Please read my disclosure policy.
Hello! Catching up on CSA posts…I've been slacking. I hope you have been, too. It's that time of year, right?
PS: All past CSA posts can be found here.
PPS: What have you been making? Any discoveries?
CSA Weeks 7, 8, 9: corn, onions, eggplant, Japanese eggplant, beets, peppers, lettuce, scallions, tomato, zucchini, melon, chard, peaches
Corn: If you aren't steaming or boiling it, and eating it straight up, I recommend fresh corn polenta, one of my all-time favorite things to eat. The corn has been delicious. Also: Tacos with Grilled Poblano and Corn Salad and Tomato, Corn and Gruyère Galette
Eggplant: About this time of year every year, I wonder where I would be without Chez Panisse Vegetables. Many of my favorite eggplant recipes come from the eggplant chapter of that book, and I recently made another one: grilled Japanese eggplant with salsa verde (recipe for salsa verde here; grill eggplant over high with olive oil, salt and pepper). A few other eggplant ideas: Pasta with Tomato, Eggplant and Caramelized Onions, Eggplant Caviar on Grilled Bread, Eggplant Involtini (a favorite!), Burnt Eggplant with Za'atar flatbread, Crispy Eggplant Rounds, Cook's Illustrated Eggplant Parmesan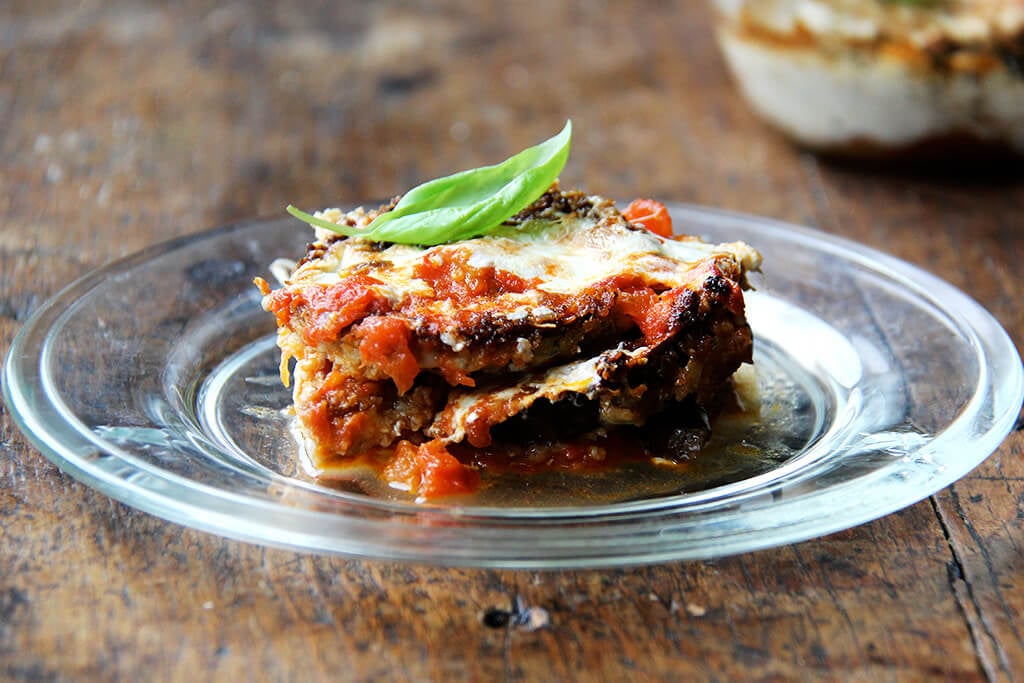 Onions: Caramelize them and use them all week in omelets, on pizza with burrata, in pasta with Marcella Hazan tomato sauce.
Beets: What are you making with them? I've been boiling them, dressing them, and eating them with cheese. I do love this Ottolenghi beet, orange and olive salad — substituting the oranges with peaches or plums could work. Mores ideas for beets here.
Peppers: I love this red pepper and tomato pasta sauce — so easy and good. Or, make a pepperonata: sweat peppers and onions (2:1 ratio) together in olive oil with salt over low heat covered for 30 minutes. Uncover, and sauté until meltingly tender, another 30 minutes. Add garlic, capers, and a splash of vinegar. Taste. Adjust seasoning as necessary. Serve over toast.
Cucumber and canteloupe are a great match. Pair them together in a salad with a mint vinaigrette: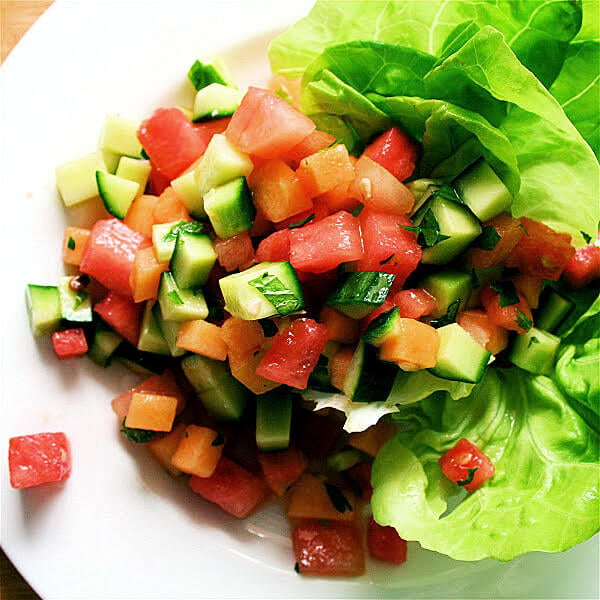 Zucchini: The Zucchini Anchovy, Sautéed Zucchini with Pine Nuts and Mint, Zucchini Fritters
Chard: What to do with an Overload of Swiss Chard?
Make a slab galette:
Tomatoes: Tomatoes with Grilled Bread and Homemade Ricotta, Roasted Tomato and Bread Soup, Tomatoes: Breakfast, Noon & Night
Peaches: Is it heresy to suggest eating a peach any other way than over a sink, juices dripping down your chin? Sorry. Here's a peach-and-blue cheese toast (pictured up top) from the Canal House ladies via Bon Appetit. Love it.
Potatoes!! The first of the season — so exciting. I am looking forward to many many many trays of the crispiest oven fries.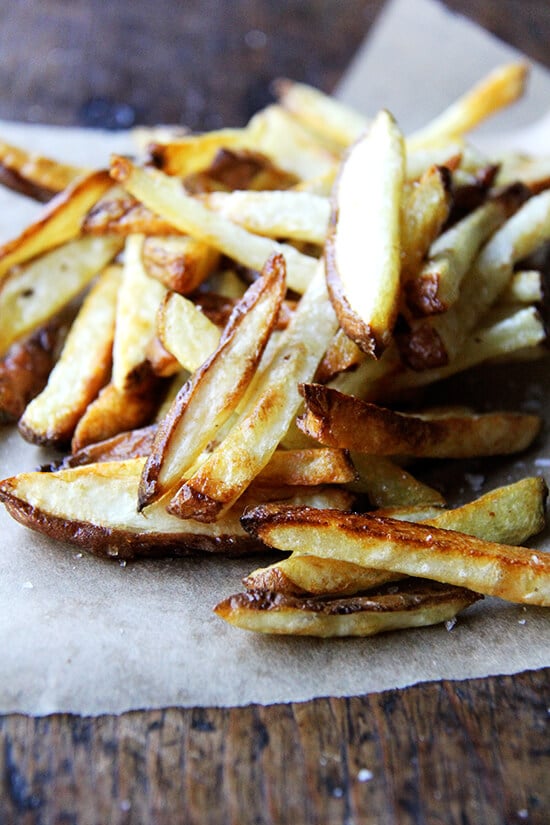 Salsa verde for that grilled eggplant:

This post may contain affiliate links. Please read my disclosure policy.