Moosewood Tomato Salsa
This post may contain affiliate links. Please read my disclosure policy.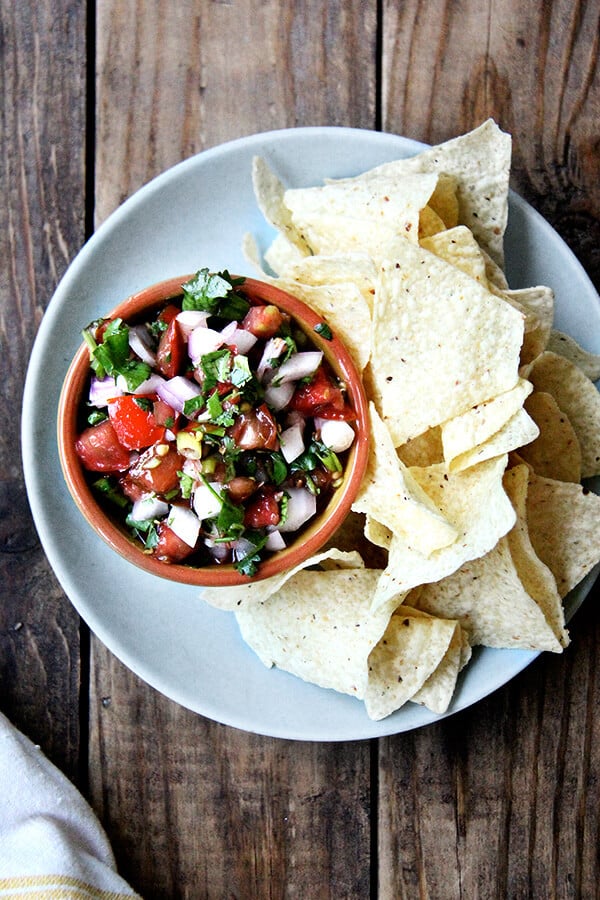 I never imagined posting a recipe for tomato salsa nor following one in a cookbook till last Friday, when my neighbor Sandra had us over for dinner. As Cornell chicken charred on the grill, we all, children included, tucked into a bowl of salsa — it was irresistible.
When I asked what was so magical about her salsa, Sandra handed me The New Moosewood Cookbook opened to the salsa fresca page. I looked at the ingredient list for the tomato salsa and was happy to see nothing too unusual but struck by a few things: the inclusion of both lime juice and vinegar, olive oil and toasted cumin seed.
I learned to make salsa from a man who made salsa out of anything — blueberries, tomatillos, jicama, corn, whatever — but always included onion, jalapeno (or other hot pepper), herbs (parsley, cilantro, Thai basil, etc.), and lime or lemon juice. He never used oil, vinegar or any spices in his salsas, and as a result, I've never either.
But Sandra's salsa was SO good. I made it the following morning — the garden demanded so — and served it with scrambled eggs, wrapped in tortillas with cheese. We ate the remaining salsa throughout the day with chips, but I am convinced this salsa would be good on anything right now — grilled fish or chicken, a quesadilla, and of course any taco.
I love that this salsa uses both fresh lime juice and vinegar. I love the inclusion of toasted cumin seeds, which adds a subtle smokiness and reminds me of eating papadums. I love the touch of oil to balance out all of the acid.
Again, a recipe for salsa is not necessary nor could one ever be followed to a T. But a guide is nice, this one especially.
PS: Mango salsa. Grilled poblano salsa.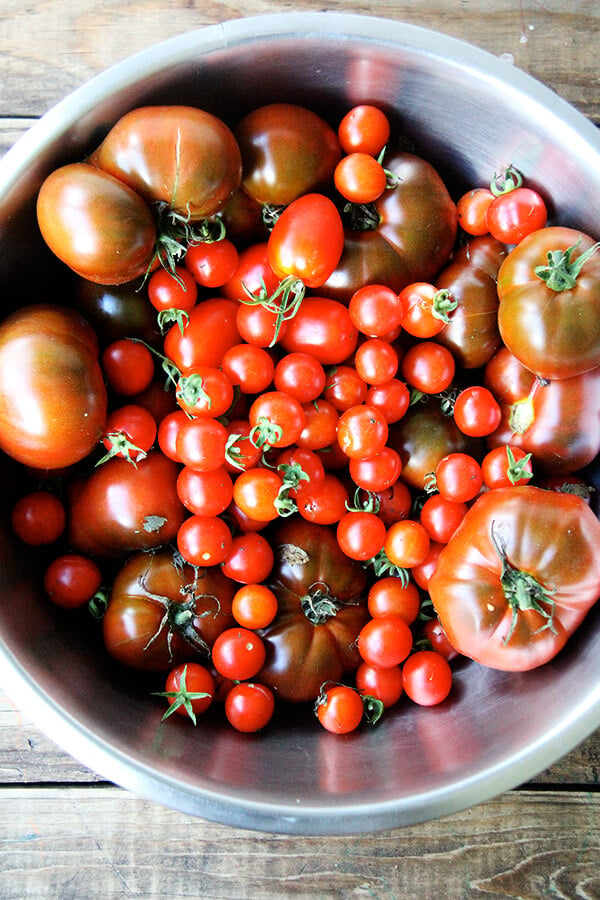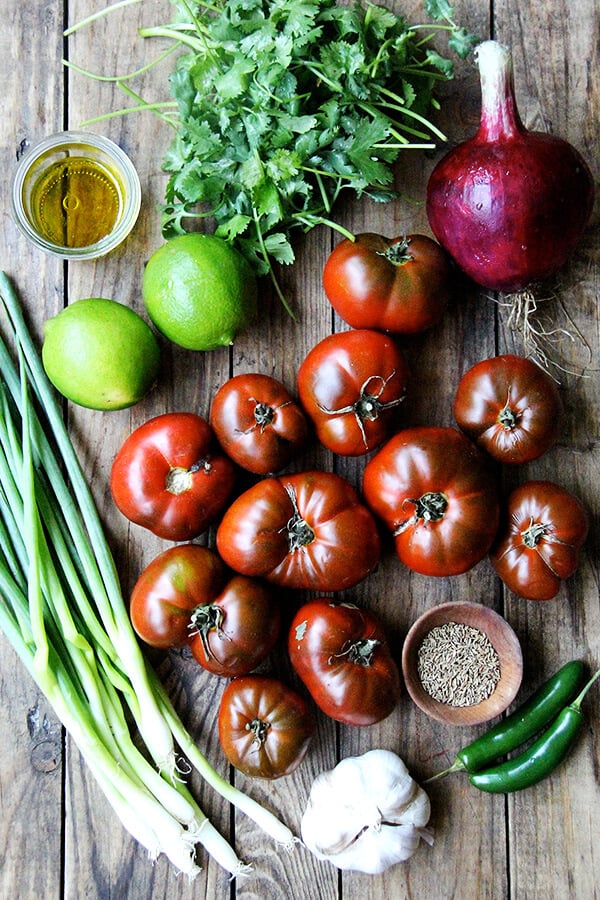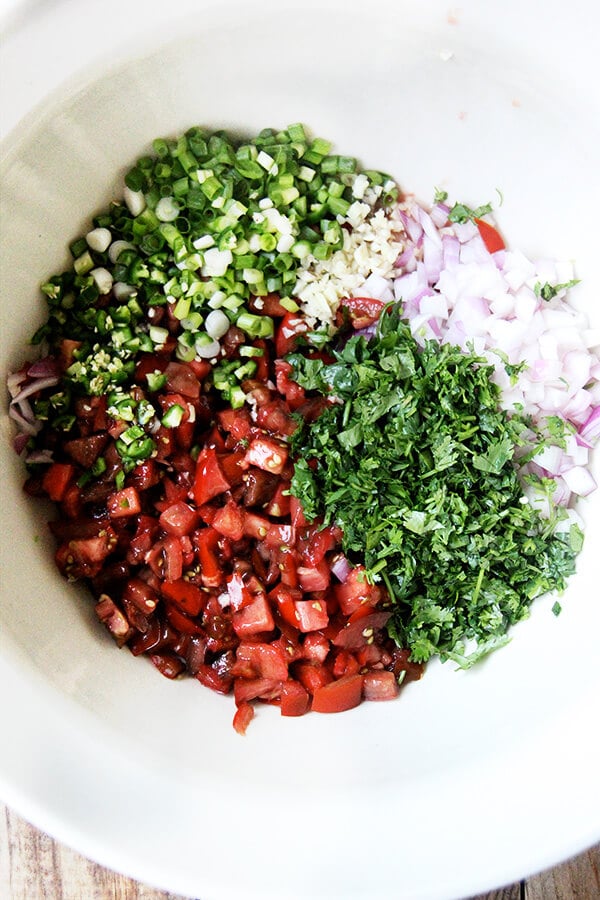 Love these chips: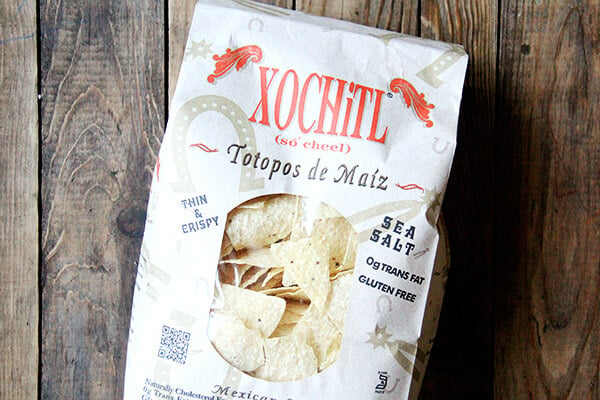 Print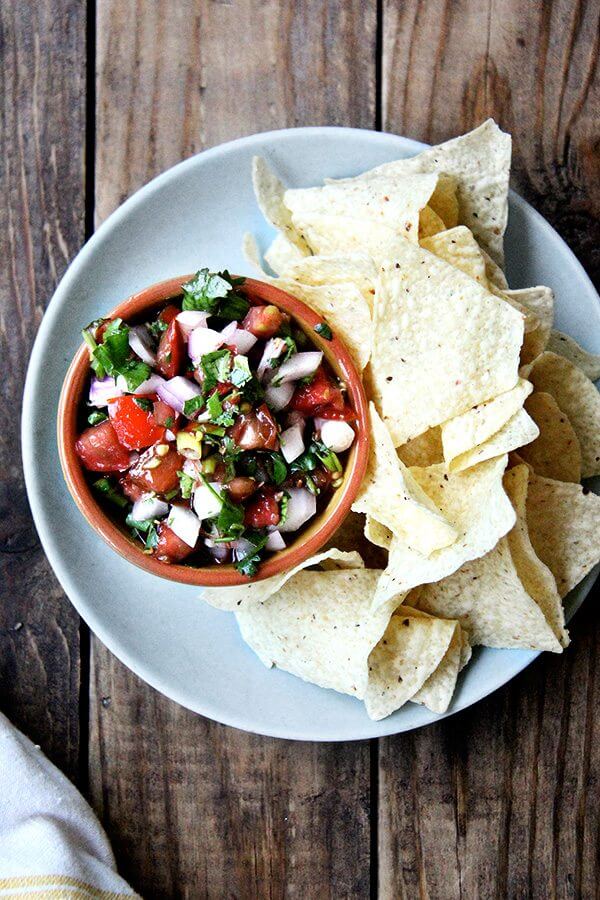 Salsa Fresca — Moosewood Tomato Salsa
---
Description
Adapted from The New Moosewood Cookbook, such a gem
Note: The original recipe calls for dropping the tomatoes into a potful of simmering water for 10 seconds and then peeling them. I don't think that is necessary. I added an onion because I can't imagine making salsa without one, but if you don't have one, omit it.
If you don't like cilantro, use parsley or basil. With cilantro, there is no need to pull leaves from stems — just chop it all up, stems and all.
Use this recipe as a guide — you can't go wrong if you stick to it even roughly.
I love this with chips, of course, but it is extra special over breakfast tacos.
---
3

to

6

medium-sized ripe tomatoes, diced to yield about

4 cups

1

onion, red or white, diced to yield about a cup or

two

, doesn't matter

2

to

4

scallions, minced to yield about

1/2 cup

2

medium cloves garlic, minced
a handful of cilantro or parsley or both, minced

1 teaspoon

lightly toasted cumin seeds*

3/4

to

1

teaspoon kosher salt

1 tablespoon

cider vinegar (or other)

1 tablespoon

fresh lime juice (from about

1/2

a lime)

1 tablespoon

olive oil

1

jalapeño, minced or crushed red pepper flakes to taste 
*Note: To toast the cumin seeds, use a small skillet over a low flame. Watch carefully to prevent scorching.
---
Instructions
Combine everything in a large bowl. Taste. Adjust seasoning as necessary — specifically add more salt and more lime juice to taste. Chill until ready to serve.
Prep Time:

10 minutes

Category:

Condiment

Method:

Toss

Cuisine:

Mexican
Keywords: Salsa, pico de gallo, salsa fresca, tomato, cumin, lime, cilantro, onion
This post may contain affiliate links. Please read my disclosure policy.