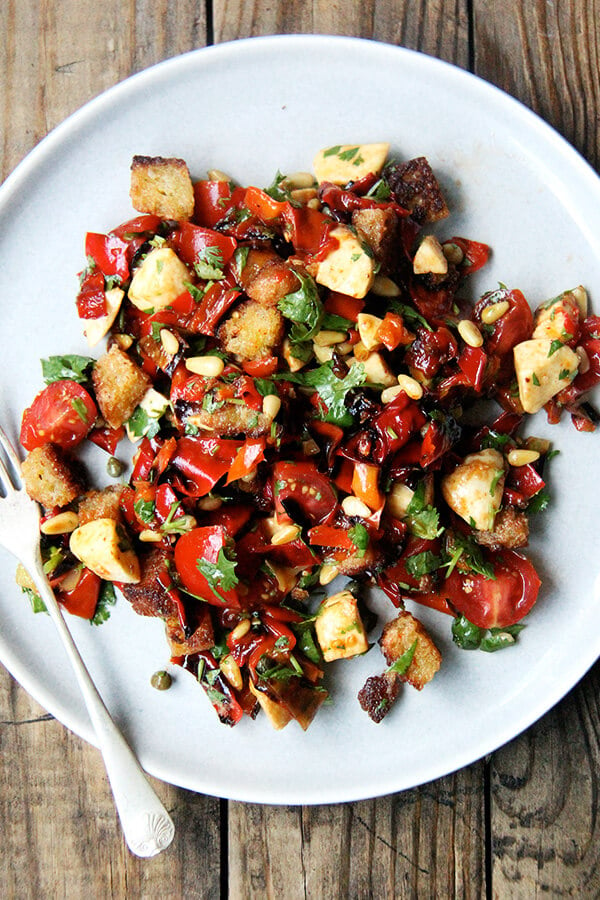 Is it me or does everything feel too much like hard work right now?
Removing kernels from cobs; blanching anything; peeling anything; slicing anything — it's all too much. This is unfortunate because so many of my favorite summer dishes — fresh corn polenta, Hazan's tomato sauce, roasted red pepper sandwiches — require a teensy bit of elbow grease.
Or do they?
On Monday, anticipating another load of peppers in my farm share, I cooked off the stash in my fridge using a no-fuss method I have eyed for years in Sally Schneider's The Improvisational Cook.
As an alternative to roasted peppers, which, as we know, require blistering, steaming, and peeling, Schneider roasts strips of peppers at high heat with olive oil and whatever seasonings she has on hand. She serves the peppers hot from the oven as a simple hors d'oeuvre but also uses them in countless ways: in free form tarts with olives and goat cheese (yum!), in pasta with molten mozzarella, in bruschetta with anchovies and ricotta salata, in romesco sauce with almonds and toasted bread, to name a few. For their versatility, Schneider named these strips "magic" peppers.
And that they are — emerging from the oven with edges caramelized, flesh softened, and flavor concentrated, these peppers are 99% as enjoyable as their more traditional cousins and 199% easier to get on the table. Inspired by Schneider's bruschetta and improvisational spirit, I chopped and mixed my magic peppers with what I had on hand: cherry tomatoes, mozzarella, pine nuts, capers, and cilantro (basil would be better). Folded into olive oil-fried bread, this mixture made a lovely panzanella salad but could have easily become a bruschetta or simple grain or pasta salad.
Much to my delight, making this panzanella felt nothing like hard work. It was almost as though the salad assembled itself. Perhaps "hard work" is a state of mind. Hmm…deep thoughts.
Have a wonderful long weekend, Everyone. Here are a few ideas for a Labor Day BBQ.
Finally, the giveaway is closed. The winner is Holly Dart. Thank you all for so many great one-bowl-wonder ideas. I wish I could send you each a Baking Steel Griddle. This is the only trouble with giveaways…I hate selecting a winner.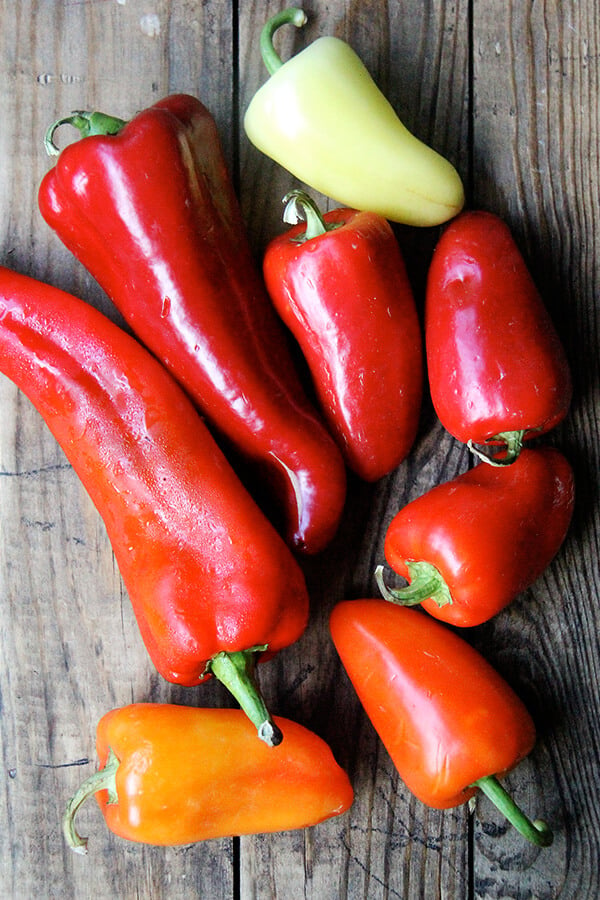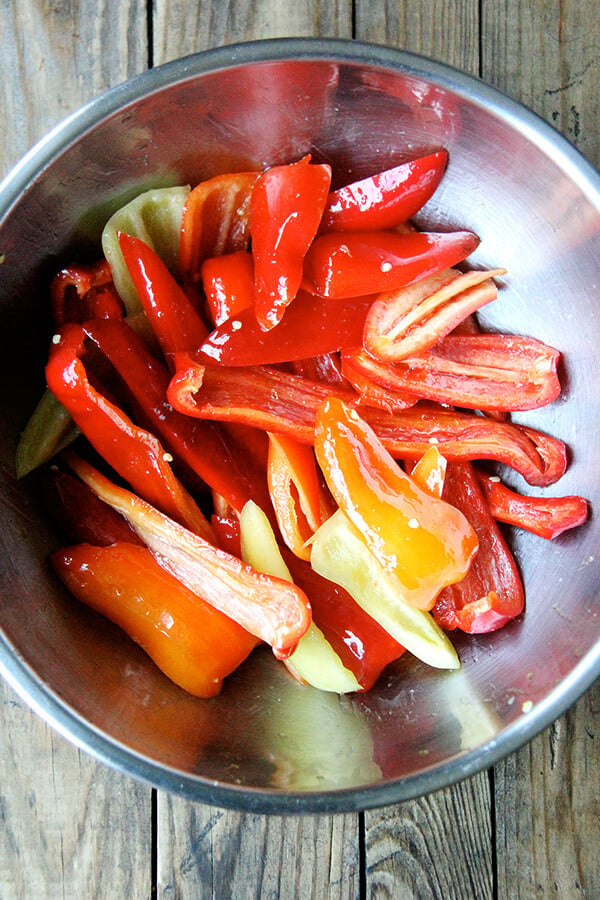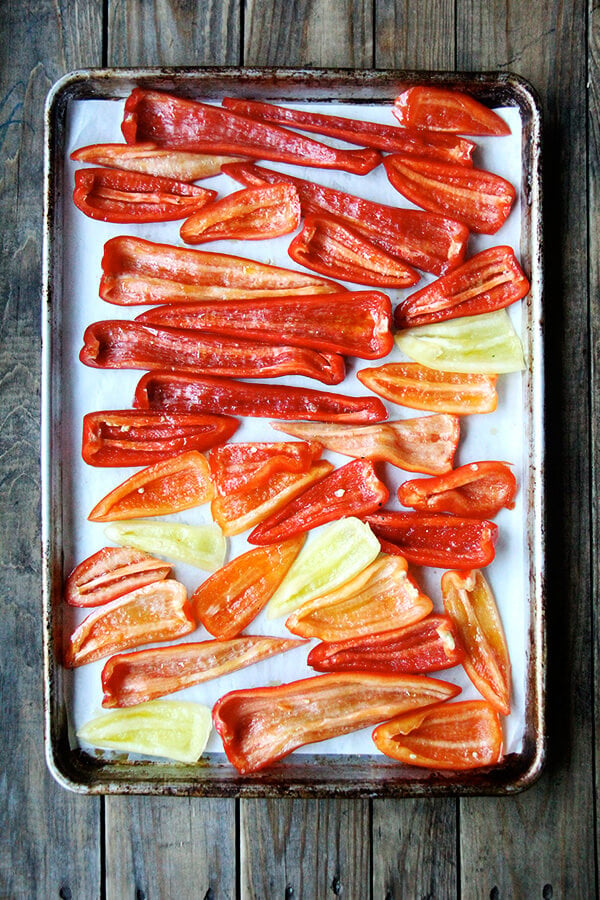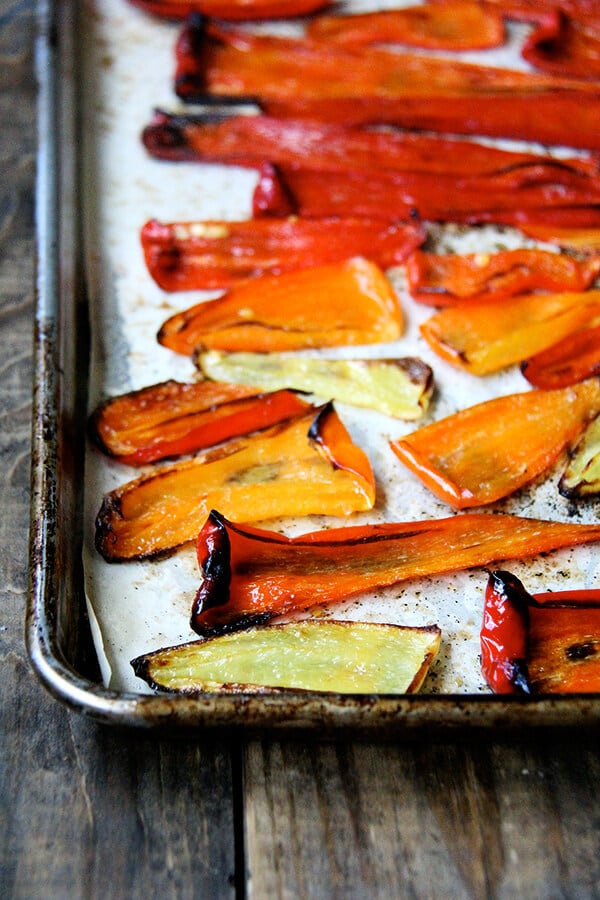 These "magic" peppers can be served as is…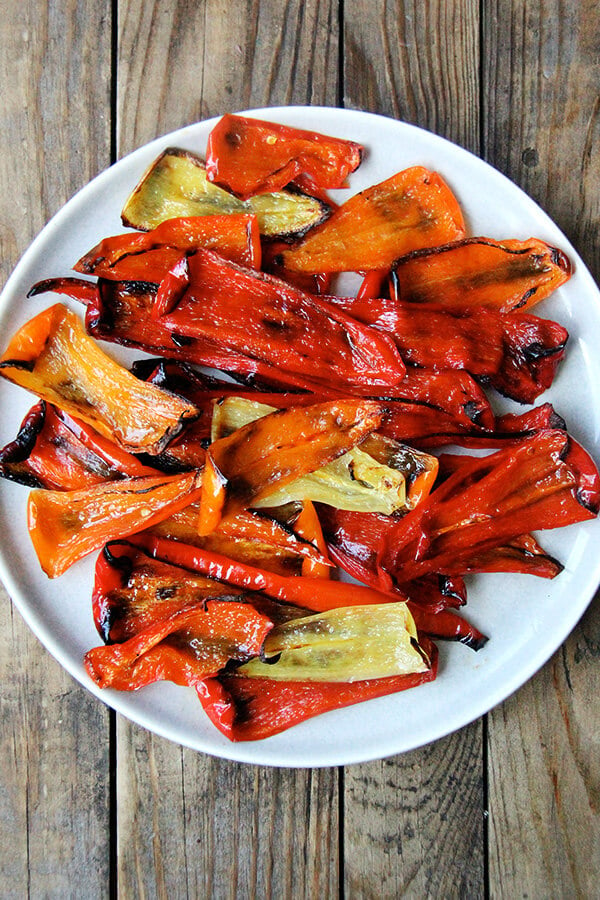 …or chopped and mixed with what you have on hand: tomatoes, pine nuts, capers, mozzarella, herbs, etc.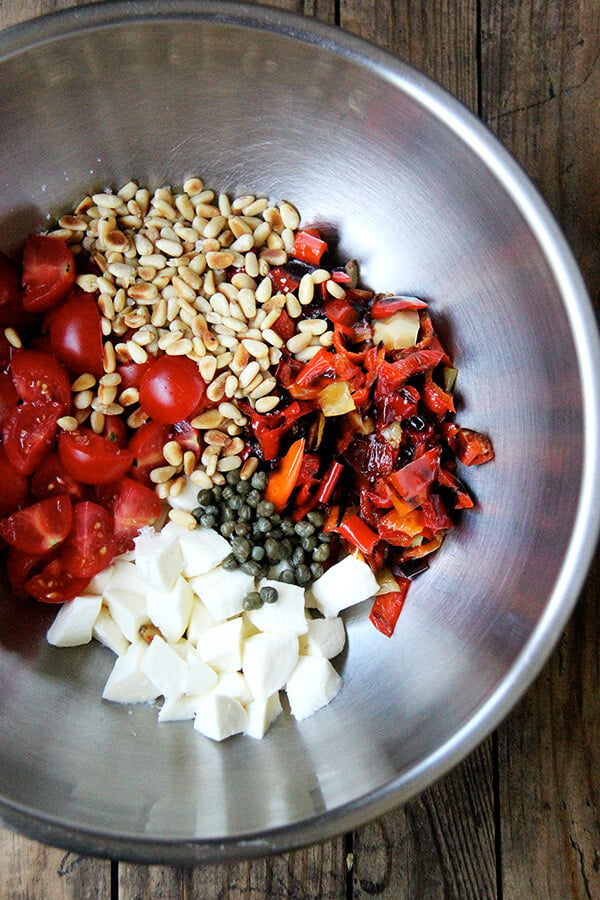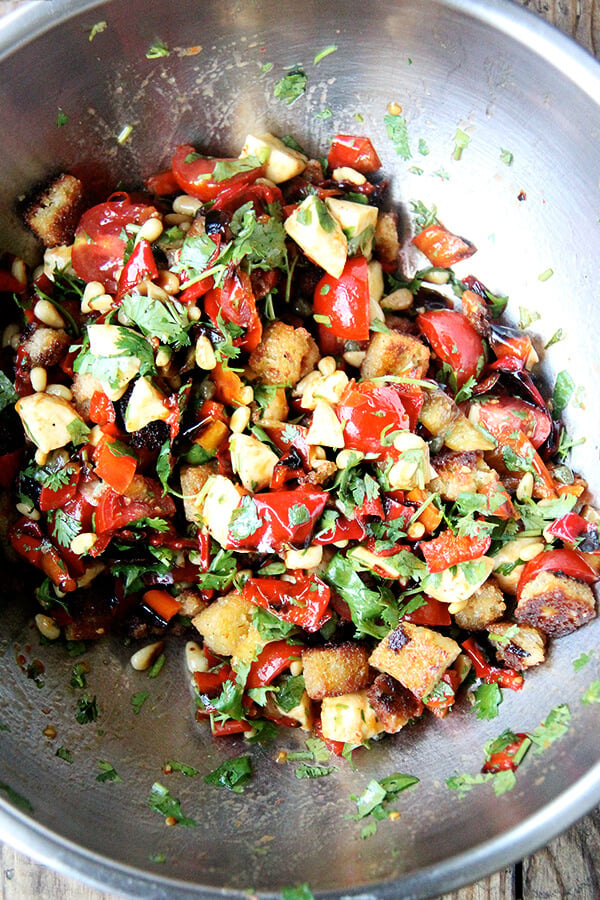 I added olive-oil fried bread, but farro would be nice (and healthier!) as would pasta.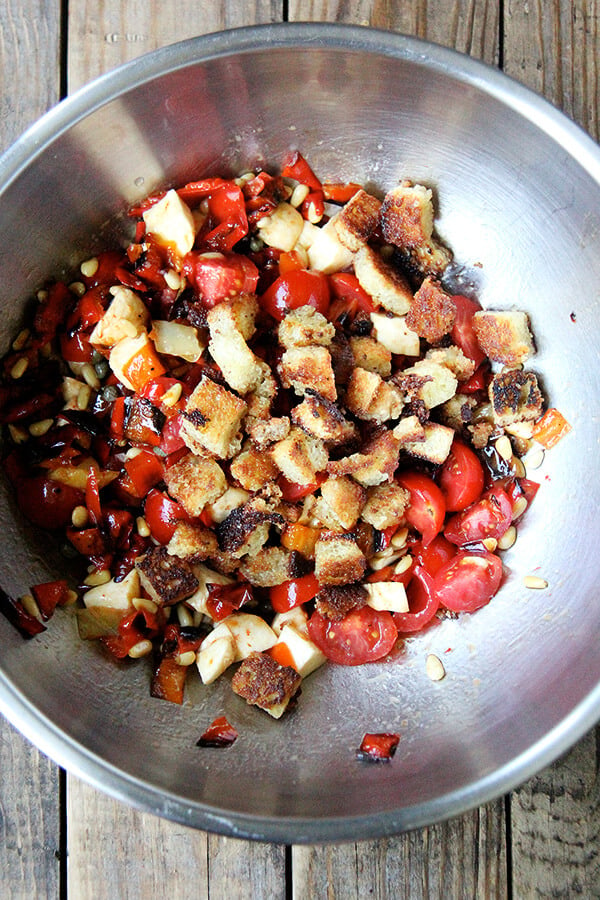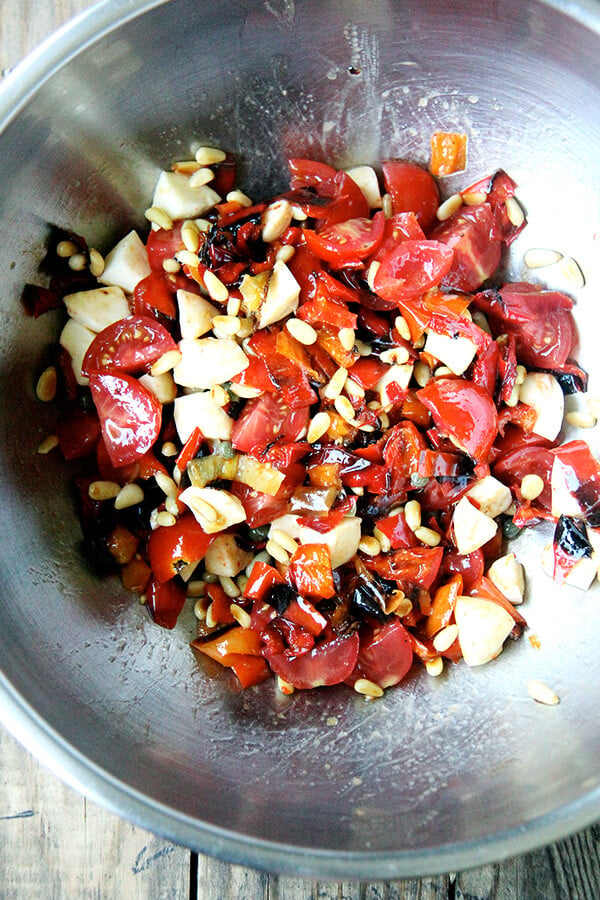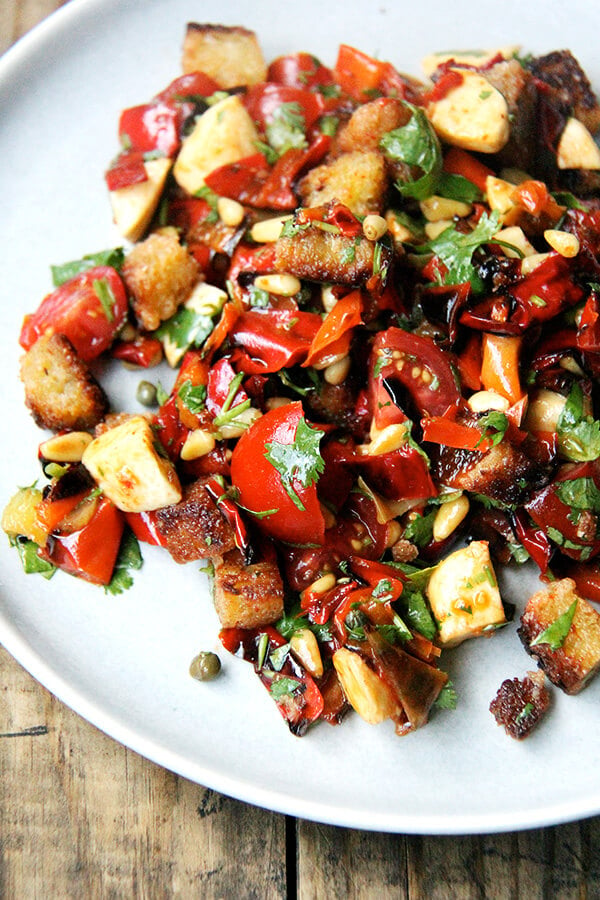 Print
"Magic" Peppers and Salad with Pine Nuts & Capers
---
Prep Time:

15 minutes

Cook Time:

25 minutes

Total Time:

40 minutes

Yield:

2 servings
Description
Recipe for magic peppers adapted from Sally Schneider's The Improvisational Cook
Notes: The only part of this recipe I suggest you following to a T (or mostly to a T) is the time (25 to 30 min) and temperature (450ºF). Otherwise, just toss the peppers — however many you have on hand — with oil to taste and season with salt and pepper to taste.
As noted above, the magic peppers can be used in countless ways from free-form tarts to pasta salads to bruschetta.
---
Ingredients
for the magic peppers:
2

lbs bell peppers (or other)

2 tablespoons

extra virgin olive oil
salt to taste
fresh ground black pepper to taste
for the salad:
1

to

2

cups diced magic peppers

1 cup

(or more) halved cherry tomatoes

6 oz

. fresh mozzarella, diced to yield about

1 cup

1 tablespoon

capers

1/4 cup

pine nuts, toasted*
roughly chopped basil or cilantro or whatever herbs you have on hand

2 tablespoons

olive oil

1 tablespoon

vinegar such as white balsamic, balsamic, red wine, etc.
kosher salt and pepper to taste
olive oil fried bread**
*Toast in a small skillet over medium-low heat checking frequently — they quickly turn from lightly golden to burnt.
**Toss 3/4-inch cubes of bread with olive oil, salt and pepper. Toast in a large skillet over medium-low heat until golden or in the oven at 400ºF for 10 minutes or so.
---
Instructions
Preheat the oven to 450ºF. Cut each pepper in half through the core. Remove seeds and stem. Cut each half into three or four pieces. Place strips in a large bowl, season with salt and pepper to taste. Drizzle with oil and toss to coat.
Arrange peppers slices, cut-side up, on a large baking sheet. Roast for 25 to 30 minutes or until peppers are tender and slightly browned on the edges — thinner peppers will cook more quickly, so start checking at 25 minutes if not sooner.
Serve warm or at room temperature or continue on and make the salad:
Toss together the diced magic peppers, halved cherry tomatoes, mozzarella, capers, toasted pine nuts, herbs, olive oil, vinegar, salt and pepper to taste. Taste and adjust seasoning as necessary. Fold in bread. Toss again, taste, and adjust seasoning.
---