Hippie Crispy Treats + A Fair Trade Giveaway
This post may contain affiliate links. Please read my disclosure policy.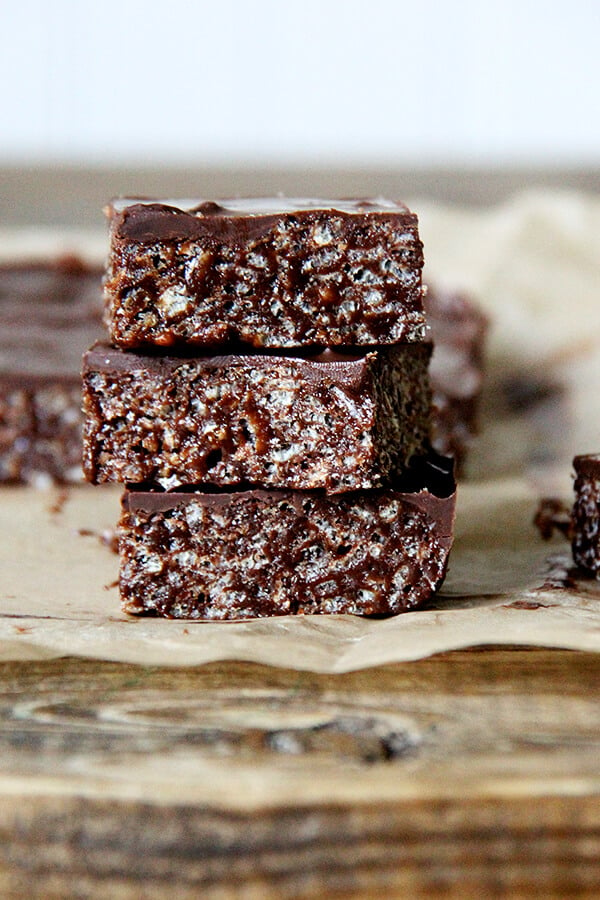 Aptly described in Food52 Baking as "what happens when your favorite childhood dessert grows up, goes to college, and joins a commune," hippie crispy treats take 10 minutes to assemble, call for healthy-ish ingredients, and are completely irresistible.
Friends, it's October, the month we celebrate all things Fair Trade. Many of you know what Fair Trade means, but to review:
• Fair Trade helps farmers (more than 1.2 million worldwide) in developing countries build
sustainable businesses
>that positively influence their communities.
• Products that bear the Fair Trade logo come from farmers and workers who are justly compensated.
• Fair Trade ensures that farmers follow internationally monitored environmental standards and also provides financial incentives and resources for organic conversion, reforestation, water conservation and environmental education.
• Fair Trade empowers women to play an active role in their families and in their co-ops by starting businesses with guaranteed access to health care, certain job rights and freedom from harassment. Fair Trade certification ensures that women have a voice, a vote, and a leadership role in the community.
• Fair Trade supports education with revenues set aside to build schools and maintain enrollment.
To help tell the stories about the people behind their food, Fair Trade has reached out to bloggers and paired each with a farmer. Meet my match: Maria Elva Correa Torres, a coffee farmer & member of the Cenacor Cooperative in Peru:
Maria Elva Correa Torres, 40, knits an alforja, or market bag, inside her home along with her four-year old son Yerson. Maria Elva is a member of the local Agua Azul chapter of coffee co-op ASPRO along with her husband Primitivo Hernandez Cueva, who is the president of the local chapter.
Maria Elva joined as a coffee producer in 2012. "I saw all the benefits my female neighbors were achieving through the Cafe Femenino program," states Maria Elva, "that I decided to join as well. With the Fair Trade prize money, I plan to startup a small venture selling groceries at the Sunday market. Usually only a husband or a wife are members of the coffee co-op, but we are making the efforts to get ahead and help our four children study, so the efforts are worth it."
Maria Elva and Primitivo have four children aged 23, 17, 14 and 4.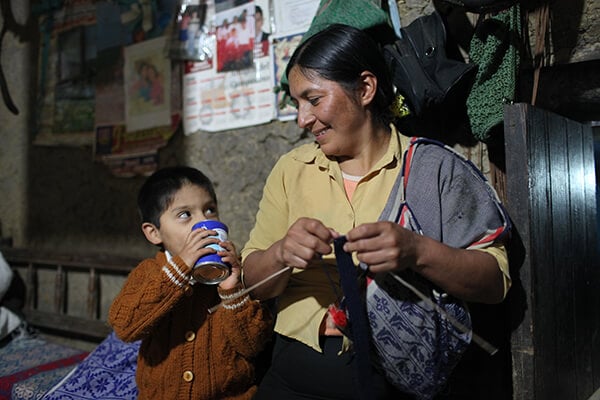 Finally, attention Pinners: These Hippie Crispy Treats are entered in a Fair Trade Pinterest competition – if you feel like participating, pin it from the Fair Trade pinboard.
UPDATE: GIVEAWAY IS CLOSED: Winner is Gabriella. The contents of the giveaway are pictured at the end of the post. Please leave a comment to enter the giveaway. Thank you to Fair Trade and to all of the Fair Trade vendors for donating the contents of this giveaway!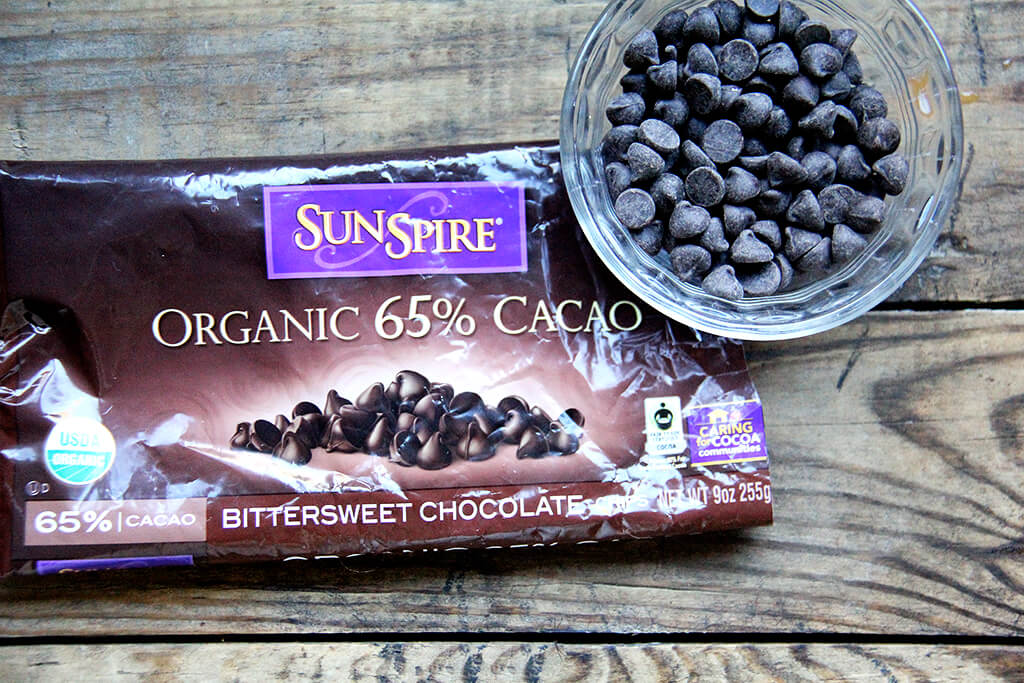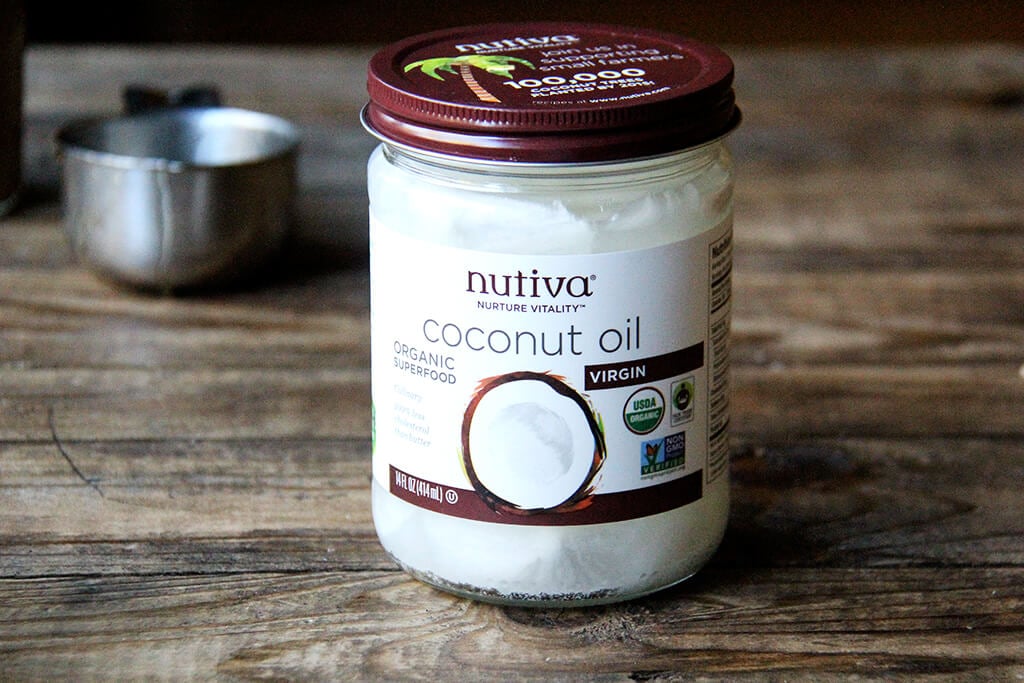 These treats take no time to assemble. Boil maple syrup and rice syrup for a minute, then add almond butter, coconut oil, chocolate and sea salt:

Pour it over crispy rice cereal: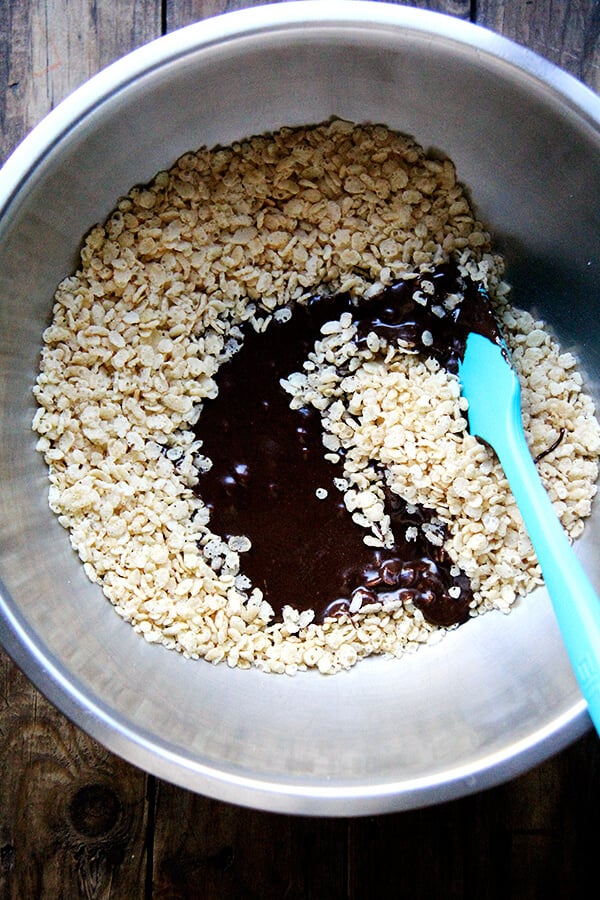 Dump it in a parchment-lined pan:

Press it down: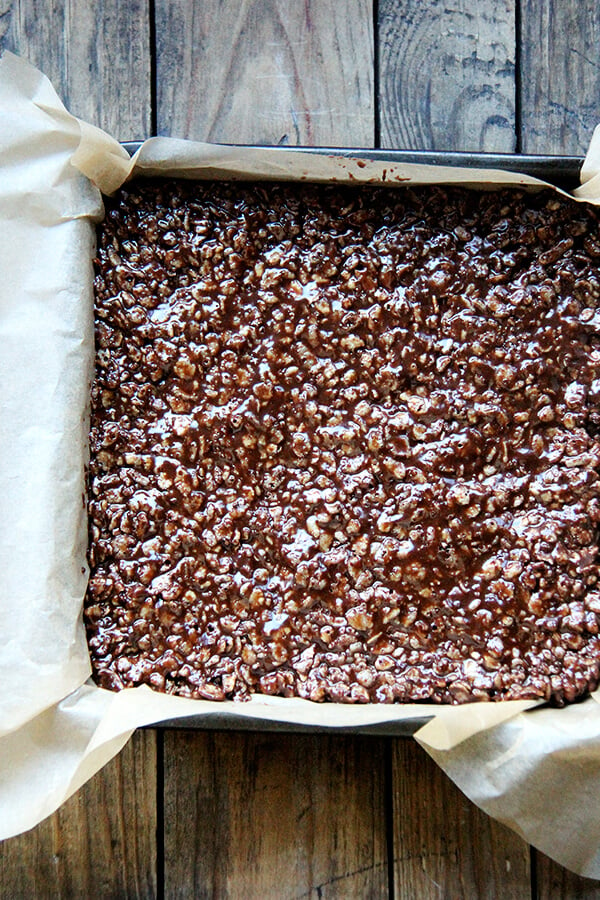 Cover it with a layer of ganache and a sprinkling of sea salt, then stash in the fridge to set up:

Meanwhile, have your helpers clean up: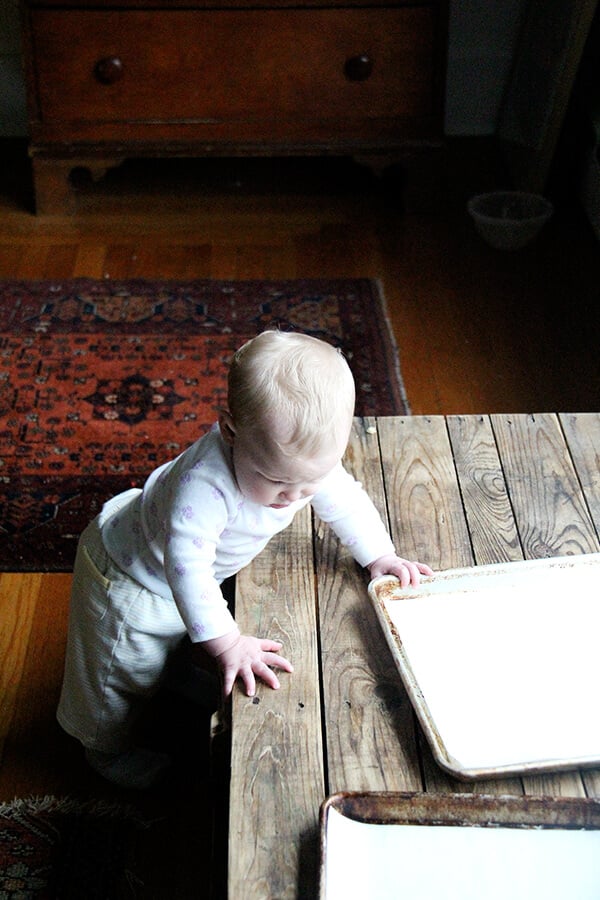 After an hour or so, cut the block into squares: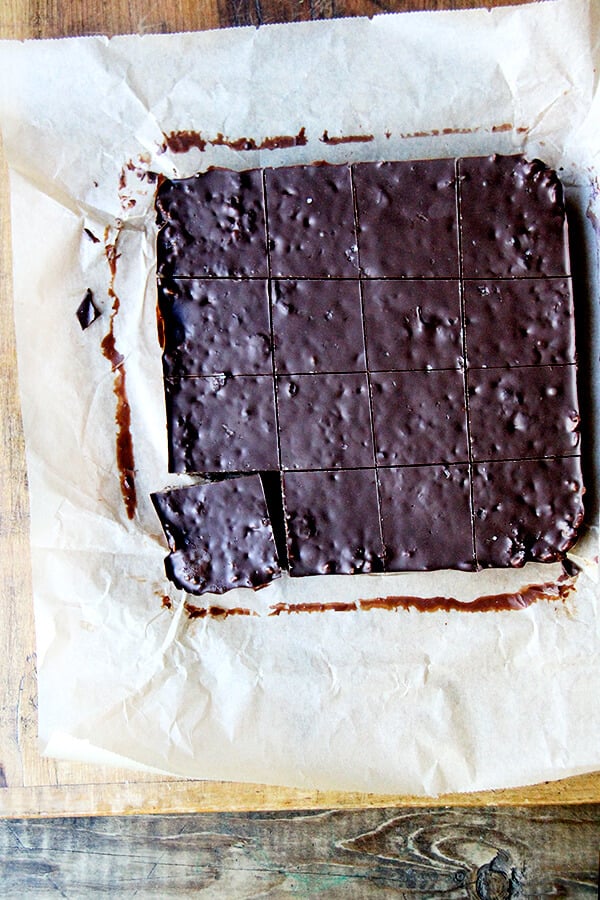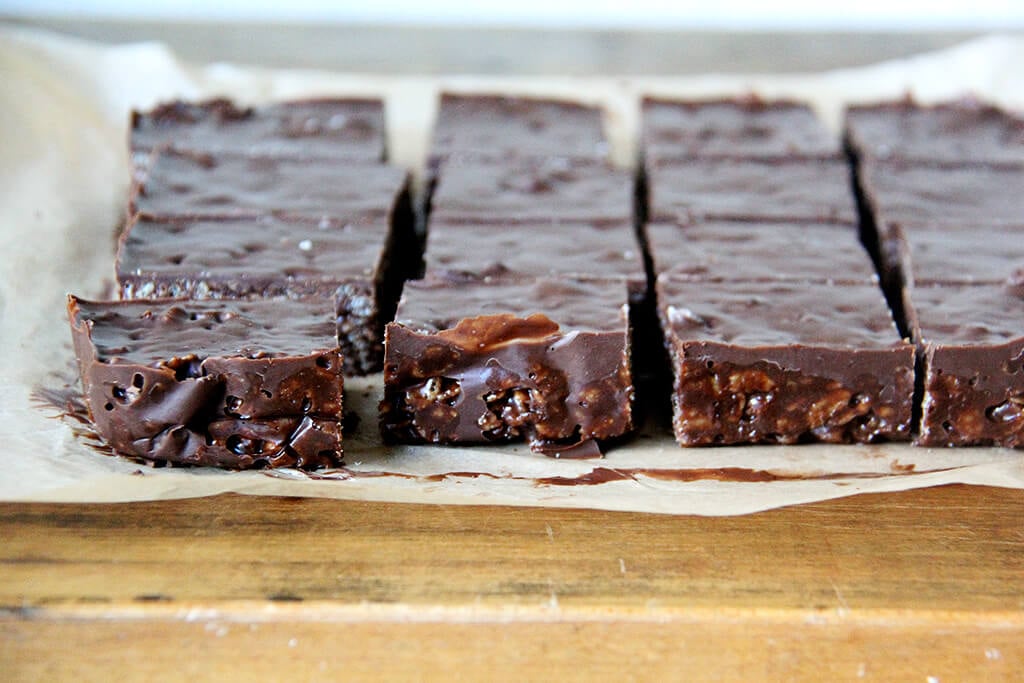 Print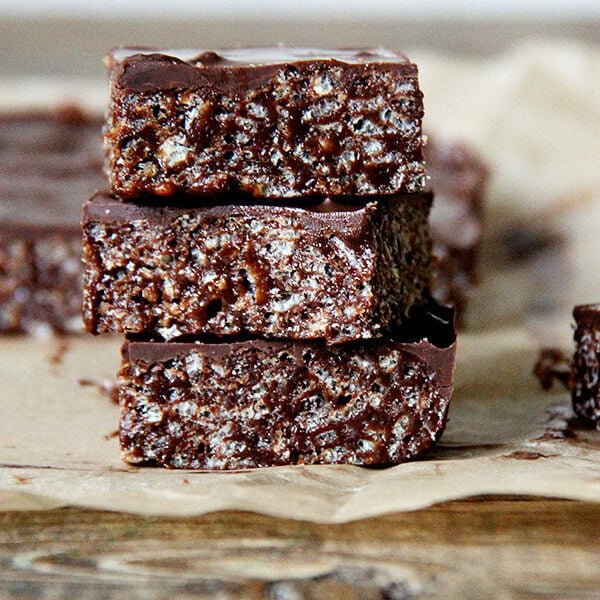 Hippie Crispy Treats
---
Total Time:

1 hours 25 minutes

Yield:

16 servings
---
for the bars:
½ cup

(

120

ml) maple syrup

½ cup

(

120

ml) brown rice syrup

½ cup

(

130 g

) almond butter

½ cup

(

3⅓ oz

|

95 g

) chopped bittersweet (70%) chocolate

2 tablespoons

coconut oil

¼ teaspoon

fine sea salt

4 cups

(

110 g

) crisp rice cereal
for the topping:
½ cup

(

3⅓ oz

|

95 g

) chopped bittersweet (70%) chocolate

2 tablespoons

coconut oil

¼ cup

(

25 g

) toasted sliced almonds

¼ teaspoon

fine sea salt
---
Instructions
Line an 8-inch square pan with parchment paper, allowing it to drape over the edges.
In a small saucepan, bring the maple and rice syrups to a rolling boil for 1 minute, stirring frequently with a heatproof spatula or wooden spoon (be careful not to let it boil over). Remove from the heat and stir in the nut butter, ½ cup chocolate, 2 tablespoons coconut oil, and ¼ teaspoon fine salt until everything is smooth and the chocolate is melted. Place the rice cereal in a large bowl and pour the syrup mixture over top. Stir to combine, then pack the mixture firmly and evenly into the lined pan (you may want to dampen your fingers to prevent sticking).
To make the topping, in a small saucepan melt the remaining ½ cup chocolate and 2 tablespoons coconut oil together over very low heat, stirring constantly just until melted (be careful not to scorch the chocolate). Pour the chocolate mixture over the rice mixture, spreading it smooth. Sprinkle the nuts (if using) and flaky salt over the top. Let the bars set at room temperature (about 2 hours) or in the refrigerator (about 1 hour) until firm.
Use the edges of the parchment paper to lift the bars out of the pan and cut into 16 squares. These treats are best the day they are made. They will keep at room temperature for several days, though the cereal will soften slightly. (I've been storing mine in the fridge.)
Prep Time:

15 minutes

Cook Time:

10 minutes
Giveaway contents. Thank you again to: Wholesome! | barkThins | nutiva | LARABAR | SUNSPIRE | Cascadian Farm | Lake Champlain Chocolates | NUMi | FRONTIER | BAREFOOT & Chocolate | ALTER ECO | truRoots | S&D COFEE & TEA | Spectrum

This post may contain affiliate links. Please read my disclosure policy.