The Simplest Puttanesca Sauce
This post may contain affiliate links. Please read my disclosure policy.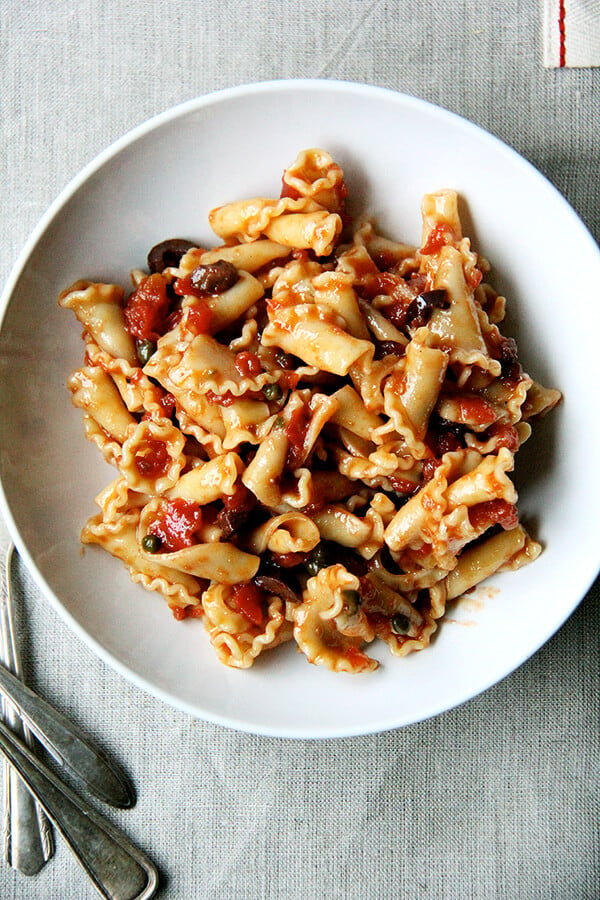 Sometimes dinner needs to come from a box or a tin or a jar or, if you are making The New Basics pasta puttanesca, all of the above.
A few weeks ago, my neighbor, the one who introduced me to The Moosewood tomato salsa, strolled by the house, casually noting she was making a big pot of puttanesca, and wondered if we would like to join her. Well, as you can imagine, we did, and we gobbled up every olive, caper, and strand of the spaghetti clinging to the pot.
Before I left that night, I snapped a photo of the recipe open on Sandra's counter, and I've made the pasta once a week since. The hardest part about making the sauce is smashing a few cloves of garlic and coarsely chopping a half cup of olives.
The rest comes from pantry staples: plum tomatoes, anchovies (a whole tin!), capers (a whole jar!). After an hour of simmering — this is easy, not fast — the plum tomatoes break down, the anchovies dissolve, the cloves of garlic melt. The sauce can certainly be made ahead and the pasta cooked just before dinner, which makes for easy preparations at the dinner hour.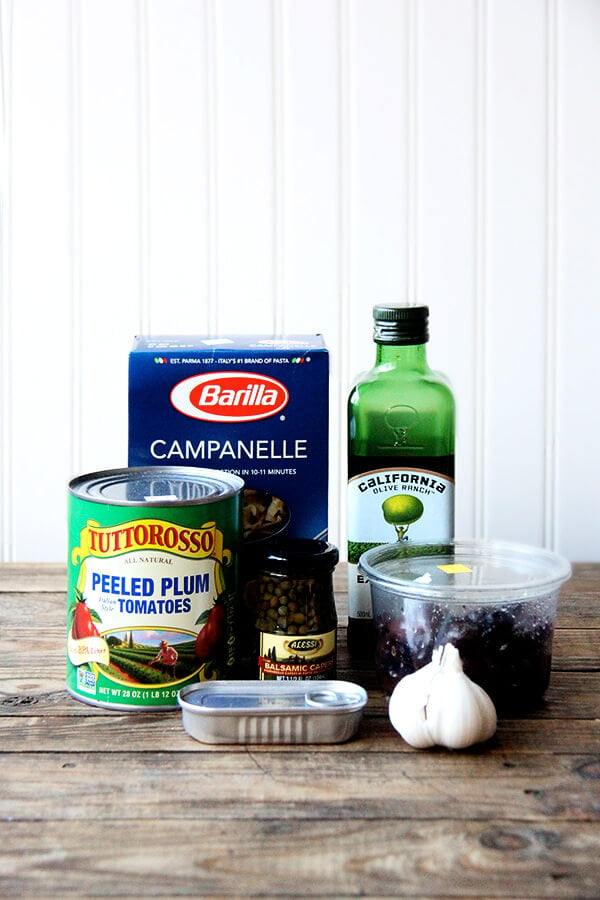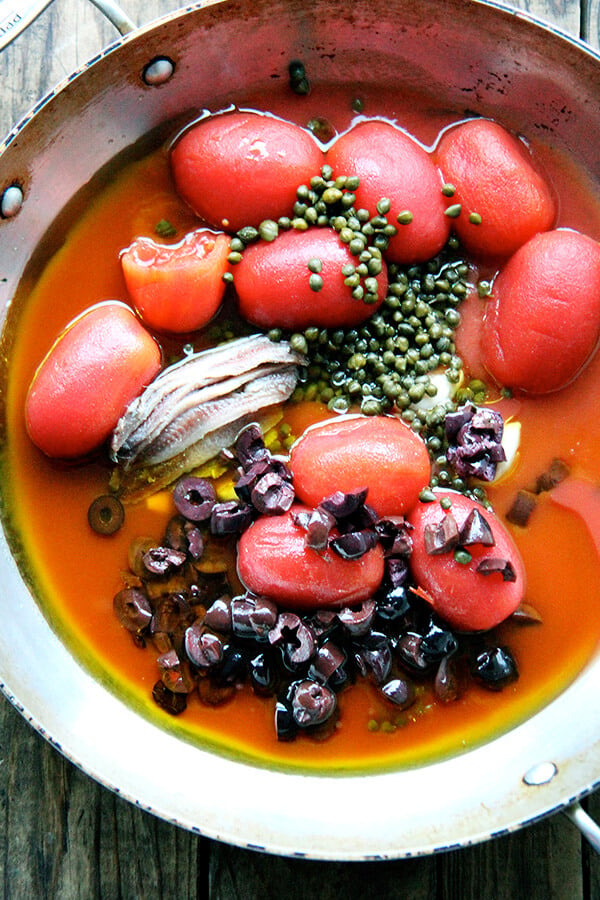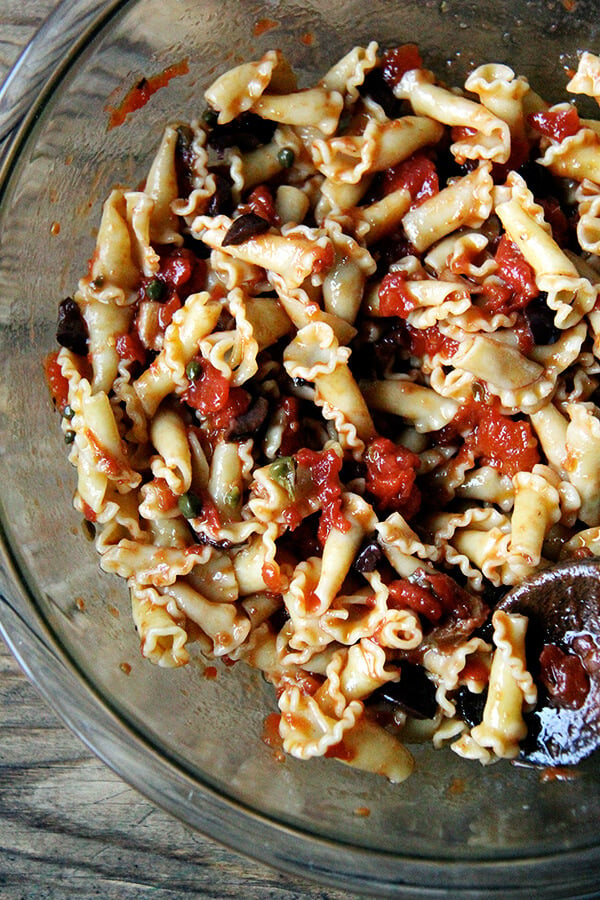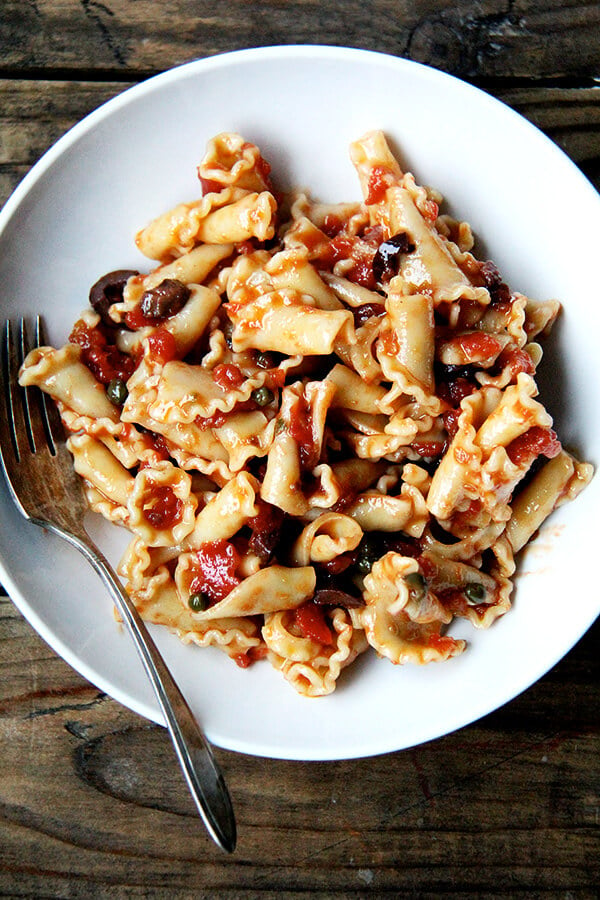 Print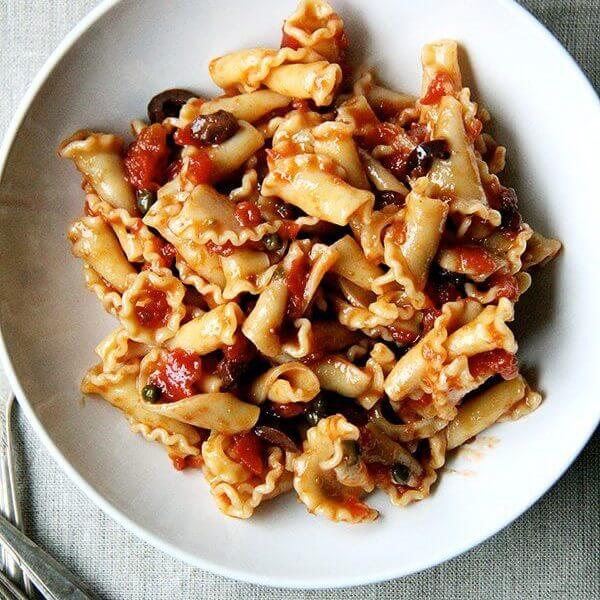 The Simplest Puttanesca Sauce
---
Description
Adapted from The New Basics Cookbook
If you are sensitive to salt, this may not be the dish for you, but cutting back the quantities of capers, anchovies and olives would reduce the saltiness. Also, a splash of heavy cream never hurts.
Most recently I made this with Cascatelli, the new pasta shape created by Dan Pashman of The Sporkful podcast, and I have to say it did such a wonderful job of catching all of the irresistible bits of capers and olives in this dish. 
Most recently, I smashed the cloves of garlic, and even after the hour of cooking, they didn't really break down as I had hoped — they were very large, too, which may have been part of the problem. Next time, I would mince or slice the cloves before adding. The original recipe calls for crushed garlic, which might mean through a garlic press, in which case the garlic would be very finely chopped. 
---
1/4

to

1/2

cup extra virgin olive oil (I use

1/4 cup

now)

1

can (2 ounces) anchovy fillets, undrained

4

cloves garlic, crushed, see notes
one

28

-ounce can San Marzano plum tomatoes

1

jar (2.5 ounces) or

1/4 cup

capers, drained

1/2 cup

black or kalamata olives, pitted and coarsely chopped
freshly cracked black pepper to taste

1/2

pound pasta, such as campanelle, orecchiette or other, see notes
---
Instructions
Place all ingredients with the exception of the pasta in large pot or wide-mouthed sauté pans. Bring to a simmer over medium heat. Reduce heat to low and simmer for 1 hour, stirring every so often — you need something like a potato masher or flat-bottomed whisk or wooden spoon to gently crush the tomatoes as well as the garlic cloves every so often. The anchovies dissolve on their own, but the tomatoes and garlic need assistance.
Boil pasta — no need to salt the water — drain, and toss with sauce.
Prep Time:

5 minutes

Cook Time:

1 hour

Category:

Pasta

Method:

Stovetop

Cuisine:

American, Italian
Keywords: pasta, puttanesca, olives, capers, anchovies, garlic
This post may contain affiliate links. Please read my disclosure policy.