Cranberry-Orange "Snow" Scones
This post may contain affiliate links. Please read my disclosure policy.
These buttermilk cranberry "snow" scones are perfect for Christmas or any winter morning. Pearl sugar on top is especially pretty, but regular sugar works just fine, too. The scone dough can be frozen, so don't be afraid to make it ahead of time. Buttery, flaky, and festive — I can't think of a better way to start a winter morning.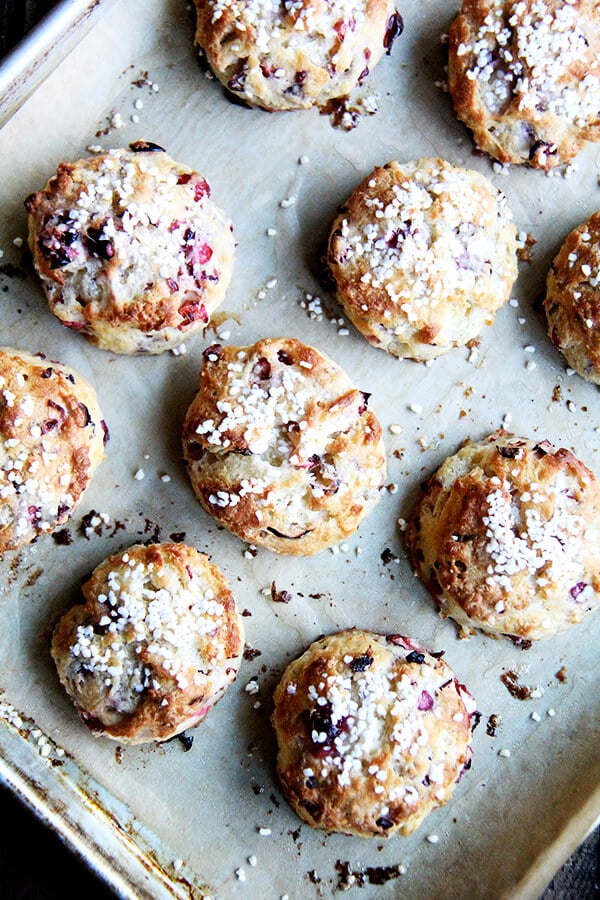 Why mess with a good thing?
Tartine Bakery's buttermilk scone, a recipe I have made 1000 times, is about as perfect as it gets: it produces a tender and buttery scone, perfectly sweet and nicely salted with an irresistible sugar-topped crust.
For years, I have made these scones as directed in the Tartine Bakery cookbook, studded either with currants or blueberries. This year, I used the same formula but swapped in fresh cranberries for the fruit and orange zest for the lemon. A sprinkling of Swedish pearl sugar just before popping them in the oven made for a festive finish.
The result? So pretty! So delicious! So festive!
But can I confess? As visually appealing as the pearl sugar is, it is not, if I'm being honest, as tasty as other sugars, turbinado in particular, which makes for an especially tasty and crunchy crust.
7 Tips for Scone Success
Buttermilk. Buttermilk makes everything better. If you don't have any on hand, there is a DIY recipe below, calling for milk + lemon juice or vinegar.
Butter. Cold, cubed butter, and a good amount of it, make the crumb of these scones both flaky and tender.
Citrus zest. Lemon or orange zest, though subtle, so nicely complements whatever fruit is dotting these scones.
Fruit. I love a plain scone or one filled with toasted almonds or walnuts, but I think fresh or dried fruit truly makes the scone-eating experience all the more enjoyable.
A Scale. A digital scale makes the scone dough come out perfectly every time.
Freezable. Scone dough freezes beautifully, and there is no need to thaw before baking — bake them directly from the freezer. There are instructions below for how to freeze scones.
Double Sheet Pan. If you find the bottom of your scones get too brown during the baking process, place another sheet pan below the one the scones are on — the layer of insulation should slow down the browning.
Other Festive Recipes to Make Right Now
Nearly every Christmas Eve I make Balthazar's Moules Marinière and this watermelon radish, orange and goat cheese salad. Of course, there always is bread.
When we spend Christmas in CT, my stepfather always makes glogg and my mama makes an upside down cranberry cake, the recipe for which I should really share here.
Another recipe I love? Sitting by the fire while my dad and brother break out their guitars and while my sister sings to us morning, noon and night.
Wishing you a wonderful holiday season, Friends.
PS: Cranberry Buttermilk Breakfast Cake.
PPS: Blueberry Buttermilk Scones
PPS: Currant Scones with Lemon Cream
How to Make Scones: A Step-by-Step Guide
First, prepare your fruit. In this recipe, you'll pulse a cup of fresh cranberries in the food processor about 10 times or until …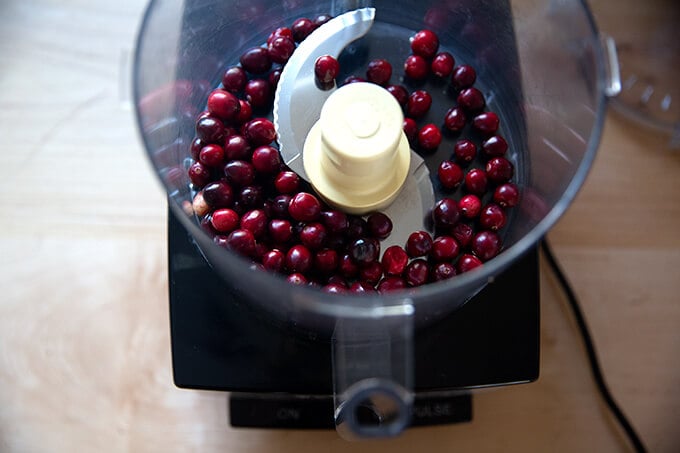 … the cranberries are coarsely chopped: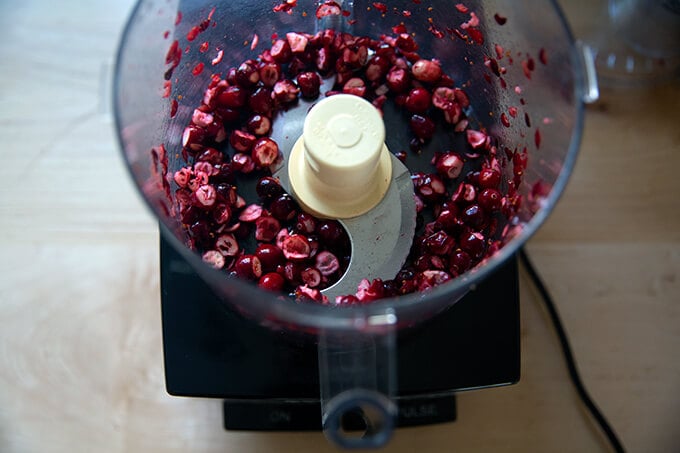 Then gather the remaining ingredients: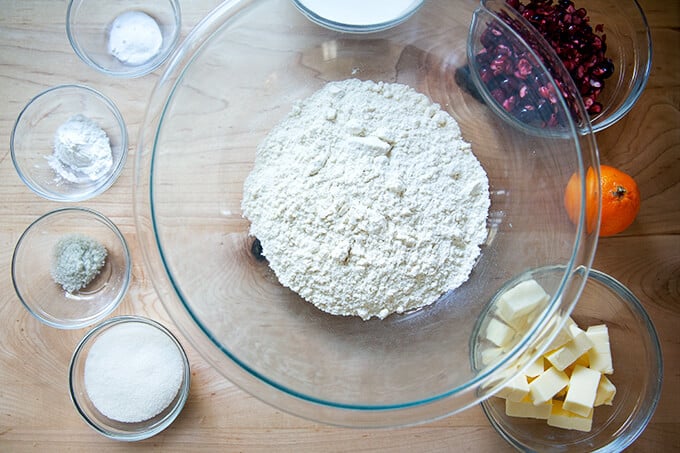 Mix together the dough; then…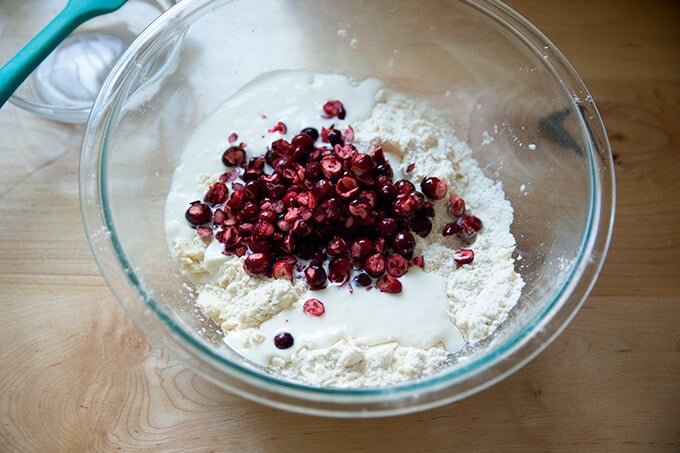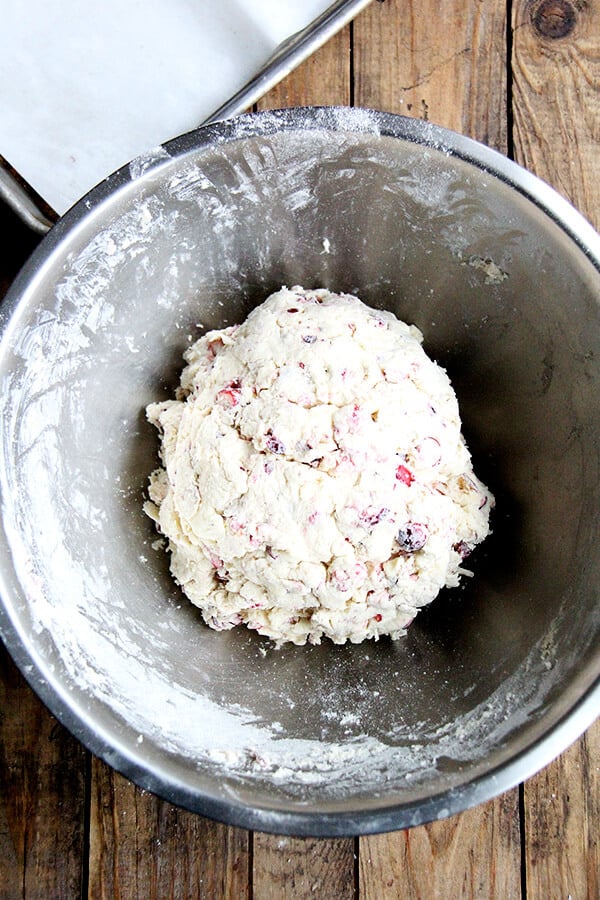 Turn it out onto a floured work surface and pat it roughly into a 9×5-inch rectangle.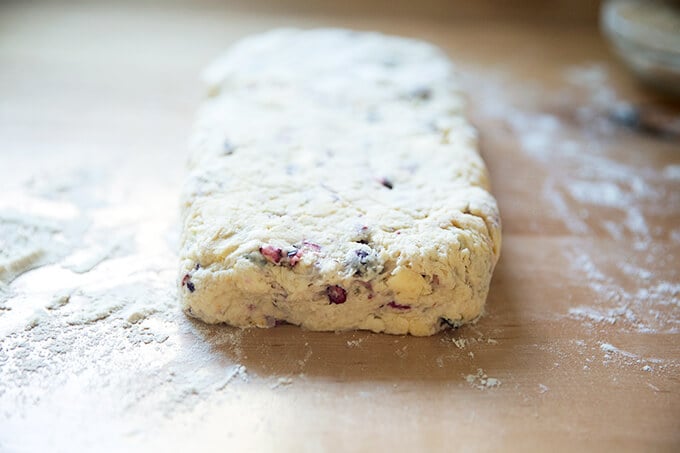 It should be about 1.5 inches thick.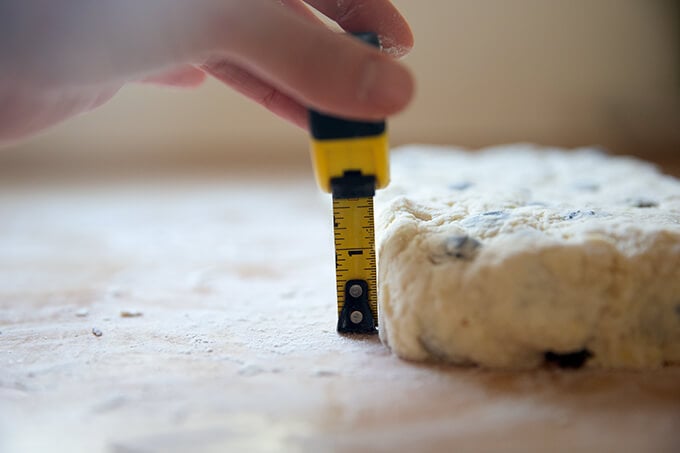 Cut the dough into rounds or triangles or rectangles — whatever shape you like best. Re-roll the scraps until all of the dough is portioned.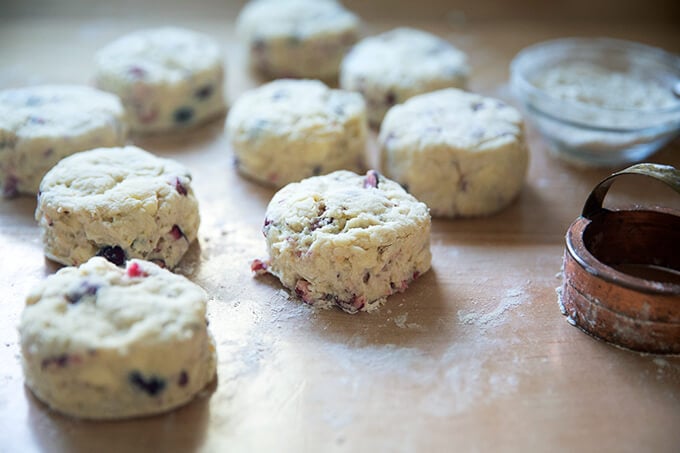 Brush the tops with butter and sprinkle with either turbinado sugar or pearl sugar.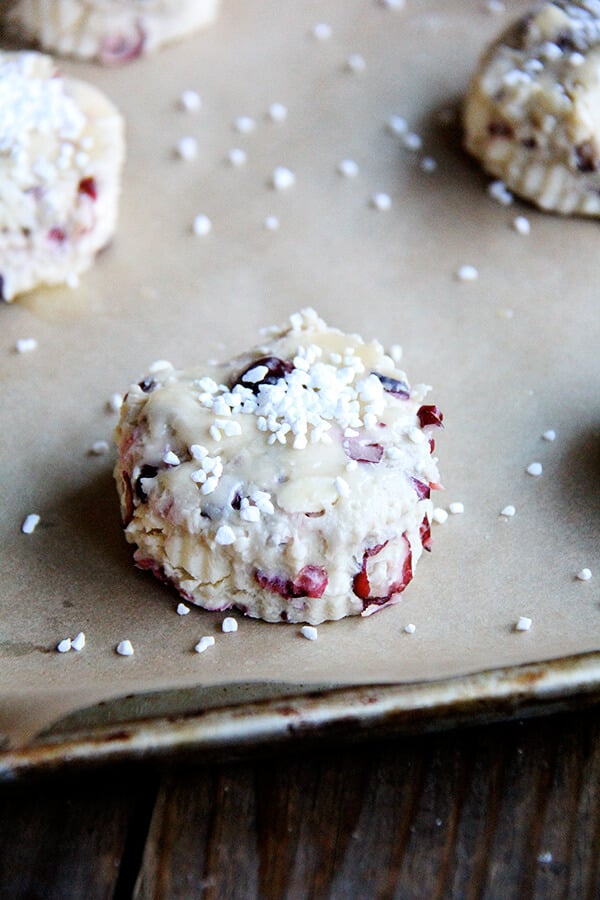 Bake on a double sheet pan to ensure the bottoms of the scones don't brown too quickly: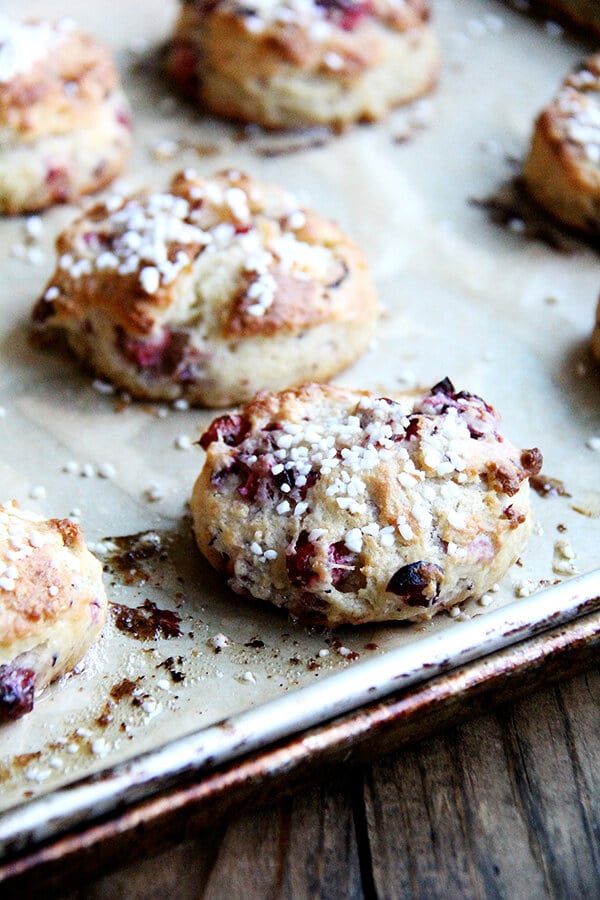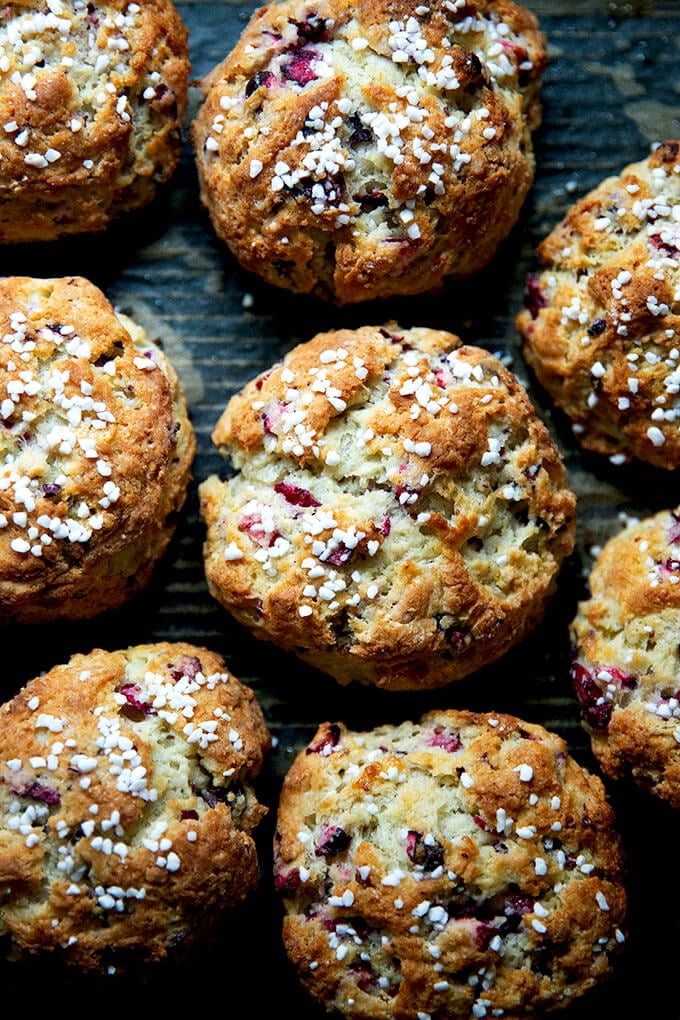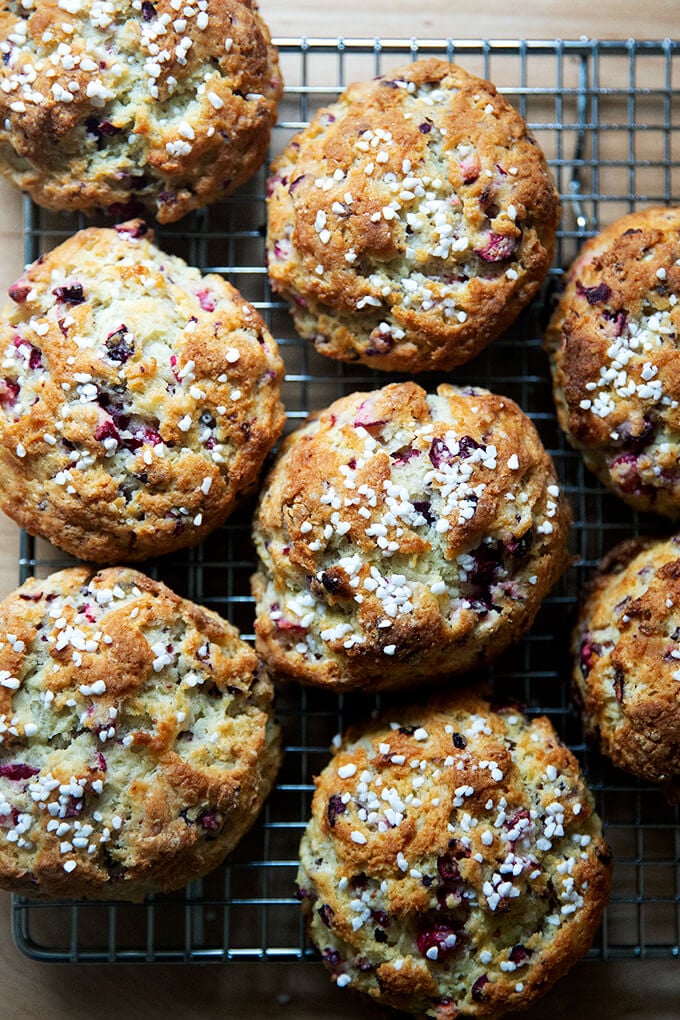 Truly: I find the turbinado sugar-topped scones to be tastier than the pearl sugar-topped scones, and they're very pretty as well: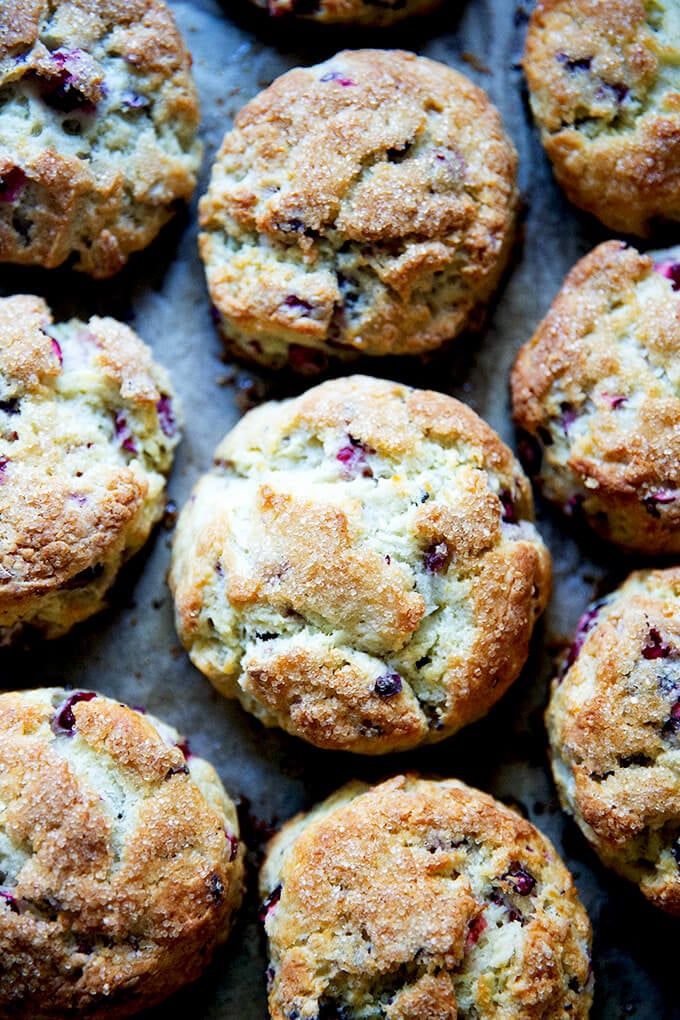 Heart Scones for Valentine's Day: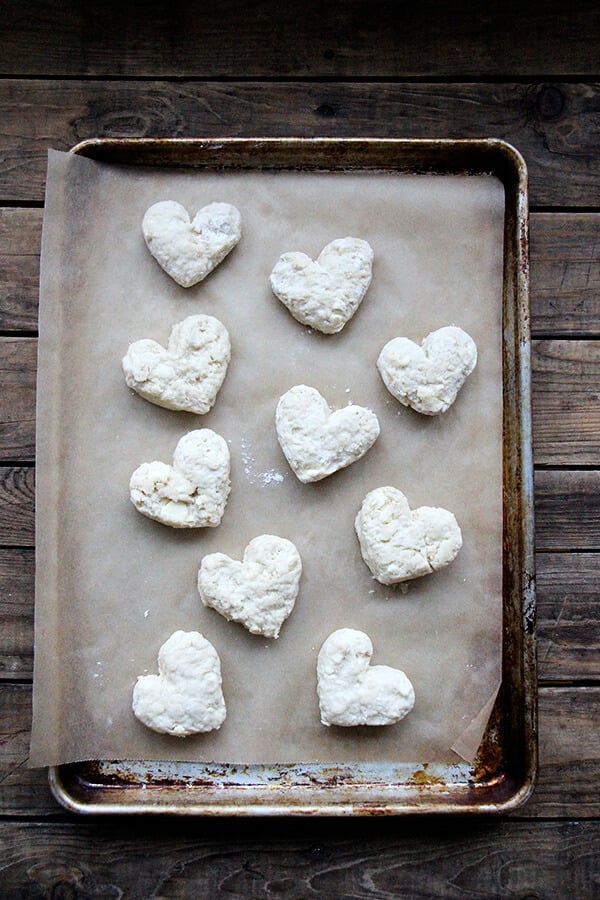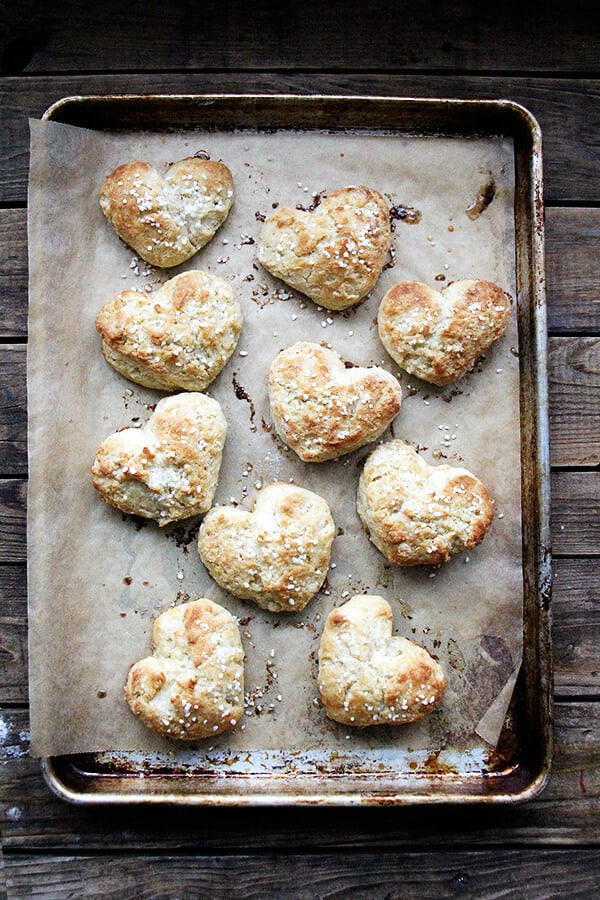 Print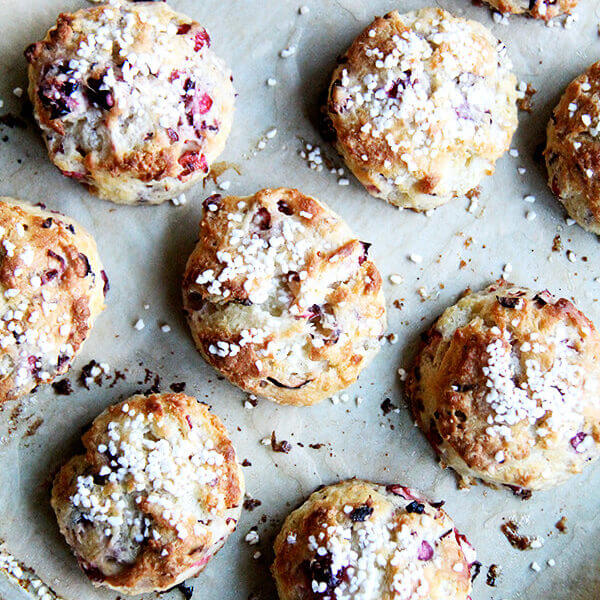 Cranberry-Orange "Snow" Scones
---
Description
Adapted from Tartine's most delicious recipe for blueberry scones and currant scones.
UPDATE: I recently re-wrote the recipe as a half recipe, because I found myself always making the half recipe, which yields a more manageable amount (8 to 9 as opposed to 16-18).
As always, for best results, use a digital scale to measure. 
Sugar: Pearl sugar can be hard to find. I often order it these days. As noted in the post, while pearl sugar is pretty, turbinado sugar makes for a tastier crust. 
To freeze: After you place the scones on a sheet pan, transfer them to the freezer. Freeze until solid; then transfer the scones to an airtight container or bag. When you are ready to bake, there's no need to thaw them. Bake as directed below straight from the freezer. (Brust with butter and sprinkle with sugar before baking.) The scones shouldn't take much longer to bake from frozen, but keep an eye on them at the 20-minute mark. 
To make your own buttermilk:
Place 1 tablespoon of vinegar or lemon juice in a liquid measuring cup.
Fill cup with milk (2% or whole is best) until it reaches the 1-cup line.
Let stand for five minutes. Use as directed.
---
1 cup

(

102 g

) fresh cranberries

2 3/8 cups

(

304 g

) all-purpose flour

1.5 teaspoons

(

5 g

) baking powder

0.5 teaspoon

(

3 g

) baking soda

1/4 cup

(

55 g

) sugar

1 teaspoon

(

6 g

) salt 

1 teaspoon

(5ml) grated orange zest, optional

1/2 cup

plus 1 tablespoon (

130 g

) cold, unsalted butter

1 cup

(

240 g

) buttermilk, plus more as needed

1.5 tablespoons

melted butter
sugar for sprinkling: pearl sugar is pretty if you have it, but turbinado (or other) sugar is tastier, see notes above
---
Instructions
Preheat the oven to 400ºF. Line a rimmed baking sheet with parchment paper. Pulse the cranberries briefly in a food processor: ten 1-second pulses should do it. Reference photo for size.
Whisk together flour, baking powder, baking soda, sugar, salt, and orange zest (if using). Cut the butter into ½-inch cubes and scatter the cubes over the dry ingredients. Use a pastry blender or the back of a fork to cut the butter into the dry ingredients. When you are finished, the butter should be dispersed throughout the flour in pea-sized lumps.
Add the buttermilk and the cranberries, and mix gently with a wooden spoon or spatula just until the dough holds together. If the mixture seems dry, add a tablespoon more buttermilk (or more as needed). If necessary, knead gently with your hands to help the dough come together.
Dust your work surface with flour and turn the dough out onto it. Using your hands, pat the dough into a rectangle about 1½ inches thick. Using a biscuit cutter or any round cutter (I use a 2.5-inch biscuit cutter), cut each disk into about 8 circles. Gather the scraps together and repeat. Transfer scones to prepared sheet pan. (I like to chill my scones for 20 minutes at this point before baking them; you also can freeze the scones at this point — see notes above.) Brush the top with melted butter. Sprinkle with sugar. Note: You also can cut these into triangles, which is easier.
I like to place the pan on another rimmed baking sheet because often the bottom of my scones burn, but if you don't have issues with your baking sheets, just use one sheet. Bake until the tops of the scones are lightly browned, about 20 minutes. Remove from the oven, let cool briefly, then serve with butter on the side.
Prep Time:

30 minutes

Cook Time:

20 minutes

Category:

Breakfast

Method:

Oven

Cuisine:

American, Britisih
Keywords: scones, butter, breakfast, flaky, cranberry, Christmas
This post may contain affiliate links. Please read my disclosure policy.