MFK Fisher's Potato Soup
This post may contain affiliate links. Please read my disclosure policy.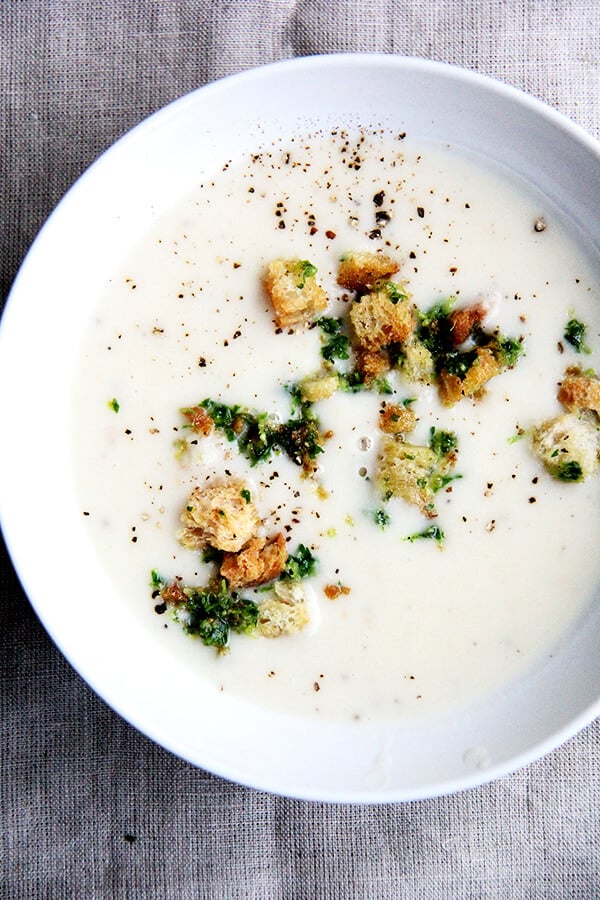 My mother gave me MFK Fisher's How to Cook a Wolf for Christmas, and I have been thumbing through it ever since, dog-earing recipes I hope to revisit soon. In the meantime I've been living on Fisher's creamy potato soup. This is partly because I still have many pounds of potatoes on my counter, partly because I sense a friend, whom I encouraged to take on a winter CSA, is a little overwhelmed by said potatoes (sorry, Martha!), but mostly because the soup is simply delicious: sauté two onions, add four peeled potatoes and water, simmer till tender, add milk (thickened with a roux), and purée.
Before making this soup, I had never read any of MFK Fisher's recipes, which, I am learning, give the reader a lot of credit. Just as Alice Waters may assume you have a pig's foot in your refrigerator, MFK Fisher assumes you know how to make a roux. There is no hand-holding in the direction, though her notes are detailed.
For example, in the potato soup recipe, she insists you pass the vegetables through a strainer, and not just any strainer, "a fine strainer," and continues to observe "increasingly that most average cooks … grow careless about sieves and strainers. They usually compromise after a few years in the kitchen with one general-utility implement that will cope more or less with their normal duties. Tut tut tut!"
MFK Fisher likely would be horrified by my use of a general-utility immersion blender but, what can I say, it works.
I haven't finished How to Cook a Wolf yet, but I am liking it very much. Fisher wrote the book during World War II as a way to encourage good cooking and living in a time of shortages and ration cards. She believed "that one of the most dignified ways we are capable of, to assert and then reassert our dignity in the face of poverty and war's fears and pains, is to nourish ourselves with all possible skill, delicacy, and ever-increasing enjoyment. And with our gastronomical growth will come, inevitably, knowledge and perception of a hundred other things, but mainly ourselves."
She gives recipes for mouth wash and soap and tomato soup cake. She gives lots of advice; she tells funny stories. Half the time I have no idea what she is talking about, and half the time I relish every sentence: "Probably the most satisfying soup in the world for people who are hungry, as well as for those who are tired or worried or cross or in debt or in a moderate amount of pain or in love or in robust health or in any kind of business huggermuggery, is minestrone."
Anyway, Friends, it was 1 degree this morning. Winter has arrived. If you haven't prepared for soup season, here's a quick review of the essentials: homemade stock, vegetable or chicken, plastic quart containers for freezing that stock or soup, a good peeler, a sharp knife, etc.
PS: Soup!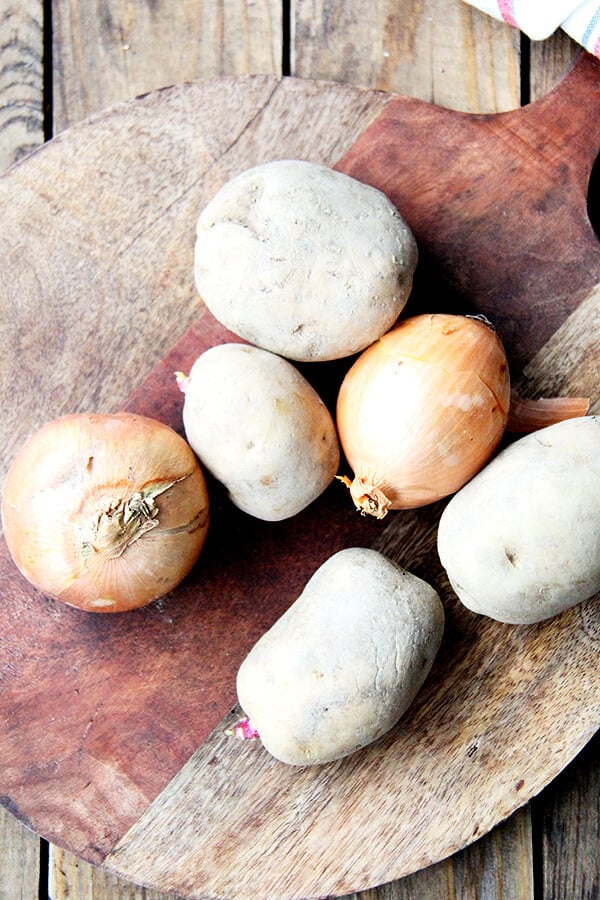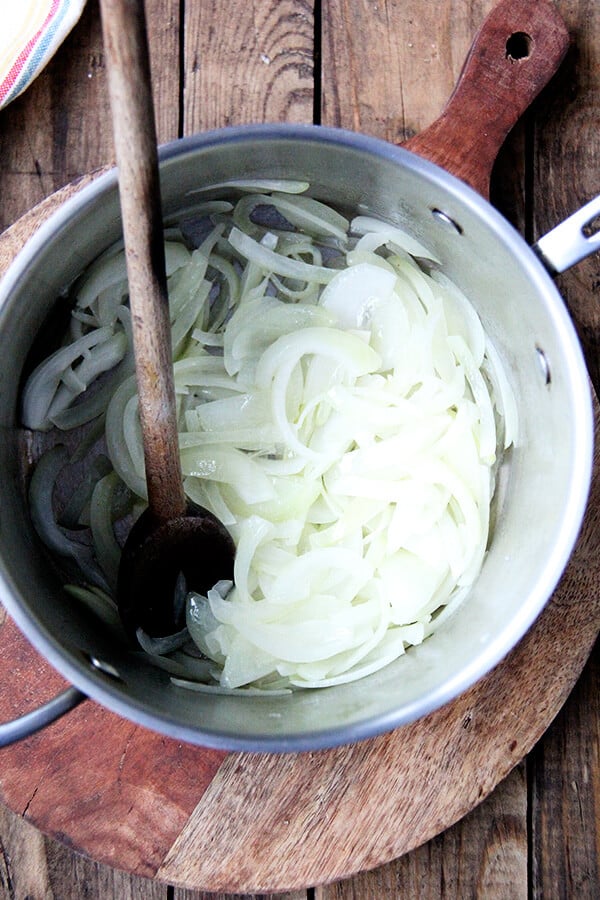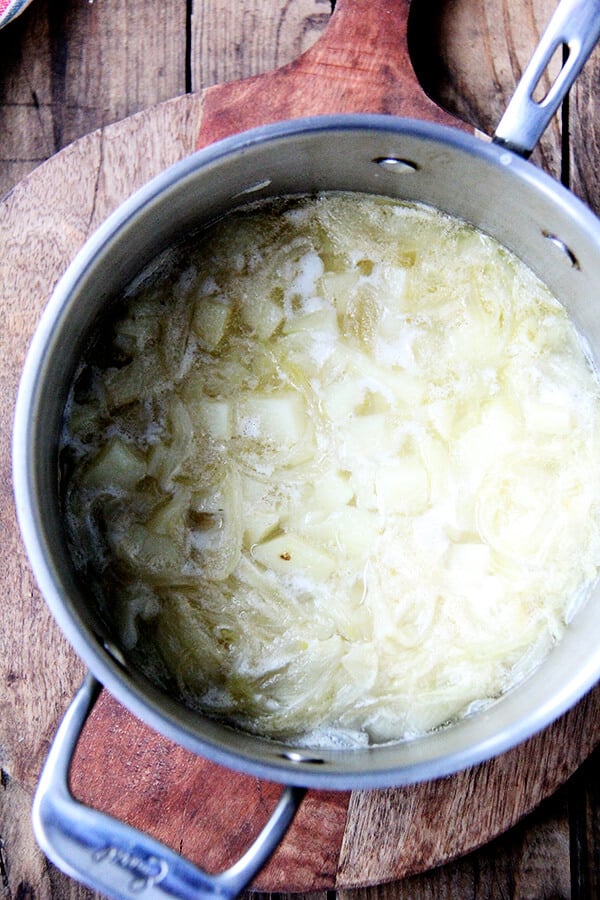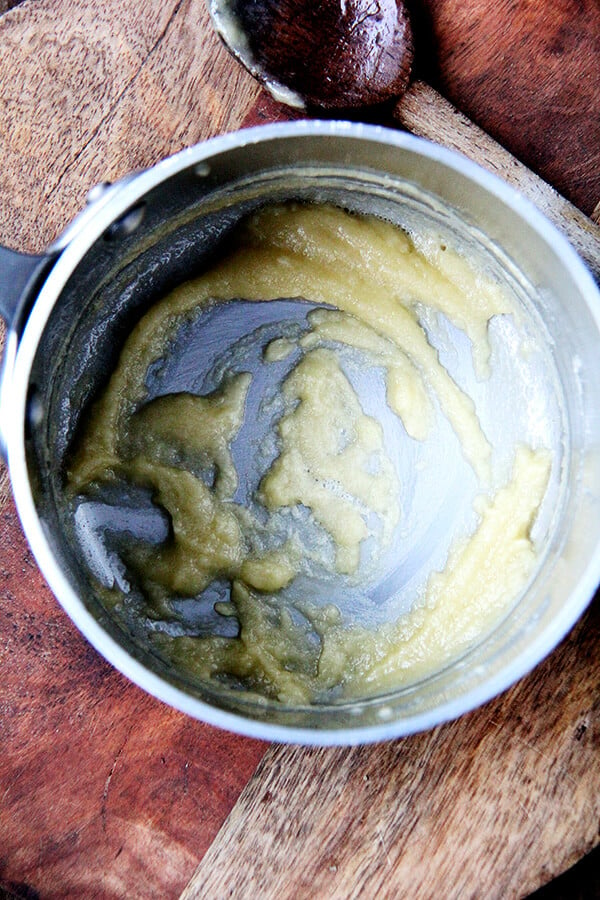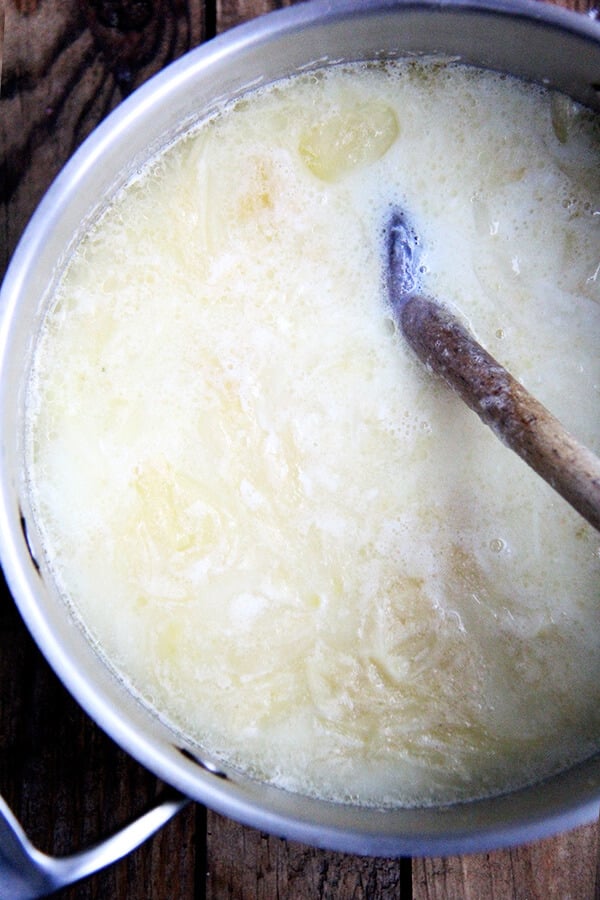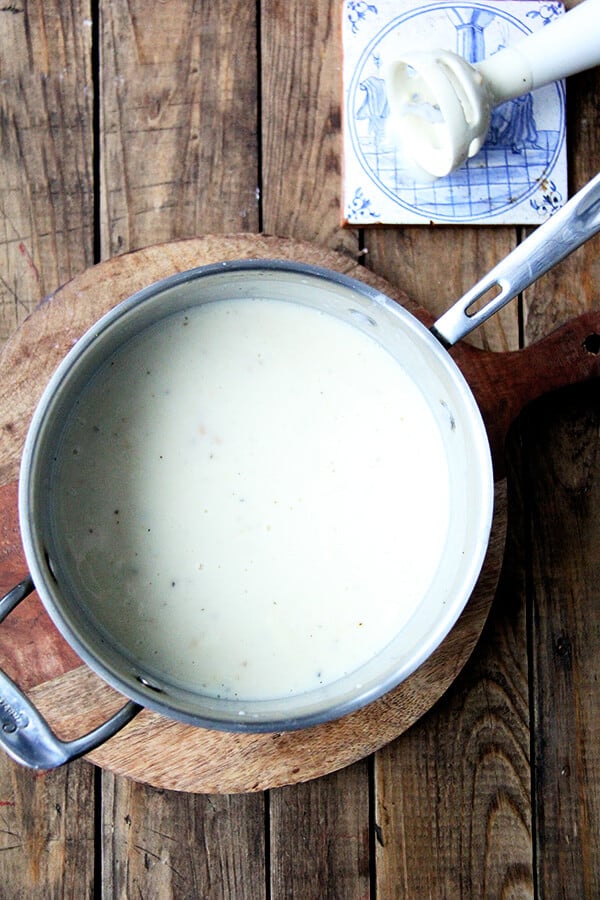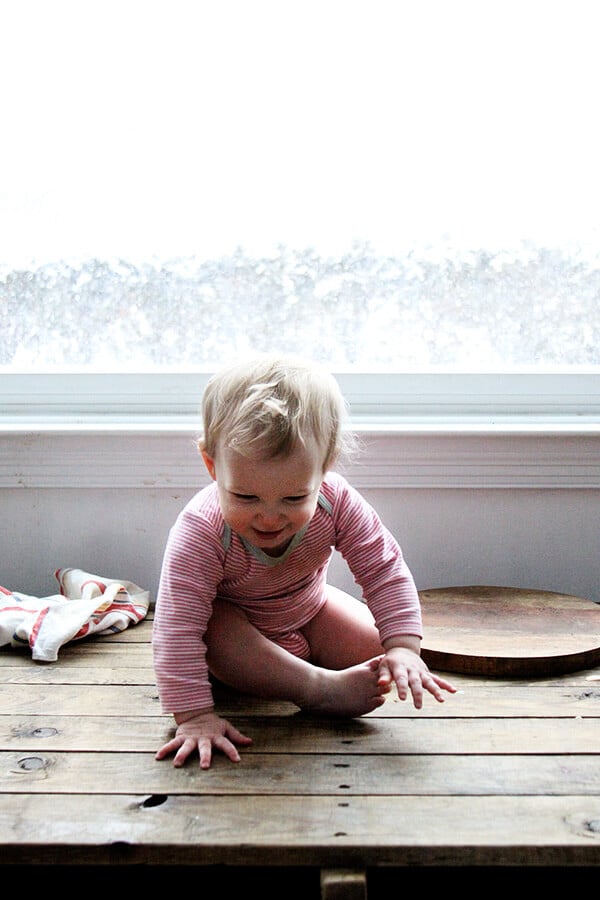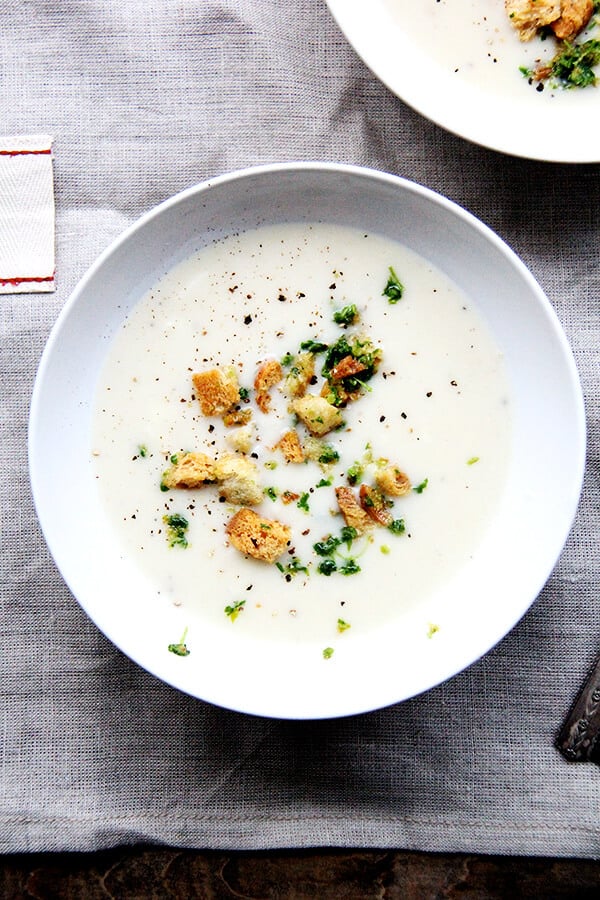 I served the soup with some herby croutons, but mini loaves of bread would also have been fun. I split the peasant bread dough into four and baked the loaves in empty McCann steel cut oat tins.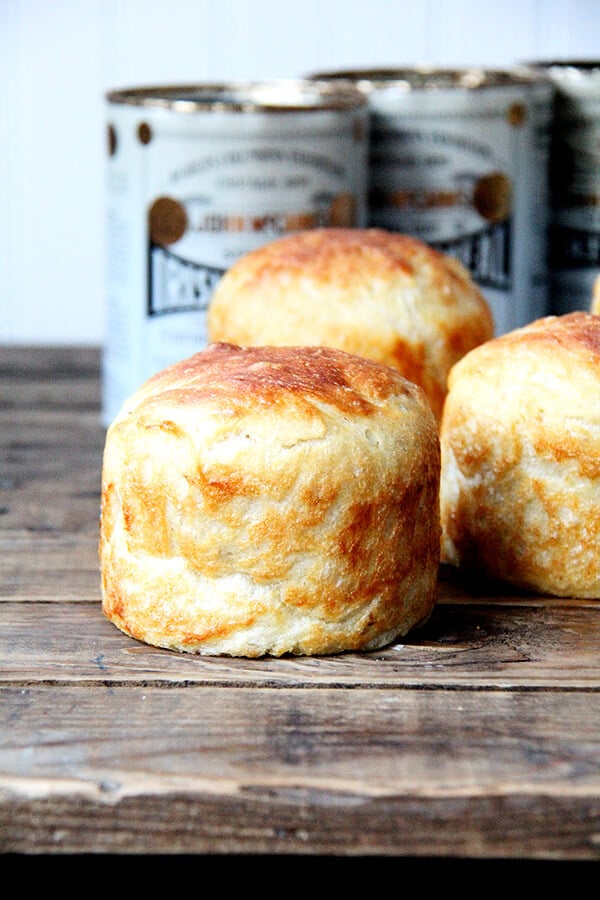 Print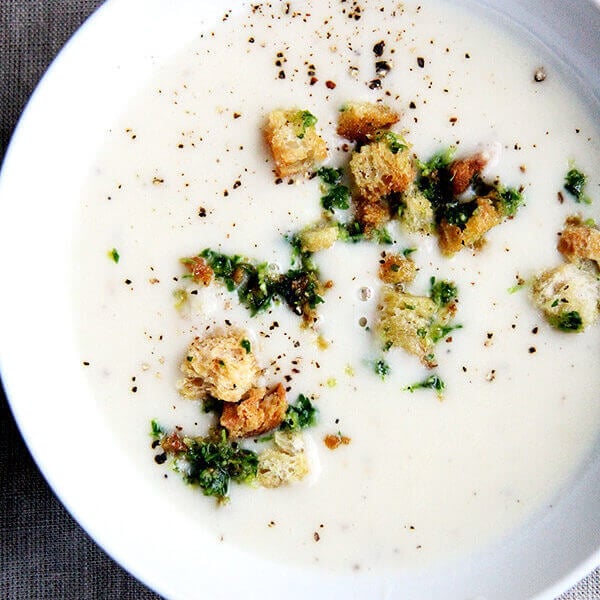 MFK Fisher's Potato Soup
---
---
2

onions, sliced thin

4

medium potatoes, peeled and thinly sliced (1.33 lbs |

600 g

, roughly)

2 tablespoons

flour

4 tablespoons

butter
salt and pepper to taste

3 cups

milk, 2% or whole
chopped herbs such as parsley or chives, optional
---
Instructions
Sauté the onions in 2 tablespoons of the butter over medium to medium-low heat for 15 minutes, or until tender and just beginning to turn color. Add the potatoes and water to cover, about 2½ cups. Simmer until tender, about 20 minutes.
In a separate pot, melt the butter over medium heat. Add the flour and stir with a wooden spoon until a light brown paste forms, a minute or so. Roux should be gently bubbling. Slowly add the milk, whisking constantly. Bring milk mixture to a gentle simmer, stir, then keep warm.
When potatoes are tender, add milk mixture to the pot. Use an immersion blender to purée until smooth or transfer mixture to food processor or blender (be careful with blender — I don't like using my blender for hot soups because I've had the top go shooting off and soup spraying everywhere). Season with salt (at least a teaspoon) and lots of fresh cracked pepper. Bring soup to a gentle simmer, stirring to ensure it isn't sticking to bottom of pot. Taste and adjust as needed with more salt or pepper. Add herbs if using. Thin with more water or milk if necessary.
When reheating the soup, thin with water as needed and adjust seasoning to taste.
This post may contain affiliate links. Please read my disclosure policy.