Leblebi (North African Chickpea Soup)
This post may contain affiliate links. Please read my disclosure policy.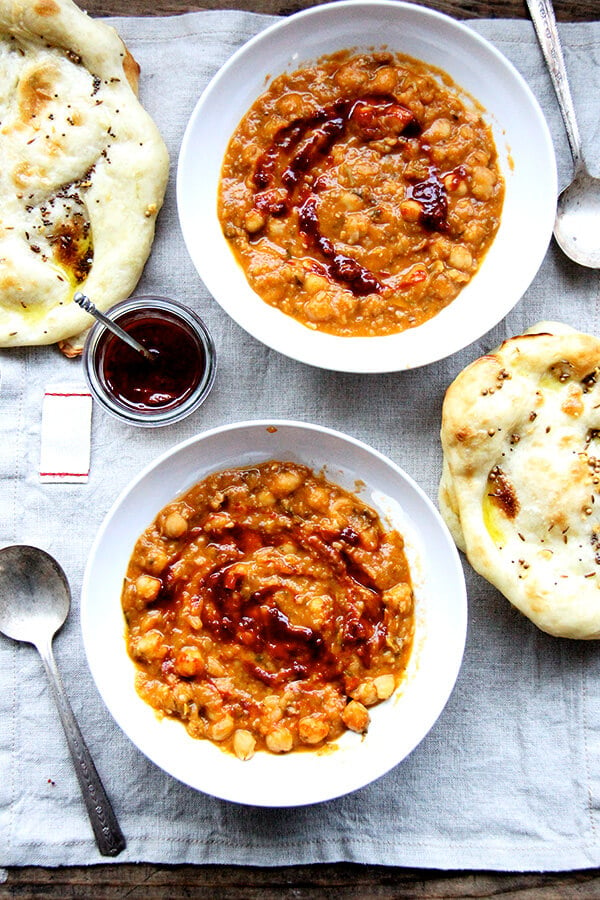 A few weeks ago a friend emailed me telling me she had taken a pledge to eat pulses once a week for 10 weeks. Despite some reservations concerning my lentil-, legume-, and chickpea-recipe repertoire, I decided to take the plunge, too.
And so I've been cooking my way through the bean chapter of Twelve Recipes, which unsurprisingly has been a joy: last week I discovered dal and over the weekend, a spicy black bean soup flavored with orange zest, a subtle but bright touch to a wintry dish.
Most recently, I made the leblebi, a North African chickpea stew, swirled with a smoky harissa. Each of these recipes is made with water and none wants for stock or cream thanks to Peternell's techniques: slow sweating of the onion, brief toasting of the spices, and thoughtful layering of herbs and garnishes.
I know little more about leblebi than what I've read in Twelve Recipes and the few recipes I've found online, but from what I gather it originates in Tunisia, is typically served at breakfast, and welcomes many a garnish: poached or hard-boiled eggs, a sprinkling of cumin or capers, a drizzle of olive oil or harissa, toasted bread, preserved lemon, tinned fish, or pickled vegetables.
I served it solely with Peternell's simple homemade harissa and mopped it all up with tarka flatbreads.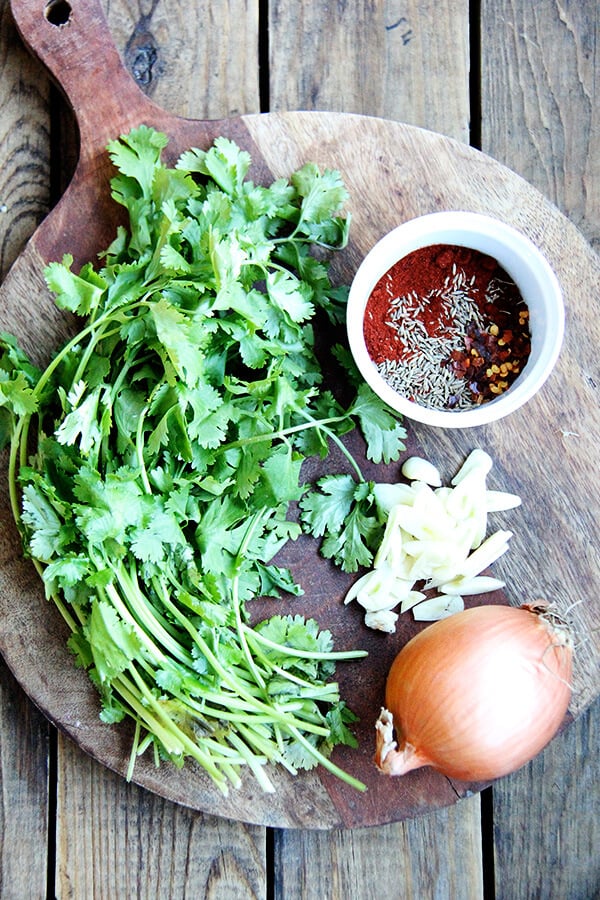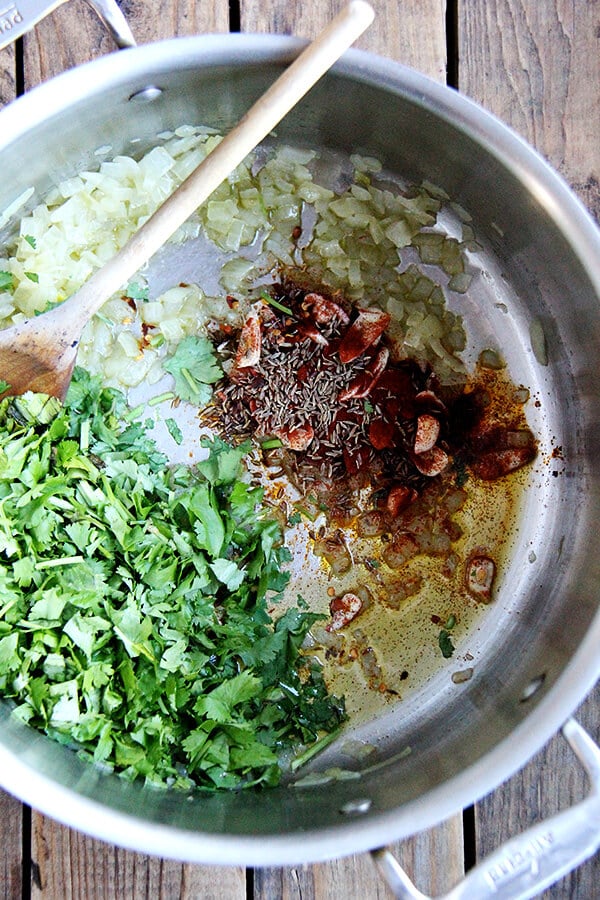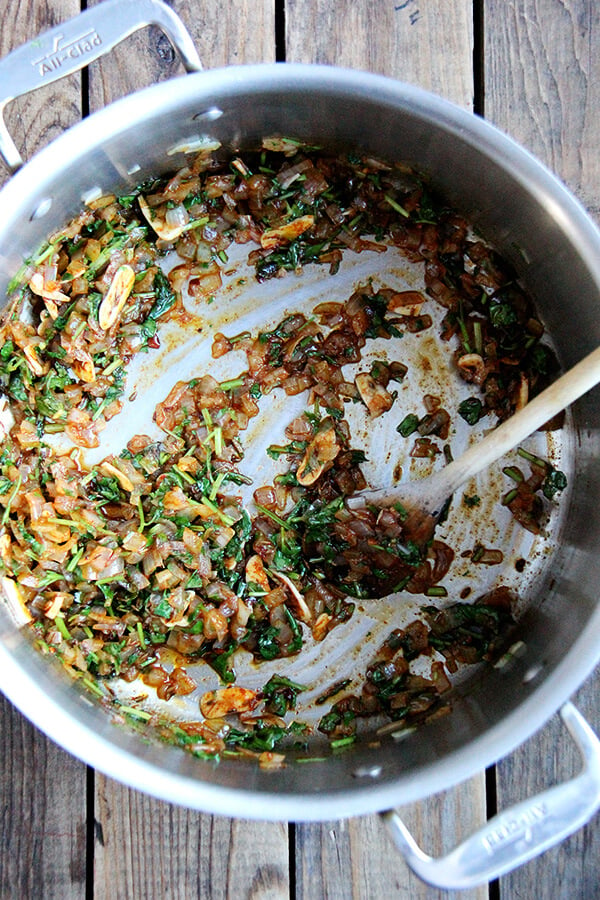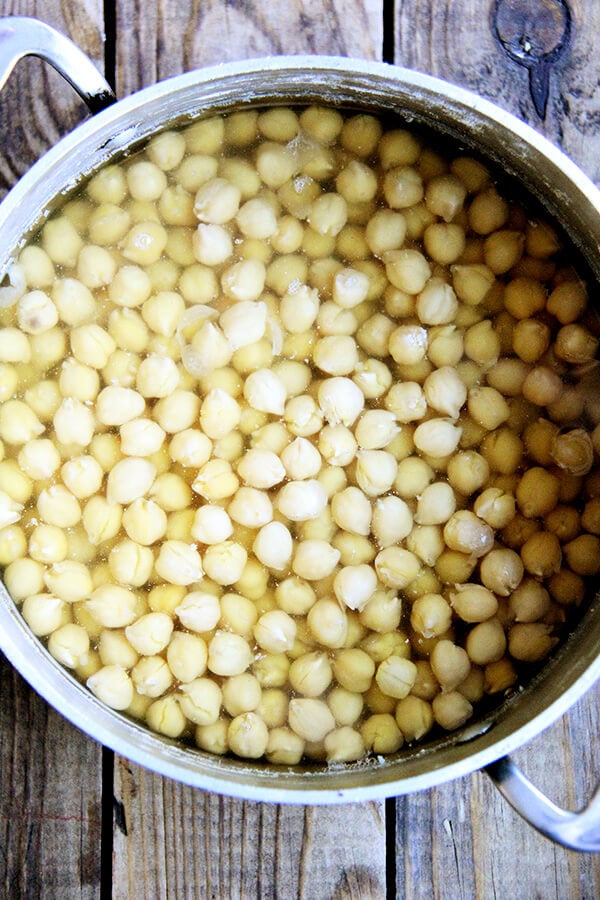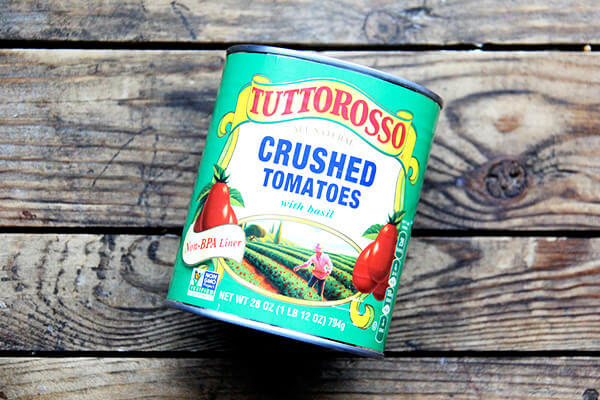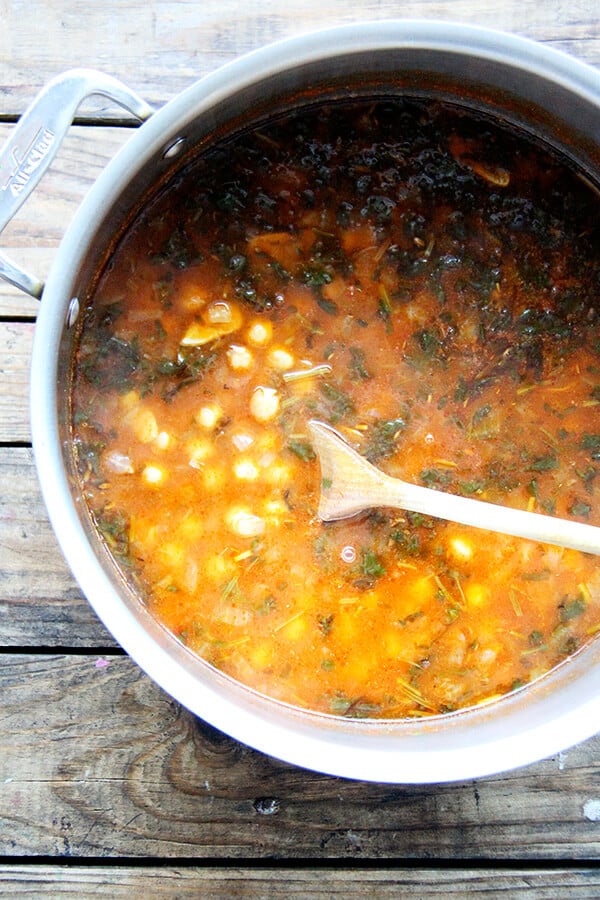 This is the leblebi on day 2 — it thickens considerably as it sits. Thin with more water to taste or leave it thick and stewy.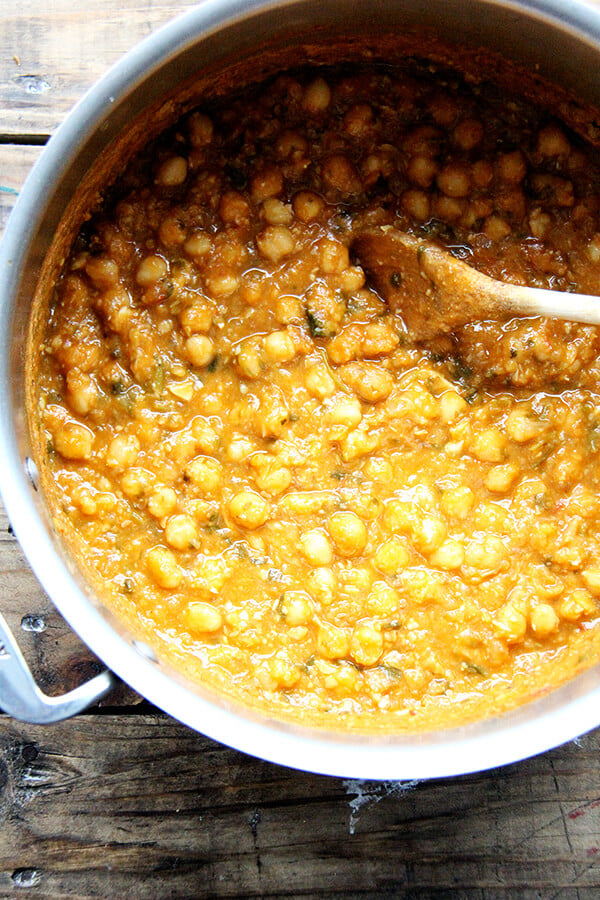 Peternell gives two methods for making harissa; see recipe below: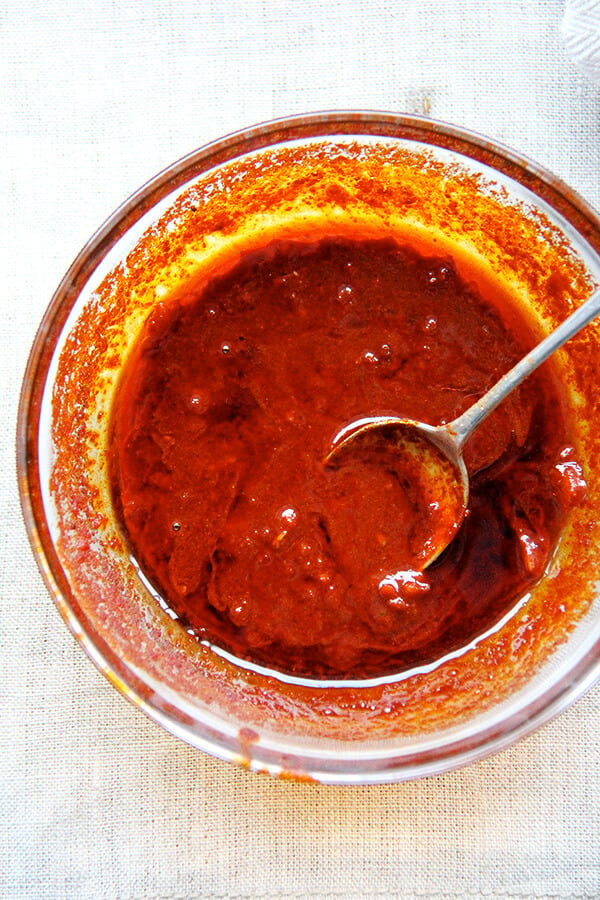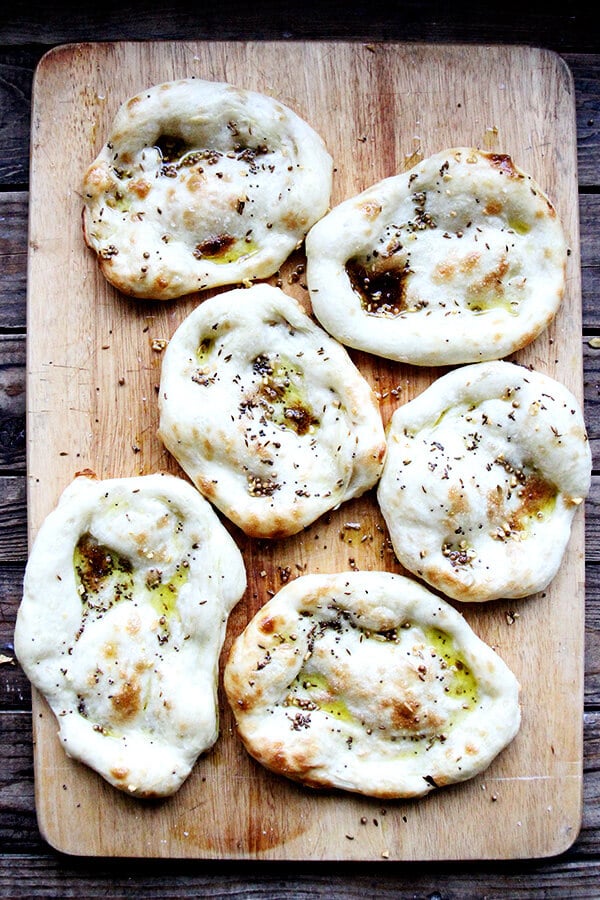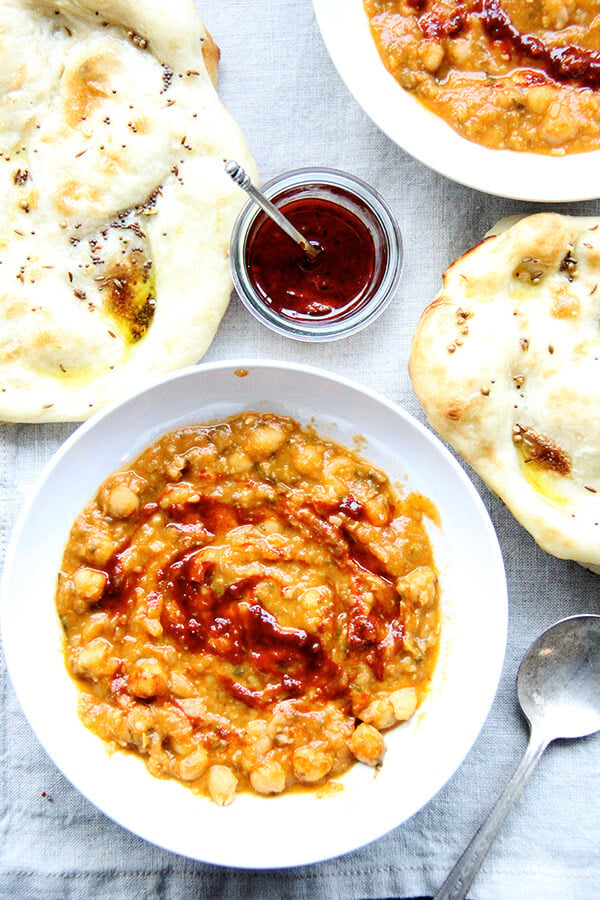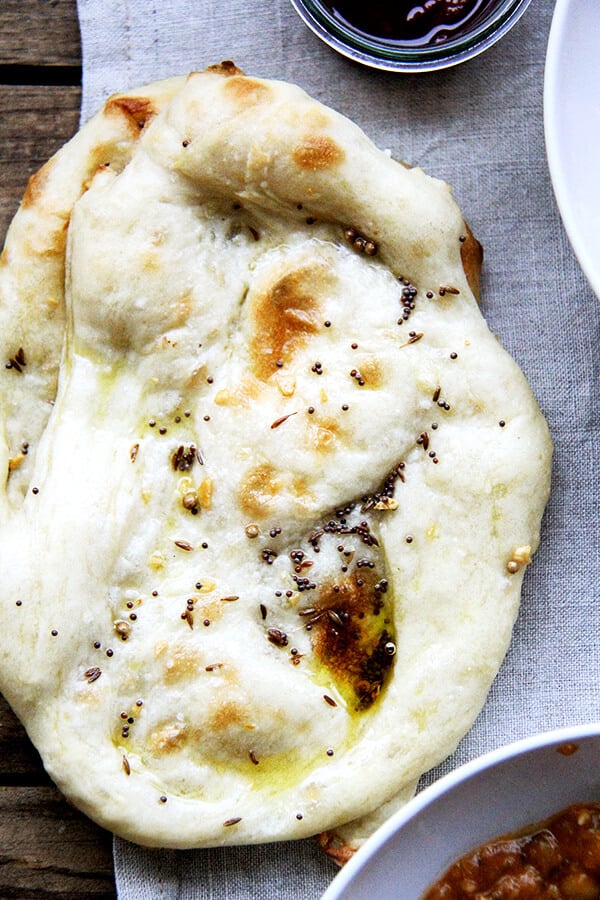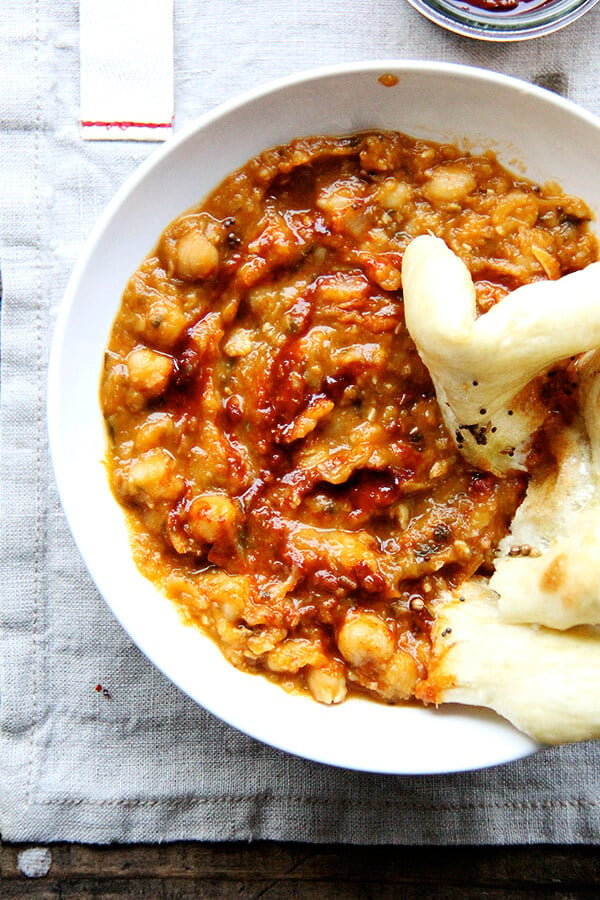 Print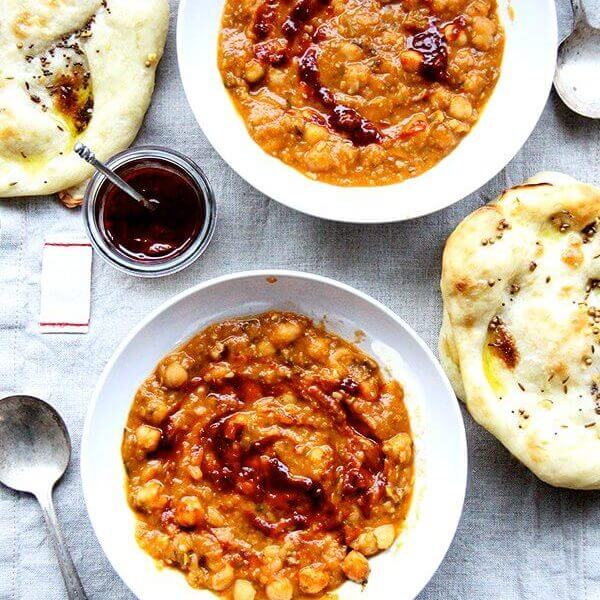 Leblebi (North African Chickpea Soup)
---
Description
Source: Cal Peternell's Twelve Recipes
The original recipe calls for chopped or grated tomatoes or 1/2 cup of roasted tomato puree. I find the canned, crushed tomatoes to work just as well.
If you don't feel like using dried chickpeas and cooking them from scratch, you can use canned chickpeas, drained and rinsed. You'll need 6 cups (about three 15-oz cans).
Peternell suggests a few other serving ideas: croutons, a poached egg or hard-boiled egg, a sprinkling of ground cumin, oil and capers. I keep it simple and swirl in some harissa, which is now readily available at most markets.
You also can make your own: See Simple Homemade Harissa. Peternell offers two simple recipes as well:
Make a paste with 2 tablespoons paprika and 3 tablespoons hot water. Add 2 teaspoons crushed garlic, 3 tablespoons olive oil, a splash of vinegar, and, if you wish, ground cumin and cayenne.
Mix together 3 tablespoons sambal oelek, 1 to 2 cloves crushed garlic, and 6 tablespoons olive oil.
---
for soaking and cooking the chickpeas: 
1

lb. dried chickpeas

3 tablespoons

+

2 teaspoon

kosher salt
for the leblebi:
4 tablespoons

olive oil

1

large yellow onion, diced

2 teaspoons

cumin seeds

1 teaspoon

paprika
crushed red pepper flakes

1/2 cup

roughly chopped cilantro stems and leaves

2

garlic cloves, sliced or chopped

3/4 cup

crushed tomatoes (see notes above)

6 cups

cooked chickpeas (either made from scratch as instructed here or canned, see notes above)
harissa for serving (for Peternell's quick recipe, see notes above)
flatbreads for serving
---
Instructions
Soaking and cooking the chickpeas:Dissolve the 3 tablespoons of salt into 4 quarts of water. Add the chickpeas and soak for 8 to 24 hours. Drain, rinse and place in a pot with 1 teaspoon of salt. Cover with water by three inches. Bring to a boil, then lower heat and cook at the gentlest simmer for about 45 minutes or until the chickpeas are cooked through. Let the chickpeas cool in their cooking liquid. Store the chickpeas in their cooking liquid.
Make the leblebi: Heat a soup pot over high heat. Add the oil, then the onion and a pinch of salt. Stir, turn the heat to low, and cover the pot. Check and stir after a few minutes, letting the moisture on the lid drip back into the pot to keep things steamy. Lower the heat if there is any browning going on, and re-cover. Cook like this until the onion is tender, about 15 minutes.
Add the cumin, paprika, pepper flakes, cilantro and garlic and stir for 1 minute. Add the tomatoes and cook for a couple of minutes more, stirring occasionally. Add 6 cups of the cooked chickpeas and enough of their cooking liquid to cover by 2 inches, raise the heat, and bring to a boil. (You'll need about 4 cups liquid total: all of the cooking liquid, which was 3 cups plus 1 cup extra water — the chickpeas may not be covered by 2 inches, but it will be fine.) Season with salt to taste — I always add another teaspoon, but you may want to start with 1/2 a teaspoon and add more to taste.
Lower to a simmer and cook for 20 minutes. Put 2 ladles of soup in a blender or food mill and purée — careful: it's hot. (I used an immersion blender and puréed partially.) Return to the soup pot and stir in to thicken the leblebi slightly. Taste for seasonings and add water or any reserved cooking liquid if it's too thick. Note: When reheating, you most likely will need to add water to achieve desired consistency.
To serve: ladle the leblebi into bowls. Pass a bowl of harissa on the side. Serve with warm flatbreads.
Prep Time:

15 minutes

Cook Time:

1 hours 20 minutes

Category:

Soup

Method:

Stovetop

Cuisine:

Moroccan, North African
Keywords: Moroccan, chickpea, stew, leblebi, North African, vegetarian
This post may contain affiliate links. Please read my disclosure policy.