White Bean and Orange Salsa
This post may contain affiliate links. Please read my disclosure policy.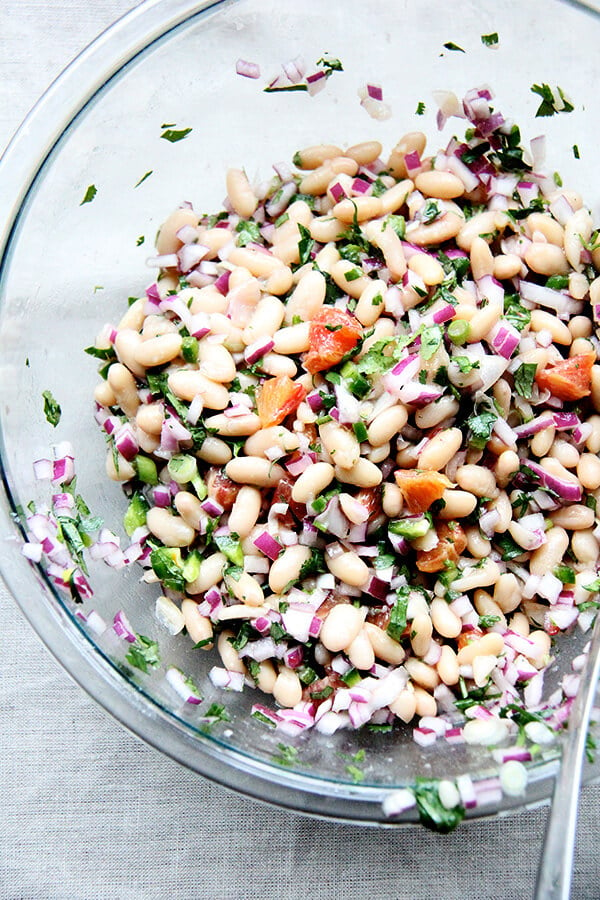 So, I really want to be blasé about Rancho Gordo's Marcella beans, but I am liking them so very much: cooked simply with garlicky oil and sage or tarted up, as shown here, with onions, lime, jalapeños, cilantro, and orange.
We've been eating this like a salsa with chips, but it would be nice tucked inside a taco or a burrito or aside spicy wings and nachos and anything else you might find yourself surrounded by this Sunday.
Happy football watching, Everyone. As always, I'm waiting for theSkimm to tell me whom to root for but very much looking forward to the festivities.
PS: Texas Caviar
PPS: Homemade Ranch Dip with Greek Yogurt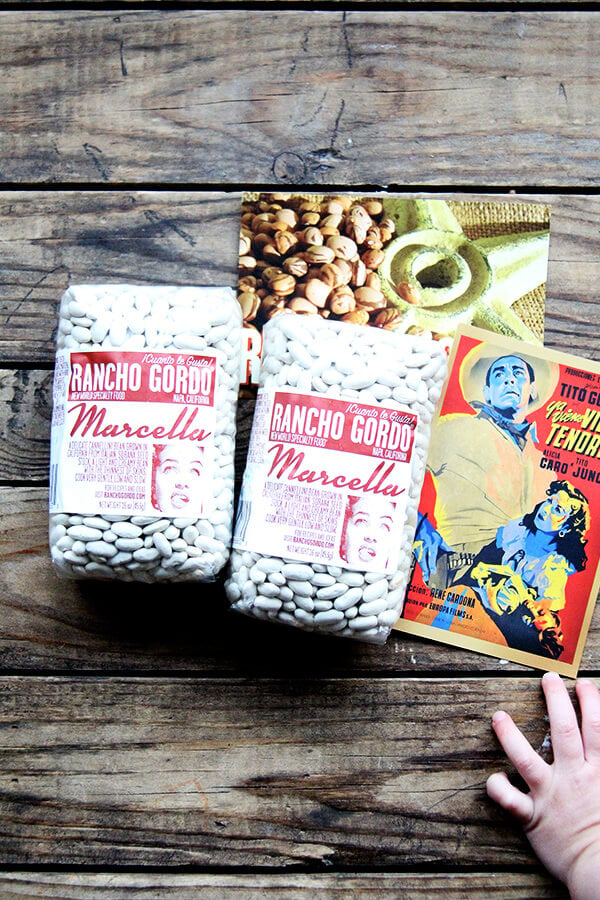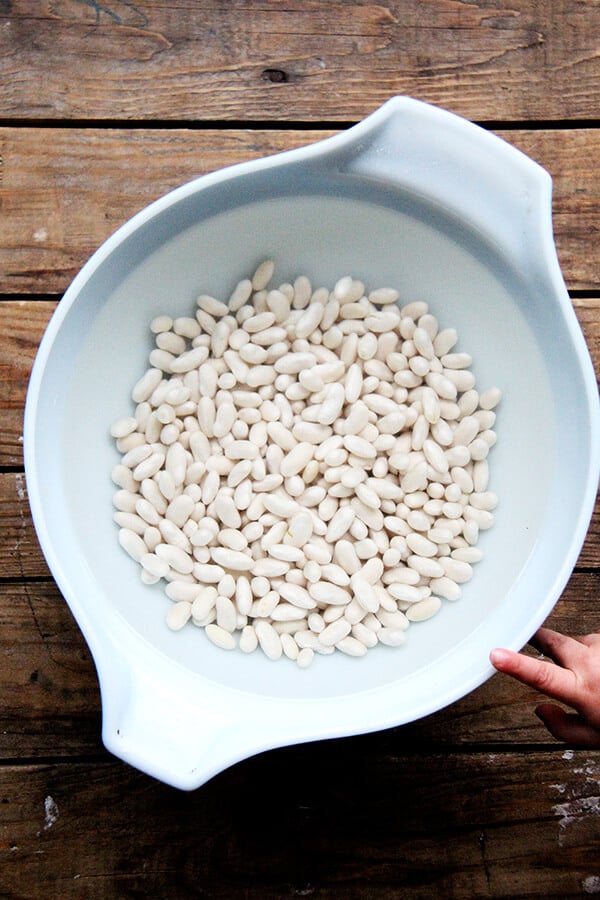 cooked Marcella beans: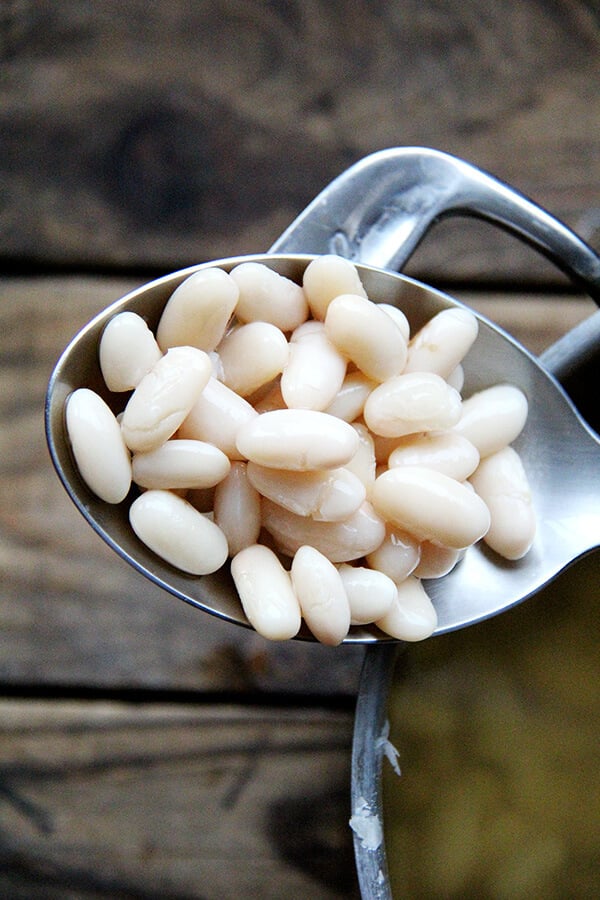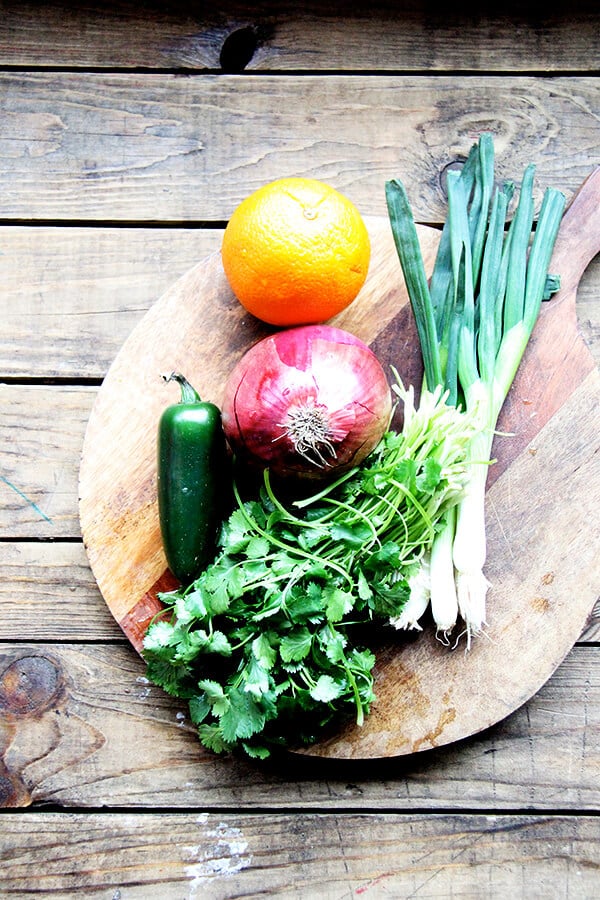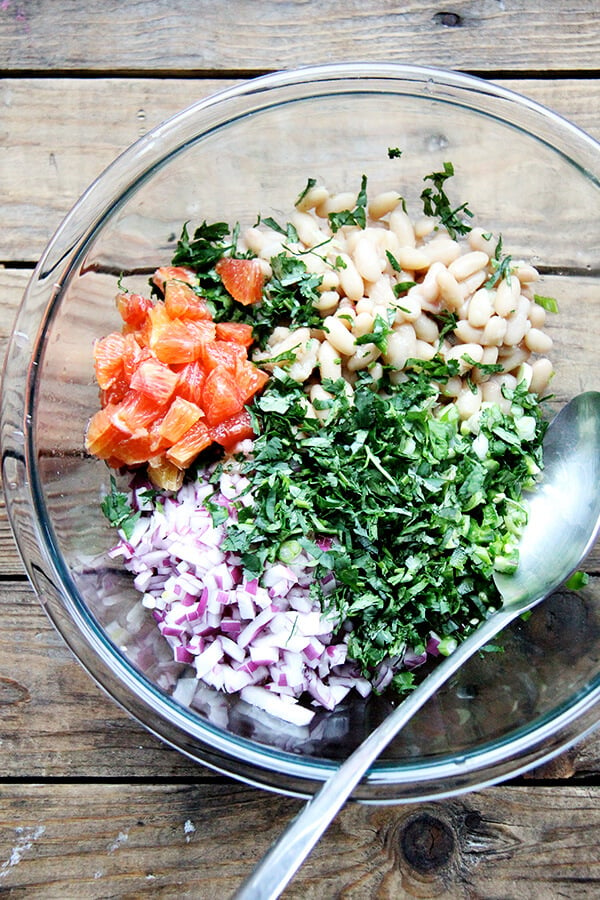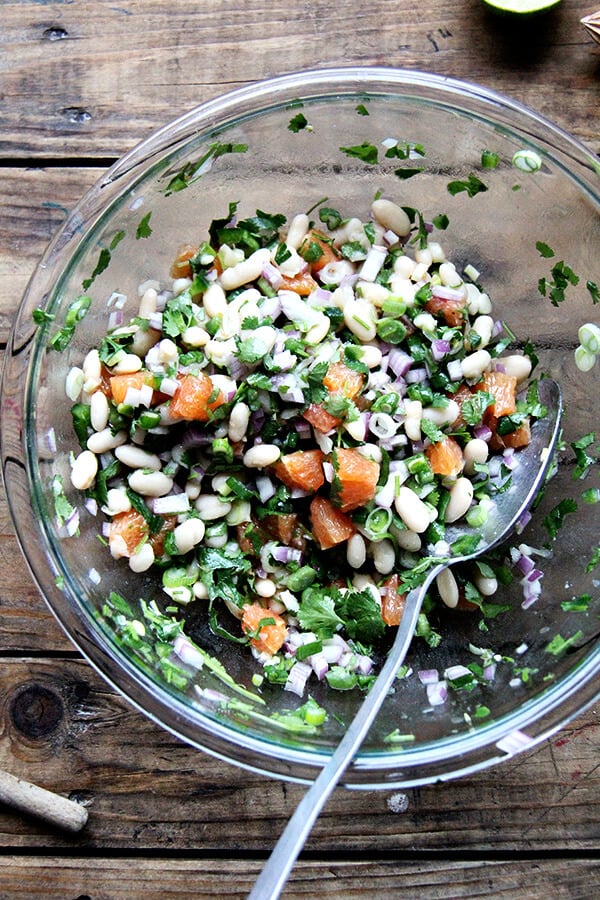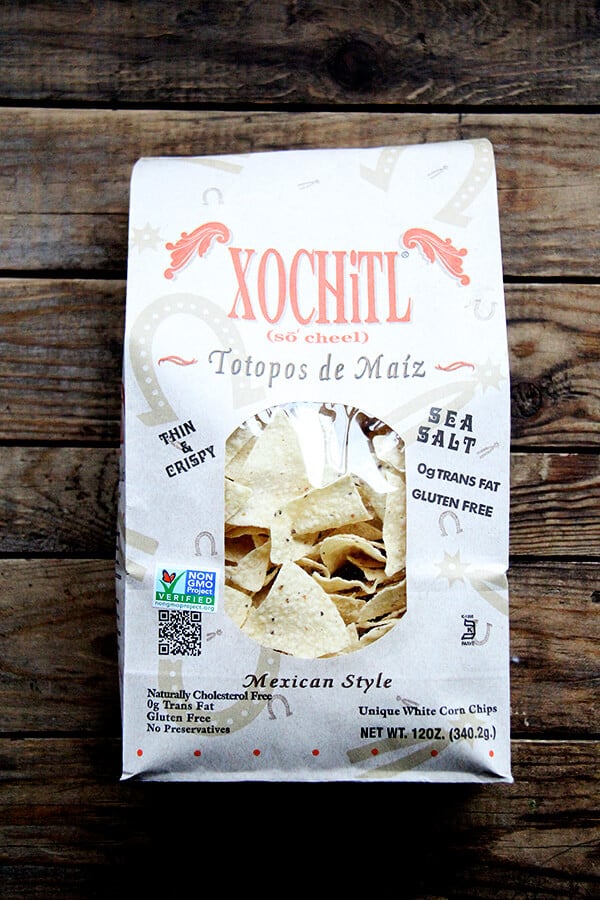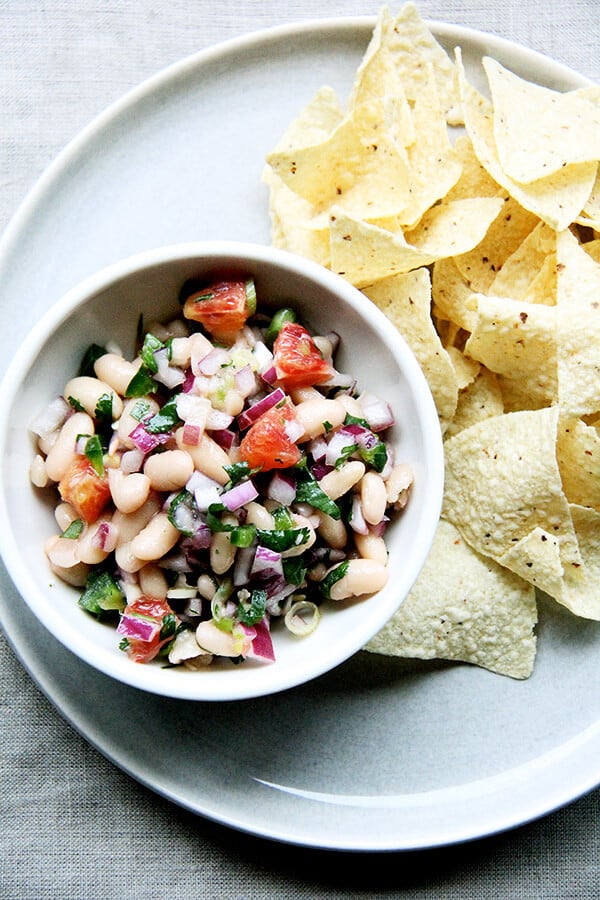 Print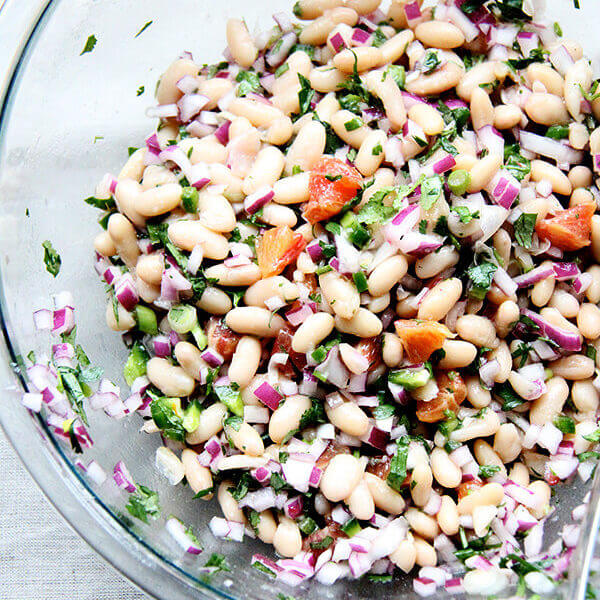 White Bean and Orange Salsa
---
Description
There are many opinions about soaking and cooking beans. I've been on a big bean kick recently, and I've found a method I like — soaking the beans in salted water and cooking the beans in salted water — but that's not to say it's better than any other method. I find soaking beans helps them not only cook up more quickly but also more evenly than uncooked beans.
You do not have to soak beans, and if you don't, you'll just have to be patient with the cooking. Most recently I don't add anything (onions, bay, garlic, herbs) to the pot while the beans are cooking but this is mostly due to laziness — all of those additions do help flavor the cooking liquid and in turn the beans.
I've made this with Goya cannellini beans and fancy Marcella beans — any white bean will work. This salsa can made more into a salad by upping the olive oil and cutting back on the vinegar and lime to taste. It could also be bulked up with farro or some other grain. Here is an ancient video that may offer some guidance on peeling and cutting the orange.
---
soaking and cooking the beans:
3 tablespoons

+

1 teaspoon

salt

4

qts water

½

lb. dried white beans, such as cannellini or great northern
for the salsa:
2 cups

cooked white beans

1

red onion, peeled and finely diced to yield about a cup

2

to

3

scallions, finely sliced, white and light green parts

1

jalapeño, seeded or partially seeded and finely diced

⅓ cup

finely minced cilantro or more or less to taste

2

oranges peeled and cut into ½-inch pieces (Cara Cara or blood oranges are nice here)
juice of

one

lime

½ teaspoon

kosher salt plus more to taste

2

to

3

tablespoons olive oil

1

to

2

tablespoons white balsamic vinegar
---
Instructions
Soaking and cooking the beans:Dissolve the 3 tablespoons of salt into the water. Add the beans and soak for 8 to 24 hours. Drain, rinse and place in a pot with the remaining teaspoon of salt. Cover with water by three inches. Bring to a boil, then lower heat and cook at the gentlest simmer for about 45 minutes or until the beans are cooked through. Let beans cool in their cooking liquid. You should have about 2 heaping cups
To make the salsa, place the cooled beans in a large mixing bowl. Add the diced onion, scallions, jalapeño, cilantro, orange, juice of one lime, ½ teaspoon salt, 2 tablespoons olive oil and 1 tablespoon vinegar. Toss gently with a large spoon. Taste and add more salt if necessary. Add more olive oil and vinegar by the tablespoon to taste.
Prep Time:

20 minutes

Cook Time:

45 minutes

Category:

Salsa

Method:

Toss

Cuisine:

American, Mexican
Keywords: white, bean, orange, salsa, winter
This post may contain affiliate links. Please read my disclosure policy.