Baked Semolina Gnocchi (Gnocchi Alla Romana)
This post may contain affiliate links. Please read my disclosure policy.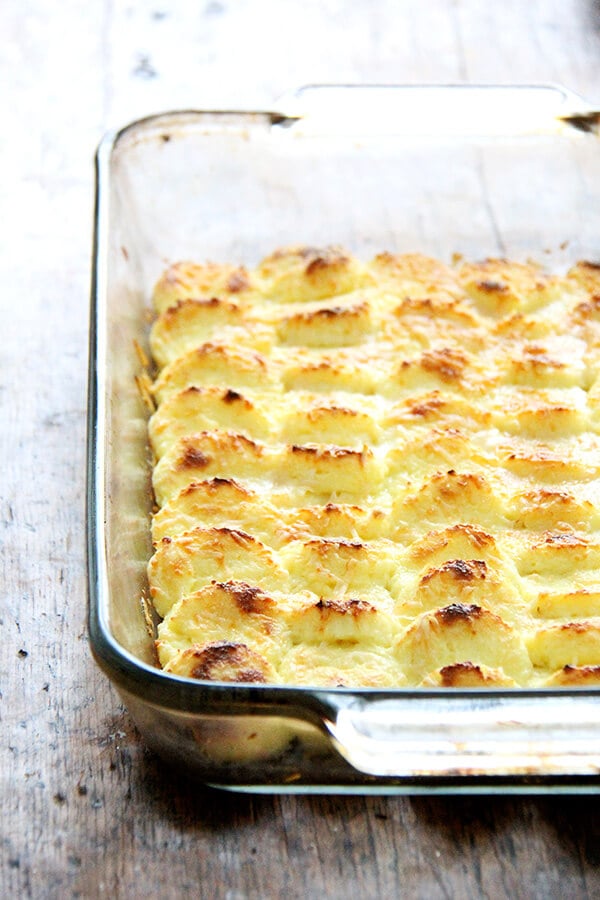 One day last week I snuck off to a friend's house for lunch, a long-anticipated occasion knowing what I do about this friend: not only did she live in Italy for many years, she also taught cooking classes there.
I arrived to find salad plates topped with shaved fennel, blood oranges and olives, a casserole dish lined with pale-yellow coins overlapping like roof tiles, and a skillet slicked with oil and a minced shallot. As we chatted, lunch quickly materialized: the golden coins baked away while greens wilted stovetop, and my friend dressed the fennel and oranges with fresh lemon and olive oil.
Shortly after sitting down to eat, I took my first bite of gnocchi alla Romana or baked semolina gnocchi, a recipe from Marcella Hazan's Essentials of Classic Italian Cooking. Made with milk, semolina flour, parmesan and egg yolks, gnocchi alla Romana bear little resemblance to potato gnocchi. They taste more like polenta in fact, but are lighter in texture, and my friend's tasted lemony, thanks to the addition of lemon slices to the heating milk, a touch my friend learned from her Italian mother-in-law. In addition to being incredibly delicious, the beauty of gnocchi alla Romana is that it can be completely assembled ahead of time — up to two days — and baked just before serving.
With every bite, I felt inspired to get into the kitchen. A ricotta gnudi debacle several years ago has kept me from attempting recipes in this genre since, but this one, with its make-ahead capabilities, seemed within reach. And it turns out it was. I have since made the gnocchi, which my whole family devours, several times and have also made fritters with the gnocchi scraps, because Marcella insists that you do. And for good reason: the fritters are as equally scrumptious as the gnocchi and amount to a second meal (or snack) in themselves.
To all of you Love Birds, have a wonderful Valentine's Day. I vote for gnocchi alla romana — molto romantico! — with a fennel and orange salad on the side and a brownie for dessert.
PS: More Desserts here.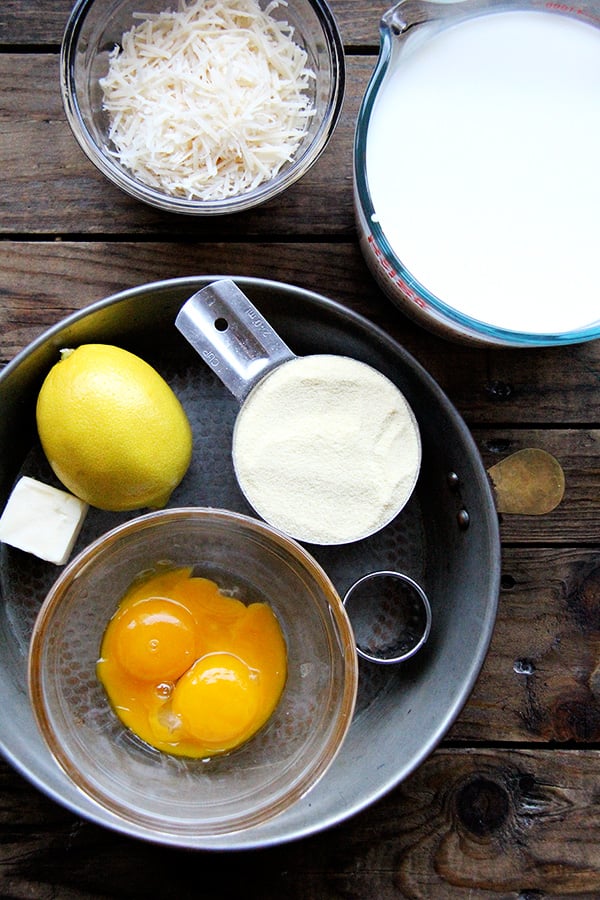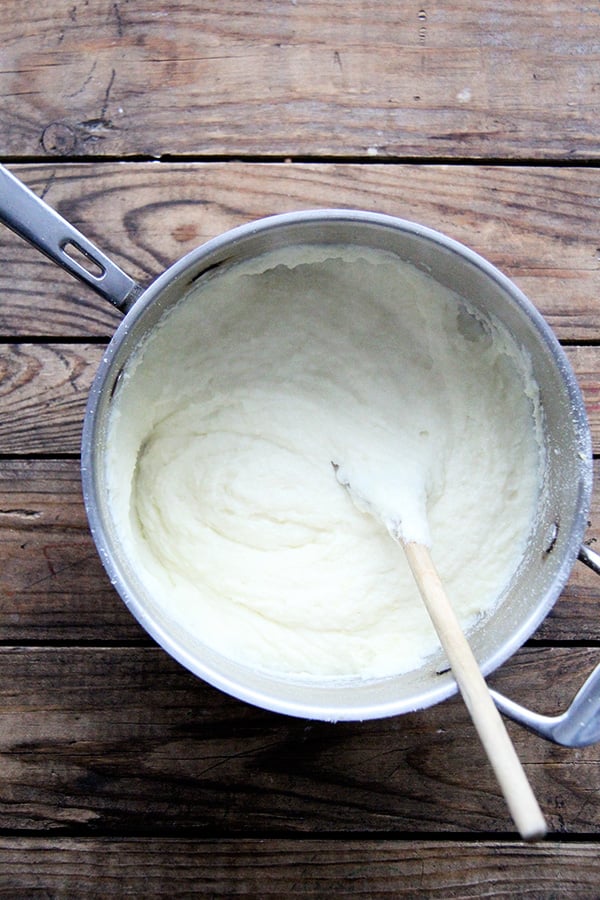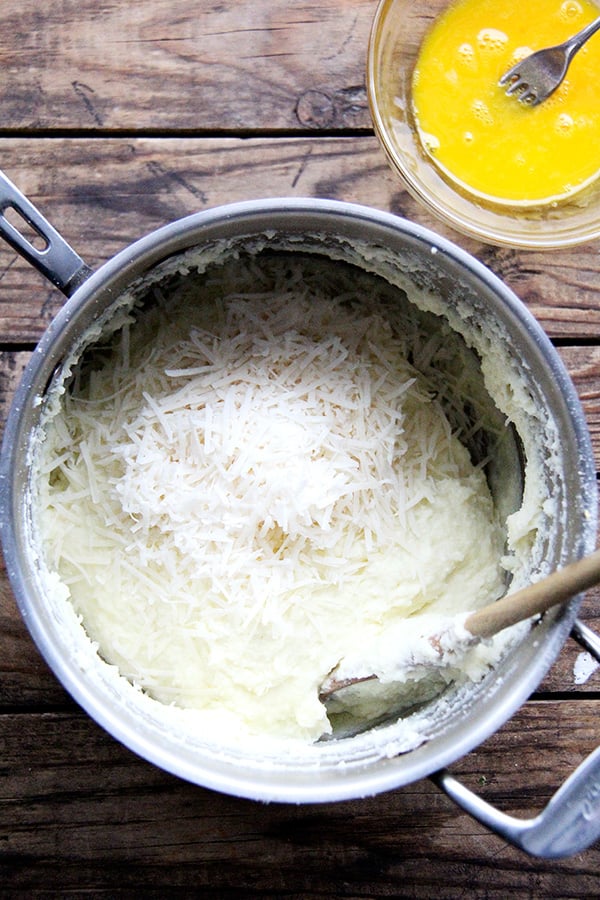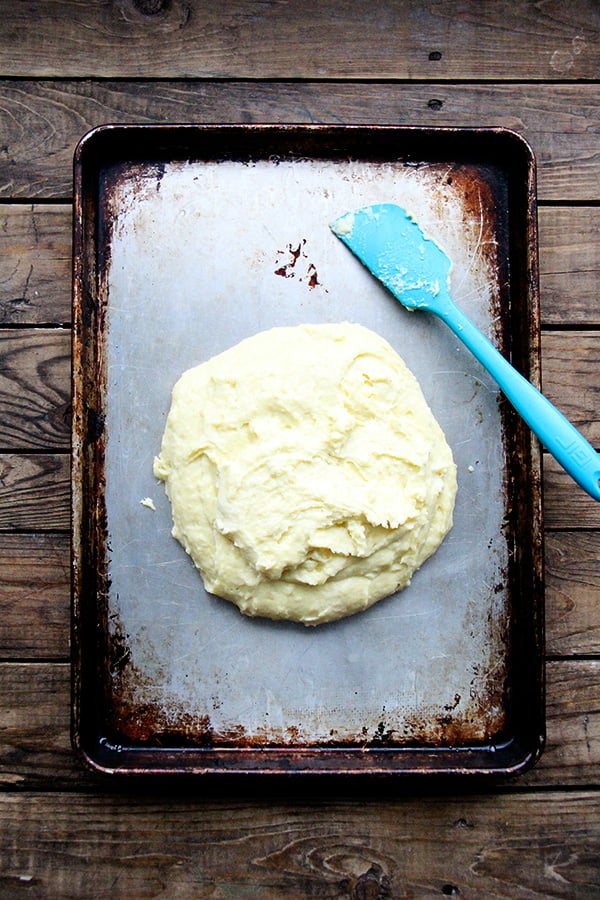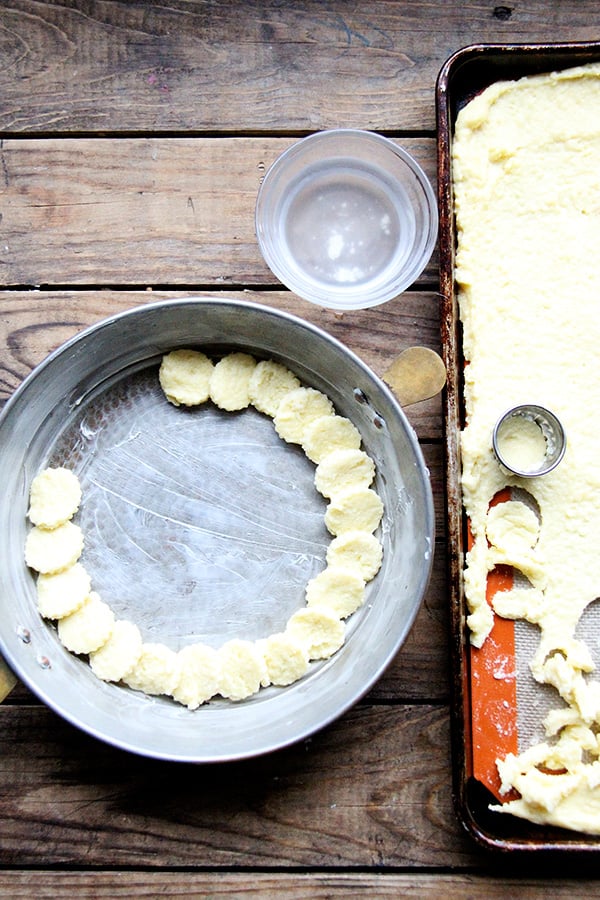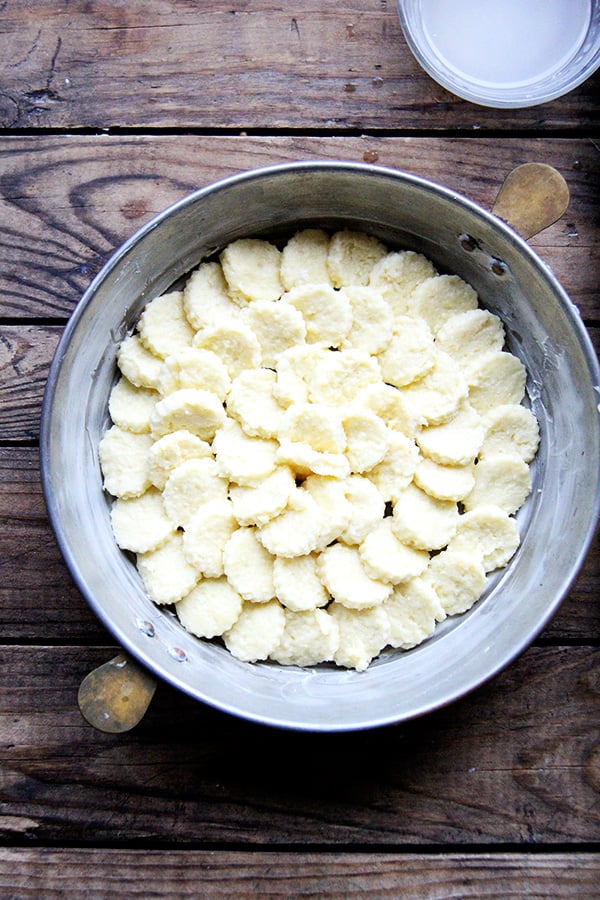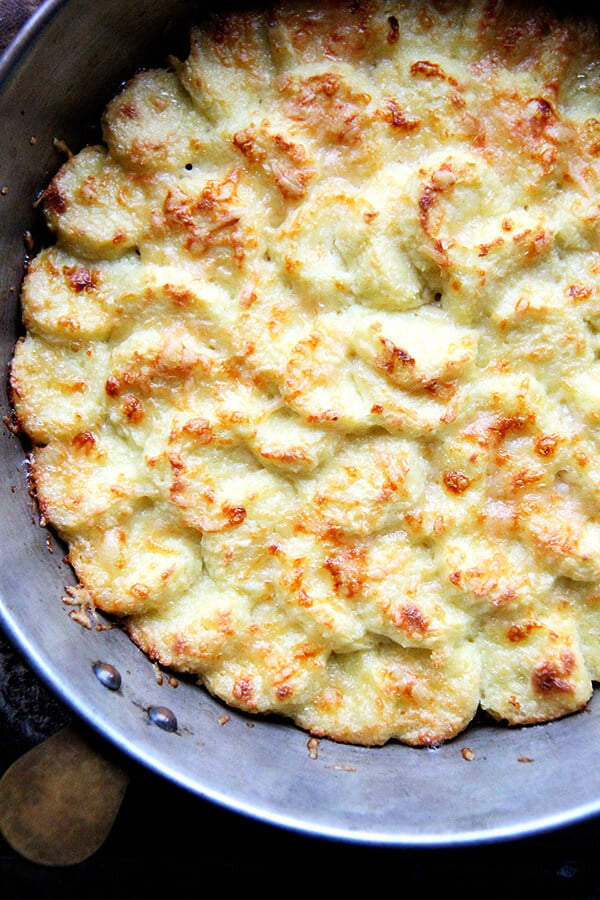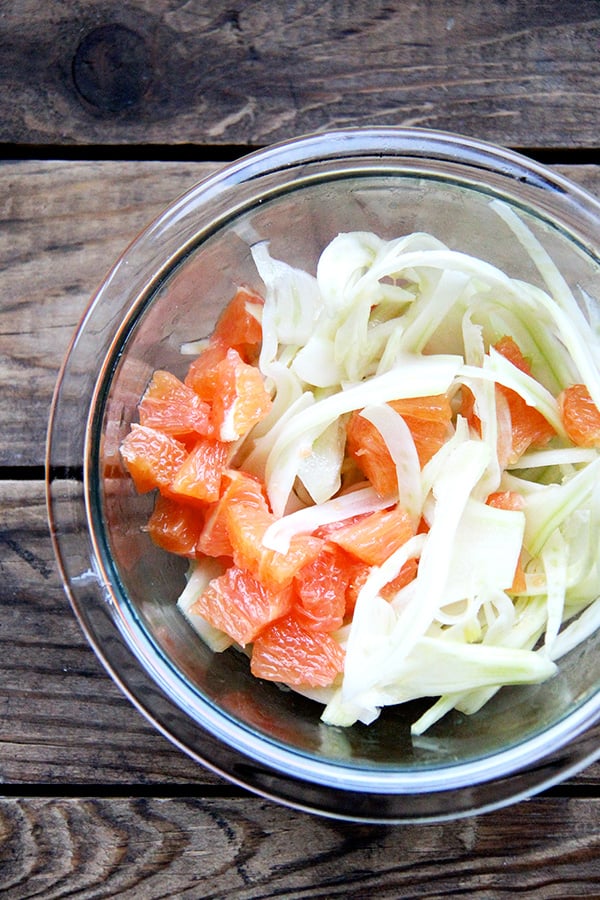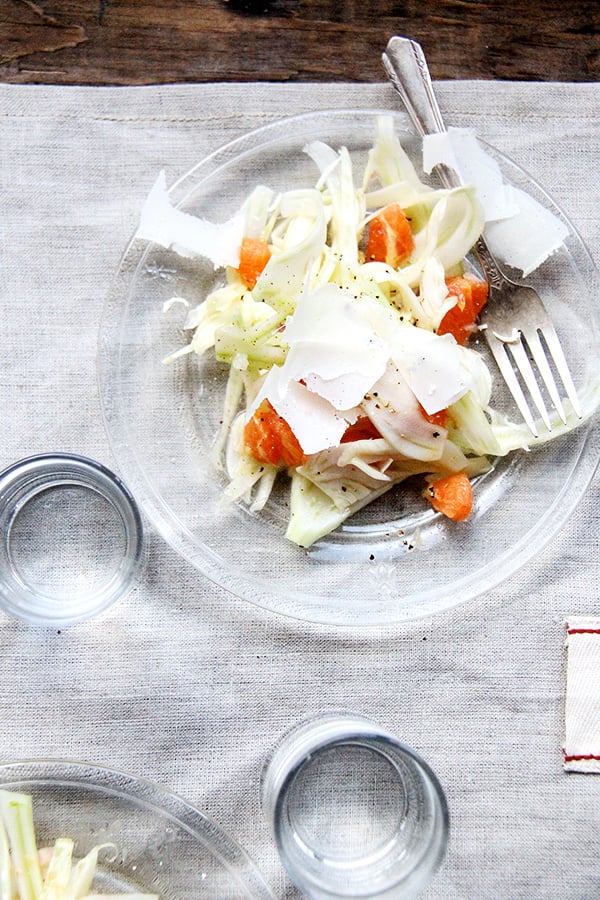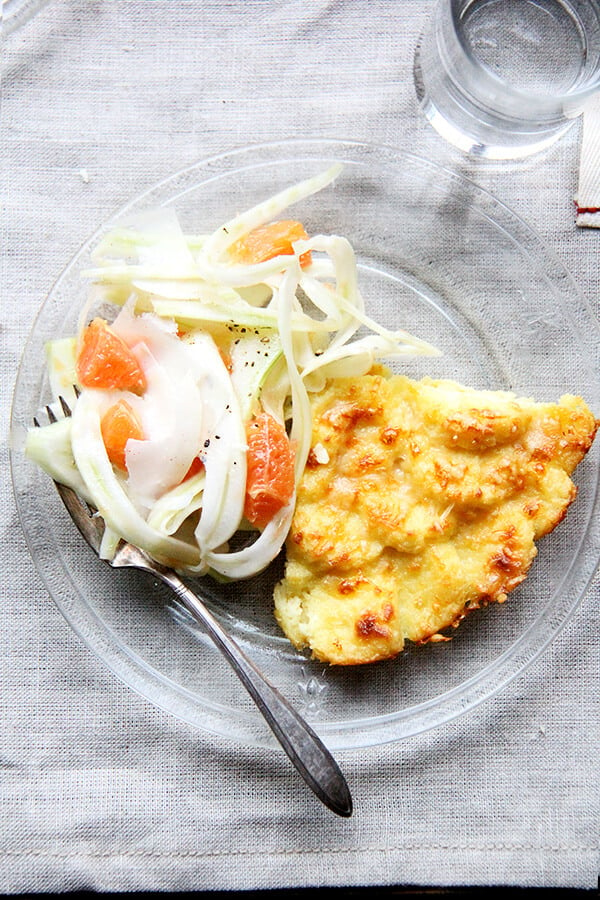 Print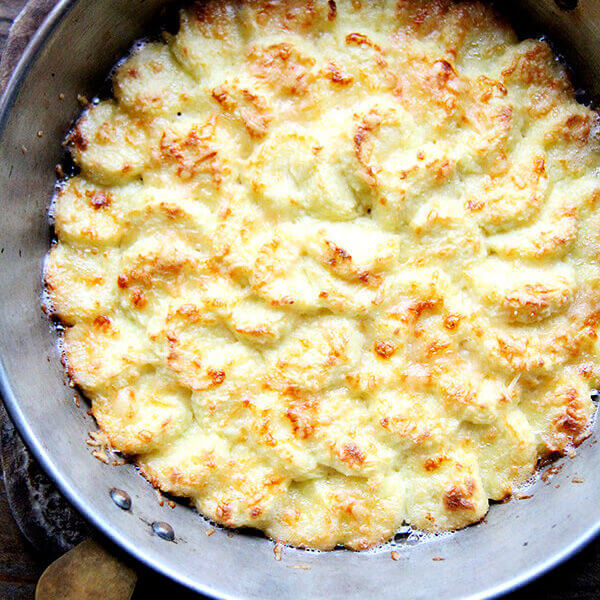 Marcella's Baked Semolina Gnocchi
---
Author:

Marcella Hazen

Total Time:

1 hours 30 minutes

Yield:

4 servings
Description
Source: Marcella Hazan's Essentials of Classic Italian Cooking
Ahead-of-time note: Gnocchi can be completely prepared and assembled in baking dish two days in advance. Cover tightly with plastic wrap before refrigerating. Keep the trimmings, too, in the refrigerator in a tightly sealed container.
Lemon: If you have a microplane grater, you can grate the zest of one lemon right into the milk, or you can do what my friend does: add three lemon slices (about an 1.5-inches long) into the pot with the milk and then fish them out before spreading the batter onto the cookie sheet.
To make fritters with the trimmings: Knead the trimmings together briefly into a ball up to a day or two before you plan to use them. When you are ready to make the fritters, divide the dough into croquette size pieces, adding a pinch of salt, shaping them into short, plump forms tapered at each end, about 2.5 inches in length — I just rolled them into a long snake and used my bench scraper to cup them into 1.5-inch pieces. Roll them in dry unflavored breadcrumbs and fry them in hot oil until they form a light crust all over. Sprinkle with salt
To make the salad: My friend simply arranged thinly sliced fennel, orange segments and olives on plates, seasoned with salt and pepper, and spooned over fresh lemon juice and olive oil. It was delicious. When I made this salad, I had a shallot vinaigrette on hand, so I just tossed the fennel and orange together with that vinaigrette, mounded it on plates, and shaved Parmigiano Reggiano over top. For two people you need about 1 bulb fennel thinly sliced (a mandoline is helpful here) and the segments from 1 to 2 oranges (blood or cara cara are nice).
Here's how I make my shallot vinaigrette: Finely dice a shallot or two. Place in a bowl and cover with white balsamic vinegar, 3 to 4 tablespoons. Season with a pinch of kosher salt and a pinch of sugar. Let macerate for about 15 minutes. Whisk in ⅓ cup extra-virgin olive oil to start. It's ok if the dressing is not totally emulsified. Taste and adjust with more oil, vinegar (or a squeeze of orange if you have one), salt, sugar, etc.
---
4 cups

whole milk
zest of

one

lemon, see notes above

1 cup

semolina flour

1 cup

freshly grated Parmigiano Reggiano

2 teaspoons

salt

3

egg yolks, lightly beaten in a saucer

2 tablespoons

butter
an oven-to-table baking dish and butter to smear it
---
Instructions
Put the milk in a heavy-bottomed saucepan and turn on the heat to medium low. When the milk forms a ring of tiny, pearly bubbles, but before it comes to a boil, turn down the heat to low, and add the semolina flour, pouring it out of a clenched fist in a very thin, slow stream and, with a whisk in your other hand, beating it into the milk. (If you find the clenched fist, awkward, pour the semolina in slowly using a liquid measuring cup.)
When all the semolina has gone into the pot, stir it with a long-handled (or not) wooden spoon. Stir continuously and with thoroughness, bringing the mixture up from the bottom and loosening it from the sides of the pot. Be prepared for some resistance because the flour and milk mixture quickly becomes very dense. In little more than 15 minutes and less than 20, the mixture forms a mass that comes cleanly away from the sides of the pot.
Remove from heat, let it cool just slightly, for about a minute, then add two-thirds of the parmesan, 2 teaspoons salt, the yolks, and the 2 tablespoons of butter to the batter. Mix immediately and rapidly to prevent the yolks from setting.
Moisten a laminated or marble surface with cold water (or run a sheetpan under water; then hold it over the sink and let the water drain out) and turn the gnocchi batter out over it, using a spatula to spread it to an even thickness of about ⅜ inch. Dip the spatula in cold water from time to time as you use it. Let the batter cool completely. (You can stick the sheetpan in the fridge for 30 minutes at this point to help it cool down.)
Preheat oven to 400ºF. When the batter has cooled off completely, cut it into disks, using a 1.5-inch biscuit cutter or a glass of approximately the same diameter. Moisten the tool from time to time in cold water as you us it. (Do not discard the trimmings. See note above.)
Smear the bottom of a bake-and-serve dish (I've used a 9×13-inch baking dish and a 10-inch round baking dish, which was actually a little too small.) lightly with butter. On the bottom, arrange the gnocchi in a single layer, overlapping them roof-tile fashion. Sprinkle with remaining parmesan and dot sparingly with butter. Bake on the uppermost rack of the preheated oven for 15 to 20 minutes until a light, golden crust has formed. After removing from the oven, allow to settle for 5 minutes before bringing to the table and serving directly from the baking dish.
Prep Time:

10 minutes

Cook Time:

45 minutes
Making the fritters: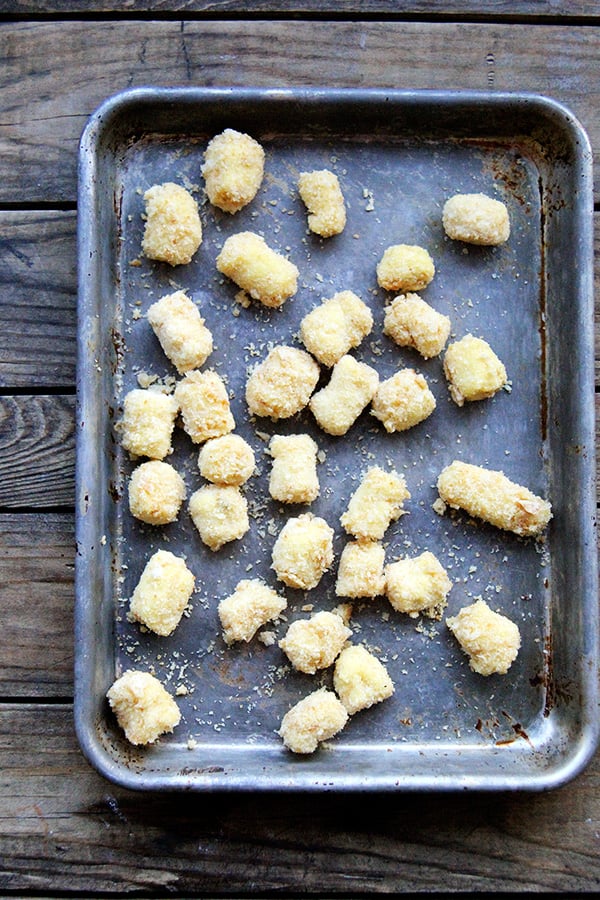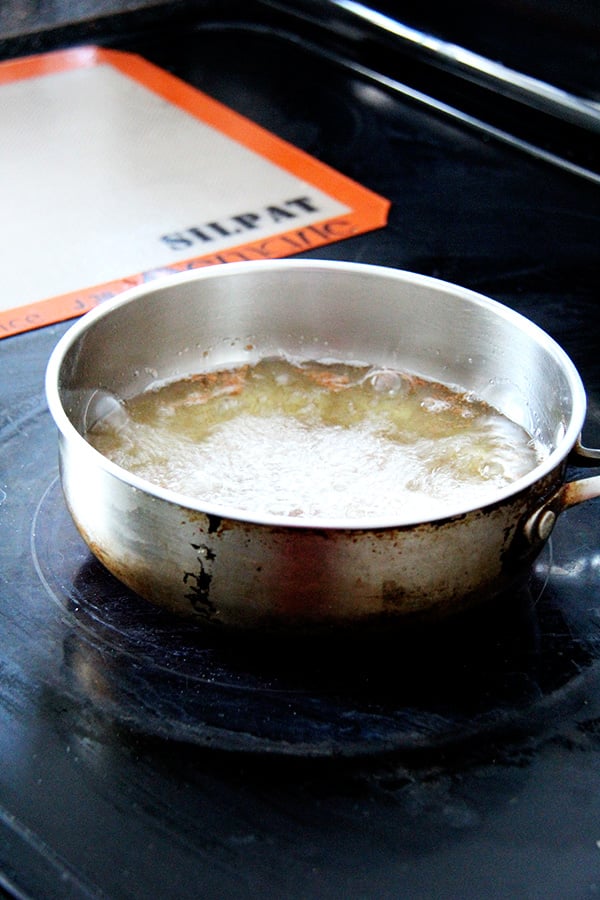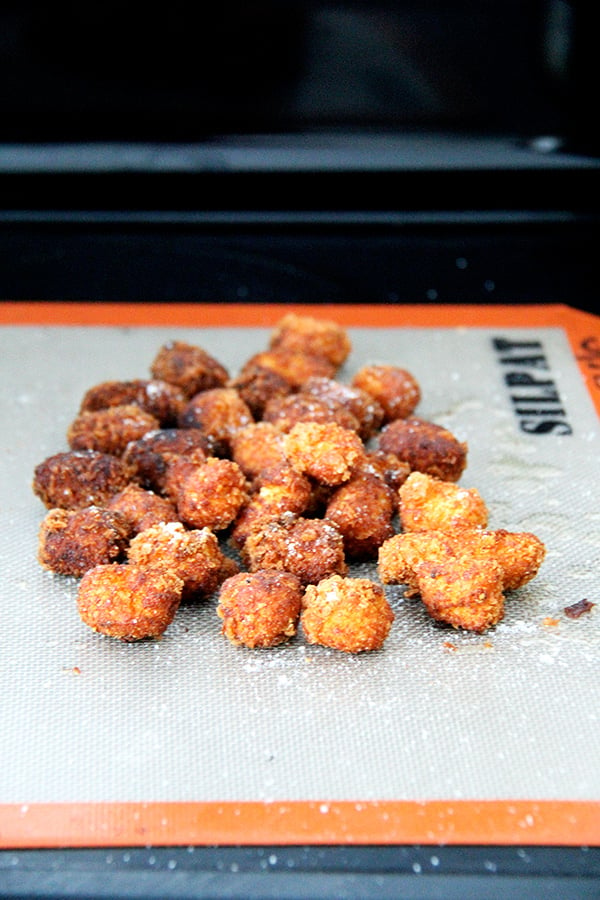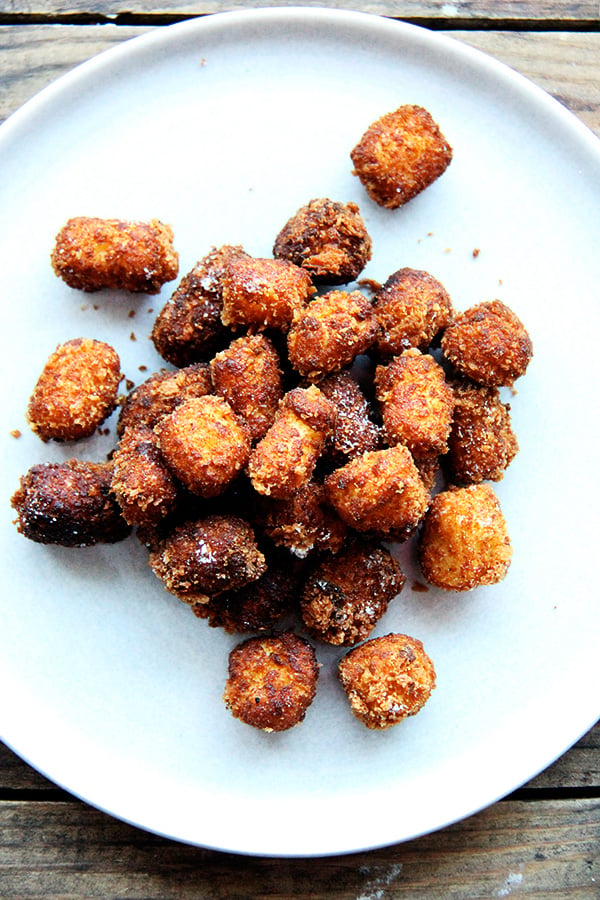 This post may contain affiliate links. Please read my disclosure policy.