Super Simple Irish Soda Bread
This post may contain affiliate links. Please read my disclosure policy.
The dough for this super simple Irish soda bread recipe takes about 5 minutes to mix-up, and the finished bread will be ready to be sliced and slathered with butter and/or marmalade one hour later. Simple and delicious!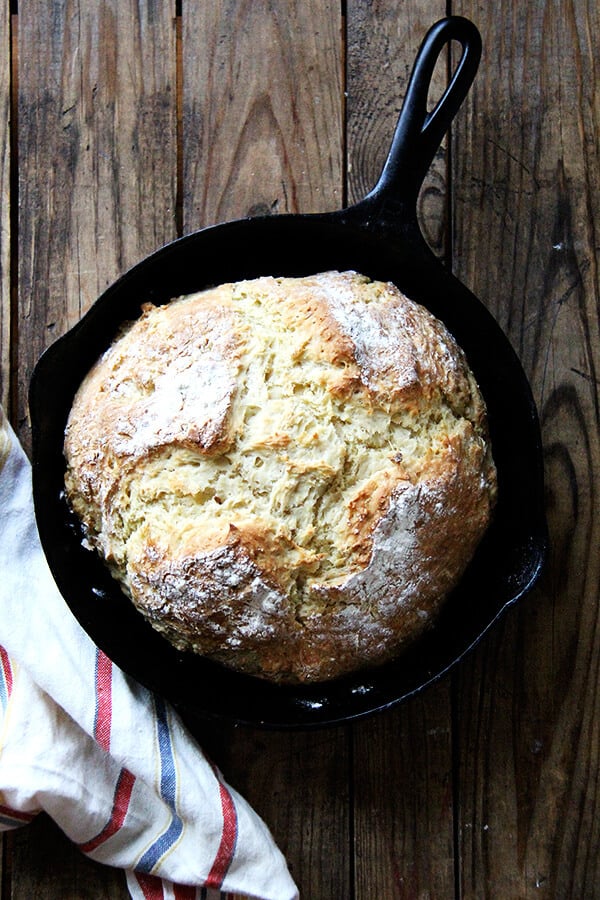 I was all set to complicate Irish soda bread by making a yeasted version when I started looking into its history and discovered that the soda — the baking soda — is perhaps the most traditional part of the bread, much more so than butter, sugar, eggs and raisins, in fact, which likely entered the equation when the bread crossed the pond.
Inspired by that article, I made a traditional loaf of soda bread with flour, salt, buttermilk, and baking soda, and while it was perfectly edible, I found myself missing the richness of eggs and sugar, the scone-like texture created by the addition of butter…what can I say, I'm American!
And so, I've added a bit of the riches back in: one egg, 1 tablespoon of sugar, and a couple tablespoons of melted butter, which produces a loaf that still resembles a giant biscuit, but less so.
Irish Soda Bread, Two Ways
There are two recipes below, one that calls for 100% all-purpose flour and one that calls for a mix of whole wheat, all-purpose, and wheat germ, the latter of which produces a slightly denser but no less delicious, chewy, tangy loaf. Each dough takes about 5 minutes to mix-up and each will be ready to be slathered with butter and marmalade about an hour later.
Can I use Sourdough Discard in this Irish Soda Bread Recipe?
Yes! To do so, replace 50 grams of the flour and 50 grams of the buttermilk with 100 grams of discarded sourdough starter. See notes in the recipe box for precise proportions.
Do I have to use a Cast Iron Skillet?
No. Any oven-safe, 8- to 9-inch baking dish will work here.
Irish Soda Bread in 4 Simple Steps
1. Whisk together the dry ingredients.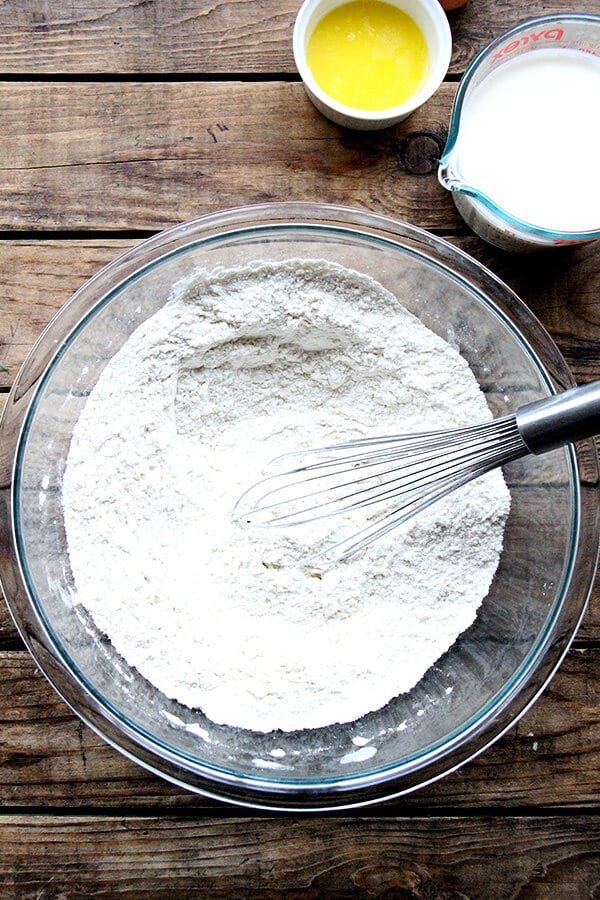 2. Add the wet ingredients: a mix of buttermilk, melted butter, and egg.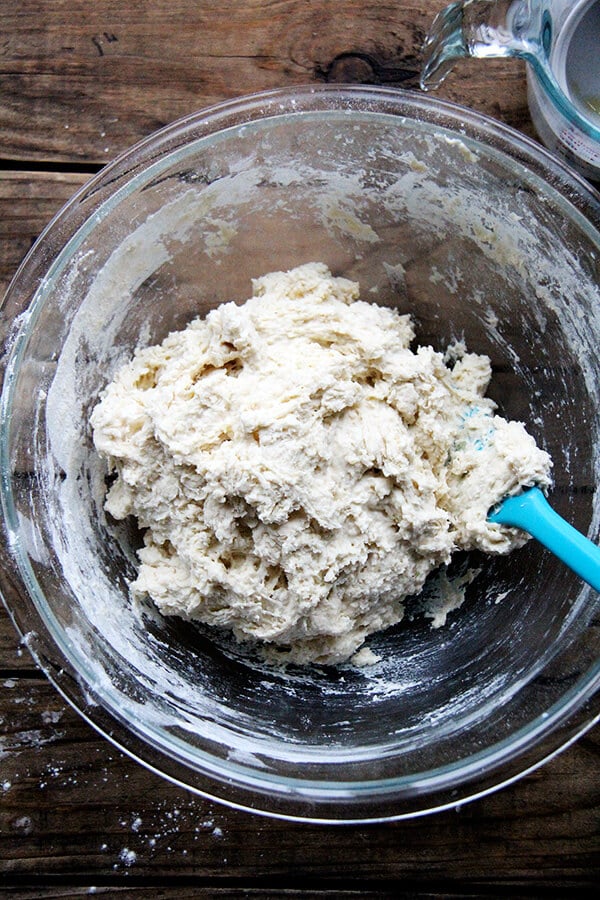 3. Form into a ball using floured hands, transfer to a cast iron skillet, and score: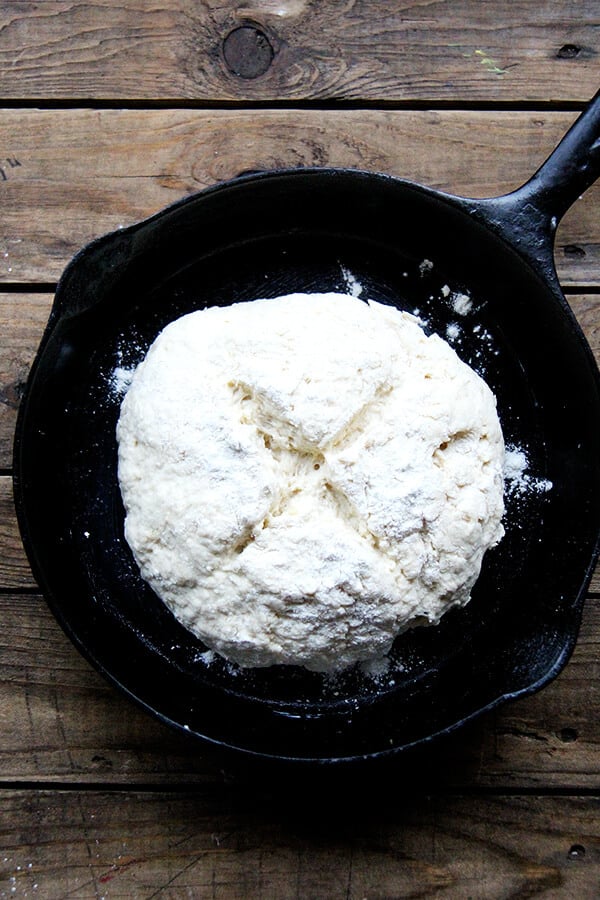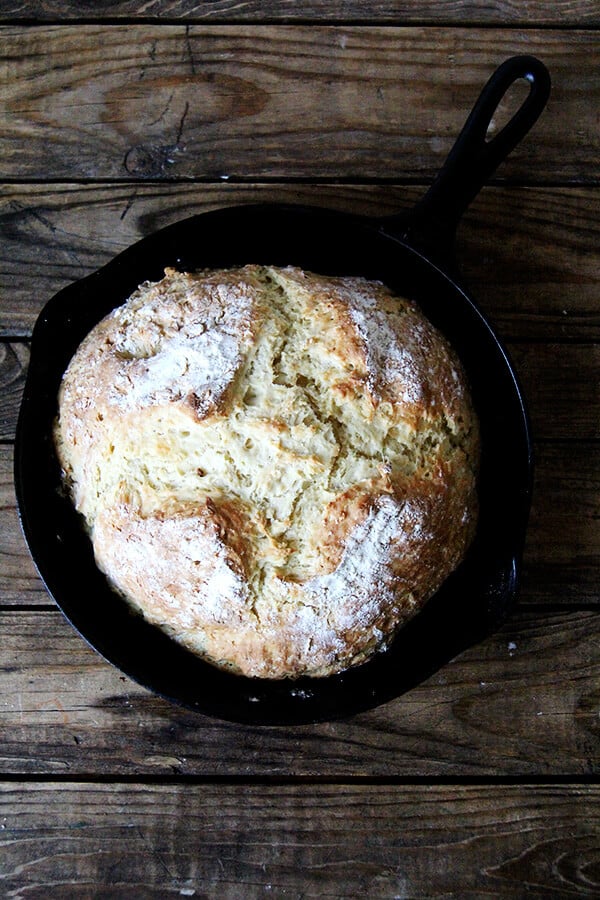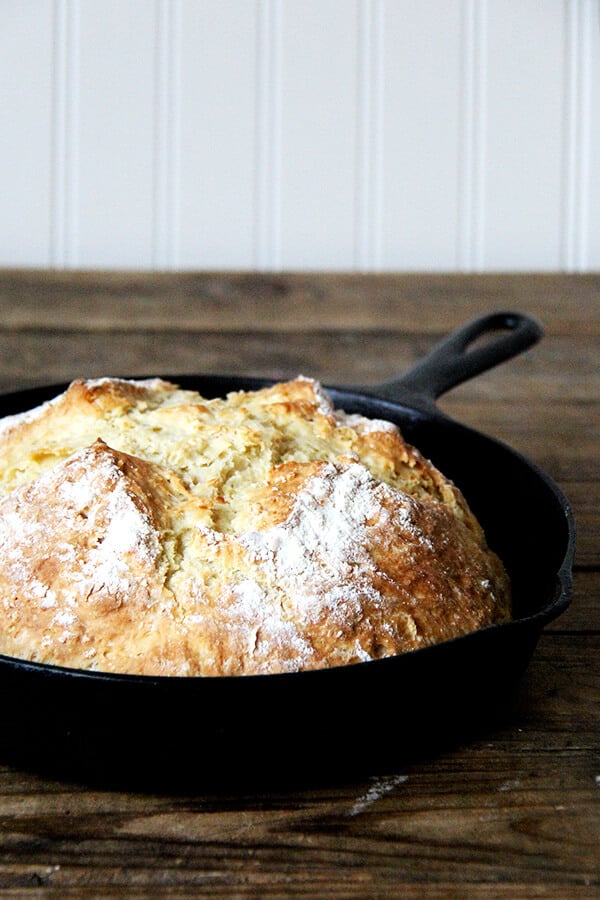 When cool enough to handle, slice it up.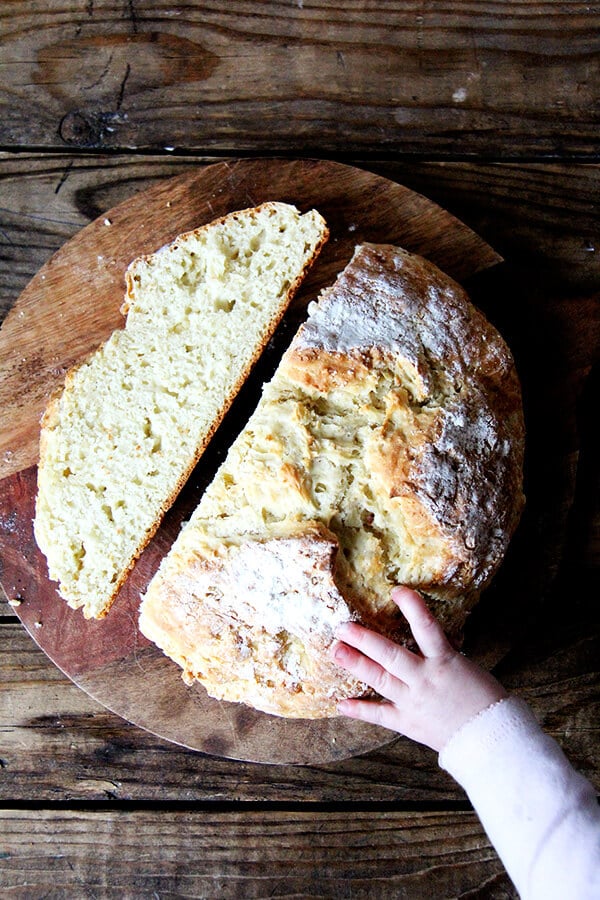 Slather with butter or orange marmalade.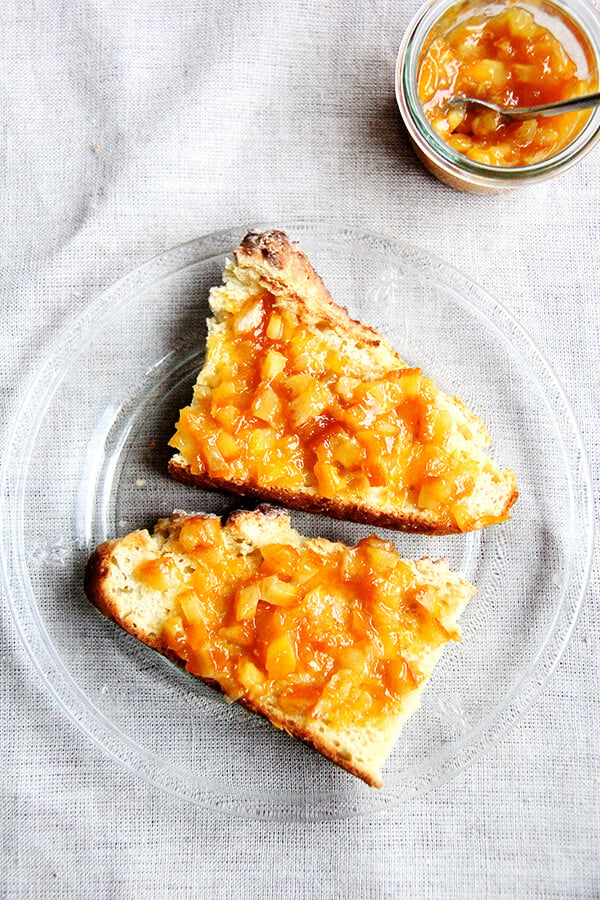 Love this Argyle Cheese Farmer buttermilk: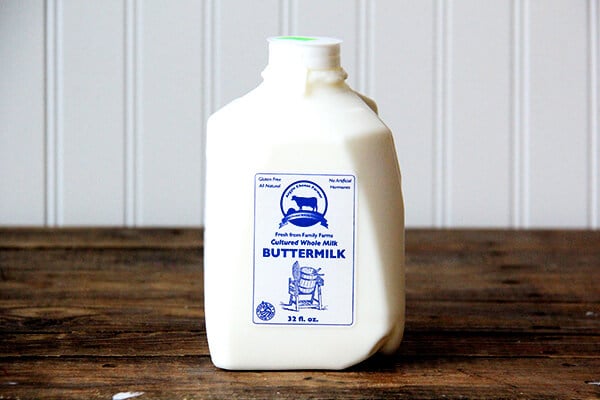 This is the soda bread when made with a mix of all-purpose and whole wheat flour as well as wheat germ: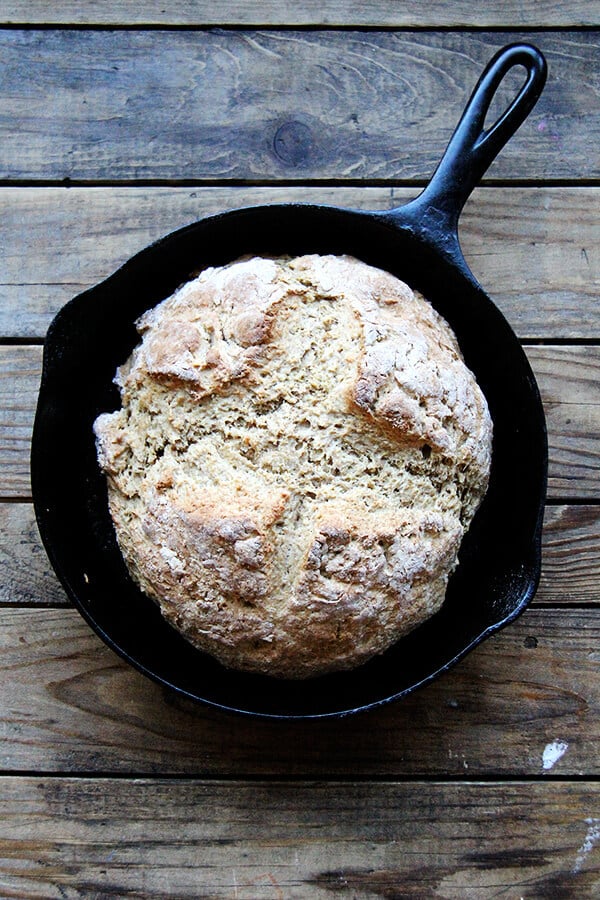 Whole grain soda bread, sliced: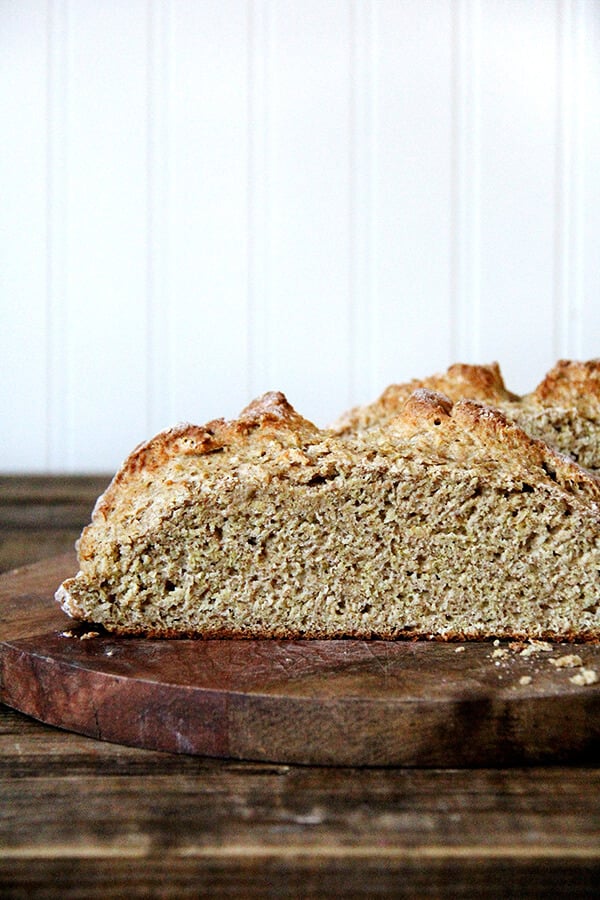 Print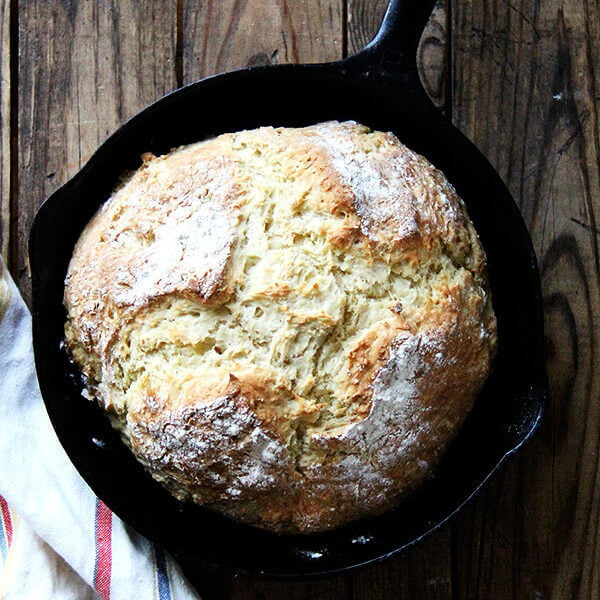 Super Simple Irish Soda Bread
---
Author:

Alexandra Stafford

Prep Time:

5 minutes

Cook Time:

40 minutes

Total Time:

45 minutes

Yield:

1 loaf
Description
This recipe is inspired by this one from Simply Recipes. I add more salt — I find 2 teaspoons (10 g) of salt for every 4 cups (512 g) of flour to be about right. And instead of working 4 tablespoons of butter into the dough as you would for biscuits or scones, I use 2 tablespoons of melted butter.
If you want to use whole grain flour in your soda bread, see the notes below the recipe.
If you want to use sourdough discard in place of some of the flour/liquid, you can use 100 grams of sourdough discard, 460 grams of flour, 10 grams salt, 13 grams sugar, 1 teaspoon baking soda, 1 egg, 360 grams buttermilk, 2 tablespoons melted butter.  Follow the same method outlined in the directions. 
---
4 cups

(

510 g

) all-purpose flour, see notes above for making it whole grain

2 teaspoons

(

10 g

) kosher salt

1 tablespoon

(

13 g

) sugar

1 teaspoon

baking soda

1 cup

dried currants, optional (I never use currants)

1

egg

1¾ cups

(

410 g

) buttermilk

2 tablespoons

melted butter
room temperature butter for greasing
flour for dusting
---
Instructions
Preheat the oven to 400ºF. Whisk together the flour, salt, sugar, baking soda, and currants (if using).
In a medium bowl, beat the egg and buttermilk. Add the melted butter and stir to combine. Add the liquid ingredients to the dry ingredients and stir with a rubber spatula until combined. Mixture will be sticky. Grease a 9- or 10-inch cast iron skillet (or other similarly sized vessel) with softened butter. Set aside.
Lightly flour your hands and sprinkle a little flour over the sticky dough ball. Use your hands to scrape the dough from the sides of the bowl and to quickly shape the mass into a ball, kneading lightly if necessary. Transfer to prepared skillet. Sprinkle with a teensy bit more flour. Use a sharp knife to make an X across the top of the dough ball. Place in oven and bake for 35 to 40 minutes or until lightly golden and bottom sounds hollow when tapped. Remove from oven, transfer to cooling rack, and let cool for 15 minutes before slicing.
Notes
For Whole Wheat Irish Soda, Use These Proportions:
2 cups (256 g) all-purpose flour
1½ cups (192 g) whole wheat flour
½ cup (55 g) wheat germ
This recipe is inspired by an America's Test Kitchen recipe.
Category:

Bread

Method:

Oven

Cuisine:

Irish
Keywords: soda bread, St. Patrick's Day, Irish, buttermilk
This post may contain affiliate links. Please read my disclosure policy.