Little Gems with Chez Panisse Green Goddess Dressing
This post may contain affiliate links. Please read my disclosure policy.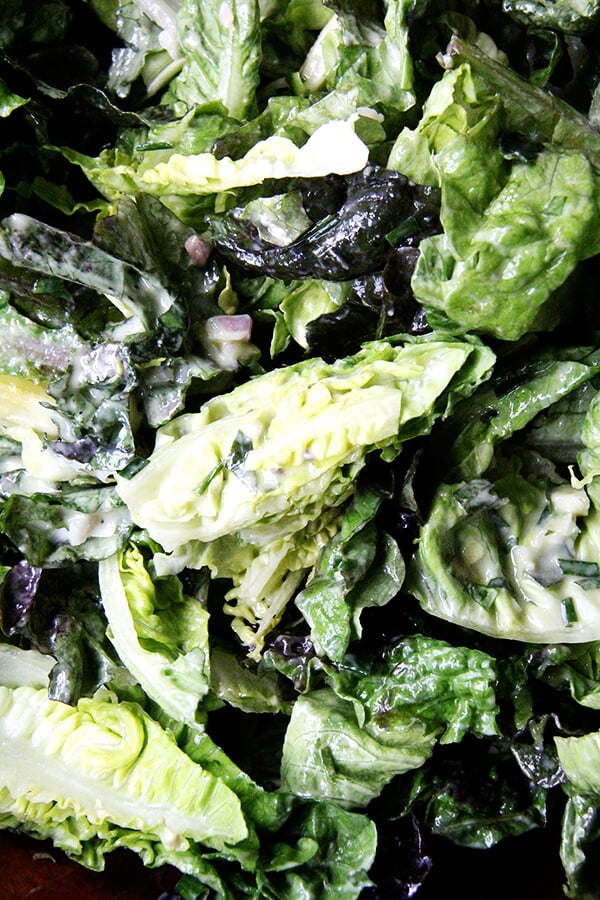 I understand I am very late to the game here, but I can't help but sing the praises of little gem lettuces, which appeared at nearly every restaurant I found myself in last month, most memorably at Pizzaiolo in Oakland. There, the little gems were tossed with watermelon radishes, avocado, and a lightly creamy, tarragon-heavy, green goddess dressing. The salad tasted so fresh and bright — so California! — that despite the many delicious morsels that followed — meatballs in red sauce (seriously the best), slow-cooked rapini, two pizzas, and affogato — I continue to dream about that salad.
But, as noted, I am not alone in my admiration for little gems, which look like mini heads of romaine and taste sweet. When I recounted the details of my meal at Pizzaiolo to Jeffrey, the food stylist of the Bread. Toast. Crumbs. shoot, he listened intently then shared with enthusiasm his favorite party trick: cut heads of little gems into wedges and arrange on a platter with various homemade dips and sauces. I love this idea. What a nice way to manage allergies and aversions, to try to please everyone.
I returned home with green goddess dressing on the brain and, knowing Pizzaiolo's lineage, opened Chez Panisse Vegetables. The green goddess dressing in CPV begins, as nearly all of their dressings do, with macerating shallots and garlic in vinegar. Why this simple step works I don't quite know — maybe the vinegar draws out the sweetness of the shallots, maybe it tempers their bite, maybe it quickly pickles them — but it's one of the best techniques I've learned from a cookbook, and something I do now with every salad I make, whether it be composed of grains, beans, vegetables, or greens.
To no surprise, the CPV green goddess dressing defies convention, omitting mayonnaise and sour cream in favor of olive oil and heavy cream (just a little). Many herbs can be used, but I love it when the predominant flavor is tarragon, as it is prepared at Pizzaiolo.
On my first visit back to my co-op after being in CA, I spotted dozens of little gems sitting with the salad greens — they've likely been there all along — and so I picked up a few tubs. I've since been tossing them in salads with the green goddess dressing but also doing what Jeffrey suggested, quartering them through the core and arranging them on a board. No need to mess with such a good thing.
Here's how to make the Chez Panisse Vegetables green goddess dressing: Macerate shallots and garlic in vinegar, then mash in minced anchovies and half an avocado: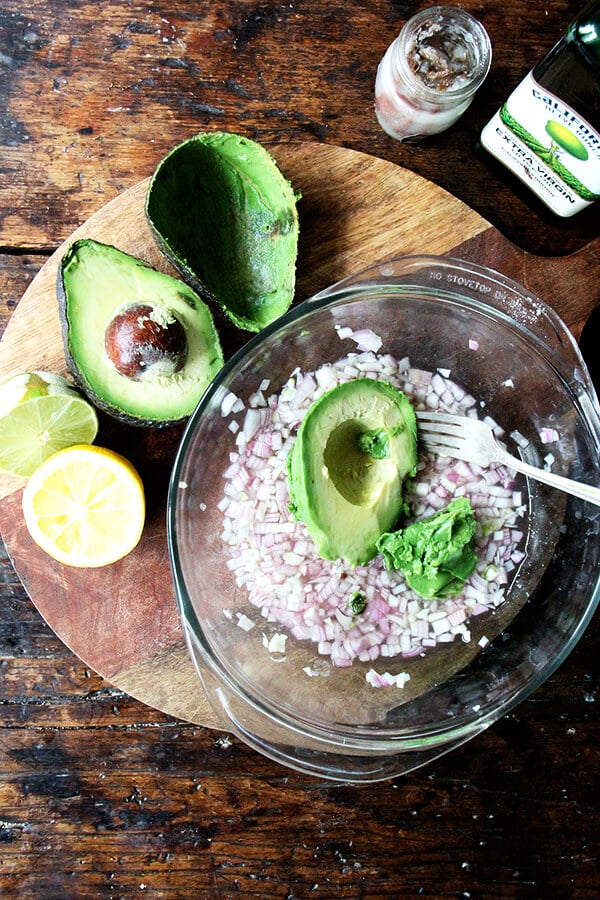 Slowly whisk in olive oil, a little cream, and a ton of herbs: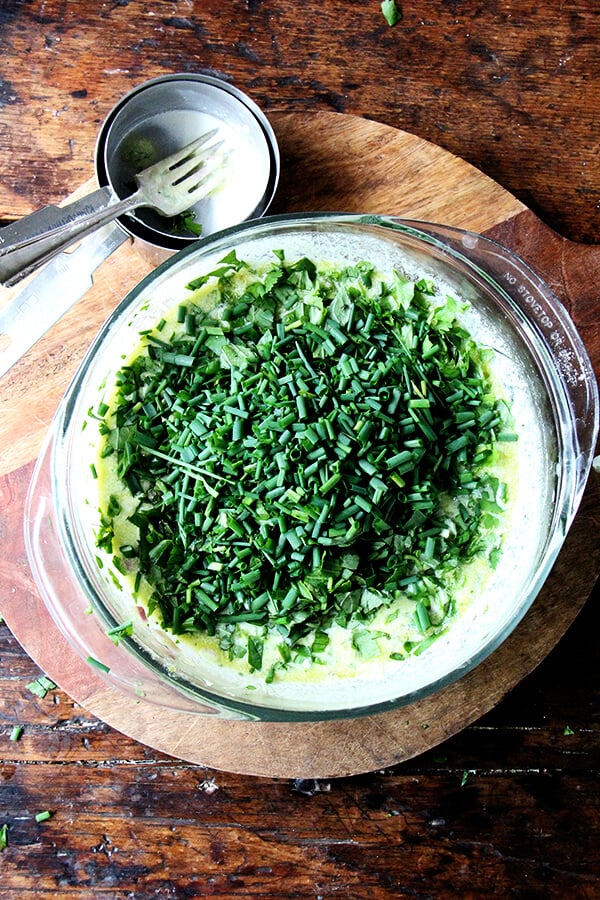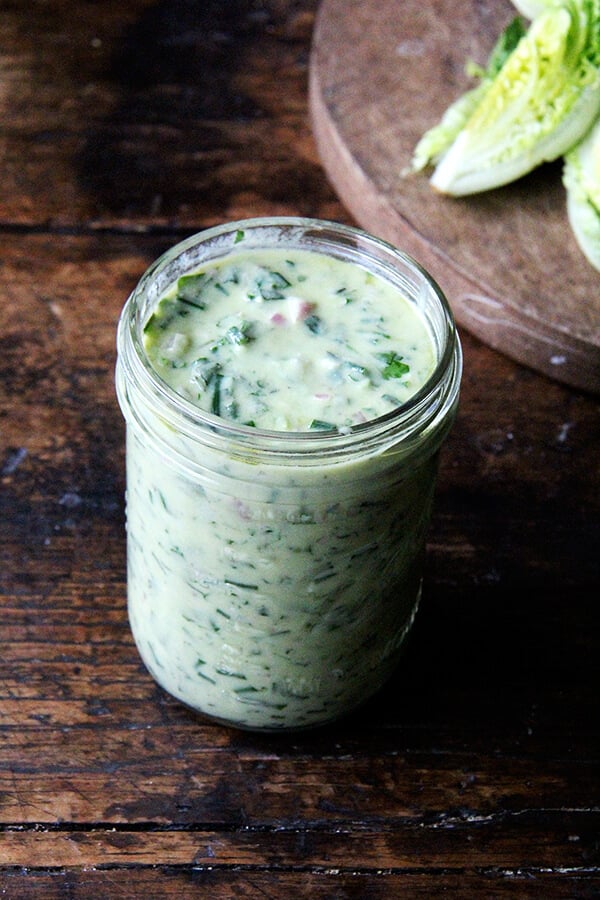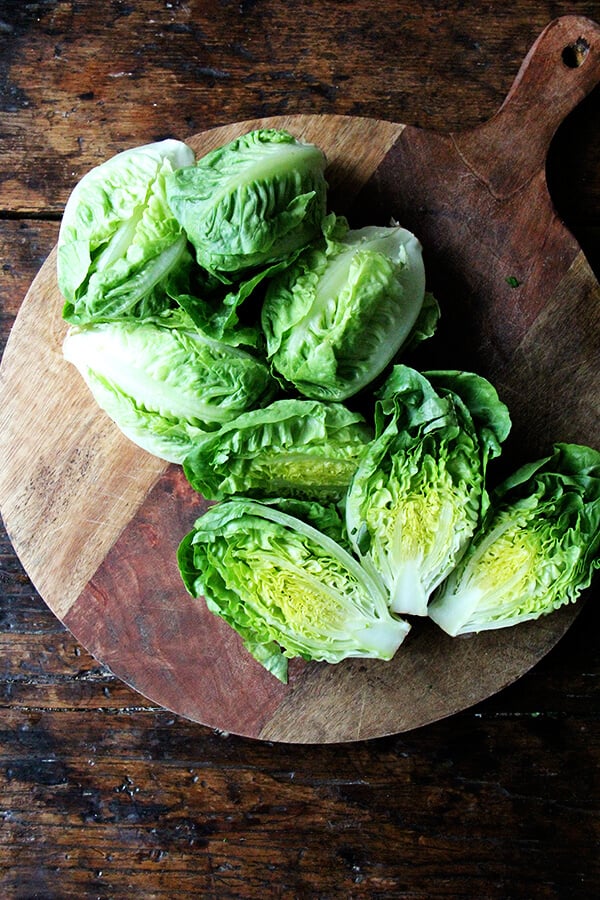 Serve it with little gems as an appetizer: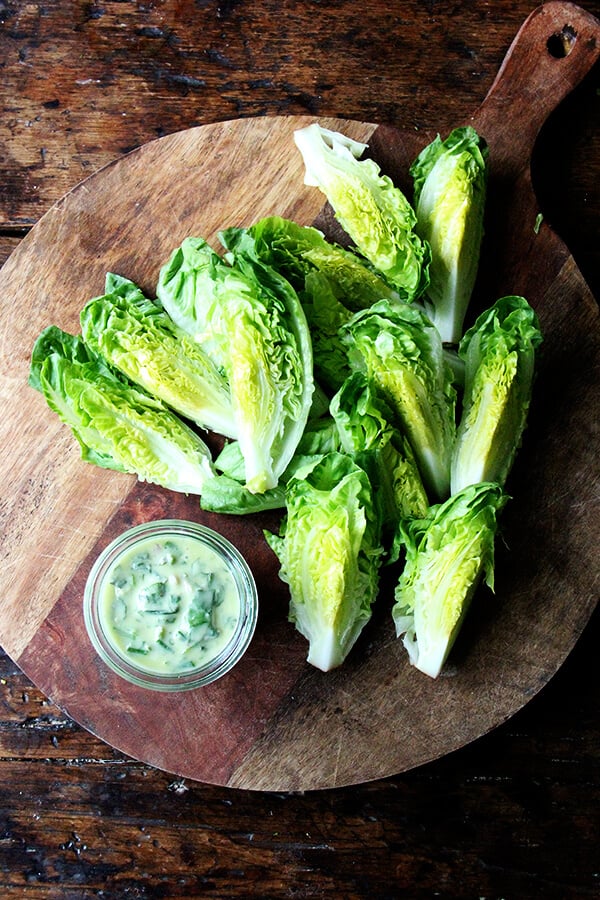 or make a salad: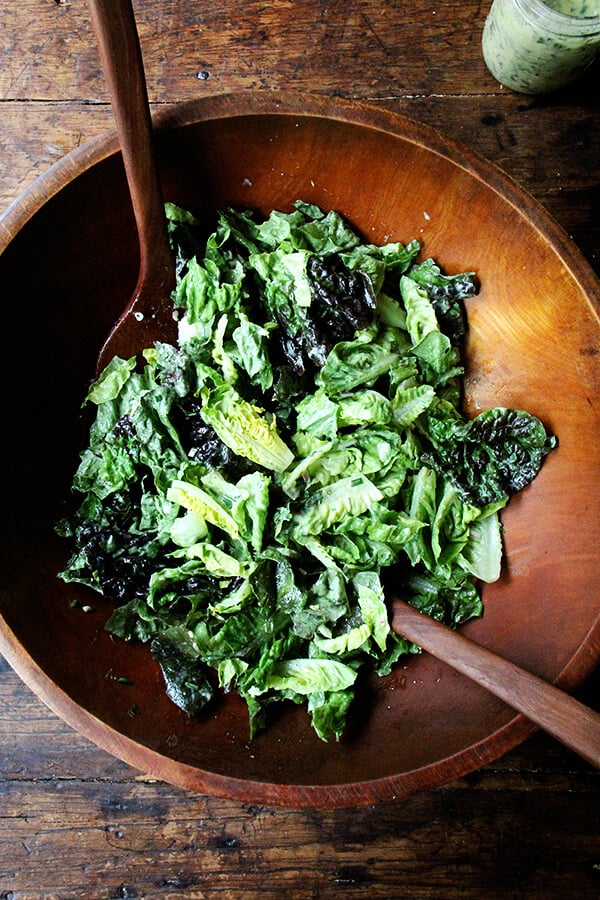 Print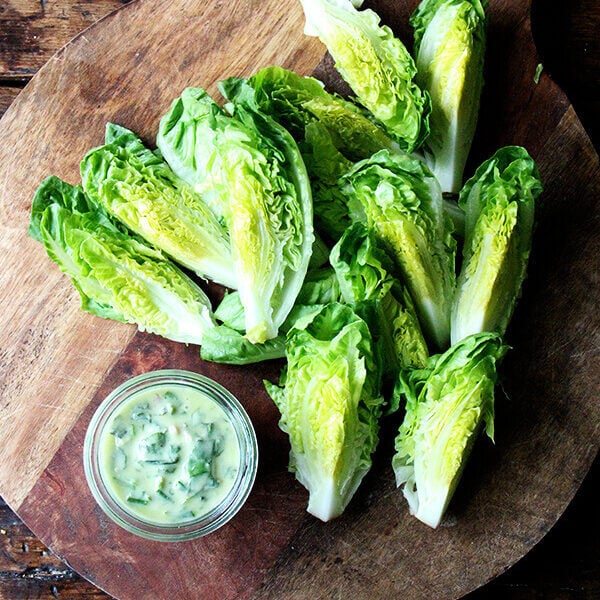 Chez Panisse Vegetables Green Goddess Dressing
---
Description
Source: Chez Panisse Vegetables
As noted above, this dressing is great as a dip for crisp vegetables or wedges of little gem lettuces or tossed with any greens for a simple salad.
---
1

shallot

1

clove garlic

1/4 cup

white balsamic vinegar

½

lemon

½

lime

2

anchovies, finely minced, optional—I never use anchovies anymore

1

avocado

¾ cup

olive oil

½ cup

cream, optional—I never use the cream anymore
a ton (at least 1 cup) of chopped herbs such as parsley, tarragon, cilantro, basil, and chives
Salt and Pepper
---
Instructions
Peel and chop fine the shallot and garlic and macerate in the vinegar, a big squeeze of lemon, and a smaller one of lime. Add 1/2 teaspoon kosher salt. Let sit for at least 10 minutes.
Add the anchovy, if using, and the flesh of the avocado. Mash together with a fork. Whisking with the fork, gradually incorporate the olive oil and cream (if using) – as if you were making a thin mayonnaise.
Add the herbs. Taste and adjust the seasoning to taste with salt (1/4 teaspoon at a time), pepper, or more vinegar if necessary.
This post may contain affiliate links. Please read my disclosure policy.