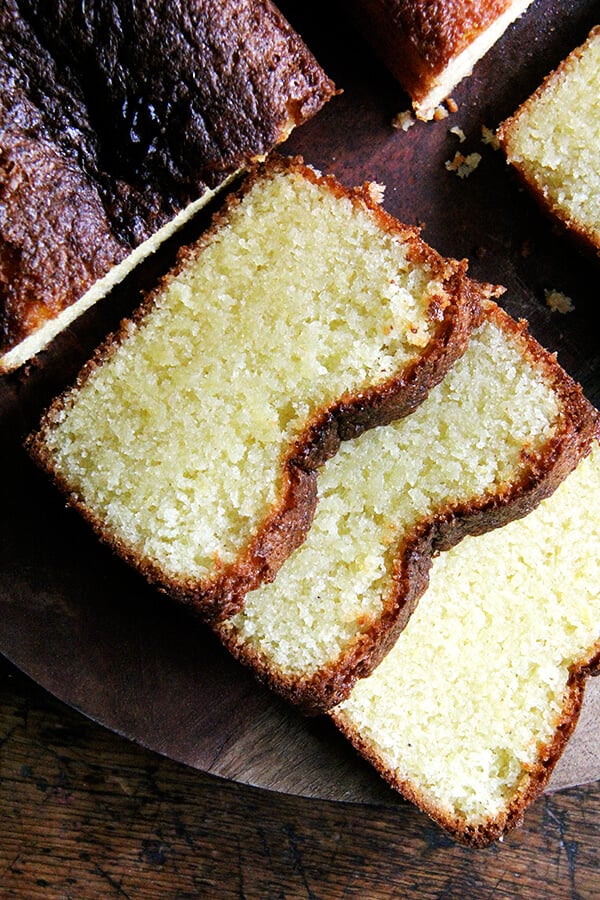 The April issue of Bon Appetit featured mini lemon-semolina syrup cakes, a recipe from Yotam Ottolenghi's next cookbook, a dessert one, which is still in its recipe-testing phase. While I am not into mini anything right now — the less greasing/pan preparing the better — and while I don't care for extra steps like syrup making (so lazy!), the ingredients for the cake looked so good: one half cup of semolina flour and lots of almond flour, butter, sugar, and fresh lemon juice.
I finally got around to making the cake last weekend using a loaf pan instead of a muffin tin, and, for whatever reason, replacing the butter with oil. Oh my. The cake was so incredibly moist — I know! Sorry. But there's no other word, is there? — and delicious and perfectly sweet and lemony. For me, it doesn't get much better than a lemon loaf cake, and this one is about as ideal as can be.
This past week I made it two more times, once with grapeseed oil and once with butter. I had no doubt I would prefer the cake made with oil — I often do — but with this one, I'm not sure. The differences are subtle. I ate and I ate and I ate hoping to discern a decisive winner until I discovered the good news: you can't go wrong either way.
These are my observations: when the cake is made with oil, it will taste — wait for it — a little oily. When the cake is made with butter, it will taste richer and have a denser, more marzipan-like texture. Making the cake with oil allows you to whisk by hand, which is a little easier — no need to soften butter, no need to whip until light and fluffy. In a taste test with friends, more people preferred the cake made with oil, but for me, the one with butter has a slight edge.
Butter or oil? Something to ponder this weekend as you scour your cupboard for that half cup of semolina flour, because you know it's there and what better way to use it up?
These are the dry ingredients: almond flour, semolina flour, baking powder, and salt: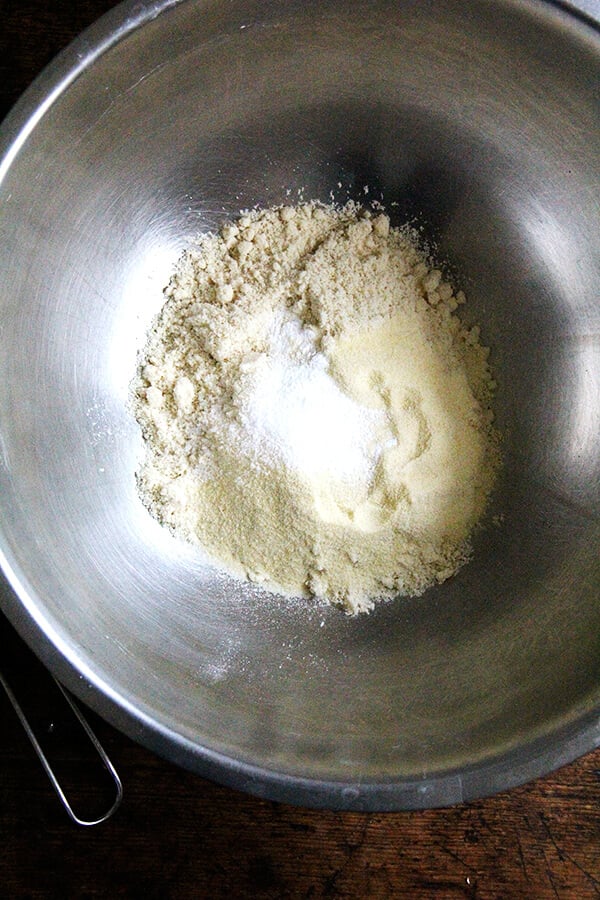 This is what the batter looks like when made with butter: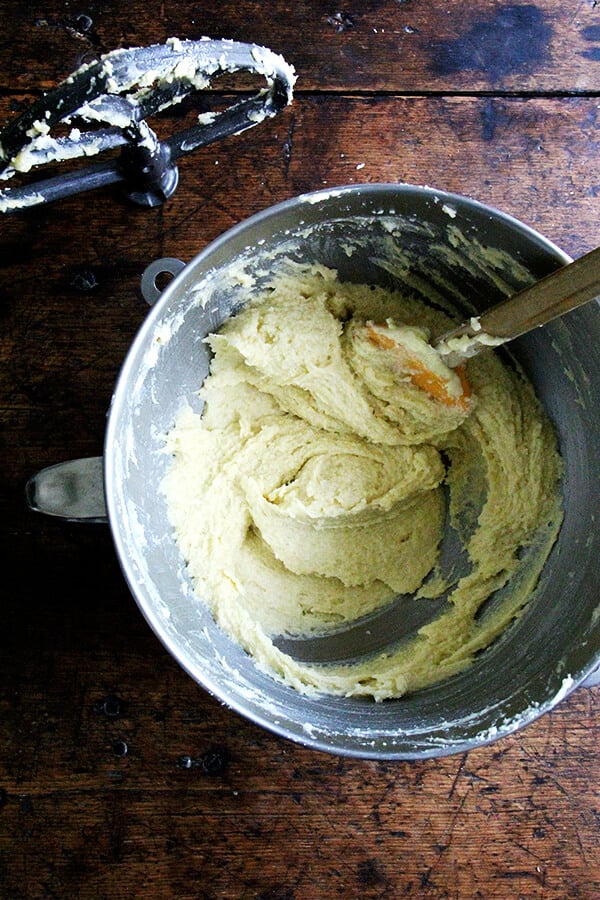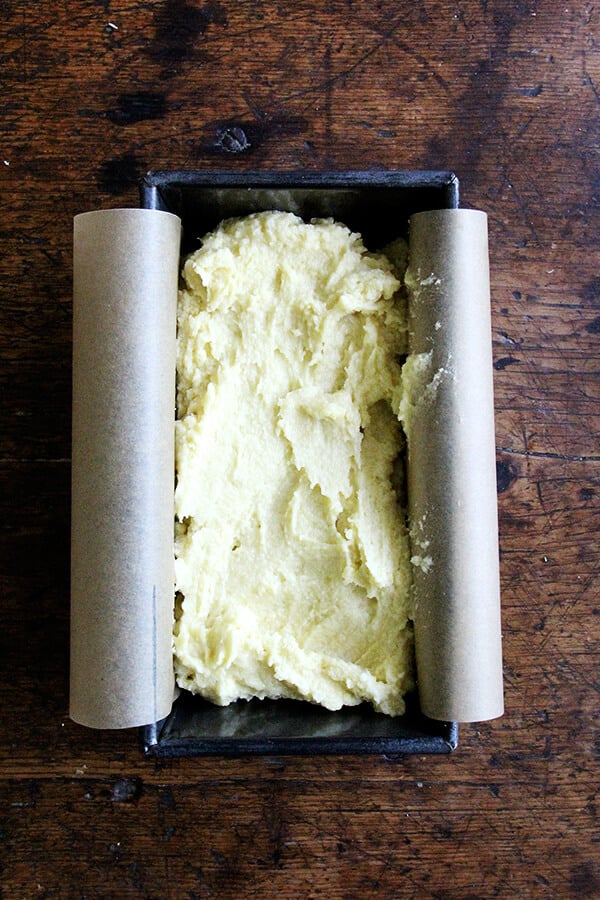 When made with oil: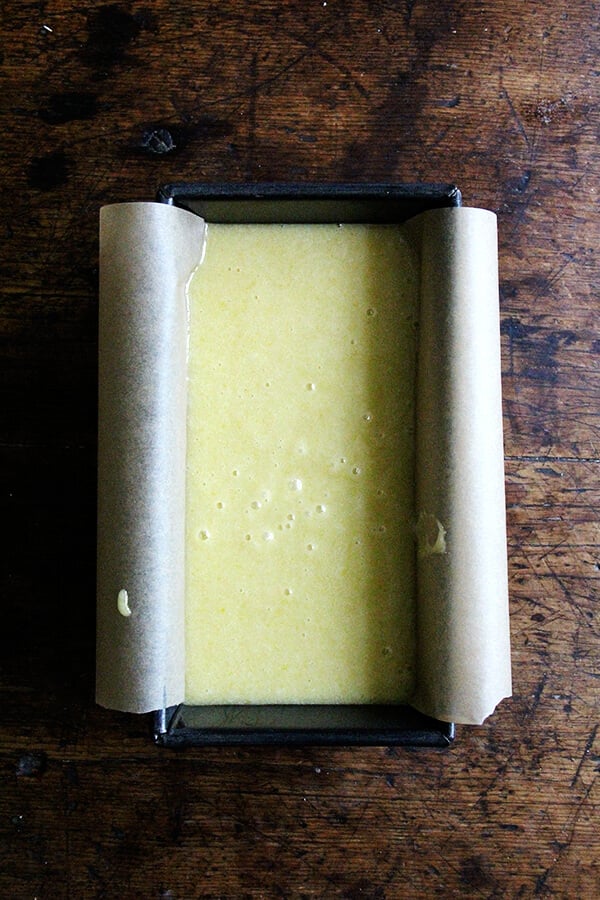 The cake with the darker crust was made with oil: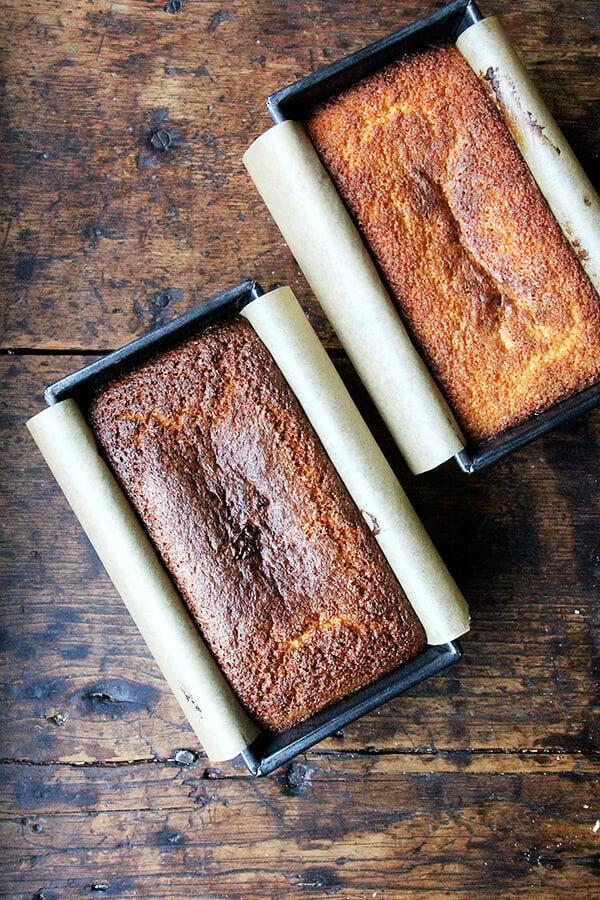 This is the cake made with butter: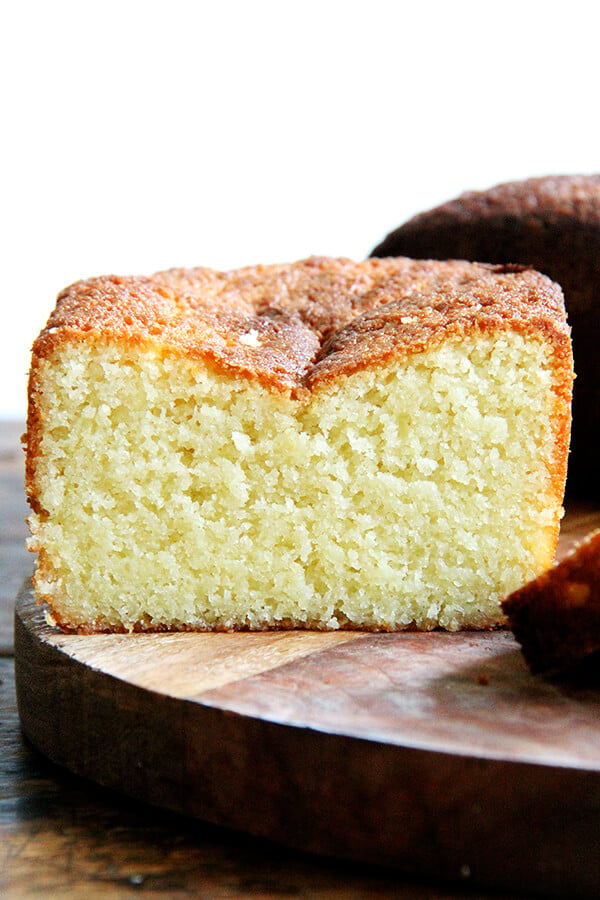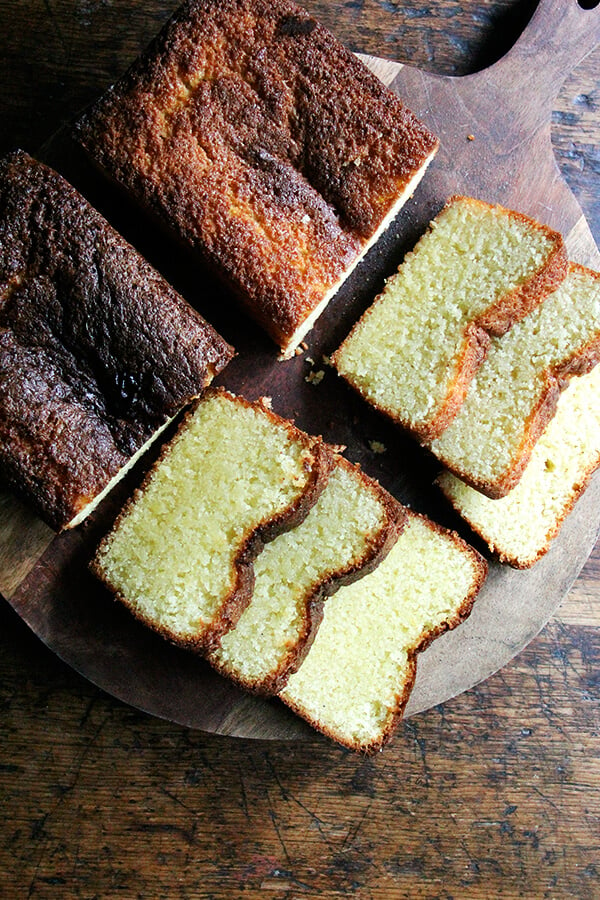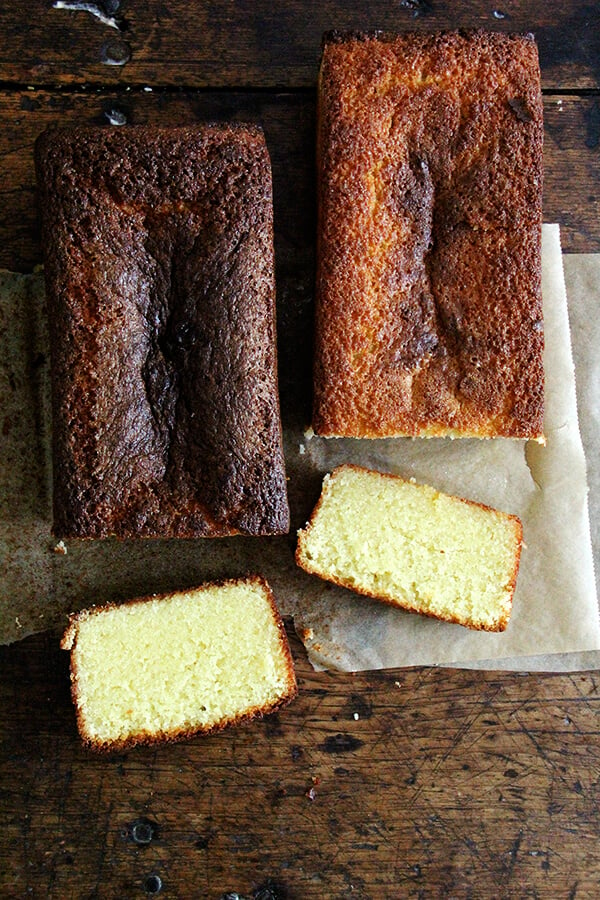 This one below is made with olive oil. Above left is made with grapeseed oil.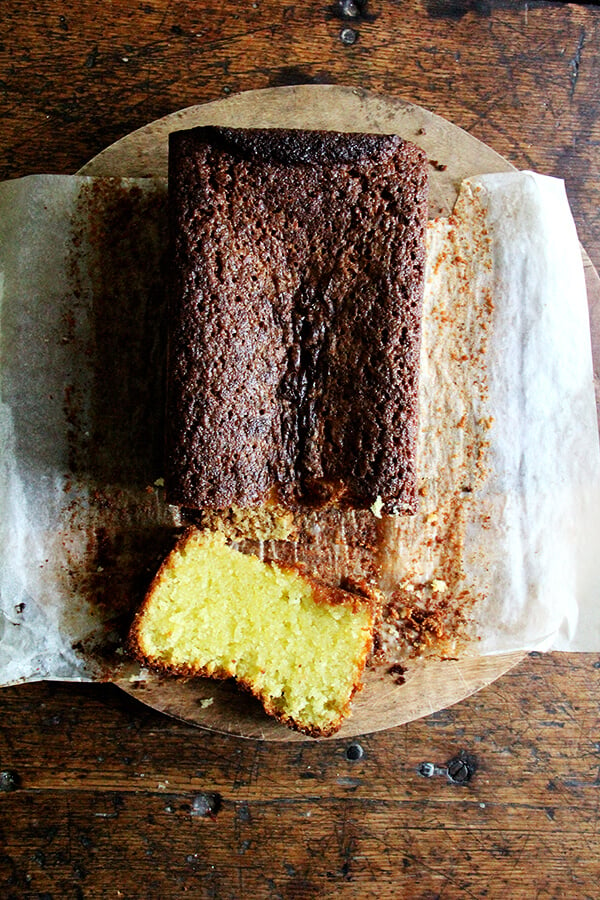 Print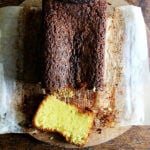 Ottolenghi's Lemon-Semolina Almond Cake
---
Author:

Alexandra Stafford

Prep Time:

15 minutes

Cook Time:

60 minutes

Total Time:

1 hour 15 minutes

Yield:

1 loaf
Description
Adapted from this Bon Appetit recipe
Check out the original recipe, which includes the addition of a syrup, but I don't think the syrup is necessary — the cake is so delicious as is.
A few notes:
I increased the baking powder by ¼ teaspoon because I used a loaf pan. This might not be necessary if you use a muffin tin, as suggested in the original recipe. As noted in the post, I've made the cake three times now, once with butter, once with olive oil, and once with grapeseed oil. The difference is subtle: the oil makes the cake a little moister, the butter a little richer. Olive oil was preferable to grapeseed flavor-wise. In a tasted test with friends, the cake made with oil was preferable.
---
Ingredients
1½ cups

(

135 g

) almond flour or almond meal

½ cup

(

79 g

) semolina flour

1 teaspoon

baking powder

½ teaspoon

kosher salt

¾ cup

(

1½

sticks) unsalted butter, room temperature, or ¾ cup olive oil

1 cup

plus 2 tablespoons (

243 g

) sugar

1 teaspoon

finely grated lemon zest

3

large eggs, beaten to blend

2 tablespoons

fresh lemon juice
---
Instructions
Preheat oven to 350°F. Grease a loaf pan and line with parchment paper. Whisk together the almond flour, semolina flour, baking powder, and salt in a medium bowl to combine.
Using an electric mixer on high speed, beat butter, sugar, and lemon zest until very light and fluffy, about 5 minutes. With motor running, gradually add eggs and beat until glossy, about 1 minute. Add dry ingredients and lemon juice and beat to combine, about 1 minute. (If you are using oil, simple whisk oil and sugar together. Add eggs one at a time, beating to incorporate, followed by dry ingredients and lemon juice.)
Transfer batter to prepared loaf pan, and bake until golden brown, 50 to 60 minutes. Lightly press the top of the cake to test — it should feel lightly springy when done. Let cool 20 minutes or so in pan before removing and transferring to a cooling rack.
---
Category:

Quick Bread

Method:

Oven

Cuisine:

Middle Eastern
Keywords: ottolenghi, lemon, semolina, tea cake, brunch