Skillet-Grilled Fish + Tacos
This post may contain affiliate links. Please read my disclosure policy.
Last week, we broke out the grill for the first time since the fall. I had picked up some grouper from Hooked, a new fish market in Latham, and instead of throwing it on the grates and crossing my fingers for a casualty-free outcome, I remembered an old Bon Appetit article and set my cast iron skillet on the grates instead. The result? Perfectly cooked, unmangled fish. We've been on a fish taco bender ever since.
Have a wonderful weekend, Everyone.
Print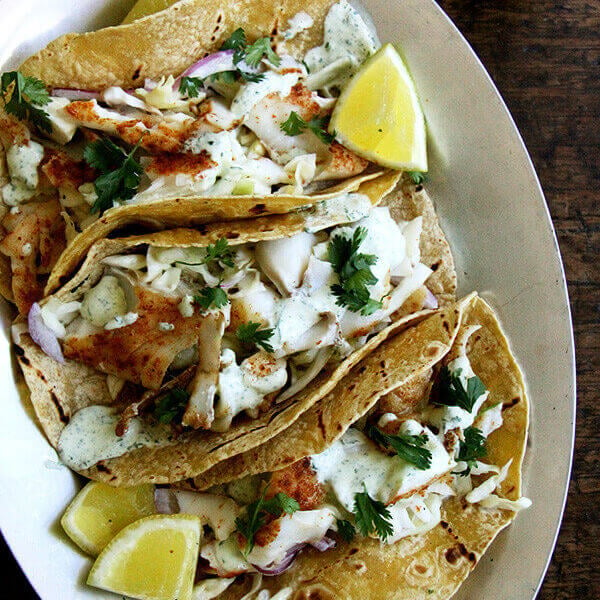 Skillet-Grilled Fish + Tacos
---
---
For the Cilantro-Lime Crema:
1 

cup (heaping) cilantro, about 1 ounce


2 

tablespoons fresh lime juice, plus more to taste


1 

cup sour cream


1 

teaspoon sugar


1/4 

teaspoon kosher salt, plus more to taste

For the Tacos:
1 

pound fillet of haddock, cod, or grouper (or other), 1/2- to 1-inch thick

Kosher salt to taste

Cayenne pepper to taste, see above

Grapeseed or other neutral oil

Tortillas, (I like Whole Foods' soft corn tortillas)

Slaw, see above


Lime wedges for serving
---
Instructions
Cilantro-Lime Crema
In the bowl of a food processor, pulse the cilantro with the lime juice until fine. Add the sour cream, sugar, and salt, and purée until smooth. Taste, adjusting seasoning with more salt or lime juice. Alternatively, mince the cilantro by hand, then add the remaining ingredients and whisk until smooth.
Skillet-Grilled Fish Tacos
Set a cast iron skillet on a grill. Close the grill, set it to high, and let it heat up to 550° F or 600° F.
Meanwhile, if the fillet of fish is long, cut in half so that it will fit in your skillet. season the fish generously with salt on both sides. Season with cayenne according to your heat tolerance—go light if you are sensitive to heat. Gather your tools for the grill: a reliable potholder, a spatula, a clean platter for the cooked fish, the grapeseed oil, the tortillas, and a plate to put them on.
Lift the lid of the grill. Pour a tablespoon or so of grapeseed oil into the hot skillet—enough to coat the bottom in a thin layer. Using the potholder if necessary to bring the skillet closer to you, carefully lower the fish into the skillet. If you are slow and controlled, the oil won't splatter.
Close the lid. Set a timer for 3 minutes. Check the fish by prodding it with a spatula—it should flake fairly easily. If it doesn't, close the lid and cook for 1 minute more. Remove the fish with a spatula, using the potholder as needed, and transfer it to a platter.
Turn off the grill. Throw the tortillas on the grill, leaving it open. Check after 20 seconds or so, flip, and cook for another 20 seconds or until tortillas are soft and have nice grill marks on each side. Transfer to a platter.
To serve: Spoon slaw into tortillas. Break fish into pieces over top. Drizzle with crema. Squeeze fresh lime over top and serve with more lime on the side.
This post may contain affiliate links. Please read my disclosure policy.