Chickpea Sauté with Basil and Pine Nuts
This post may contain affiliate links. Please read my disclosure policy.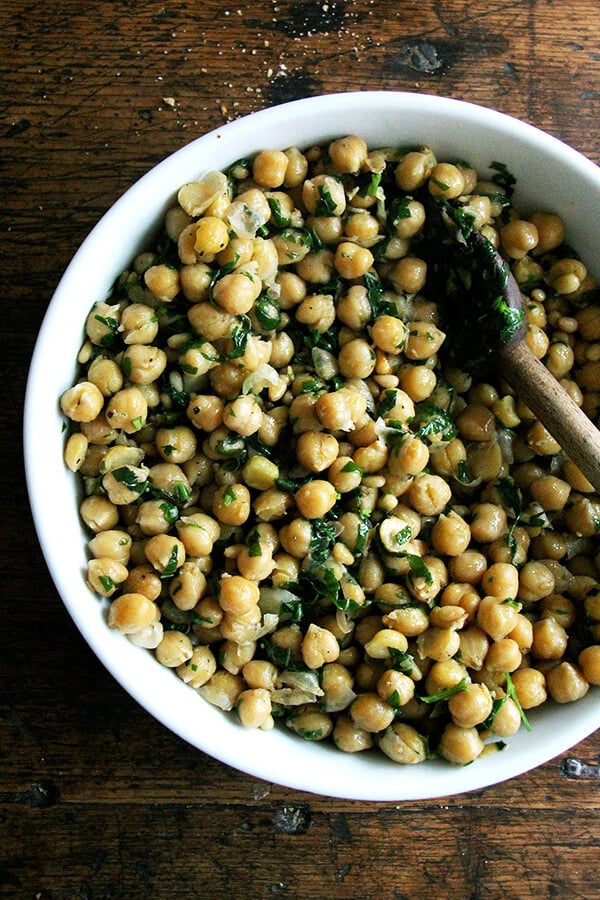 Last fall I learned a bean-cooking method that — and forgive the hyperbole — changed my life. It came from the brilliant team at Cook's Illustrated and calls for brining (as opposed to soaking) the beans overnight, which for whatever reason (the science is above my head) causes the beans to cook up so nicely.
I had always liked beans but this method taught me to love beans and made them a mainstay in my diet. Nearly twice a week now, I soak a pound of beans in salty water, cook them up the next morning in more salted water with onion, thyme and garlic, then eat them over the course of the following fews days.
When you're not in the habit of soaking and cooking beans, the process feels like a hassle, but when you find that rhythm, it's a nice one — the beans are so tasty straight from the pot, which makes it easy to throw together simple stews, salads, salsas or, as here, a sauté.
This recipe is inspired by the beautiful basil that has been arriving in our Roxbury Farm CSA: sweat garlic in extra-virgin olive oil, add cooked chickpeas, toasted pine nuts, and lots of salt, pepper, and chopped basil; sauté briefly; and serve immediately. Last Friday evening, a few friends came over for dinner, and we ate these chickpeas with grilled whole Branzino, focaccia, and a simple salad — it was a nice summer meal.
Wishing you all a lovely Fourth of July weekend.
PS: A few more recipes for the Fourth.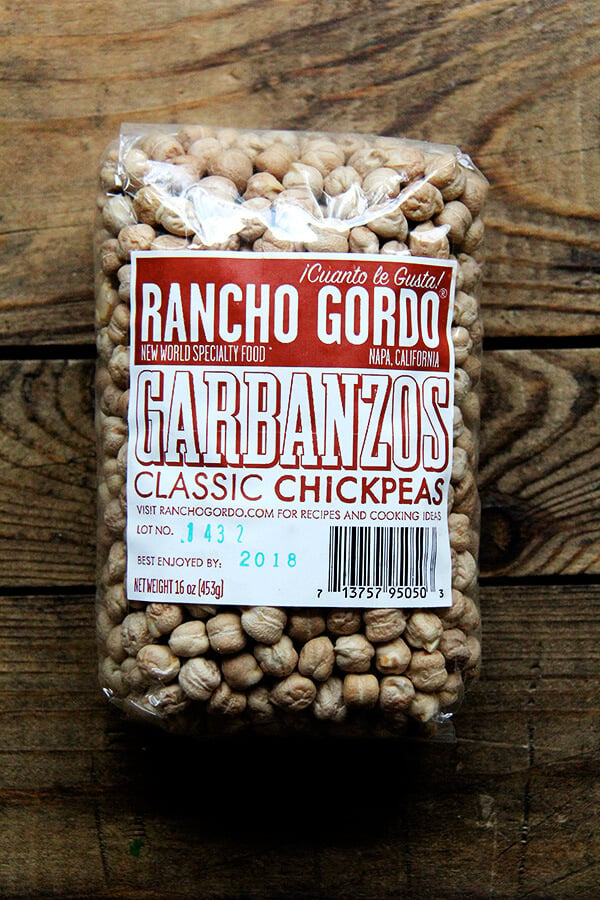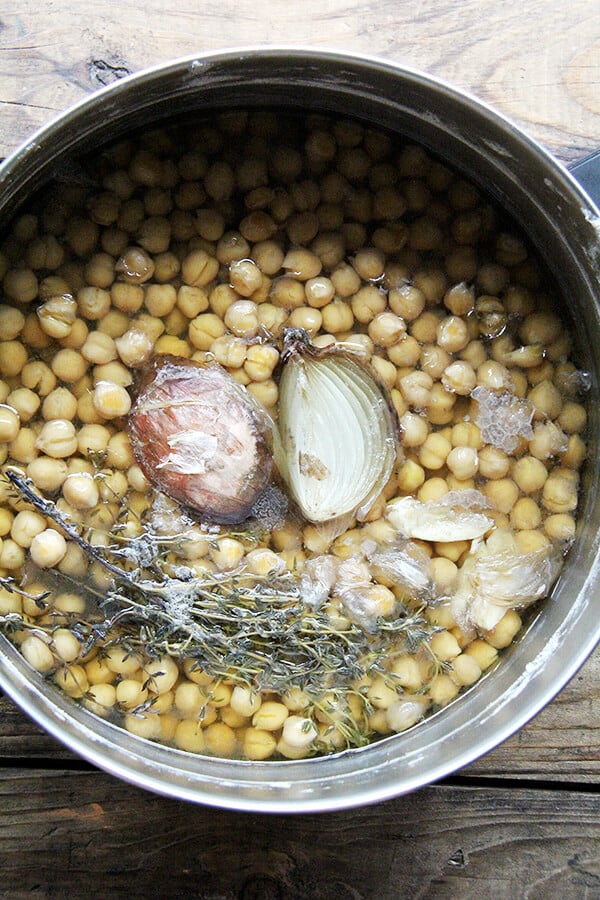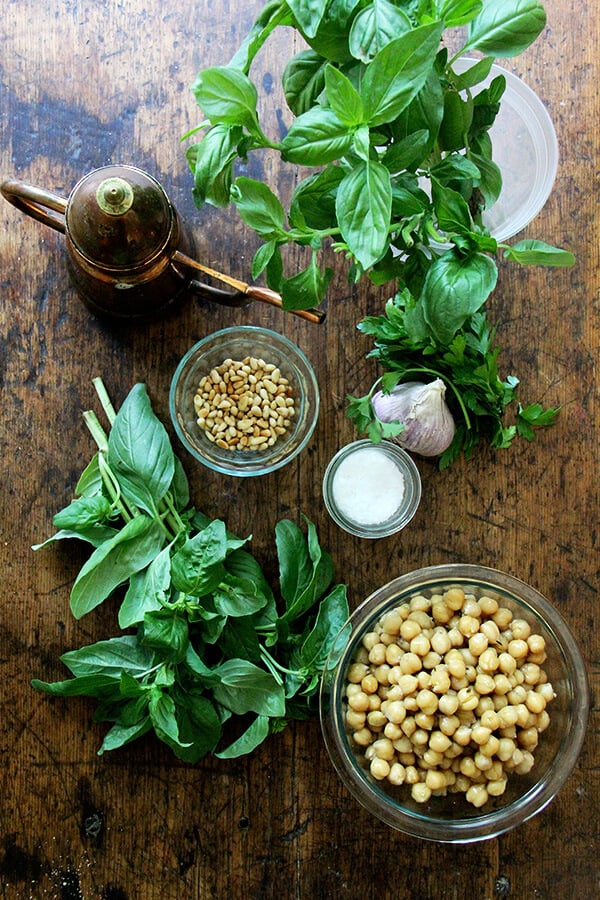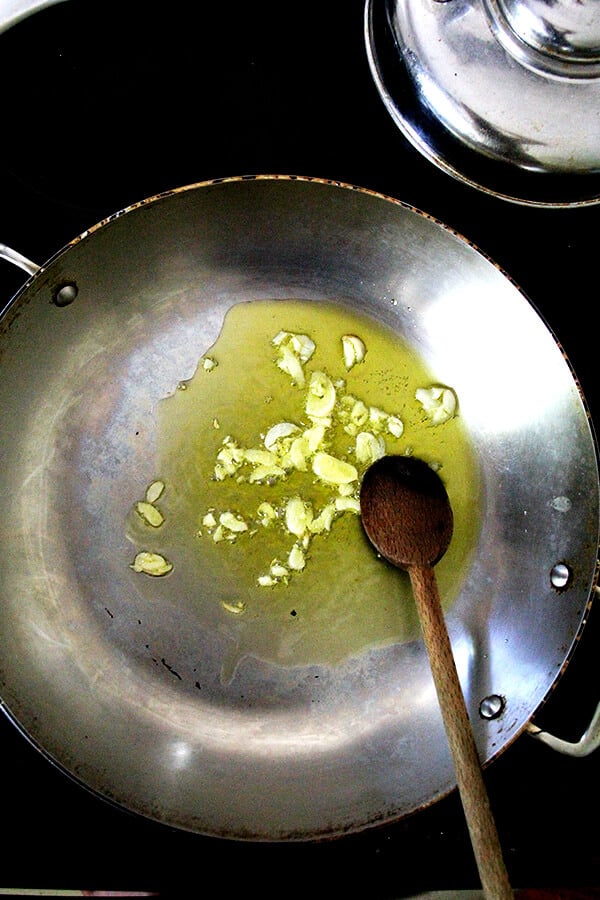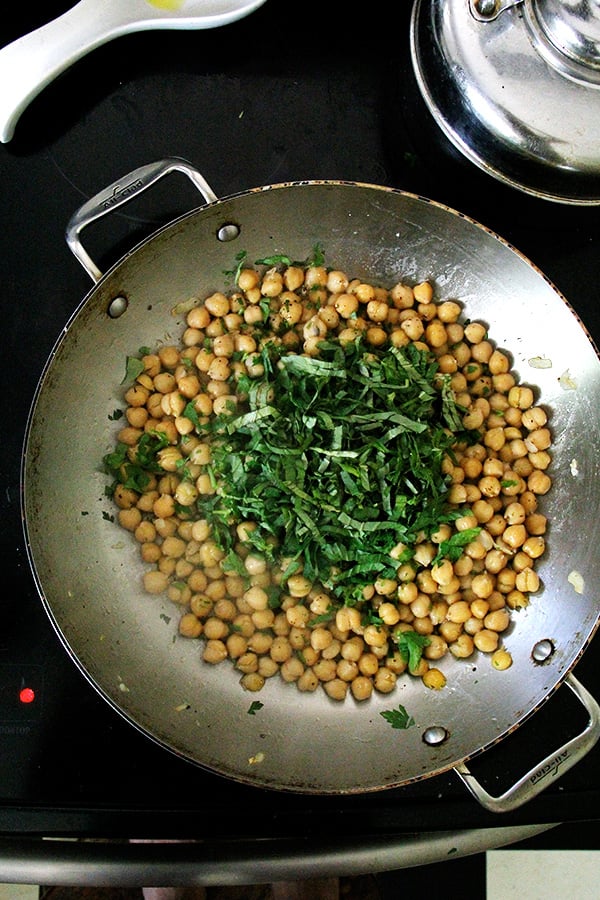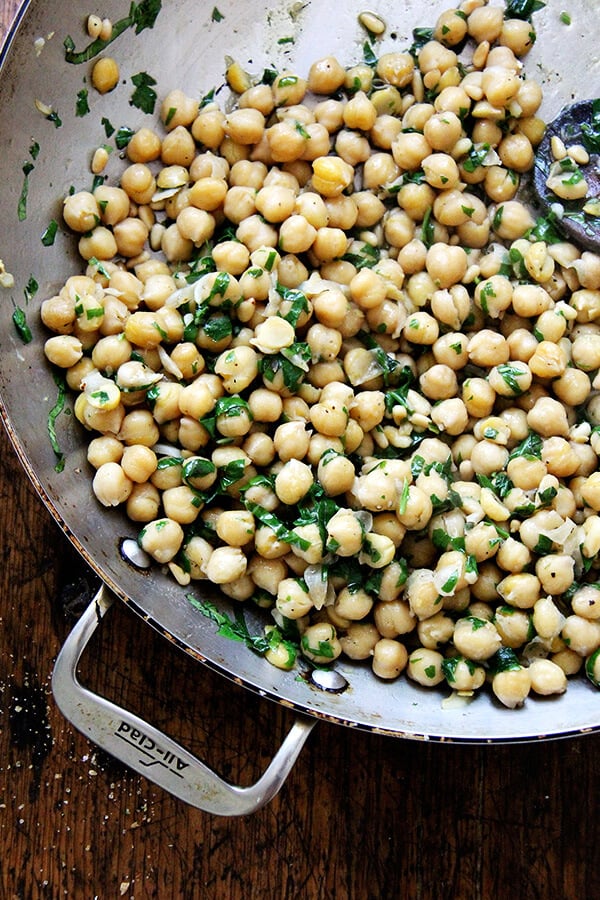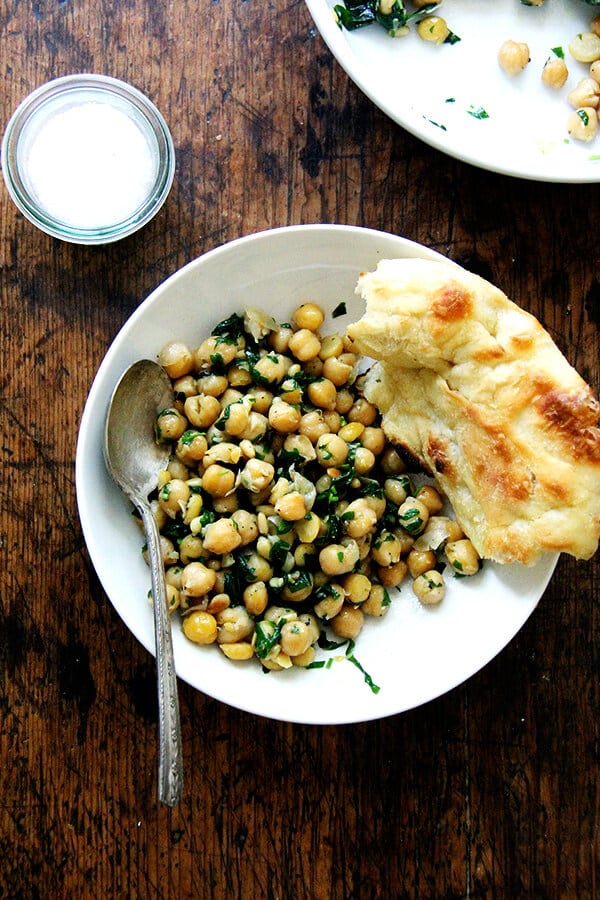 Last summer I learned to keep my basil out of the fridge in a small vase or large cup in a small amount of water. It works so well — this bunch of basil is for over a week old: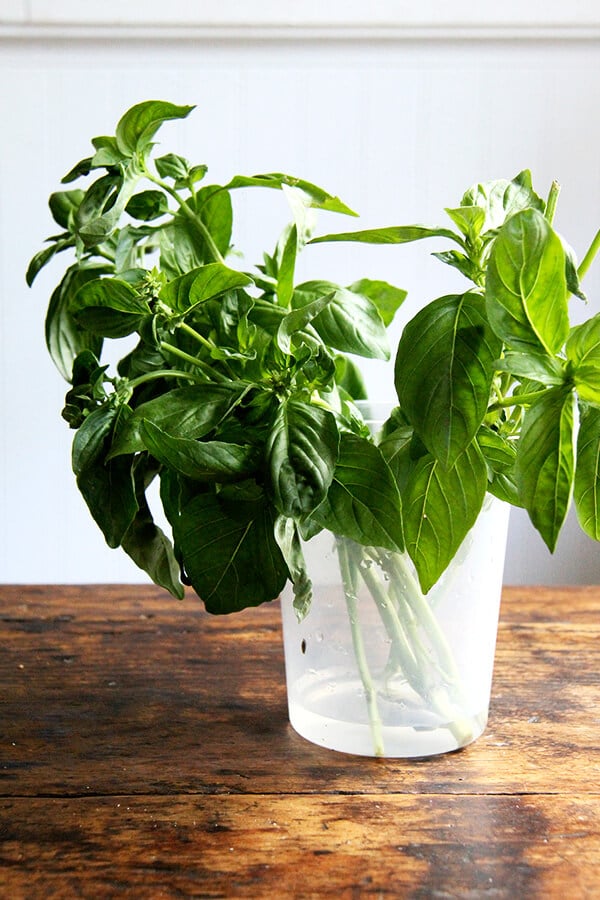 Print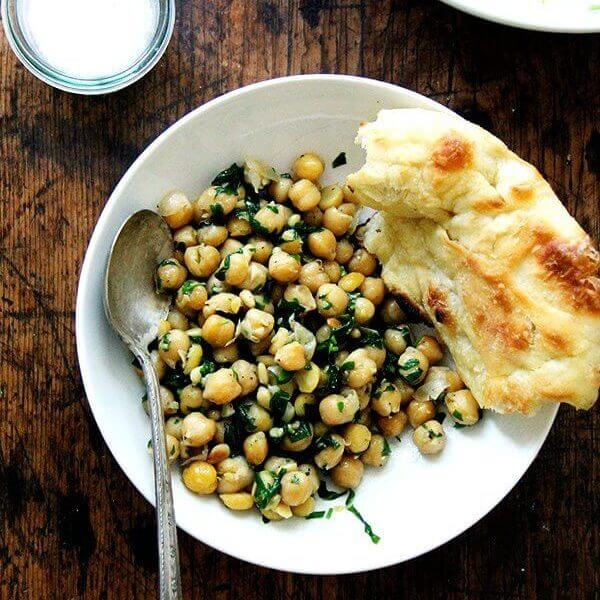 Chickpea Sauté with Basil and Pine Nuts
---
Description
Normally I can't squeeze enough lemon or sprinkle enough vinegar over these sorts of salads, but I really like these chickpeas without any acid. If you have leftover cooked chickpeas, store them in the fridge in their cooking liquid. This sauté is great day-old, too, though the color of the herbs dulls after a night in the fridge.
---
soaking and cooking the chickpeas:

3 tablespoons

+

1 teaspoon

salt

4

qts water

1

lb. dried chickpeas

1

onion, peeled and halved through the core
a few sprigs thyme

1

clove garlic, smashed

1

bay leaf
for the sauté:

1/4 cup

pine nuts

3 tablespoons

extra-virgin olive oil

1

clove garlic, minced or thinly sliced

4 cups

cooked chickpeas, drained
nice sea salt and pepper to taste

1/3 cup

thinly sliced basil or more to taste
a few tablespoons finely minced parsley or more to taste, optional
bread for serving
---
Instructions
Soaking and cooking the beans:Dissolve the 3 tablespoons of salt into the water. Add the chickpeas and soak for 8 to 24 hours. Drain, and place in a pot with the onion, thyme, garlic, bay leaf and remaining teaspoon of salt. Cover with water by three inches. Bring to a boil, then lower heat and cook at the gentlest simmer for about an hour or until the chickpeas are cooked through. Let chickpeas cool in their cooking liquid. Discard thyme sprigs, bay leaf, and onion. Store chickpeas in their cooking liquid.
Toast the pine nuts in a small skillet over low heat until light brown, about 5 to 10 minutes—watch closely to prevent burning. Transfer to a plate to cool.
Making the sauté: Place the oil and chopped garlic in a large sauté pan over medium heat. When the garlic starts sizzling in the oil, add the chickpeas, and season with salt and pepper to taste. Don't be afraid to go big on the salt—chickpeas can handle it. I started with 1 teaspoon of Maldon sea salt, and then added a pinch more.
Add the pine nuts and the herbs, and sauté for a few minutes or until the chickpeas are heated through and nicely coated in the oil and herbs. Serve with more salt and pepper on the side.
This post may contain affiliate links. Please read my disclosure policy.