Roasted Red Pepper Wraps, Two Ways
This post may contain affiliate links. Please read my disclosure policy.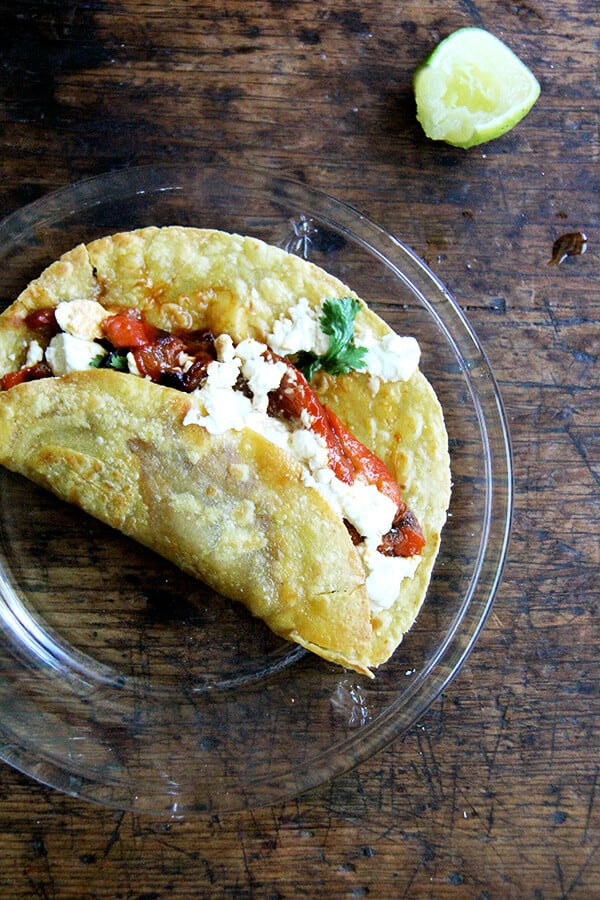 I mentioned earlier in the week that, while at Lake George, one night for dinner we charred peppers, peeled them, and wrapped them in tortillas with goat cheese and cilantro. We squeezed lots of lime juice over top, then devoured them—they tasted fresh and summery, and best of all, required little thought (though I will admit to following a recipe, another Deborah Madison one from Local Flavors, the source of the corn and cheddar fritters).
As soon as I got home from the lake, I roasted half a dozen peppers to have on hand for the week. I don't know why I don't do this more often—peeling the peppers takes a little bit of time, but what doesn't? I've been roasting the peppers whole then dealing with the seeds during the peeling process, but you can seed and stem the peppers first if you wish.
With a stash of peppers in the fridge, these wraps come together in no time, and they're as easy to make for one as for a crowd. When I'm making just one, I'll start on the stovetop, then finish with the broiler. When I'm making more than one, I'll use the oven.
Most recently, in place of the goat cheese, I've been using a white bean hummus that I discovered at my co-op. Do you all know this brand: Eat Well Embrace Life? Every flavor I've tried — black bean, cucumber, beet — has been so tasty, and the white bean is particularly good with the roasted peppers. I actually prefer using hummus to goat cheese.
Anyway, Friends, this wrap is what I've been relying on as my motivation to do anything, namely cook, wanes with every degree out there it climbs. Hope you all are staying cool.
Have a wonderful weekend, Everyone.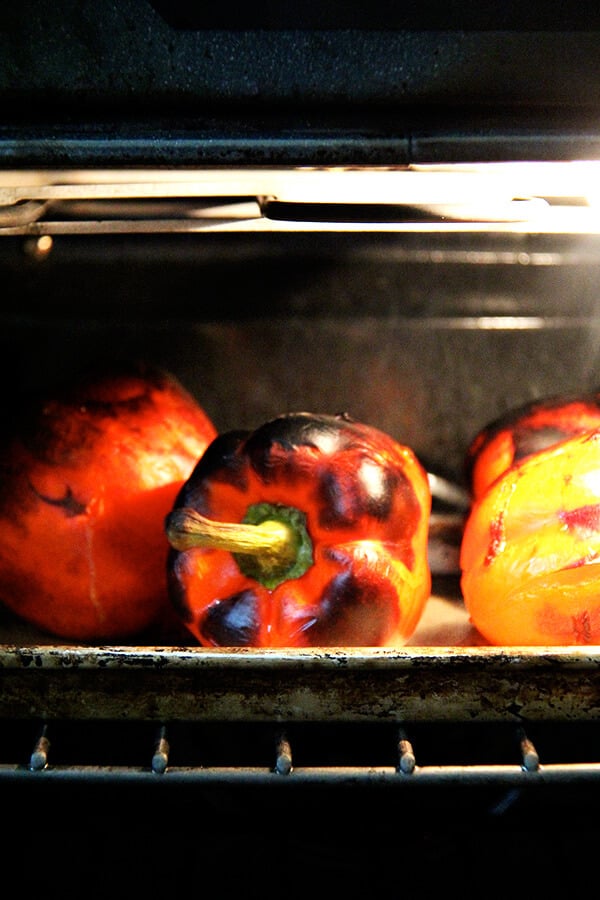 Steaming the peppers: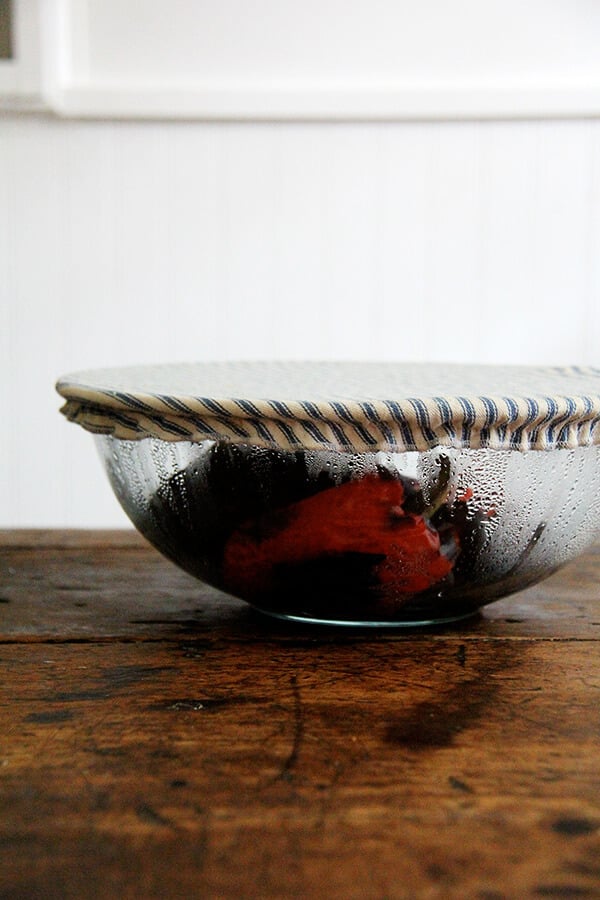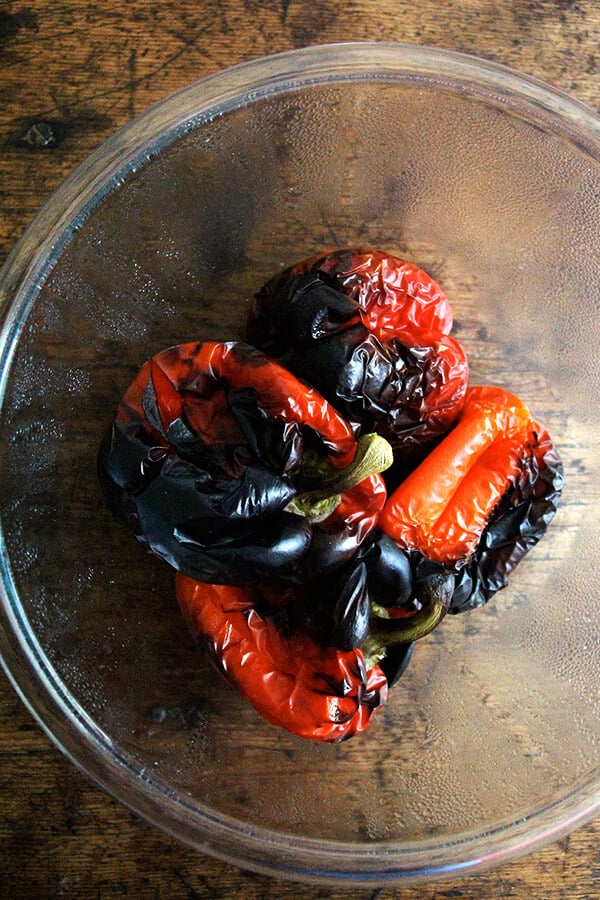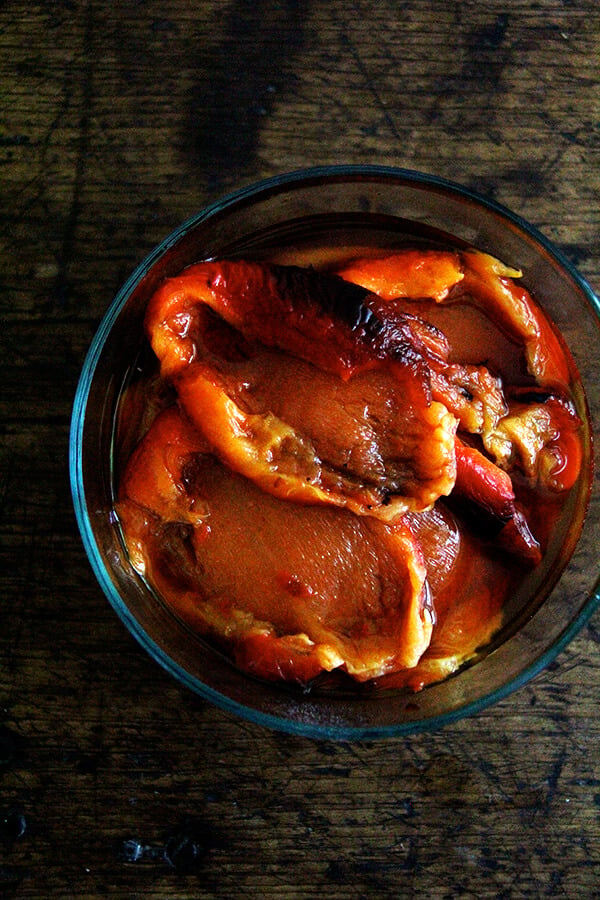 With goat cheese: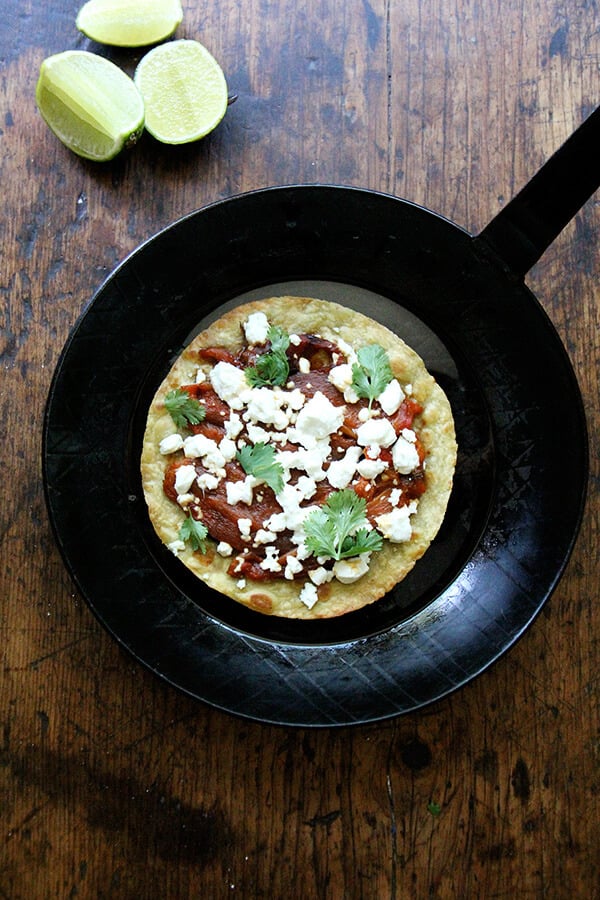 Love this hummus: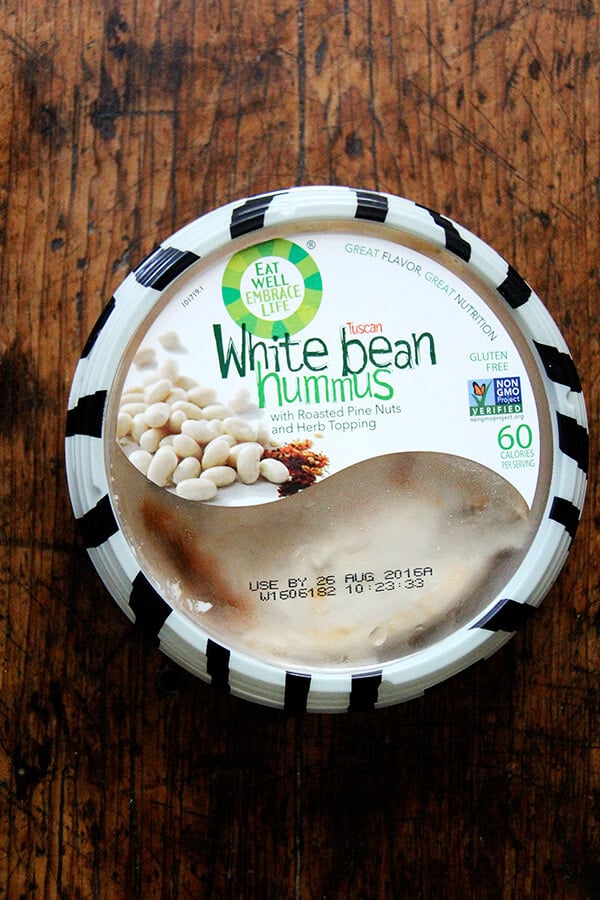 Roasted red pepper and white bean hummus wrap: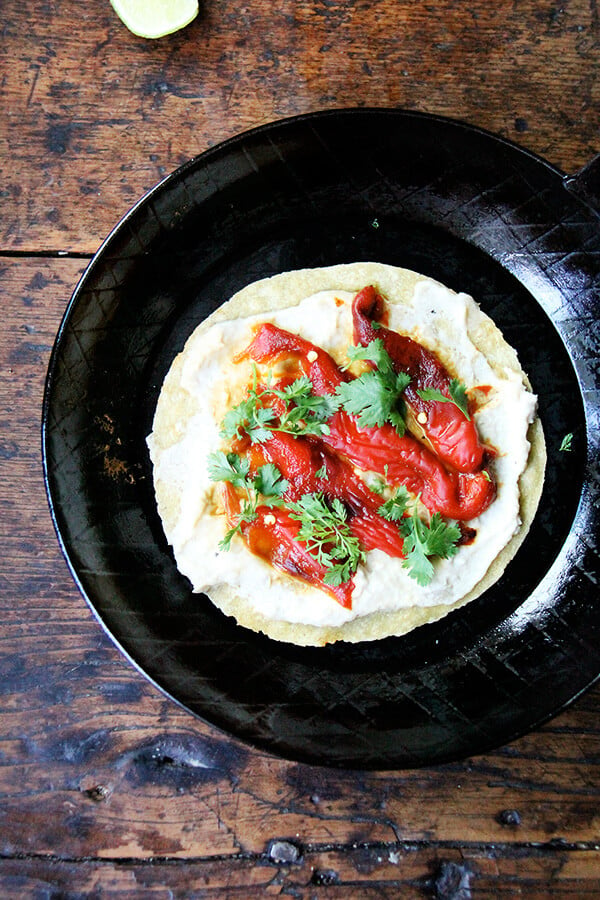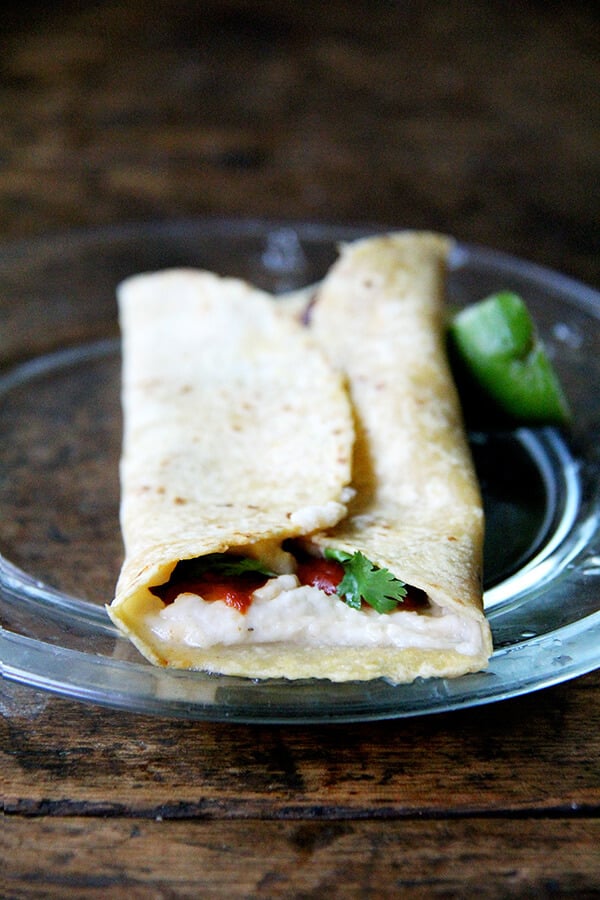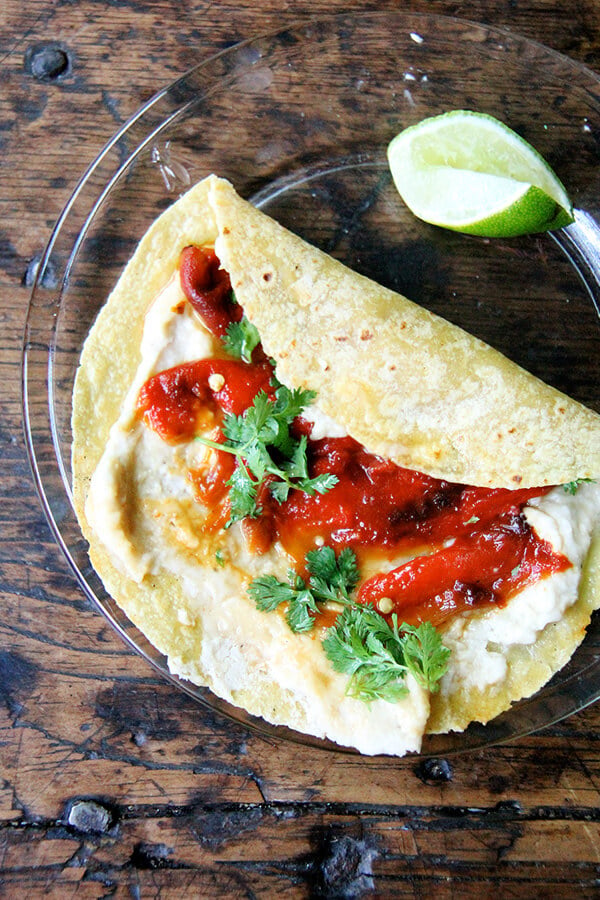 Print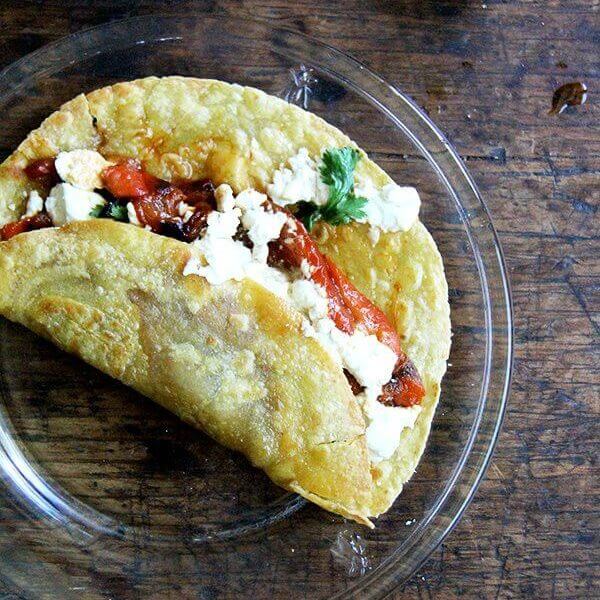 Roasted Red Pepper & White Bean Hummus Wrap
---
Author:

Alexandra

Total Time:

1 hours 5 minutes

Yield:

varies
Description
A simple recipe inspired by one in Deborah Madison's Local Flavors. The original recipe calls for goat cheese and cilantro, which is delicious, but I've been loving it with white bean hummus — I just discovered this brand: Eat Well Embrace Life — and basil is nice, too. Use the recipe below as a guide. I am also still loving the soft corn tortillas that I can only find at Whole Foods. Trader Joe's sells their own version, which is also good, but it's not as thin or quite as delicious.
---
4

to

6

red bell peppers
tortillas
white bean hummus (or other) or goat cheese
cilantro or basil
lime wedges for serving
---
Instructions
To roast the peppers: Preheat oven to 550ºF. Line a sheet pan with parchment paper or a Silpat. Place peppers on pan, transfer to the oven, and roast for 30 minutes or until blistered nearly all over. Transfer peppers to a bowl, cover with plastic wrap, a bowl cover, or a damp tea towel — you want to create a sealed environment conducive to steaming. Let peppers steam for at least 20 minutes—if you wait longer, they'll be easier to handle. When peppers are cool enough to handle, rub off their skins, remove stem, and discard seeds, saving any juices released. Transfer peppers to storage vessel, strain released juices over peppers, and store in fridge until ready to use.
The wraps can be made in various ways. The key is to heat the tortillas first either in a dry skillet or, for a little more flavor, with a little bit of oil in the skillet. You can also use the toaster, microwave, grill, broiler, or oven. Once the tortilla is hot and pliable, spread it with hummus, then top it with the peppers, which you could tear into strips for easier eating. If you want to heat up the peppers, you could stick the pan under the broiler for a minute. Off the heat, sprinkle with herbs, then juice the limes over top.If you are using goat cheese, omit the hummus, then crumble the goat cheese over the peppers. If you are using the oven to cook a number of these, preheat it to 350ºF. Once the tortillas have been heated first (in skillet, toaster, etc.), lay them on a sheet pan, top as desired, then bake for 5 minutes, just enough for the goat cheese to soften or the hummus/peppers to warm up.
Prep Time:

1 hours

Cook Time:

5 minutes
This post may contain affiliate links. Please read my disclosure policy.