Bulgur, Lentils, Lemon-Tahini Drizzle
This post may contain affiliate links. Please read my disclosure policy.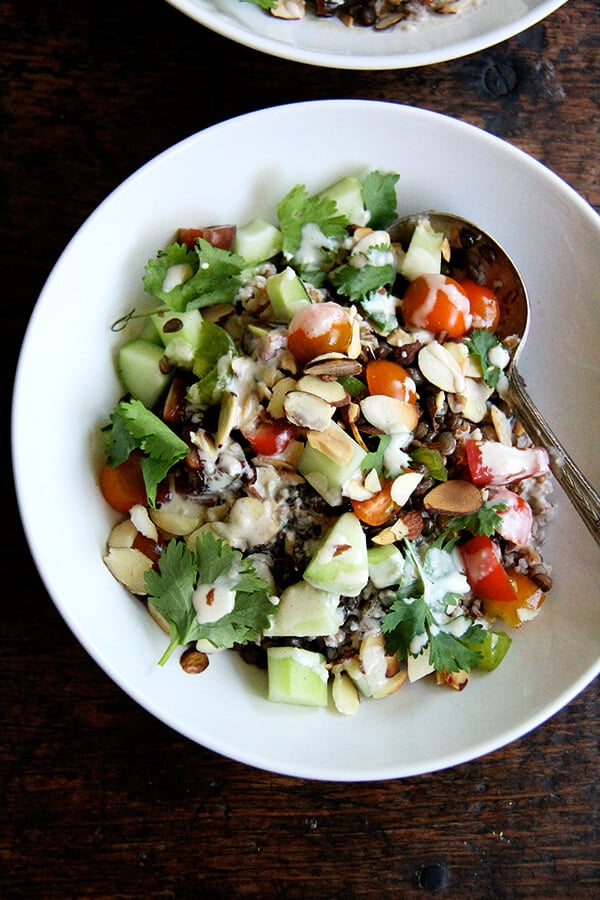 Shortly after reading about Lukas Volger's toasted bulgur bowl on the Tipsy Baker, I made it in its entirety. We then feasted on the leftovers the following two evenings, and yesterday for a little Olympics-viewing get together, I introduced the neighbors to what I can't seem to get enough of: a mix of bulgur and lentils, chopped cucumbers and tomatoes, toasted almonds, cilantro, and a lemon-tahini dressing.
I've adapted the recipe a little bit to what I've had on hand — this, after all, is the beauty of a grain bowl, right? — but here are the essential components:
1. An assertive dressing. I tend to dress everything with olive oil and vinegar, but Volger's mix of lemon, tahini, garlic, and cumin is a nice change, and it complements the bulgur and lentils so well — slightly creamy, slightly smokey, slightly tangy. I recommend making a double batch, which will give you 1 1/2 cups of dressing to use all week.
2. A mix of grains and legumes. Cooking two starches always feels too much like hard work — what's wrong with using one? — but the additional textures and flavors supplied by one more really makes for a more interesting overall bowl. Also, there are many quick-cooking grains and legumes that don't require soaking. Bulgur steams in about 15 minutes. Lentils cook in 25. I plan on trying quinoa next.
3. Vegetables. We are in constant supply of cucumbers and tomatoes at the moment, so that's what I've been using, but use what you have on hand. The first night, I added sautéed chard.
4. Herbs: cilantro, basil, mint, parsley, chives are all good options.
5. Nuts: We always have sliced almonds on hand, and if you toast a big batch of them, you can use them over the coarse of several days.
That's it! There's no additional protein — this bowl, which is surprisingly filling, doesn't need it — and when you have some of the components prepared ahead of time, the assembly happens quickly: scoop bulgur and lentils into bowls, top with cucumbers and tomatoes, top with cilantro and toasted almonds, drizzle with lemon-tahini dressing.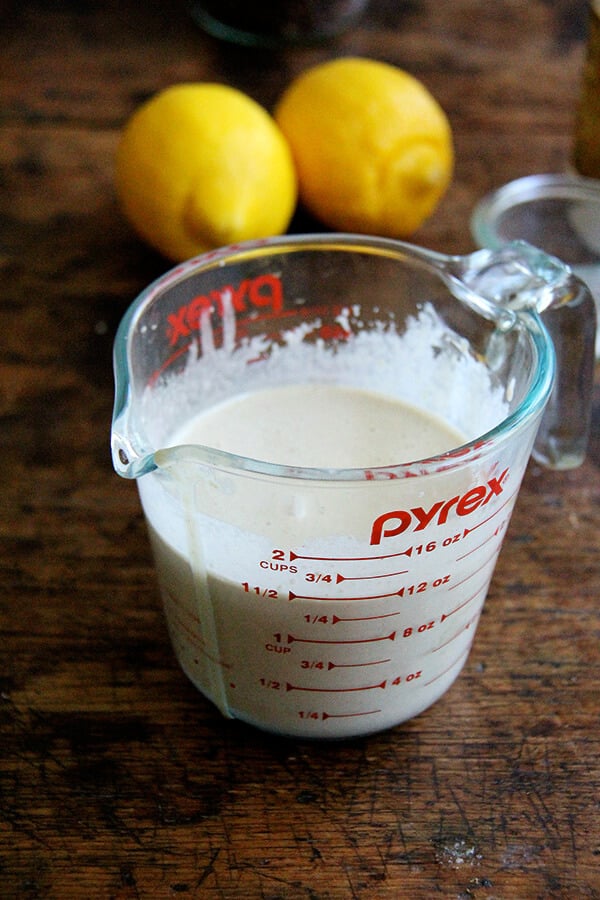 My mother recently introduced me to this Achva tahini, which is very nice: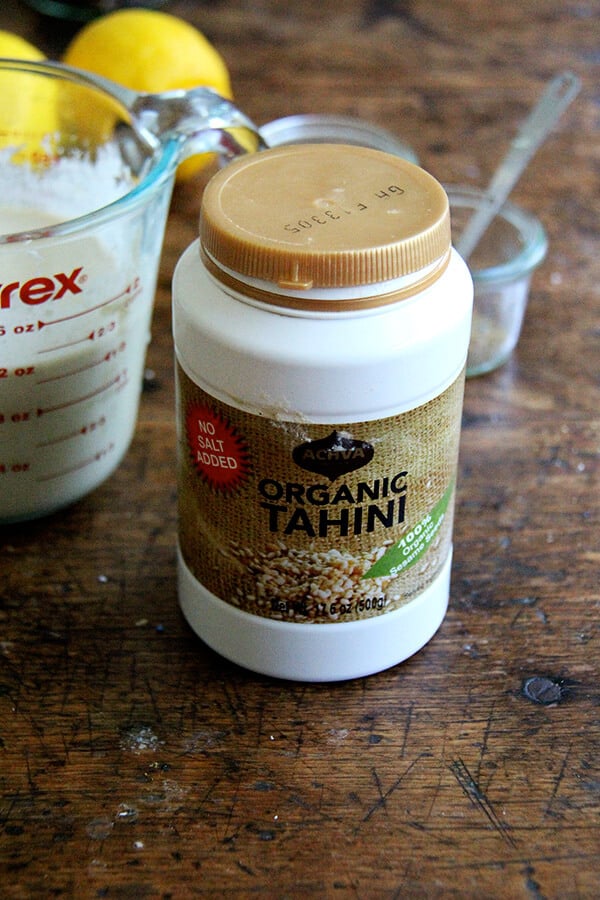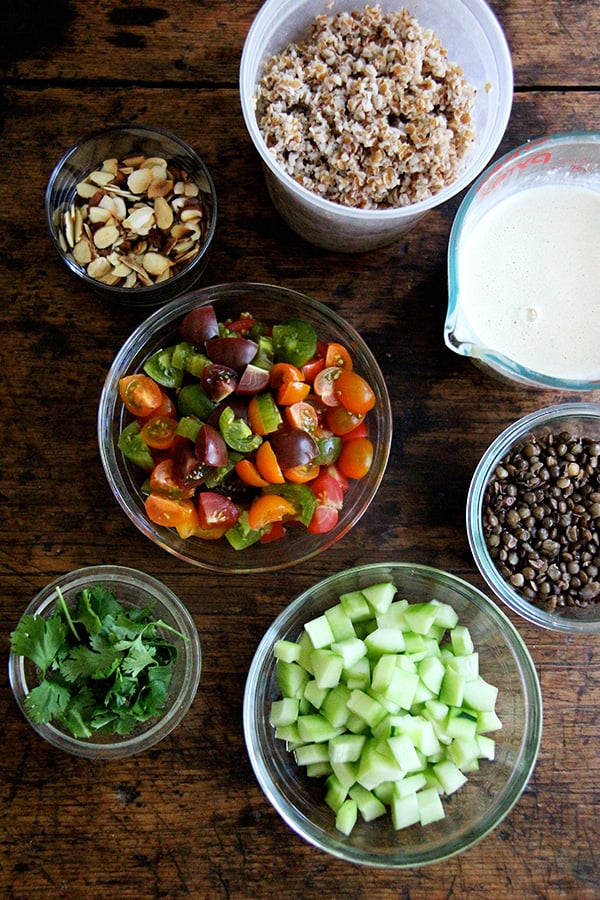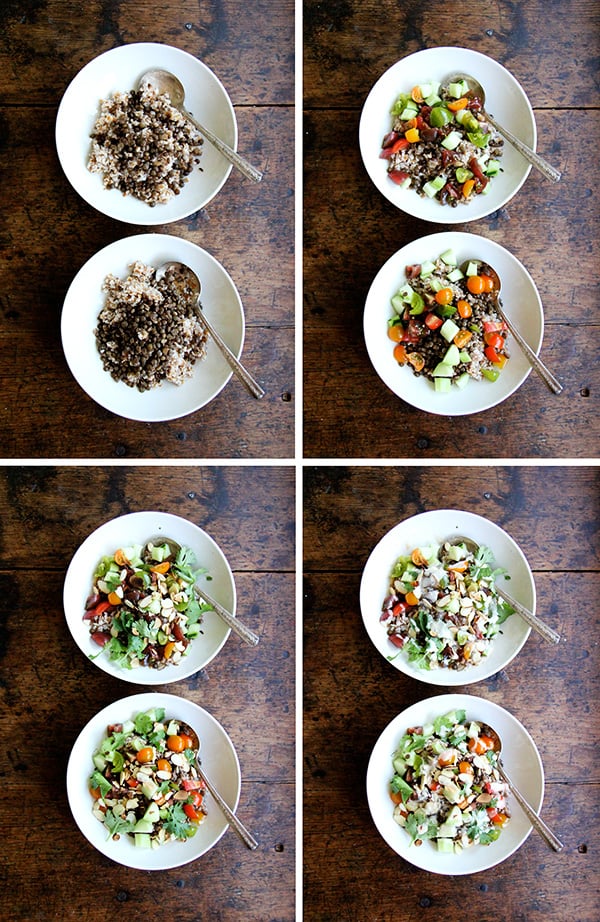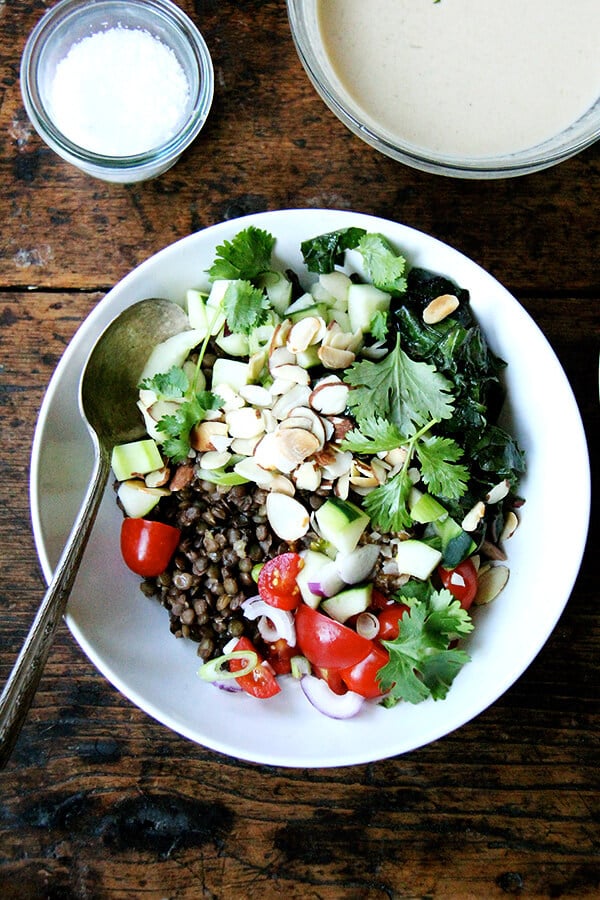 This version included sautéed Swiss chard: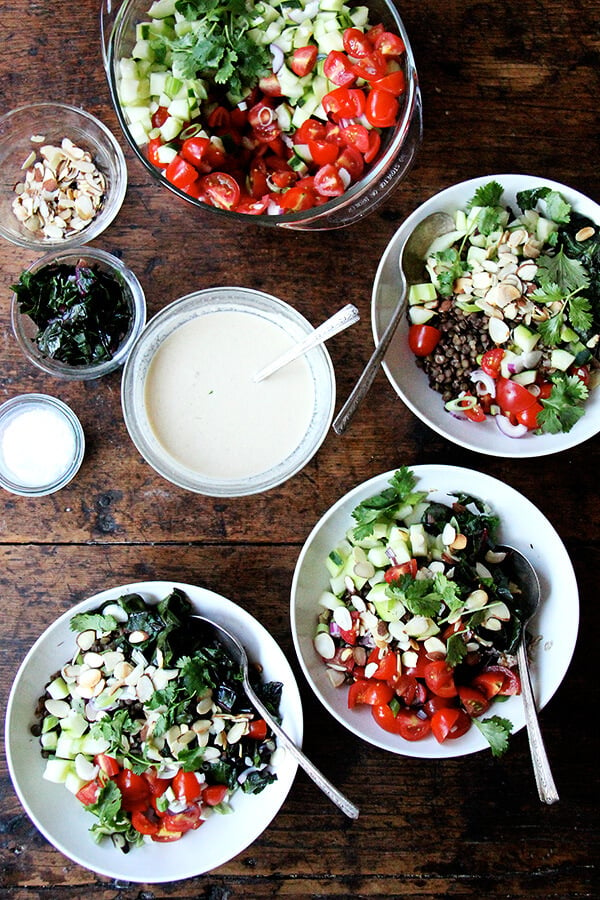 Print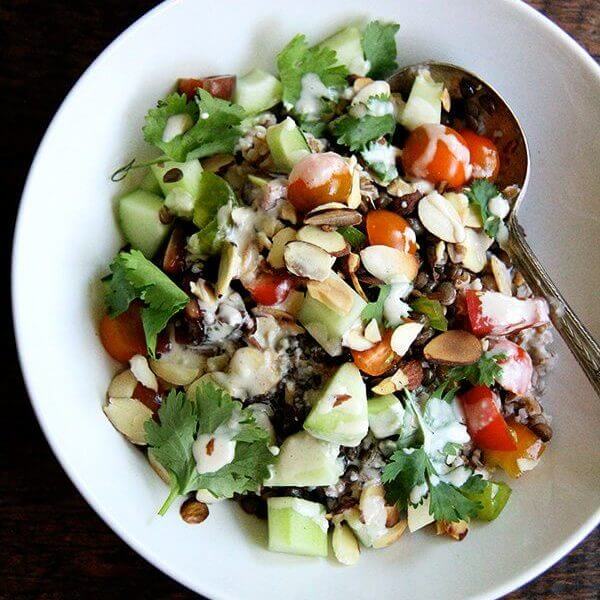 Bulgur, Lentils, Lemon-Tahini Drizzle
---
Author:

Alexandra

Total Time:

45 minutes

Yield:

4 to 6
Description
This bowl is inspired by the Toasted Bulgur Bowl in Lukas Volger's Bowl. Original recipe can be found here. I suggest making a double batch of the dressing to make assembly of bowls on subsequent evenings a breeze: 1/2 cup tahini, 6 tablespoons lemon juice, 2 teaspoons minced garlic, 1 1/2 teaspoons cumin, 3/4 teaspoon kosher salt, 1/4 to 1/2 cup water, 1 teaspoon honey or maple syrup. There was no sweetener in the original dressing, but I love a teensy bit of honey or maple syrup in tahini dressings. Grains can be cooked ahead and stored in the fridge. I like to bring them to room temperature (if time permits) before serving. Also, original recipe calls for toasting the bulgur first … I've been feeling lazy, so I skip this step, but check out the original recipe for details.
---
1/2 cup

lentils, I like the French green variety

1 1/2 cups

coarse bulgur

1

to

2

cucumbers, peeled and finely diced

1

to

2

cups halved cherry tomatoes or diced tomatoes
herbs such as cilantro, basil, mint, parsley, coarsely chopped if large

1/4

to

1/2

cup sliced almonds, toasted
flaky sea salt and pepper to taste
lemon wedges, for servingfor the dressing (see notes above for double batch):

1/4 cup

well-stirred tahini

3 tablespoons

lemon juice

1 teaspoon

minced garlic

1 teaspoon

cumin

1/2 teaspoon

salt

1/2 teaspoon

honey or maple syrup, optional

1/4 cup

water, plus more as needed
---
Instructions
Bring a medium pot of water to a boil. Add 1 teaspoon kosher salt and the lentils. Simmer until cooked through, 25 to 30 minutes. Drain.
Meanwhile, place the bulgur in a large bowl. Pour over enough boiling water to cover by 2 inches. Cover with a lid or plate and let stand for 10 to 20 minutes, until chewy-tender. Drain through a fine-mesh sieve. (See notes re toasting bulgur first.)
Make the dressing: In a small bowl, whisk together the tahini, lemon, garlic, cumin, salt, and honey, if using. Slowly drizzle in the water, stirring to combine. Add more water if necessary to thin to pourable consistency.
To assemble bowls, scoop some bulgur into each bowl, spoon some lentils over top. Scatter over a handful of diced cucumbers, tomatoes, herbs, and almonds. Drizzle with the lemon-tahini dressing. Season with sea salt and pepper to taste. Serve with lemon wedges and more dressing on the side.
Prep Time:

20 minutes

Cook Time:

25 minutes
Have you been glued to the tv? I enlisted a very talented friend to make these cookies for a get together. How cute? I need a lesson.

This post may contain affiliate links. Please read my disclosure policy.